Hey Hive!
So if you missed the last couple of posts, we're currently on another journey to Japan after we finished our final semester of college back in January 2019! And it was coincidentally around Valentines' Day too! We initially talked about wanting to visit South Korea but a Delta Airlines deal kinda changed our plans so.. to Tokyo once again!
But this time we were staying somewhat outside Tokyo in an area called Omorimachi. And last week, we found one of the best chashu ramen places and got to savour it one last time before the end of this trip!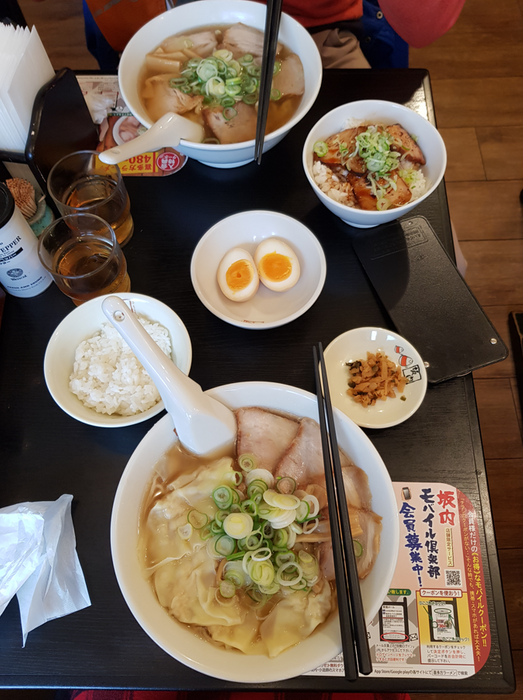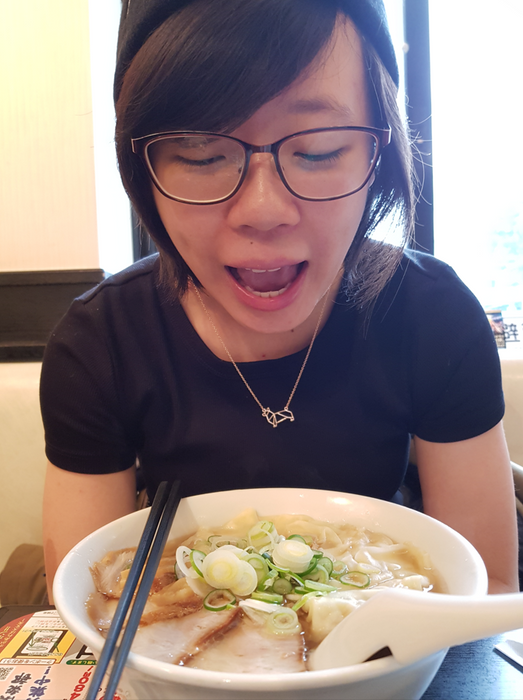 We just took it easy that day and met up with a friend for an awesome gaming sleepover party!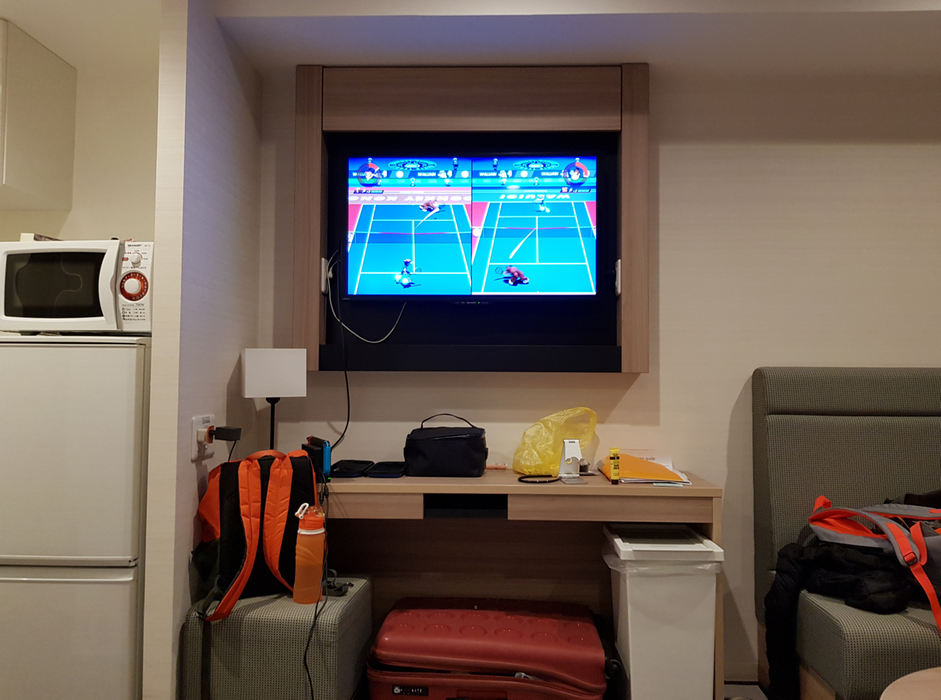 20 February 2019. Wednesday.
And the next morning, we went to have Mcbreakfast together at the McDonalds branch near our apartment! I got my favourite breakfast deluxe which has the Sausage Mcmuffin, scrambled eggs, hotcakes and hashbrown!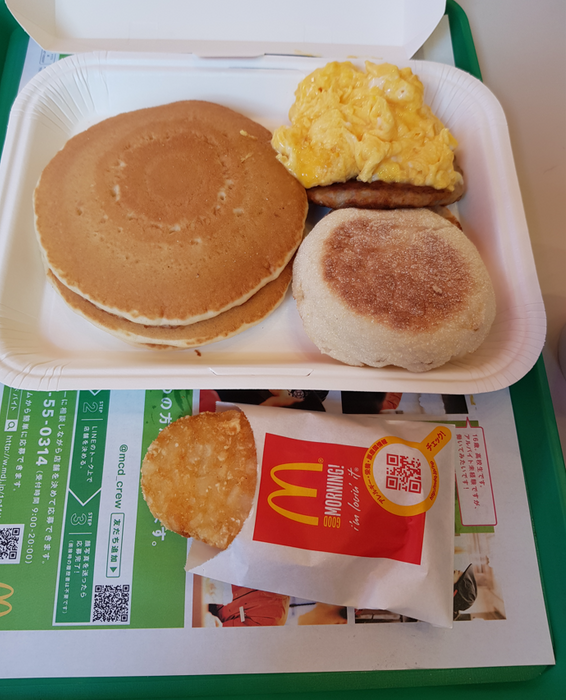 Mcbreakfast is one of our collective favourite breakfasts and a perfect start to our final day of this trip! We were pretty sleep deprived though since we only had about 6 hours of sleep. But we had to get up early since we had a super special activity planned before our flight today!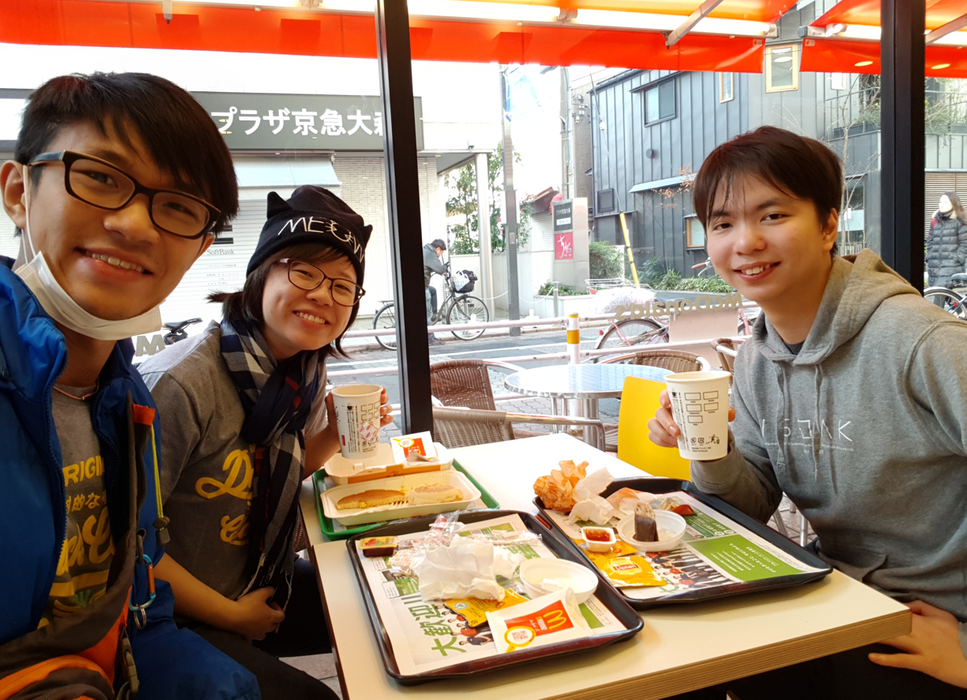 We had booked an Airbnb experience which was to take place at this lady's house so we took the train and headed there! It was our first time trying out an Airbnb experience so we didn't really know what to expect.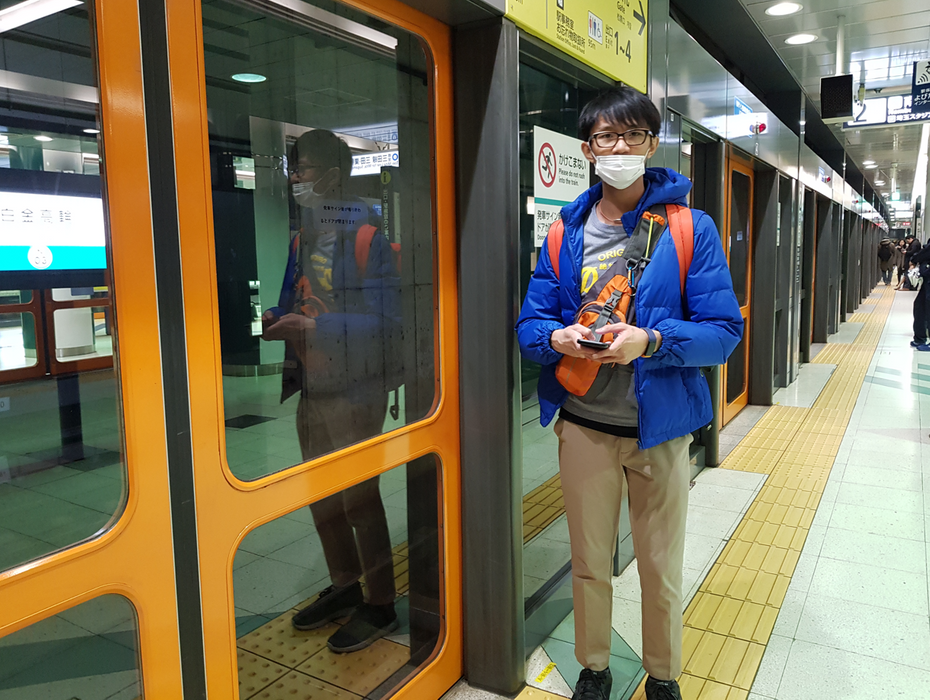 The Airbnb experience was a Sushi Making Class! And this lady who was going to be teaching us was a retired flight attendant. I tried not to take too many pictures of her house since it's her privacy after all. We took the class with one other girl who was here backpacking and signing up for a bunch of Airbnb experiences, which was so cool!
Anyway, we started the class by talking about Japanese cuisine in general. Our sensei had even prepared some slides and we just chatted a bit about our respective trips and the foods we've tried/liked while in Tokyo.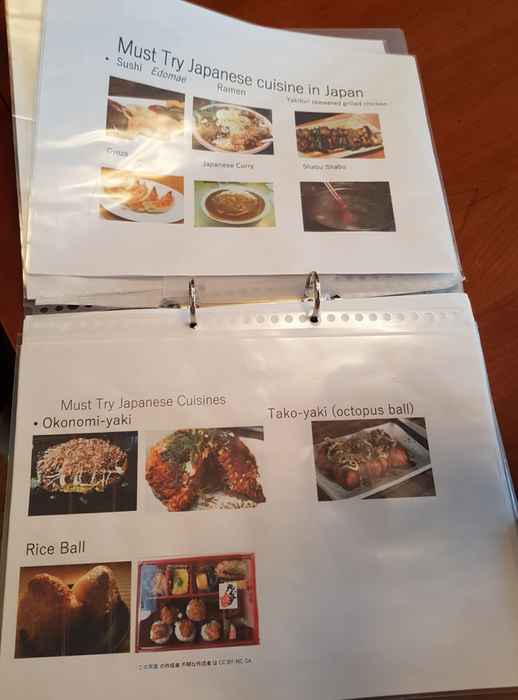 Then we talked about a sushi plate and what we would be making today!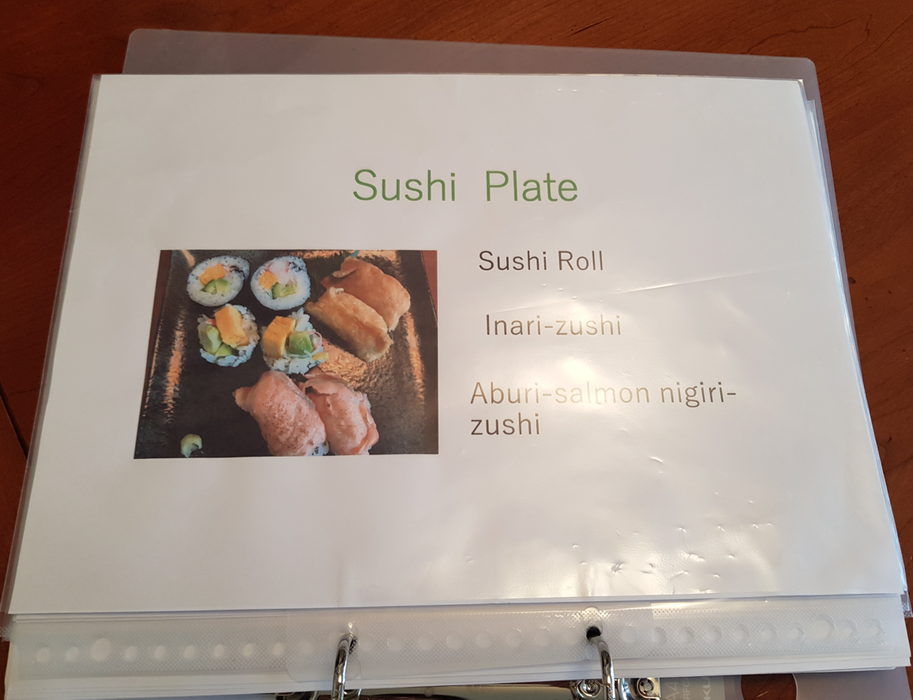 So the first step would be to make the special sushi rice! And while the rice was cooking, she taught us how to make miso soup and dashi!

Then the next step is to make the soup! She used sardines soaked in water overnight and drained it to make the dashi.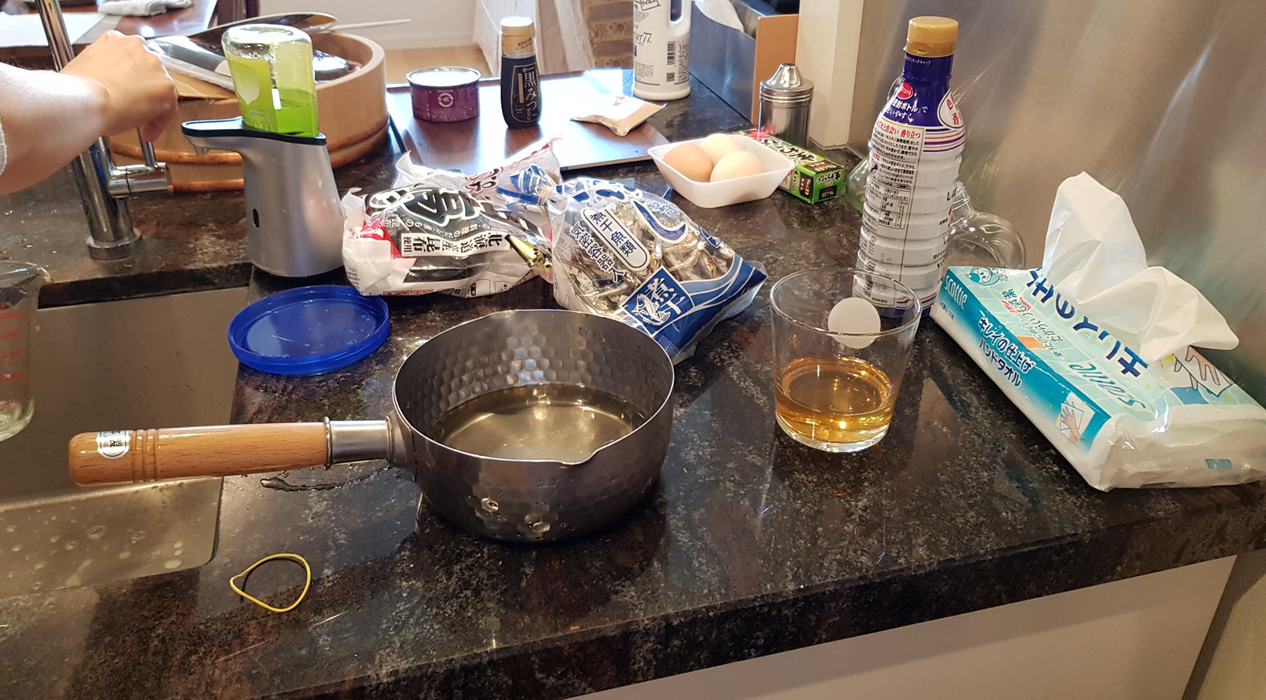 Then we started to make the classic tamago sushi! I'm sure everyone has seen it before. But it basically takes 3 eggs and 3 tablespoons of sugar.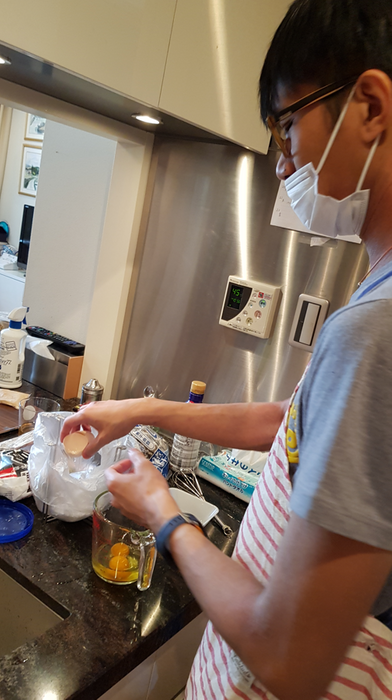 You have to use a special pan to make it, and she showed us how to do it before letting us get a try! I had some trouble with rolling it up though but she kindly helped us out! Sorry about the white noise in the background, it's the induction cooker.

And we were just in time for the rice to be done! So next it was time to mix up the rice in this special barrel!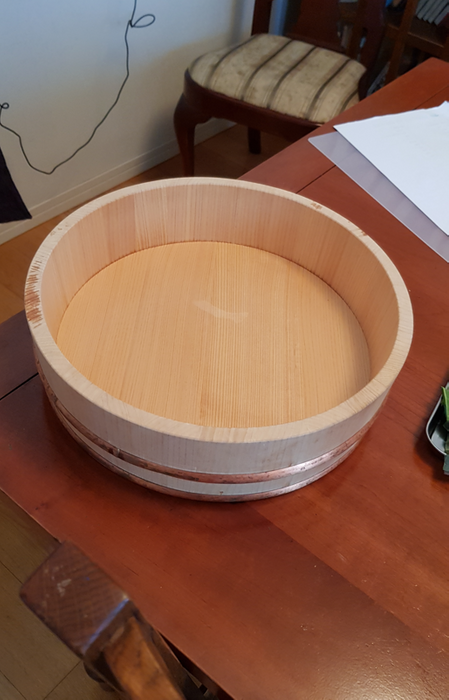 After scooping out the rice into the barrel, she showed us the technique to mix the vinegar in with the rice and told us to cool the rice while doing so immediately so that the rice could absorb the vinegar evenly.

Then after that, we cover the barrel of rice with a wet towel to let it sit and cool off for a while.

While leaving the rice to cool, she taught us how to make mochi, which involved mixing up some glutinous flour with water and rolling it into a ball and making a dimple.

After showing us how to do it, we made as many mochi balls as we could.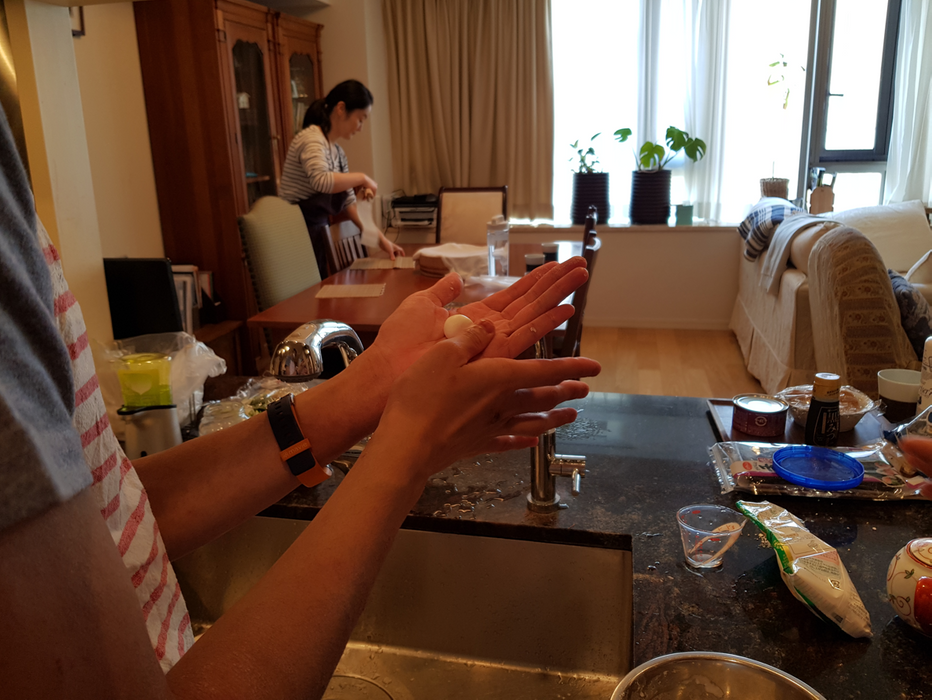 Then it was time to boil the mochi balls! Put the mochi into boiled water and wait until they float to the top of the pot before scooping them out and putting them into cold water. Then it was time to boil the vegetables in the dashi for the miso soup!
Sorry about the video rotation! Then it was time to make the miso soup! She showed us how to mix the miso paste into the soup, and we did it slowly, scooping the paste into the ladle and mixing it into the soup by stirring the paste into it a little bit at a time.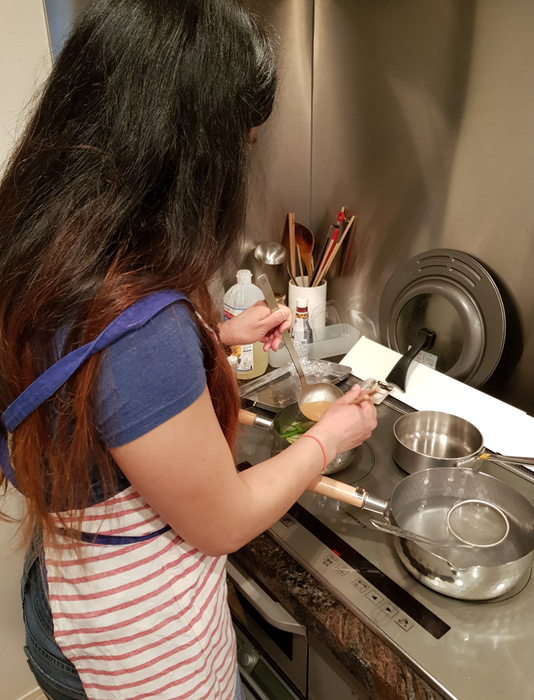 After we were done with the soup, it was time to move all our ingredients to the table and start making our sushi!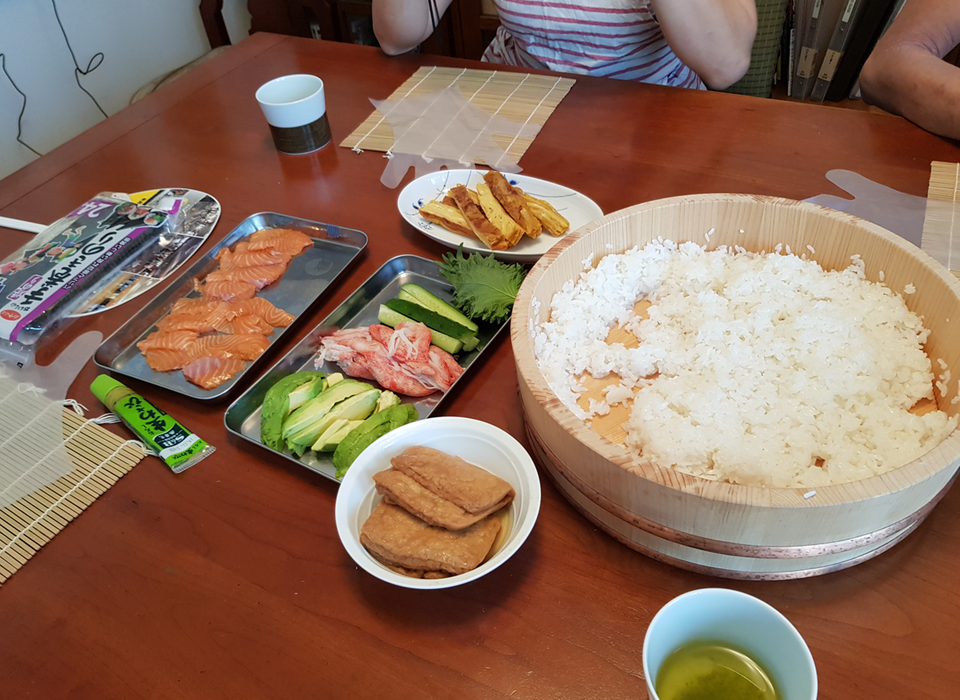 She gave each of us the sushi mat and instructed us on how to do it. We started with the maki first. It was pretty technical, but we tried our best with her help and instruction.

Then it was our turn to try and roll our own maki rolls!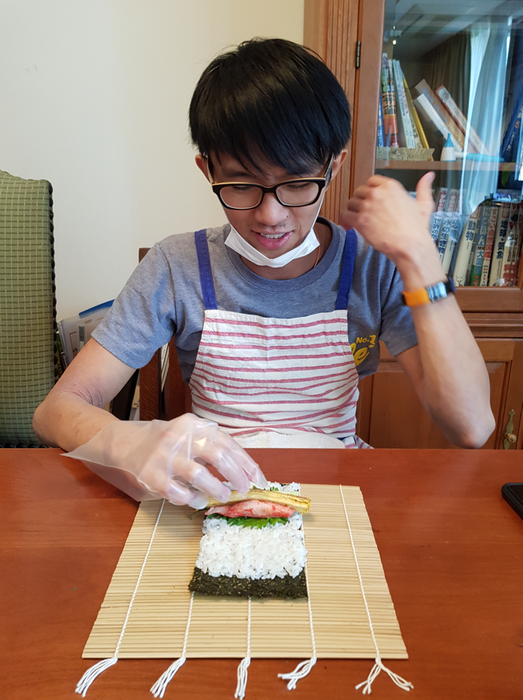 We did it slowly, and mine actually came out pretty nice and neat!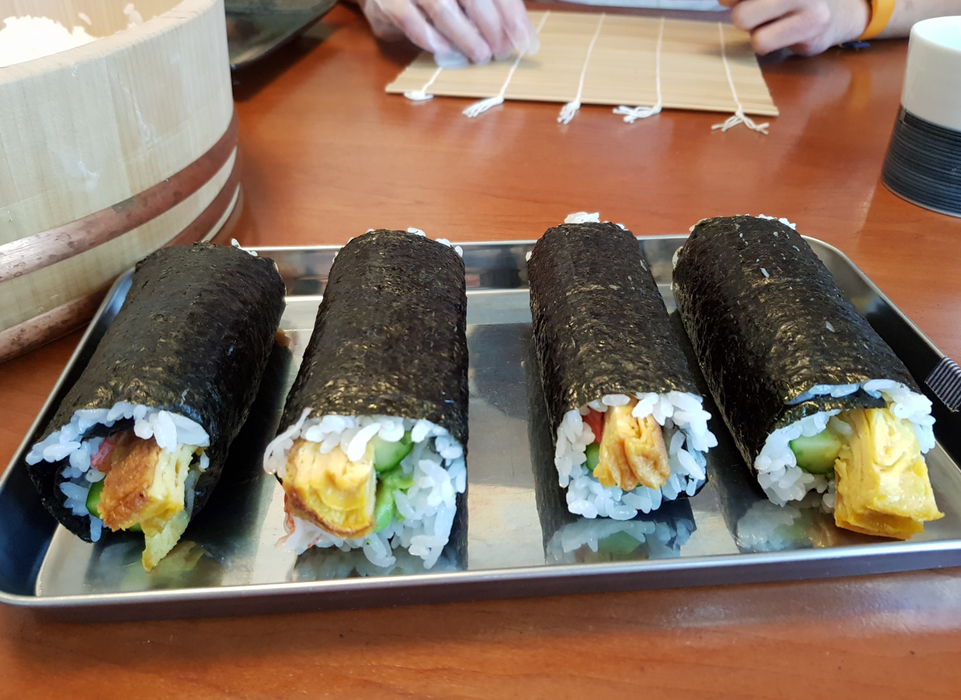 Then we tried making the classic beancurd sushi called inarizushi, which is made of sushi rice that is stuffed inside seasoned deep-fried tofu pockets called Inari Age!
I'm not too big a fan of this type of sushi since the beancurd is pretty sweet after being simmered in sweet and savoury dashi. But this one wasn't too sweet thankfully. She even taught us how to plate it nicely on top of a Shinzo leaf!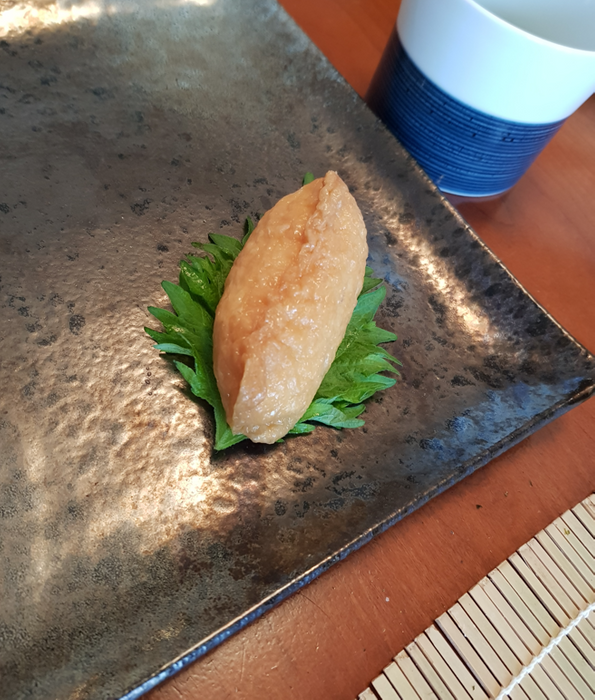 Then the next sushi we made was my favourite salmon sushi! After placing the salmon sashimi on top of the rice, she was going to torch the salmon a little bit to turn it into aburi salmon (seared salmon) nigiri!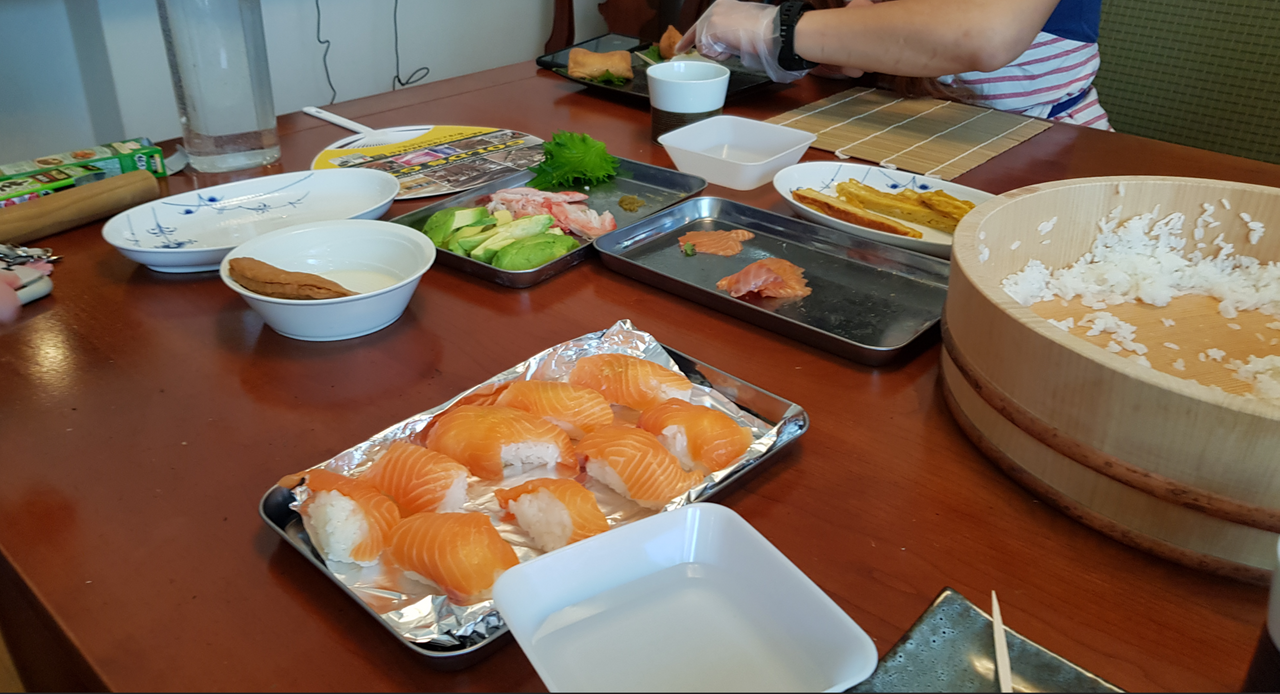 We've never tried a blowtorch before so it was pretty cool to try it out!
It was a little scary though, but we didn't get burnt and no one got hurt thankfully.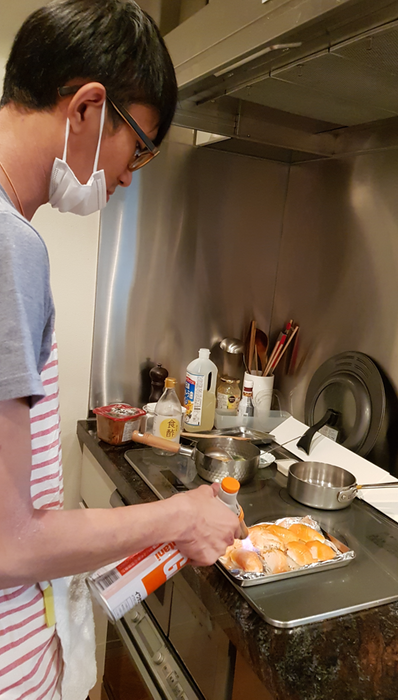 Then she finished by garnishing it with some sea salt and some special spicy pepper sauce and julienne shiso leaf!
After that we were almost done! We sliced our maki rolls into 4 smaller individual makis before plating all the sushi we made!
This was Sean's plate!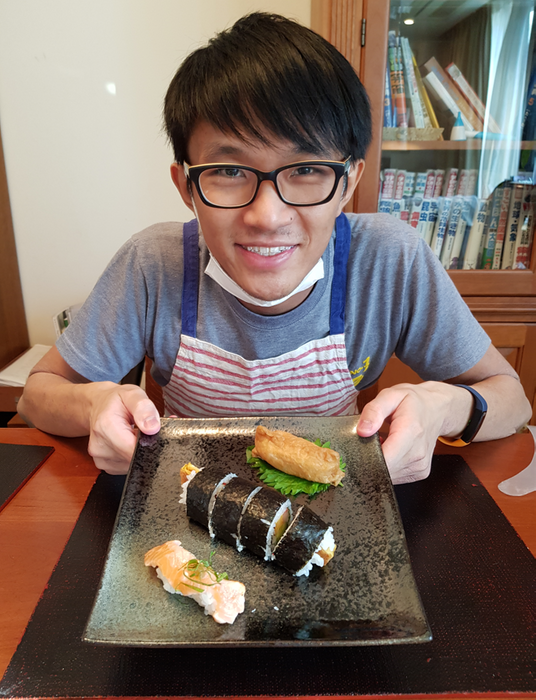 And this was mine! I took an additional piece of Aburi Salmon since Sean only wanted one and it's my favourite!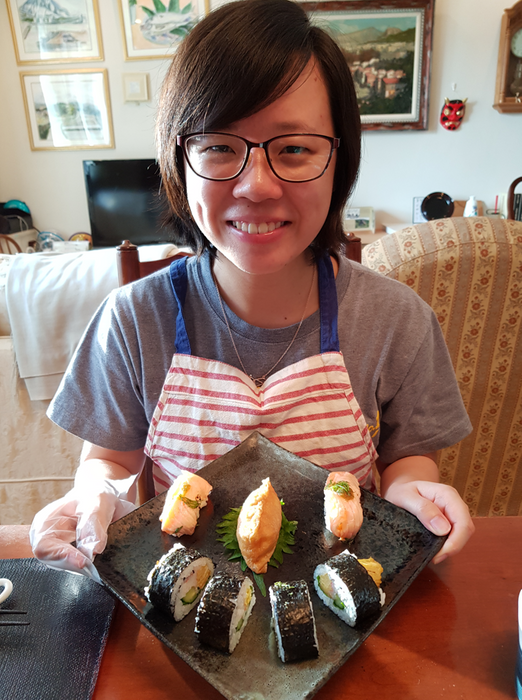 The sushi looked so good! Next it was time to prepare the mochi for dessert! She had prepared peanut powder, red bean paste, strawberries and some sweet sauce for us to mix in with the mochi!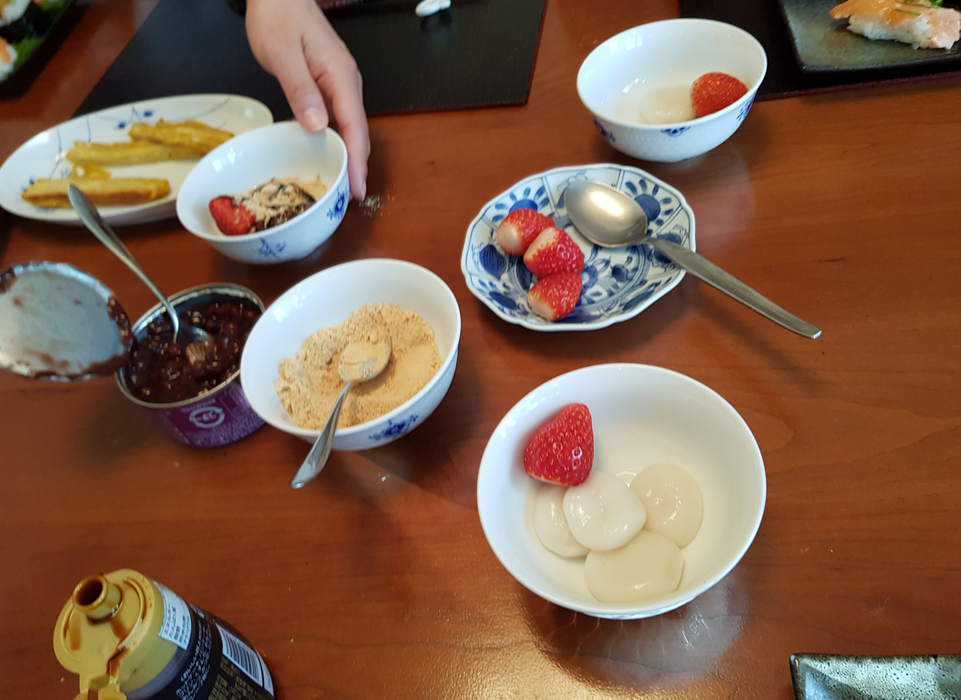 And with the miso soup served, this was our handmade lunch!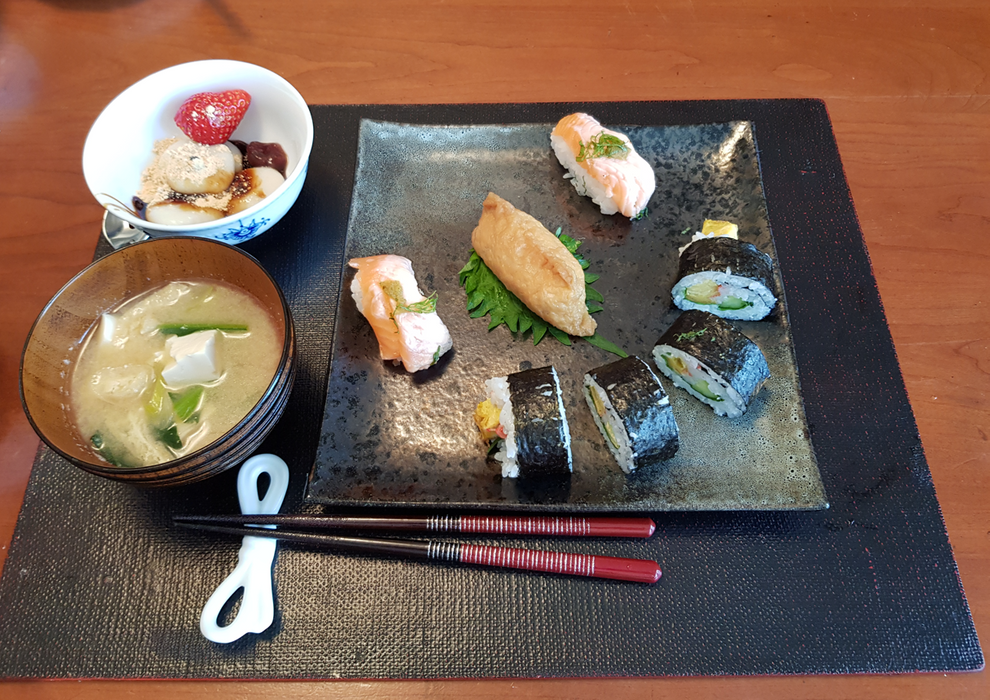 It was tough work, and I felt bad since our sensei would have so many dishes to clean up after, but for now we took a lot of pictures with the food we made!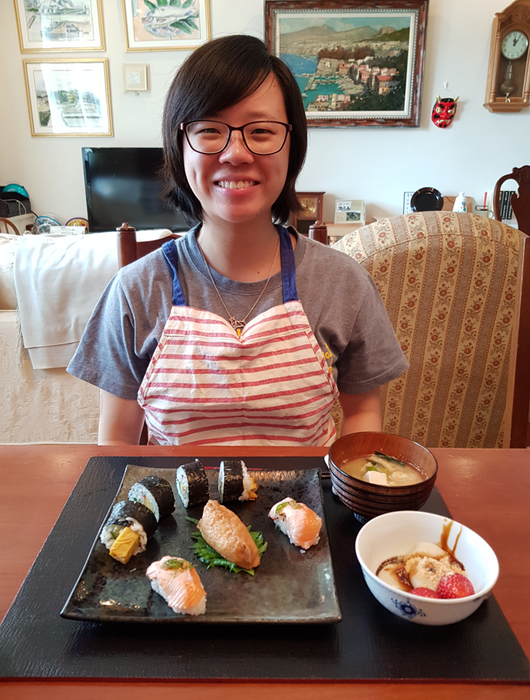 We were excited to dig in though! It looked like a really full meal.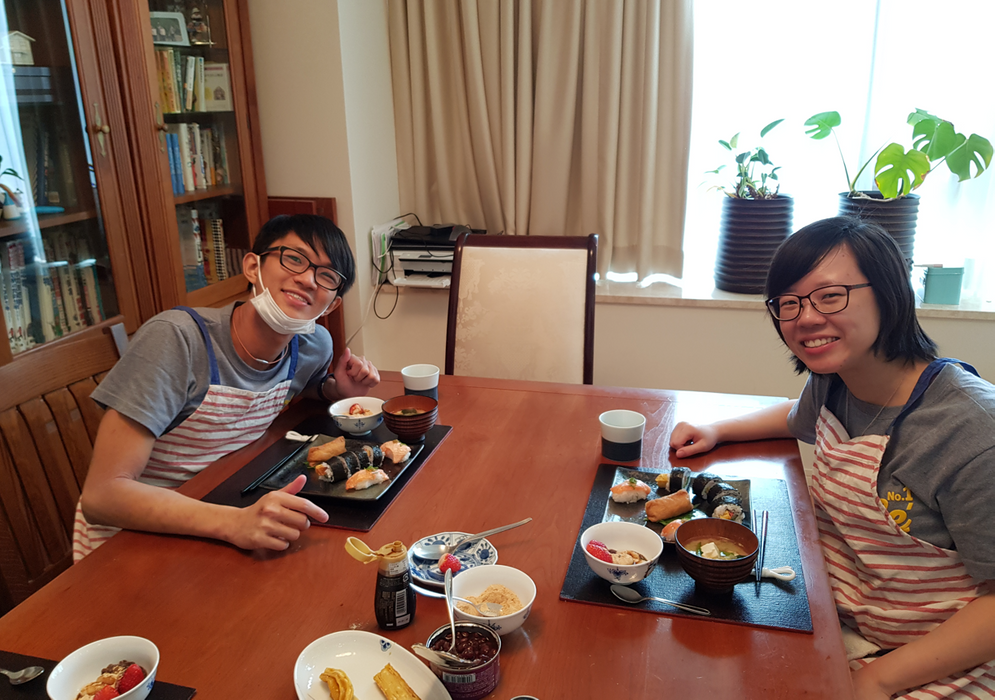 Then it was time to finally eat! Everything was so fresh and yummy! And it was a nice reward after all that work making it!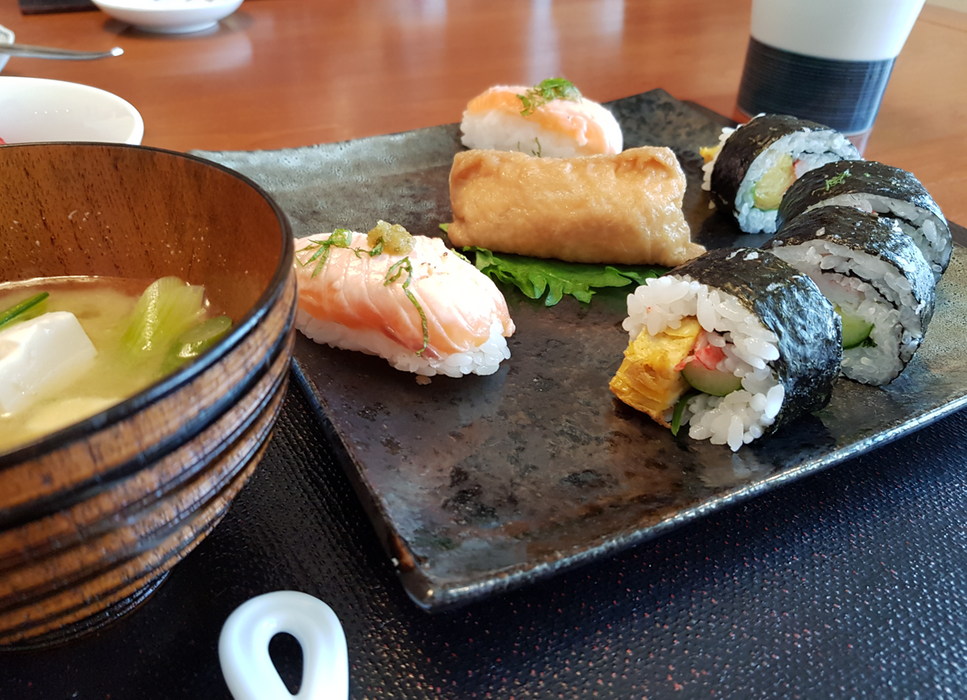 We were getting really stuffed since we just had Mcbreakfast before coming here though, and I was kinda regretting the pancakes now. But I actually managed to stomach everything!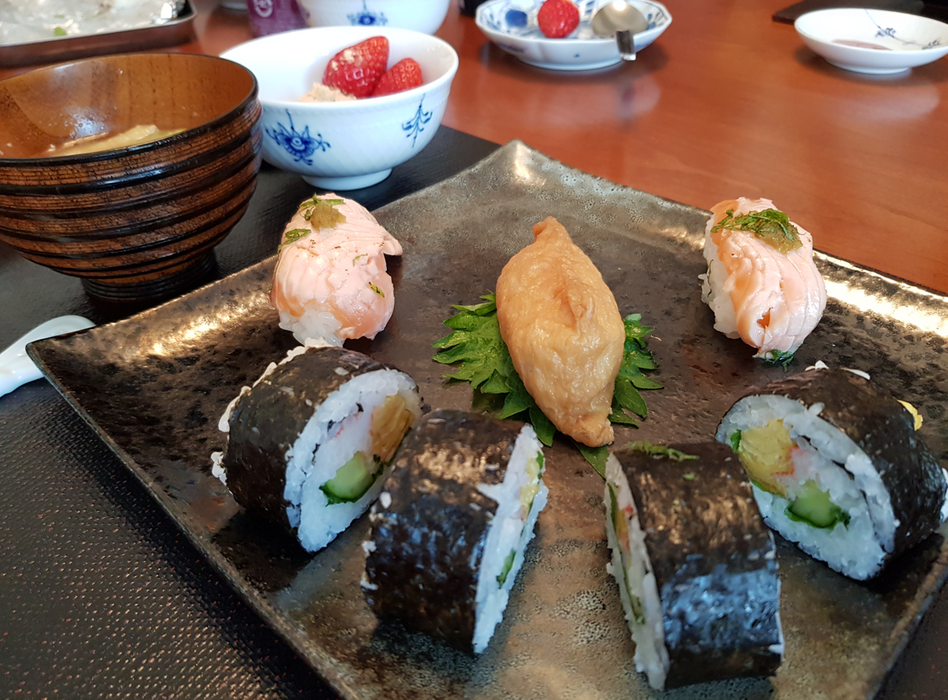 There's that smiley face I wanted for my sushi plating!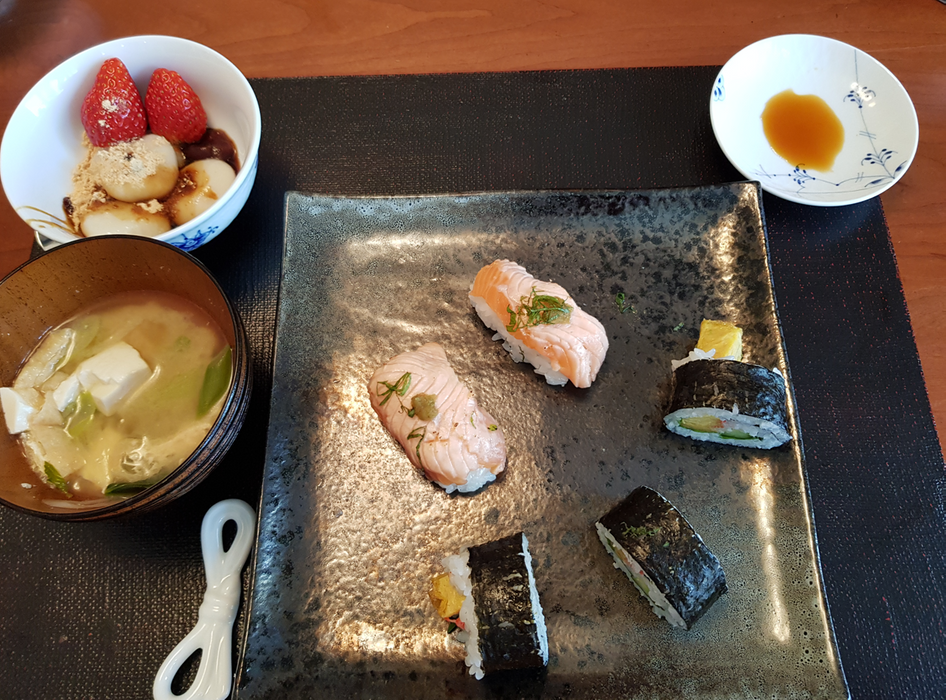 The aburi salmon was definitely my favourite of this whole meal but everything was so delicious! It definitely was an experience to remember, making sushi from scratch and enjoying it afterward! It was also nice getting to know new people!

But soon it was time for us to leave and head to the airport and catch our evening flight.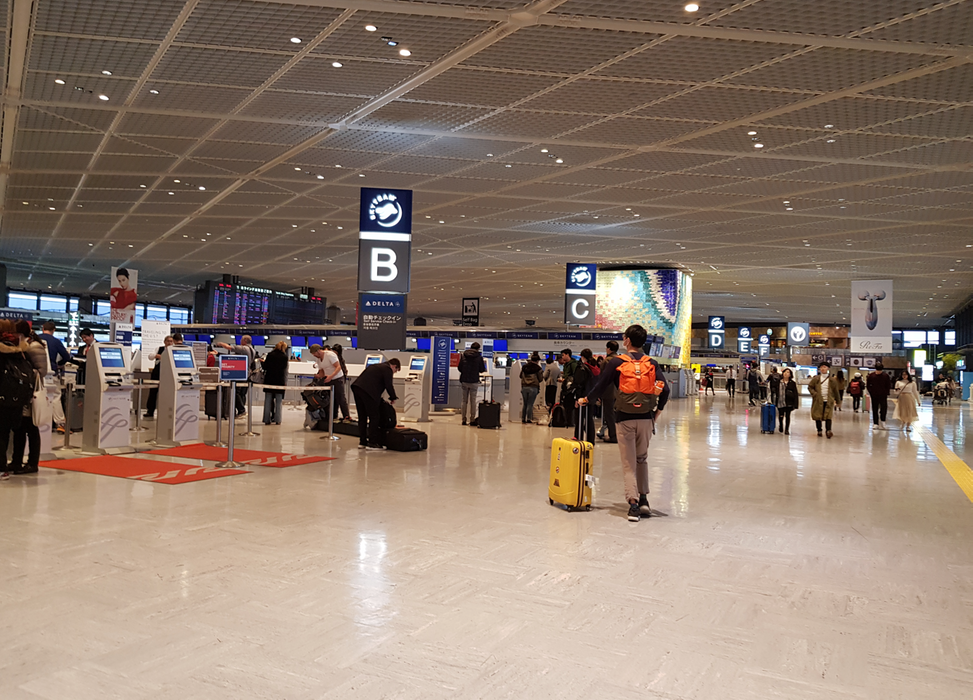 Our flight back was at Narita airport this time, and they had our favourite stationery at one of the shops there! So after checking in our luggage, we went to check it out.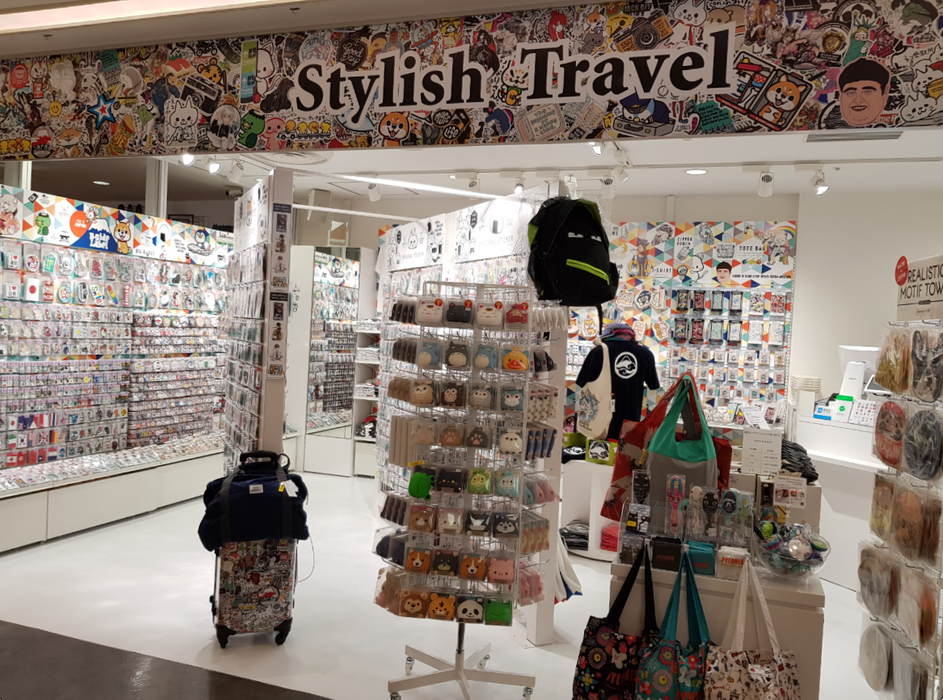 B-side Label has so many count and goofy stickers and badges, which is why we love them so much.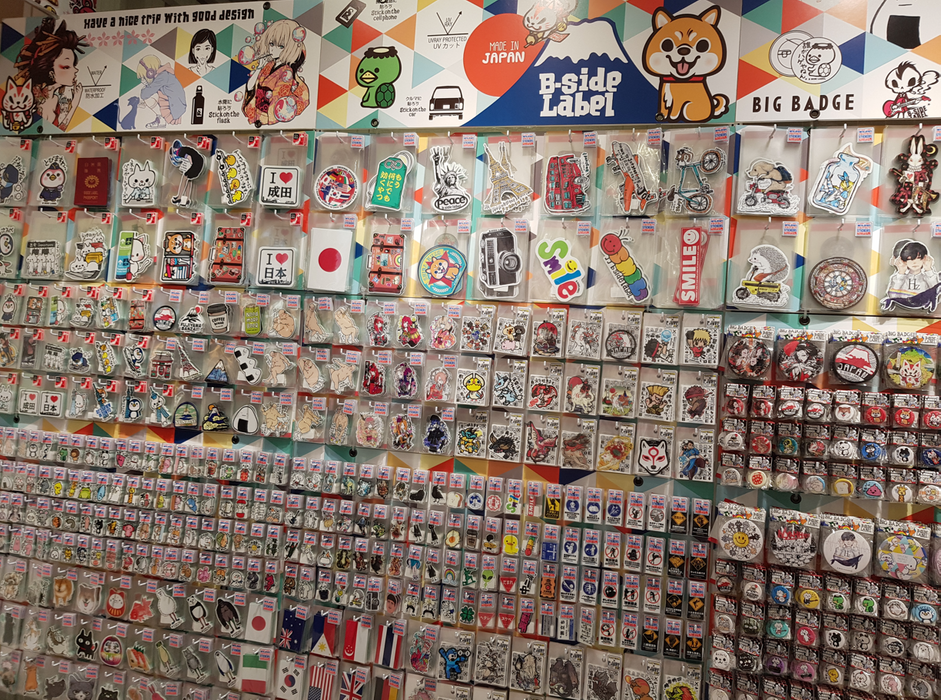 They even did a collab with Capcom and had some unique stickers from their games like Megaman, Monster Hunter and even Ace Attorney!!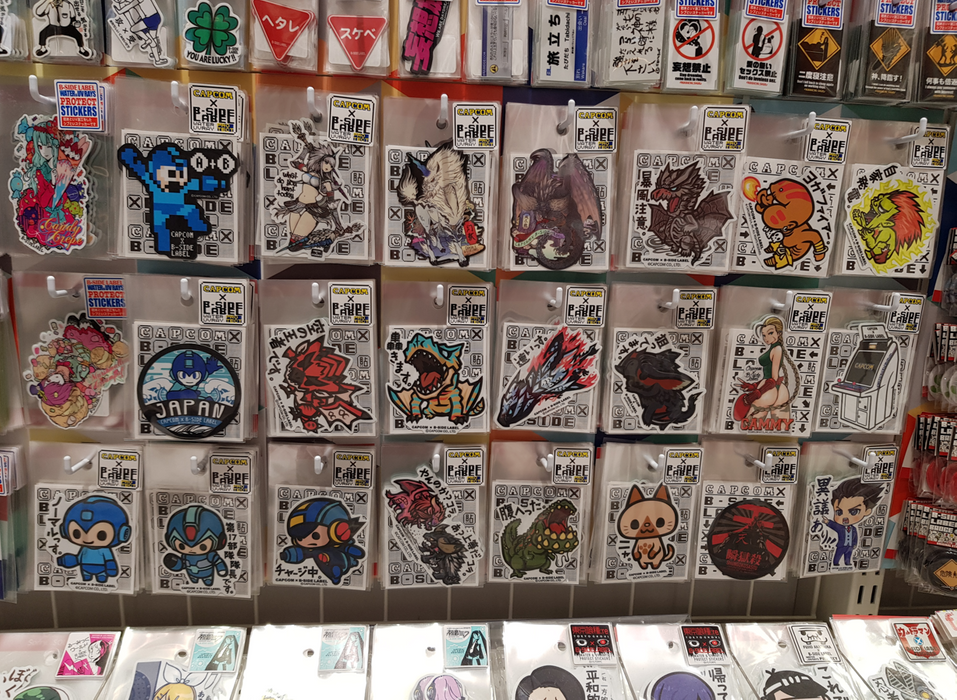 And one of my personal favourite Capcom games - Okami (which I recently finished playing on-stream actually)!
They even had these adorable tote bags and T-shirts! We didn't buy any though since they were pretty expensive and we had plenty already.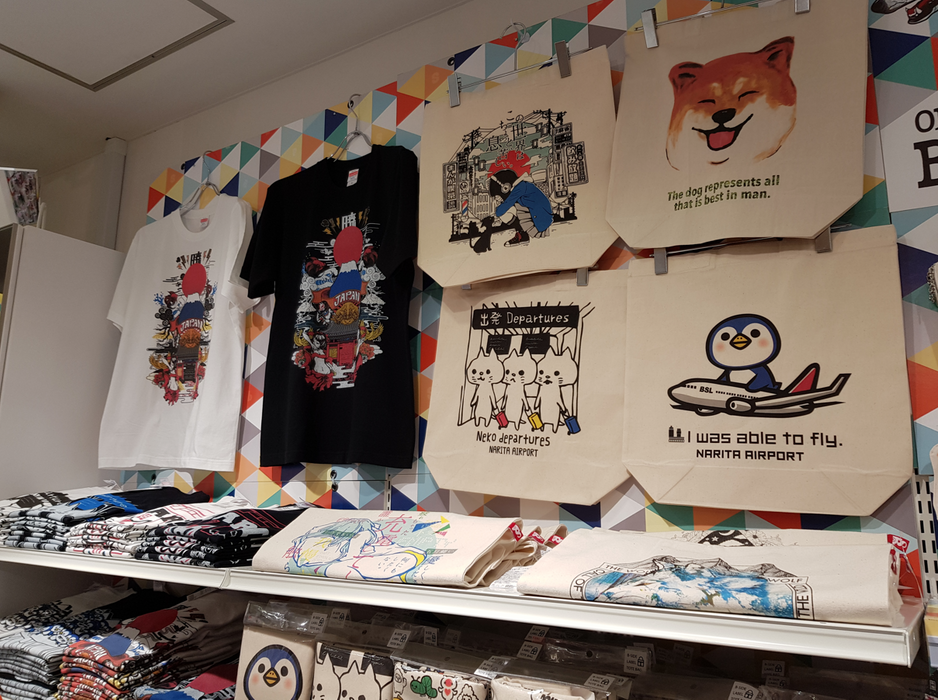 But soon it was time for us to board our flight!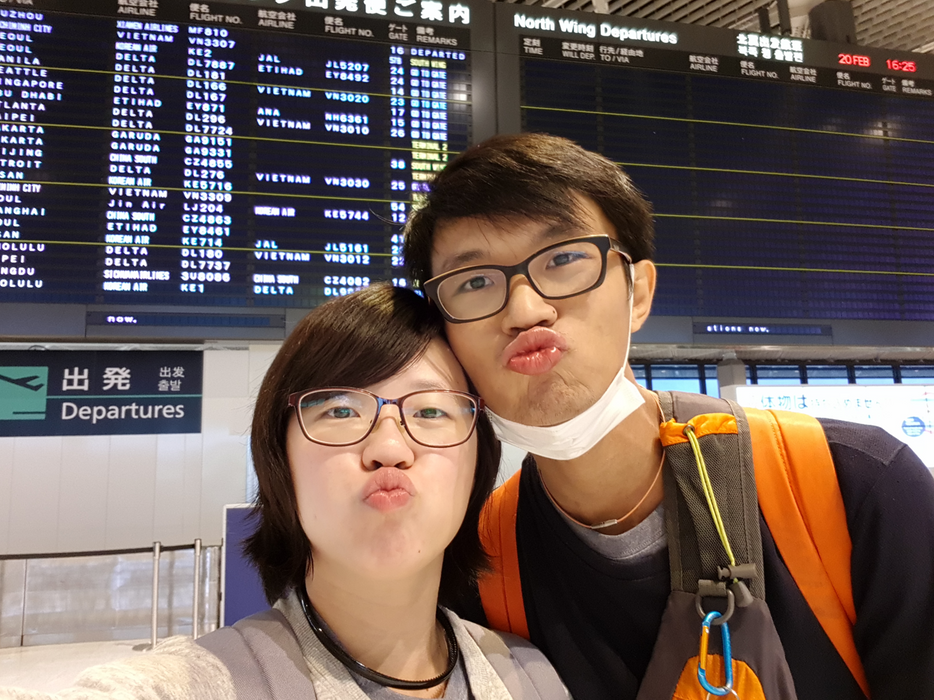 Our flight was on Delta Airlines and we tried the chicken and beeg meals for dinner. It was alright, and thankfully we were still stuffed from our lunch.
Here's my chicken meal: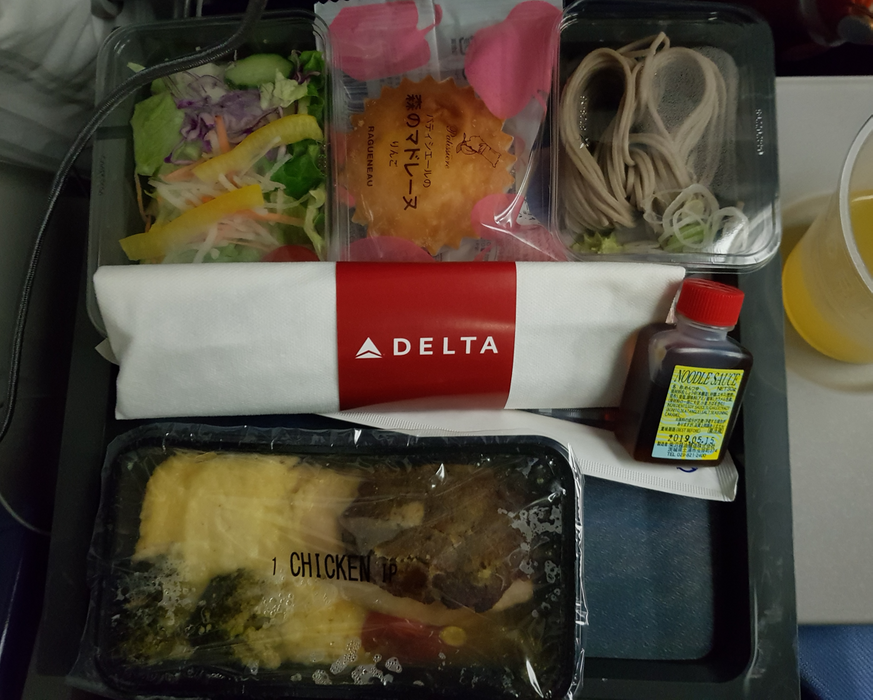 And this was Sean's beef meal: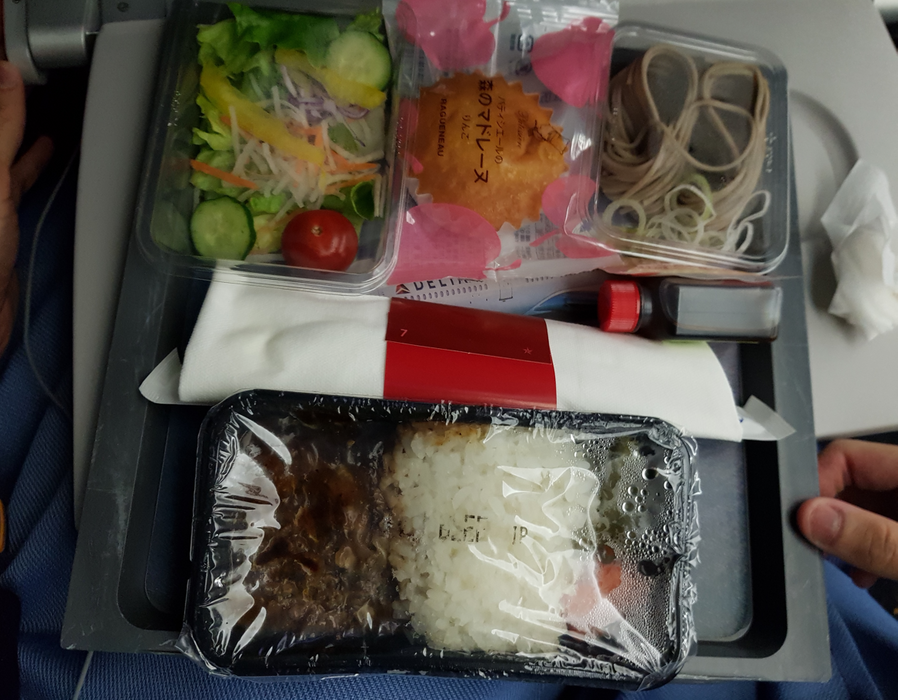 But that's it for this trip! Sorry for the long post but since it was the last day I didn't want to split it up.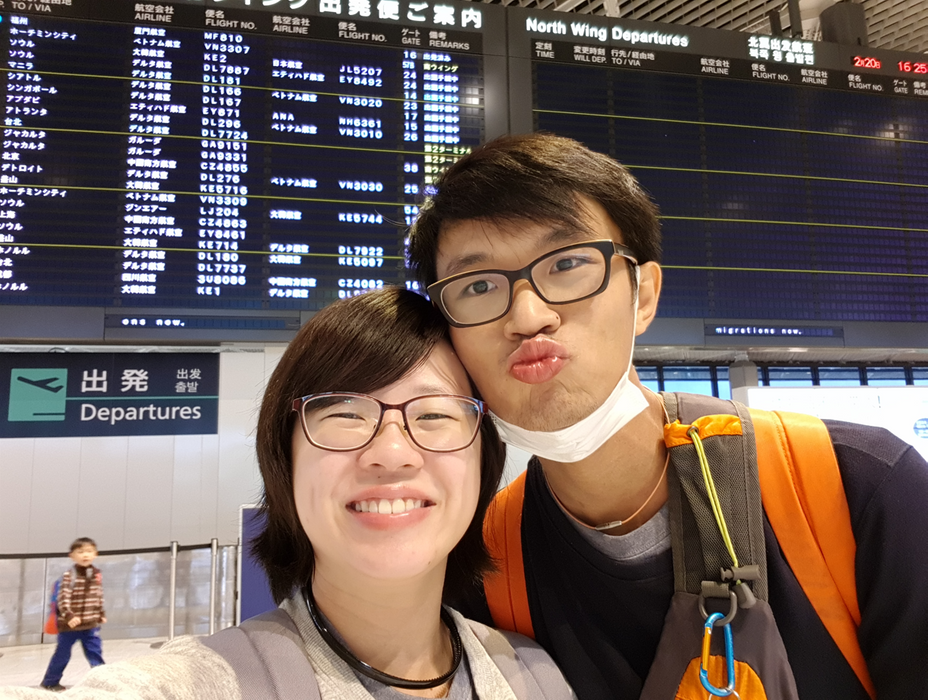 It was nice to relive this journey again! And I hope you enjoyed coming along with us on this "graduation" trip of ours! It was really a well-deserved reward for both of us after the crazy final semester we had.
It's really cool looking back at all our travels again, especially since we haven't had the opportunity to travel since covid hit and a lot of things happened at the end of 2019 for us. So I actually don't have many trips left to write about, but for now we'll just enjoy the ride! And now that travel lanes are opening up, I can't wait until the day when we can fly again!
Thanks so much for reading and I'll see you in the next one!

To find out more about me, check out my intro post here!
---
Check out my previous post in this series!
TacoCat's Travels #136 (Japan 6.0): Snacks, Shrines and Shopping! 😋