Hey Hive!
If you missed the last couple of posts, we just started recounting our trip to Hiroshima back in April 2019! Sean had won some free air tickets to Hiroshima from a lucky draw sponsored by one of the local banks in Singapore, DBS! Since we've never been, we decided that was a good chance to explore the Chūgoku region!
Last week, we set off to find the curviest bridge in Japan, called the Kintaikyo Bridge in the city of Iwakuni in the Yamaguchi Prefecture!

It was a very unique experience crossing the bridge both because of the shape and because it was made of wood. The river was also low tide so you could actually go down to the riverbed and take pictures there too! But we decided to cross first and explore the park across the river first! Here we go!

9 April 2019. Tuesday.
The park is called Kikkou Park and had some nice benches where you could view the bridge. There were also a bunch of cherry blossom trees around that made it look so lovely. They weren't in full bloom yet, but it still looked nice.

There were also some street stalls in the park and it looked like they have seasonal festivals here sometimes. There wasn't any at the moment though.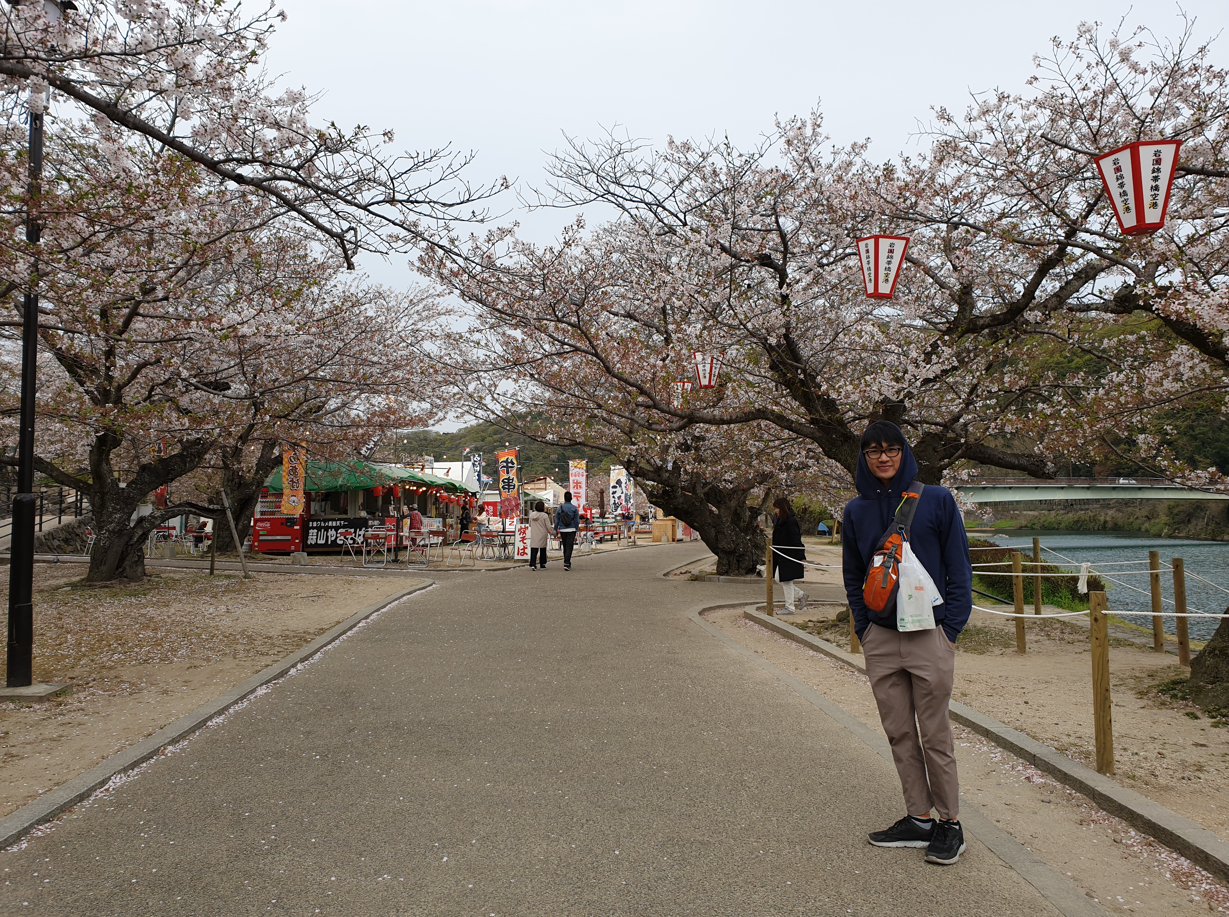 The blossoms on the trees looked so beautiful though! Unfortunately the sun wasn't out at the time but I tried to get some good shots of those within reach.
I think they're plum blossoms and they looked so lovely. I think they didn't really have a scent but it was still nice to look at.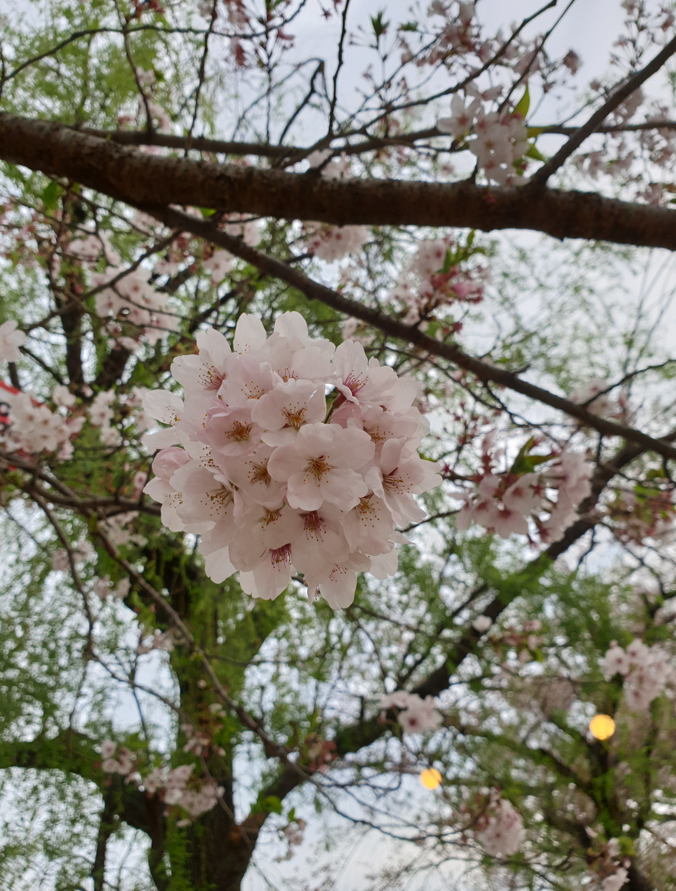 There was also a little cherry blossom grove over here for people to sit and have picnics. I imagine when they're in full bloom in a few days many people would sit here on weekends and enjoy the scenery.

Just imagine sitting here and enjoying the street snacks on a nice spring day. How relaxing would that be.

We tried to take a nice photo with the flowers but everything just looked so white.
There was also this sculpture of something I didn't recognise that was probably from a local artist or something. It looked like a moon rock of some sort though other than the colour.

We did actually find some very pink flowers that were unlike any that I've seen before. I'm not sure what kind of blossoms these were but they looked so pretty! Only some were in bloom at the time though but if the whole tree was blooming I bet it would look absolutely beautiful!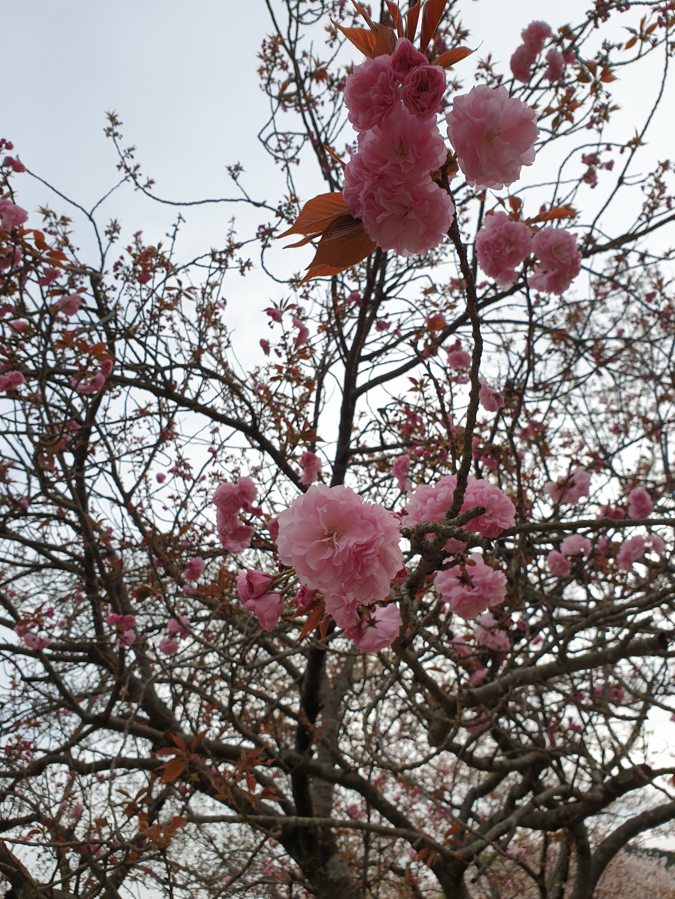 There were just cherry blossoms everywhere in the vicinity. We said we wanted to see more flowers and we definitely weren't disappointed!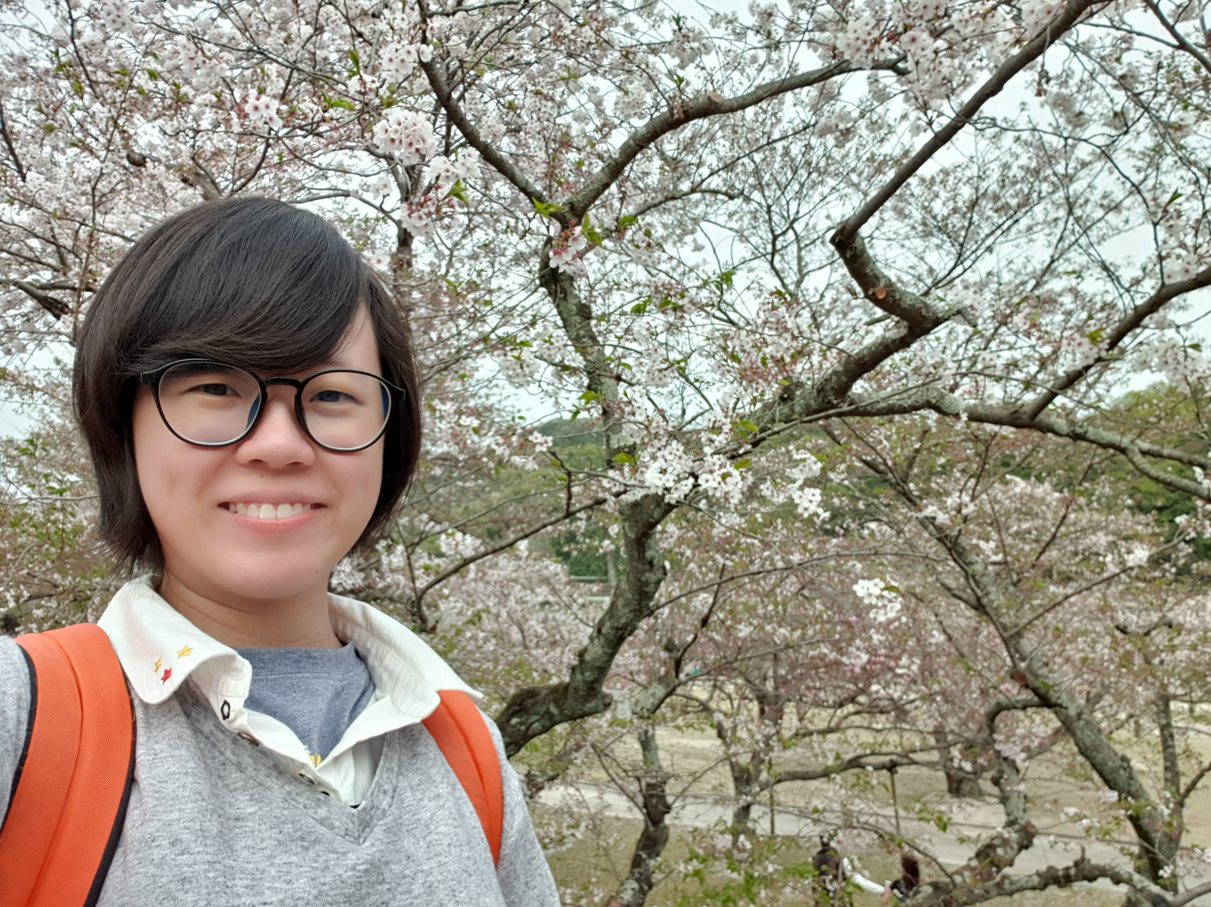 We wanted to go find the ropeway that goes up to that temple or castle in the background and on the way we found this cool statue in front of a small field.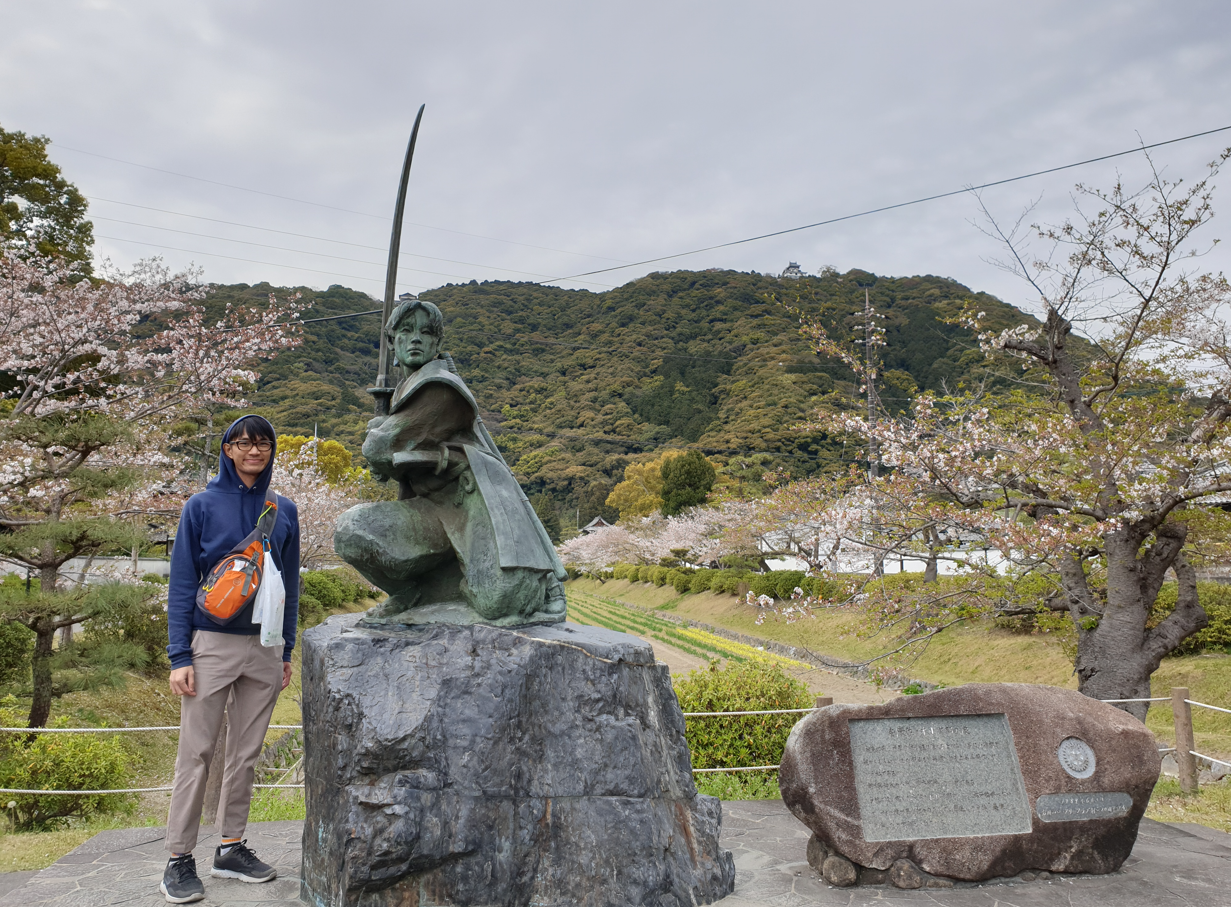 I think that structure is called Shiinoo Shrine, and you could technically walk there but it was quite a distance away. Not that we didn't try though, but we did enjoy a nice stroll regardless.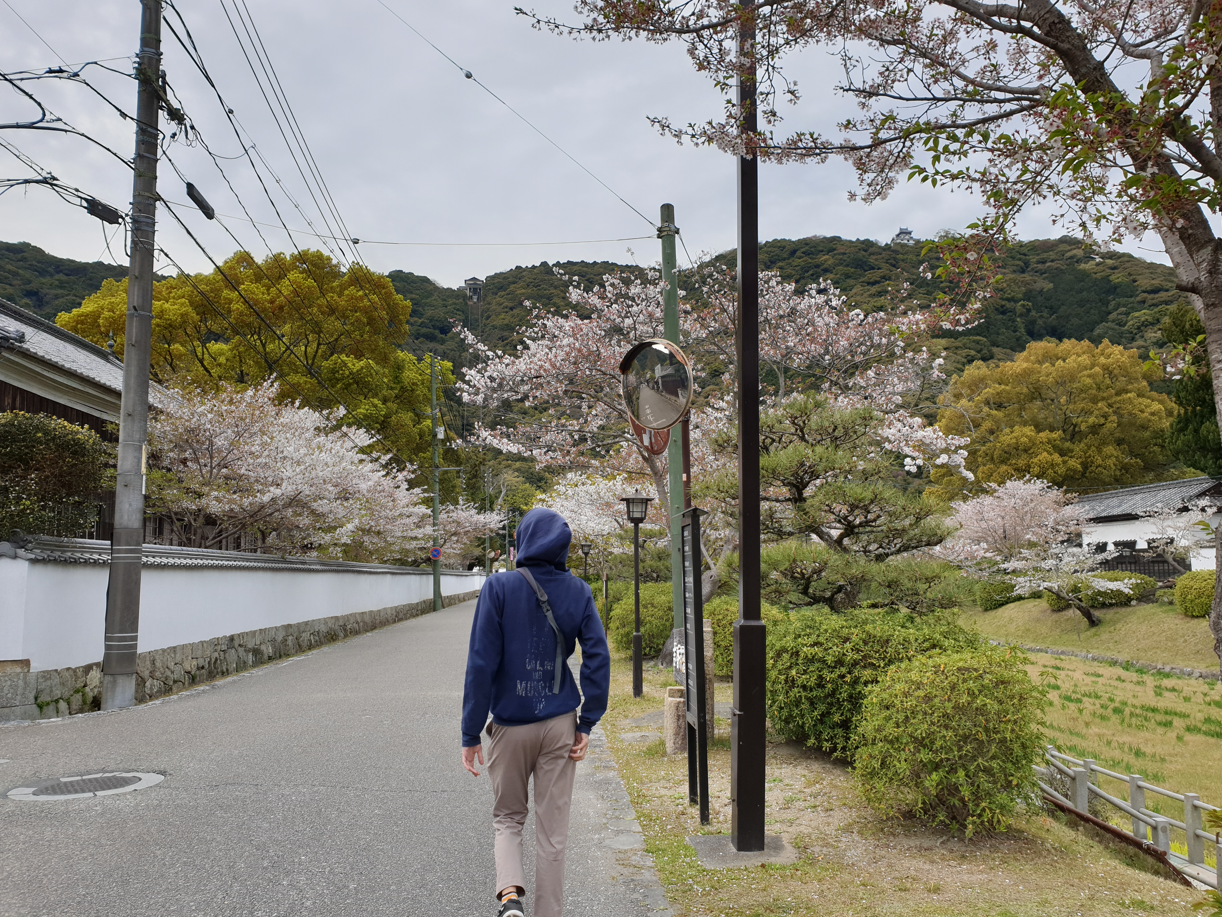 We did see a ropeway of some sort but I think this was a different ropeway from the one that goes up to Mt Yokohama.
We found this park of plum blossom trees all planted very neatly.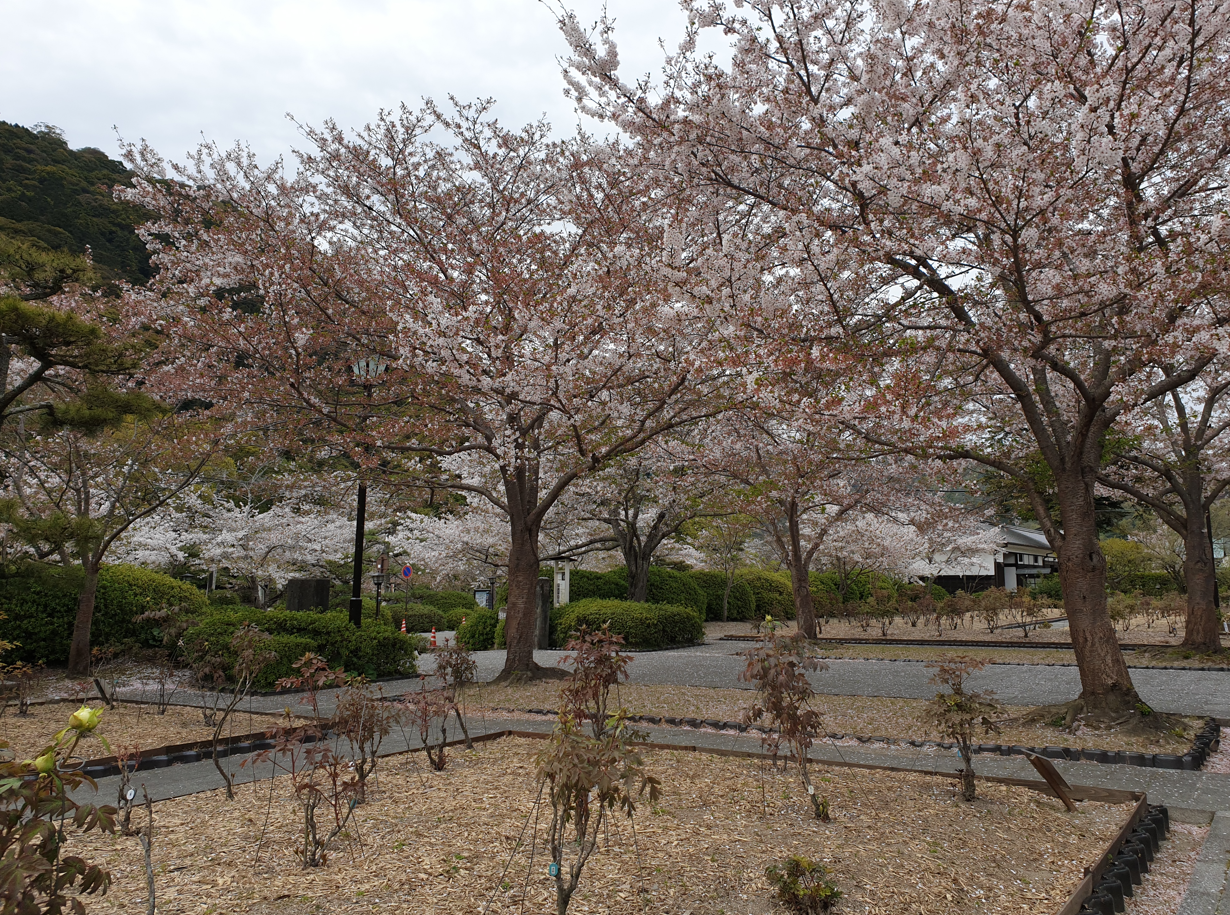 There was also the Iwakuni City Museum nearby.

The building itself looked pretty interesting. It was made out of stone and had that ancient temple look.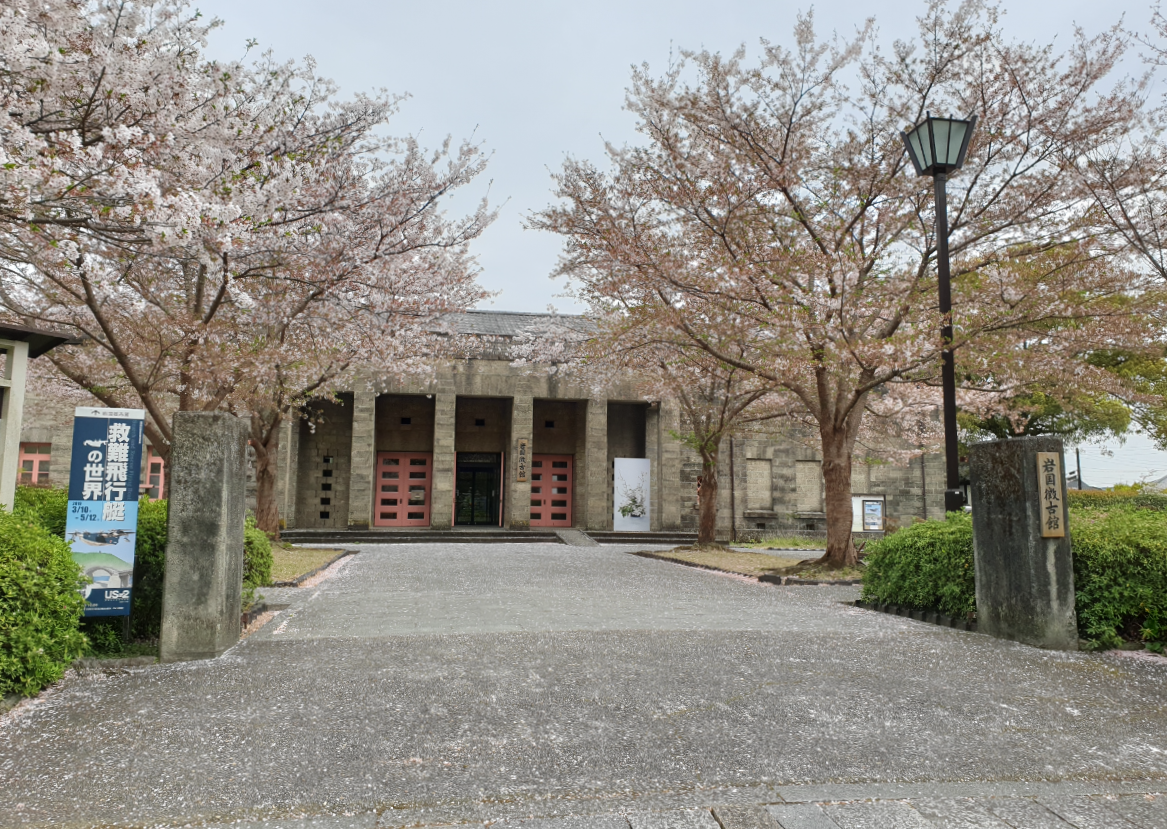 We also found this pagoda hidden within a clearing of trees and surrounded by a moat. It legitimately looked like something out of a landscape painting.

It looked so surreal and it was so quiet in the area that it seemed like we stumbled into a different world.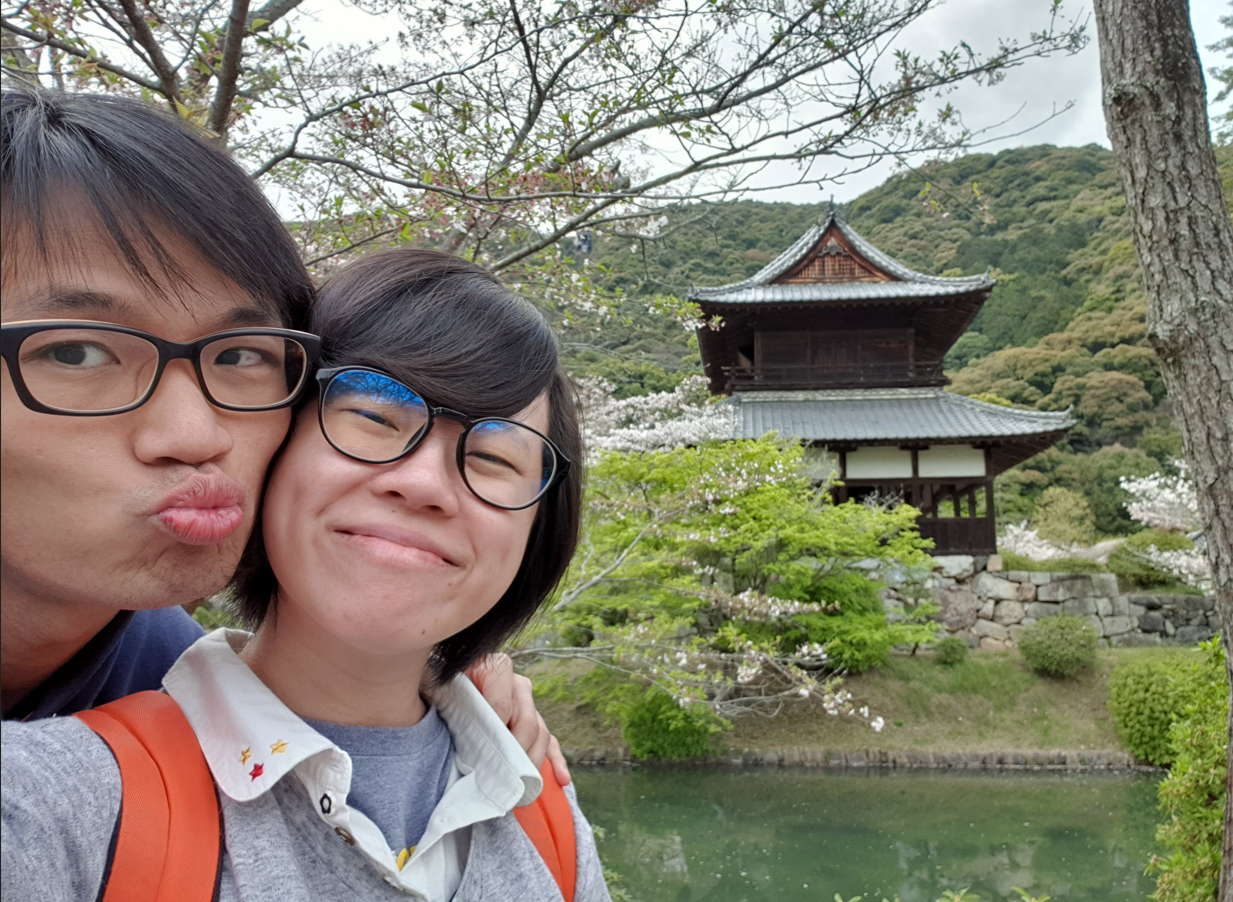 We kinda got lost in this little village here on the way to the ropeway, but still had a nice time enjoying the greenery around.

After a while we got tired of walking so we decided to head back since we weren't sure if the ropeway would be closed by the time we arrived there.

Also we wanted to get more pictures with the bridge so we slowly made our way back. On the way though, we did come across a Cormorant Training Facility!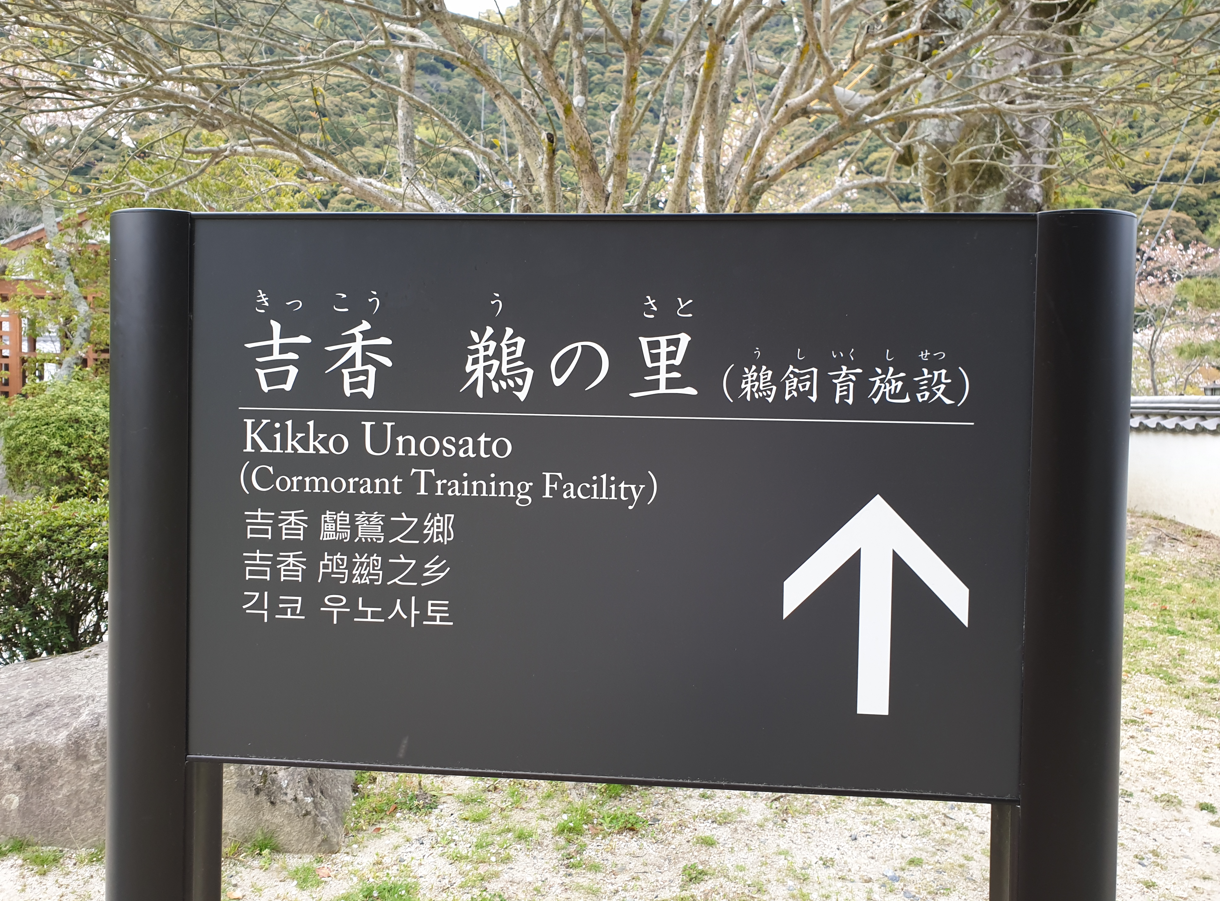 which was very neat and had a variety of trees too
Cormorants are birds that live near the water and are pretty unique to Japan.

I guess they train them to fish here? I'm not sure how well they treat them but they do look like majestic birds and are pretty big.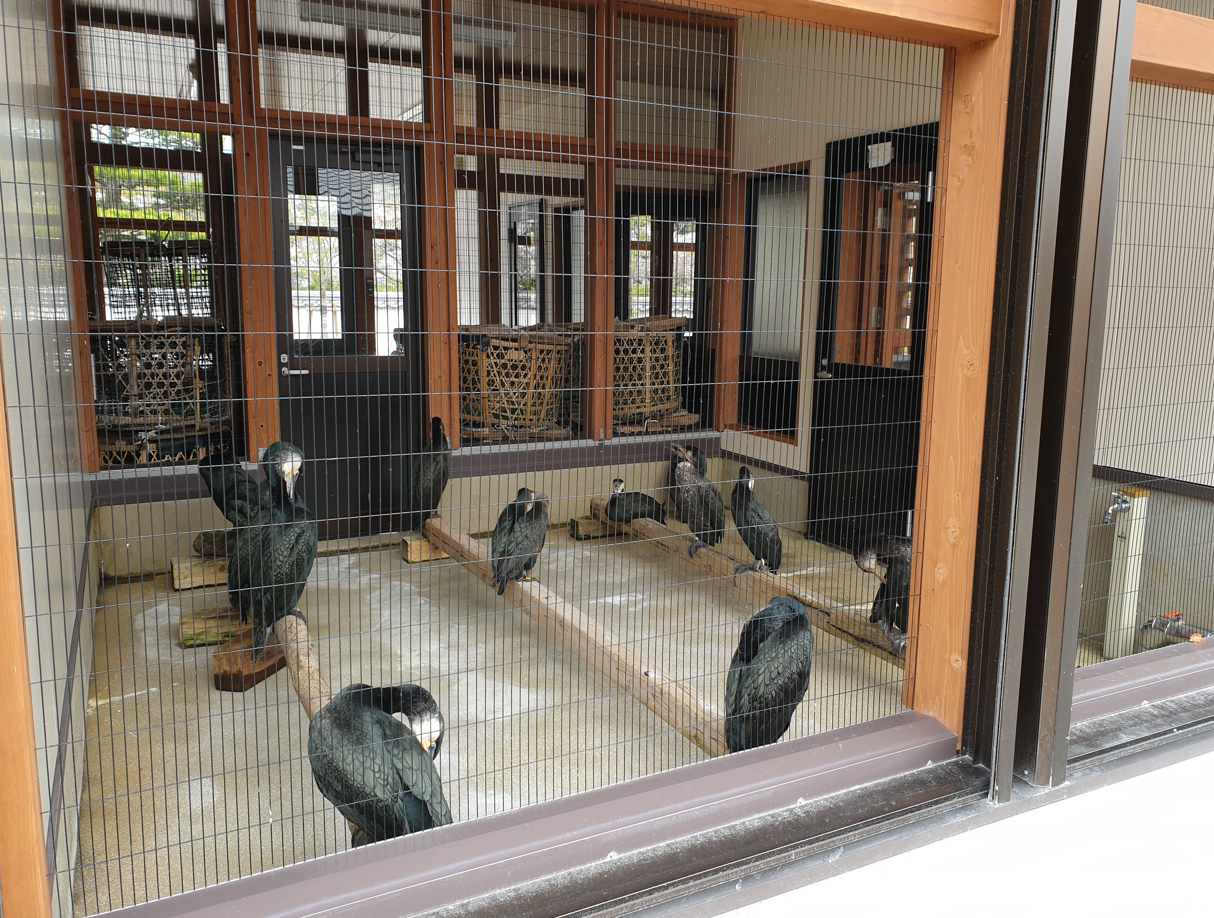 While exploring this park we saw a couple walking their adorable doggo! What a derpy-looking face!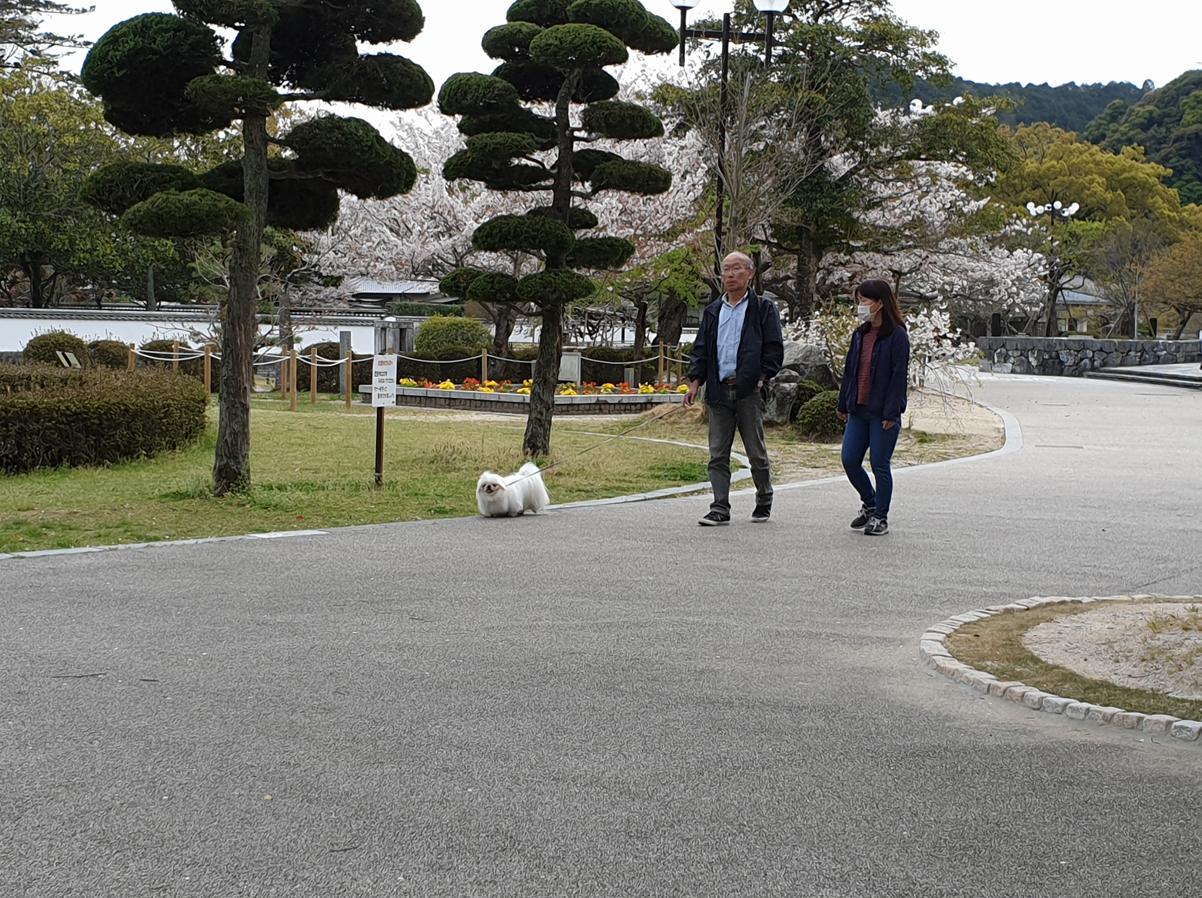 There were quite a few cherry blossom trees here too and more people were about just enjoying the nice weather and scenery.

Although the weather was cloudy it was very relaxing to enjoy a stroll in.

This tree was probably the tallest in the whole park and it looked so symmetrical and magnificent!

There was also a tree with more pinkish-white flowers! This was what I was expecting cherry blossoms to look like more tbh.

It looked so pretty!

Walking along, we found a little shopping street area with snacks where people were relaxing and enjoying some food!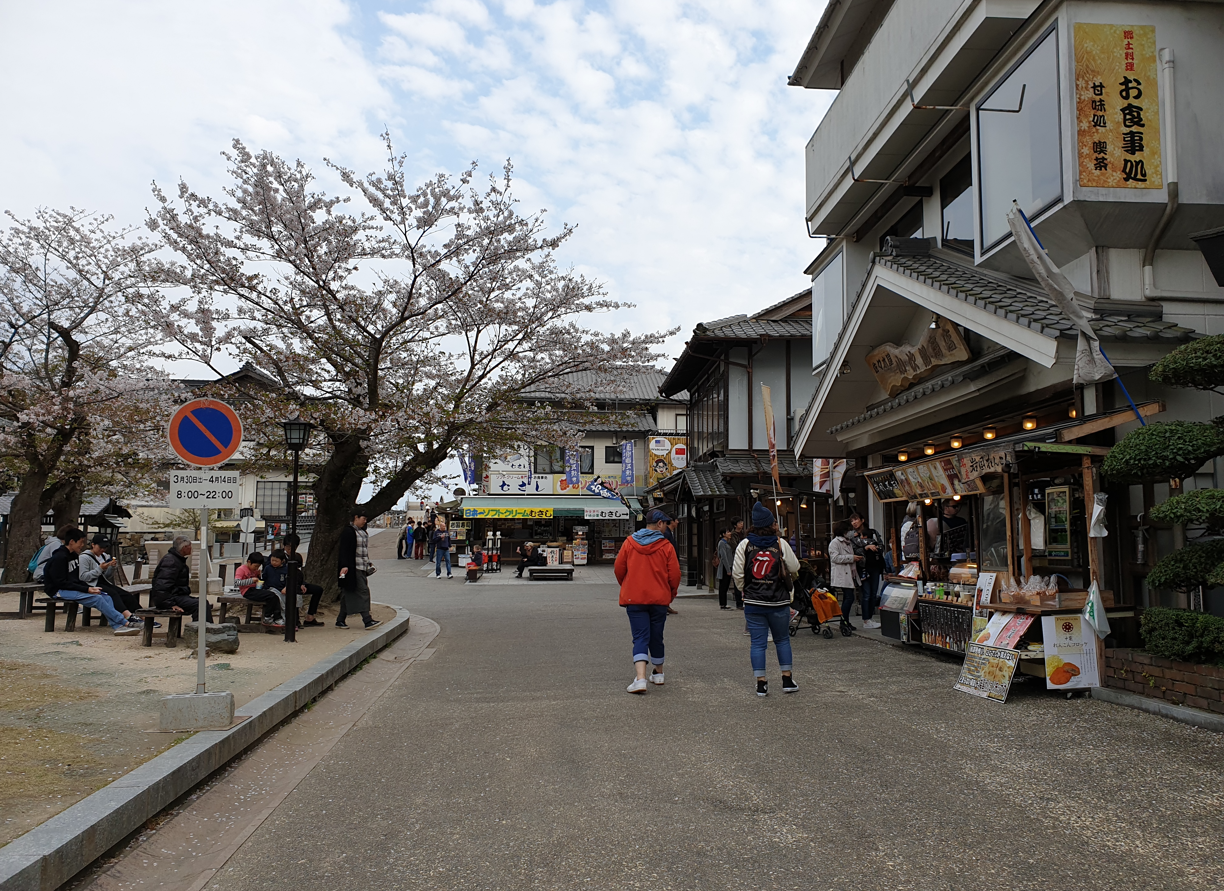 There was a whole lot of different shops selling all kinds of snacks and desserts.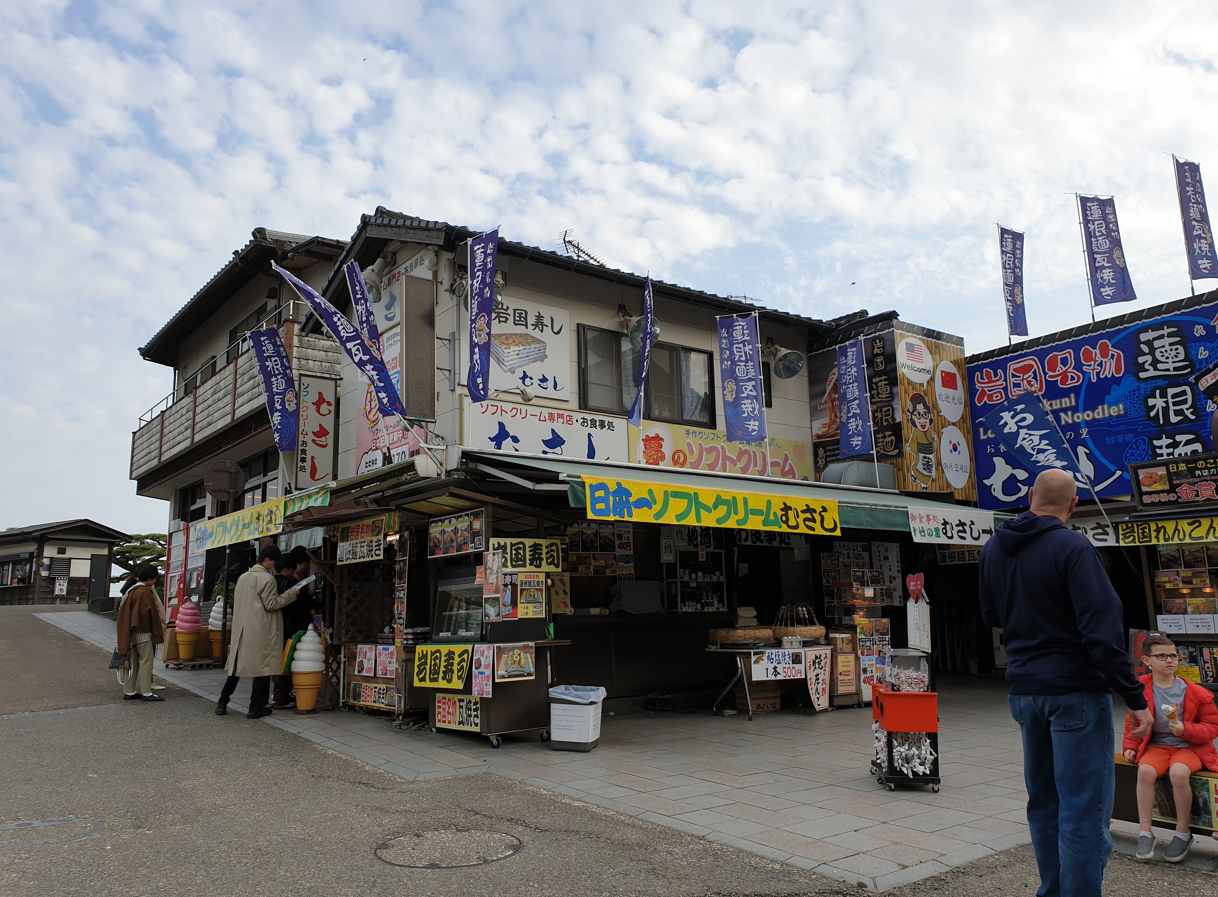 There was a monumental statue with wooden lanterns at the entrance that resembled the classic Japanese lamps.

There were also souvenir shops and they had some Hello Kitty merch in there!

Eventually we made it back to the bridge and headed back on to go across the lake again and we took this time to take al the photos we wanted since this was our last chance.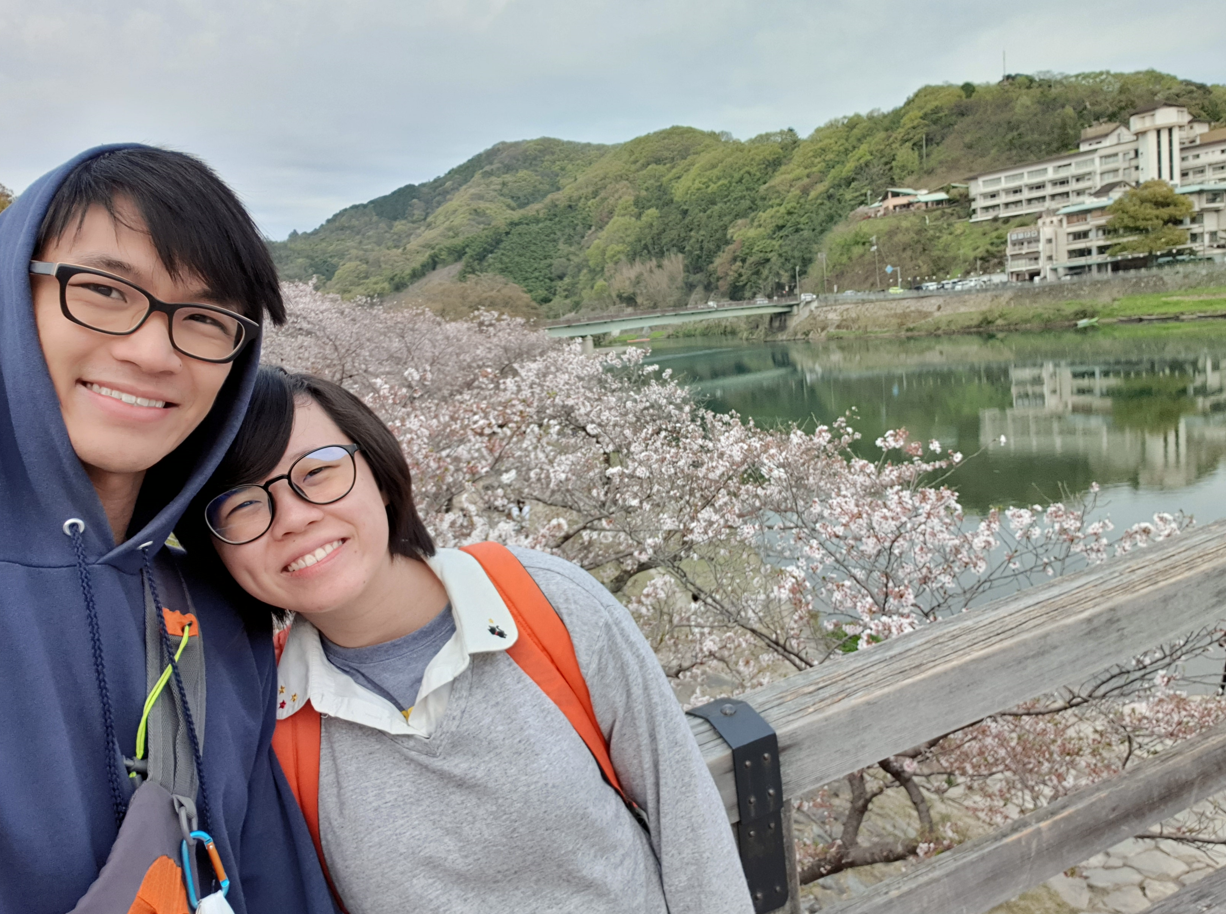 The river was now smooth and quiet and it created a near perfect reflection that looked so cool!

This part of the river wasn't as smooth though but it did look cool nonetheless. How often will you get to see a riverbed?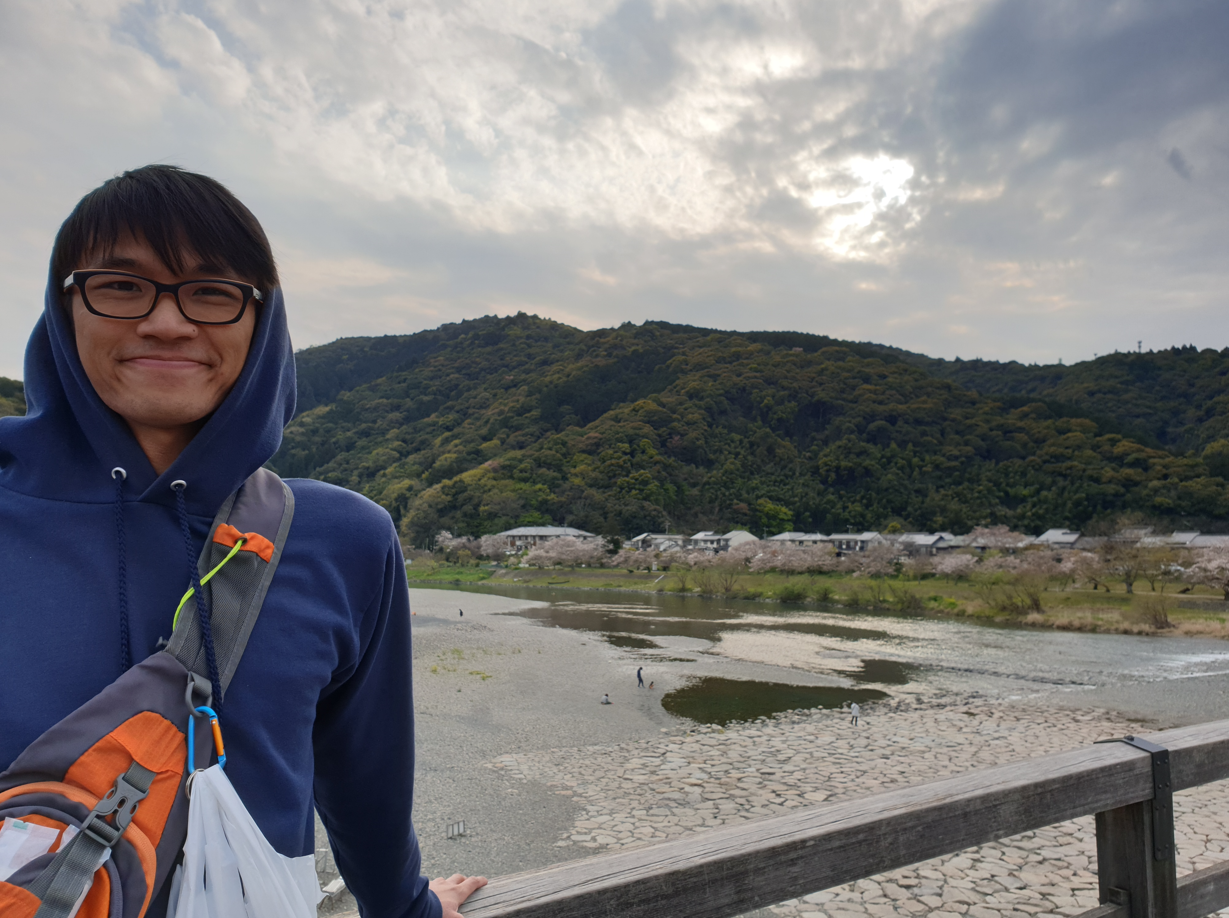 I tried to get more pics of us on the bridge but it was kinda difficult. I tried my best though.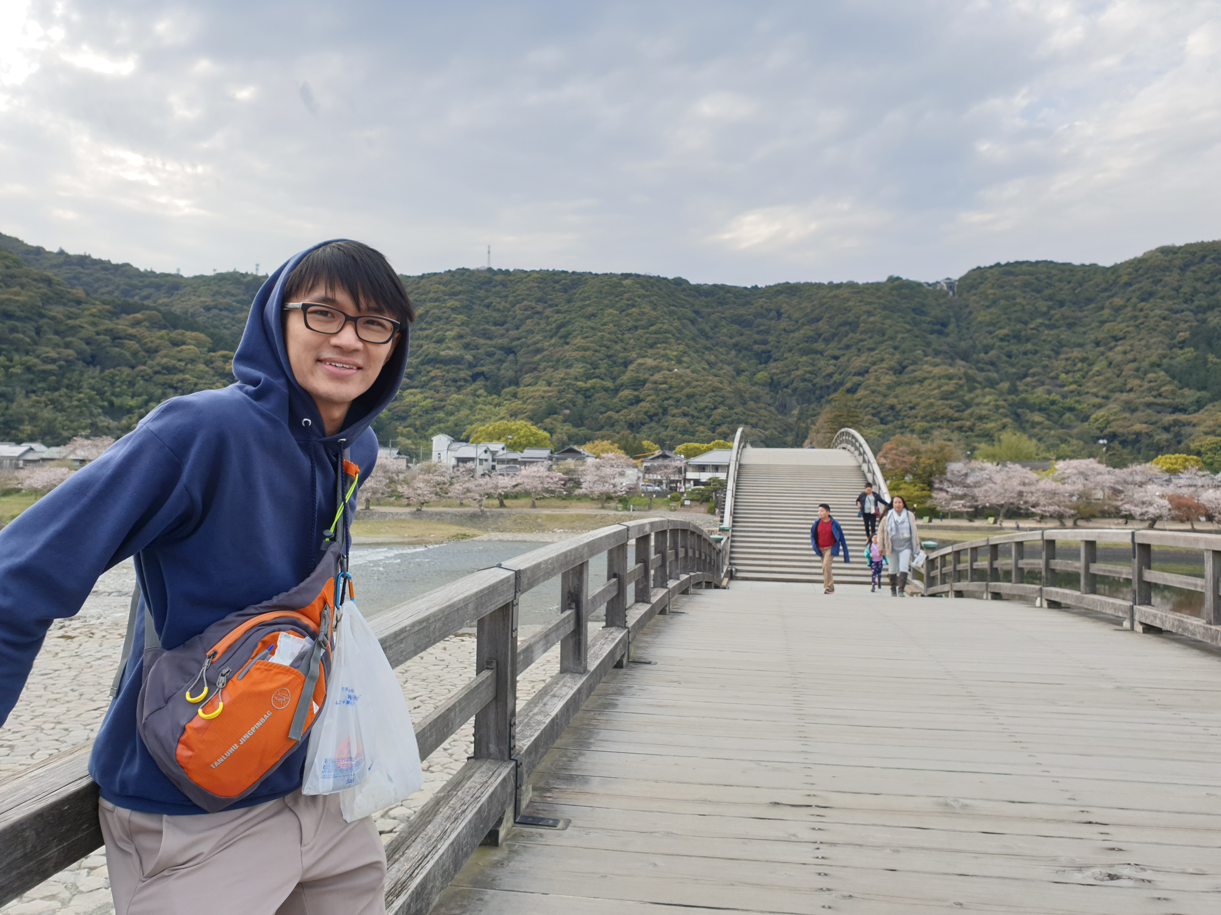 We decided to go down to the riverbed ourselves and see if we can get some nice pics from there too and I think I got a couple of nice shots!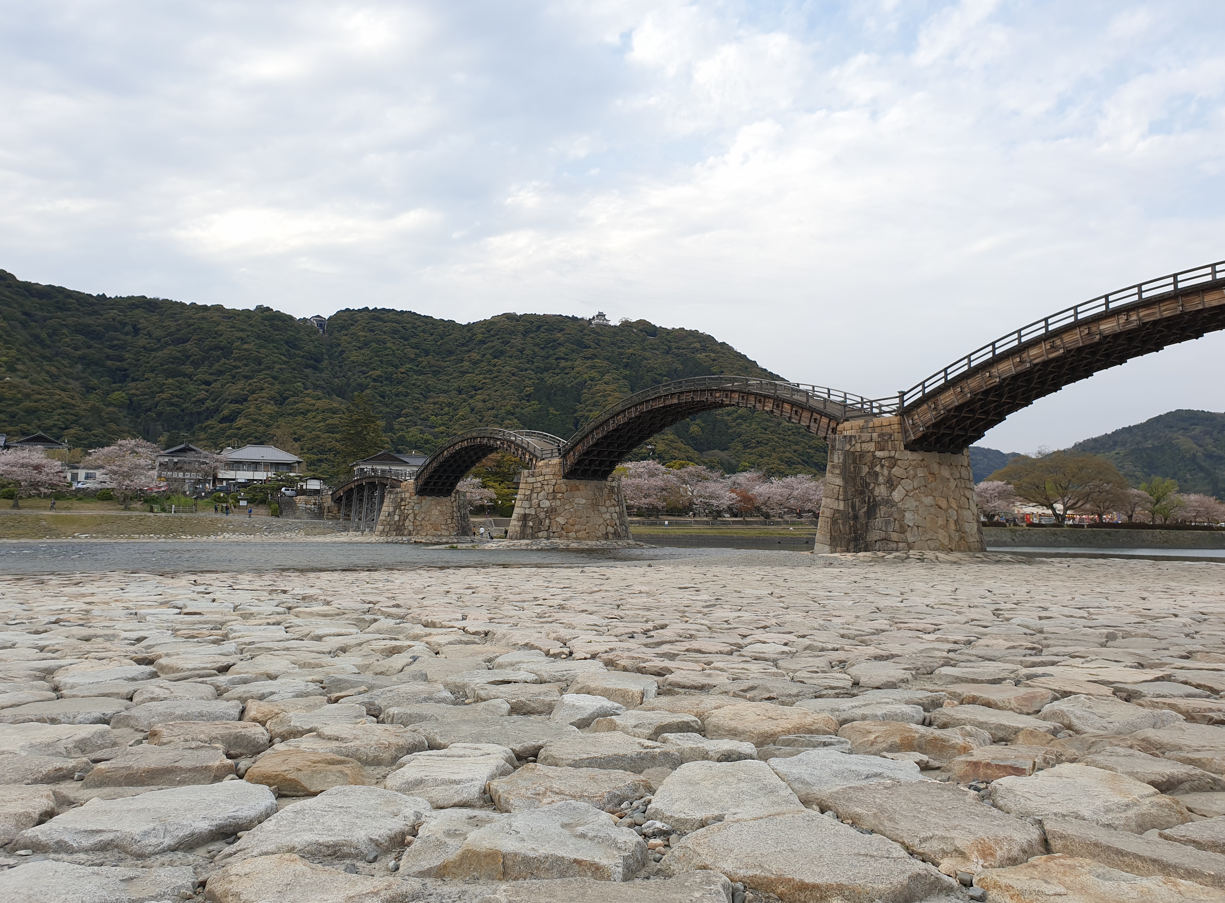 It was kinda precarious but we were very careful not to trip on the gaps between the rocks.
It was such a cool angle to take photos from and was a perfect place to see most of the bridge and the cherry blossom trees in the background!
The rocks also looked so cool with their unique textures. It almost looked like they were placed there so perfectly but we couldn't be sure.

We also took some goofy photos >.<

I wanted to take a photo with the reflection of the bridge on the water's surface and I tried my best to get it.

We bought a snack from the vendor that had a shop right near the river bank since we were getting peckish. I don't remember what kinda snack it was but it was kinda like a pumpkin croquette? It was kinda tasty.

The sun was slowly setting so we started to make our way back to the station.

This was on the floor of the station platform which I thought looked pretty nice! It was a minimalist version of the bridge.
And that's the end of the day! After that we just did some window shopping before buying dinner from the Matsuya across the street and eating it in our hotel.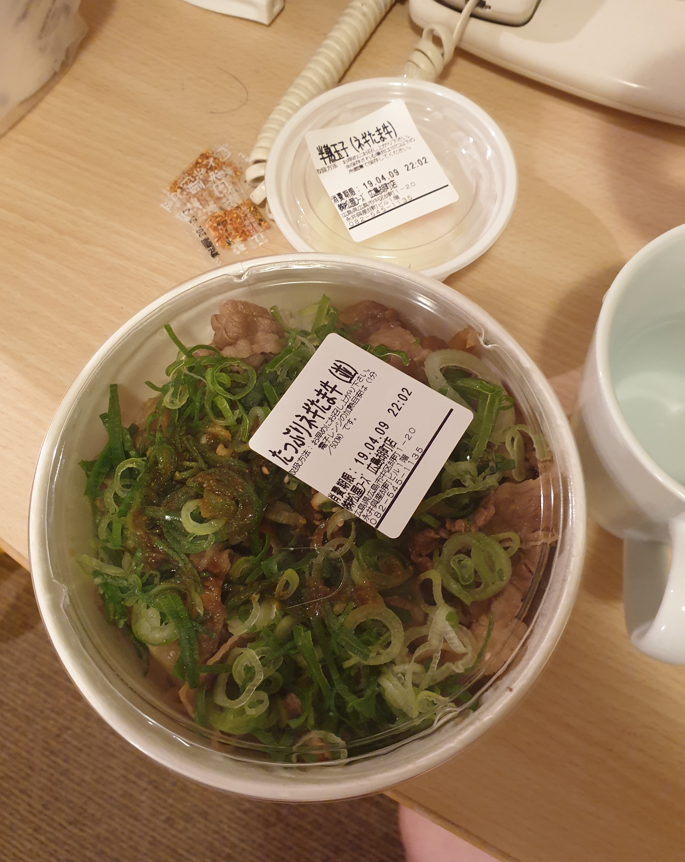 Thanks so much for reading and tune in next week for what we do next!

To find out more about me, check out my intro post here!
------------------------------------------------------------------------------------------------------- Check out my previous post in this series!
TacoCat's Travels #151 (Hiroshima): Crossing the Curviest Bridge! 🌉