Hey Hive!
It's time for another local trip because back in 2019-2020 we couldn't really fly anywhere due to travel restrictions. During that time, we saw more of our own country and I thought it'd be cool to share some interesting places from Singapore!
This one was actually way before covid, when my brother (who used to work at Facebook) invited us to go see the Facebook office in Singapore! It was our first time visiting the Facebook HQ so I thought it'd be cool to share some pics!
4 Feb 2019. Monday.
So the actual building of Meta's (aka Facebook) APAC HQ is located in Marina One West Tower, along with a number of other big tech companies here like Grab (which is one of the biggest delivery/ride sharing app here). The building itself looks like this:
Source: Corporate Locations
The whole neighbourhood looks really fancy and modern, with tall ceilings and office buildings that could be skyscrapers. This is the escalator leading up to the lobby: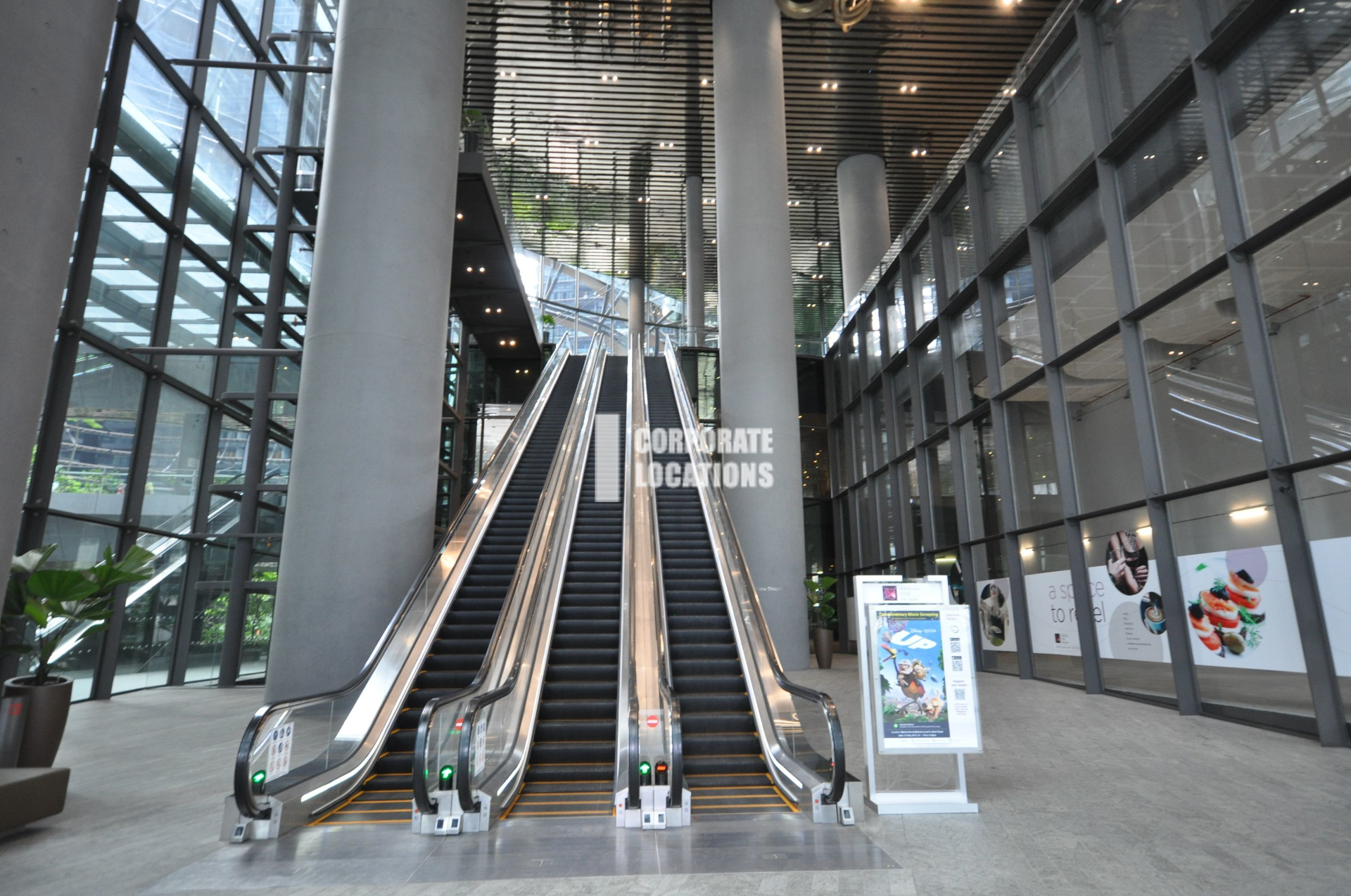 Source: Corporate Locations
Sorry some of these outdoor pics will be taken from the internet since I actually only took pics inside the office.
The escalator then leads to the central lobby where the entrances to the different companies are:
Source: Skyscrapercenter
It really felt very grand compared to some of the other companies I visited. You could really tell tech companies was where the money was.
We met my brother there at the lobby and he brought us up to the 50th floor or something where the entrance to the Facebook office was located. I think the whole office is 4 floors in the skyscraper but each floor was very wide and spacious as we would see.
I remember one of the first things we saw when we entered was an actual Facebook wall that looked like this.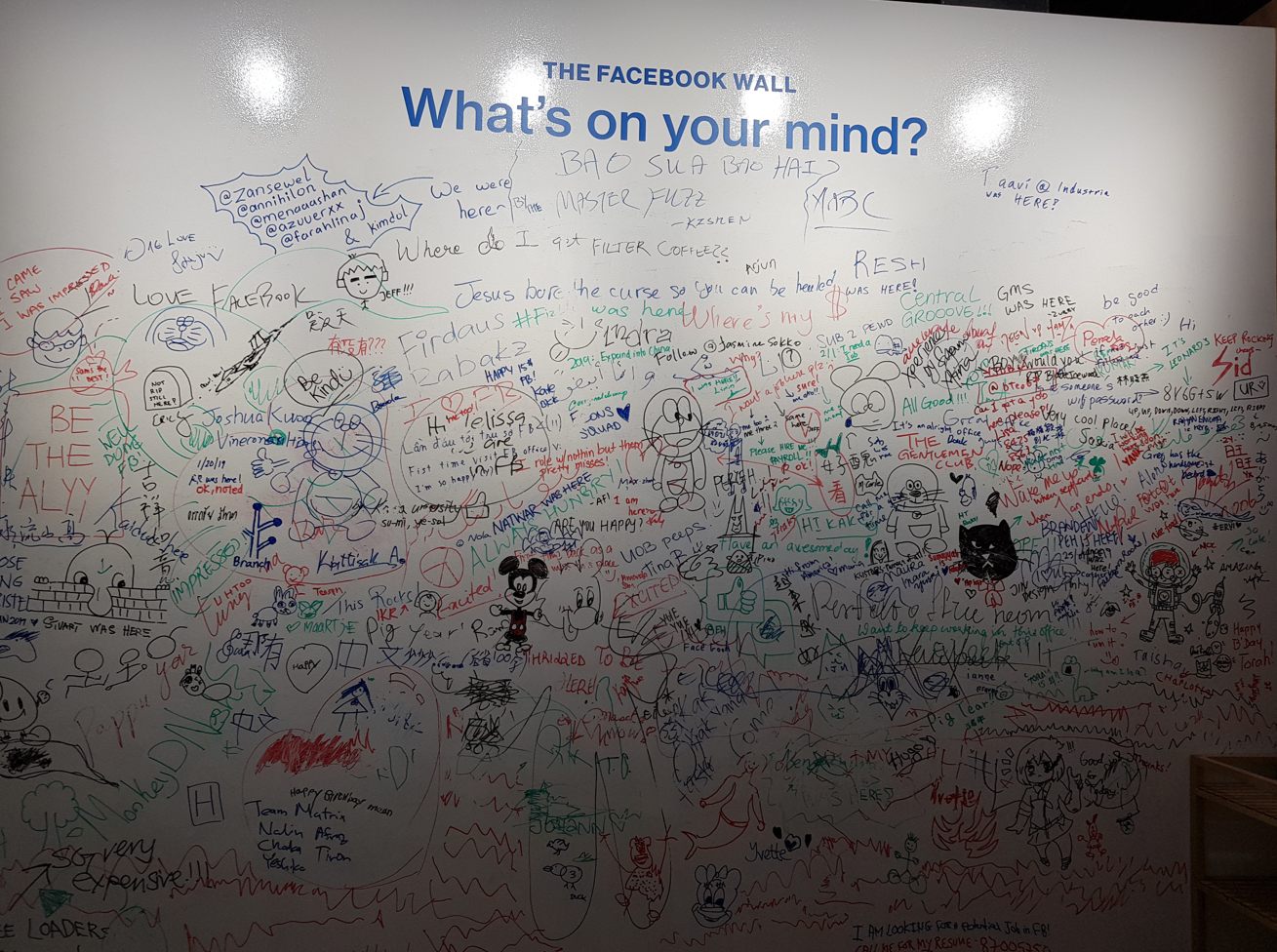 It's funny since the Facebook Wall was the whole concept behind Facebook; sharing your status and all that, but online of course.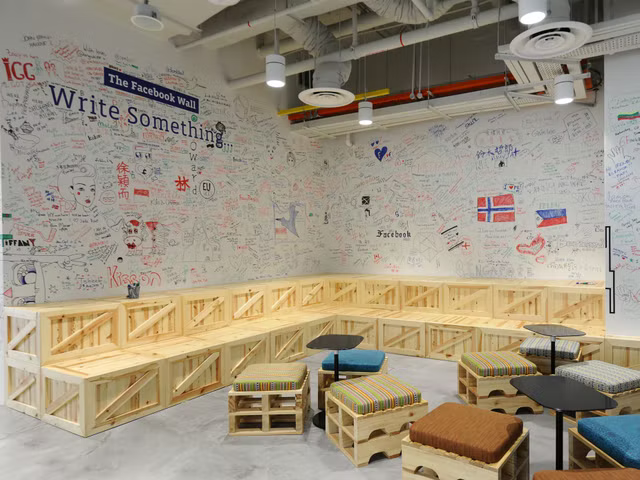 Source: The Independent
It was 1pm by the time we arrived so we made a beeline for the cafeteria first just in case it would close. My brother offered to show us around after we'd eaten.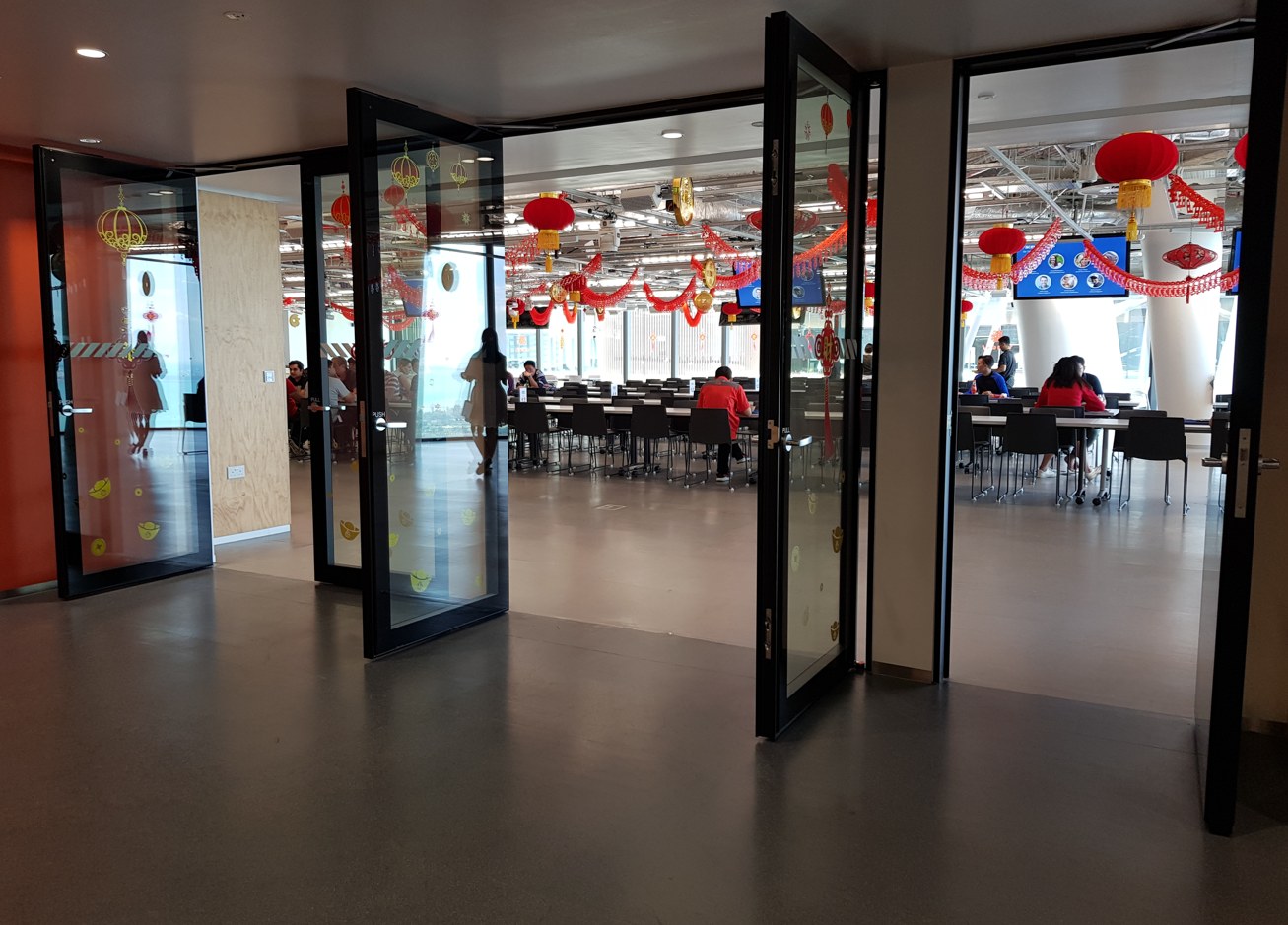 There were quite a few cafeterias joined together with plenty of tables and chairs, and since it was around Chinese New Year time, there were CNY decorations up!
Each side of the very spacious cafeteria specialised in different cuisine.
But I think they opened during different days so as to not waste food in case people don't patronise a certain one enough.
I think there was only one or two that were open at the time that everyone was flocking to, so we headed there to see what was being offered.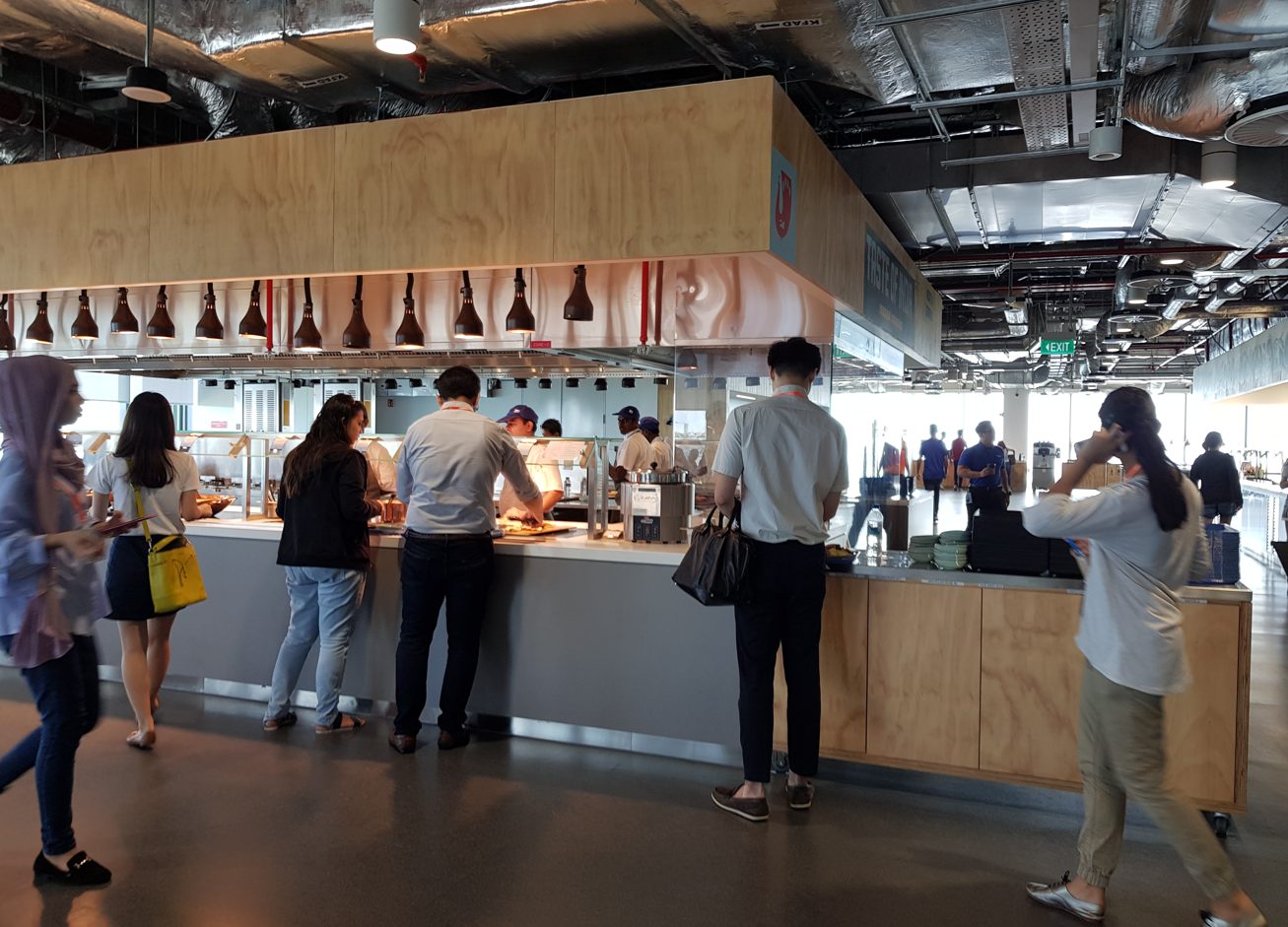 We grabbed the special Facebook tray and got a little of everything to try.
Even the dish and silverware felt fancy! It's probably fancy IKEA plates but still.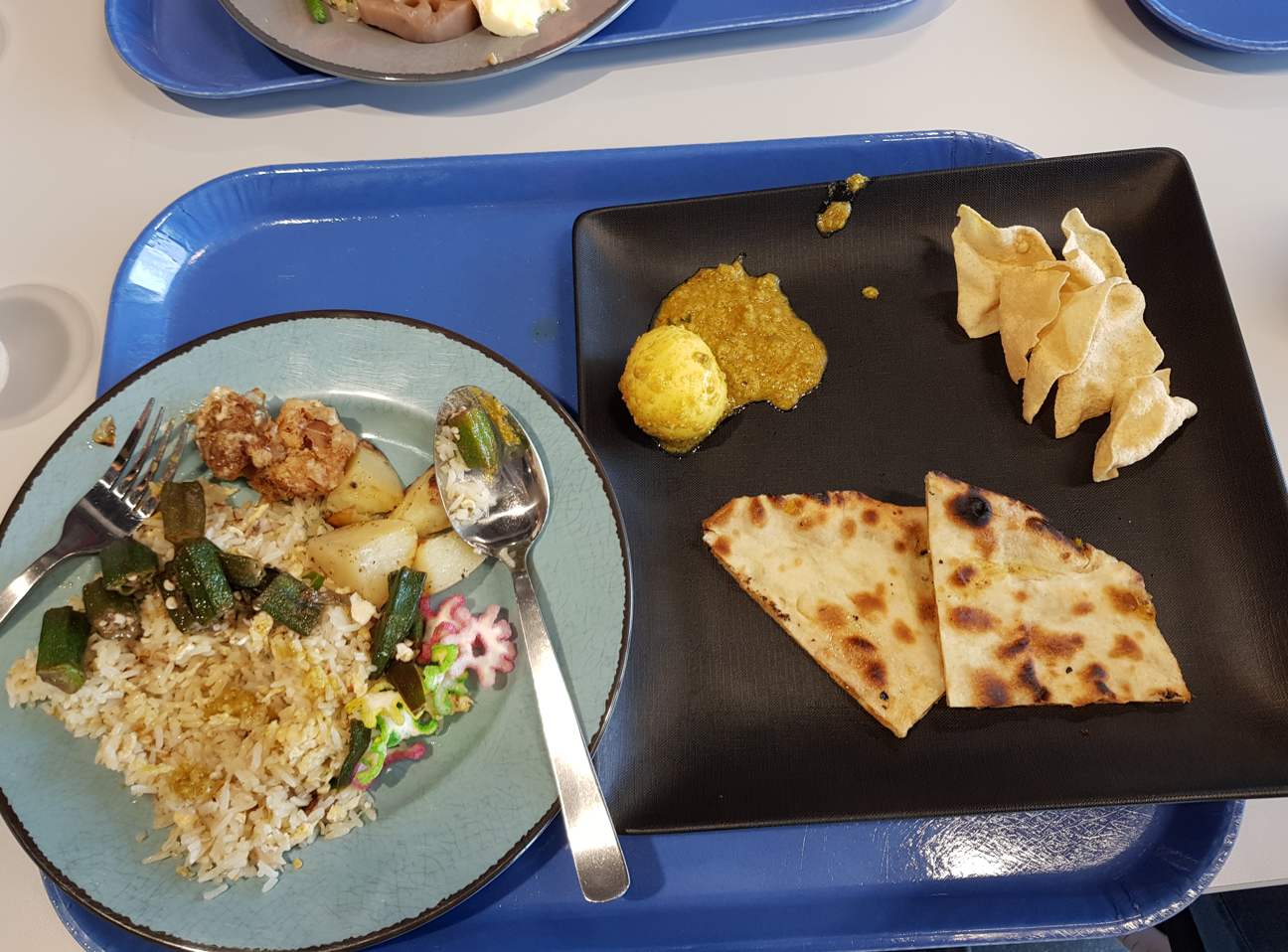 I think Indian food was the specialty for today, so we had some curry, potatoes and vegetables on basmati rice along with naan and some papadam. It was really yummy! There were even many drink machines around with fancy canned drinks you wouldn't find in normal convenience stores.
After we had our fill and some desert (including some CNY goodies) that I unfortunately didn't take pics of, we went on a tour of the office!
The whole aesthetic was very modern, but with different bright colours mixed with natural wood.
And there were different corners for different purposes like this place for wellness and in-house counseling I think?

But there were so many comfortable spaces that just looked very chill and relaxing, just like all the videos and pictures we've seen and heard about Facebook and all these tech companies.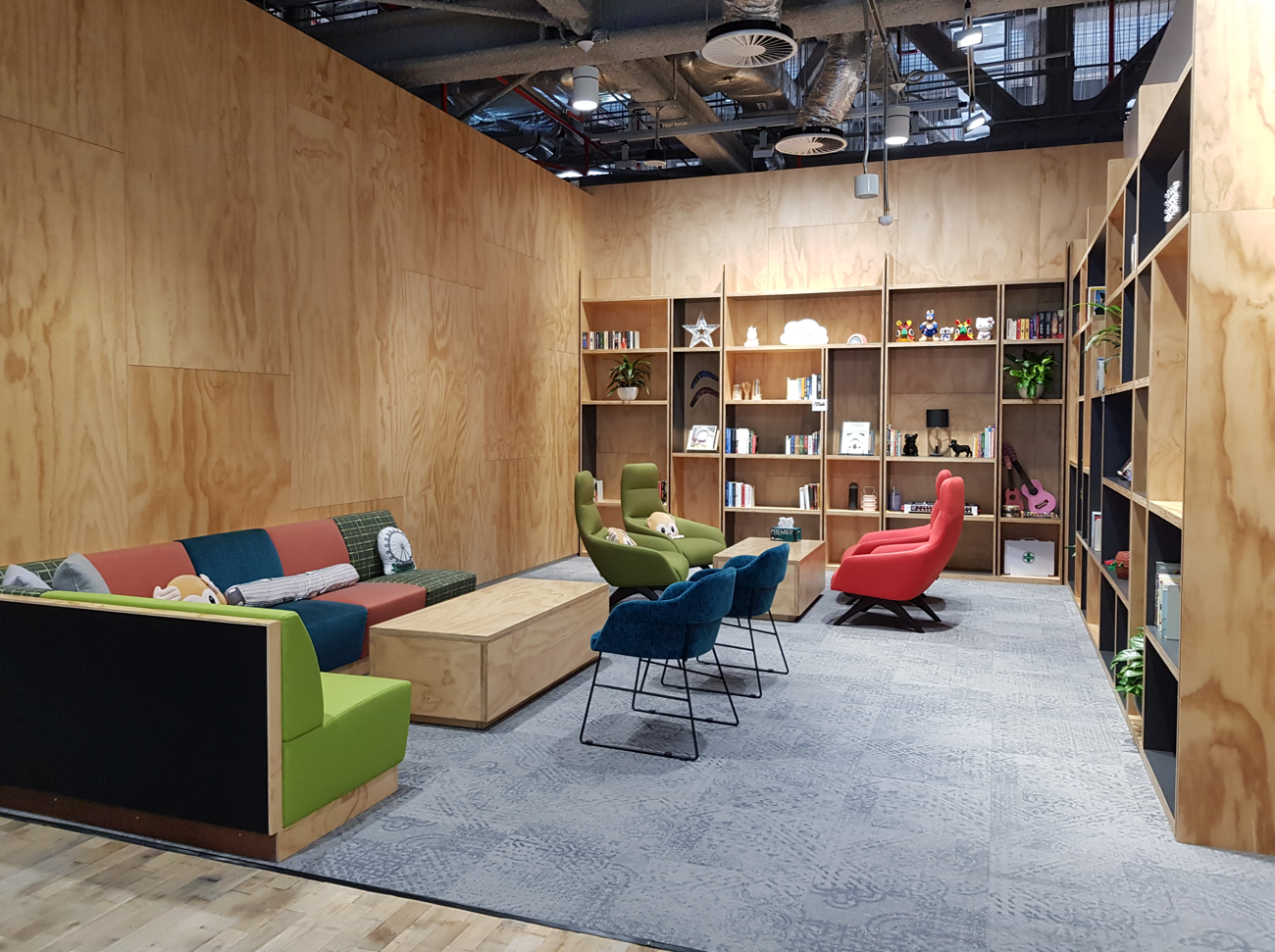 It seems like the trend with these companies is that they're opting for more open and comfortable spaces like these to create a more relaxing atmosphere to encourage collaboration? Instead of cliche office cubicles and stuff that close people off from one another.
There were even pool tables for employees to play and relax!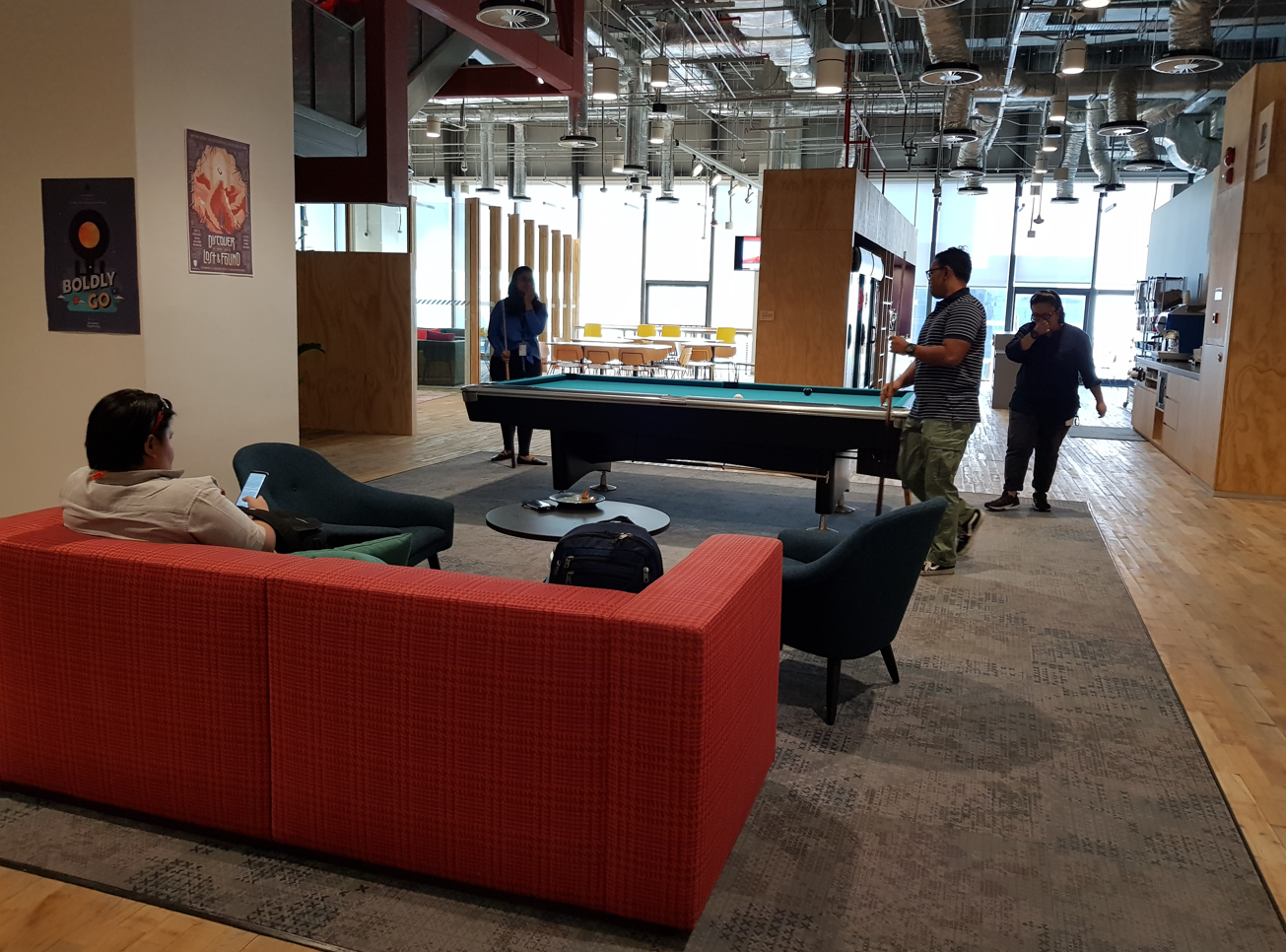 Even their meeting rooms were quite informal and fun-looking! My college meeting rooms looked so boring compared to this: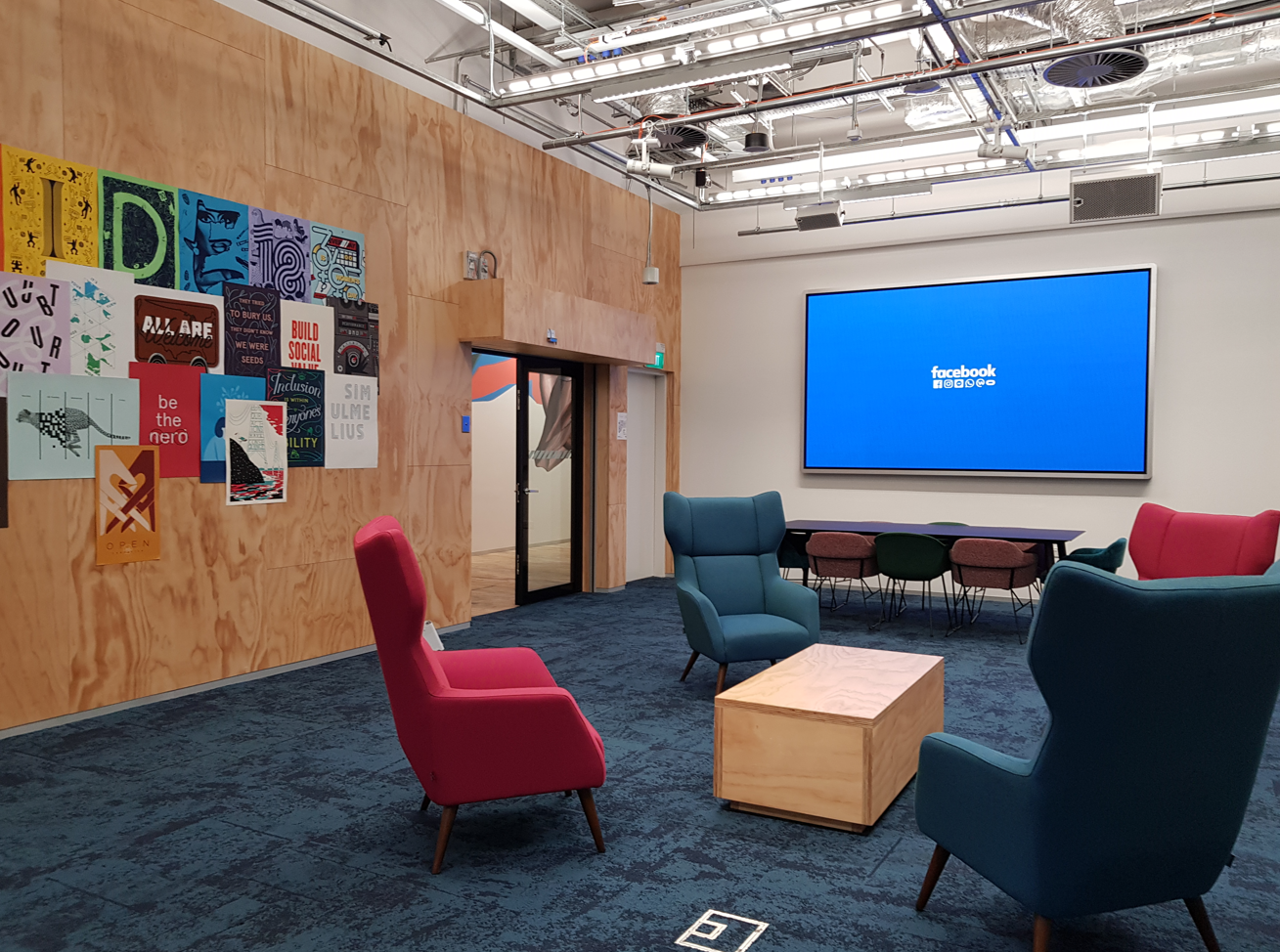 We managed to enter into a small seminar room and got to take a bunch of photos. I assume this is where they hold talks and stuff for smaller events and such.
I felt way too underdressed to be sitting up there, but just being up there in front of nobody was a little nerve-wracking already!
While we were walking around we saw this huge iPhone-like display on the wall just playing videos of stuff and couldn't help but stop and take a photo with Sean's comparatively small iPhone. xD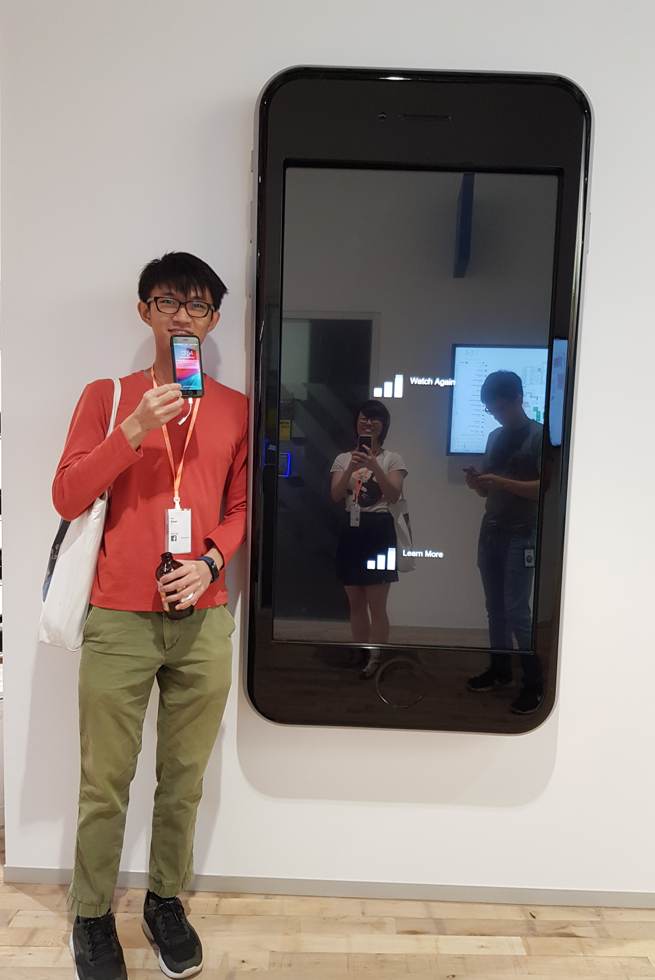 We also passed by this emoji wall display where you could play around with the screen in front to throw up different emojis that would fly around on all the different panels.
Even their normal desks looked so nice! I would've loved to just come here and study or something.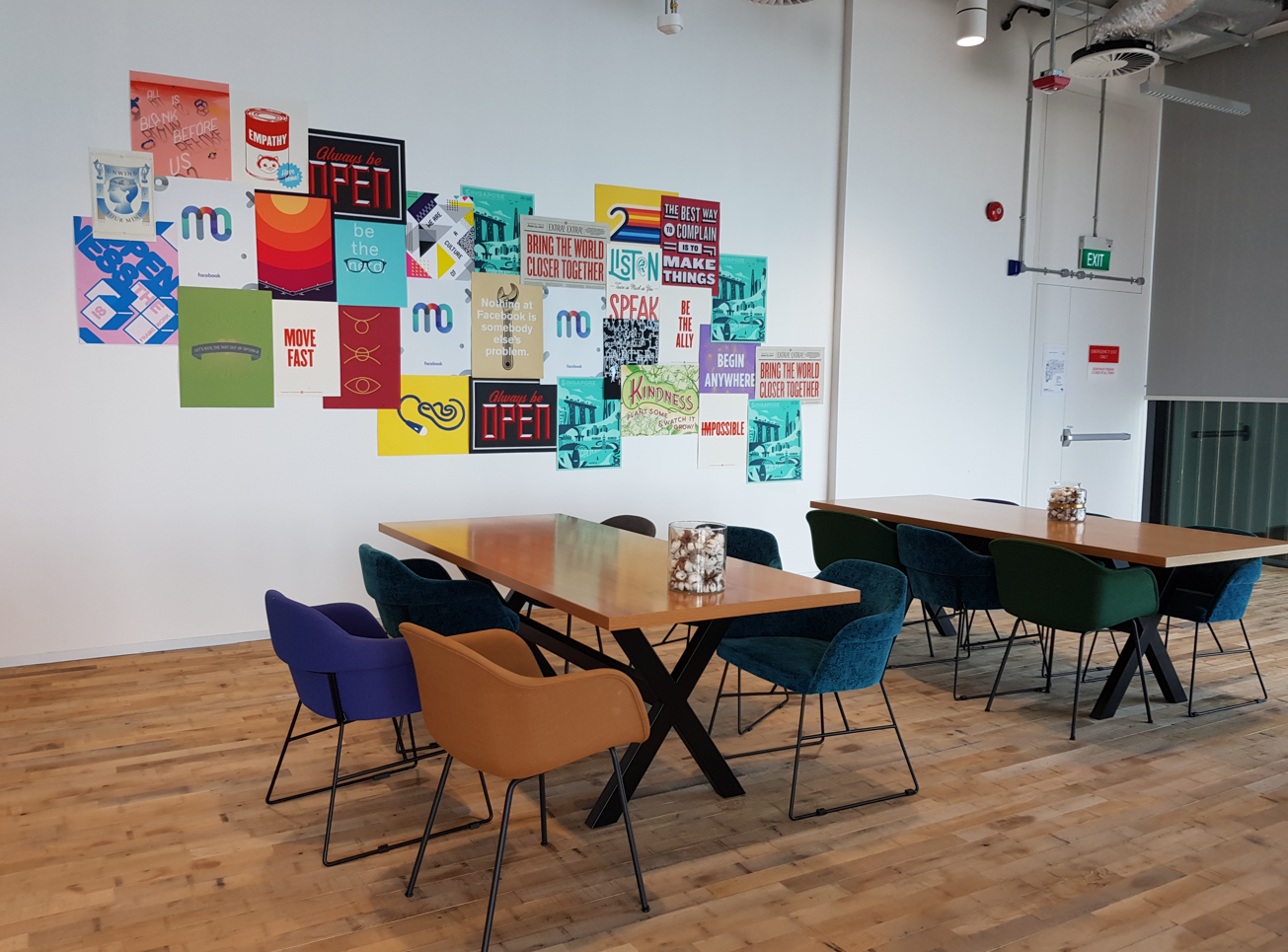 We also passed by this very colourful alleyway with murals on the walls and there was a nice photo spot at the end.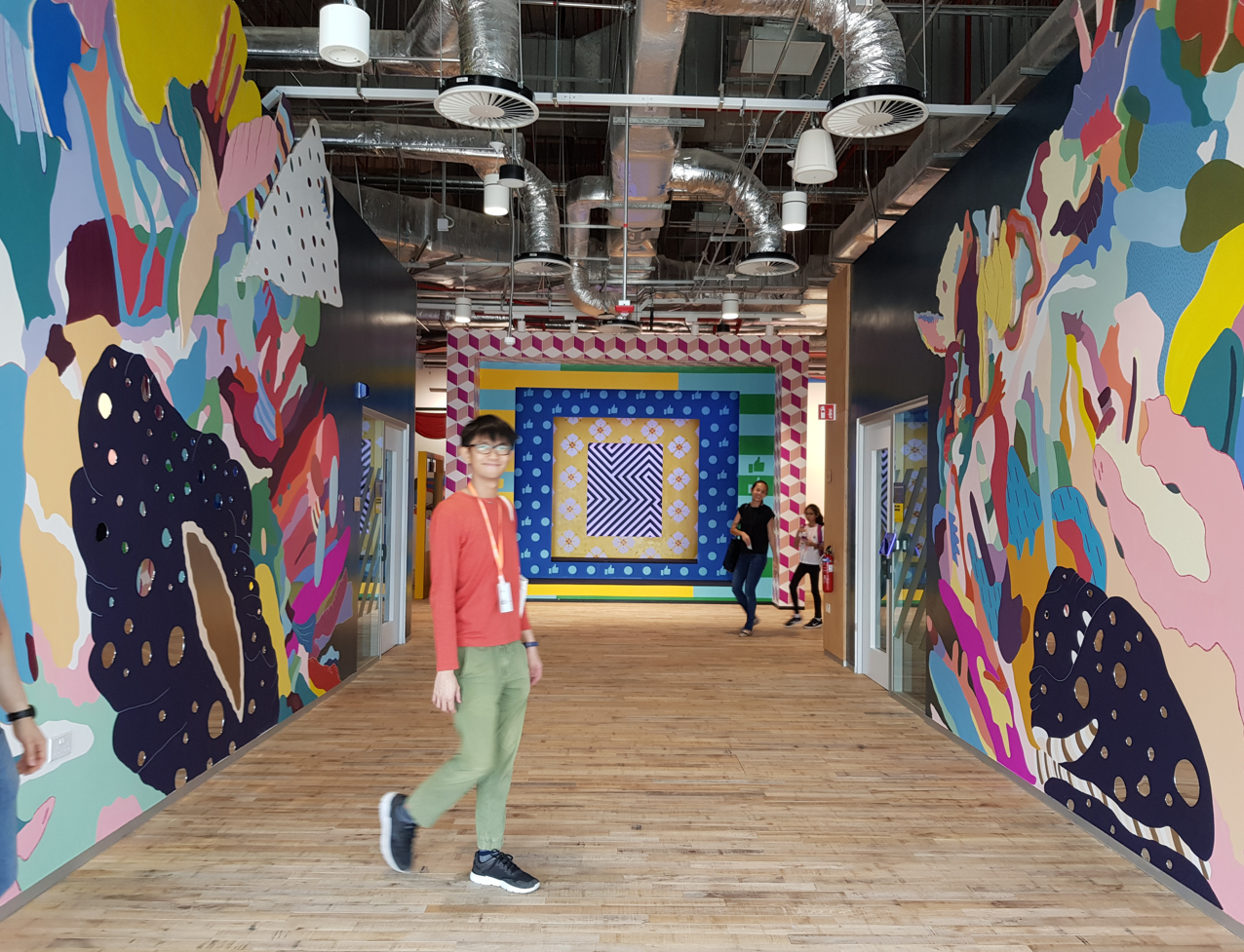 There were even props for people to take photos with so of course we had to as well!

The whole floor was so spacious it felt like we were walking forever but it was still the same floor!
I think only the main floor had more of these nicer-looking areas though. But still, even these window nooks looked so nice to just sit and have a coffee (from the many coffee machines around).
There were big screens like these around almost every corner too.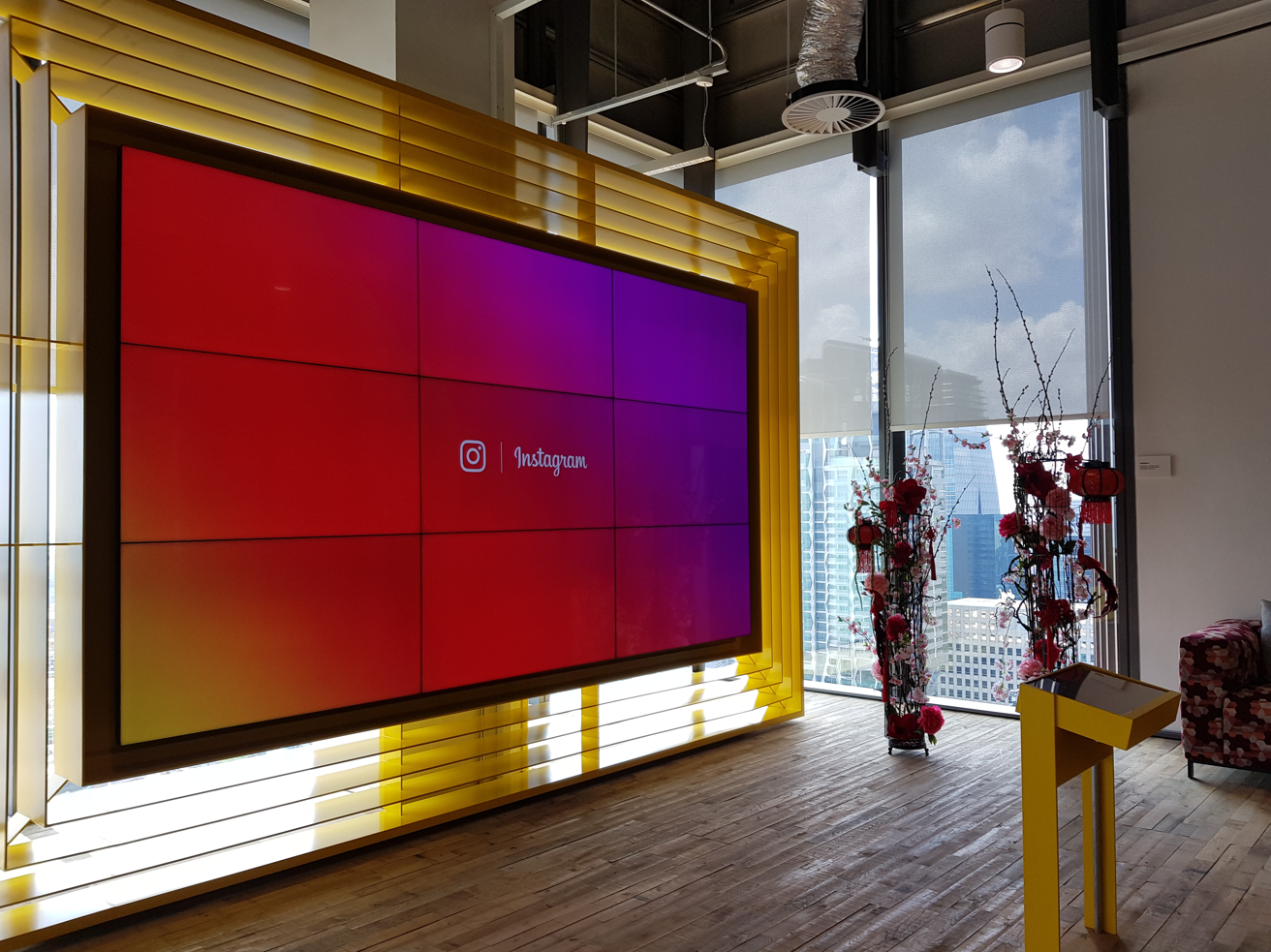 I'm not sure what this place was for but it sounded cool! It looked like a product design lab but since Facebook doesn't make physical stuff I wonder what they do in there?
Most of the other floors looked like this though, with normal desks like an office but no cubicles of course.
There were of course kitchenettes here and there in the office area for people to grab snacks and drinks.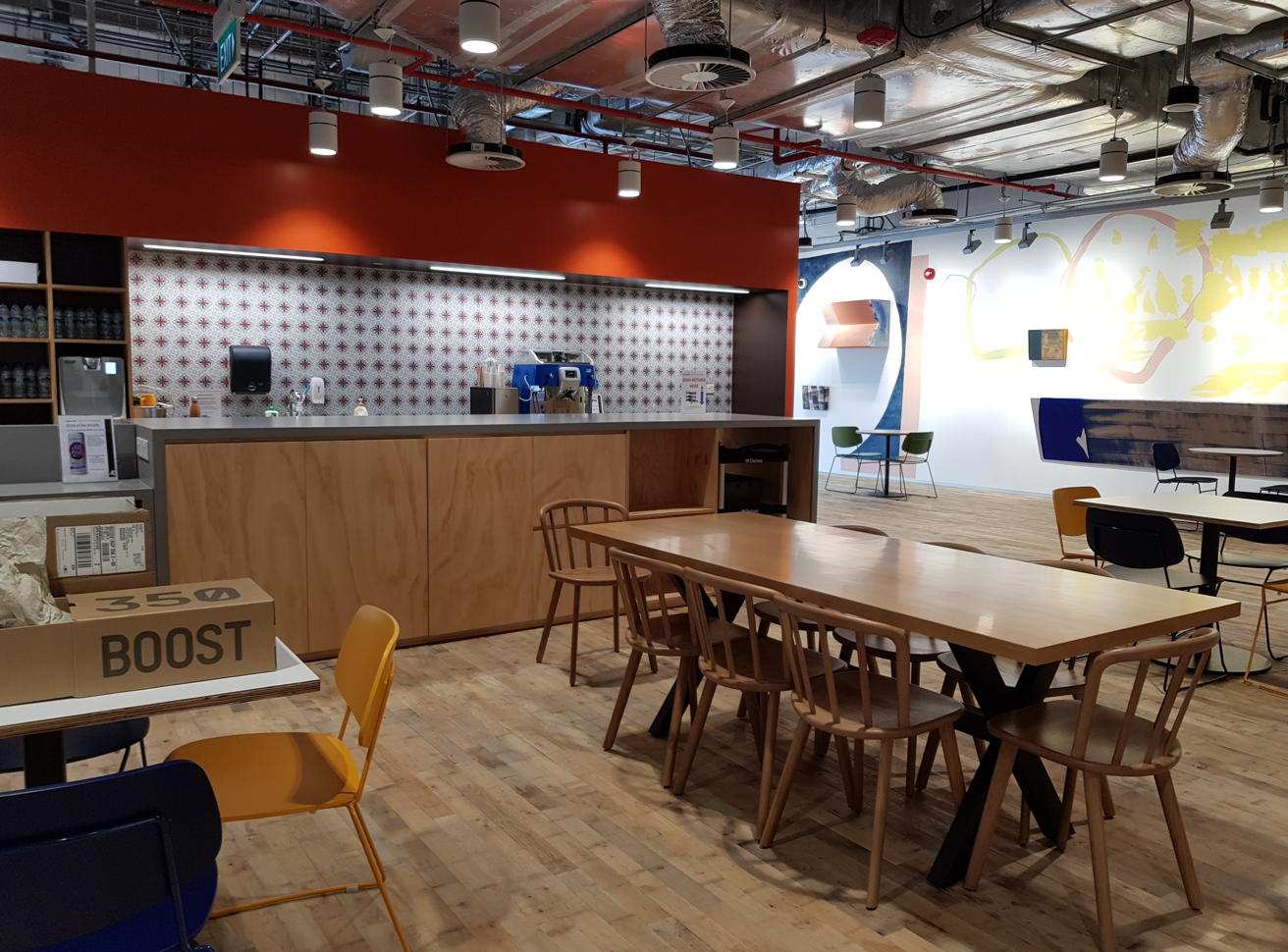 And very comfortable-looking couches and chairs for people to relax/work in. Man, if I had an office like this it would actually make beating the morning rush hour worth it.
They even had a little gaming corner of course with different consoles hooked up, and so many games on the shelves! I wonder how they can get work done.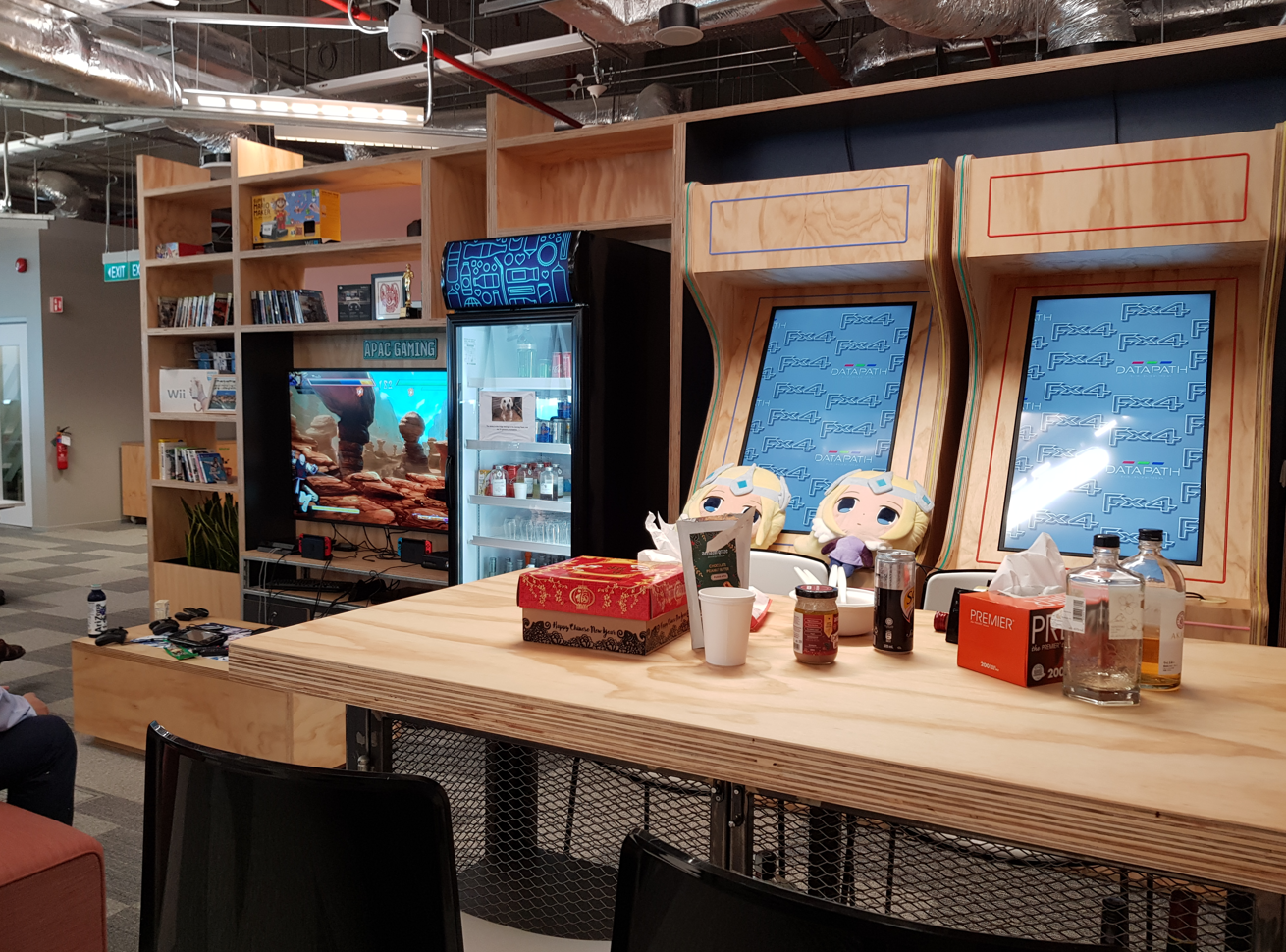 The rest of the office looked more or less the same. Although some other noteworthy stuff include some interesting meeting room names using local food like this:
And vending machines that "sell" tech essentials like keyboards, chargers etc. that employees can claim for free! Their redemptions are limited though, but my brother did get a pair of good headphones from these machines.

I remember their restrooms being really fancy too! I don't have any pictures, but they even had showers and towels there! In the ladies' room they even had sanitary products and plenty of amenities, it felt even fancier than a hotel restroom!
I thought I took a picture of this but they even had laundry services at the office! I wonder if people actually slept at the office before because it seems like you could just live there no problem.
Source: vulcanpost

It's pretty insane how much money they have but I can't even imagine how much was spent building this office and maintaining it to this day! This was way before the recent news with layoffs though, but I guess things might have changed since covid has kept many people from going to the office for a while.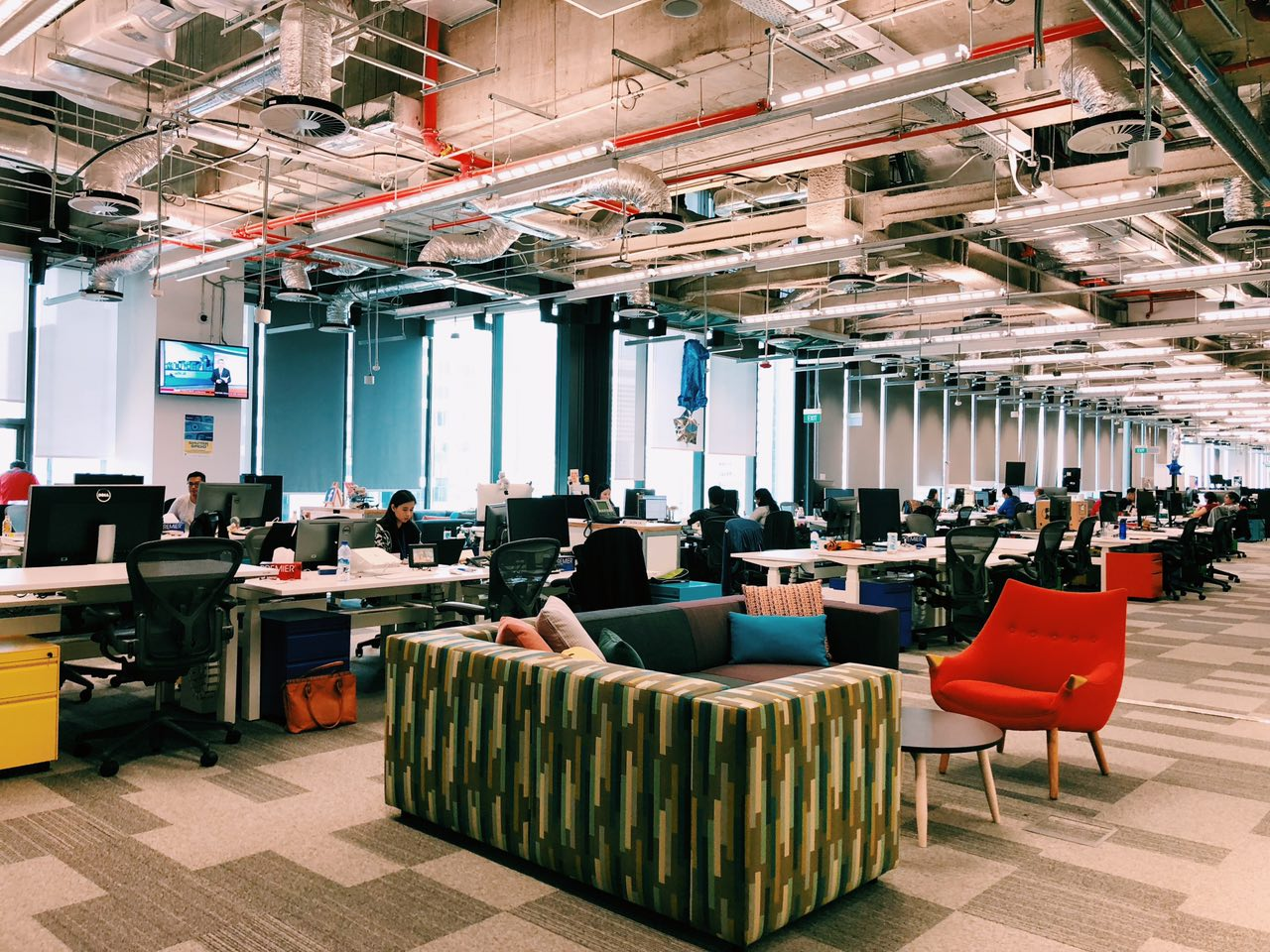 And since the pandemic work habits must've changed quite a lot since people had to get used to working from home. I think now that things are getting back to normal people are returning to the office now though. But if you have an office like Facebook, I think you would want to go in, at least I would.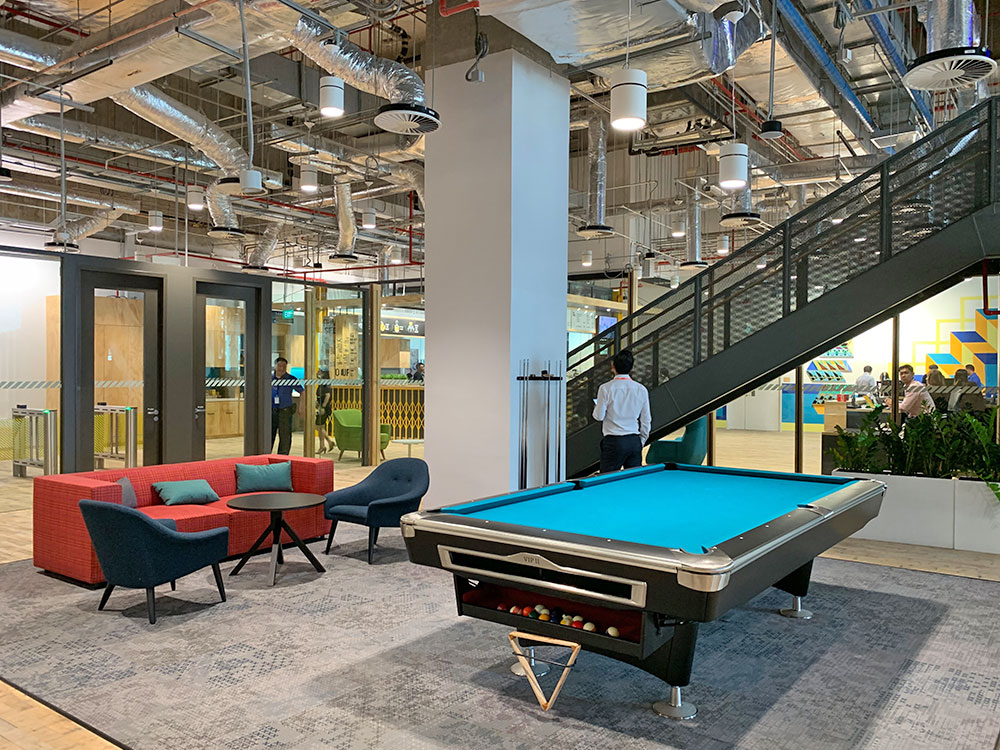 Source: Hardwarezone
Before we left, my brother took us by a couple of their snack corners and we could grab some snacks to bring home! Even their snacks were premium brands, none of those regular ones we buy at the supermarket. So of course we took a whole bag of them!
Source: hardwarezone

It was quite a haul, and we were giddy when we went back home. But it was a great trip overall and definitely made us want to work there ngl. I guess it really pays to be in tech, but now I'm not so sure, especially with all the controversy around Facebook's security. Still, nice office nonetheless.
Thanks so much for reading!

To find out more about me, check out my intro post here!
---
Check out my previous post in this series!
 TacoCat's Travels #188 (SG): Playing with Doggos in a Dog Cafe! 🐶