Hey Hive/Steemit!
If you didn't catch the last couple of posts, this series is about our trip to Tokyo (again) way back in August 2016, when we went there for a short international exchange program called Promoting Asian Leadership (PAL) with Keio University! The program was a week long, but we went there a few days ahead of time to explore and revisit our favourite places.
So last week, I mentioned that the Keio organisers and the rest of the international students went off on an overnight excursion to some hot spring place somewhere outside Tokyo. I managed to get Sean and I out of it by claiming I wasn't feeling up to it so we could get away from them and be alone for a couple days.
And we ended up spending the day eating some delicious ramen: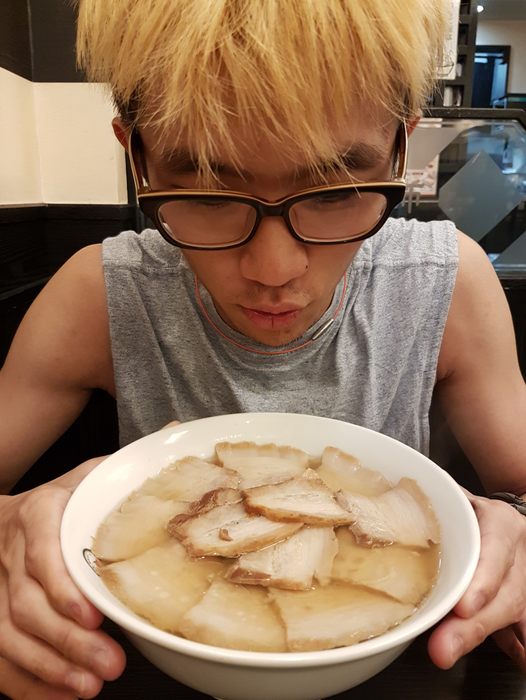 And exploring Tokyo Station's Character Street!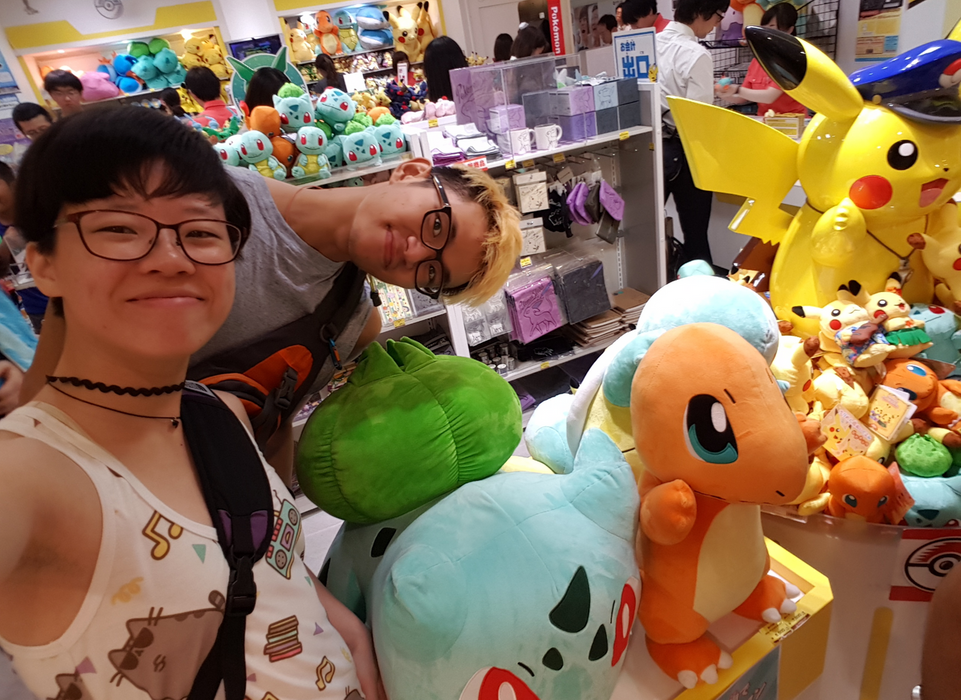 6 August 2016. Saturday.
We had yet another full day to ourselves because the rest of them were due to arrive at night. So yay!
We enjoyed the day by sleeping in a little bit because we knew the next day we had to wake up early for the program.
By the time we awoke it was past noon, and I was craving sushi! So we went to the one place known for its fresh seafood - Tsukiji!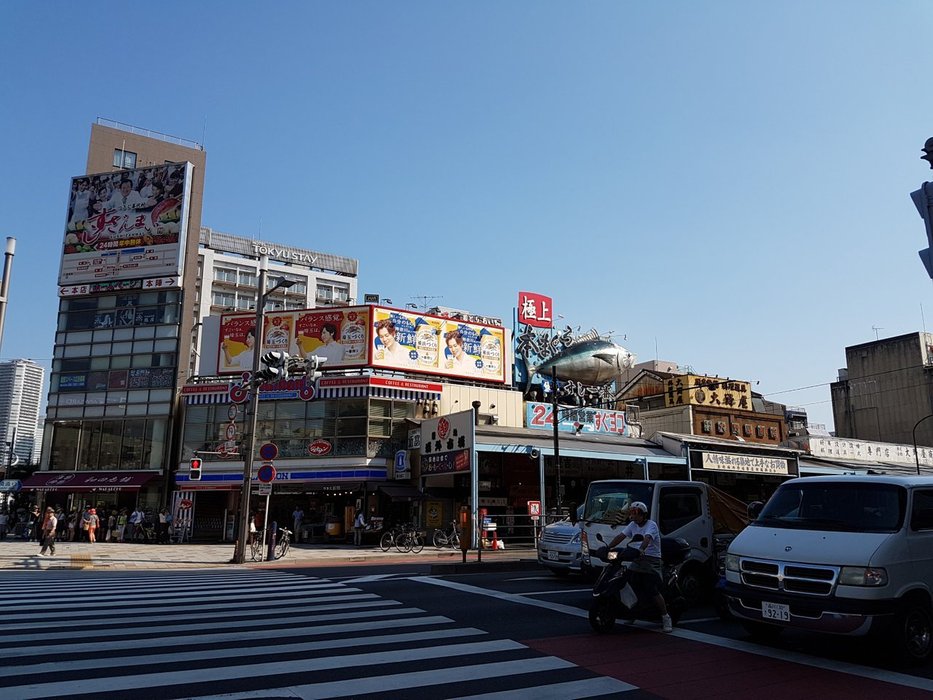 If you've never been, Tsukiji Market consists of a wholesale market, or "inner market", which is famous for its tuna auctions that occur at the break of dawn. However, it closed in October 2018 and has since relocated to Toyosu. Tsukiji's outer market with its many shops and restaurants still remain in Tsukiji with fish delivered directly from Toyosu.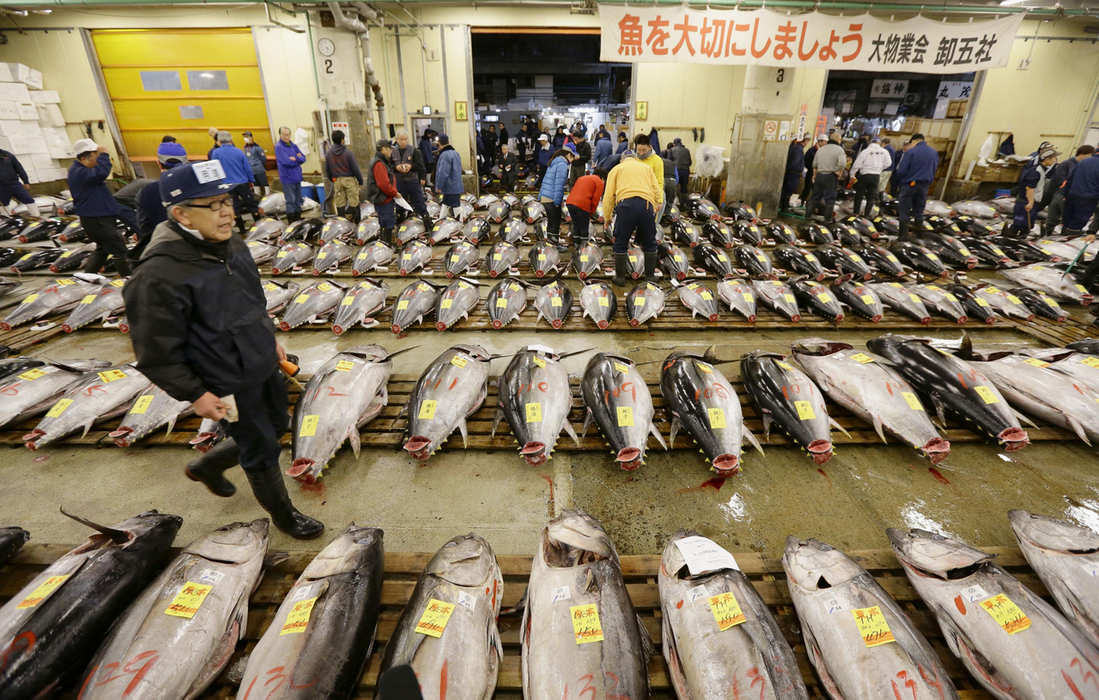 Source: Manuel Delia
Anyway, it was yet another hot and sunny afternoon at the peak of summer, which we will learn soon enough is not that great for sushi but oh well.
On the way to our favourite sushi place, we saw that they even had the sushi academy nearby! And fun fact: Sean actually did learn to make sushi for a while back in Singapore! He actually attended classes at a sushi academy too!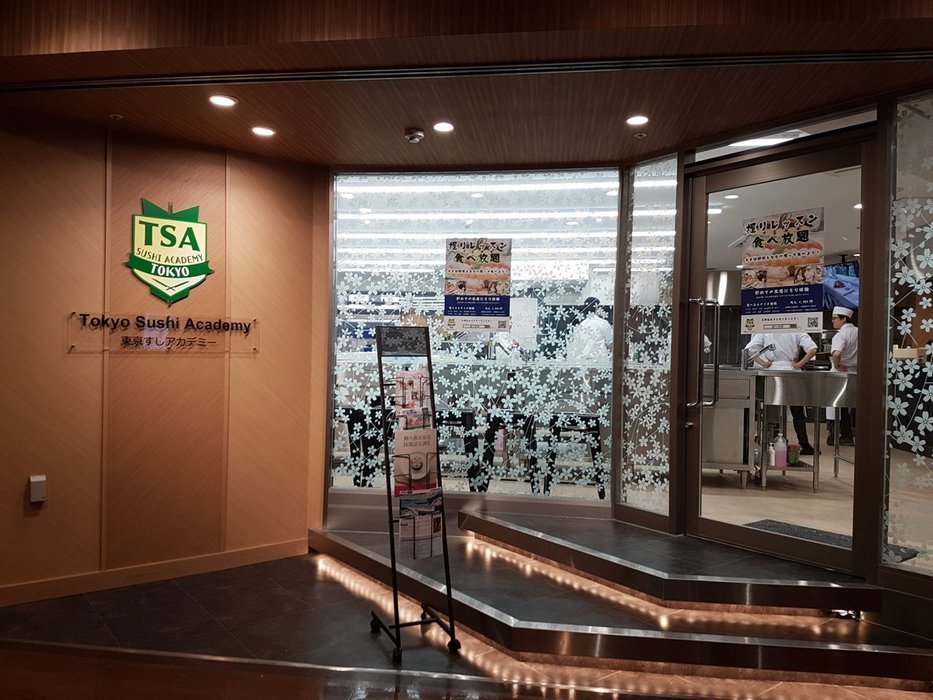 But anyway, just a short 15 to 20 minutes walk from the station, we arrived!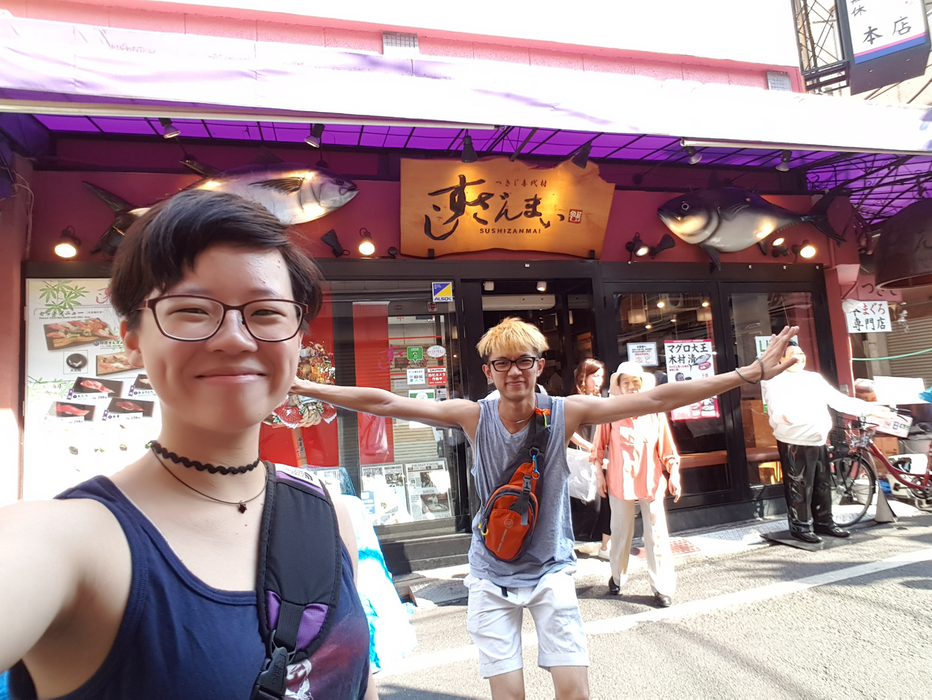 Excuse my messy hair; it was really hot and I was having a bad hair day 😞
This is Sushi Zanmai! The biggest sushi chain in Japan with the freshest and (probably) most affordable sushi in Tokyo!
I believe this was our very first time eating at Sushi Zanmai because during our previous trip back in Dec 2015, this flagship store had just opened and it was suuuper crowded!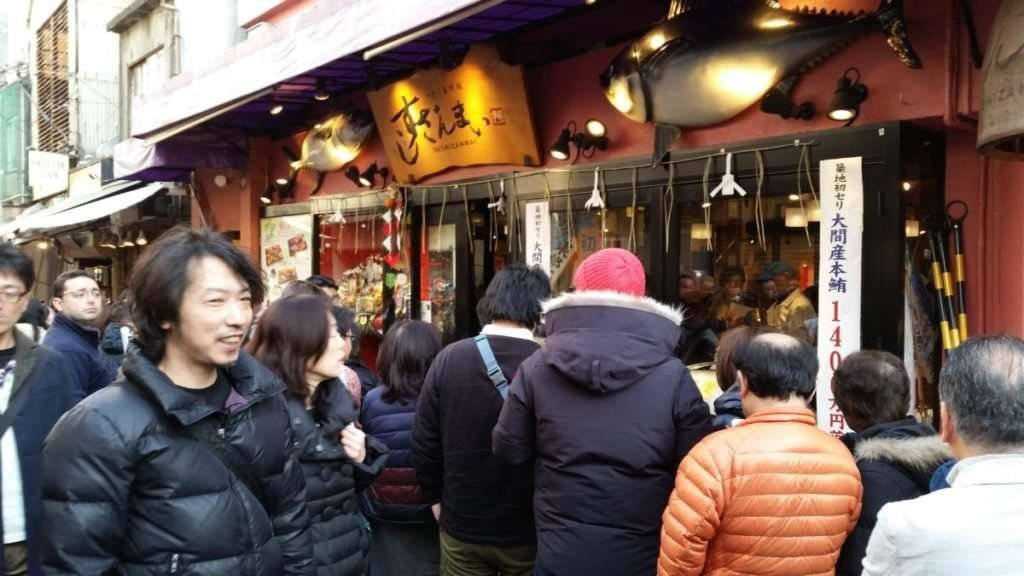 So now we finally get to try the famous Sushi Zanmai! This particular outlet had 2 levels; the first floor was mostly tables and chairs, while the counter seating was on the second floor.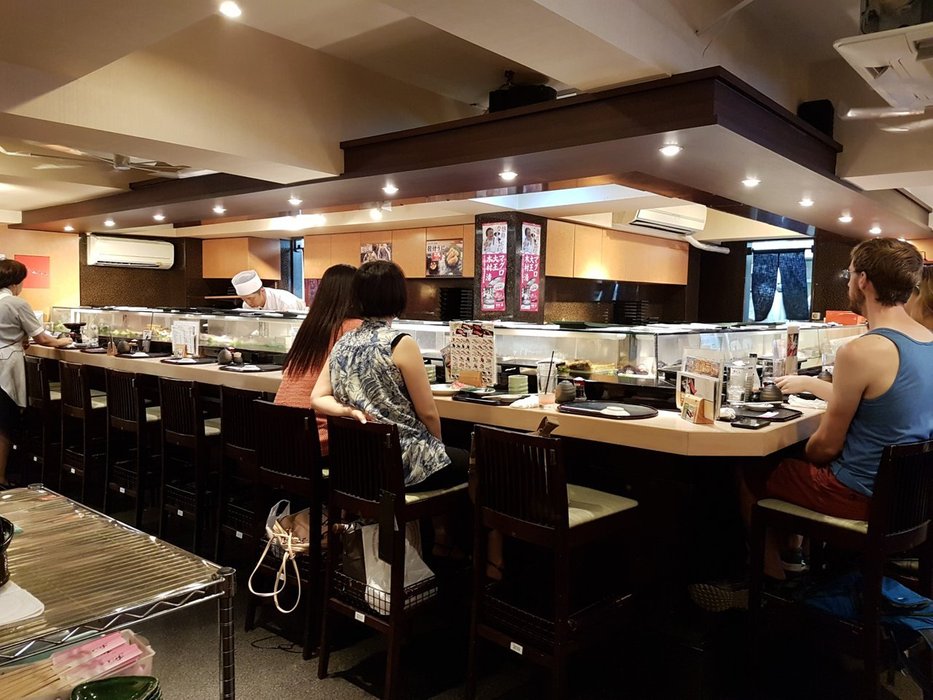 Since this was our first time we decided to get the most of our experience and sat at the counter so we could see the chef preparing it right in front of us.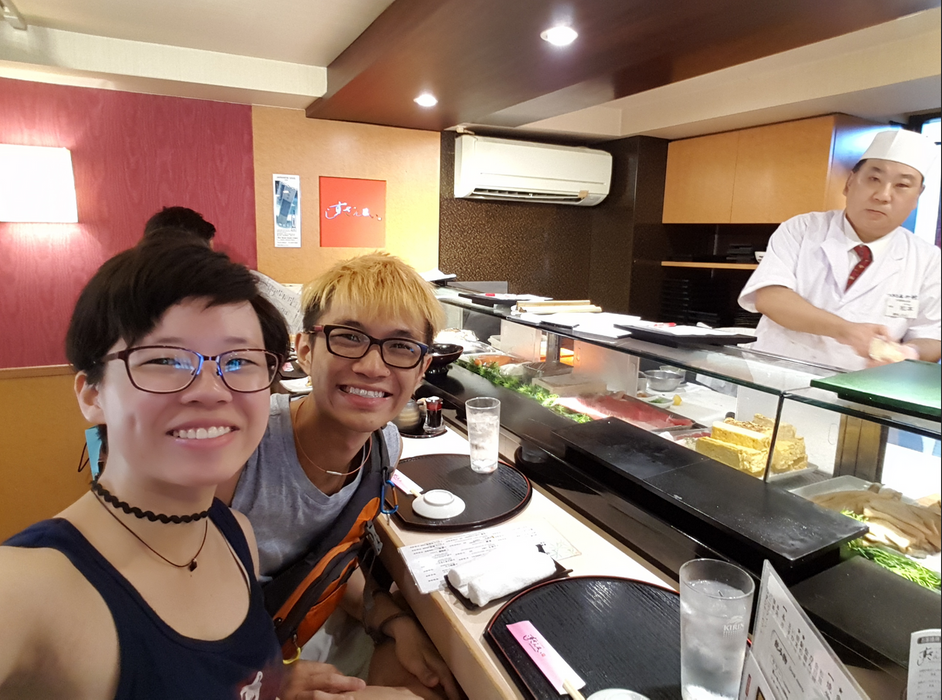 They have quite a comprehensive menu of different types of sashimi, nigiri sushi (with rice only) and maki (with rice and seaweed), as well as different combination sets.
Since this was our first time, we decided to order 1 or 2 pieces of a few different types to see which ones we liked. Sean's not a big fan of raw fish so this was mostly for me.
First up was salmon and shrimp: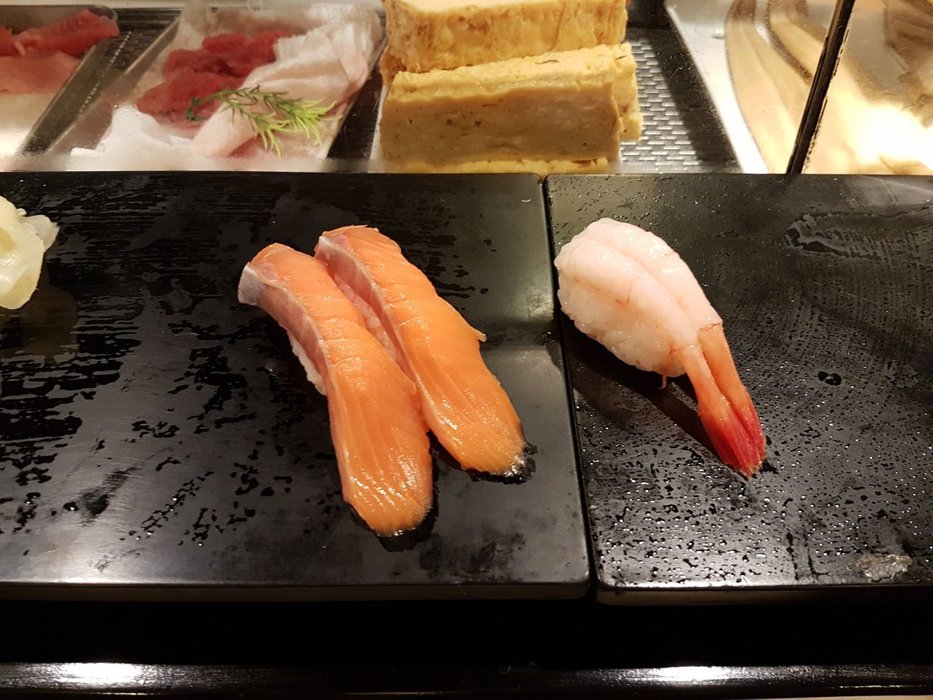 Next was saltwater eel (or anago):
Freshwater eel (or unagi):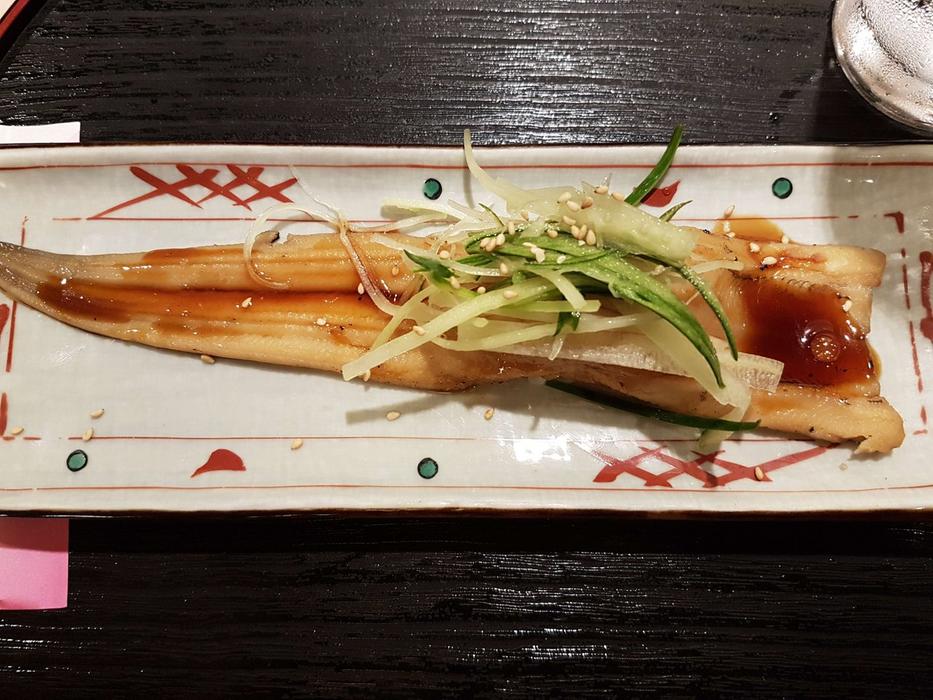 Crab with roe: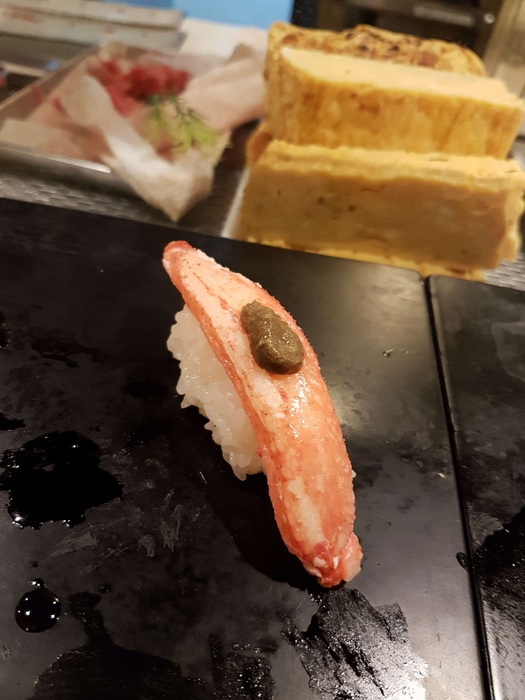 And I think this is mackerel and some other fish I can't remember: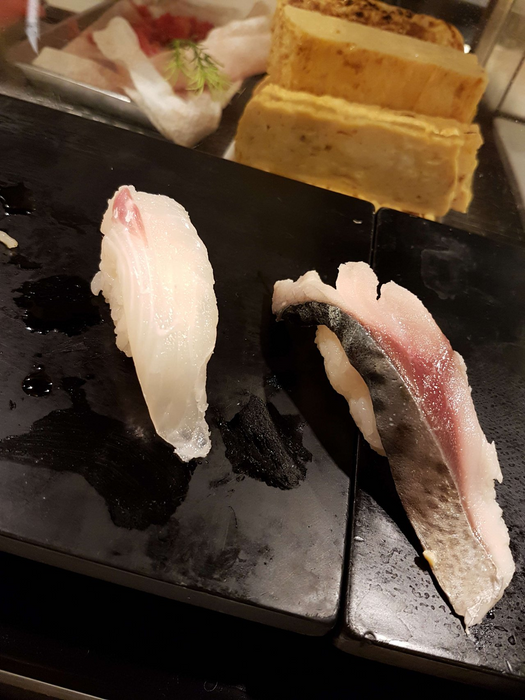 And lastly, 3 different grades of tuna (which I personally found to be a bit fishy):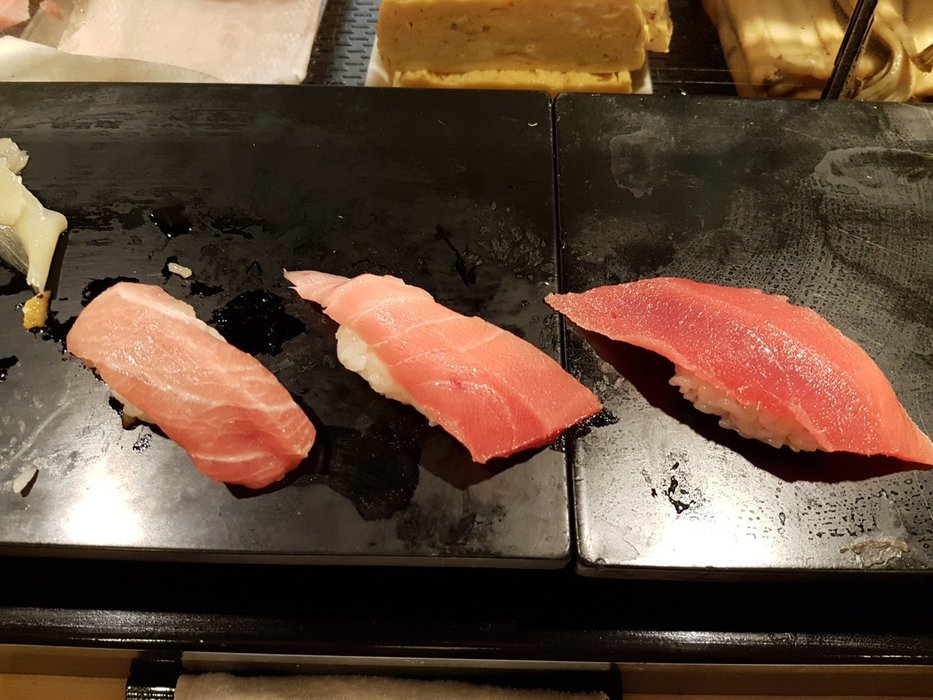 It was really cool seeing the chefs slicing the fish and preparing our orders right in front of us. It may not be as theatrical as teppanyaki but it definitely heightens my appetite seeing it get prepared.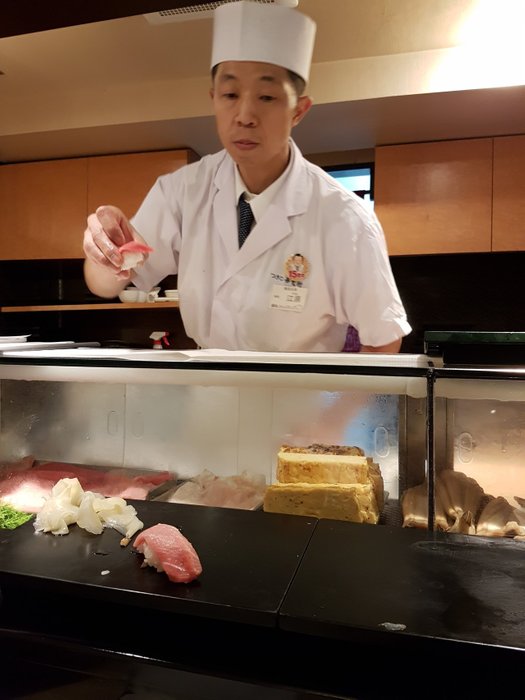 After trying quite a few different types, I ultimately decided that salmon was my favourite. It's fresh, not too fishy, and so smooth it practically melts in your mouth. And on top of that, it was one of the cheapest sushi they had! Salmon has been my default order since then.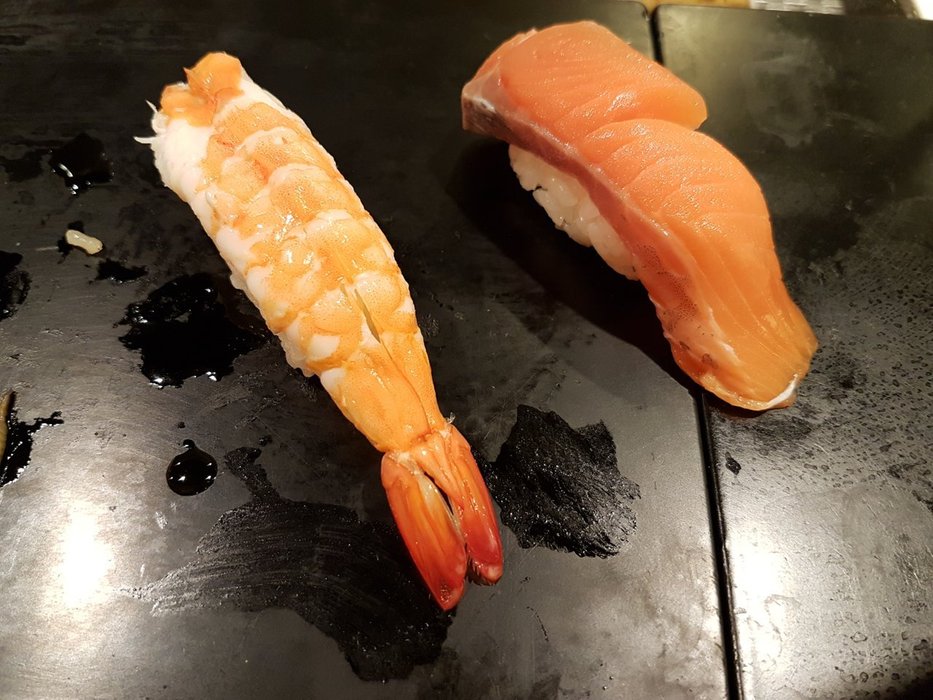 After eating like 10 sushi I was pretty full. Even though it wasn't as fresh as it could've been (since it was summertime), the sushi tasted really good! With my craving satisfied, we left soon after that.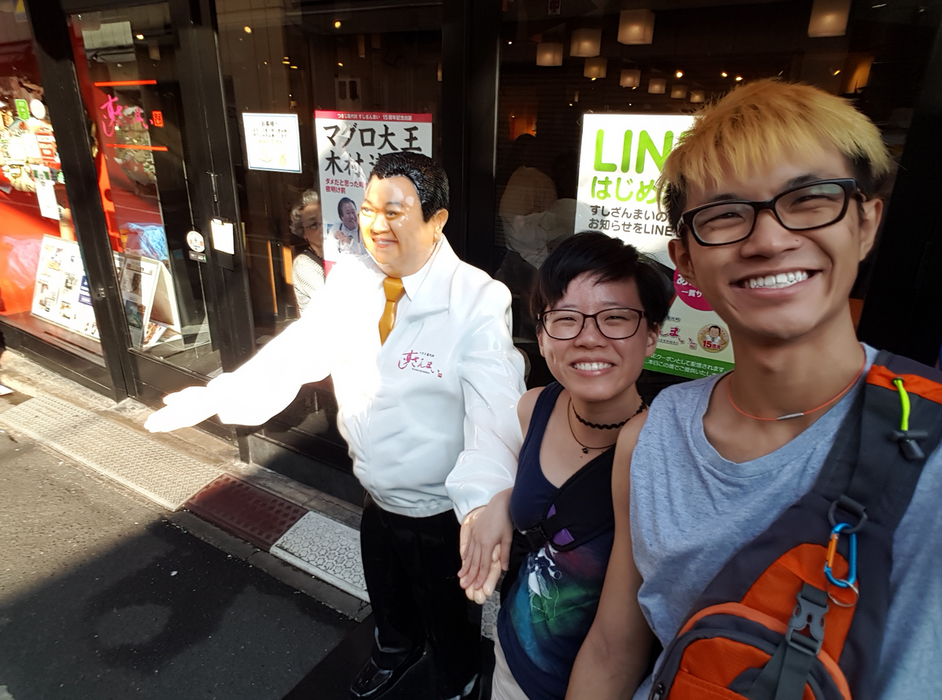 Since most of Tsukiji was closed by noon, there wasn't much else to see there.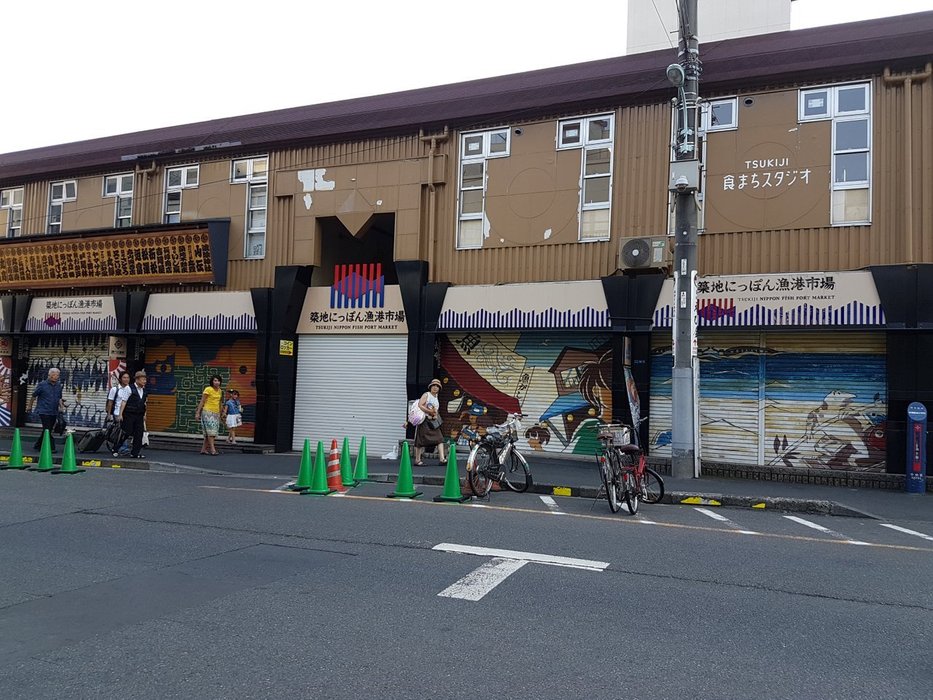 We started our leisurely walk towards Ginza, where we came across this cool looking building, which I learned is actually a kabuki theatre!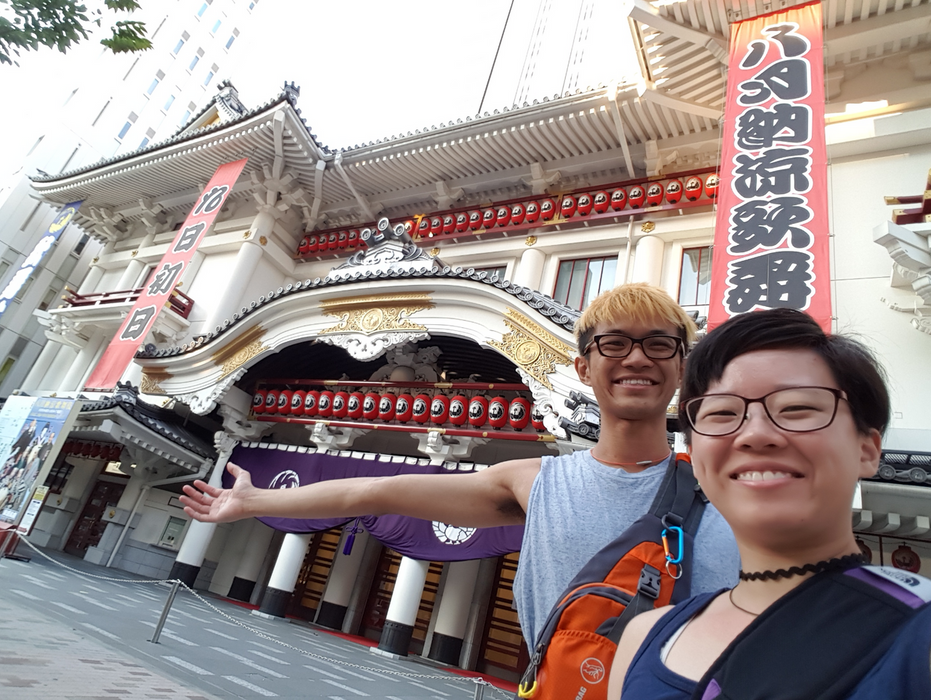 We didn't actually enter the theatre but it is nice to admire its architecture, which bear great similarities to the temples of the pre-Edo period.
Soon enough, we found ourselves in yet another Snoopy store!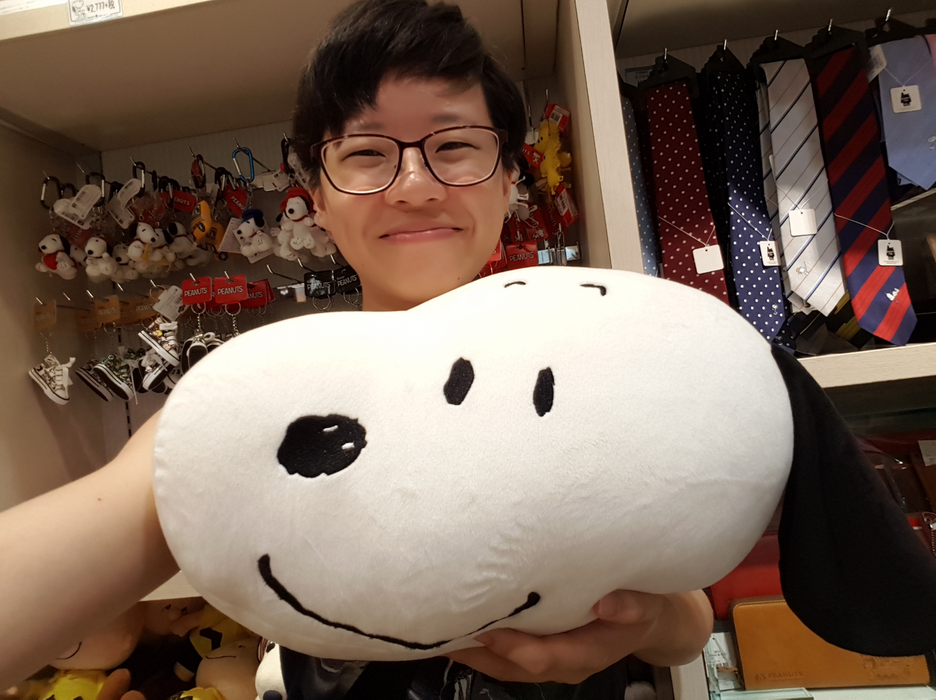 Tbh I'm not sure where this is exactly, because I didn't actually take too many photos that day. But after window shopping for a bit, we decided to get some late dessert in the form of a crepe: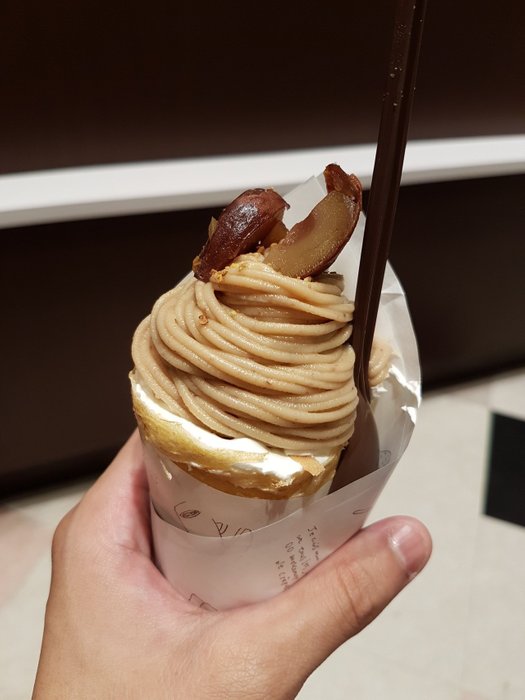 I initially thought that was noodles in the shape of a cone top with meat, which sounds really bizarre but thankfully it's just a crepe.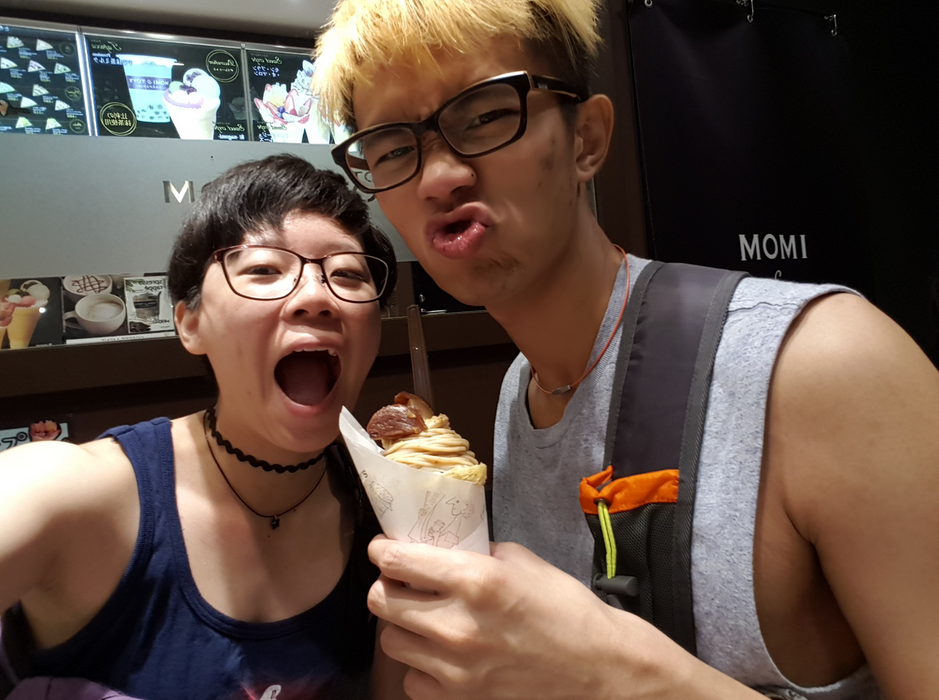 I do remember it tasting a little strange. But I'm not that big a fan of crepes to begin with anyway.
We spent the rest of the day walking around different department stores like Bic Camera and Donki Hote until we got hungry again. We ended up having a pretty late dinner at Saizeriya!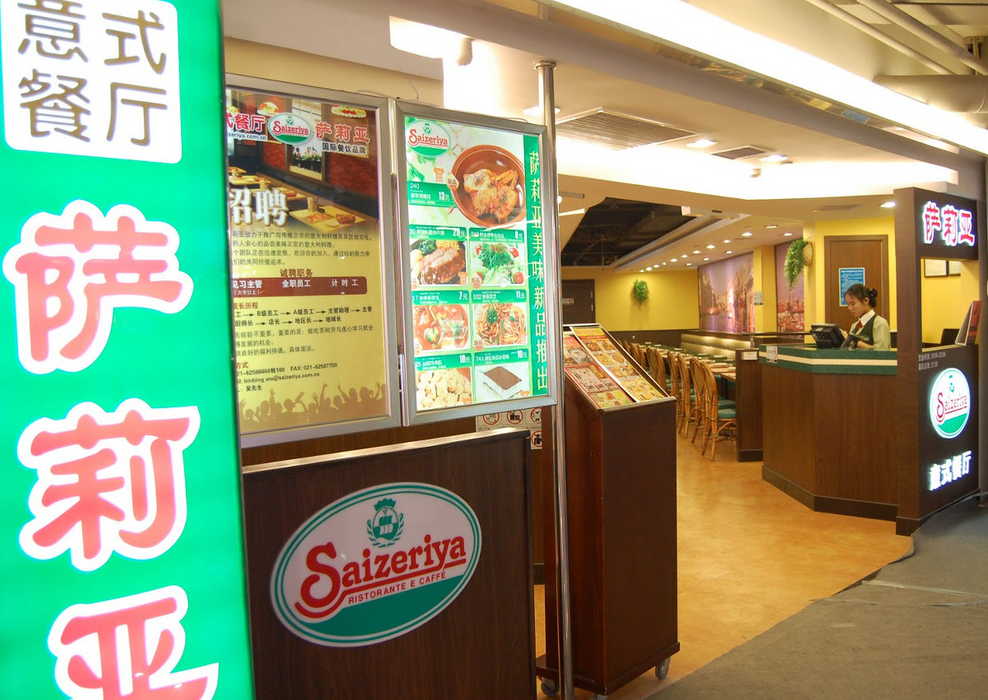 If you've never eaten there before, Saizeriya is a Japanese chain of family-style Italian yōshoku (Western-influenced Japanese food) restaurants. The food can be pretty average but the prices are good for what you get and if you're looking for cheap pizza in Japan, Saizeriya is your best bet.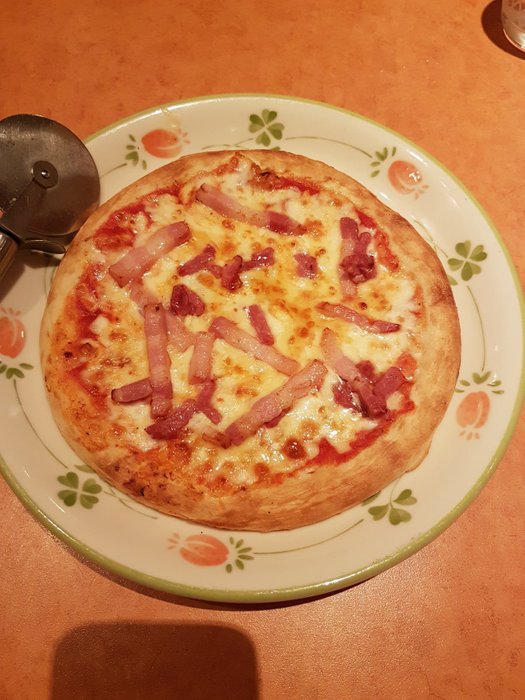 We ordered a pizza to share, and Sean got a chicken chop with some sides.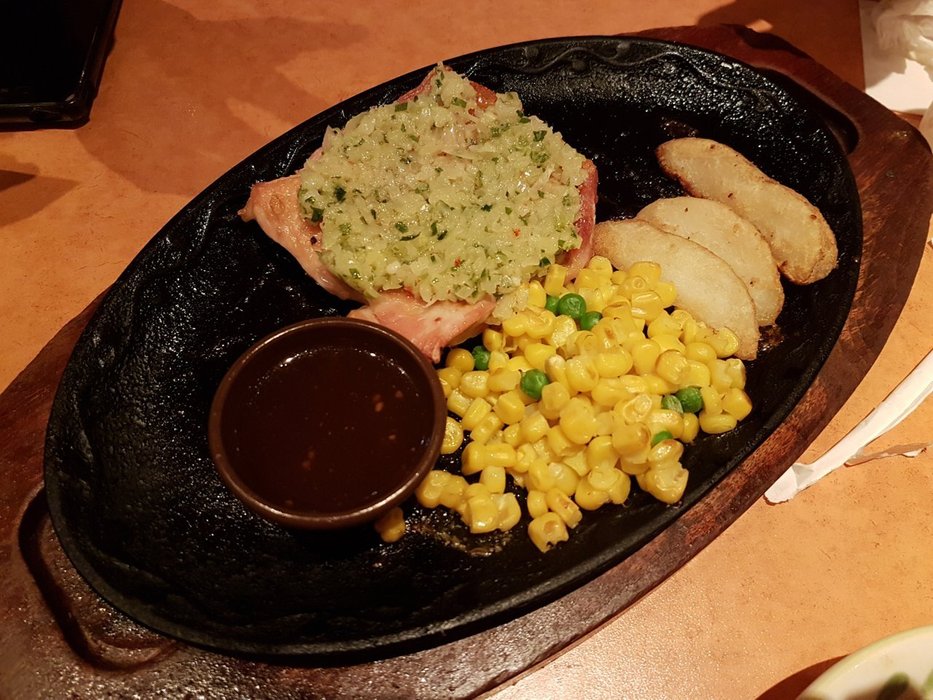 And we also got their special chicken wings, which tasted really good actually!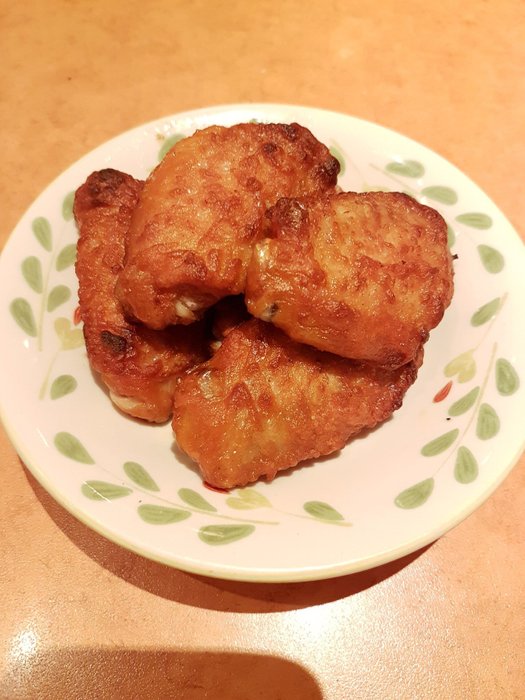 After that satisfying dinner, we were pretty tired from walking around in the heat and retired back to the house we were staying in. Some of the international students were back by then and were just chilling so we just hung around and asked them about their trip, and complaining about this whole program. 😅
Well Sean and I had a nice 2 days to ourselves, but it was time to continue the program with them the next day, unfortunately. Thankfully it was only for the day and we had the evening and night free.
Tune in next week when we go explore Harajuku!
Thanks so much for reading!

To find out more about me, check out my intro post here!