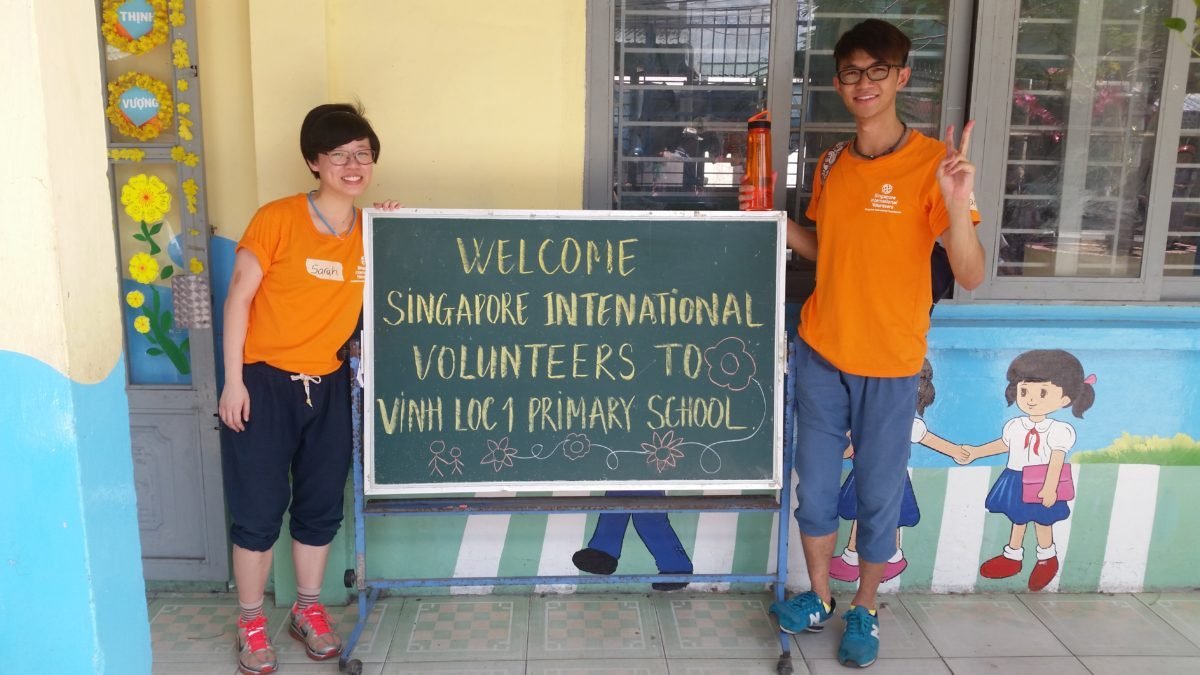 Hey Steemit!
If you missed the previous few Travel posts, I'm recounting my first trip to Ho Chi Minh City, Vietnam, in May 2016 when we tried voluntouring! We signed up to be volunteers for this programme called Words on Wheels, where we had to organise classroom activities and coach the children in reading and learning English.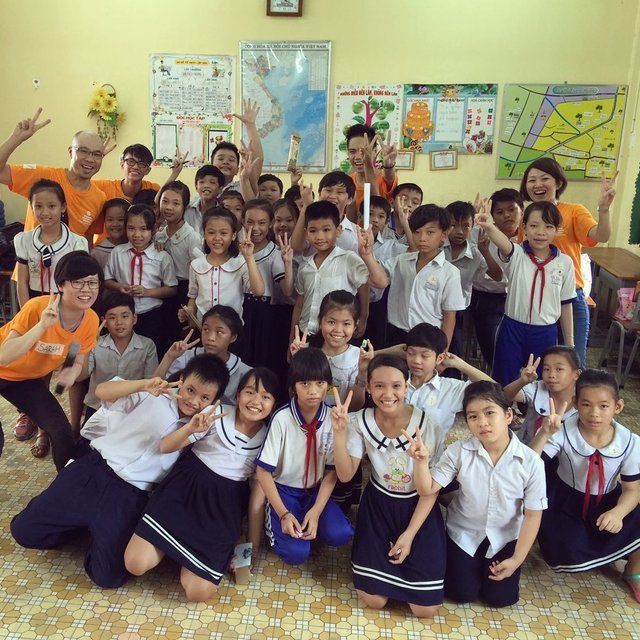 So in the previous post, we got done teaching and we explored Ho Chi Minh with a friend who brought us to sightsee and eat some yummy street food! We even got a ride on his scooter which was pretty exhilarating!
Anyway, we had to get back so we could get enough rest for our second (and final) day of teaching!
20 May 2016. Friday.
Again, we were divided into our separate teams and each team was to teach one morning class and one afternoon class.
The day went pretty much the same as the previous day when we were teaching, just in a different school. We started with our regular routine of greetings and songs.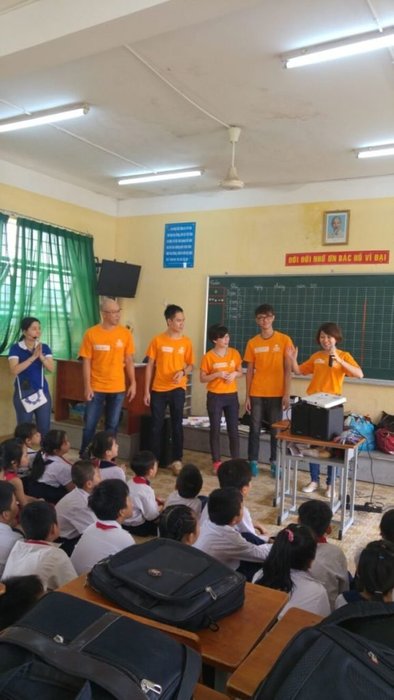 Next was the vocabulary lesson where we taught them the names of different body parts. However, we did switch it up a little bit, after our first trial.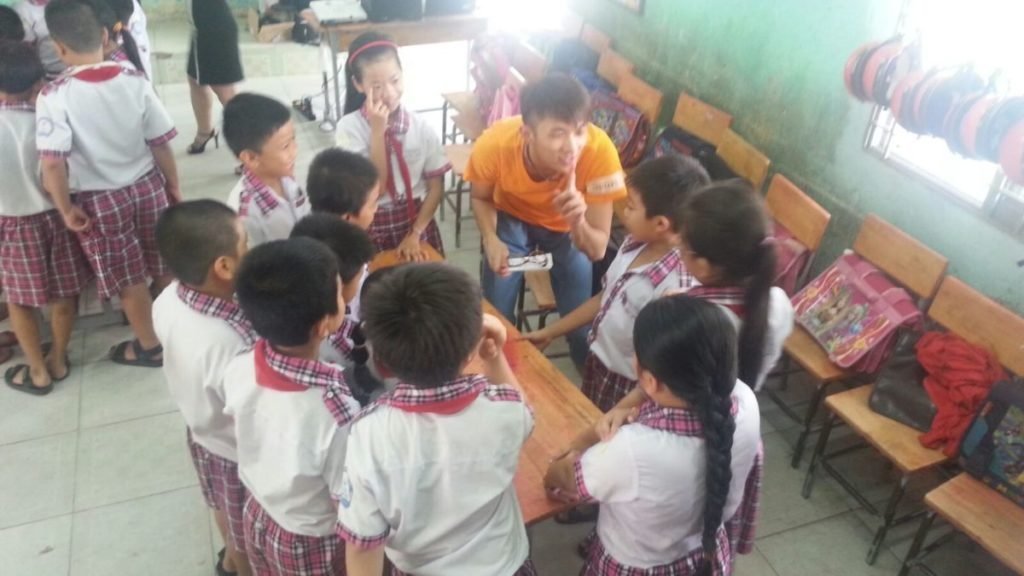 For starters, we used tables during the vocabulary section and laid all the words out for the kids to see, instead of showing it to them one-by-one. That way they could see the words all the time and tell the difference in spelling. But then we realised the kids wouldn't pay attention and just be grabbing the words, so we didn't do that for the afternoon class.
Sean also took it upon himself to teach the kids the word "handstand", since we taught them about body parts. He even demonstrated it and surprised everyone! I think he really made an impression on the kids because I saw some boys try to do it too.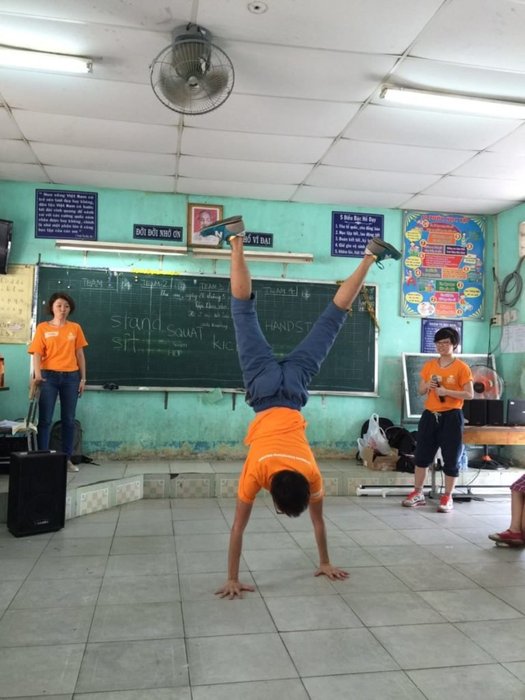 Similar to the previous day, I think the kids really enjoyed the flipchart game.
To recap, basically there are 4 charts on the board with lines pointing to different parts of the body. Each group would have a collection of labels with the names of body parts. One of us would say the name of a body part, and each group would have to send a person to go up to the chart and paste the correct label at the right spot. The fastest group who does it correctly gets a point, and the group at the end with the most points wins!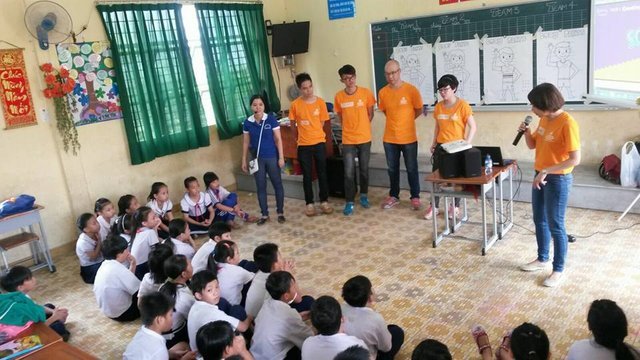 It was chaos as usual, but in the end they all learned something and had fun, which was the main goal anyway so yay!
We had some time leftover so we decided to throw in another game pretty similar to this one. We had 2 groups lined up on opposite ends of a table with all the labels and we'd say the name of a body part and the group representative who identified the correct label the fastest would get a point!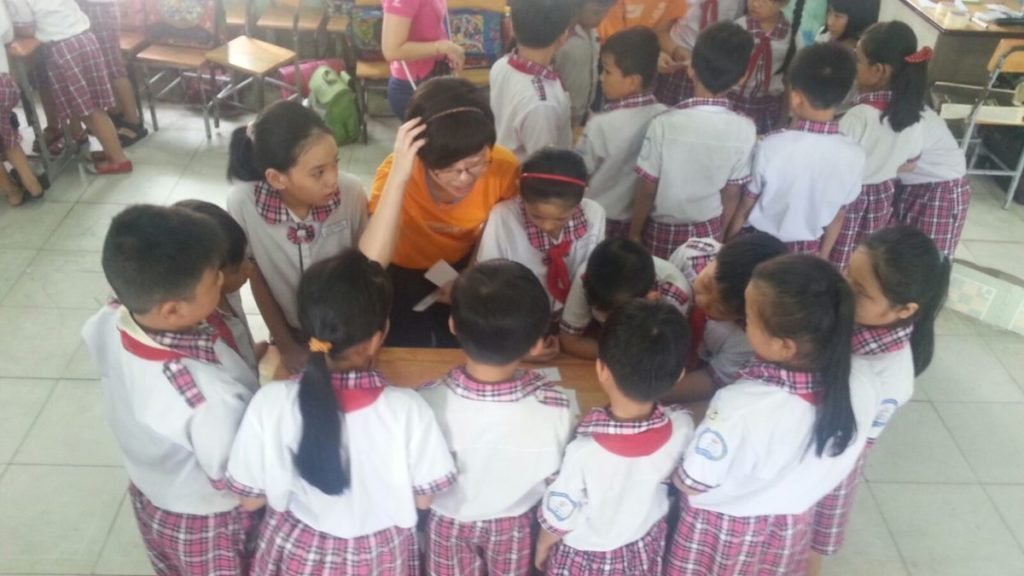 Unfortunately I don't have a picture of that particular game, but I thought it was quite effective; since everyone had to show that they learned the words. I think the kids enjoyed it!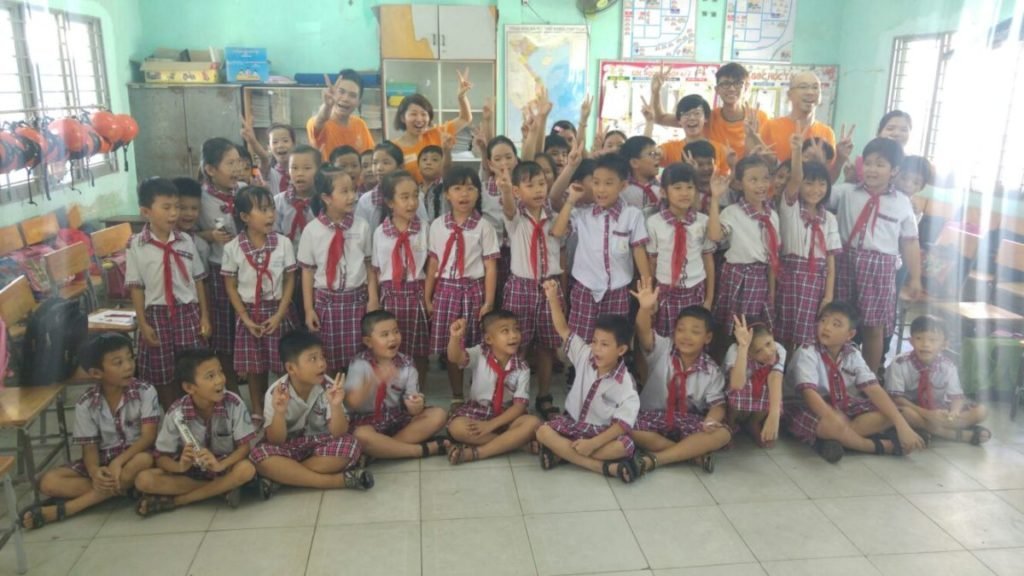 Soon enough, we finished with the morning class! It was time for lunch! This time we went out somewhere to lunch instead of eating at the school.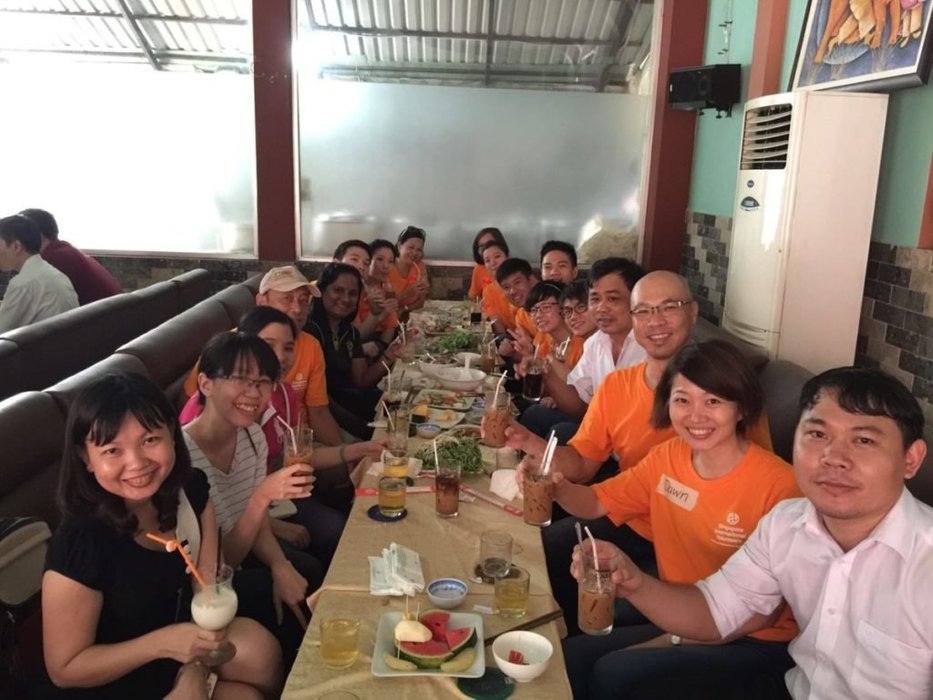 We went out to a restaurant with the school teachers and shared some dishes. I think we had pho and some rice and beef, but I'm not entirely sure. It was alright, and there were fruits which was really refreshing after being in the really hot school.
After lunch, we headed back to teach the afternoon class.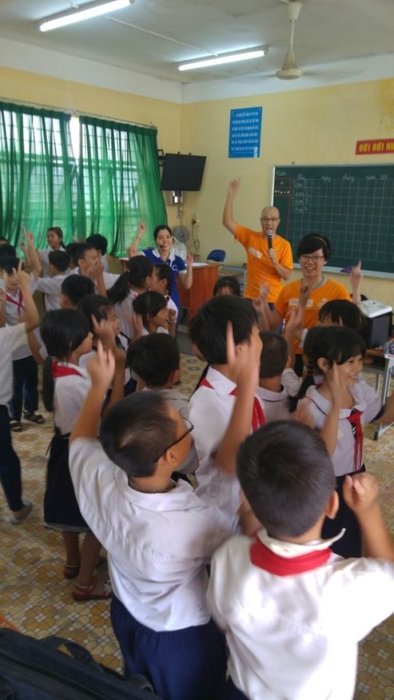 So we did the exact same curriculum for the afternoon class; Sean even did his handstand again!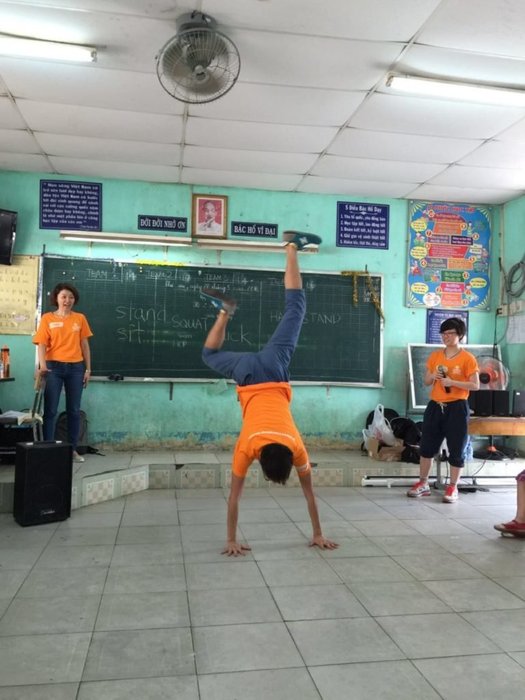 The vocabulary lesson is always a drag for the kids I think, but it's the most efficient way we could think of to teach them the words.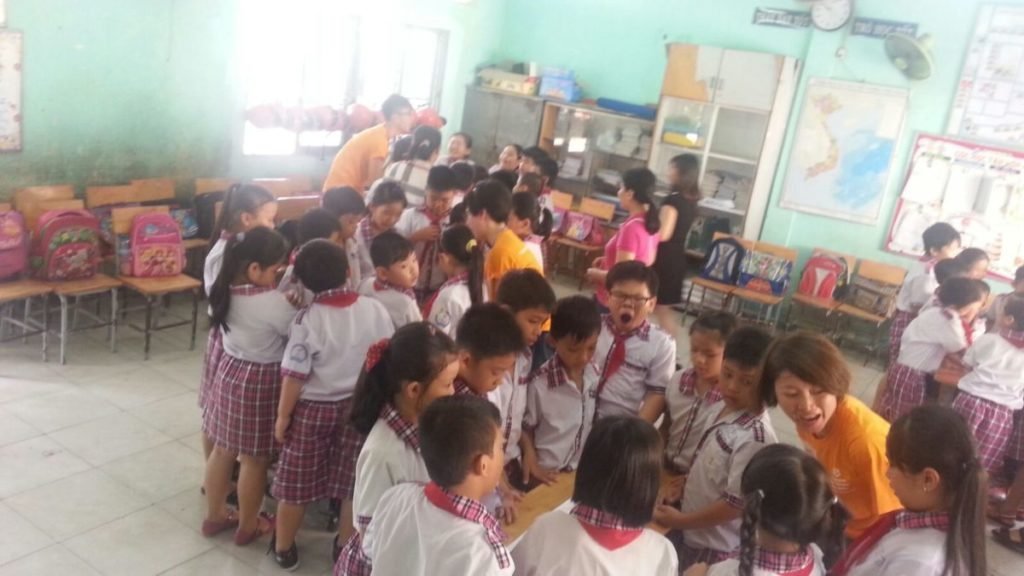 And it prepares them for the games we played later on, which I think were the highlight of the day for them. I think they learned something though, which is what's most important.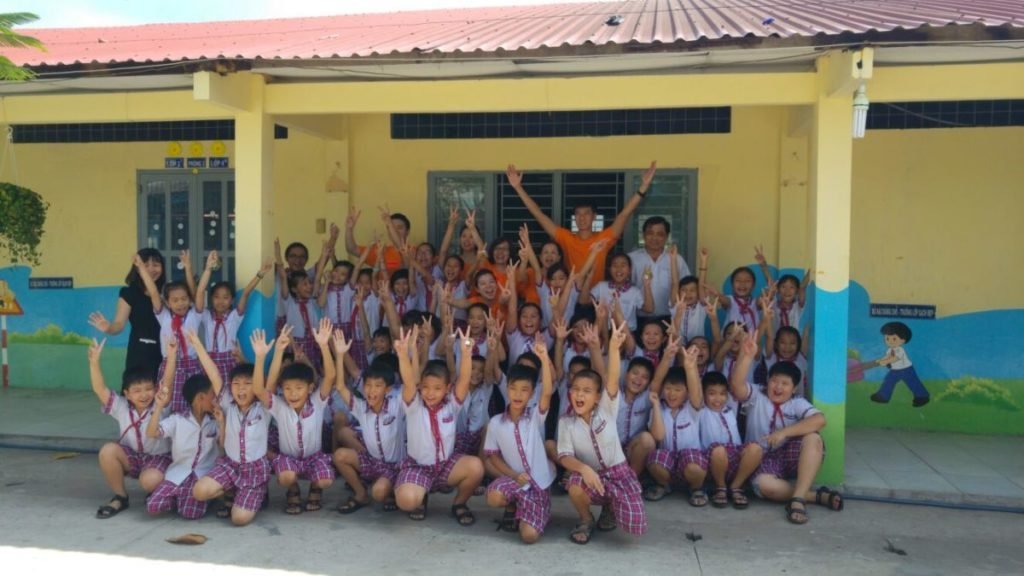 Anyway, by the time we finished our classes, it was early evening and we went back to the hotel to get cleaned up.
We met up with everyone in the lobby and headed to a pretty high-class restaurant for a group dinner, to celebrate a job well done!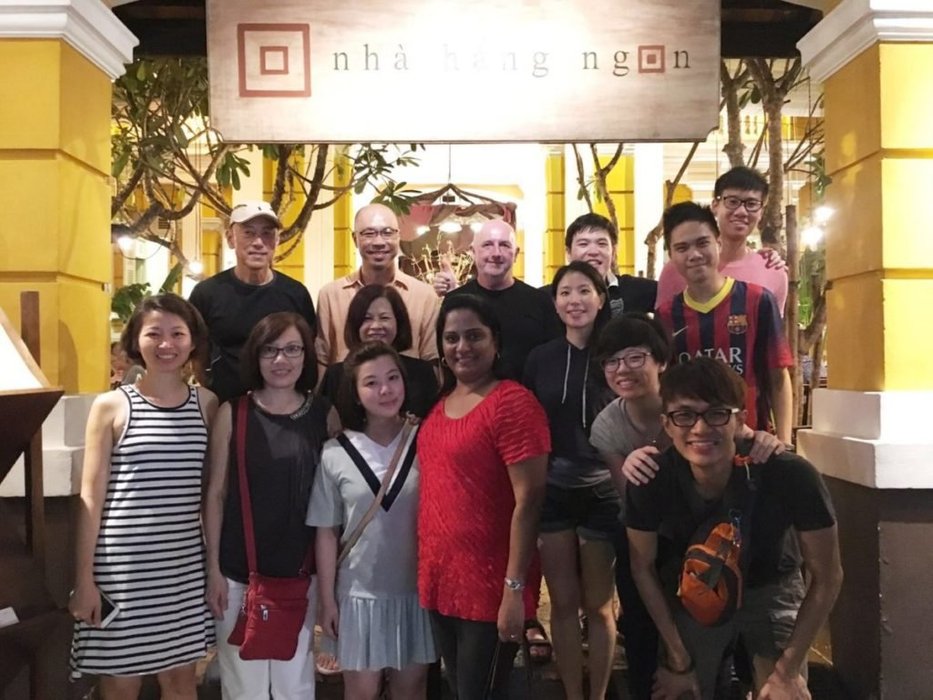 There were a few food stalls within this compound, with each stall specialising in a different Vietnamese traditional dish, so we had some crispy rice (that tasted a little funny) and some fried noodles.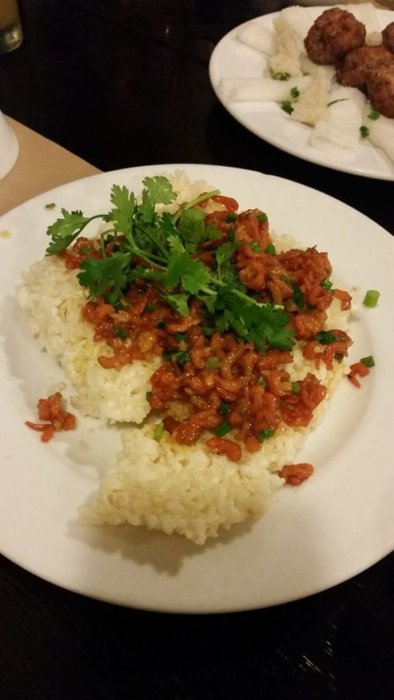 The noodles tasted pretty good but the rice was kinda hard and dry. It tasted more like a rice cracker, but I think that's intentional.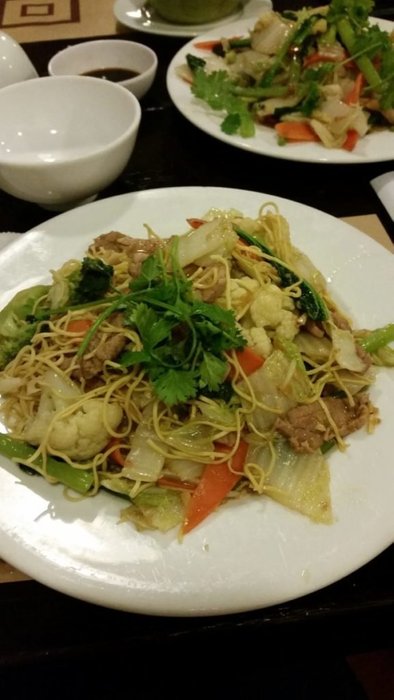 After dinner, we went to a cafe for coffee and dessert and chatted about stuff. The adults all gave us advice on what to do after we graduated since we were right in the middle of college at the time, and just general life advice. It was cool.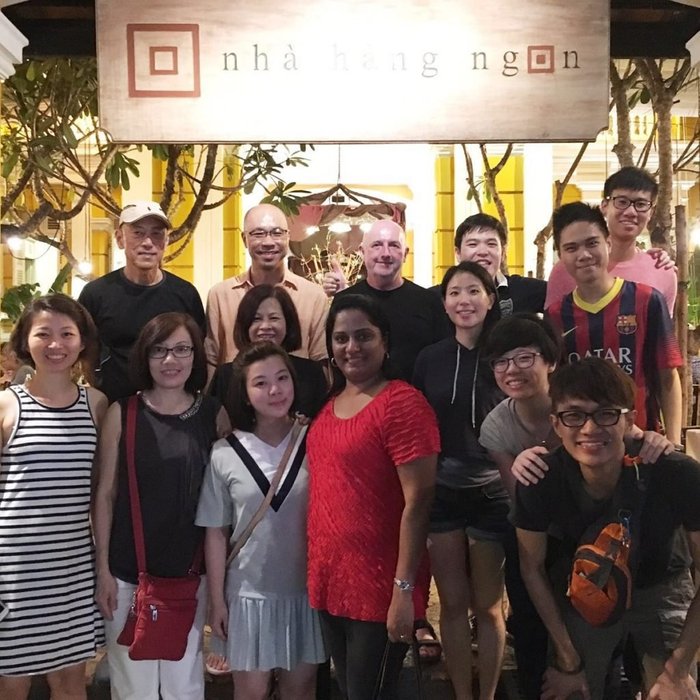 All in all, it was a really different experience and I'm glad we participated in this program! It's such a nice change of pace working with actual professional adults (as opposed to other students). The program was really well organised, and the other volunteers were really nice people too! It was great getting to meet and work with them. I know the whole controversy with voluntourism, and I know how limited our efforts can be, but I think the kids learned something and that's good enough for me.
Anyway, that's all for this Travel series! The next one will be in a whole new country yet again, so definitely look forward to that!
Thanks for reading!

To find out more about me, check out my intro post here!
---
Posted from my blog with SteemPress : http://tacocat.steemblogs.club/2020/01/30/tacocats-travels-43-vietnam-1-0-the-finale/
---
Check out my previous post in this series!
TacoCat's Travels #42 (Vietnam 1.0): Our Pho-st time Scootin' Around