Hey Steemit!
First of all, I was floored by the response from the previous post, so thank you to all those who read, upvoted, curated and commented! You guys are awesome! 😄
Now on to the rest of our adventure in Estonia, let's-a-go! Long post incoming!
28 April 2018. Saturday.
So after our delicious meal in PORGU restaurant, we decided to take a walk further upwards and away from the city centre to hopefully get to a good viewpoint.

We arrived in this open area, where the gate/wall separating downtown and Toompea Hill is located. The building on the left with the name Neitsitorn (Maiden Tower) is an old defense tower from the year 1370! I read that the tower used to be a popular cafe back in early Soviet times, and now it is completely renovated and open again, and also houses a museum. If you're a history buff, I'd recommend checking it out! The museum also give tours of the 4 towers that are located here, and I saw that two of the towers were never open before to the public. I wonder why..? 🤔

So apparently, one of the 2 towers, called the Short Leg Gate Tower, is one of the most haunted places in Tallinn! The other one is called the Stable Tower (Tallitorn); it used to be an infamous prison tower in medieval times and is still known for its countless ghost stories. 😱

The statue reminds me of Death

Here's a very interesting story of the Short Leg Gate Tower! I'm not sure if it's really true though...
🤔
I'm kinda skeptical when it comes to paranormal stuff, but I was still really glad that it was bright outside. Almost everything looks better in the light. 😊
After strolling up the path from the Short Leg Gate Tower, we chanced upon this magnificent building! The tops kinda reminded me of the mosques we have in Singapore but then I saw Jesus on top of the archway. 😅

So this is the Alexander Nevsky Cathedral, which is Tallinn's largest and grandest orthodox cupola cathedral! I read that it was built to a design by Mikhail Preobrazhensky in a typical Russian Revival style and completed in 1900, during the period when the country was part of the Russian Empire. Curiously, the cathedral was so disliked by many Estonians because it was regarded as a symbol of oppression that the Estonian authorities scheduled the cathedral for demolition in 1924, but the decision was never implemented due to lack of funds and the building's massive construction.

The interior is beautiful and has such intricate details!

Here's a better view of the cathedral! It sure is massive.
Just opposite the cathedral is another grand building!

This is Toompea Castle (or rather, a part of it)! Unfortunately, it's hard to see the full castle when you're on foot right in front of it. Here's a full view: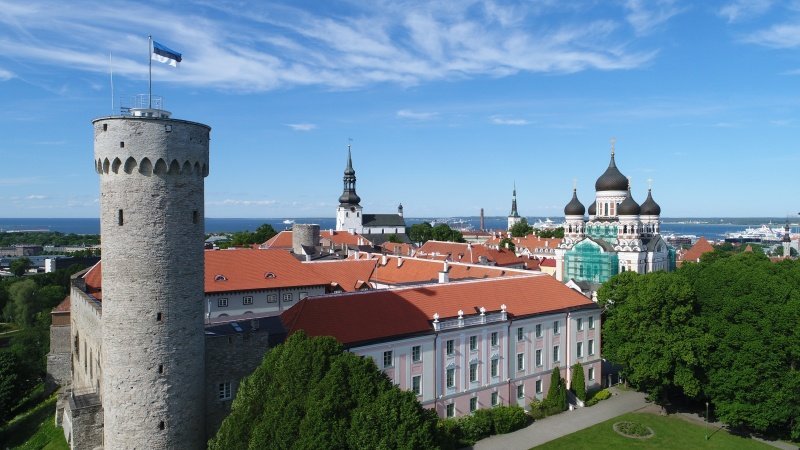 Toompea Castle was erected on the foundations of the crumbling eastern wing of the fortress built on this site in the 13th and 14th centuries. The pink section of the castle in front with its late Baroque façade was built between 1767 and 1773. On one corner of the castle you can see Pikk Hermann tower with the blue, black and white tricolour flag waving above it. It's commonly recognised that whoever's flag flies on top of this tower is the ruler of Estonia.
Today, the castle is home to the Riigikogu (the Estonian parliament), and it definitely looks like a parliament house for sure. I'm glad they retained the older parts of the castle despite the great contrast in architecture styles. To me, that just shows progress in how far Estonia has come from being under the Russian Empire in the past and now enjoying their independent state.
After taking a crap ton of photos, we wound up walking to a balcony where we could see almost all of Old Town!

Here's a video I took of the view!
The tallest building must be St. Olaf's Church at 159 metres! It's the building on the left that probably doesn't look as tall as the one on the right since it's further from where I was standing.
After admiring the view, we started heading back towards the main downtown area, enjoying the scenery and the slowly setting sun. 😌


I'm not really sure what this structure is for, but there's yet another church here!
When we arrived in the town square, guess what we saw! A corgi!! 😍


Look at his little stubby legs!
😄
The corgi is my favourite dog breed, and they're so adorable! We might have gotten distracted while taking a selfie because we were admiring the corgi. 😅

We started heading back towards the port, going through the more modern part of Tallinn. You could tell the architecture is extremely different from the actual Old Town.
The building on the left is so cool! I thought it would be the port authority building or something but apparently it's a law firm.? I wonder why they modelled it after a ship. 🤔

We also spotted this interesting looking building that looks like a treehouse! Maybe it's a design firm?

This is probably one of the more unique McDonald's I've seen. I like how the structure blends in with the surrounding buildings but the colour makes it stand out.

Oh man everyone knows not to name your food!
I like these 2 towers separating the more modern side of town from Old Town. It's literally a gateway to the future! Granted, the older side of town is still very well maintained and doesn't look dilapidated at all, which is amazing.

Our Finnish friends from college told us that Estonia is known for cheap alcohol, and that many people from Finland often go across the border to get beer at much cheaper prices. One of them even bought 10 cases of beer back to Finland! We don't really drink but since we were here we had to try at least 1 drink.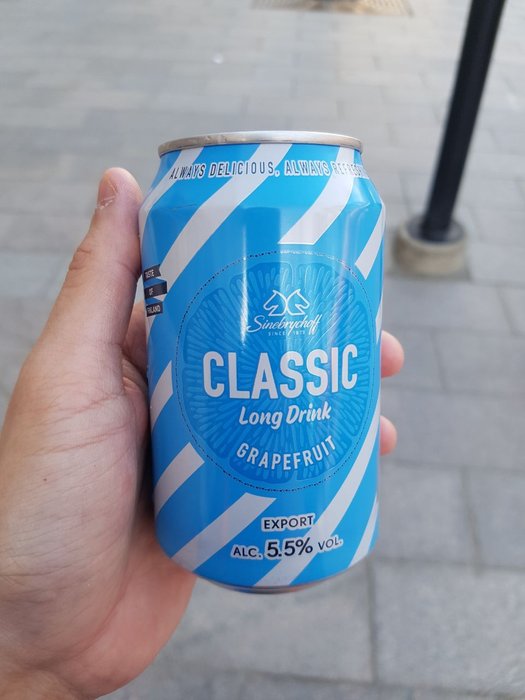 So Finland is known for long drink (lonkero), which is a mixed drink made from gin and, most commonly, grapefruit soda. Apparently this is a very famous brand in Finland so we decided to give it a try!

Tbh I didn't really like it. I'm not really a fan of carbonated drinks (alcohol or not) and I think the grapefruit was too bitter. I read that they have other flavours like cranberry and lime; maybe I would have liked lime better.

Too soon, it was sunset and we headed back to the port to catch the ferry back to Helsinki! We boarded the ferry ahead of time so we could explore more of the ship this time (I took a nap on the ride here).
We discovered even more stuff on the ship like a supermarket! We spent quite a bit of time in here just looking at all the different products and souvenirs.



When your mum says she only gonna bring 1 carry-on bag
. 😂

We don't see any products with cuss words in Singapore 'cos of censorship and stuff so this was kinda a surprise. But it's truth.
😎
After looking around we just sat at Burger King, had a snack and took a short nap. The ride wasn't that long but by the time we arrived at Helsinki Port it was after midnight.
On the way back to our hotel, we discovered that there's a video game museum nearby! How did we not see it last time!

Obviously it was closed but we decided to go check it out the next day.
Thanks for reading!

To find out more about me, check out my intro post here!

---
Posted from my blog with SteemPress : http://tacocat.vornix.blog/2019/01/27/tacocats-travels-finland-estonia-18-getting-spooked-and-cruising-home-%f0%9f%91%bb/
---