About one week ago I took you guys with me on a morning journey to the Almsee, now it is time to repeat that kind of post. After having an amazing run at the Almsee and showing pictures to my friends, I was able to convince my close friend @weitblicker to do the same with the Langbathseen, two beautiful little mountain lakes. And so we did.


Vor etwas einer Woche habe ich euch auf einen morgendlichen Ausflug zum Almsee mitgemommen, nun ist es Zeit so einen Beitrag zu wiederholen. Nach dem unglaublichen Lauf um den Almsee habe ich die Bilder natürlich auch meinen Freunden gezeigt - und prompt
@weitblicker
überredet, das selbe mit den Langbathseen zu tun.
What you can see on the above picture is the view from the parking lot back on the little creek going away from one of the two lakes. A nice view to be welcomed with when getting out the car.


Am obigen Bild seht ihr den Ausblick den wir hatten, als wir aus dem Auto stiegen und auf den Bach blickten, der vom See wegführt. Ein atemberaubender Ausblick gleich zu Beginn, so soll es sein.


As you can see on this overview, the Langbathseen are two lakes that are pretty much right behind each other in a valley of the Austrian mountains.


Wie ihr auf der obigen Überblickstafel sehen könnt, sind die Langbathseen zwei hintereinander liegende Seen in einem Tal der österreichischen Berge.


Only a few hundred meters after the start of our run we already had to to a little break - the view on the lake with it's crystal-clear water just was too stunning to not be photographed.


Nach nur wenigen hundert Metern mussten wir schon das erste Mal pausieren - der Ausblick auf das kristallklare Wasser war einfach zu schön um nicht fotografiert zu werden.


Soon we left the bigger lake behind and reached the scenic smaller Langbathsee. A picture can say more than a thousand words!


Schon bald ließen wir den vorderen See hinter uns und erreichten den malerischen kleinen Langbathsee. Ein Bild sagt mehr als tausend Worte!


---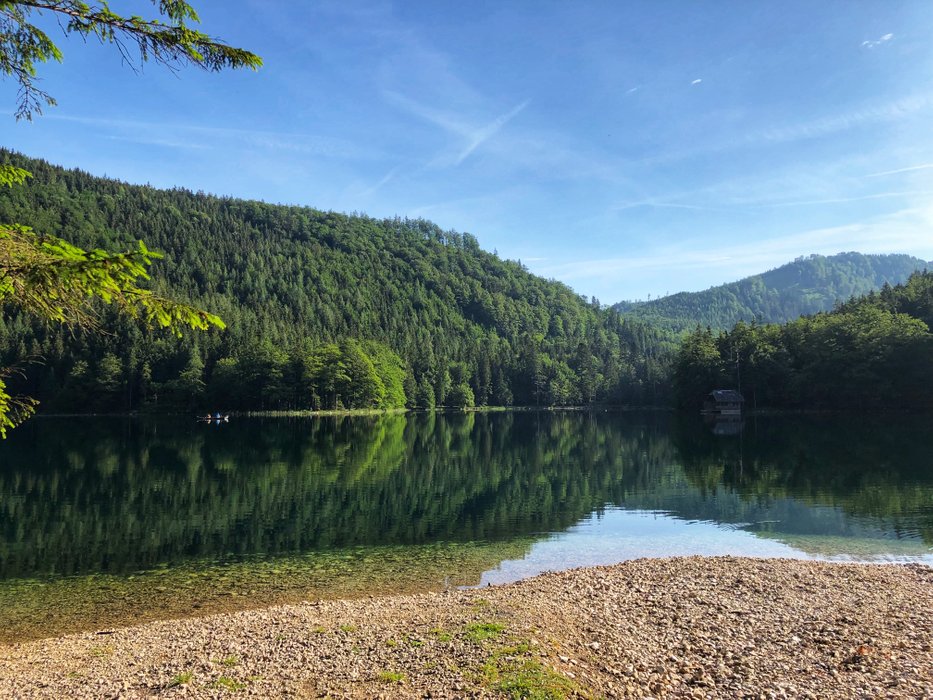 After a few more pictures we continued our run until we got back to where we had started - the parking lot in front of the bigger Langbathsee.


Nach ein paar weiteren Bildern setzten wir unseren Rundlauf fort, bis wir wieder beim Ausgangspunkt, dem Parkplatz vor dem großen Langbathsee, waren.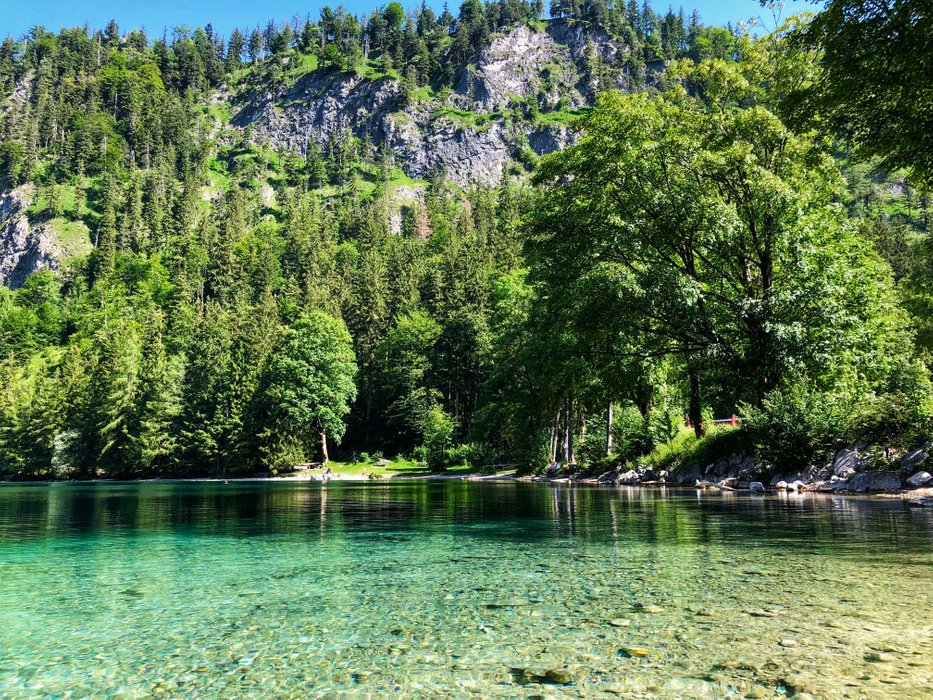 Back there we were really fast to get into the magic water of the lake - Not even closely as cold as the Almsee had been a few days ago - but still amazing after the run.


Dort angekommen ging es sofort in das magische Wasser des Sees - Dieser ist zwar nicht annähernd so kalt wie der Almsee - aber dennoch sehr wohltuend nach dem Laufen.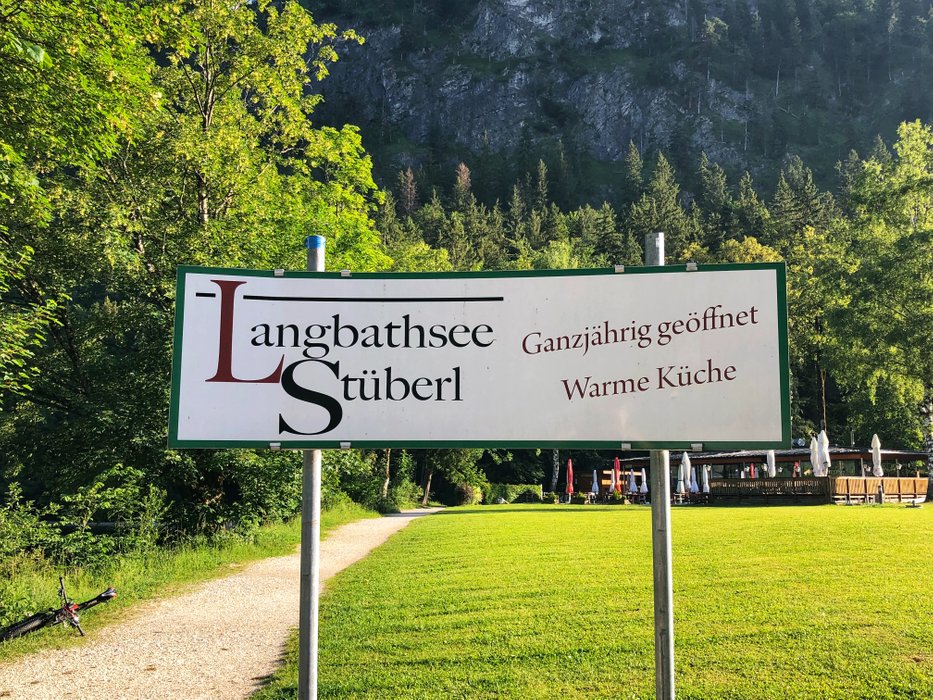 After the swim we wanted to get breakfast at the small local restaurant - But man, it was still closed. Luckily we had brought a few snacks with ourselves as well.


Nach dem Schwimmen wollten wir eigentlich im lokalen Restaurant frühstücken - es hatte aber leider noch zu. Zum Glück hatten wir auch selbst ein paar Snacks mit.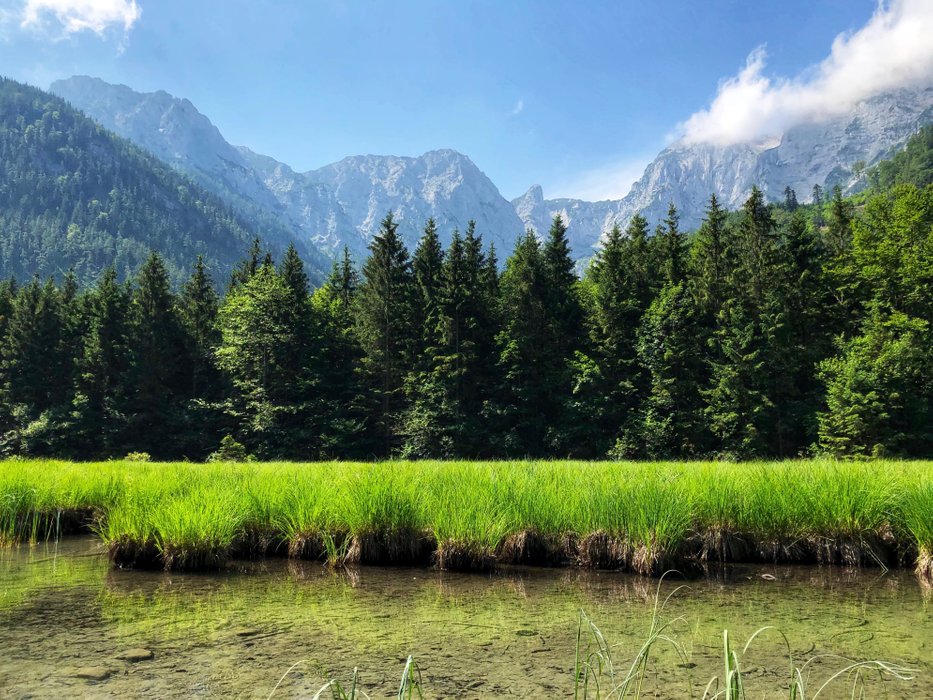 I can definitely say that it was quite a perfect morning at a mountain lake again - It will have definitely not been the last time where I got up that early just to visit a lake. So stay tuned for more ;) Now let me just finish with the same picture as we started with - only about two hours and a lot of sun later!


Ich kann guten Gewissens behaupten, dass es wieder ein perfekter Morgen am See war - Und es war definitv nicht das letzte Mal, dass ich so früh aufgestanden bin, nur um an einen See zu fahren. Also ihr dürft euch auf mehr freuen ;) Zum Schluss noch der selbe Ausblick wie auf dem ersten Bild, nur zwei Stunden später und mit mehr Sonne!


---
Until the next time,
Martin
---
All pictures have been taken by my iPhone X and edited on it. If you want to use the for something, please contact and ask me before doing so!