Hi everyone and welcome to part II of our Thailand travel series
This time we take you with us to one of the big cities of the world - Bangkok. As a big fan of Hangover II, I was very curious about the city and looking forward to making a checkmark next to another major city.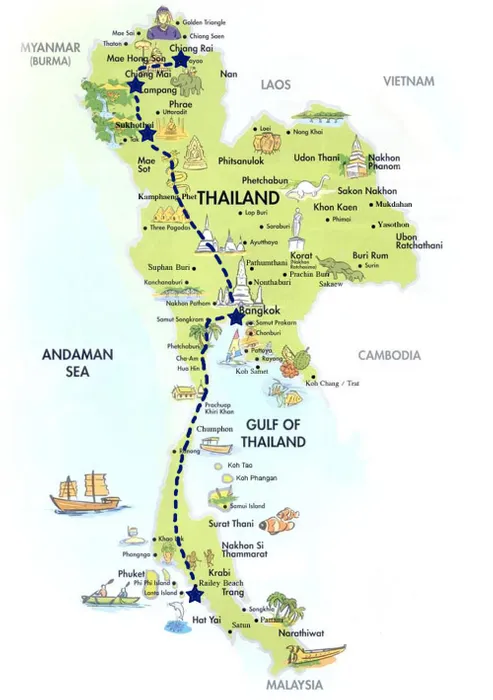 Our impression of the city can be summarized as big, noisy, hot, stuffy, and pretty overwhelming. The city is full of cars, full of people, and full of sounds, and smells. Deafening scooters and tuk-tuks drive everywhere, there are countless lively markets and cookshops on every corner offering delicious specialties. But there is also no shortage of glittering temples, shopping malls, luxury hotels, green oases, and rooftop bars. Bangkok is a city of contrasts. Here modernity meets centuries-old traditions.
A stay in Bangkok is simply a required part of a trip to Thailand. So we took four days to explore this city and let it affect and envelop us.
---
We took an Uber from the airport to the hotel. Even though all the streets were packed with cars and scooters, we were at the Grand Hyatt Erawan at an insane speed. It must have been a very funny picture of two sweaty backpackers in flip flops getting out of a tuned-up sportscar and checking into a luxury hotel. At the time, Timo was a Diamond Member at the Hyatt through his consulting job, which gave us this luxury. The porter was amazed. 😅
We were very happy to stay at the Hyatt. There we had a bit of a break from the hustle and bustle of the city.
What was particularly funny: Timo thought, you can never have enough honeymoons. So when we made the reservation at the Hyatt, he stated that we were a honeymoon couple. We had just got engaged in truth. At first, I was a bit confused when I received the congratulations, but then we were very happy about the little gift in our room.
---
But now it was time to jump into the fray. Bangkok's number one attraction are the numerous sacred temples found throughout the city. No matter where you look: somewhere a golden pagoda towers up. With the Chao Phraya Tourist Boat, we crossed the river very close to the Royal Palace, probably the most important and well-known temple in Bangkok. The water in the river does not invite a swim or even a dip but so many people in one place have a negative influence on the water quality as you can see in the pictures.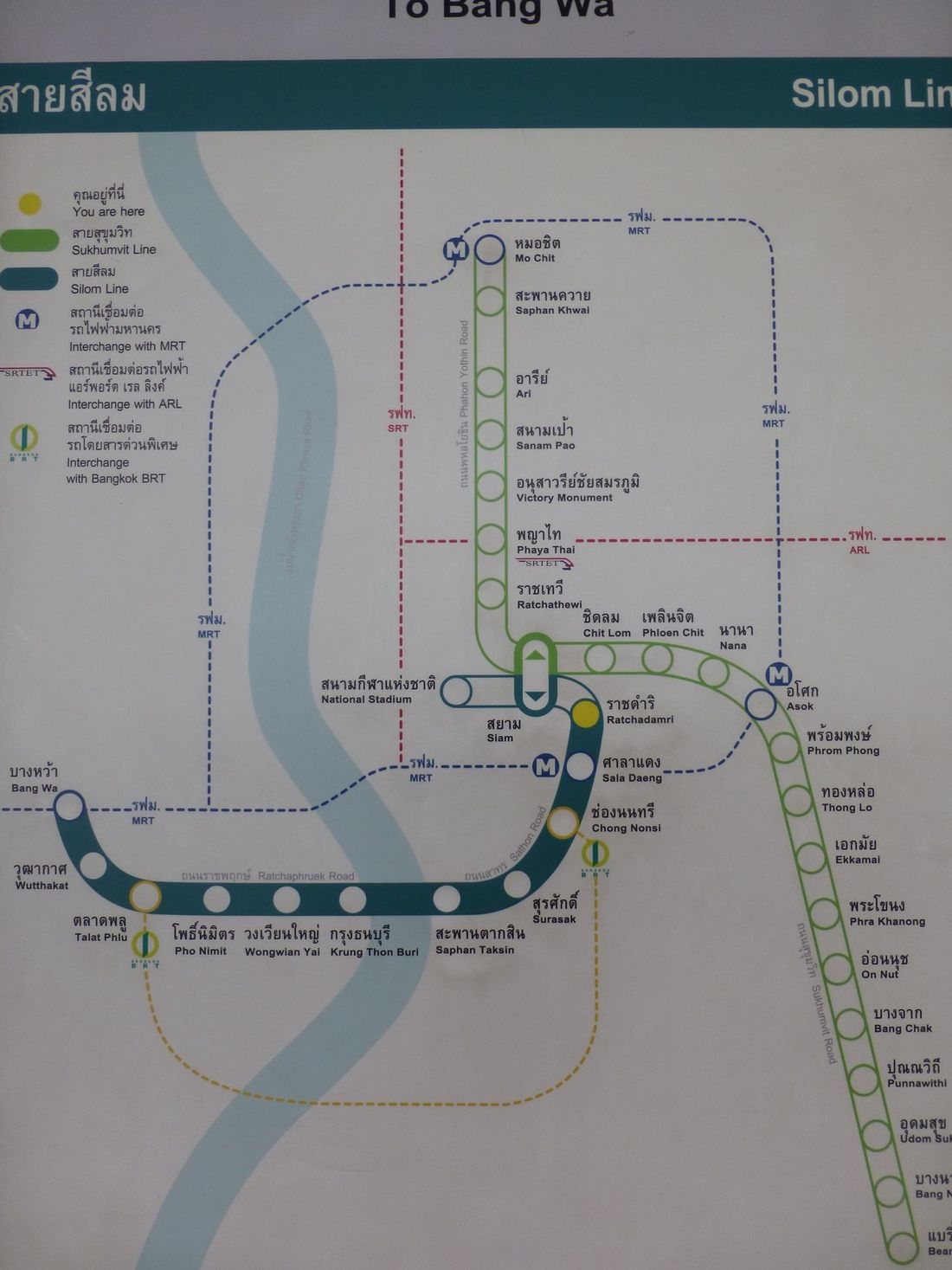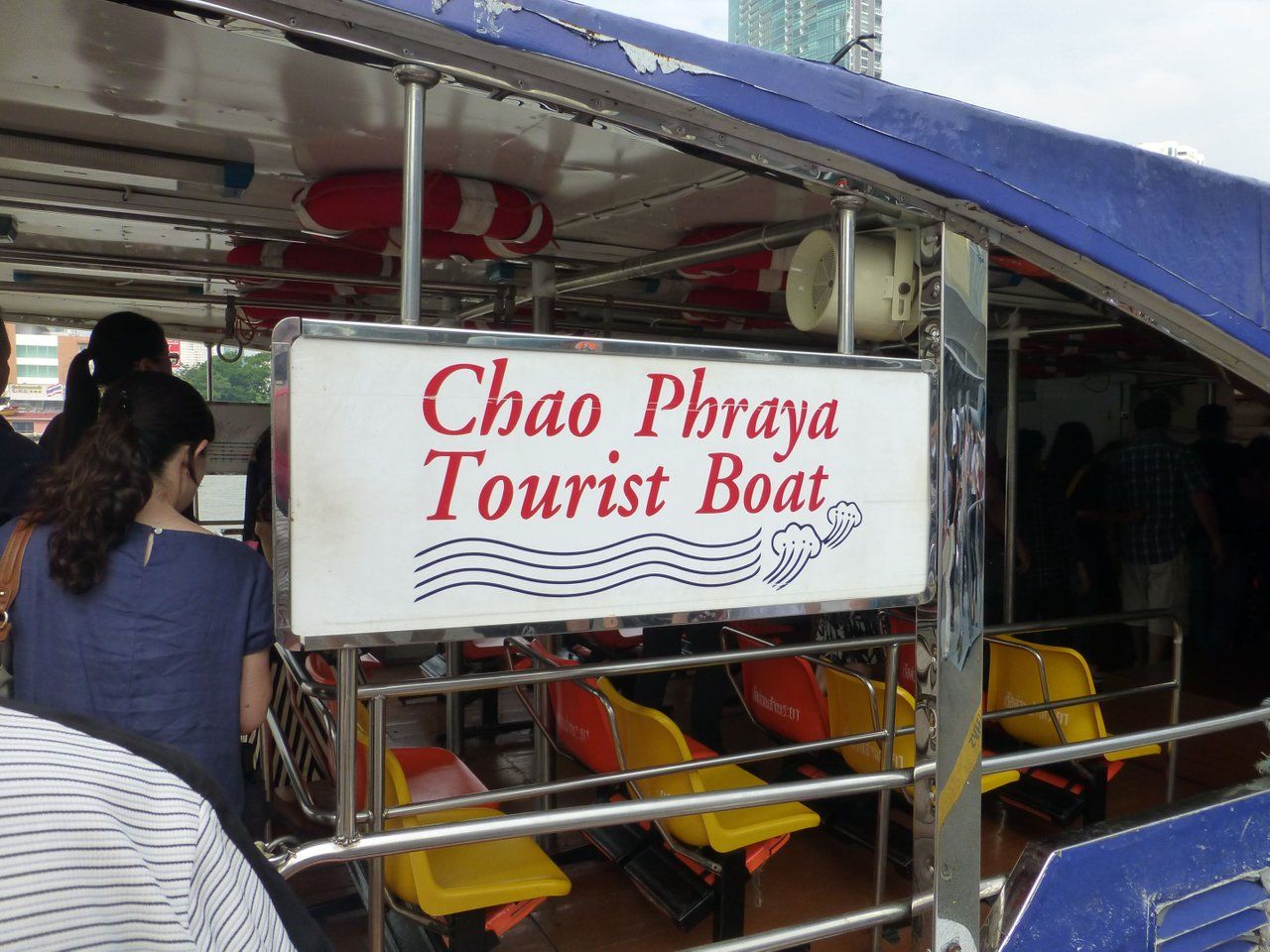 ---
However, since the king died on October 13th, 2016, about half a month before our trip to Thailand, mourning ceremonies were still taking place there. The palace was therefore closed to the public.
The Wat Pho temple is very close by. This huge Buddhist temple complex was built in the 17th century and is both the oldest and the largest complex in Bangkok. 95 porcelain-decorated Cheddis can be admired in the area. These are provided with impressive, colorful mosaics and floral motifs.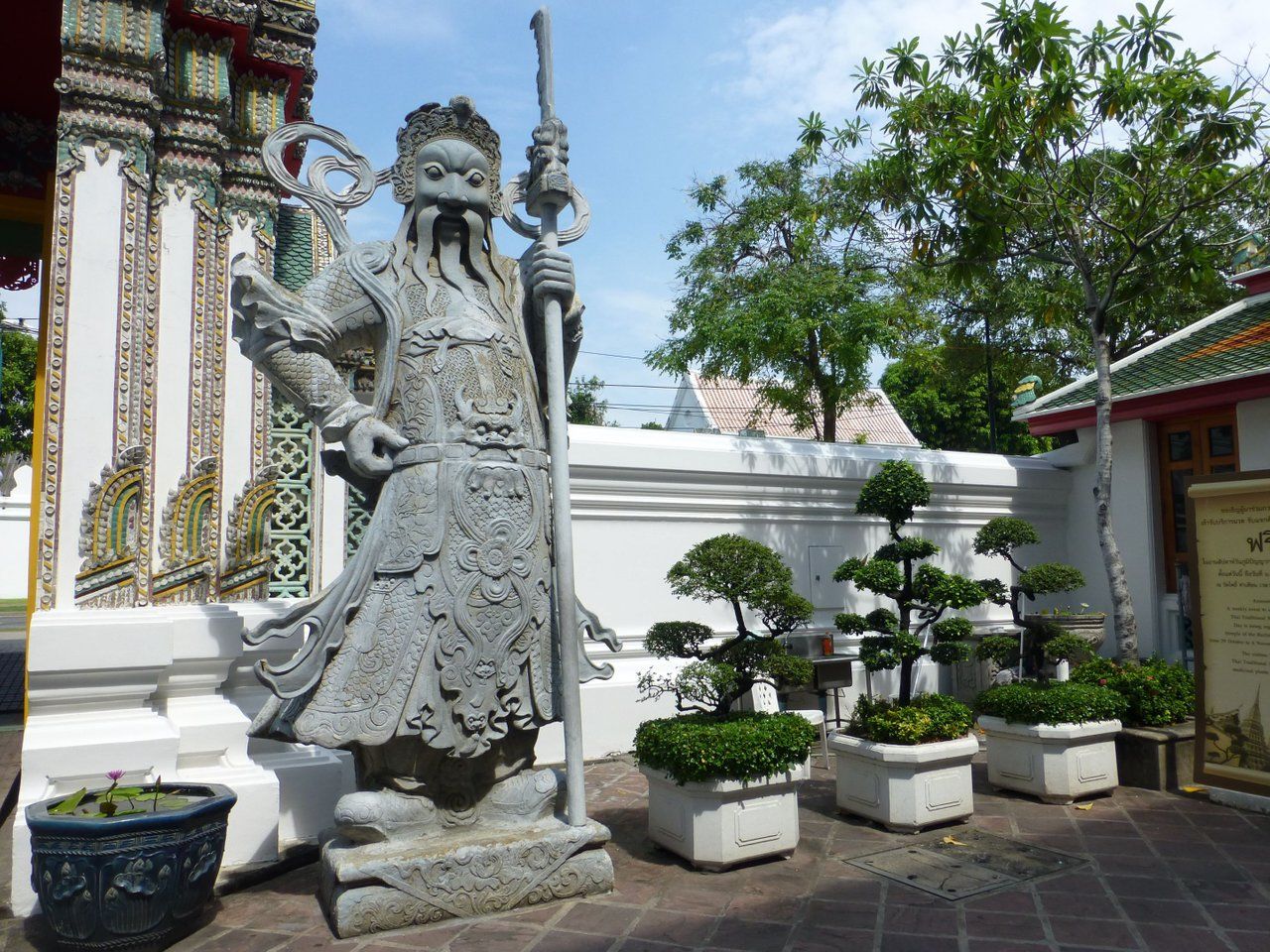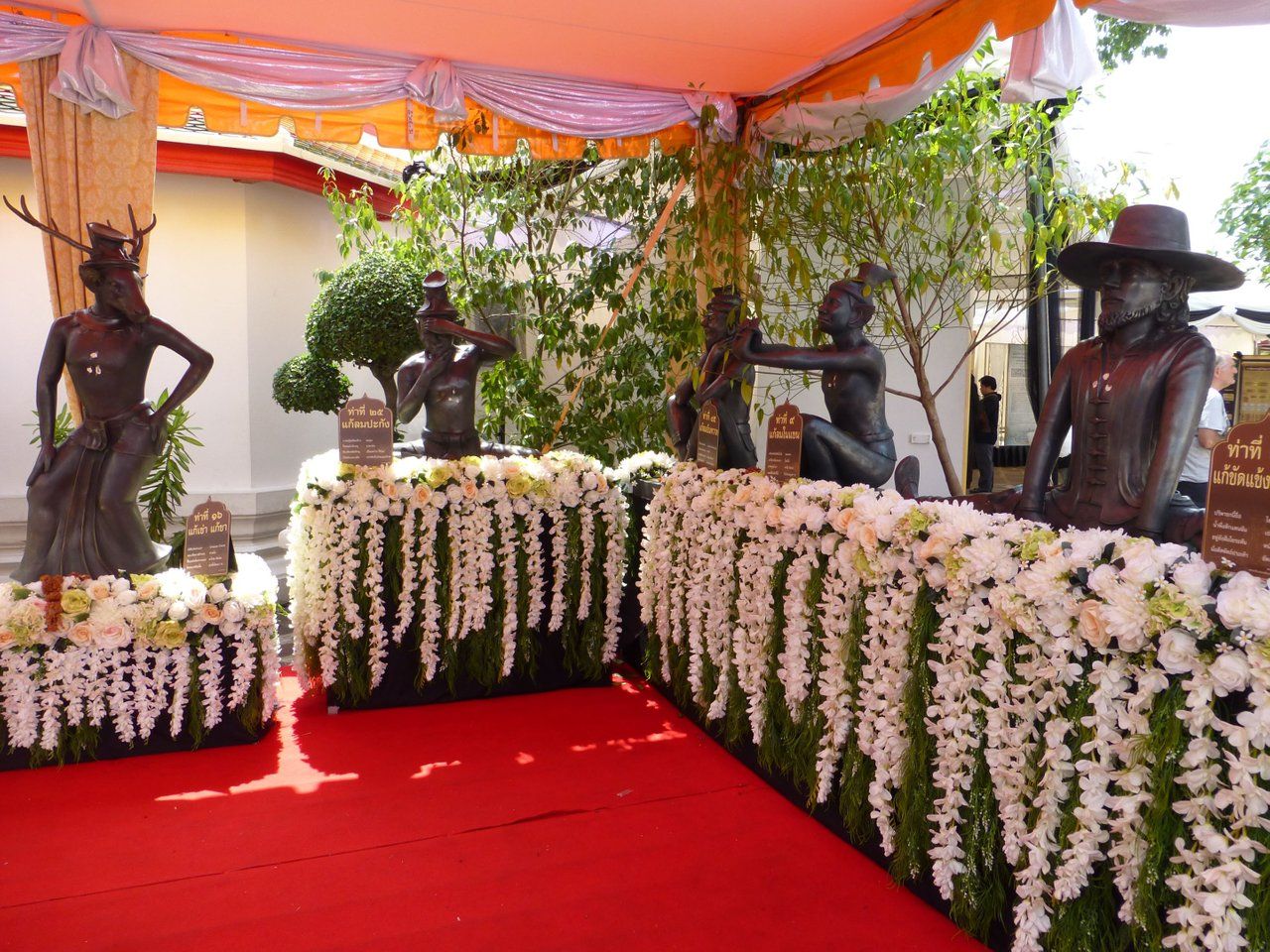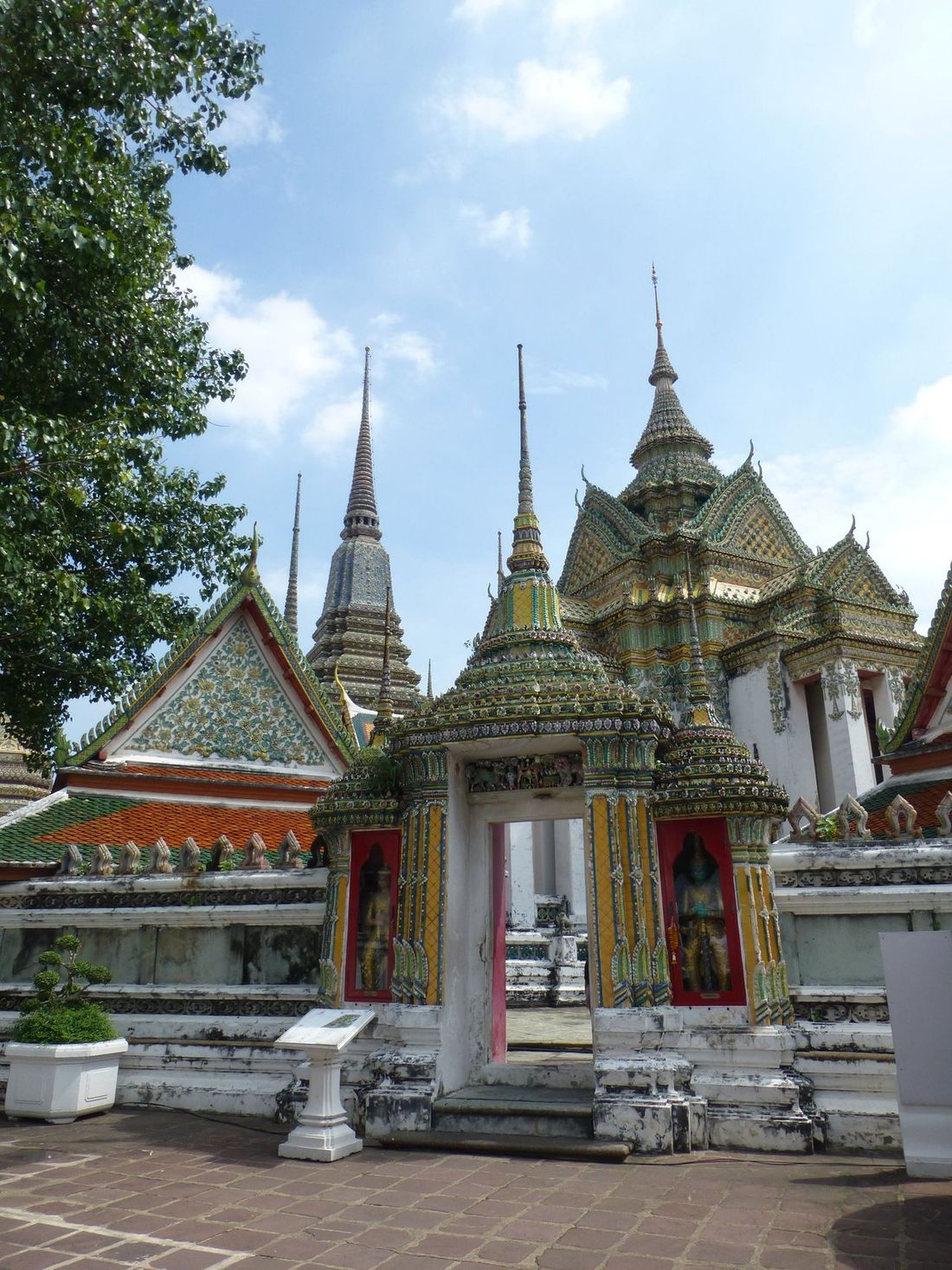 The main attraction of the temple complex is the 46 m long and 15 m high reclining Buddha, which is made of plaster and brick and covered with numerous layers of gold leaf. In the so-called Vihara, there are 108 monk bowls into which believers throw coins. That's supposed to bring good luck.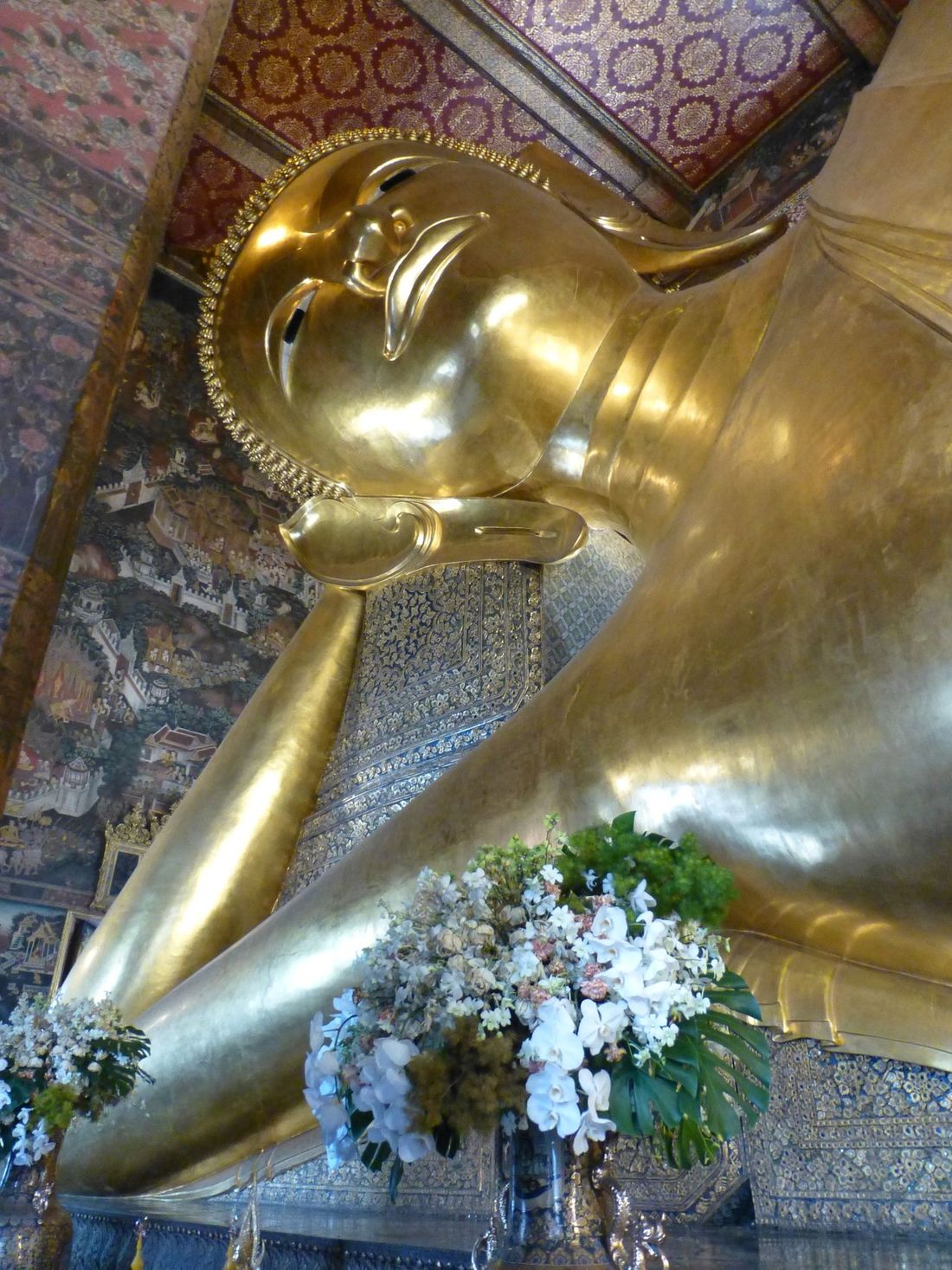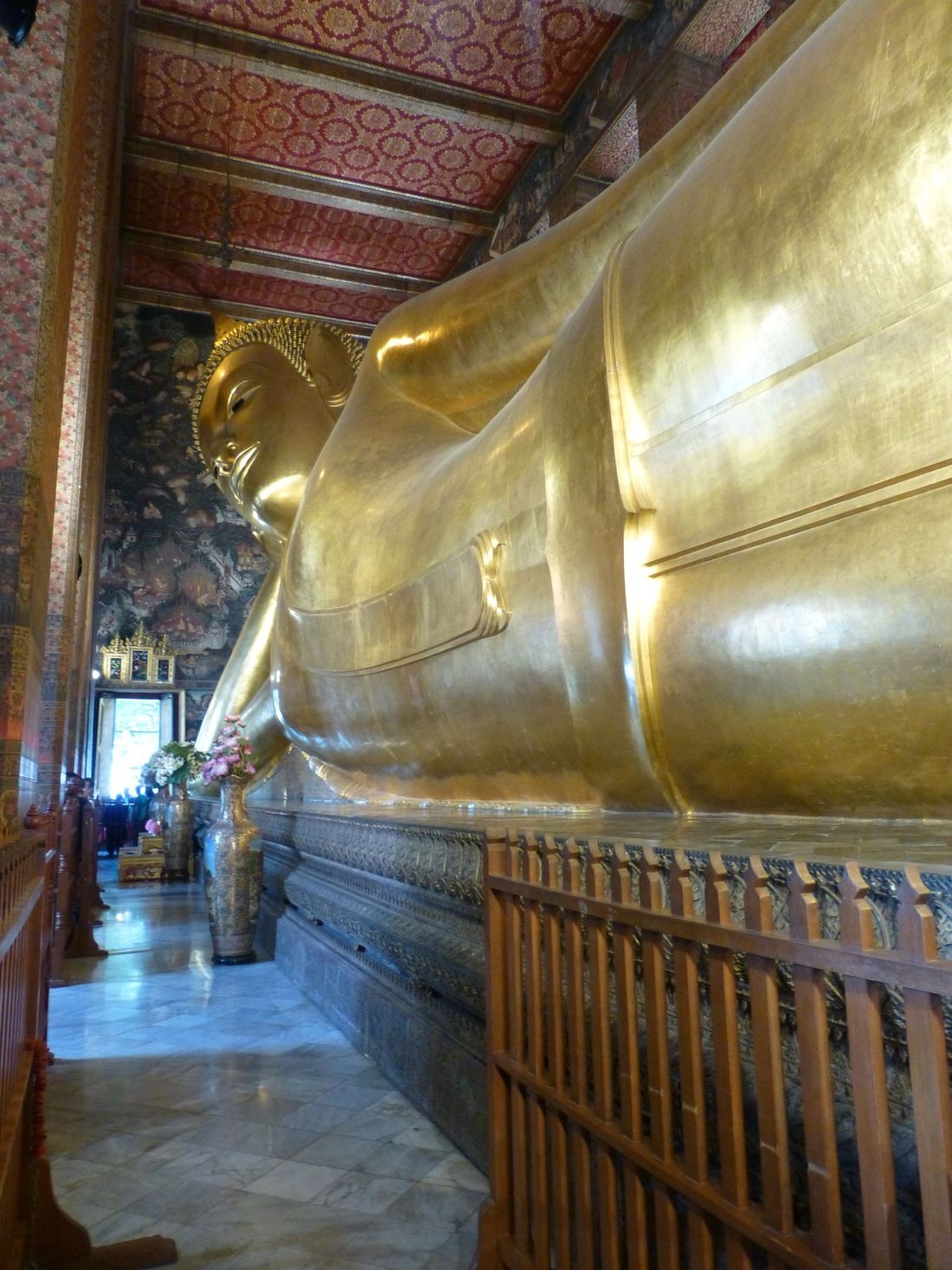 Afterward, we walked to Khao San Road - the hot spot for partying, shopping for fake brands, and low-budget accommodation for backpackers. If you want, you can also try fried insects or scorpions here. We declined with thanks. 😉 Tuktuks squeeze through the crowds everywhere. It's quite dirty and noisy and in general, everything looks pretty run down. We walked through it once but soon made our way back to our hotel. We preferred to end the evening in one of the countless rooftop bars.
We took an Uber to the Banyan Tree Hotel, which owns the Vertigo and Moon Bar. Even the way up to the rooftop is amazing within the hotel with all the golden highlights.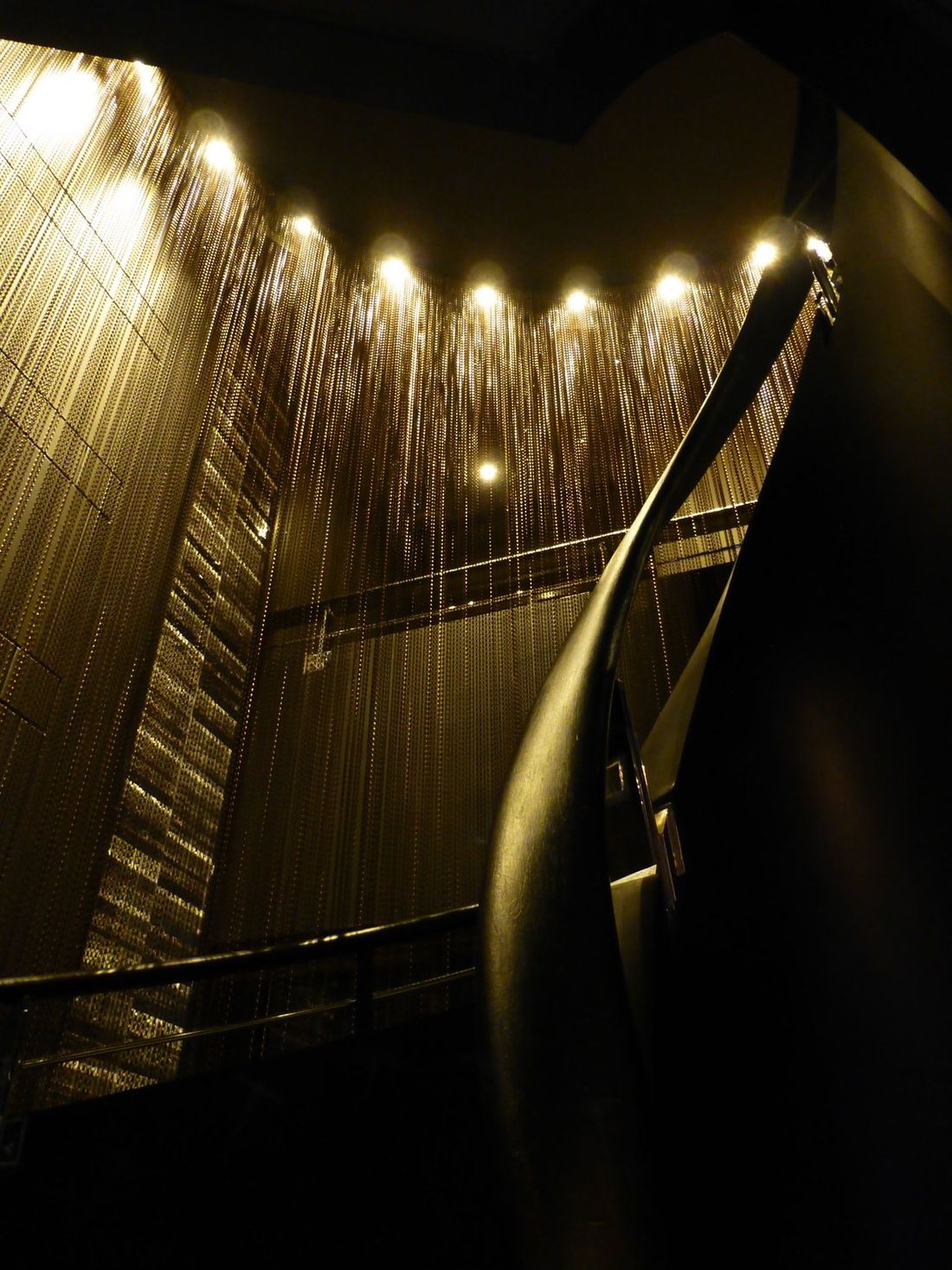 On the 61st floor, we enjoyed our cocktails while looking over the city. From the roof terrace, we had a great 360-degree view of the glittering Bangkok skyline. You should not miss out on this view. It´s amazing.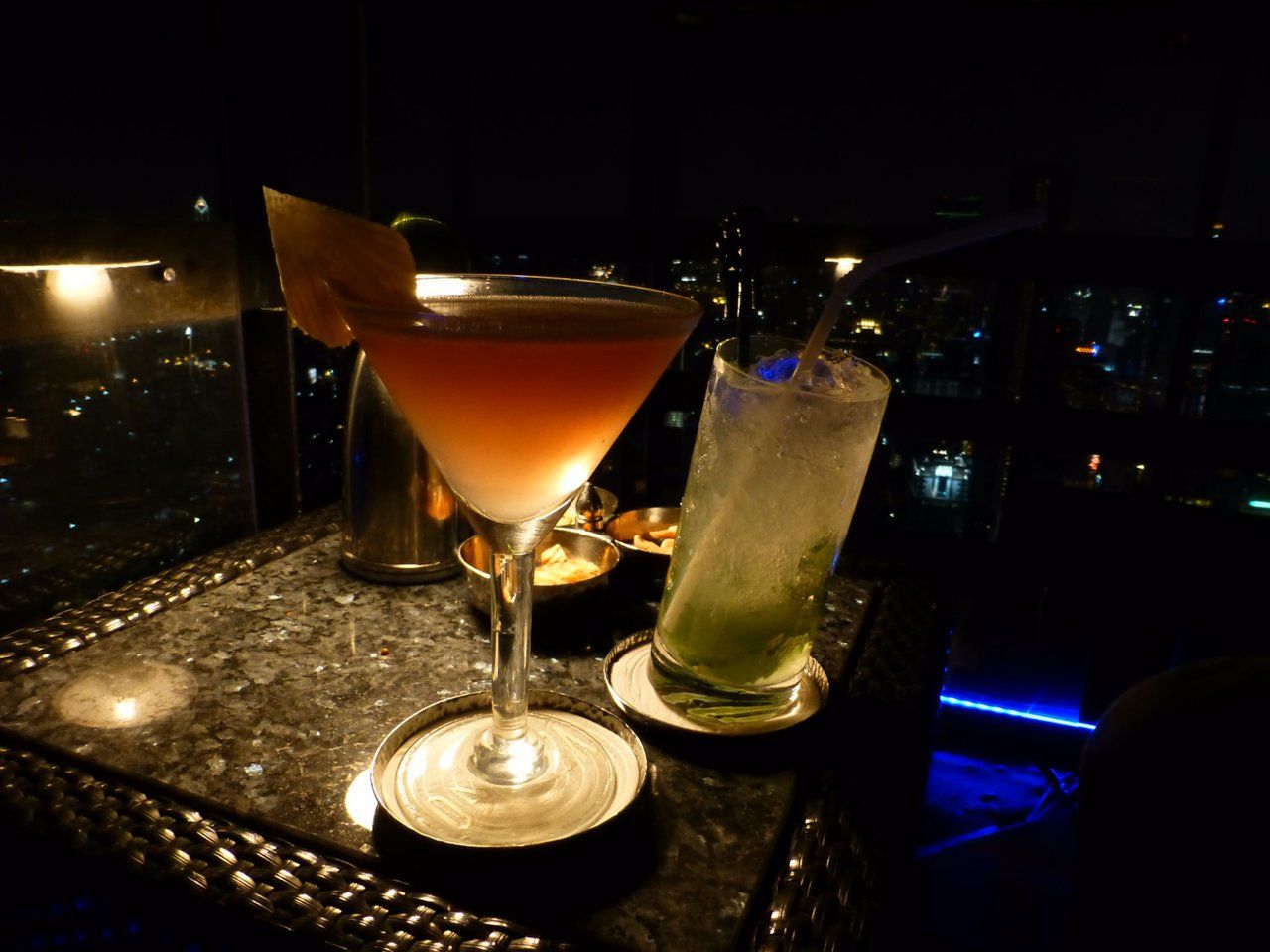 The next day we visited the Chatuchak market. It is the largest weekend market of its kind anywhere in the world. Everything from clothing, accessories, antiques, art, and plants to household appliances, furniture, and even living animals is sold here on 1.1 square kilometers. We spent several hours here, just let ourselves drift and got one or the other bargain.
Still, in the mood for shopping, we then walked through countless shopping centers to buy even more cheap T-shirts. Phew, after that day of shopping we needed a break the next day.
---
To escape Bangkok without actually having to leave the city, we walked to Lumpini Park the next day. Shady paths, a large artificial lake, and manicured lawns made us forget the roaring traffic and the high concrete blocks of the city for a short time. We even met a little reptile.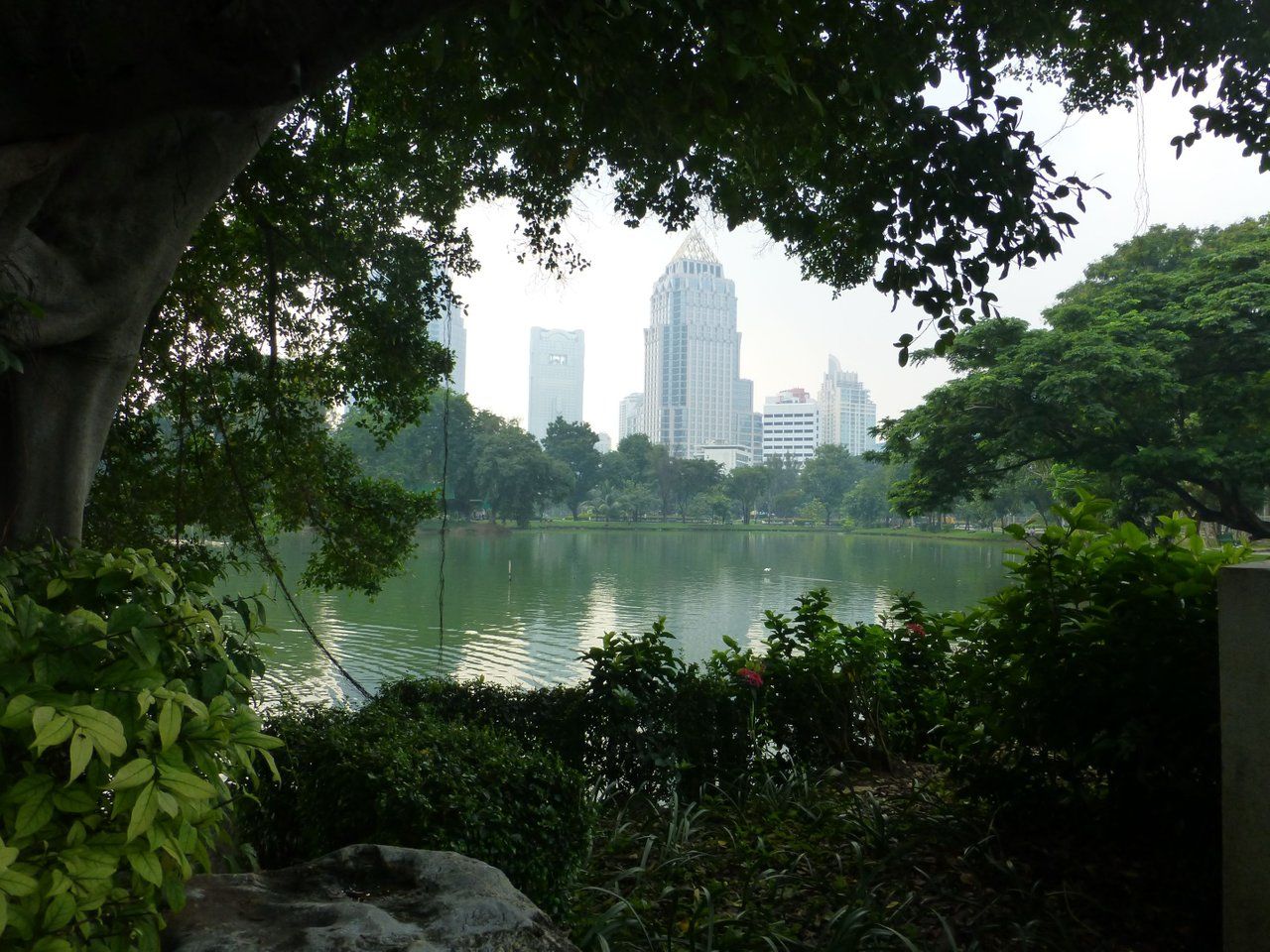 The park has quite a comparable feel to central park in New York even though it is a lot smaller.
---
At the end of our stay in Bangkok, we took a look at the bustling Chinatown. Flashing Chinese characters and signs are everywhere. There are many jewelry shops and tons of street restaurants. These many different smells and the hustle and bustle made it a bit difficult for us to enjoy this part and felt more like a chore. But one can clearly understand why some people might enjoy it.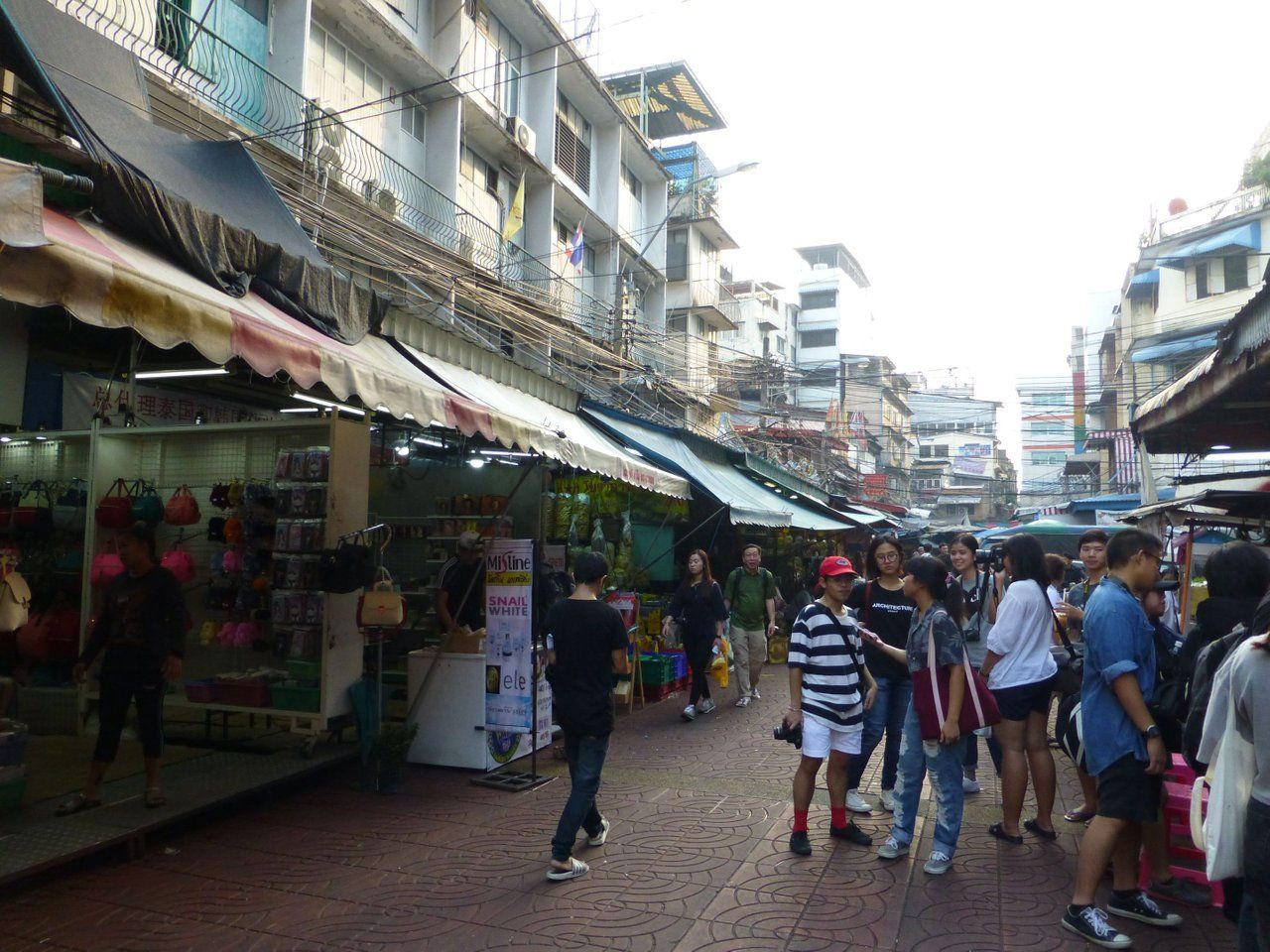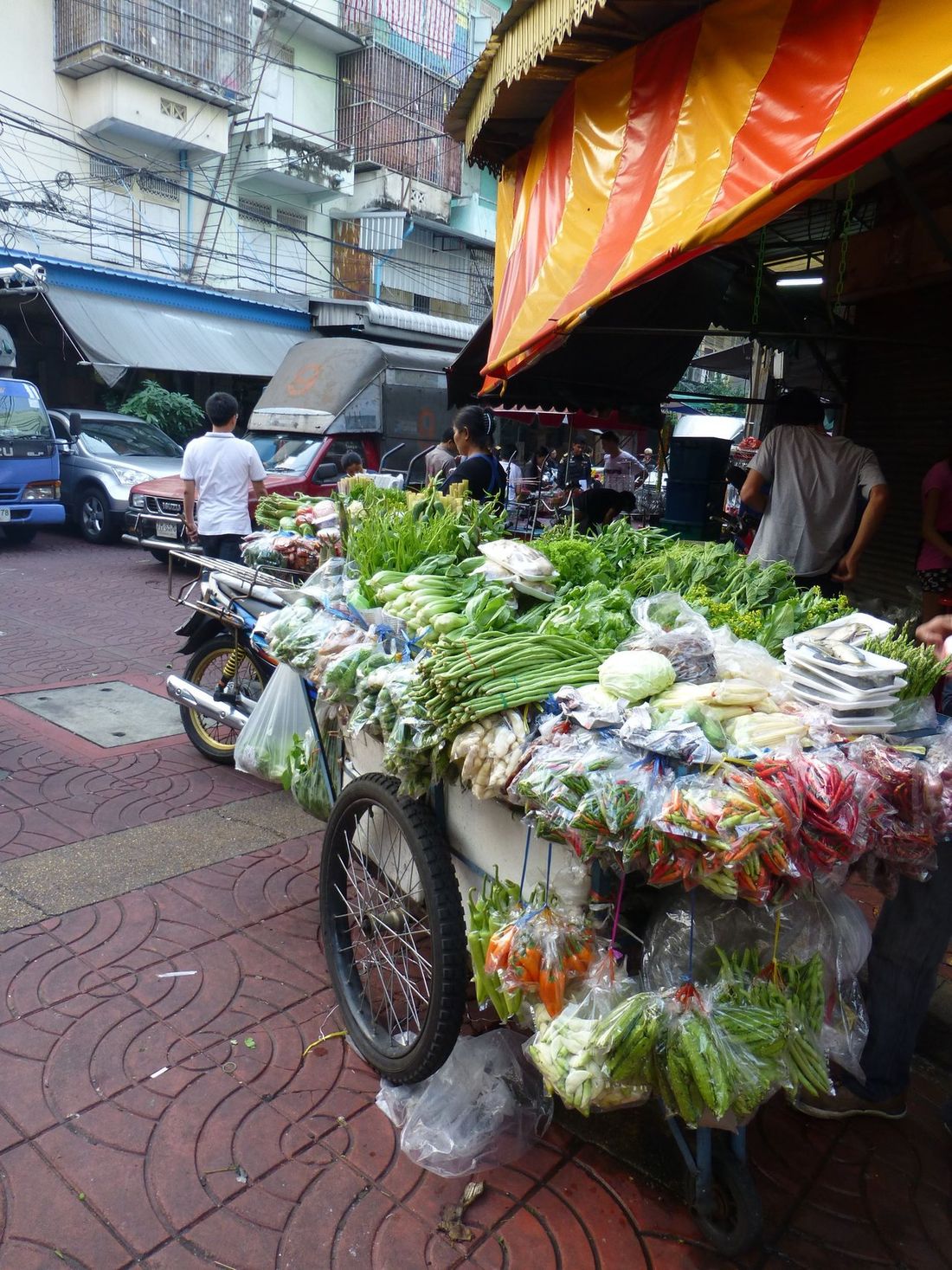 And then, a lot faster than expected, our four days in Bangkok were already over.
---
We chose to travel by bus which at first seems like an easy choice as the long-distance bus travel in Thailand is very well developed with relatively high-quality buses. What we did not know was that very few people at the bus stations speak English and all the written text (e.g. the destination of your bus) is written in the local language instead of regular western characters. So buying our tickets was already a challenge we mastered with a bit of luck and our smartphone translations but finding the correct bus was like playing the lottery. Luckily, after some aimless wandering someone asked us in English where we wanted to go and guided us to the correct bus😅
Next Stop: Sukhothai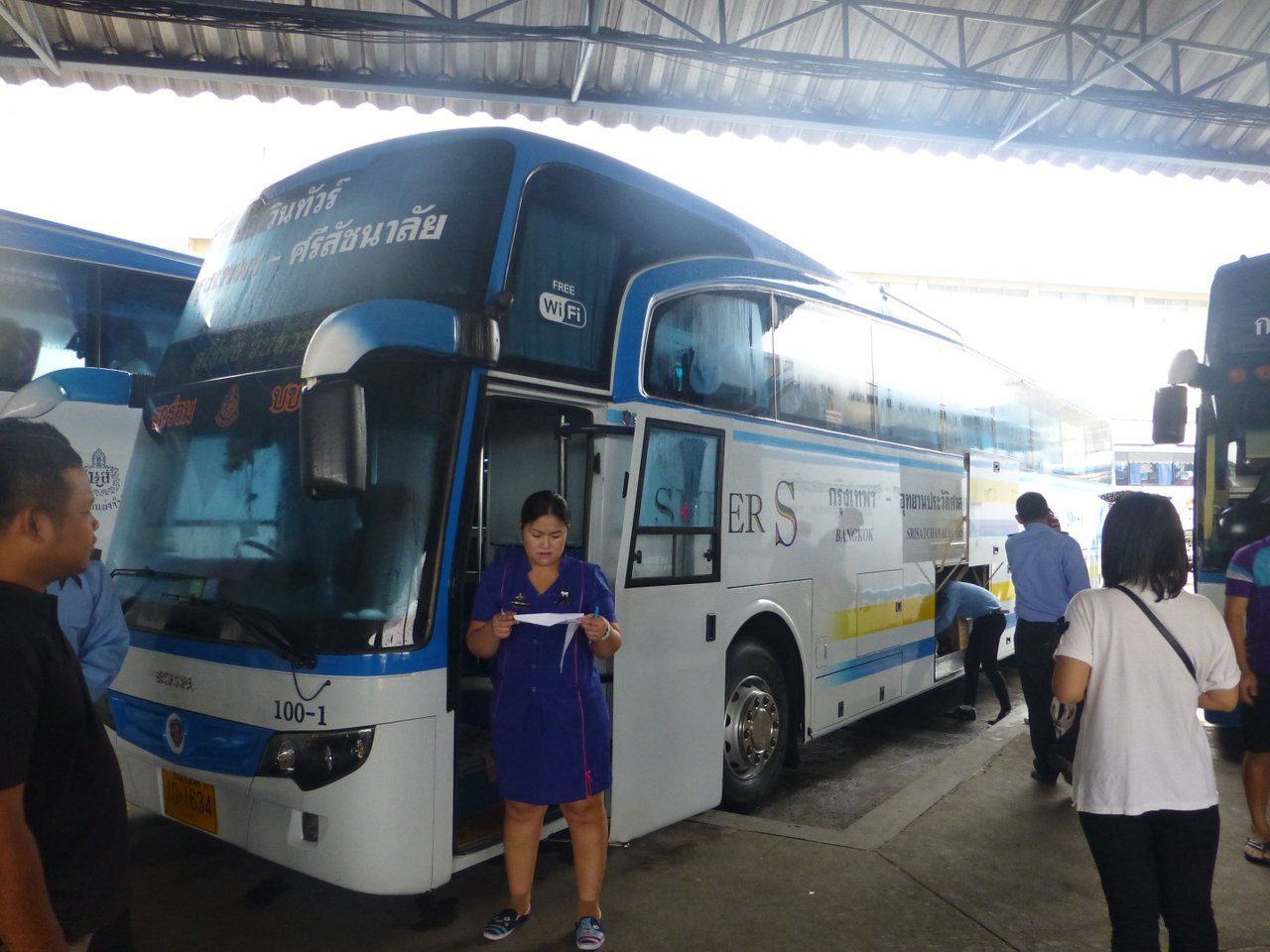 Thanks for reading and we are looking forward to your comments! 🤞