We just finished our first 10-day ski/snowboard adventure trip in the North of Norway and in many ways it was far beyond any of my expectations.
For those who don't know us yet: we are Val and Tim, a couple from Belgium who three years ago had the crazy idea to convert an old American school bus into a hostel on wheels. After a successful crowd funding campaign we went to the other side of the world to look for a suitable bus and after a month or so we found the perfect one in Tennessee. The previous owner was so kind to drive the bus to Florida, where we put it on a cargo ship to Belgium. After a year of transforming the inside into a nice livable space for eight people and also working on the technical side to get it through inspection, we started our adventure on the road and convinced guests from all over the world to join us!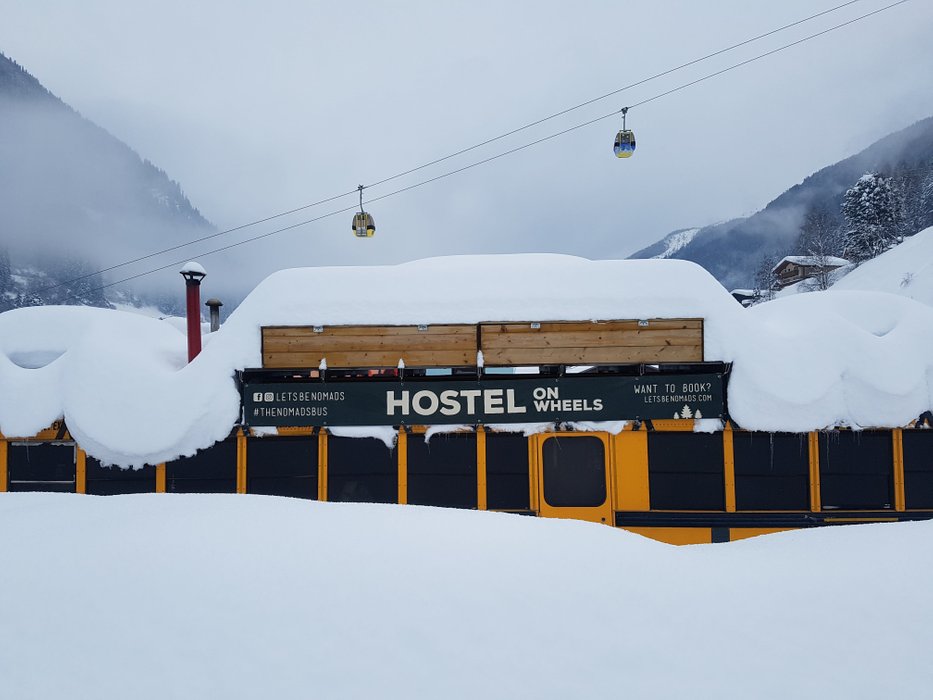 Right now we are on our second winter tour and this time we have chosen the very North of Europe as our destination. Guests join us for an unforgettable ten-day journey on which we try to find the most impressive spots around Tromso, Senja, The Lyngen Alps and the Lofoten.
We both love the mountains immensely and have always wanted to transfer that incredible feeling you get when you hike up a mountain to as many people as possible. I think it was David Attenborough who said that you would never want to protect something you don't know, when he was talking about the beautiful planet we live on and I completely agree with him. So, my advice is to go out in nature and see the beauty through your own eyes.
Anyway, so our Norway winter plan was (and still is) to get up to different mountaintops using only touring gear (skis or split boards) with our guests.
The first day
Our guests arrived at the airport and we drove to a small resort in Tromso, where they were able to test out their touring gear. The weather wasn't too great, but we were fortunate enough to get some fresh snow. The locals told us that it had been a crazy cold winter up here with almost no snowfall. In fact, before we arrived it hadn't snowed in 50 days!! The positive side was that the mountains were still covered in snow because of that extreme cold; also meaning the base layer is very solid, which is quite important in terms of avalanche danger.
The local connection
Seeing as we are driving an old American school bus in quite harsh conditions, it can happen that something on the bus breaks down and this time the air system (which is used for the suspension and breaks) malfunctioned because of the cold. So, we had to find a local garage that would be able to help us. Luckily it didn't take us too long to find one in the center of Tromso.
What I have learned most out of our living on the road experience is that there almost always is a silver lining to be found when something goes wrong and in this case, thanks to our breakdown we met Eirik, a friendly mechanic who later that day invited us to come and ride his local mountain with him. He was even kind enough to invite us into his house and let us take a nice shower, which with this extreme cold was more than welcome!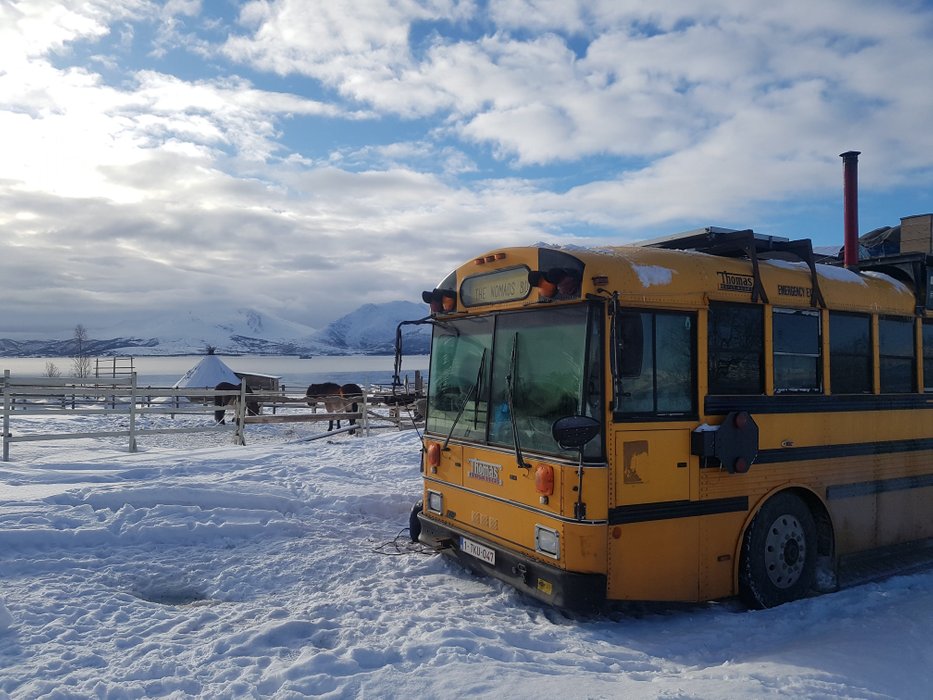 The hike itself was beautiful and we were the only ones there! Thanks a lot Eirik for showing us this gem, I am sure we'll meet again!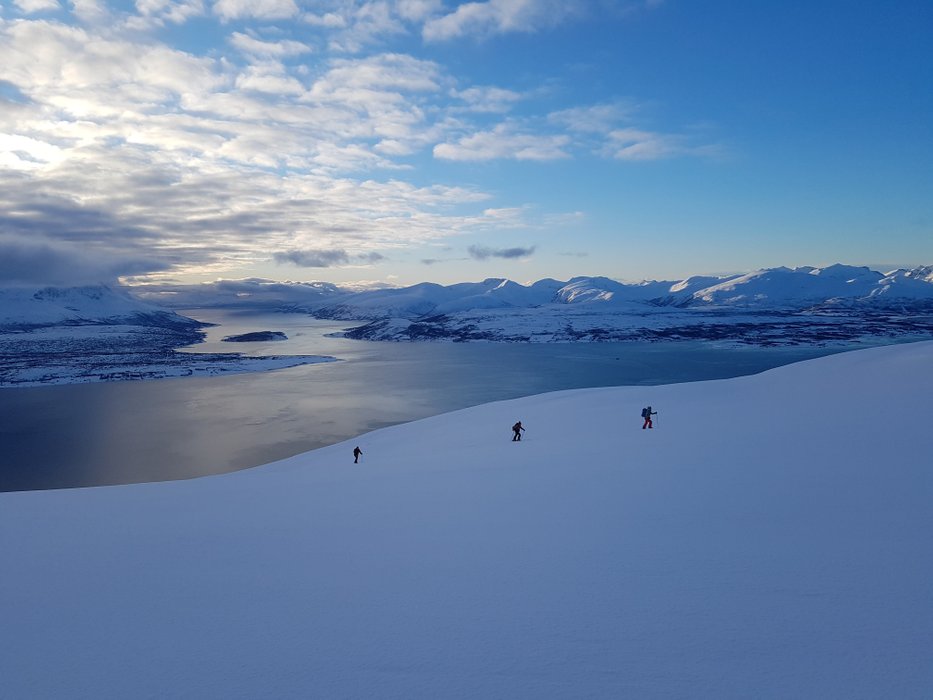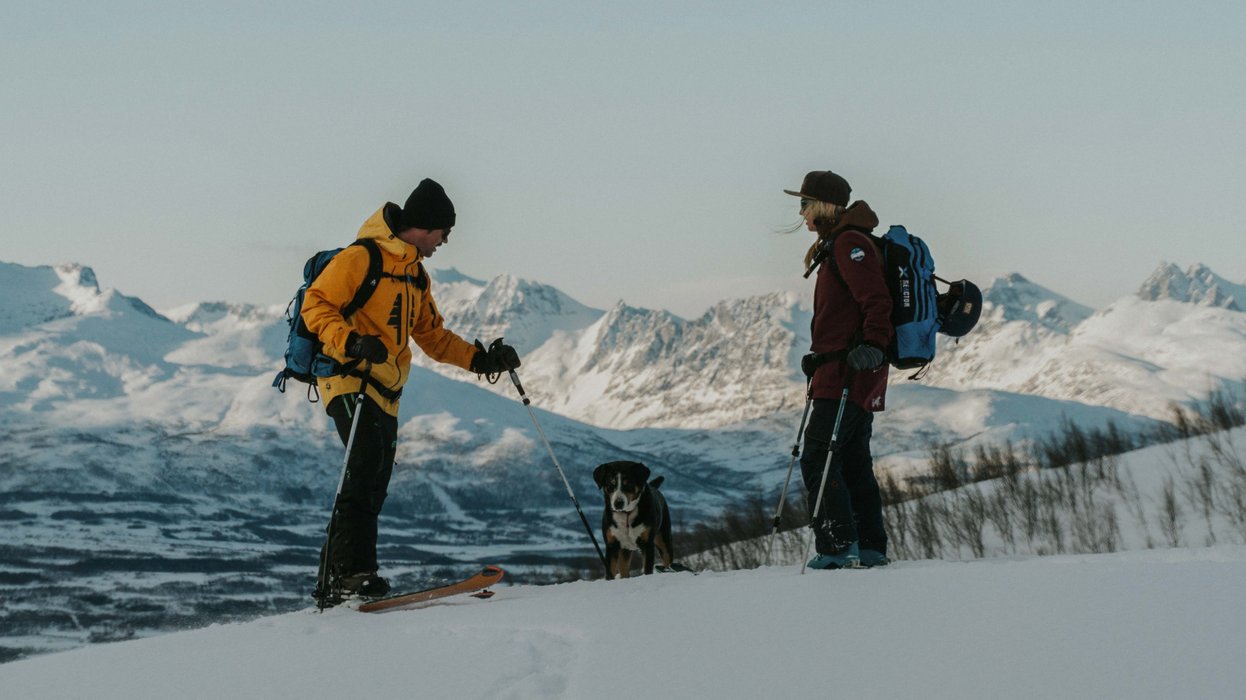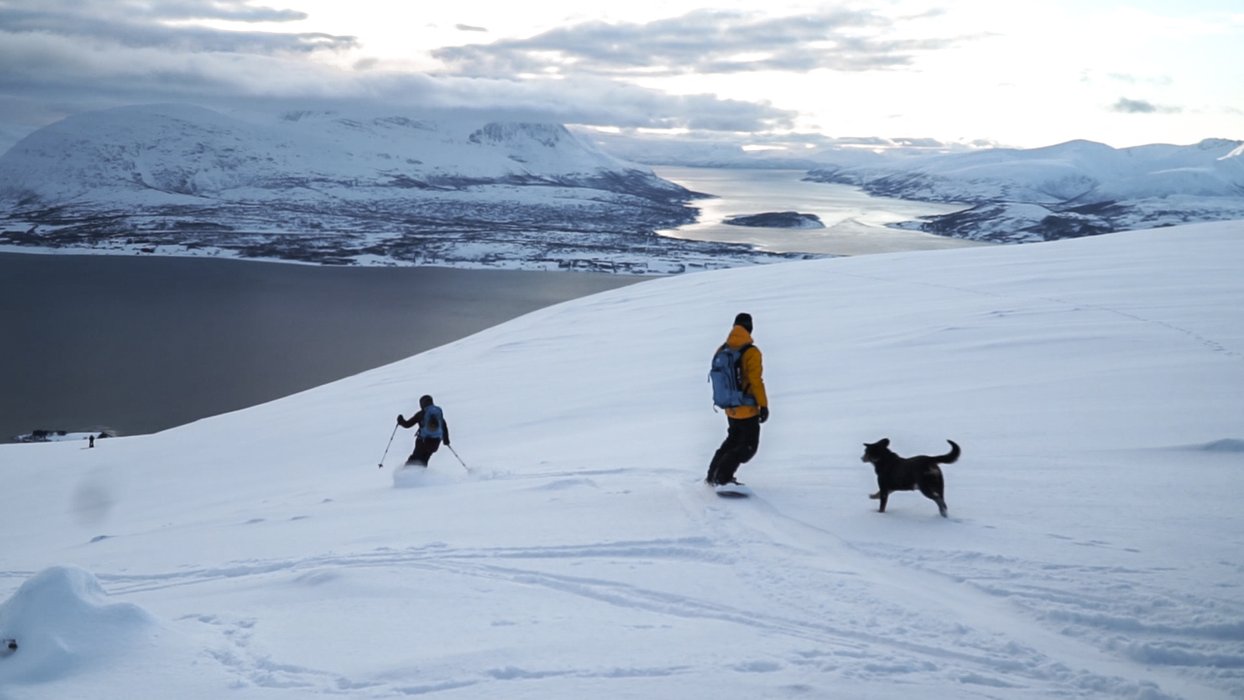 The first hike of the book
To find our way a bit around these millions of mountains, we decided to buy a book, written by a Norwegian (Espen Nordahl) who had climbed more than 80 peaks and has beautifully mapped the ascending and descending routes.
When flipping through it, the first one that caught my eye was a mountain called Buren. According to the book the whole trip (up and down) would take about 3-4 hours. Out of experience I know that most of the time you should add an extra hour or so, because of the many unknown factors, like for example: the fitness of the group, the weather conditions and unforeseen equipment mishaps.
It was a quite challenging climb, with some icy parts, but our crampons did a very good job at keeping us from constantly sliding down and falling.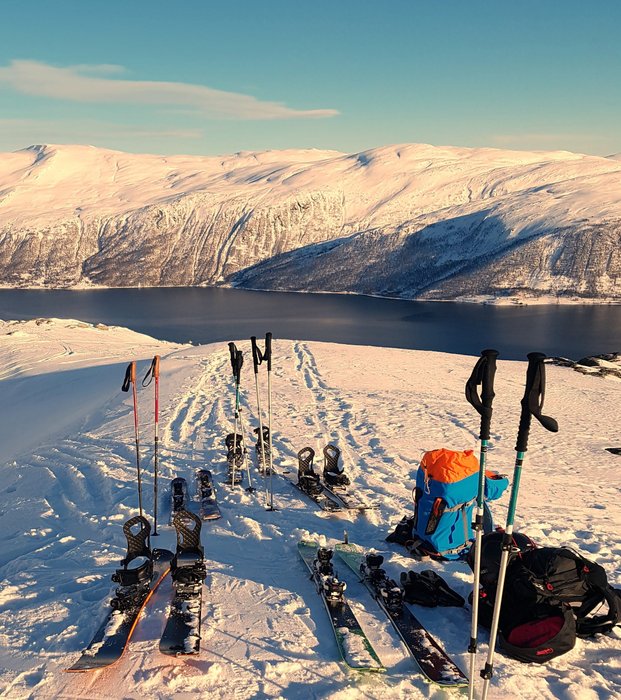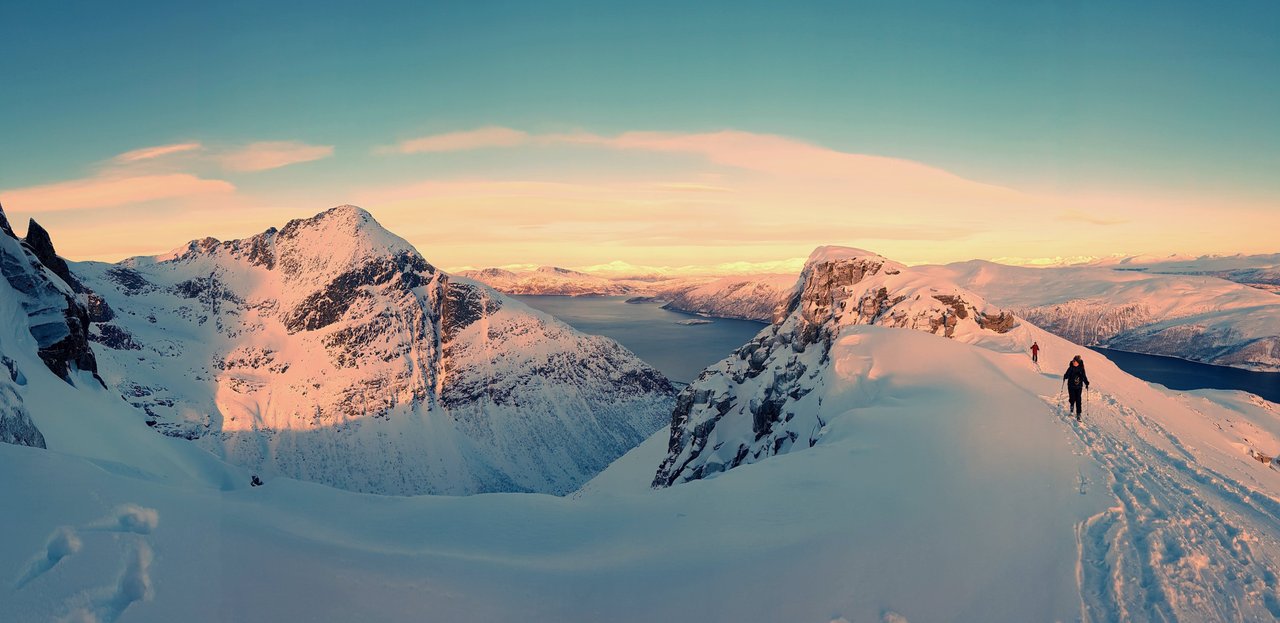 People tell me I have 'needtogettothetop' syndrome and this time it was no different, even though the sun began to set, I knew it would me more than worth it to keep going and reach the top. And it definitely was. It is crazy how different the view is once you reach the top of a mountain and it was so happy to be able to share it with our guests!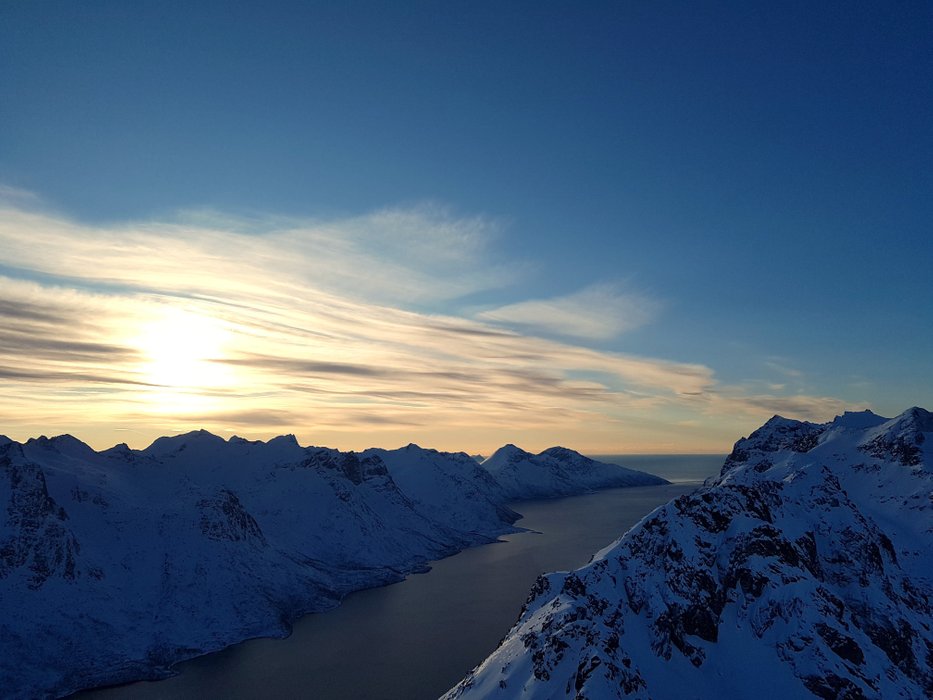 Time to go to the Lyngen Alps
The area around Tromso is filled with peaks that reach around a 1000m height (3000ft) and there are all incredibly stunning, but if you drive an hour or so and take a ferry you'll arrive in some real Alpine terrain, with steep peaks that reach over 1800m (5800ft).
Out of all the possibilities in the book I chose to take the group up to Stetinden, a top in the North of the Lyngen Alps. As a guide, you are constantly looking at your surroundings, interpreting the snow conditions, the weather and the fitness level of your group. On this particular hike I spotted a peak that was un-ridden and decided to leave the mapped route and take everyone up it with me.
The last part of the mountain was too steep and icy to skin up (read walk up with skins under your skis or snowboard), so for the final ascent we had to put our skis and snowboard on our backpack. In the end it took us about an hour and 15 minutes and we managed to reach the top just before sunset! Kudos again on my timing I would say ;)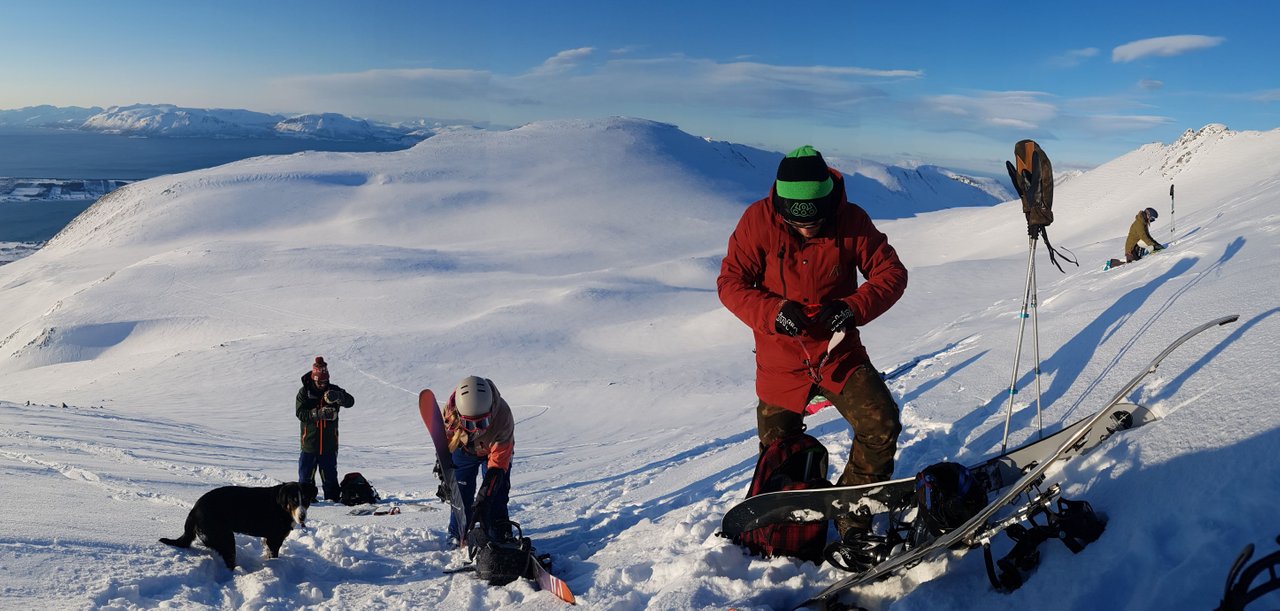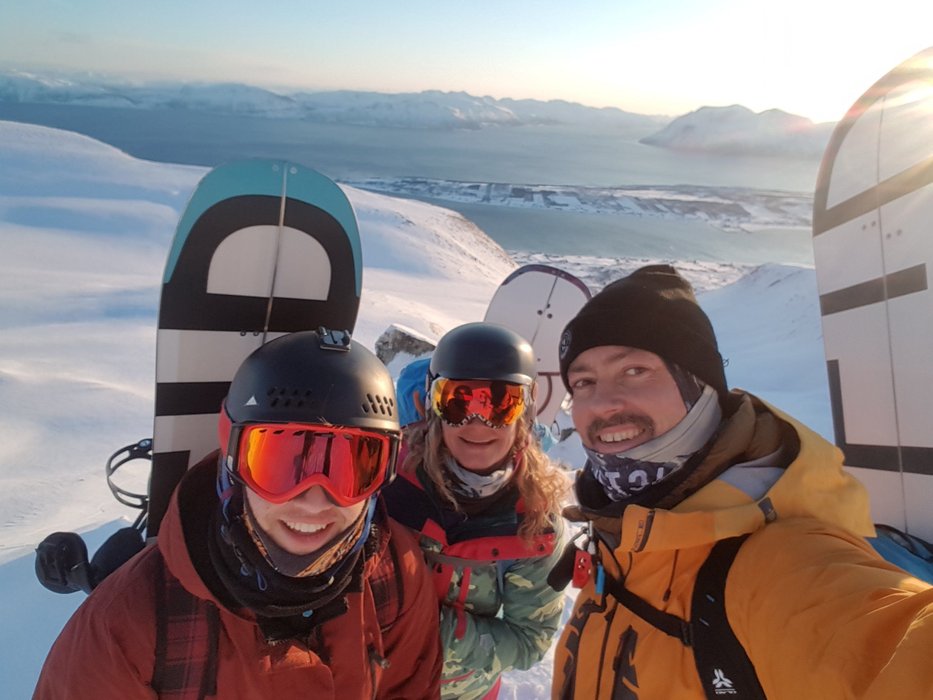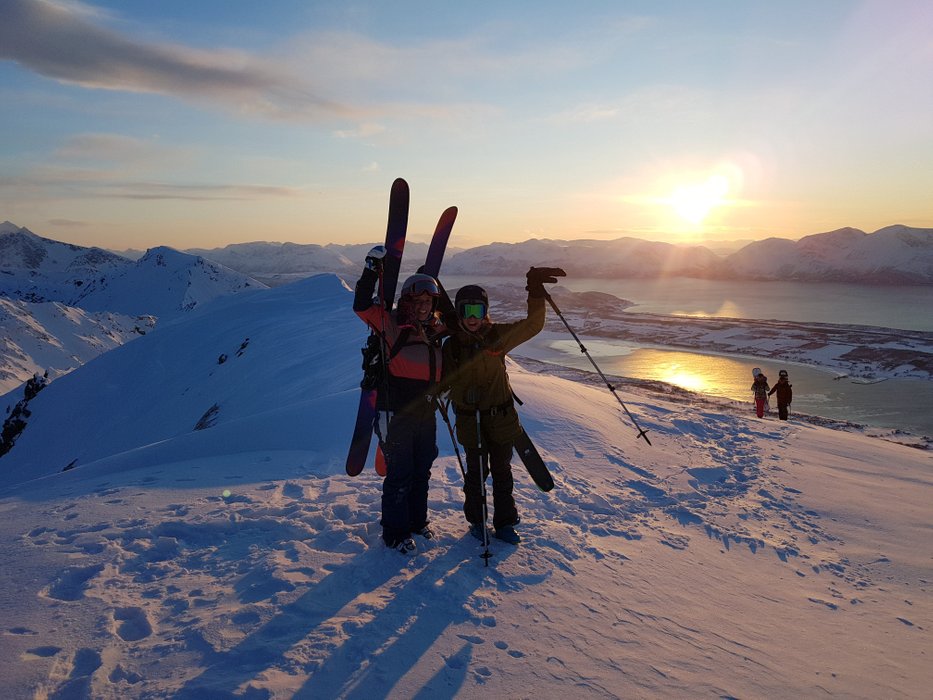 Our dog Lewis had joined us and it was just incredible to see him maneuver his way up the mountain, almost like a true mountain goat. I probably should mention that his breed is called Entlebucher Mountain dog, but still can only believe it when you see it with your own eyes. And oh yes, he was super happy to be a part of this!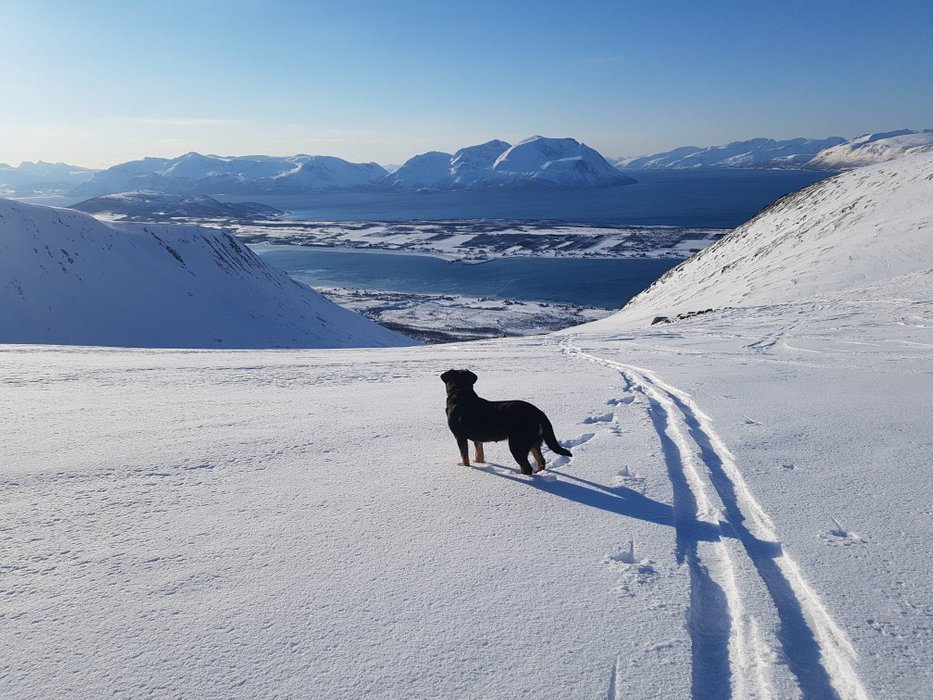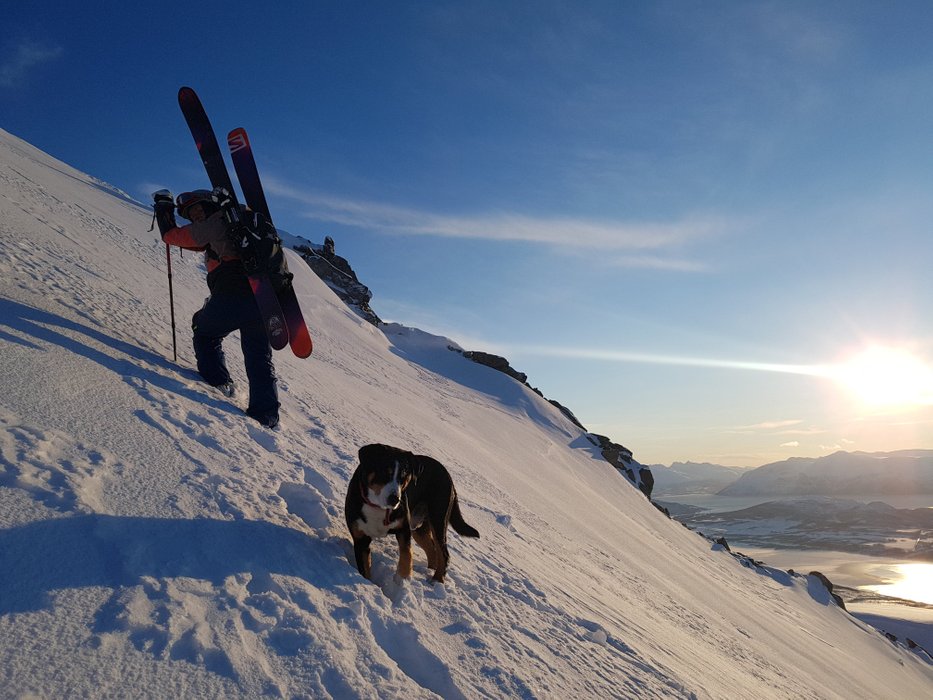 When you go touring, the descent lasts only a fraction of the time you spend hiking up, but in the case of these peaks in the Artic the views make sure every descent is engraved into your brain for the rest of your life!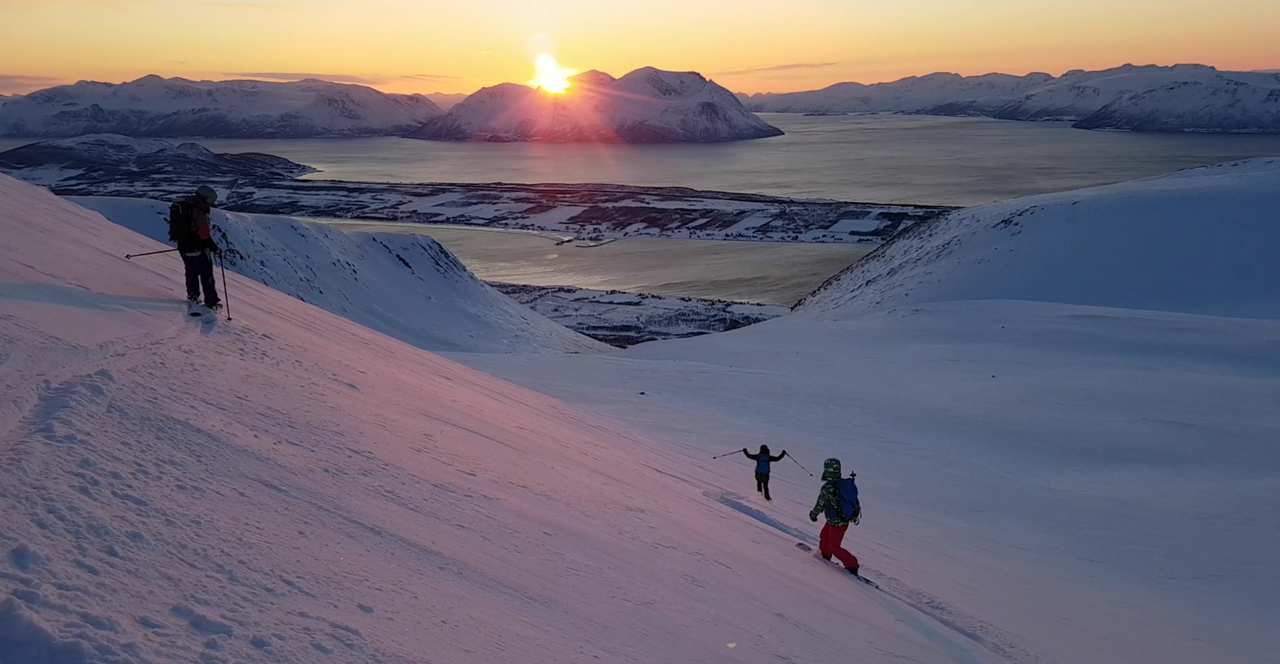 The final ascent, Ulstinden
During the rest of the trip we searched around for some untouched snow and it was harder and harder to find any, so I knew that we had to go a bit more extreme on our final day. I had heard from someone that the views on top of Ulstinden were spectacular, so in my head that would be the perfect way to finish up the trip. The book mentioned three ways to go up and the first two were a bit boring and south faced and I knew it would be pretty icy, that is why I decided to take the North route up and look for an alternative way down on the way up.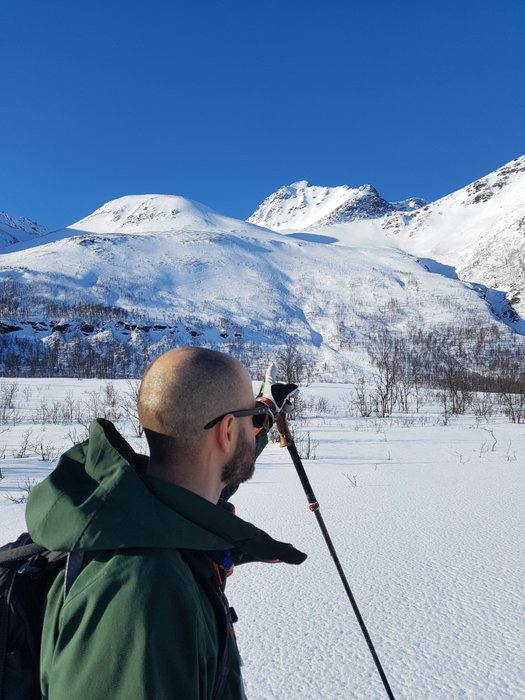 And I found one! When I reached the top I had to walk around a bit to find the safest way down and it looked quite impressive up there, especially because you couldn't see the whole run down. It was bit like diving into the unknown… but after considering all the factors I decided we were good to go and to go we went! It is such a crazy feeling to finally ride the line you have envisioned walking up for hours. I think it is impossible to explain in words, but as Hannibal (from the A-Team) would say it: I love it when a plan comes together!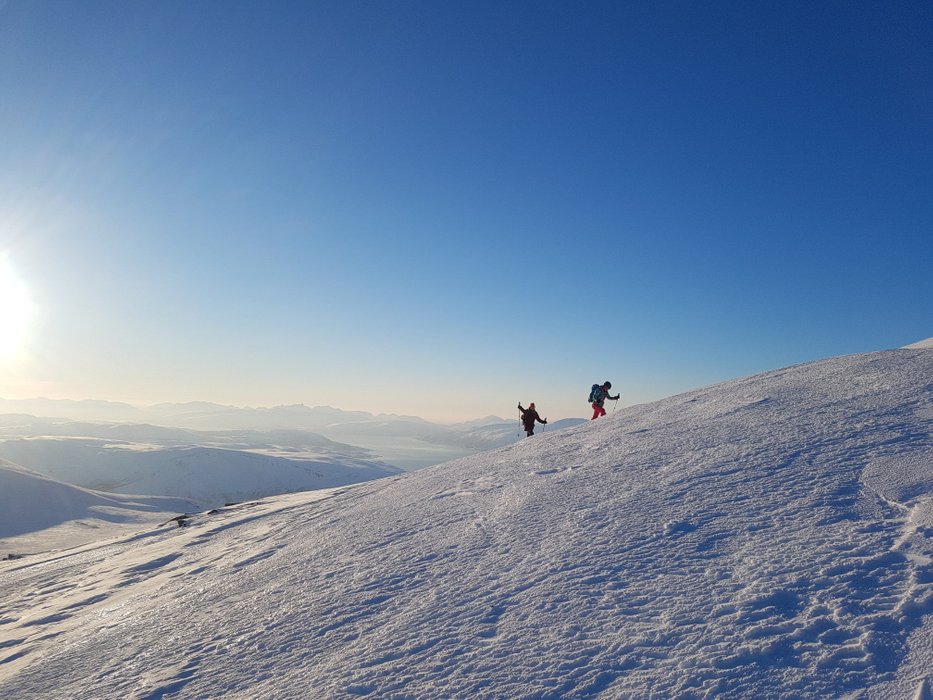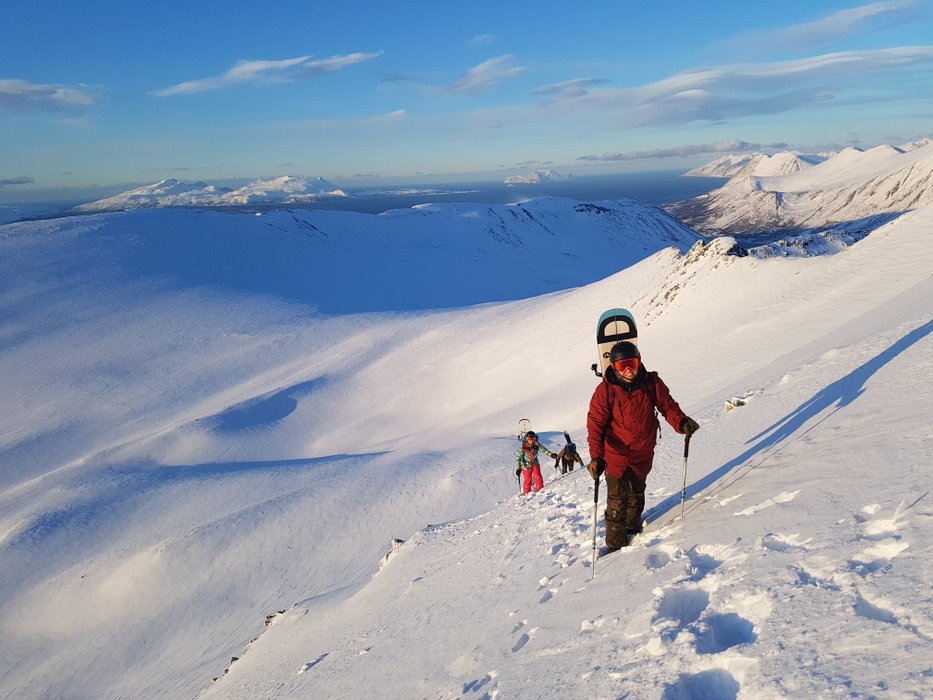 Addicted?
One important thing happens when you tour this many days in a row; your body and mind start to crave for more, it is almost like a drug. I would go so far as to say the healthiest and happiest one nature can provide! I am curious if our guests have any withdrawal symptoms now that they have returned to the normal world, but I am almost certain they do!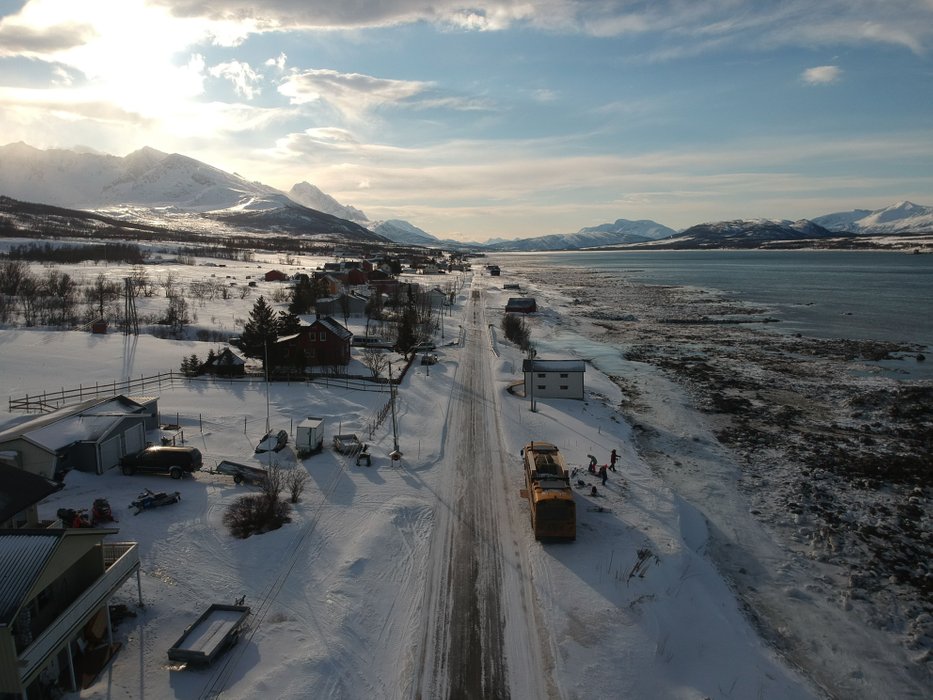 *All pictures were taken with my Samsung S7 phone (except the drone one, DJI Spark)