Hi everyone,
People often wonder how it is like to live a day on our hostel on wheels and today's blog is all about answering that question.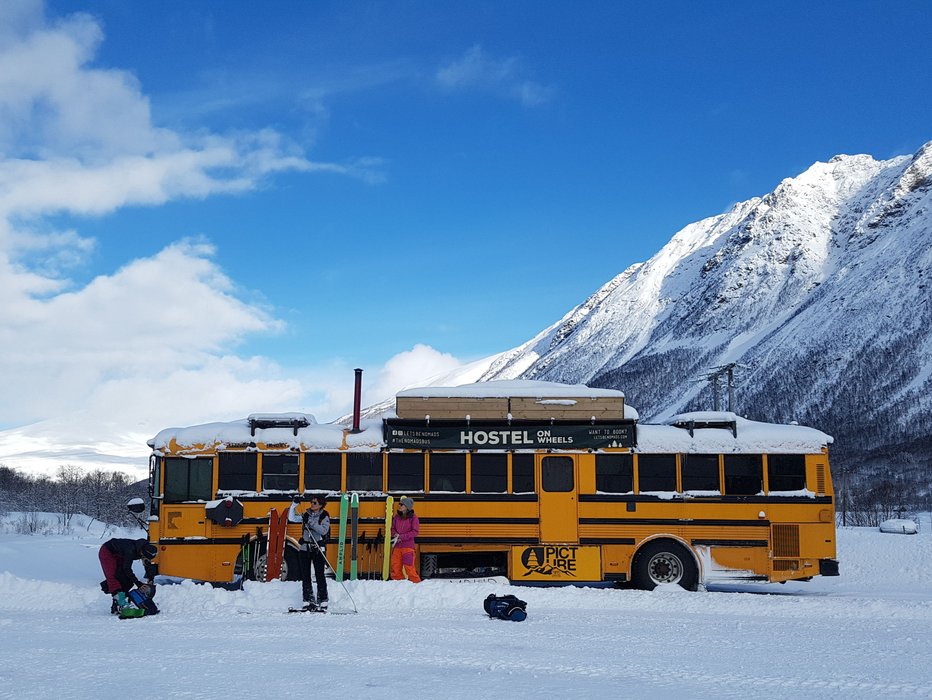 We have been running our hostel for two years now and in those two years we have been fine-tuning our daily routine quite a bit. I would say that right now we are at a point where we found a rhythm that really works, one that brings us into a flow and allows us to show our guests the best time possible.
Before getting more into detail, I would like to start by saying that our day actually starts the evening before, because at the end of each day we drive our hostel to a new location. We have discovered that one of the nicest things about our project, is that we can start our day in a completely new surrounding and are able to begin our hike right where we are parked!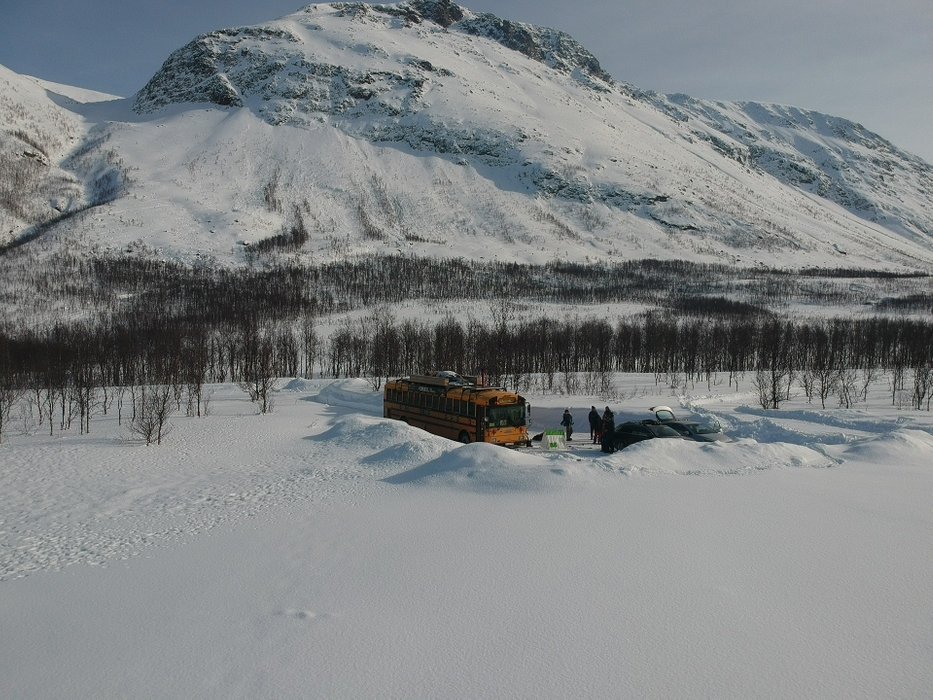 Although tourism is rising fast here, this part of Norway is still so untouched that there are quite a few spots where we can easily park in the middle of nowhere and the next morning literally start our hike at the other side of the road.
Deciding where to go each day can be tricky, because we have to factor in a lot of things like the weather, the time the drive will take, the possibility to park or do groceries along the way, etc... In this challenge also lays a big part of the reward in what we do, especially when everything works out the way we envisioned it.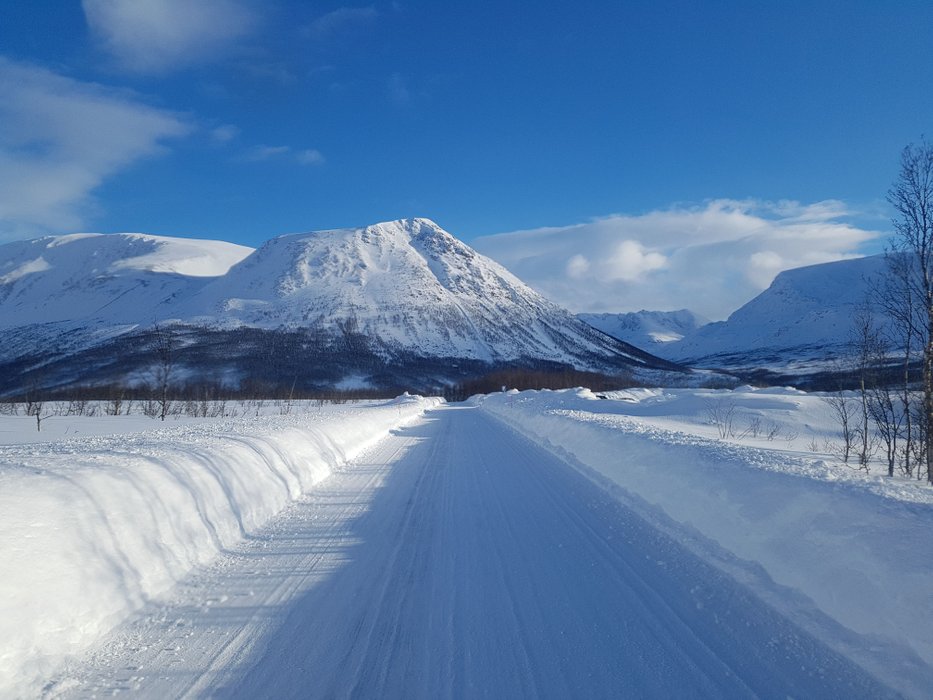 After a good breakfast we get our gear (backpack, food, water, avalanche gear, skis..) together and start our hike. In general a hike takes about 4-6 hours to get to the peak of the mountain and back. The amazing thing about this part of the world is that as soon as you have climbed 50 vertical meters you get an incredible view if you look back over your shoulder and what's even better is that the view keeps changing every 50 meters till you reach the top. Besides that, every hike also gives a different feel to the surroundings and most of the times that includes a view on (a part of) the ocean or a fjord. We always go up as a group, have regular stops and wait till the last one has reached the top, before all going down together under my guidelines. We are in the mountains and it can be quite dangerous if you make the wrong choices.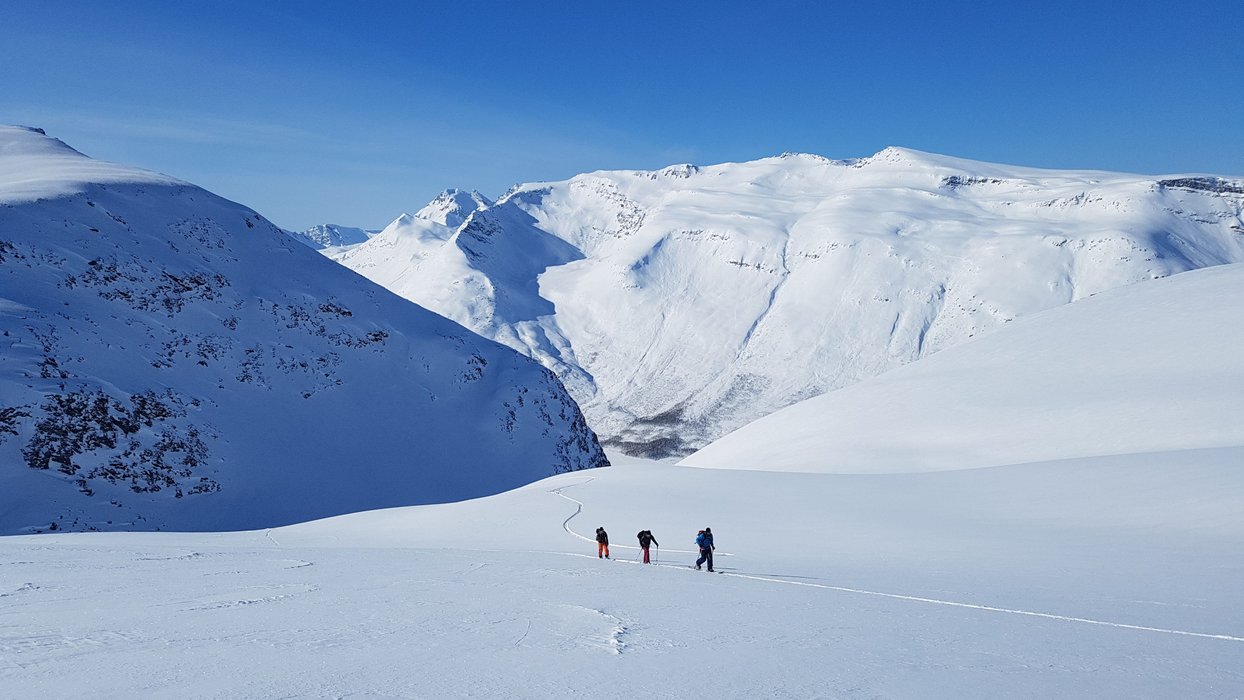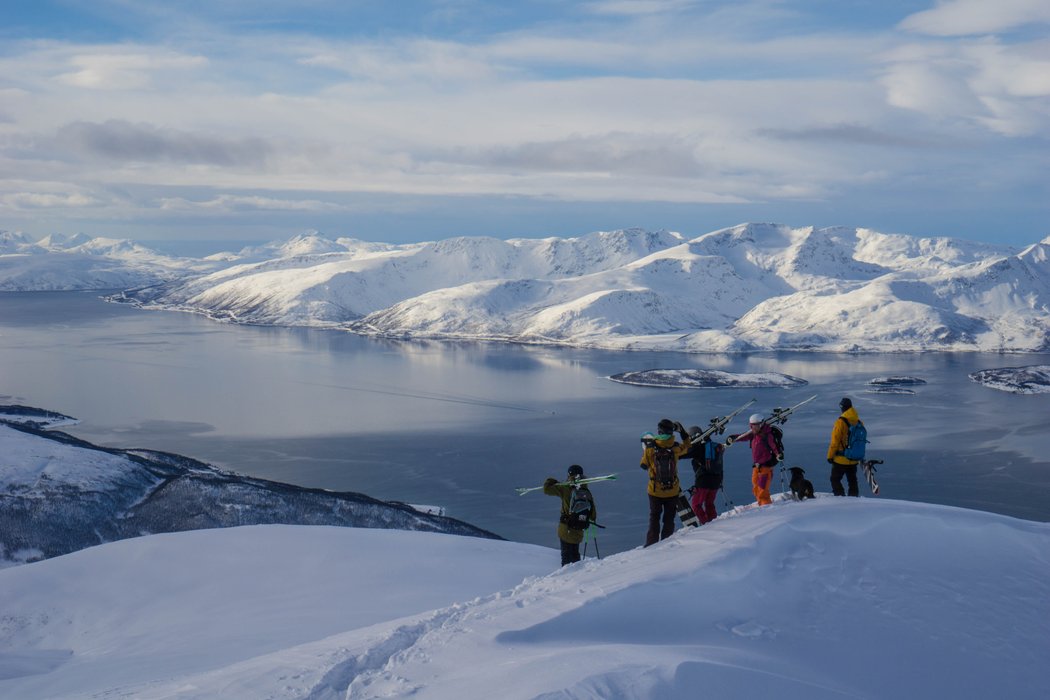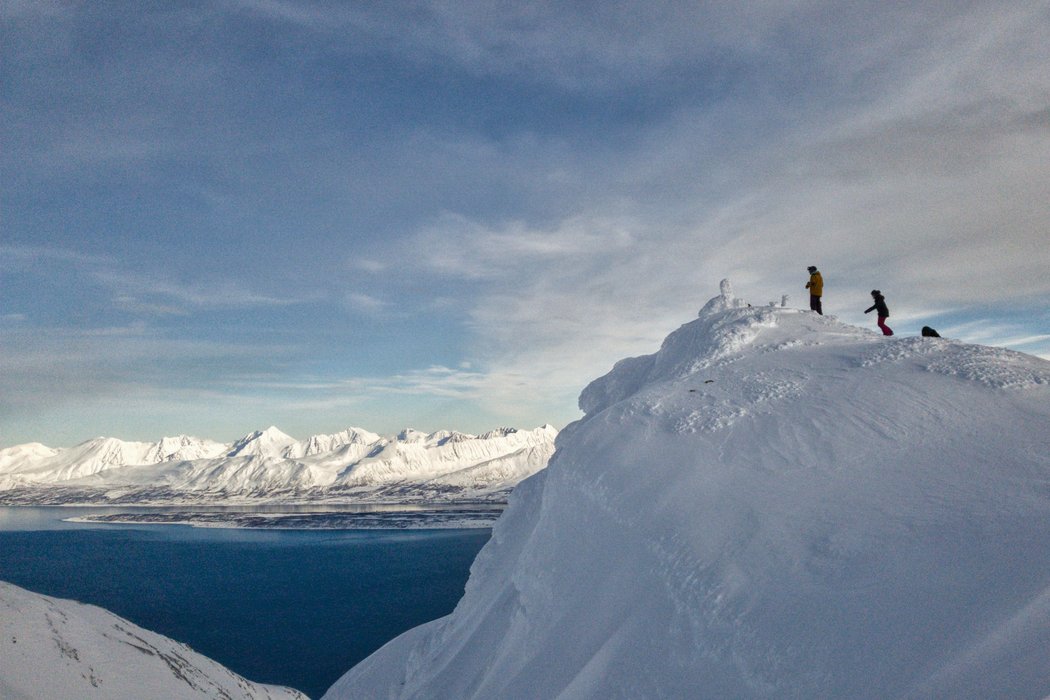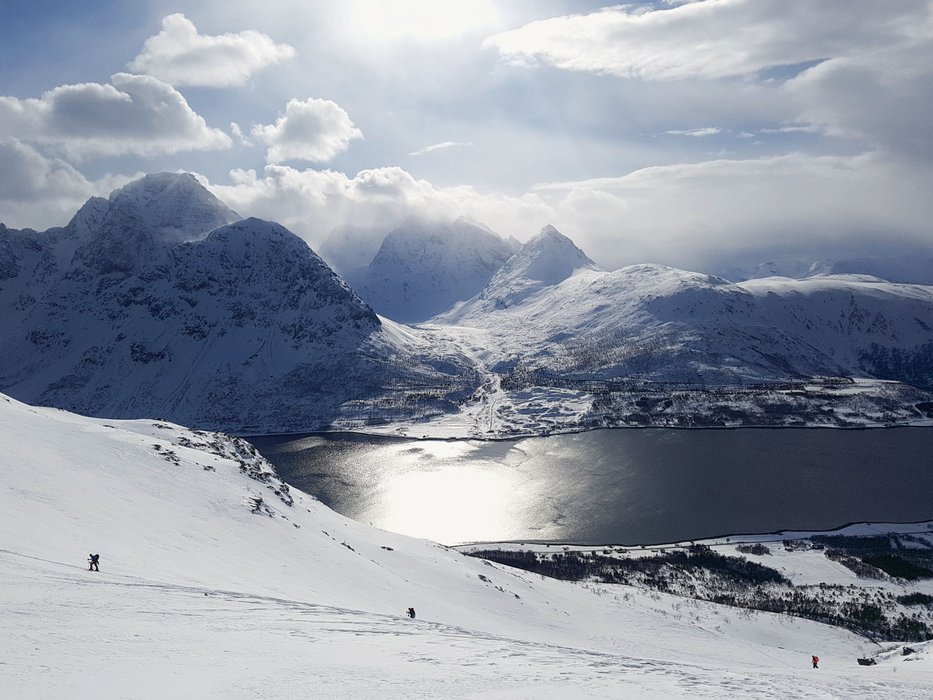 After the beautiful decent we end up back at the bus where we relax for a bit before we enjoy an amazing dinner together. Later in the evening I drive to a new spot, where new adventures await us in the morning and the cycle continues!
I have told it many times now, but for me there is no place in the world that can offer these spectacular views with the added bonus of snowboarding down right back to the front door of our moving hostel. The possibilities are endless and if you like mountains and epic views I would recommend everyone to come and join us! If you don't feel the need to come and scoop around here during the cold winter, you can also opt to stay with us in the summer. We basically do the same hikes with spectacular views, the only difference being that we can't snowboard down and that the weather is a lot more comfortable and the sun is out a whole lot longer!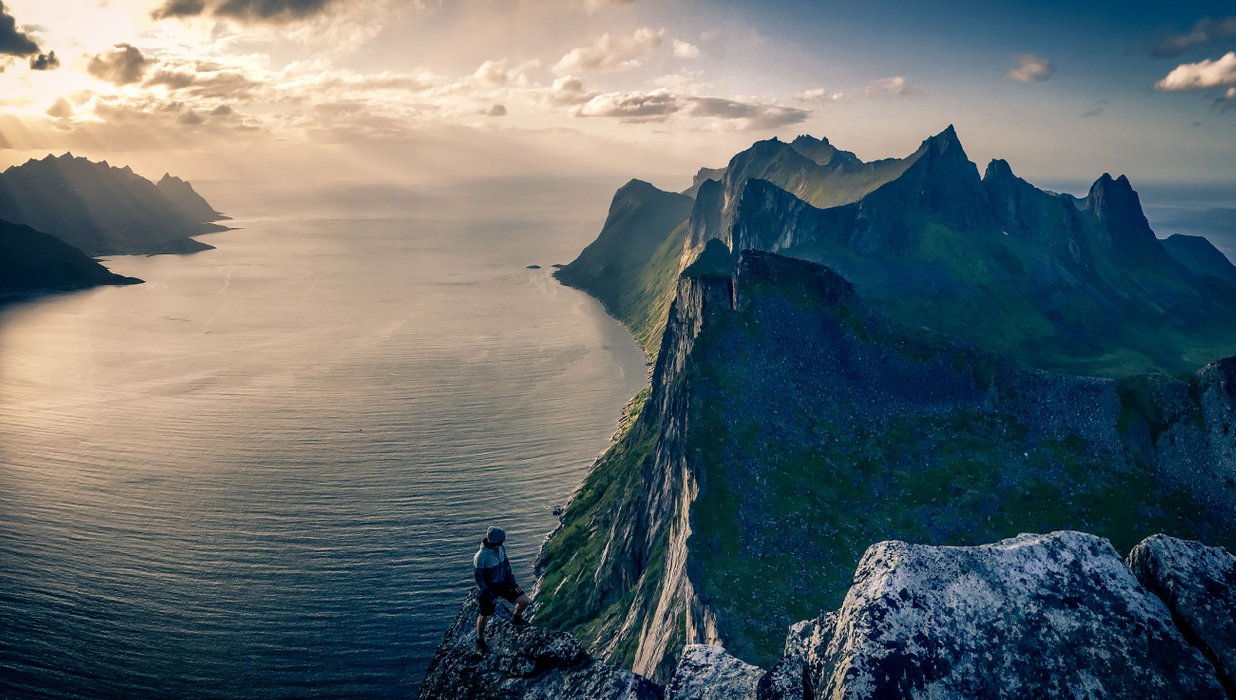 All the best to all of you and please let us know in the comments what you think about our project, we are always ready to improve based on the feedback we get from our community.
Do you own a van? Do you live in a bus and go on adventures? Tag #livingonwheels and get resteemed on our page!
PS: I always upvote sincere comments and our long term Steemit goal is to build a true 'vanlife' community that can support each other through a strong on and offline connection. If you want to collaborate in any way with us, just give a shout!