We have some big news for you: We just launched our Fundition Campaign.
As of now, all costs for running TravelFeed have been paid out of our own pockets, but taking TravelFeed to the next level requires some investment that we hope to (partly) cover by selling advertising space on TravelFeed through a crowdfunding campaign on Fundition. Below, you'll find the details of our campaign, and we really hope that you consider a contribution.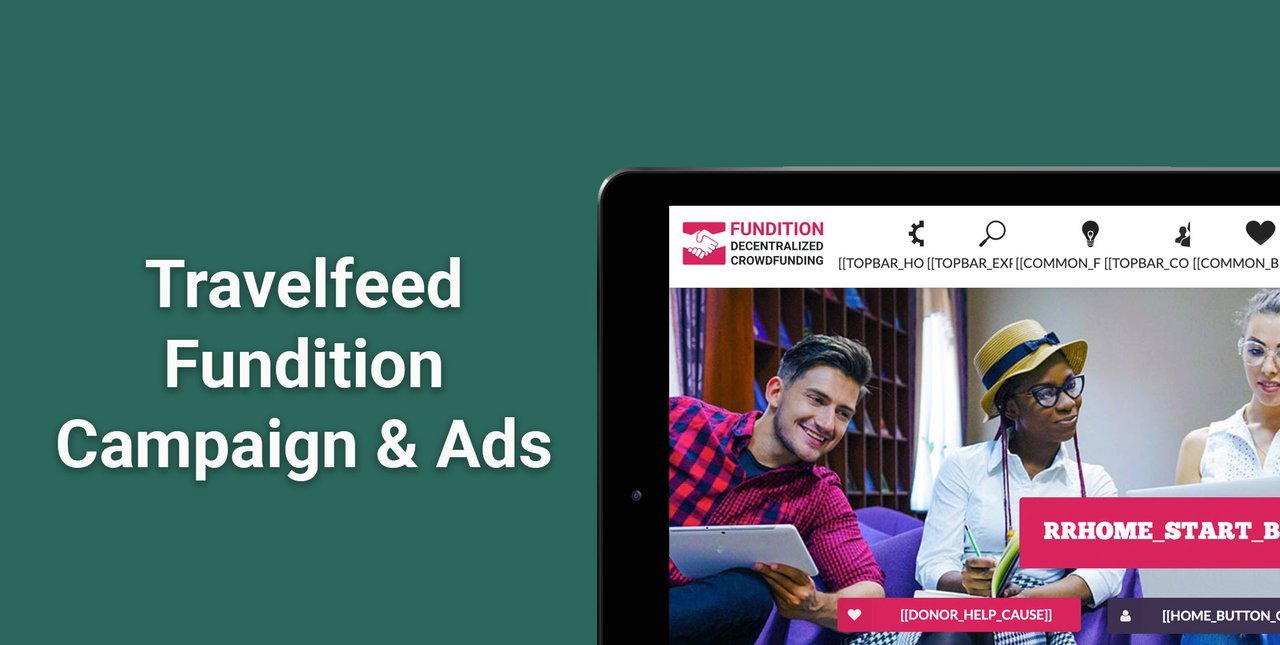 Introducing Advertising on TravelFeed
Nobody likes ads, but at the end of the day, advertising is what keeps large parts of the internet free, enabling content creators to earn money for their work.
TravelFeed and ads: Our long-term plan
After the release of our token, we'll be introducing a decentralised system which ensures that everyone benefits from advertising revenue: content creators, consumers and token holders. Large token holders will receive a substantial discount on advertising fees, while smaller holders will pay the full price - tokens equivalent to the additional price will be burned in order to counter inflation. Once incorporation is complete, as an enterprise, we will be selling advertising space, payable in fiat currencies that are then converted to our token by our trading bots. We charge the full price that any small token holder would pay; a part of the discount we receive as large token holder will help cover payment fees (Paypal, Credit Card, etc). Of course, any other large token holder could do the same, but along with other revenue streams (for example, from domain sales), we plan on generating enough revenue to cover our expenses and make the enterprise profitable while financing the continuous development, hosting and marketing of TravelFeed. And we aim to do this without powering down, or selling any tokens after completion of the initial sale.
Ads on TravelFeed: Funding a sustainable future
While it's been somewhat common in the crypto space to raise funds at an early stage, we have decided to build a working product first before releasing a token - avoiding the trend of projects burning through cash without ever launching a working product. Currently, we're fully financing TravelFeed from our private money. We want to grow an honest, powerful and sustainable travel platform that will be around for years to come. For the last one and a half years, we've had no outside funding except for several generous delegations which have been used exclusively used for curation, without ever selling a single STEEM.
With a fast growth in user numbers on our platform and rising expenses, we've decided to launch an early version of our advertising system. Since we can't launch our reward-sharing advertising before the launch of our token, ad revenue will go towards covering our expenses. In order to raise funds and sell ad space, we have chosen @fundition, the crowdfunding platform on Steem. Fundition accepts payments in Crypto (including fee-free payments in STEEM, SBD and TRON) as well as payments via Paypal.
Support this project on Fundition.io
Taking TravelFeed to the next level
Within the shortest time, we've accomplished a lot, by publishing the standalone travel platform TravelFeed.io, built on top of the Steem Blockchain. So far, TravelFeed posts have earned a combined total of over USD 120,000, distributed among 13316 posts and 1366 authors, with many more users leaving comments or being active on our Discord server. Since the release of our Beta in June, we've been squashing bugs and polishing the platform, by implementing new features such as EasyLogin and recruiting users from outside of Steem. Now it's time to take TravelFeed to the next level.
We are planning on releasing our own token. Our token will not only offer the proof-of-brain features of other Steem-based tokens (Steem-Engine Scot or SMT), but also be deeply integrated into TravelFeed, offering various staking incentives. We already mentioned that large token holder receive a discount on advertising fees, but also bloggers will have incentives to stake the tokens they receive. While TravelFeed is completely free to use and does not enforce beneficiaries, a cut from the continuous income earned through advertising and referrals is burned. This cut decreases with more staked tokens, as do other fees. A higher amount of staked tokens also gives bloggers access to premium features, such as themes and cosmetic enhancements for their blog.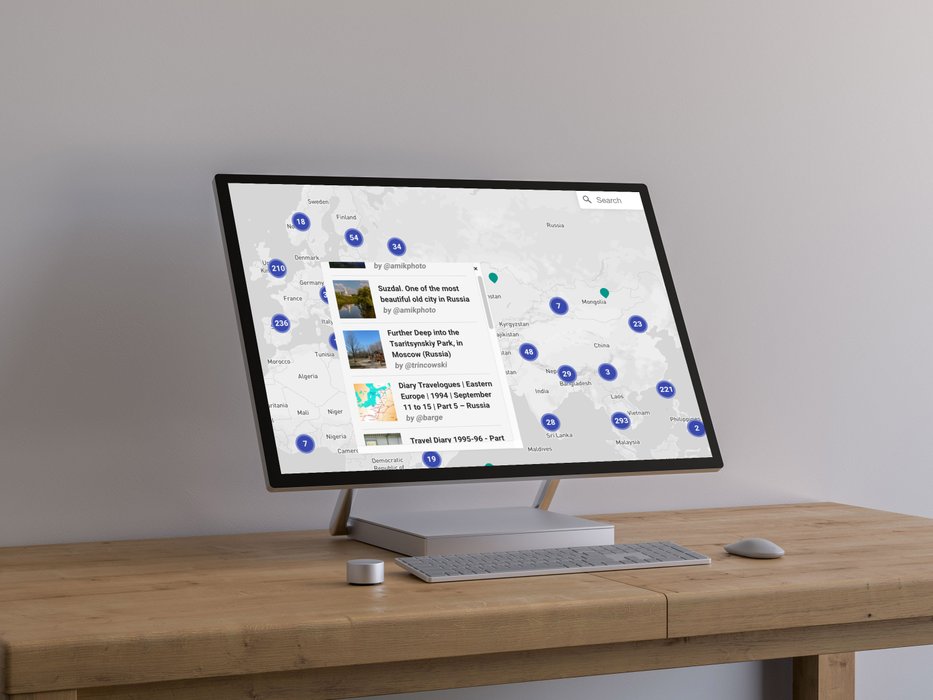 To release our token while ensuring legal compliance, we need to work with an advisor, register with a crypto-friendly legislation and hire a lawyer who can assist us with legal advice regarding the token sale. While all current costs are being paid out of the pockets of the co-founders, ad revenue will help us to cover parts of these costs.
TravelFeed will enrich the Steem ecosystem, bring high quality content to the blockchain, and attract investors as well as independent travelers who want to share their adventures with a wide and growing audience. On top of that, we have the potential to grow into one of the internet's main travel research websites, bringing even more users to the chain.
In detail, these are our cost estimates for the following months:
Legal and registration fees for incorporation - USD 1500
We're in touch with several lawyers in crypto-friendly legislations, and are evaluating our options. Registering a company and getting legal advice does not come cheap. Based on the offers thus received, we estimate a total cost of USD 1500 for setting up a company.
This cost could increase for reaching the legal compliance required for a token sale. Since we will need continuous legal advice, there will be running costs as well which are not included in this estimation.
Funds for marketing campaigns and material - USD 175 per month
We'll be attending several conferences and meetups promoting TravelFeed, starting with Steemfest. In order to promote TravelFeed and encourage onboarding, we want to print stickers and flyers.
We'll also spend USD 150 on a monthly basis, on Facebook and other social media advertising options, to reach travelers and digital nomads in the areas where we organize meetups.
Monthly server and domain costs - USD 150 per month
Cloud computing
TravelFeed (Hivemind, API, frontend and analytics) is currently run on a cheap VPS (USD 10 per month), but with a growing user base, our costs are increasing, and we need to move to a more scalable and fault-tolerant solution. We want to move both our API and our frontend (SSR) from Docker containers on our VPS to a cluster of containers behind a load balancer on a cloud computing provider. Since we're starting with a relatively small cluster, going with Google Cloud's Kubernetes instead of AWS's EC2 makes more sense for us, because Google doesn't charge for its Kubernetes Engine.
Moving to cloud computing will bring significant improvements to loading times, especially for users outside of Europe, where our current VPS is located, and will significantly increase our fault tolerance as well as enabling us to scale based on demand. We've already moved image storage from the maxed out Cloudinary free plan to AWS S3.
Our monthly cost estimate for AWS and Google Cloud is as follows:
Google Cloud Load Balancing: USD 20 per month
2x Google Cloud n1-standard-1: USD 49 per month
AWS S3 with Cloudfront (free tier): USD 1 per month
Total: USD 70 per month
Servers
We also want to rent two more servers for our Hivemind instances. The current server (USD 10 per month) will serve as backup, and we'll rent a second server from the same provider for development. For our main Hivemind node, we want to move to a dedicated server with stronger performance at a different location, increasing fault tolerance.
Our monthly cost estimate for dedicated servers and VPS is as follows:
2x VPS at USD 10 per month
1x dedicated server at USD 30 per month
Total: USD 50 per month
On top of that, our Domain costs USD 35 per year, equalling USD 2.92 per month.
This brings our total cost to USD 123 per month, but with on-demand scaling we are rounding up to USD 150 per month.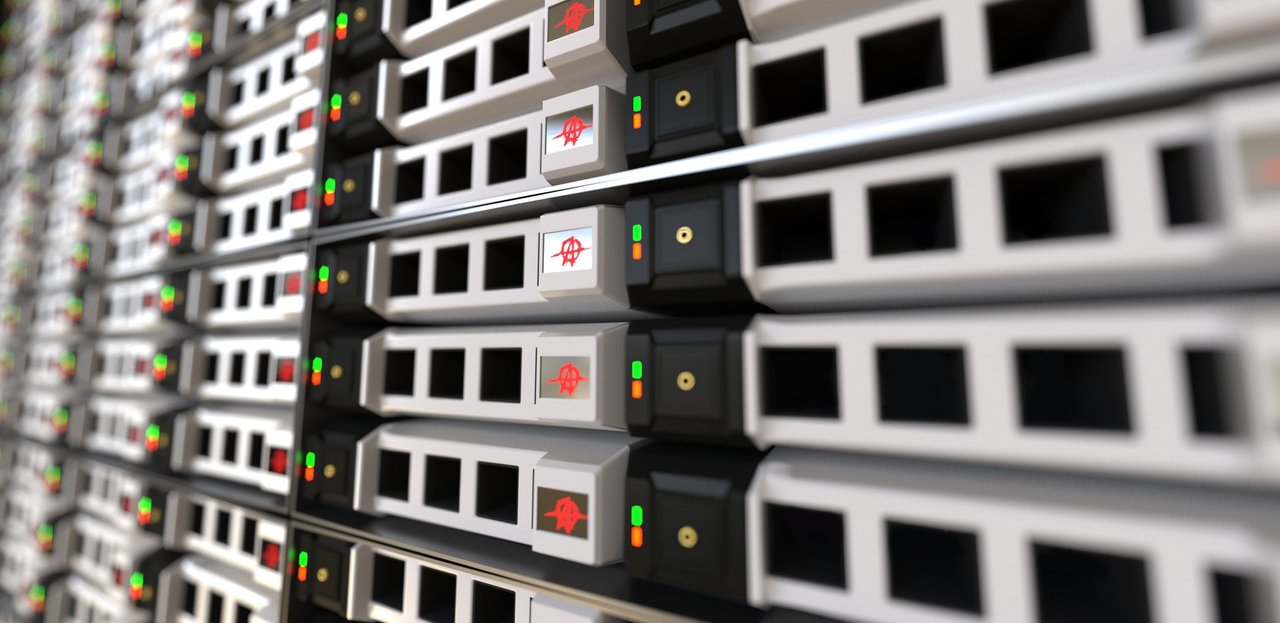 Pay for team members and freelancers - USD 1000+
Our team, including our curation team, is currently working entirely for shares of the TravelFeed token, but if this campaign exceeds our initial funding targets, we want to start paying our team members for completing additional tasks.
These funds will also be used for hiring freelancers to complete tasks.
Advertising pricing
According to our analytics, we currently have around 1,500 unique visitors per day, generating 60,000 requests. These numbers have been steadily growing since the launch of TravelFeed Beta in June.
Since we do use direct advertising and not advertising networks, we don't expect ads on TravelFeed to be blocked by major ad blockers anytime soon. All prices are for a period of 7 days.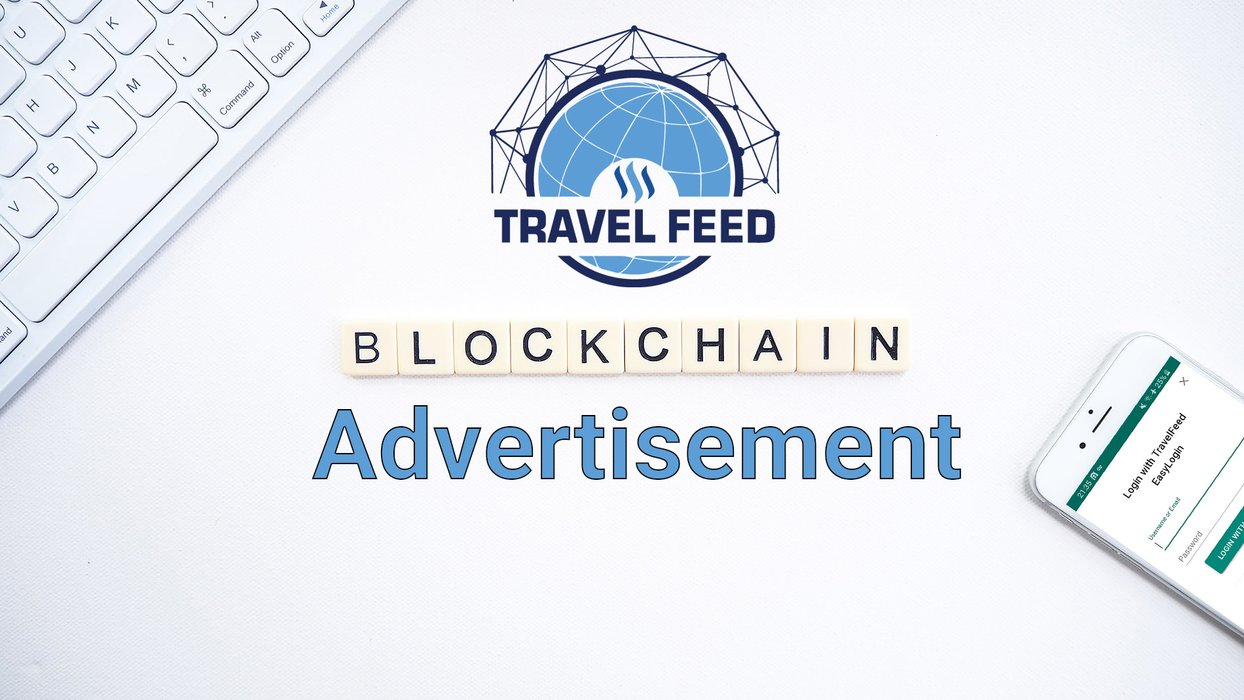 Promoted posts
Any post on TravelFeed that fulfills the minimum criteria can be promoted. Promoted posts will appear in the feed on TravelFeed and will be marked as advertisement.
For every 5 posts, one promoted post is displayed, with the most recently promoted post on top.
Front page feeds: USD 15
The general feeds are all feeds (new, taking off, discover, featured, personal feed) on the front page of TravelFeed.io
Location specific feeds
Feeds for one specific location, e.g. Thailand.
Price depends on the location category (see below):
Category A: USD 10
Category B: USD 7
Category C: USD 3
Category D: USD 1
Tag specific feeds: USD 2
Pricing for one specific tag at a time, e.g. #photography
Ad banners
Ad banners can point to any website outside of TravelFeed.io, e.g. to a Steem dApp.
Front page full-size banner
Full-width banner on top of the front page of TravelFeed.io: USD 75. Only one advertiser at a time can book this slot.
Front page sidebar banner
Banner in the sidebar on the front page of TravelFeed.io: USD 20. Only one advertiser at a time can book this slot. Hidden on small devices.
Post banners
Post banners will appear between the end of a post and the comment section for all posts from the selected category. Post banners can point to any website outside of TravelFeed.io, e.g. to a Steem dApp. Only one advertiser at a time can book each slot.
Location specific
All posts tagged at a specific location.
Price depends on the location category (see below):
Category A: USD 10
Category B: USD 7
Category C: USD 3
Category D: USD 1
Tag specific
Only if no location-specific ad is displayed.
#photography: USD 7
Any other tag except #travelfeed: USD 3
General post banner: USD 15
Displayed below all posts that have no location- or tag specific advertisement.
Location pricing categories
Category A: Steemfest
Countries: Thailand
Subdivisions/Cities: Bangkok, Chiang Mai Province
Category B: Popular destinations
Countries: Austria, France, Germany, Iceland, Netherlands, Norway, Poland, Romania, Russia,Spain, Switzerland, United Kingdom, China, India, Japan, Malaysia, Nepal, Philippines, South Korea, Sri Lanka, Taiwan, Thailand, Turkey, Vietnam, Argentina, Australia, Brazil, Canada, Chile, Colombia, Mexico, Morocco, New Zealand, Peru, South Africa, United States
Subdivisions/Cities: Amsterdam, Barcelona, Dublin, Krakow, Lisbon, London, Madrid, Munich, Paris, Rome, Valencia, Vienna, Bali, Beijing, Cebu, Dubai, Istanbul, Kuala Lumpur, Kyoto, Penang, Singapore, Taipei, Tokyo, Buenos Aires, California, Chicago, Cusco, Galápagos, Hawaii, Marrakesh, New York City, San Francisco, Sydney, Toronto, Yucatan
Category C: All other countries
Category D: All other subdivisions/cities
Why to advertise on TravelFeed
A few years ago, I had a biker staying here. He initially stayed for one night, but kept extending his stay because he liked it so much here. This part of Macedonia is so beautiful, but not well known! In the months after his stay, more and more bikers stayed at my place, at least 5 per week! I was surprised, we were still in touch on Facebook so I asked him if he had anything to do with that. Turns out that he has a major blog about motorbike travelling in the Balkans and he recommended my guesthouse! This was several years ago, so the post is not seen by many bikers anymore. If I could pay to make that post seen on TravelFeed by bikers travelling in the Balkans, I would!
From a conversation with a Macedonian guest house owner
You know what would be awesome? Advertising a post to travellers in Thailand to promote our meet-ups in Bangkok and Chiang Mai after Steemfest!
@jpphotography, TravelFeed Co-Founder
TravelFeed's advertising enables us to reach high-quality content creators with Steem accounts, who are our potential customers
@steem2wls, Steem dApp
Updated Leaderboard Steemfest Ticket Giveaway
Our Steemfest Ticket Giveway (thanks to @blocktrades and @anomadsoul) is already in the second week and participants are raking up the needed raffle tickets to win the giveaway. This is the current top 5 leaderboard:
Don't forget to opt-in and participate, the contest runs for 3 more weeks and every single ticket means a chance for you to go to Steemfest!
Updates And Bug Fixes
We are about to push out a pretty big update for TravelFeed, but don't want to take the focus away from our Fundition campaign in this week's round-up, so we decided to push the announcement to next week. Have a look on Github if you are curious what we are working on!
Winners of This Week's Round-up 
And with all this exciting news, we don't want to forget to highlight our three favorite submissions from this week. The rewards will go to the first three places as follows: 1st place - 14 STEEM, 2nd place - 7 STEEM and 3rd place - 3 STEEM.


The thumbnails are directly linked to the original posts. Please, click on the image and enjoy the read!


The 1st Place
Hiking Peloponnese - The Land Of Gods & Legends
written by @doskinas
We have heard many strange things about the far land of Greece. The scorpions the size of the giants, Gods that walk among men, the strange beasts half man half cow imprisoned in the labyrinths, immortal hydras and forever strong soldiers of Sparta. The worldwide known philosophers and the Greek way of life.

---
The 2nd Place
Our Cooking Stories
written by @pushpedal
We stayed with Malik and his family for several days in Marivan. They were exceptionally hospitable accepting three cyclists and Alice's dog. There was something to celebrate as well - the next country Iraq Kurdistan was right around the corner. We thought about making something new and fun for the family to try and decided on making vegetarian dumplings.

---
The 3rd Place
The one and the only reason why Slovenia is a must-visit.
written by @holm
There's a very specific reason for why you should visit Slovenia. No, it's not because of its amazingly cheap prices or its wonderful hospital people that will make sure you are having a good time while visiting their country. While they indeed are great reasons to visit Slovenia there is something far more interesting that you simply will not find anywhere else inside Europe.

---
How to Get Involved?
We invite anyone who's interested in travel to check out TravelFeed.io and to join our over 900-strong community on Discord. We're also looking for one more curator to join our team.
We ❤️ Open Source: We are proud to make TravelFeed fully Open-Source, and support other communities on Steem who want to build on our code, which can be found on Github. We're still looking for contributors who want to work with us on the future of TravelFeed. We're in Beta and continuously improving the software, meaning that there are still some bugs. If you notice anything or have feedback for us, please don't hesitate to contact us on our Discord, leave a comment or open a bug report on our Github!
Consider Delegating To Us
Your delegation not only supports the growth of this incredible project, but also helps the entire travel community on the Steem blockchain. Once we launch our token, the airdrop to delegators will be based on the amount of SteemPower delegated and your share of the total delegations for each day delegated. This means an advantage for early investors delegating now while our total delegations amount is only 128k SP: a number that we expect to be much higher in the near future. Our Steem Power is fully used for curation of the best TravelFeed posts, and we provide temporary delegations of 15 SP to accounts created through us, to help with resource credits. Feel free to use the following links according to the amount you would like to delegate to @travelfeed:
100 SP | 250 SP | 500 SP | 1000 SP | 2500 SP | 5000 SP | 10000 SP | 15000 SP | 25000 SP | 50000 SP
And again, we'd like to thank every single delegator who believes and trusts in us. If TravelFeed becomes as successful as we are confident it will be, delegating to us is probably the investment with the highest ROI on Steem right now.