Ready? Set. Go! See you at SteemFest⁴ 
In cooperation with @blocktrades and @anomadsoul, we are giving away a ticket to SteemFest⁴, including accommodation. SteemFest is the awesome yearly conference of the global Steem community, and will be attended by the team behind TravelFeed, as well as many TravelFeed users. This year, SteemFest is taking place in Bangkok, from November 6th to November 10th. Refer to the official website for more information.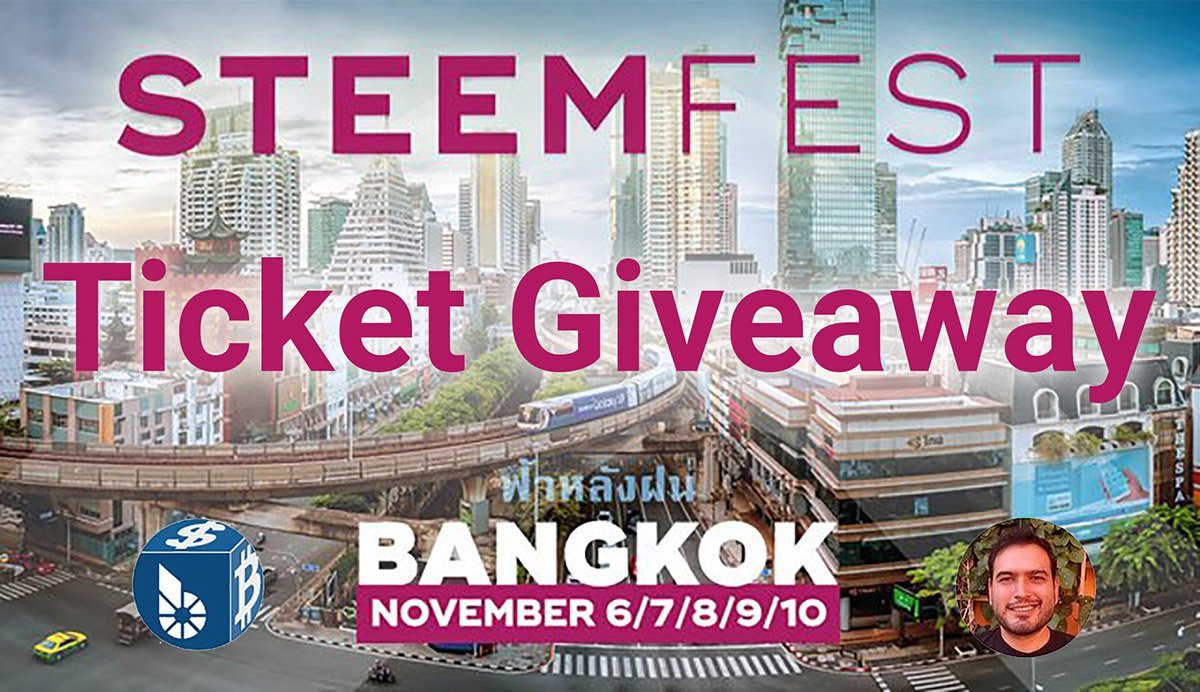 We're Giving Away
One Ticket To SteemFest⁴ 
Accommodation for the duration of the conference
While this has you covered for the duration of SteemFest, as anyone attending Steemfest, you are able to get a share of the @t-r-f travel reimbursement fund which reimburses some of your travel expenses - depending on miles traveled and how many others apply.
One SteemFest Ticket Giveaway Including Accommodation
This giveaway is open to both existing members of the Steem Travel Community, as well as to travel bloggers and content creators currently outside of the chain. We want to use the opportunity to familiarize a large amount of travellers with our new Steem-based travel platform: TravelFeed.io
Once you're in Bangkok, you'll have the chance to hang out with the team members of TravelFeed: @jpphotography, @for91days and @worldcapture. We'll be happy to give you an exclusive inside scoop to the platform, and you'll also be able to catch our TravelFeed presentation.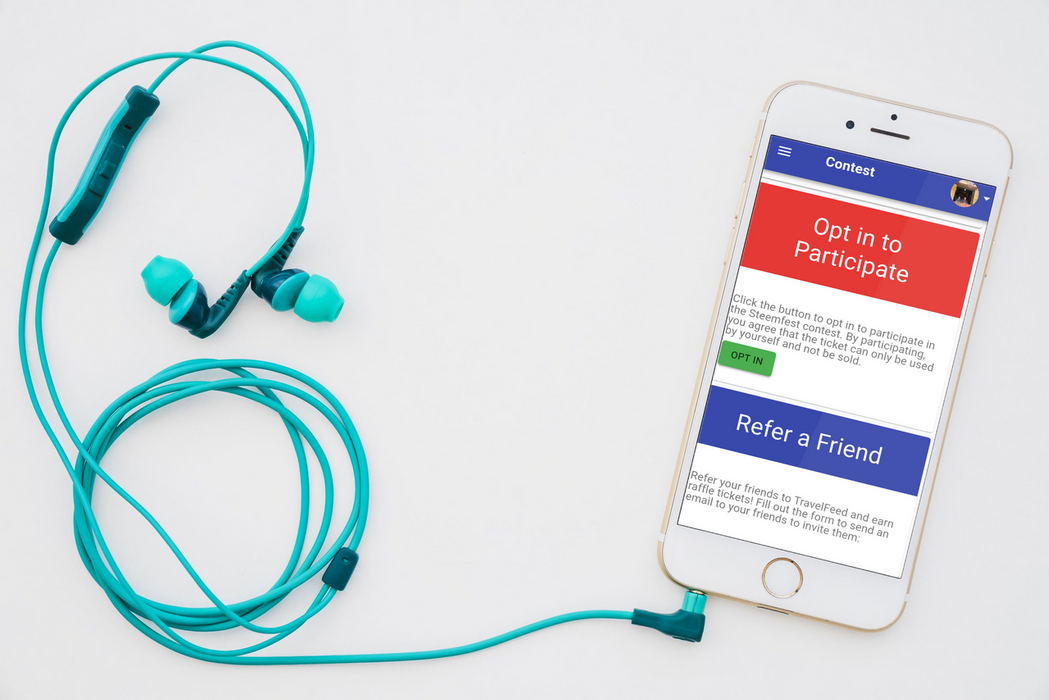 Important Update

We noticed a bug on our backend. If you have have opted-in for the contest before September 11th we kindly ask you to opt-in again and double check on the Steemfest Ticket Contest Dashboard that your opt-in button is green.
How To Participate?
Before diving into the rules, please ask yourself the following question: are you sure that you'll be able to use the SteemFest ticket? Please keep in mind that the ticket is not transferable, so if you win and can't use the ticket, you'll be depriving someone else of the chance.
How To Earn Raffle Entries
IMPORTANT: Before you can start earning entries to the raffle, you need to log in to TravelFeed and opt in.
Each raffle entry gives you a chance to participate in the final draw on October 18th, to win a ticket to SteemFest including accommodation. You can earn raffle entries until October 17th by creating quality posts on TravelFeed and by promoting the platform:
10 entries for posting an article chosen by our curation team to be featured on the front page of TravelFeed.io*
3 entries for each article highlighted as an honorable mention by our curation team*
50/40/30 entries for the 1st/2nd/3rd weekly winner, chosen by our curation team and announced every Friday*
1 entry for sharing a TravelFeed post on social media using the new share buttons found at the bottom of every post (limited to 3 entries per day)
Referral program: 20 entries for each new user (non-Steemian signed up through EasySignUp) or 2 entries for each new Steemian signed up via your referral link. On top of that, you earn 10% of the entries earned for posting by users referred by you.
20 entries for excellent posts which promote TravelFeed and/or this contest, either on or off Steem. Send us the link on our Discord to claim your entries!
* Only posts posted through TravelFeed.io are eligible, not posts using just the tag.
Users blacklisted from TravelFeed before or during the contest will not be able to participate in the final draw. Entries and tickets are non-transferable. Remember to opt-in to start earning entries!
Good luck to everyone! We're looking forward to meeting you at SteemFest!
We would like to say a huge "thank you" to @blocktrades for sponsoring and @anomadsoul for organising this contest which brings TravelFeed and Steem one step closer to #massadoption. Consider voting for @blocktrades and @ocd-witness if you appreciate what they are doing as much as we do!
150 Steem Travel Writing Contest Is Still On
In case you haven't yet, don't forget to submit an entry to @invisusmundi 's TravelFeed writing contest. But hurry, the deadline is September 10th!
How to Get Involved?
Join the TravelFeed Community! We invite anyone who's interested in travel to check out TravelFeed.io and to join our over 800-strong community on Discord. We're also looking for one more curator to join our team.
We ❤️ Open Source: We are proud to make TravelFeed fully Open-Source, and support other communities on Steem who want to build on our code, which can be found on Github. We're still looking for contributors who want to work with us on the future of TravelFeed. We're in Beta and continuously improving the software, meaning that there are still some bugs. If you notice anything or have feedback for us, please don't hesitate to contact us on our Discord, leave a comment or open a bug report on our Github!
Consider Delegating To Us
Your delegation not only supports the growth of this incredible project, but also helps the entire travel community on the Steem blockchain. Once we launch our token, the airdrop to delegators will be based on the amount of SteemPower delegated and your share of the total delegations for each day delegated. This means an advantage for early investors delegating now while our total delegations amount is only 127k SP: a number that we expect to be much higher in the near future. Our Steem Power is fully used for curation of the best TravelFeed posts and we provide temporary delegations of 15 SP to accounts created through us, to help with resource credits. Feel free to use the following links according to the amount you would like to delegate to @travelfeed:
100 SP | 250 SP | 500 SP | 1000 SP | 2500 SP | 5000 SP | 10000 SP | 15000 SP | 25000 SP | 50000 SP
And again, we'd like to thank every single delegator who believes and trusts in us. If TravelFeed becomes as successful as we are confident it will be, delegating to us is probably the investment with the highest ROI on Steem right now.
Winners of This Week's Round-up 
And with all this exciting news, we don't want to forget to highlight our three favorite submissions from this week, sharing a total of 6 Steem in rewards.
Three BEST posts of the week
A quick recap - For the weekly round-up, we feature the best 3 posts out of the ones previously featured in the daily topic curation posts in the past week and on top of that 10 honorable mentions that closely did not make it into our resteems last week. The rewards will go to the first three places as follows: 1st place - 3 STEEM, 2nd place - 2 STEEM and 3rd place - 1 STEEM.


🔗 The thumbnails are directly linked to the original posts. Please, click on the image and enjoy the read!


The 1st Place
Santa Cruz Trek - 51km in 4 days
written by @globetrotterin
My body made it clear to me that it was not yet acclimatized. It was extremely hard for me and I could only have cried half the way. Never before have I had such problems with walking as on this day. I was just happy when we reached our camp for the first night after 4 hours.

---
The 2nd Place
Four uncommon things to do in Moscow
written by @stefenne
Outside of the classic essential destinations, such as the Kremlin and Red Square, the city of Moscow offers many other interesting ideas, places and activities that, although not always indicated on tourist guides, are worth seeing and experiencing. These places and experiences allow you to get to know the city more deeply and discover the most hidden and fascinating sides.

---
The 3rd Place
Sietiņiezis Rock
written by @m31
Sandstone can be affected by temperature and water fluctuations. Sietiņiezis has changed a lot over time. One of the most recognizable sandstone arches is now collapsed. People are not much of a help either. Although it is forbidden to leave any markings on the sandstone, the whole surface seems to be riddled with them. Even at the highest, hardest to reach spots. Caveman instincts?

---