Travelers near and far, it was just last week that we pushed out a huge batch of improvements and bug fixes to TravelFeed, but we're keeping the ball rolling ... and have some more exciting news to share with you today!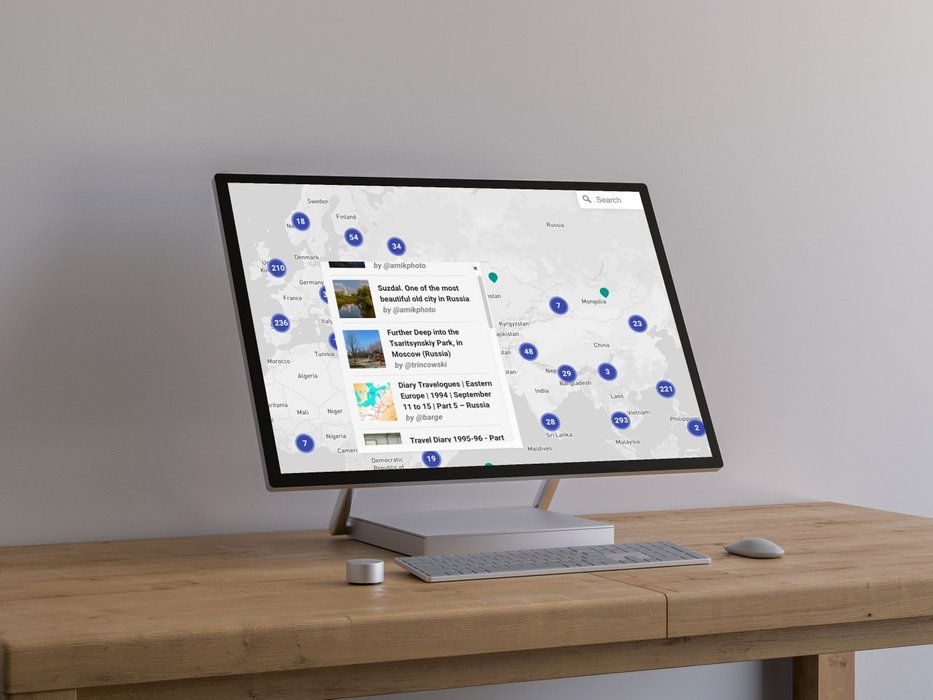 Win 100 Steem
But first things first. You're probably mostly excited to hear about how you can win a whopping 100 Steem. One of our investors @invisusmundi decided to give TravelFeed a push and set up this amazing contest. You have until August 27th to participate. 
New Record Delegations To Us
When the TF Team woke up this morning, we couldn't believe our eyes! One of our previous investors amped up his delegation to an unbelievable 90K in Steem Power. Thank you so much to @oldtimer, for believing in our project. And of course we're grateful for anyone one else who supports us. We wouldn't be able to do it without you guys. We have now over 117k in Voting Power!
Amazing New Updates To TravelFeed
Below you can read about all the new changes but if you want to see the updates right away, go check them out on TravelFeed.io
New Profile
This week, our main focus was on giving you a profile page you'll want to show off. Head over now to check out yours. Right under your profile image and bio you'll now find a row of social media icons, assuming you filled out social media info under your settings. 
New Maps
Then you might notice a row of three tabs where you can also toggle to your personal map, showing off all locations of your posts submitted through our platform. And while talking about Maps, the TravelFeed map now has a search option (upper left hand side) which returns results from the entire TravelFeed database by using the discover map, or just your locations via the personal map on your profile. Now you can also click on each map cluster and it will open all featured articles with thumbnails and links of that specific location. 
Another cool new feature for your profile is that when you submit an article of a country you haven't visited, the country color will turn into turquoise, basically working like a scratch-off map.
Bragging Right Badges
And now you can use your TravelFeed.io Profil to show off your travels. We'll reward you with badges of specific achievements, regions you've visited, and country flags you've collected. And keep an eye on new badges we'll be implementing from time to time.  If you have any fun badge ideas, please leave a comment.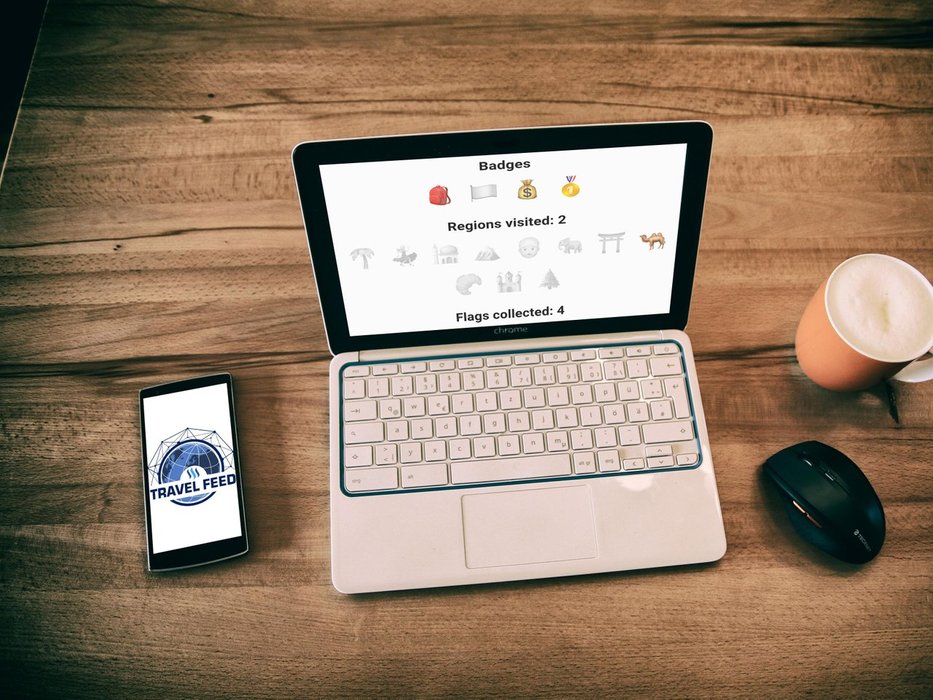 As you can see we're really pushing forward but we need your feedback to do so, so please don't hesitate to get in touch with us.
Coming Up
In the upcoming week, we're going to work on onboarding new users, which will introduce an easy and fast way to sign up through us to obtain a Steem account. Keep in mind that we're focusing mainly on new possible users who haven't been dealing with anything related to Cryptocurrency or Blockchain.
And starting tomorrow we will upvote good and thoughtful comments made on articles on Travelfeed.io, if our total VP is up to 100, so we don't waste any valuable voting power. Please keep in mind that we're only considering comments which have been posted through our dApp. So come and login to TravelFeed.io and check out some travel articles and leave interesting comments.
Log of all Changes Of Updates v1.3
New Features
Rewrote the map #65: https://github.com/travelfeed-io/travelfeed-io/issues/65
Clusters are now clickable and display a list of posts
Post previews show images
Cluster and Marker fit the color scheme
Map search
Dark mode support
Rewrote profiles
New, cleaner layout
Introducing collectable badges, regions and flags
Map of visited (=blogged about) countries and posts by the author
Improve profile editing
Image uploading for cover and profile photo
Add info to profile update that it can take some time until the changes are visible on the profile #106: https://github.com/travelfeed-io/travelfeed-io/issues/106
Bug Fixed and Improvements
Various layout improvements by @steemdevelopment
Fix for login dialogue closing on small screens (mostly relevant for Steemwallet users, as hotfix already on master)
Fixes for editor: Title editor, featured image, beneficiaries, location editing (already on master)
Link to original post when viewing comment not working #100
Improve dashboard posts image size on medium devices
Disable scrollZoom for editor location picker
How to Get Involved?
And another thing you should know -- if you're using our TravelFeed.io you can earn additional bonus upvotes (vs just adding the tag). And using our platform will become even more important once we release our own tokens.
We invite anyone who's interested in travel to check out our TravelFeed dApp and to join our over 800-strong community on Discord. We're also looking for one more curator to join our team.
We ❤️ Open Source
We are proud to make TravelFeed available fully Open-Source, and support other communities on Steem who want to build on our code. Our code is on Github. We're still looking for contributors who want to work with us on the future of TravelFeed.
We're still in Beta and continuously improving the software. This means that there are still some bugs. If you notice anything or have feedback for us, please don't hesitate to contact us on our Discord, leave a comment or open a bug report on our Github!
Delegate Now!
During our launch, we plan on rewarding past, current and future TravelFeed users by airdropping tokens. This will also incentivise authoring posts through TravelFeed instead of through third-party dApps using the tag #travelfeed.
We are in the process of registering a company and establishing the legal fundaments of a token offering, so officially, we cannot make any legally binding offers now, so while we officially can not offer compensation yet, all past, current and future delegators will be fairly compensated for their delegation with tokens once out token has launched. The airdrop will be based on the amount of SteemPower delegated and your share of the total delegations for each day delegated. This means an advantage for early investors delegating now while our total delegations amount to only 34k SP, a number that we expect to be much higher in the near future. Our Steem Power is fully used for curation of the best TravelFeed posts.
To delegate to @travelfeed, feel free to use the following links accordingly to the amount you would like to delegate:
100 SP | 250 SP | 500 SP | 1000 SP | 2500 SP | 5000 SP | 10000 SP | 15000 SP | 25000 SP | 50000 SP
Winners of This Week's Round-up
And with all this exciting news, we don't want to forget to highlight our three favorite submissions from this week sharing a total of 6 Steem in rewards.
Welcome to today's Weekly Travelfeed roundup brought to you by @for91days.
Check the winners out below:
Please note - we are still in search for one more curator to cover a day or two a week. If you are interested, please contact us on discord (kindly find a link at the bottom of the page). Now let's get reading!
Three BEST posts of the week
A quick recap - For the weekly round-up, we feature the best 3 posts out of the ones previously featured in the daily topic curation posts in the past week and on top of that 10 honorable mentions that closely did not make it into our resteems last week. The rewards will go to the first three places as follows: 1st place - 3 STEEM, 2nd place - 2 STEEM and 3rd place - 1 STEEM.


🔗 The thumbnails are directly linked to the original posts. Please, click on the image and enjoy the read!


The 1st Place
My summer trip to Bruges (Brugge) - Belgium
written by @lion200
From first looks, Bruges reminded me of Amsterdam where the houses are alike. Old, historical and with very different architectural styles next to each other. I like this variety in different architectural styles. And also Bruges has canals like Amsterdam. Look at the beautiful old architectural styles…

---
The 2nd Place
Chiang Rai's Wat Rong Khun aka the White Temple definitely a must visit!
written by @rayshiuimages
Not having any time to spare (I planned to visit 3 places in Chiang Rai), I used the Grab app and booked a ride to the white temple (at a cost of $200 TBH) immediately after stepping off the bus because I didn't have time to mess around with the tuk tuk drivers or songthaew drivers. They are all at the back of the terminal, I didn't see any at the front, it'll probably be cheaper (highly dependent on your negotiating skills) to go via tuk tuk and songthaew.

---
The 3rd Place
Caoling hike and my encounter with leeches 嘉南雲峰上的不速之客
written by @livinguktaiwan
After the selfie I continued the descend down to catch up with my friends. It was getting a bit hot and my right calf felt a little itchy. I thought it was the heat and thought nothing of it until I felt a little ping. I pulled up my trousers leg and saw a black speck on my front calf. It was a leech gnawing into me!!!!!

---
We hope you have enjoyed these posts. Please do visit the fellow Steemians' accounts to learn more about their travels!
With over 800 members already on the Steemit Travellers Discord, it is an excellent place to meet other travelers and chat about traveling! The server is also the place where you can ask all your questions about TravelFeed.