Hello Steemian friends!
It's here! It's another weekend for all of us to enjoy! Yay!
This week's Featured on Friday's, we'll be taking you to the bottom of the ocean!!! Not really and not close enough. It's more like the bottom basement level of Bangkok's main shopping centre, Siam Paragon. Bangkok is full of attractions and entertainment for both tourists and locals to enjoy! Last year, it was Becca's 25th birthday and Becca is pretty much in love with anything to do with the sea, ocean or marine life, so it was only fitting that she was treated to an exciting and unusual experience. Sam organised a whole day of fun activities including stopping by at the unique unicorn cafe for lunch, which was alright - nothing special. We'll do a post on that another day. Yet, the main highlight was a trip to Sea Life at Siam Paragon.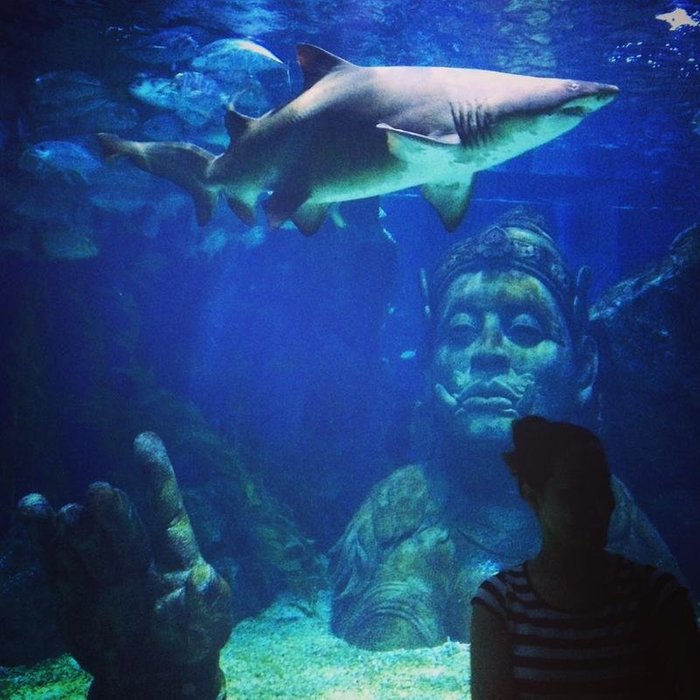 Sea Life Aquarium
Sea Life @ Siam Paragon
---
Swarming with tourists and locals, Sea Life opens from 10:00 - 21:00 everyday and you can literally spend half a day there. The usual visiting time is around 1.5 - 2 hours. The attraction has various different experiences such as Shark Walk, Seahorse Kingdom, Penguin Ice Adventure and Ocean Tunnel. There are add-on experiences such as Glass Bottom Boat, 4D cinema, Ocean Walker and Dive with Sharks, which you have to pay between 350 - 6,600 baht extra (depending on the experience). Like a few places in Thailand, there is a price discrimination between local and tourists and we get it, the average local income is no where near as high as what a tourist might be getting in their home country. This is seen as a subsidy to encourage locals to enjoy Sea Life too and that's understandable, but we aren't looking to pay the full price too....after all, Sam is half Thai. We have not been for a year, but the prices last year were: 990 baht for adult foreigner on the door, but you can save 100 baht by buying on their website and for Thais, it's cheaper for sure, but our memory fails us and we cannot remember the price. We can vaguely remember seeing it priced around 400-500 baht. Yet, best to check at the door. However, there are websites out there to get cheaper tickets to Sea Life, one of them being Viator. There are a few other good deals for attractions on Viator.
Ocean Walker Experience
---
After walking around the aquarium slowly as Sam had a surprise for Becca, but needed to 'kill' 2.5 hours, he finally told Becca that her second birthday surprise (first one being Unicorn Cafe) was the Ocean Walker Experience. This ladies and gentlemen isn't that cheap, but cheaper than Diving With The Sharks. It costs 2,000 baht per person. This price includes wetsuits, diving gear and a couple of photos. Becca was super excited as she loves scuba diving or really any type of diving. We were met at the counter at the front by our guide and we were taken behind-the-scenes to the top of the main big tank. There were changing rooms there for us to change into the wetsuits. Once we were ready, the guide told us all about the safety instructions and the basics to the underwater sign language.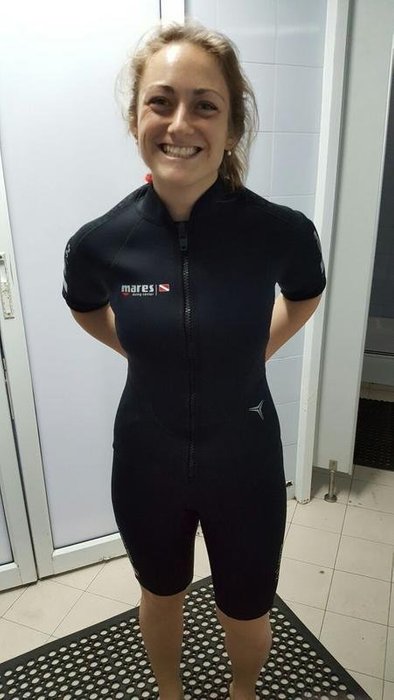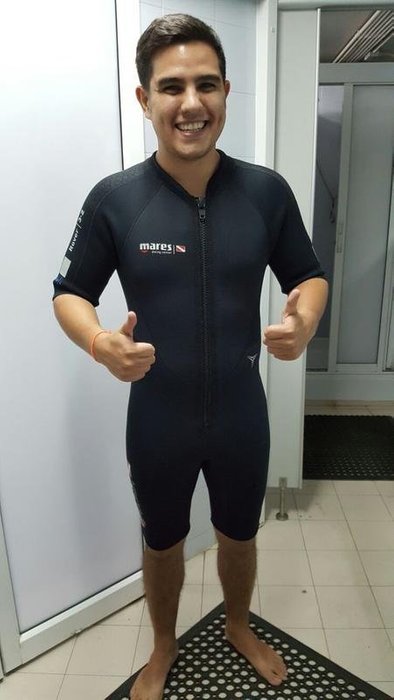 Becca and Sam - Ready!
We both stood there at the edge of the tank looking down and seeing where we will end up - amongst all the fish. As we went down the ladder one by one, just before our heads got in the water, the guide told us to remain still as he placed the underwater helmet on. This was constantly filled with oxygen and as we proceeded to go down we felt the pressure amounting. We had to constantly yawn or 'pretend' yawn to release the pressure on our ears. Once we were both on the floor of the tank, it was like we were on the main stage. The people in the tunnels looking at the various fish could see us too. We got close to so many fish including different types of sharks and rays. We walked around half of the main tank; going back and forth. The whole experience lasted about fifteen minutes before we had to head back up.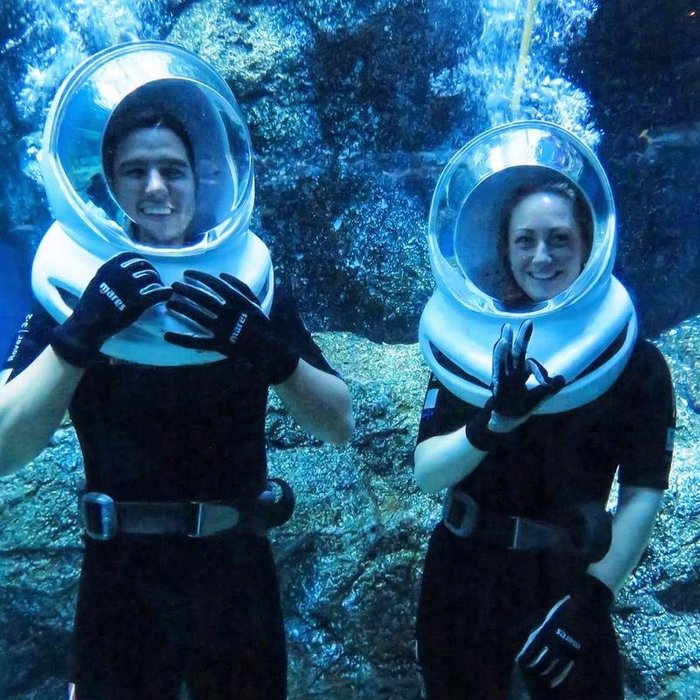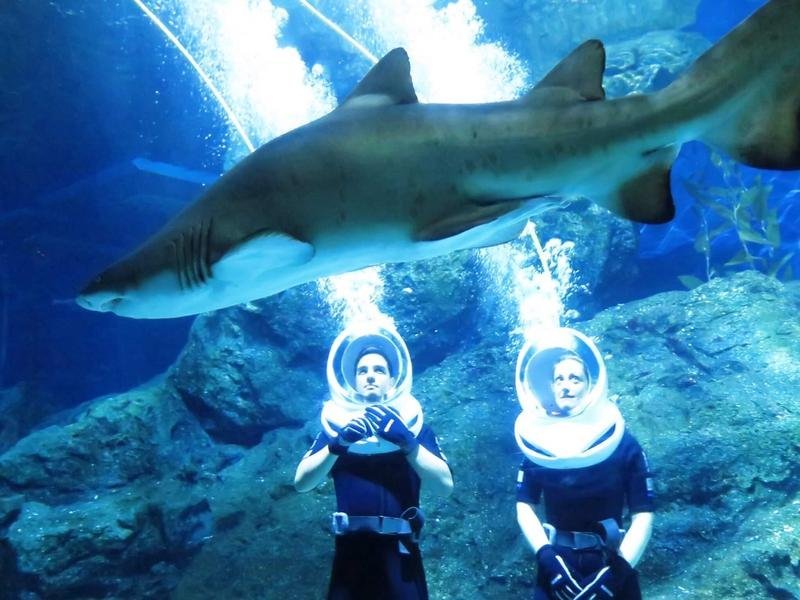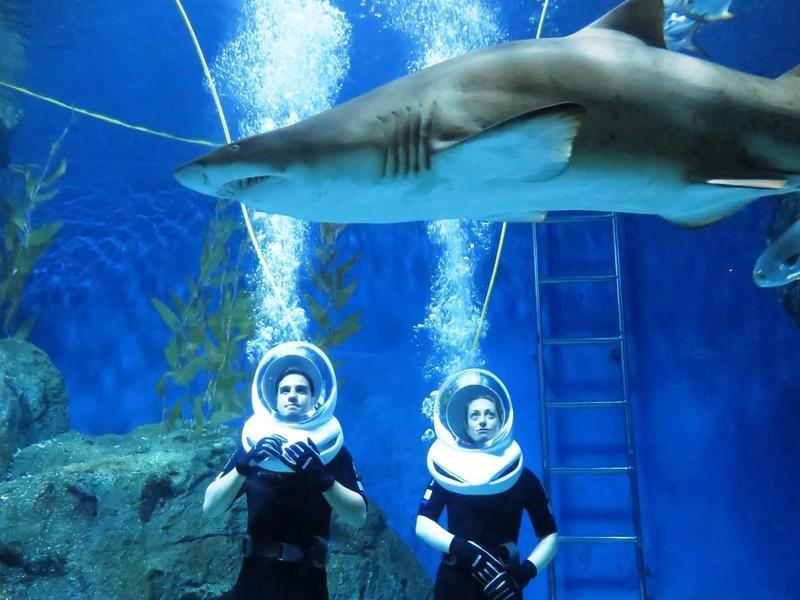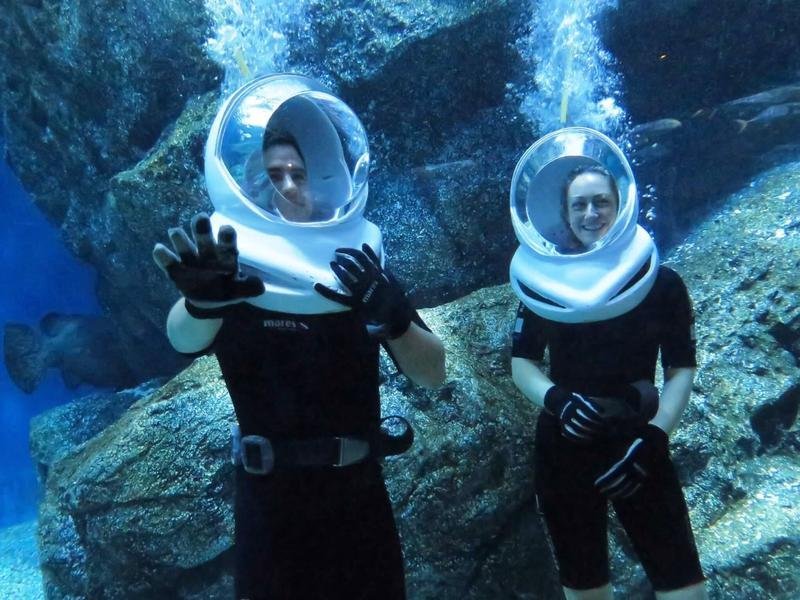 Shots taken during our Ocean Walker Experience
It was such an amazing experience and one of Becca's 25th birthday highlights. We would recommend the experience to anyone who would like to try something different. Yes, it does cost a bit, but if you have a special occasion then why not?
---
Stay Classy Steemians!
Featured on Friday's is a post written by the @travelling-two every Friday to inform their followers and readers about anything they had in mind and would like to share with the rest of the Steemit community.
Thank you for taking the time to read our post. If you really like our content, please follow us as we post regularly with different topics from Monday to Friday (with some exceptions at the weekends). How about your followers? Would they like this post? If so, please resteem it! Finally, if you are generous, please give us an Upvote! We thank you in advance! Lots of love / @travelling-two