Hello Steemian friends,
We hope you all had a fantastic weekend! We sure did!
It's the dreaded Monday and the start of the working week for most of us, but what will make us all happy? Thinking of what a great weekend we just had and the memories we will keep for a little while longer.
We have seen some wonderful posts about Chinese New Year over the weekend and Sam wanted to do a post straight away, but Becca reminded him that the weekends are for us. We could spend some time on Steemit in the morning to interact, but we shouldn't look at a screen all day! Therefore, we might be late as the major celebrations are done, yet Chinese New Year festivities goes on for two weeks in some countries!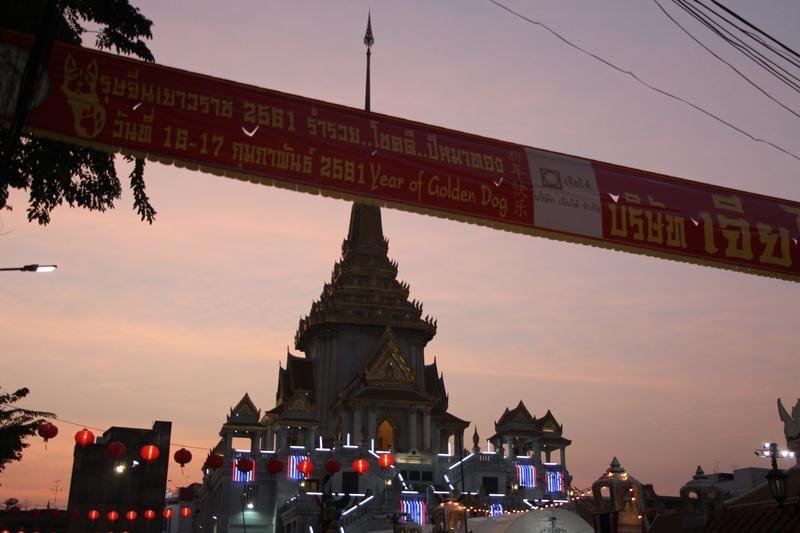 Chinese New Year banner near Wat Traimit
---
Chinese New Year in Bangkok
Becca had a day off on Friday and Sam finished his classes by 15:30, so we decided to join in on the Chinese New Year celebrations in Chinatown in Bangkok. Sam had to quickly pick-up his suit for his brother's wedding as the tailor said it would be ready by Thursday. His brother's suit as a bit too tight, so they need extra time to adjust his suit (one week till his wedding!), but Sam's was perfect. Looked like a movie star!
From the tailor, we had our delayed Valentine's meal - afternoon tea - at Veganerie. Becca loves the shakes here and why not spoil ourselves with a gluten/lactose free blackberry crumble?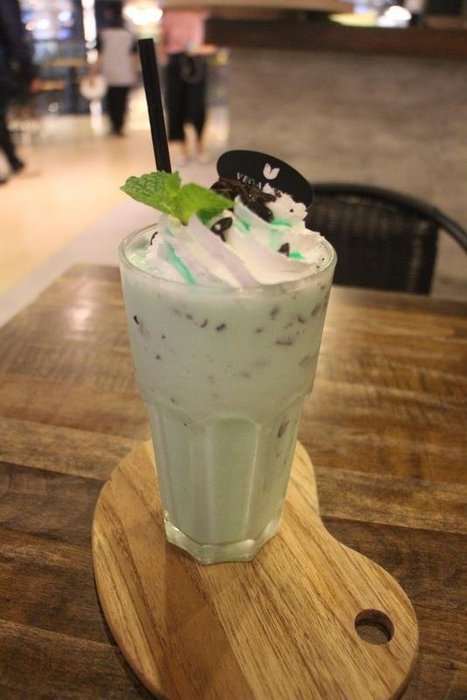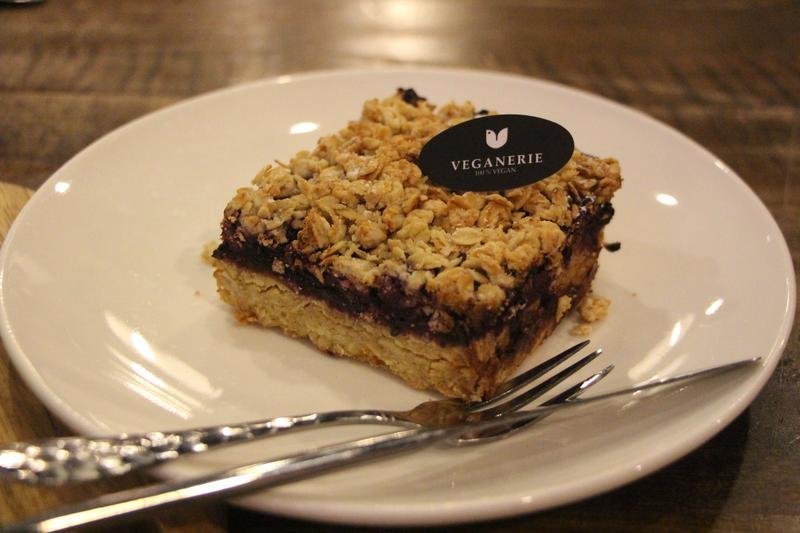 Mint Chocolate Chip Shake and Blackberry Crumble at Veganerie
Sam had a quick look at Google Maps and realised we could walk part of the way through Lumpini Park (Bangkok's version, but much smaller scale of Central Park in New York). We got to see the sun go down and the joggers rushing past us as we got in their way. As we approached 18:00, everyone stopped to listen to the national anthem on the loudspeakers. It's like a moment in time is frozen for a minute.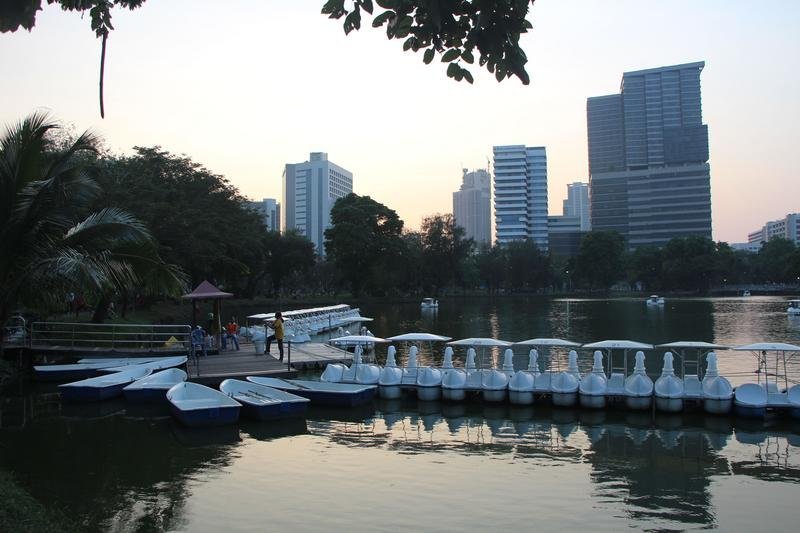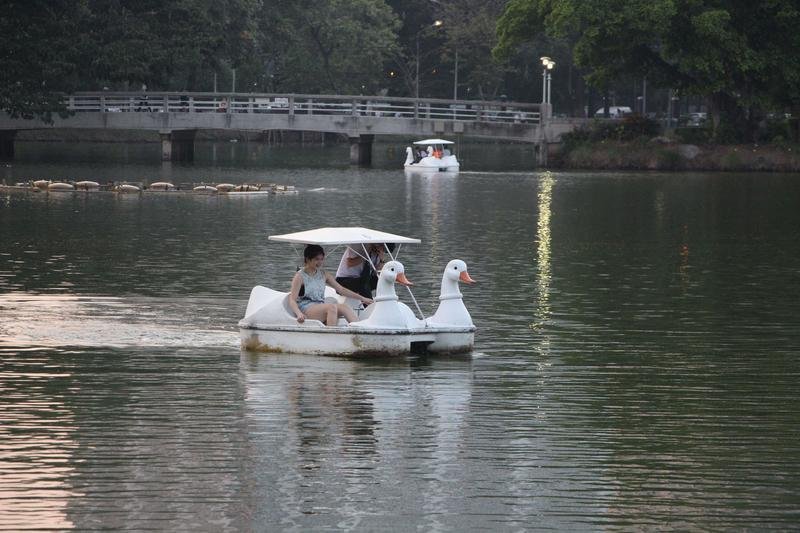 The lake @ Lumpini Park as the sun was setting
We finally jumped on the MRT (underground/subway) at Silom and headed down two stops to Hua Lamphong, which is a short distance walk to Chinatown. The underground was packed with Thais, expats and tourists from all over the world. Many were dressed in red as was Becca. Sam doesn't have a red shirt (apart from his football team's shirt), so he opted to wear Salmon Pink (close enough). Apparently, this year wearing green or purple is also a sign of good luck. Keep that in mind.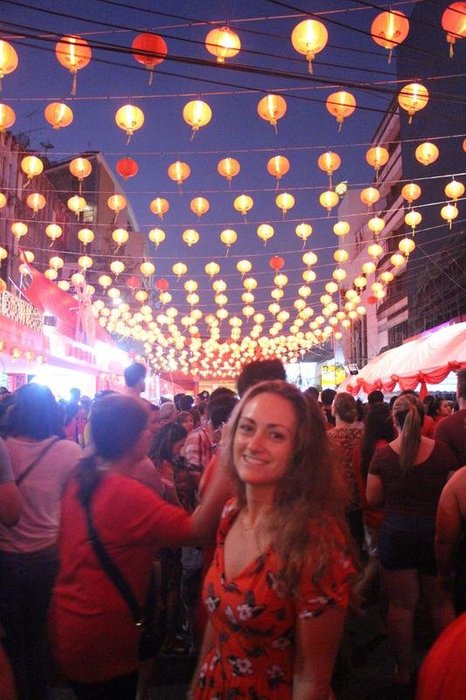 Becca joining in with the celebrations by wearing red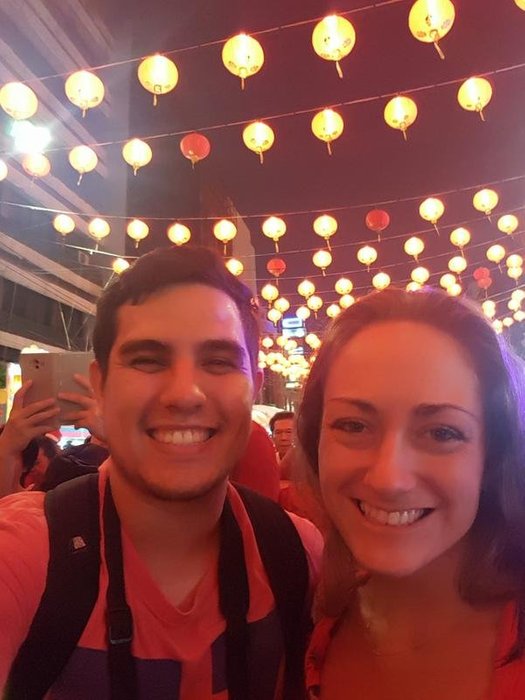 Becca and Sam - just had to get a selfie in
It seemed like half of Bangkok had crammed and crowded themselves in the narrow streets of Chinatown. It was agonizing to walk around as you wouldn't walk, but shuffle. Apart from the crowds, the shows and festivities were well under way. We managed to see the Lion Dance first, but not as good as some of the videos we have seen. We saw lines of people queuing up to take pictures with actors dressed up as the Sanxing (Chinese Gods: Fu (Prosperity), Lu (Status) and Shou (Longevity)). We were just observers in all of this. We don't celebrate CNY, so it was a chance to see what the traditions are like. Though, we knew we had to go to the Chinese temples as many believers feel if you were born in the Year of the Dog, you would have bad luck. So, making an offering and a prayer to the Gods at the temple with help relieve some of the bad luck to come this year. Interestingly, Donald Trump is born in the Year of the Dog. Bad year ahead? We shall see.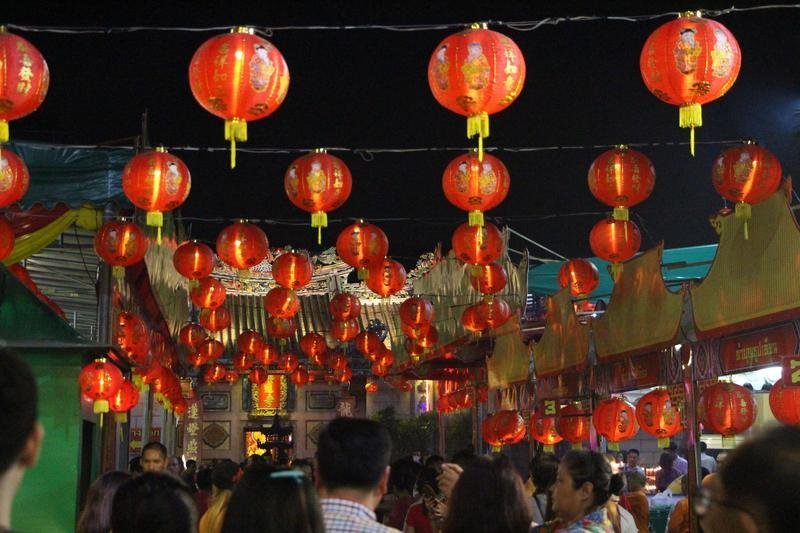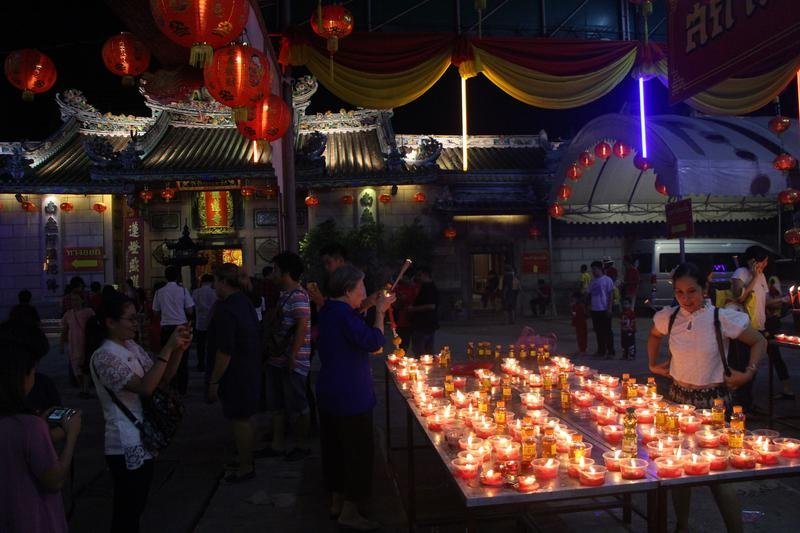 Temples were busy with well-wishers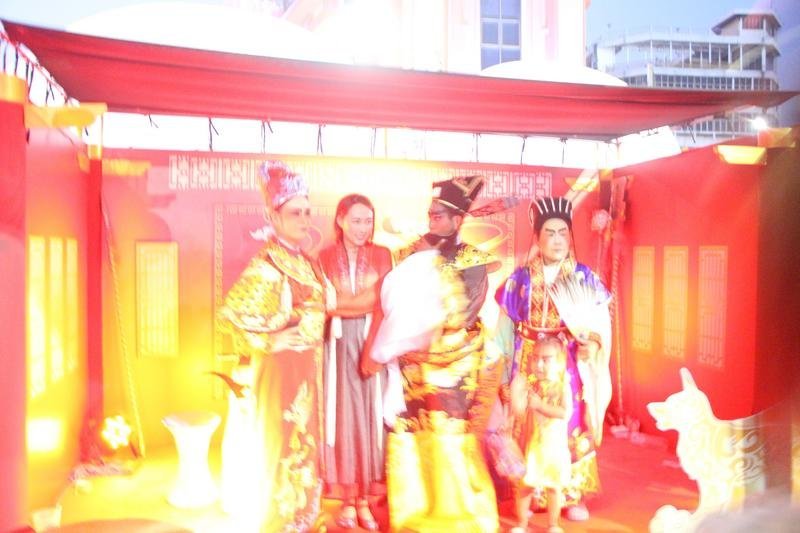 The Gods (actor) with someone who was desperate to take a photo with them
Chinese New Year festivities wouldn't be completed without trying some Chinese food. Since we had a snack before (mistake!), we opted for something simple to fill the stomach. There were many food stalls along the road, but we wanted to get away from the hectic streets. We found ourselves in Canton House, which we have been to before. We chose this restaurant as it's quite popular in Chinatown (luckily, not when we came in, but literally five minutes after there were queues). The food is tasty and prices are very reasonable. The five Dim Sum dishes and a jug of beer we had came up to 405 baht ($13 or more or less 2 STEEM).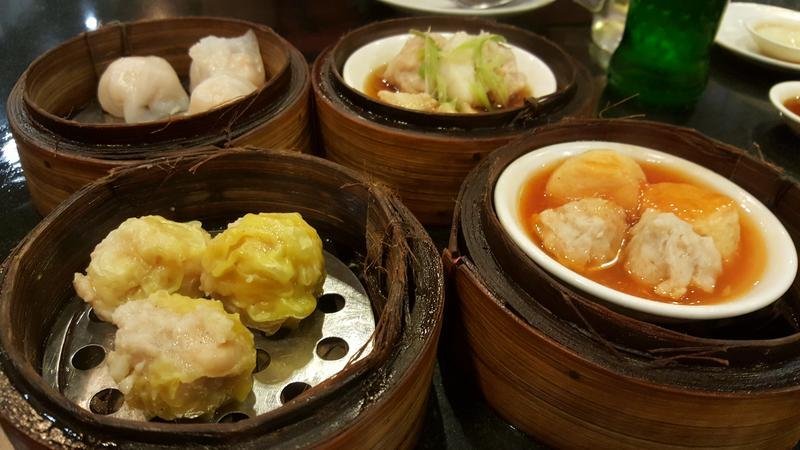 Our Dim Sum meal
After the quick meal, we decided to roam around some more to digest the food and to soak up the atmosphere. As we headed back to the MRT, this is when we got caught up in the Dragon Dance parade. It amazing to see the difference as @kokuryo explains here.
Tired from a long day already, we decided to head back home before the firework display. However, we would like to take this opportunity to wish everyone who celebrated Chinese New Year:
Happy Chinese New Year!
We hope this year brings you great happiness and prosperity!
---
Stay Classy Steemians!
Random Monday's is a post written by the @travelling-two every Monday to keep their blog spontaneous and to not focus solely on travel, food, nature and their other passions.
Thank you for taking the time to read our post. If you really like our content, please follow us as we post regularly with different topics from Monday to Friday (with some exceptions at the weekends). How about your followers? Would they like this post? If so, please resteem it! Finally, if you are generous, please give us an Upvote! We thank you in advance! Lots of love / @travelling-two