Hello Steemian Friends,
It's been a while since our last #travelfeed post and we feel a little bit guilty. After all, our name has 'travelling' in it and we haven't done a proper travel post in over two weeks (last week's video doesn't count). We're on the Steemit Travelers Discord channel and it's an absolute pleasure to be on there; meeting with like-minded Steemians, DTubers and DLivers. What have we been doing lately? Well, those who have been following us would know that we are experimenting with video editing (video and vlogs).
Elephants World, Kanchanaburi
---
Where are we taking you today? A couple of weeks ago we posted about the Erawan Waterfalls near Kanchanaburi, Thailand. Well, during that same trip a year ago, Sam had a little surprise for Becca. Becca is one for animals and nature and she is especially fascinated about the majestic elephant. What a better way to surprise Becca with a trip to Elephants World.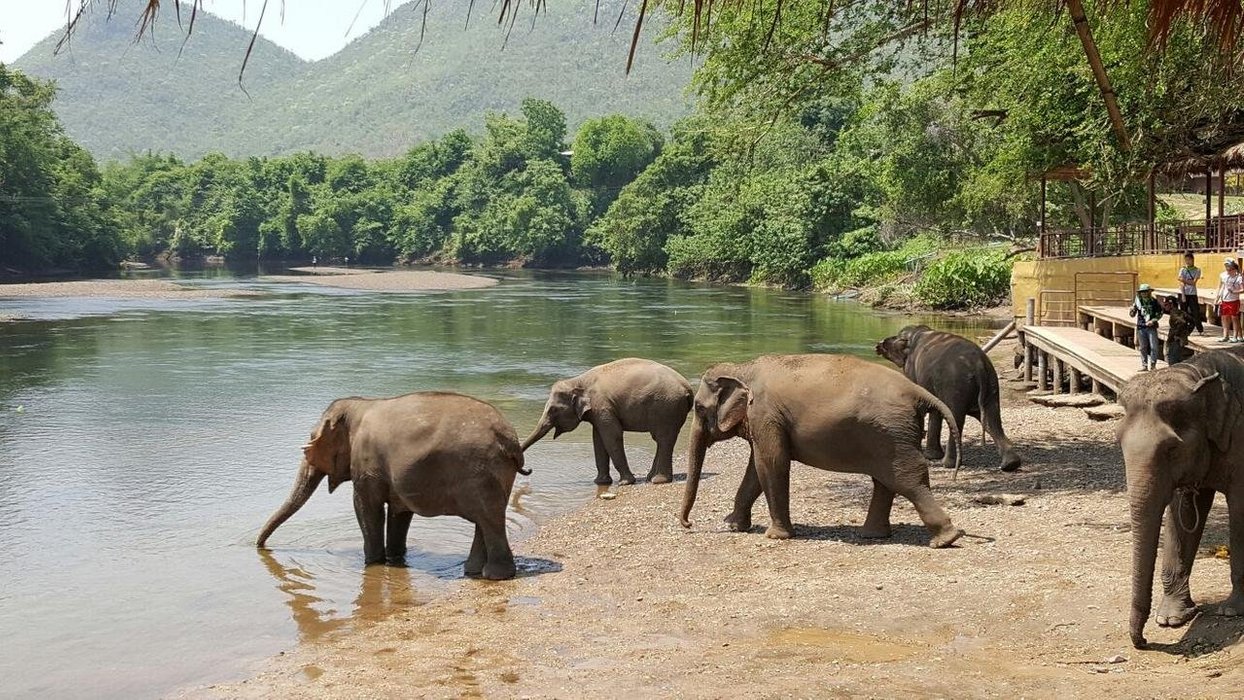 Elephants heading to the river for a cool-off
Firstly, there are many elephant sanctuaries in Thailand dotted around places like Kanchanaburi and Chiang Mai. They have mixed reviews on Trip Adviser, Google+ and generally through word-of-mouth about how legit these businesses are and how they treat the elephants. Sam would like to think he did his research and found an Elephant Sanctuary that is an actual sanctuary and not some circus show or a work camp. The sanctuary claims there is no animal abuse and that their motto is 'Where we work for the elephants, and the elephants not for us'. Naturally, Sam was attracted by this as well as the well-captured photos and itinerary for a day program. Elephants World especially appealed to Sam as the organisation has 22 rescue elephants rescued from work camps and circuses. The owner, a veterinary/doctor (can't remember - one or the other), takes pride on offering a place of peace for these elephants to live the rest of their lives.
Day Program
---
Elephant World offers different programs depending on how long you want to stay helping out the elephants. It starts from 2,500 baht ($77) for a day program per person, which we did. The two days, one night program will set you back 4,500 baht ($140) per person and finally different Mahout (Elephant caretaker) programs ranging from 20,000 baht ($620) - 1 week to 75,000 baht ($2,300) for 4 weeks. The day program would normally start with a hotel pick-up at 09:00AM, but since we rented a car, we took our own vehicle to the place, which is an hour outside Kanchanaburi. Once you arrive at the entrance and register, you will be escorted to the main building where there is an observation deck, training rooms, restaurant and of course, a gift shop. Upon arriving, you are assigned to a group with two guides (one main volunteer guide and usually a Thai assistant). They give you an insight to the place and the elephants, what to expect, the rules and the important bottle of water to stay hydrated. Afterwards in pairs (luckily we are a couple), we are introduced to 'our' elephant and their mahout for the day - ours was called 'Tang Mo', which means watermelon in Thai. Yes, Tang Mo did love eating Tang Mo. We fed Tang Mo her breakfast - a basket full of fruits and then watched her play in the mud with her friends.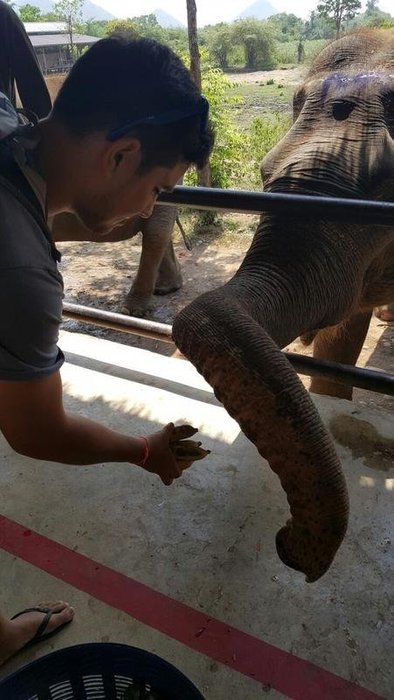 Feeding Tang Mo
Afterwards, we proceed to the river to watch the elephants have a quick wash-off! One group was taken to learn about elephants in the training room in the main building. Our group was assigned to make sticky rice balls for the elephants as an afternoon snack. The sticky balls were made out of rice and pumpkin. We were busy chopping dozens of pumpkins to cube size chucks. Apparently, the pumpkin has a natural agent that makes the rice sticky, but we believe the rice was already the sticky type. We had fun stirring the big boiling pot of rice and pumpkin. It was nice making this elephant friendly risotto. Once the rice cooled down a bit, we started molding it into balls. We had the chance to feed one elephant the sticky rice balls earlier as he needed to take his meds. Yes, the guide placed a couple of pills into one of the sticky rice balls and he consumed it like any other sticky rice ball, gulfing it down!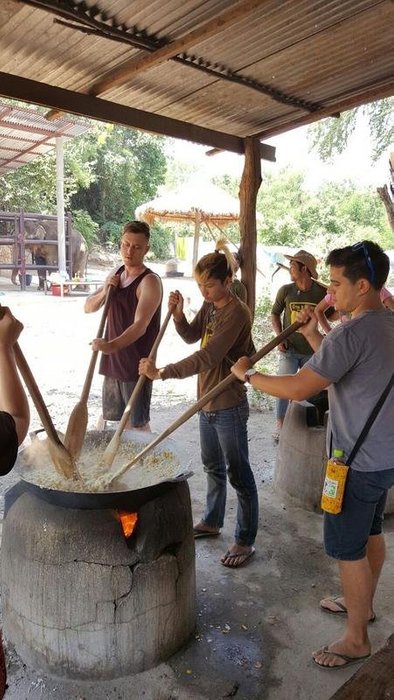 Preparing the sticky rice balls
The buffet lunch came with the day program package and the selection was wide and varied to our surprise. There were options for both meat eaters and vegetarians. Not too sure about vegans. After lunch, it was our turn to be informed about elephants in the training room and the other group did their batch of sticky rice balls. Later, we filled 22 baskets for the 22 elephants for their afternoon snack. Each elephant have their own diet requirements, so you have to fill the basket with the right fruits according to their own personal list. After the preparation, everyone walks down to the river to give the elephants a bath. Of course, there is a lot of splashing around and getting completely soaked! Finally, the last activity we walked up to the main building to feed the elephants their afternoon feed. The day program starts from 10:00 and finishes at 16:00. The six hour is jammed pack with activities that will keep you entertained throughout the day!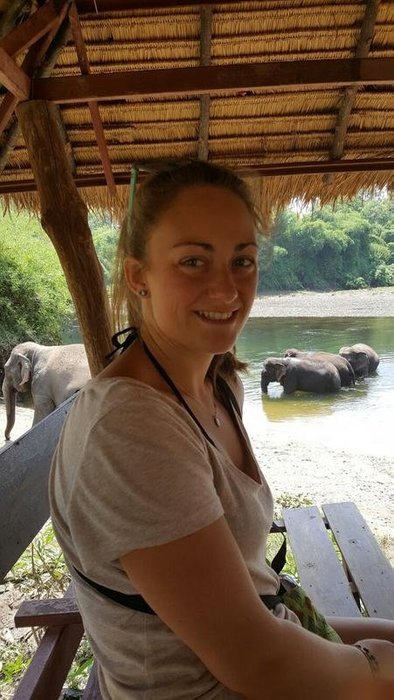 Becca chilling near the river whilst the elephants take a bath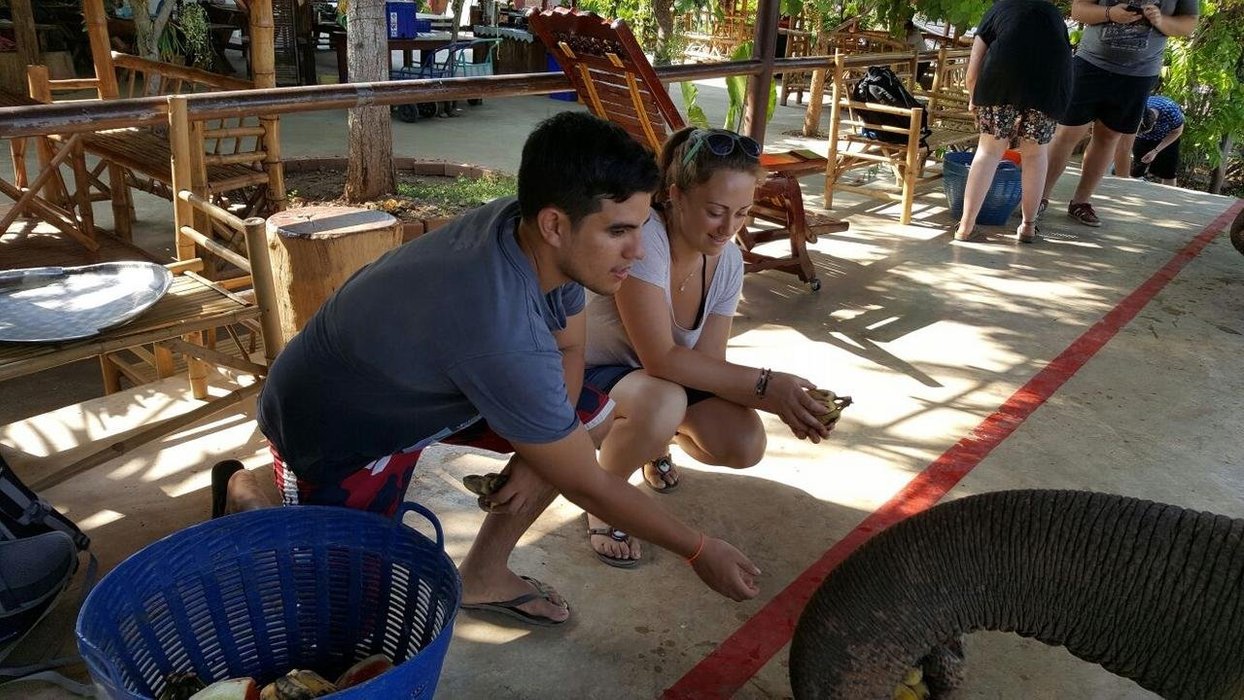 The afternoon feed
The Overall Experience
---
We thoroughly enjoyed it, however, we have the sense upon noticing construction happening in the compound that this 'sanctuary' could become just another tourist trap. We are sure they will take care of the elephants, but feel like they will 'milk' what they have going. It's not necessarily a bad thing as if business is doing well then that is what usually happens; expansion. However, there is a fine line when it comes to businesses that are doing it for a cause. Could the money go towards the elephant welfare instead of maximizing tourist numbers? It is just something we pondered and upon thinking this, we doubted our experience and thought could everything have been for 'show'? It's hard to tell, but we did enjoy spending time with the elephants and can see these rescue elephants are in a safe place.
Address:
Elephants World
Wang Dong, Mueang Kanchanaburi District, Kanchanaburi 71190
Open: Everyday - 10:00-16:00
---
Stay Classy Steemians!
Throwback Thursday's is a post written by the @travelling-two every Thursday to inform their followers and readers about their previous travel experiences.
Thank you for taking the time to read our post. If you really like our content, please follow us as we post regularly with different topics from Monday to Friday (with some exceptions at the weekends). How about your followers? Would they like this post? If so, please resteem it! Finally, if you are generous, please give us an Upvote! We thank you in advance! Lots of love / @travelling-two
For Wanderlusters in Thailand, please come and say 'Hi' in our Discord Server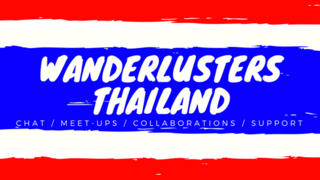 For support with Thai written content, please click the banner below and engage with the Thai community