I spent four days in Prague. Three would've been plenty, but I took my time. I stayed at Sophie's Hostel the first two nights. It was a good place, they had a good bar/common room. They were booked up over the weekend so I had to move to Adam&Eva's Hostel. It was quieter, smaller, and just as nice for different reasons.
I just arrived in Italy. The hostel here has nice Mac computers with giant screens for guests to use. I got on one to check out my steemit page on the big screen. Out of lazinesss, I walked away without closing the internet browser. A half hour later, I heard two guys talking near that computer. The one asked if the other was keeping a blog. The other said, no, he'd do it when he gets home (he won't, trust me).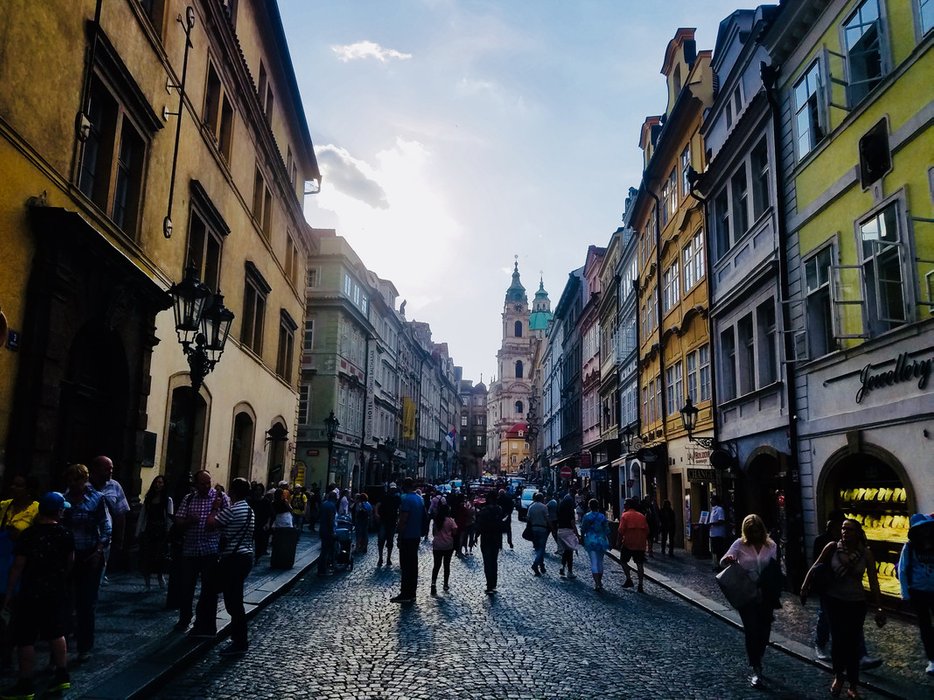 The first guy said, "Yeah, I'm not doing one just cuz, like, everybody does it. But anyway, some guy left his up here on the screen. I've been looking through it. It's pretty good, actually."
I wanted to jump out of my chair and trip across the room, "That's me! That's mine. That's my blog!. You like it, huh? ...Yeah, it's mine. No big whoop. Just for my own amusement, and a few bucks. ...Yeah, mine."
It felt so good to hear that validation from a complete stranger. Their conversation was actually interrupted by a phone call right before he was about to say what he thought of it. I was on pins and needles. I wanted to run over and shake him. "Well! AND? What do you think? ...Too many typos, huh, right? You like the jokes or no? Here's a questionaire, if you could just fill out these three pages for me rating some of the jokes..."
As a superhero, I must keep my true identity secret, so I didn't reveal myself as The Travelman.
WIthout further self-stroking, here's my post about Prague, it's actually pretty good...
(This is a Chimney cone. They sell them all over the tourist areas of Prague. I later learned they were a Budapest creation. This particular beauty was called "The Chimney King" The cone is kind of like a ciinnamon roll. They bake it by wrapping the dough around an iron spicket, then turning it over a bed of hot coals. Then they roll it in sugar. You can buy it with or without ice cream.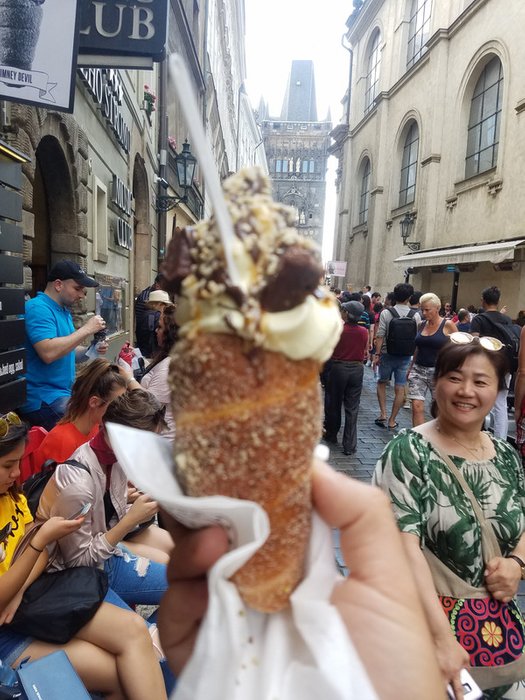 The Chimney King had ice cream, caramel sauce, and two brownies. It costs 10 euros! That's way more than I would ever pay for that in a normal circumstance. I'm glad I waited until the last day to buy it because I would've been spending ten euros a day on Chimney Kings! It was so good it should be illegal. The woman in the background, the one my camera auto focused on, looks excited about my Chimney King.)
(This is a mechanical sculpture of Franz Kafka's head. The different planes revolve around. It was broken while I was there. I was initially disappointed by this, but then I decided that it added artistic value to have a little man on a crane tinkering with Kafka's broken head. I think ol' Franz may have gotten a rare chuckle out of it.)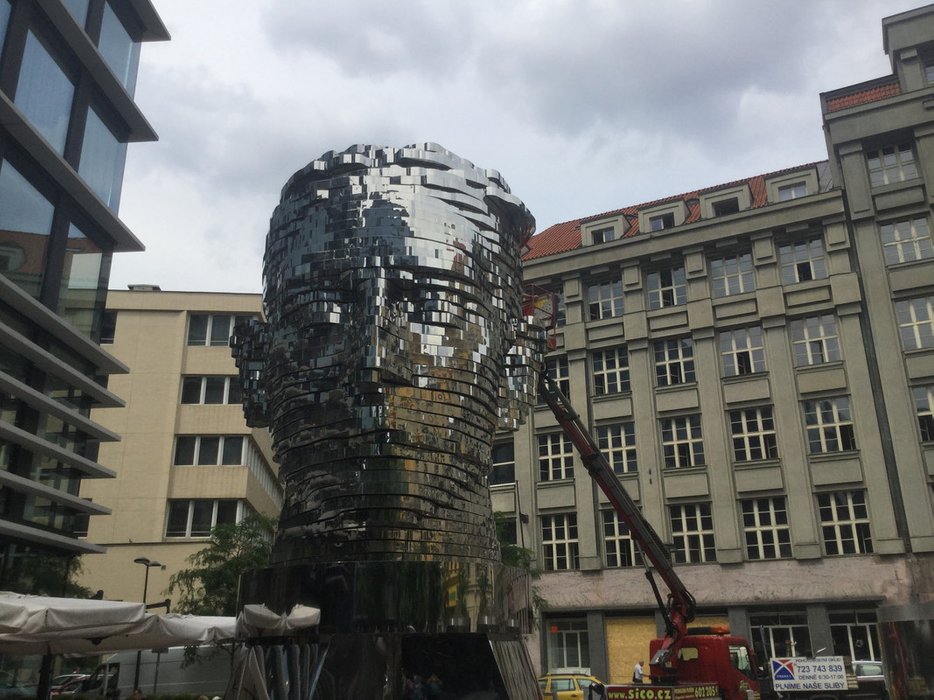 (Keeping it surreal, these are giant pandas taking tips for photos in the old square. I know the expressions on their faces are fixed, but I swear the one on the left is expressing "I don't care how rare I am. Please, kill me now. Oh great panda lord, have mercy on me.")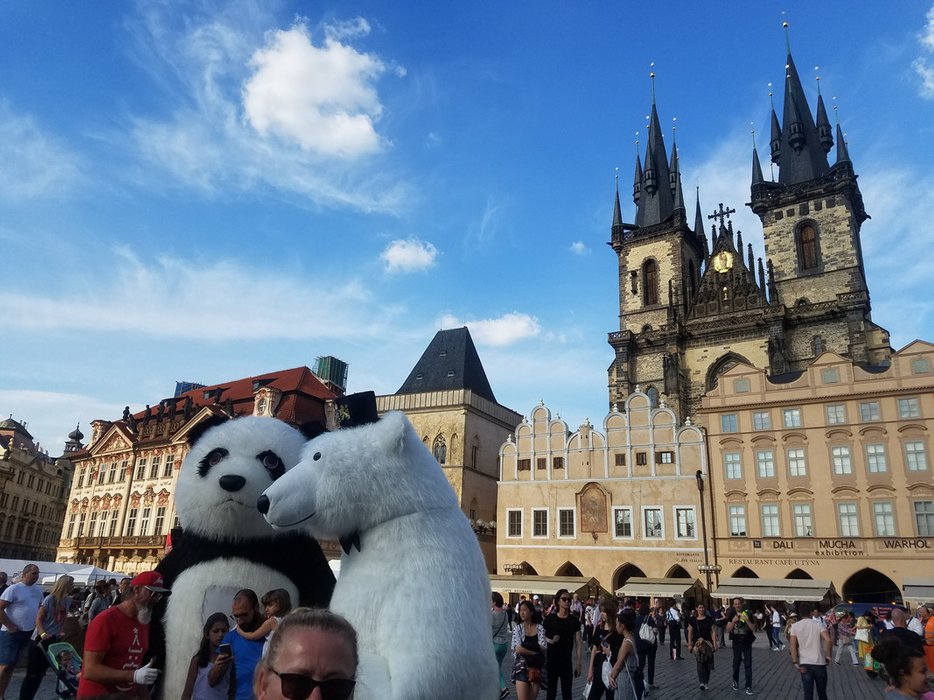 (This is the entrance tower you walk under to stroll across St. Charles Bridge. It's got religious statues, tourists, buskers, and merchants. It's also the closest bridge to Prague Castle.)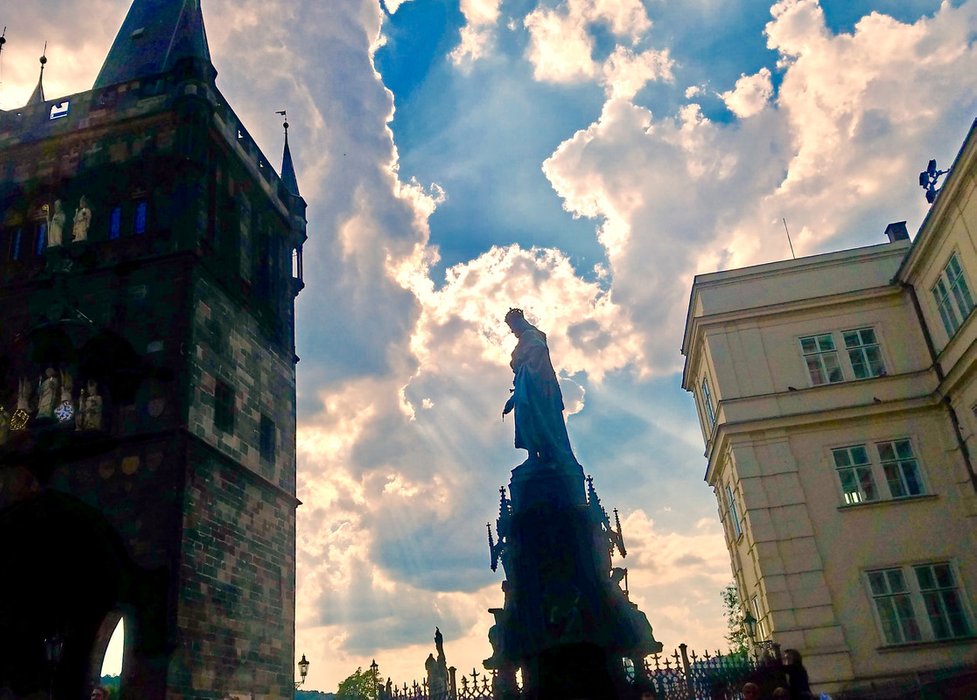 (This is a photo opp near Sophie's Hostel. The cross is in honor of people that died in... I think it was WWII. Anyway, they died for something and now there's a cross for them on the pavement. I took many pictures of the street and the statue behind it, but none of them capture the beauty of the area, so I didn't use them here.)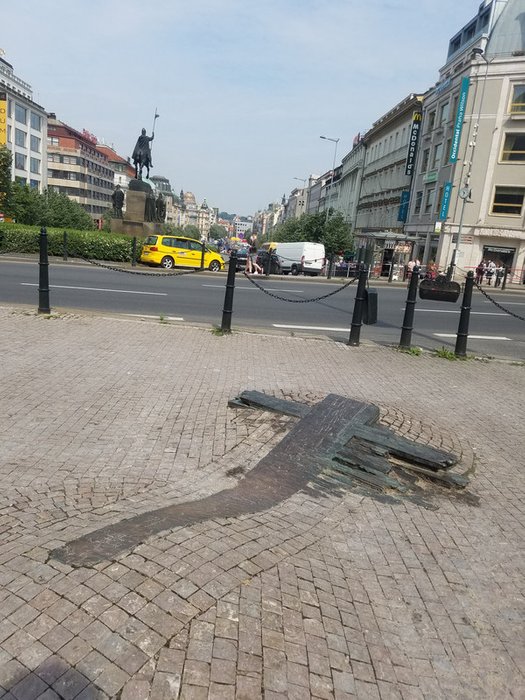 (These next few photos were all taken in and around the square of the old town. The building with the scaffoldings around it is the astronomical clock. It's a big tourist attraction. I think it's because I'm traveling in the spring (maybe?) but I've encountered so many sites like this that are "currently under renovation, please excuse our dust and take a bummer of a picture.")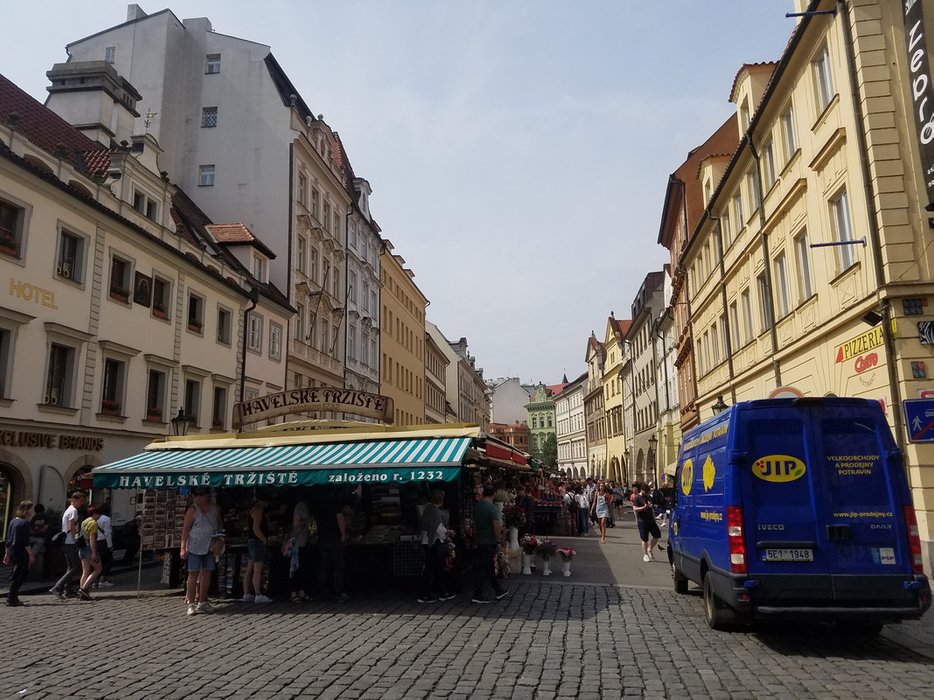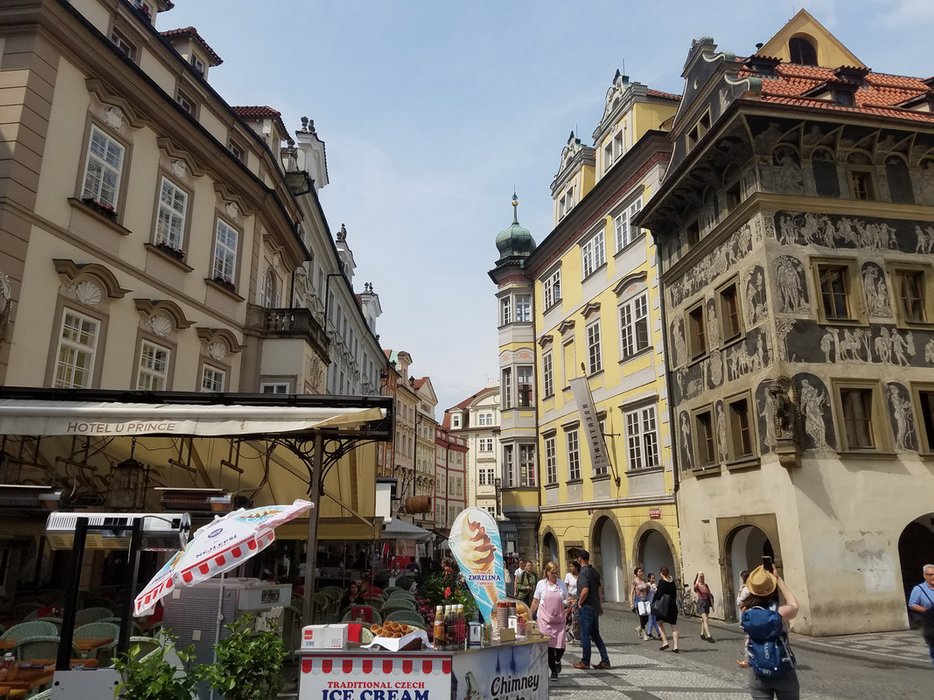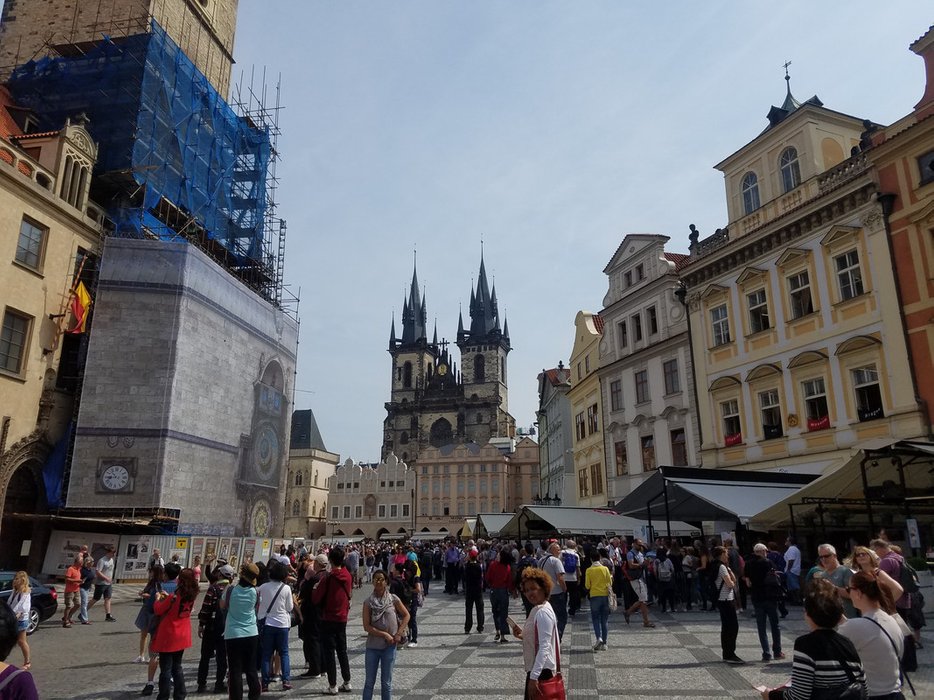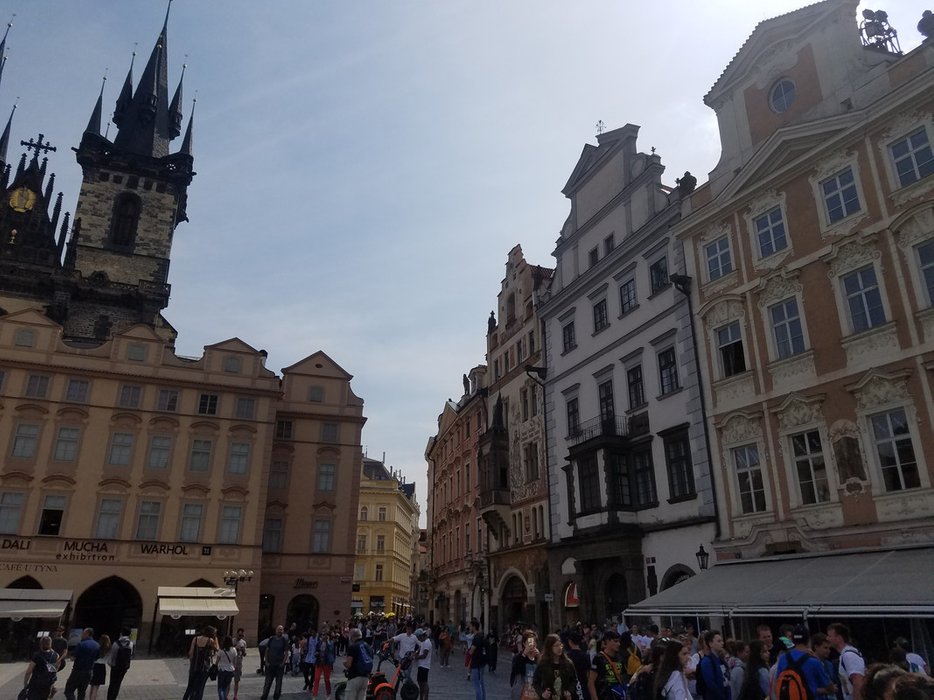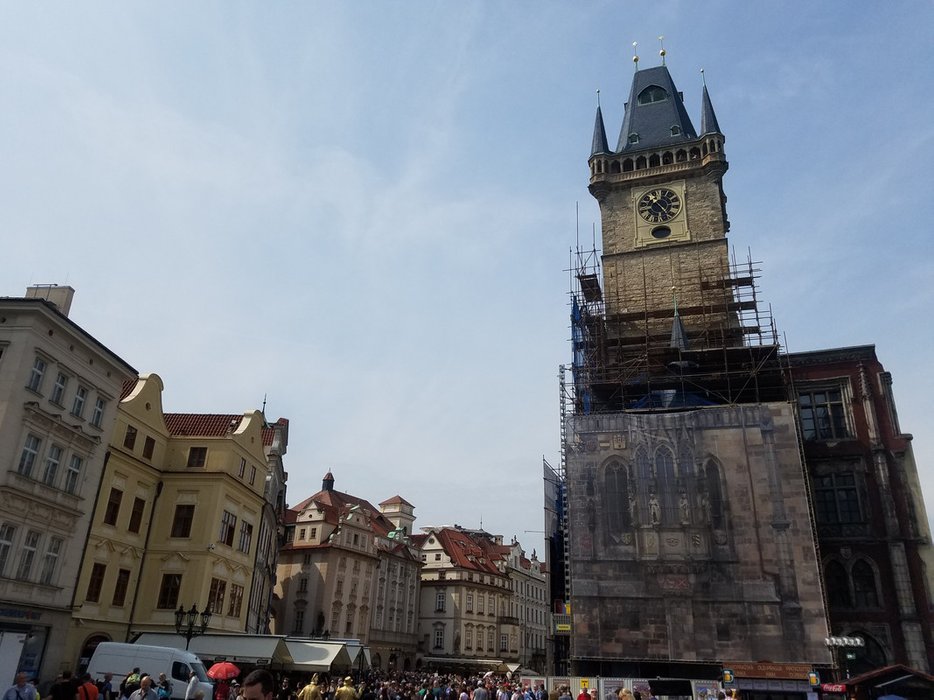 (A few pictures down from this one is the interior of this church.)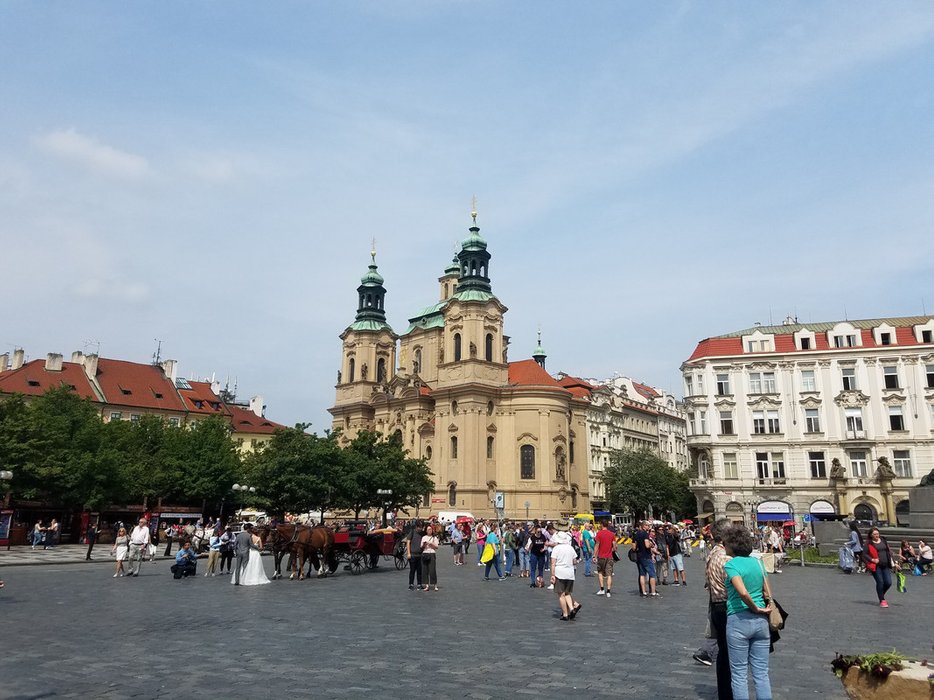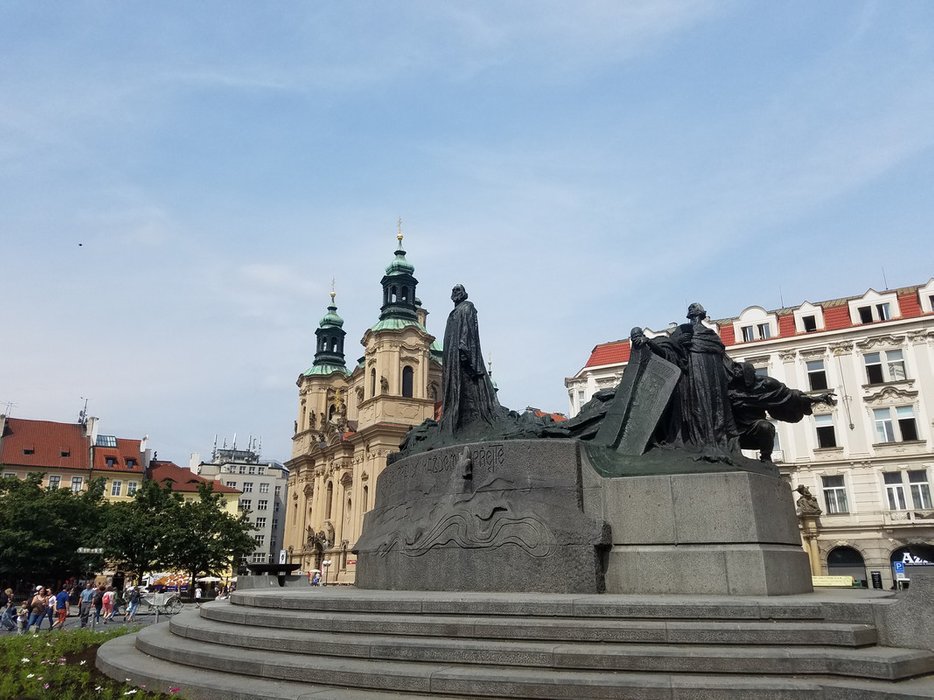 Nothing to do with the pics, but I had the best burger of my life in Prague. They're very proud of their Pilsner, their Kafka, and their beef. A lot of tourist go to Nase Maso for meat. I went, it was okay. I also went to a dive bar called Devinny's. It was recommended to me by a woman who worked at the hostel. I went for the beer and atmosphere. They had food, I was hungry, so I ordered a burger. BAM! Flavor perfection! I couldn't believe it and it was only 2/3 the price of the well known place. I went back the following day but the kitchen was closed that day. A single tear rolled down my face.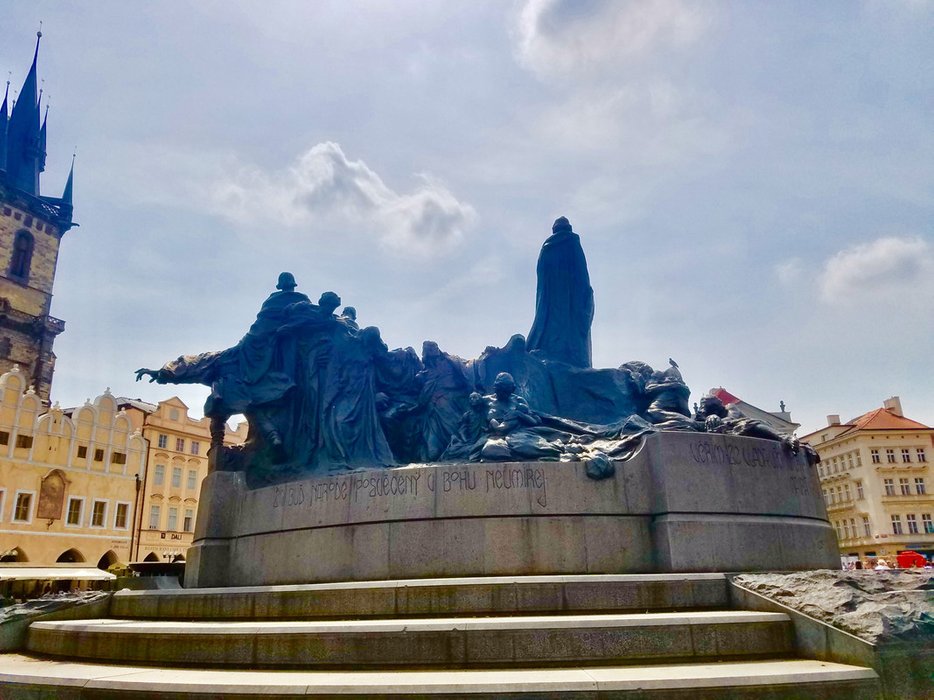 Prague and Budapest are Meccas for bachelor and bachelorette parties because they're cheaper cities. It's popular in Europe for the men of a bachelor party to dress in silly matching outfits. I saw some guys in jeans shorts, suspender's, matching party shirts, and a whole lot of lack of cool.) I'm so glad this isn't how it goes in the U.S.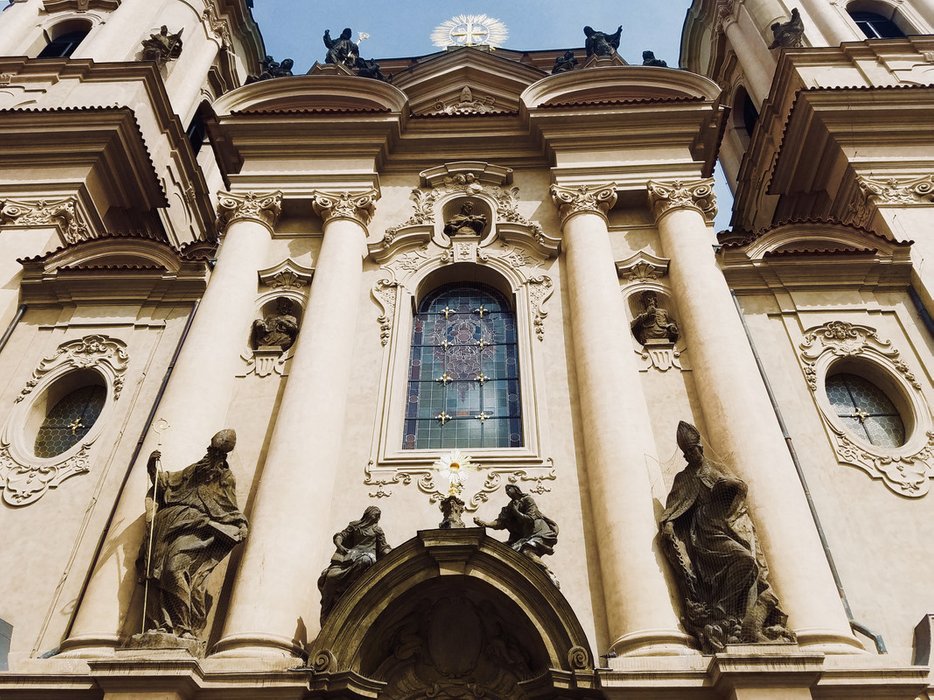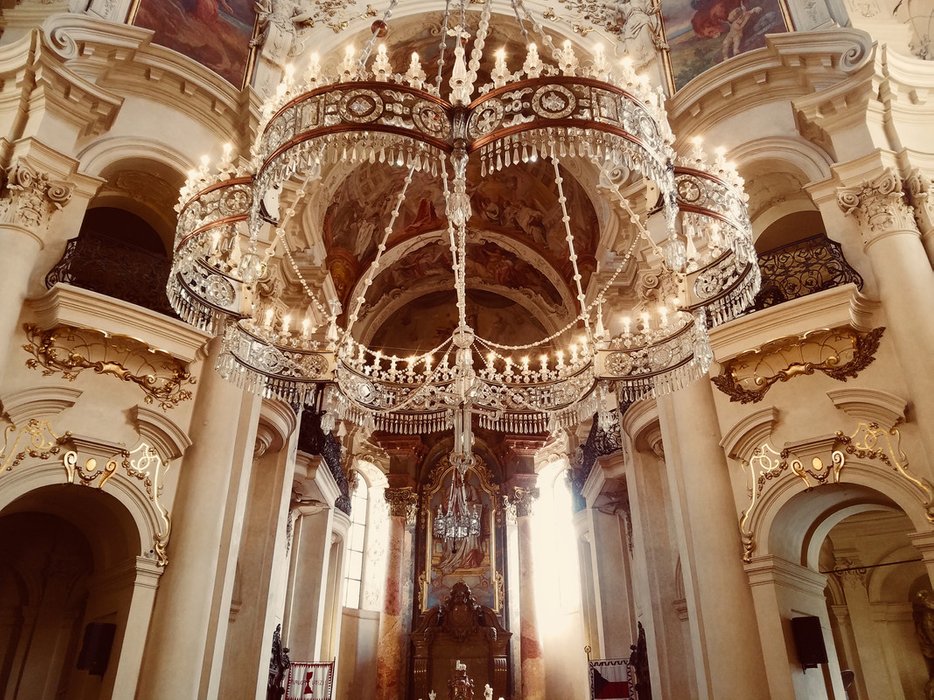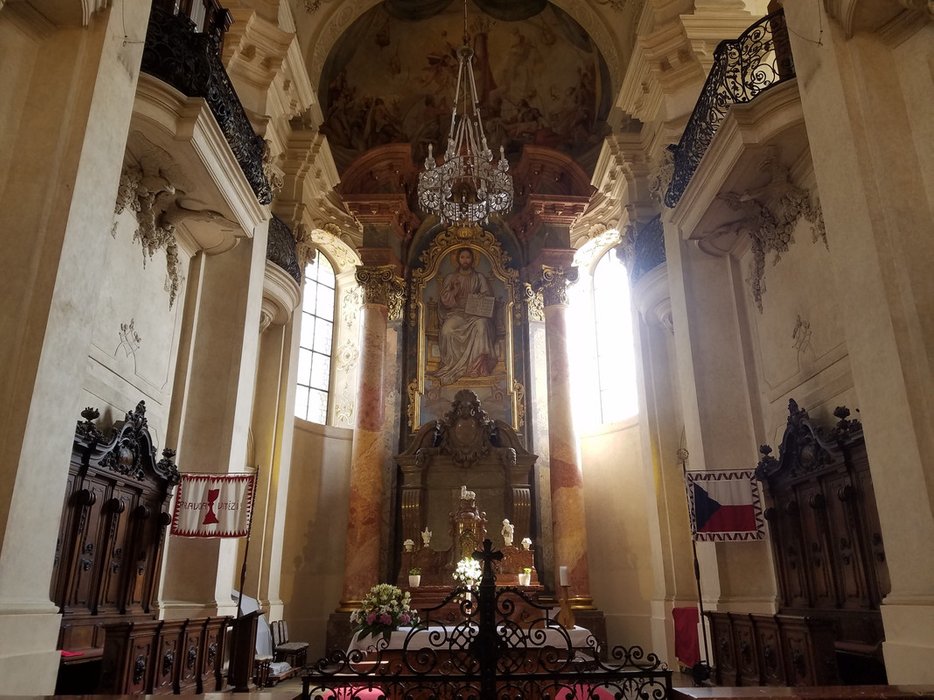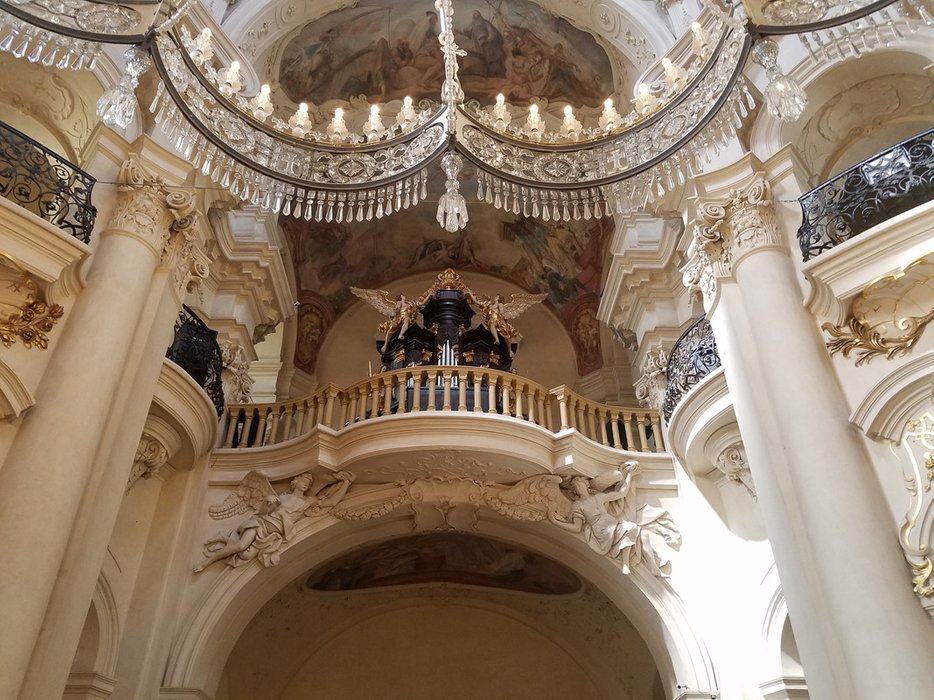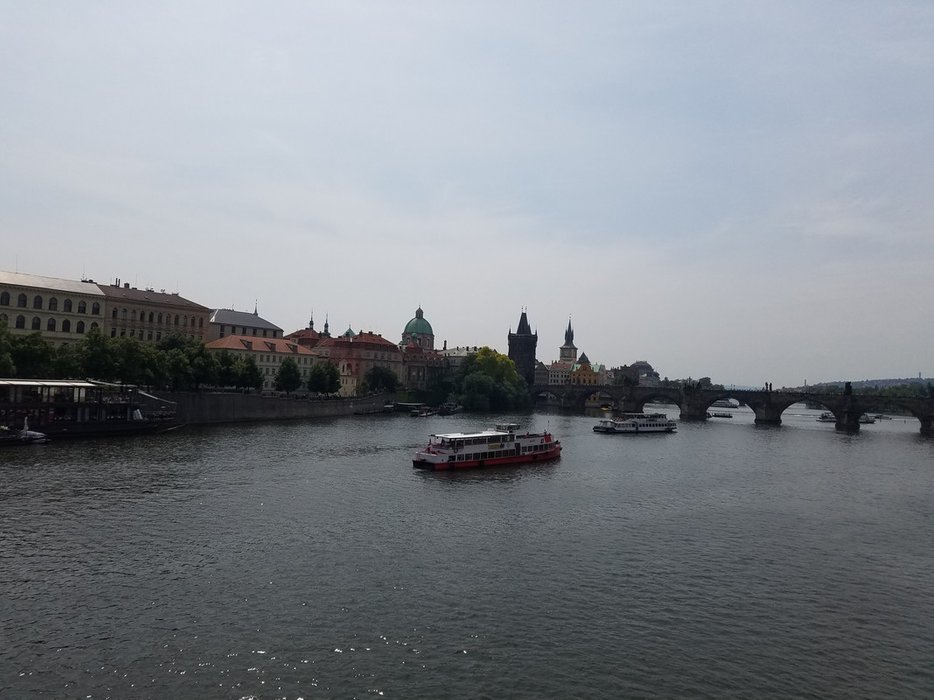 (A view from outside Prague Castle. If you ever go to Prague, enter the castle from the rear- the river side. There's no line. The other entrance has a giant line because all the tour busses drop off on that side. Don't say I never gave you any useful info.)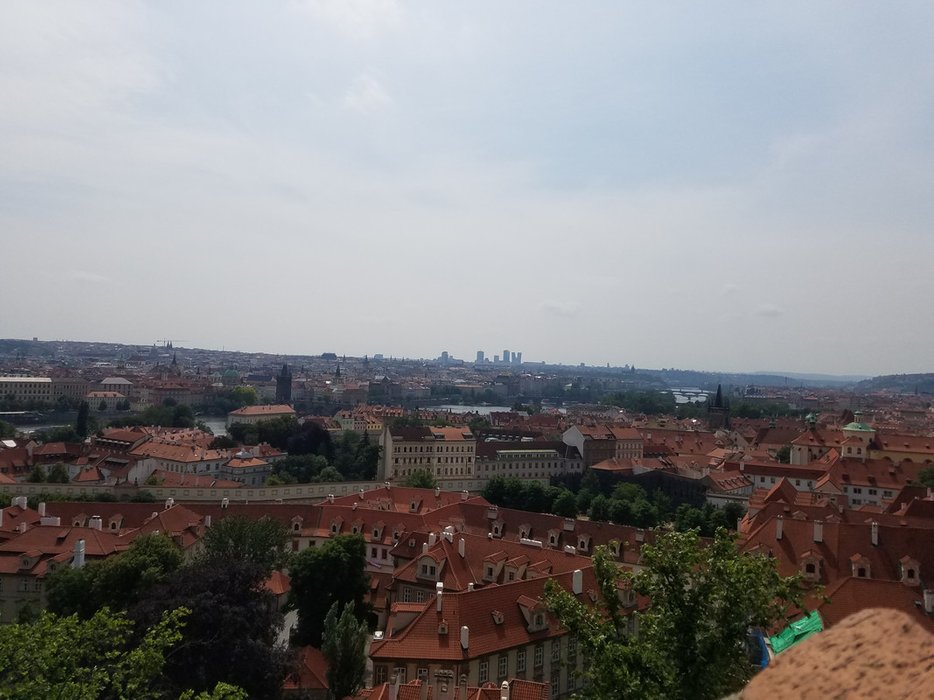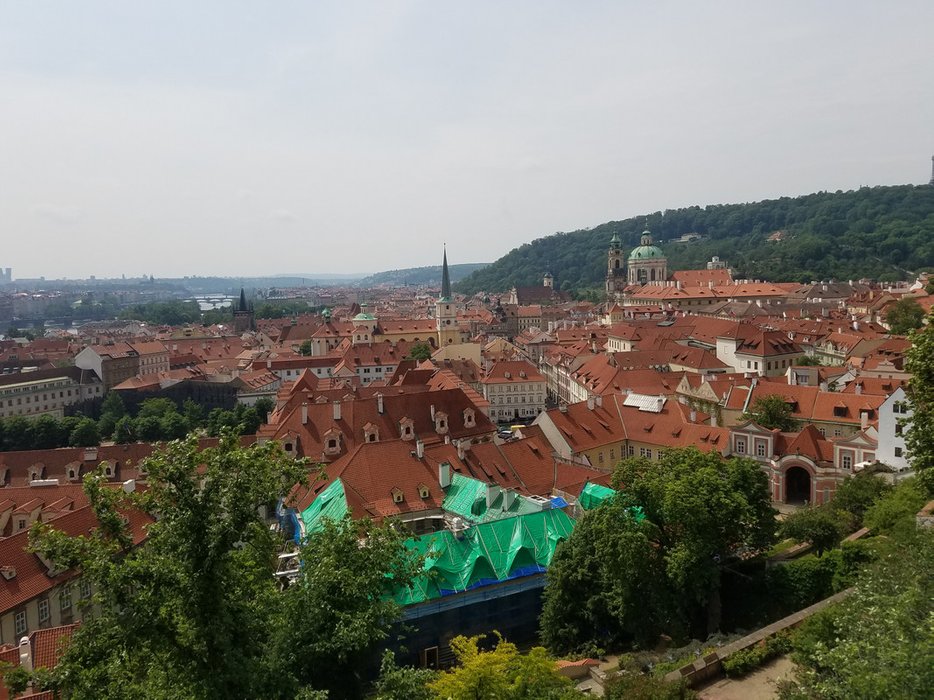 (The Cathedral inside the castle grounds. The castle is a large walled area with many different building and areas to visit. You can buy a package or individual attraction tickets, or simply walk around. I didn't buy tickets, walking around was enough for me. I was exeriencing travel burnout while in Prague, very little impressed this seasoned traveler of eight months.)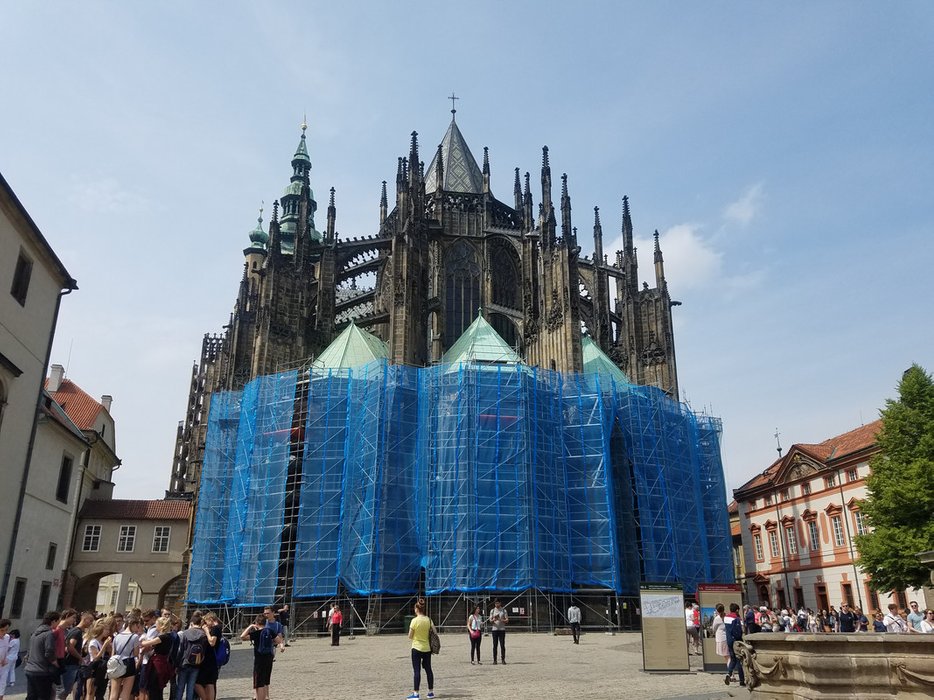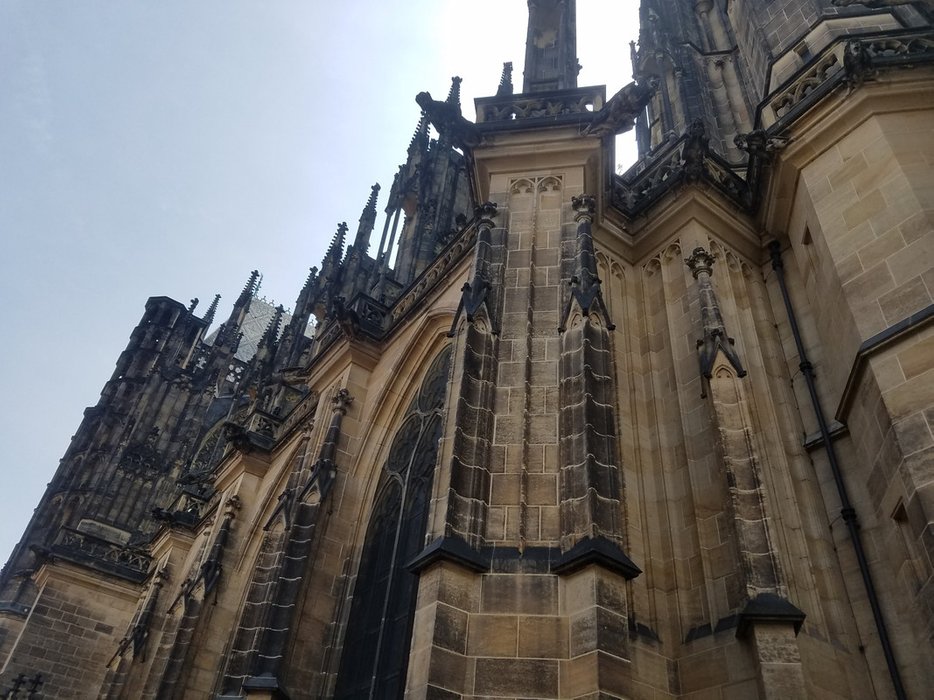 (The crowd around the cathedral. I hate crowds. I wanted to get the hell out of there.)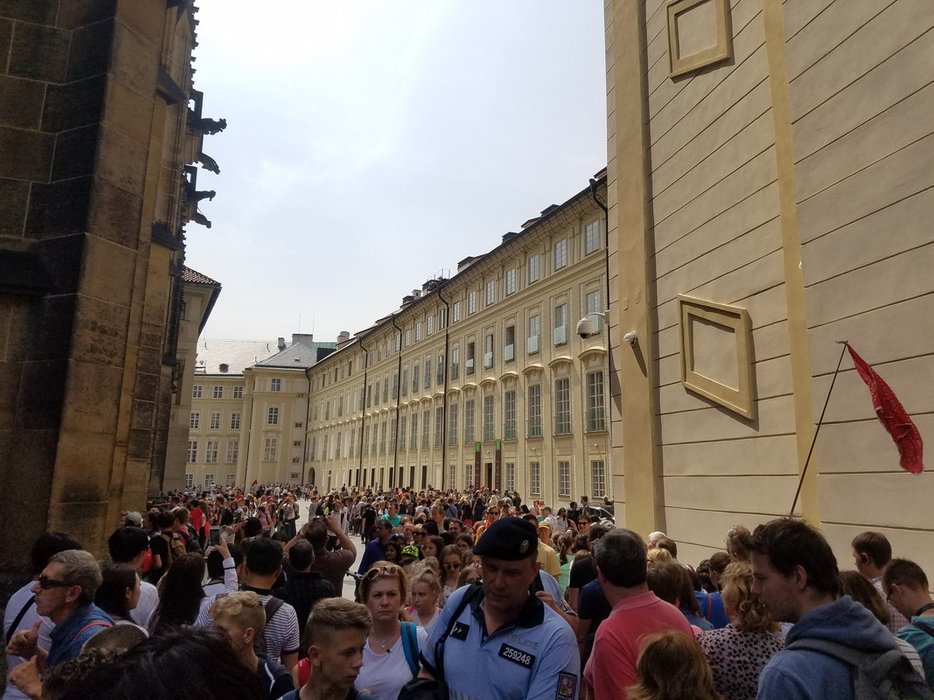 (True story, I heard myself saying the following out loud as I snapped this pic, "Great, another big fuckin' church." ...Travel burnout exemplified.)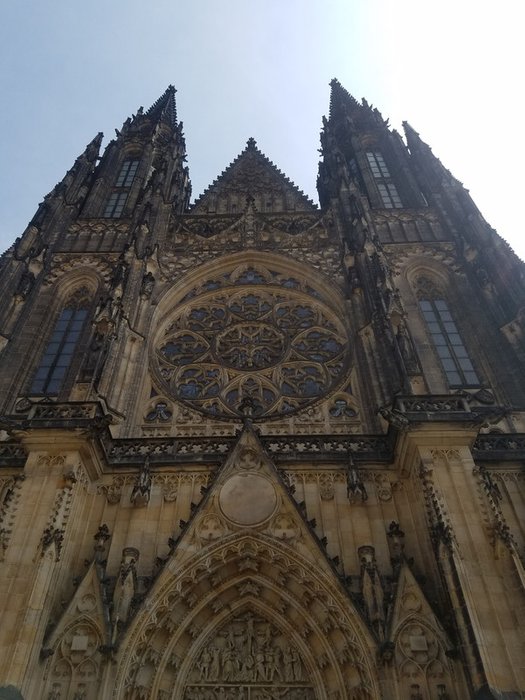 (The entrance to the castle. They're not joking around with the brutality depicted by these statues.)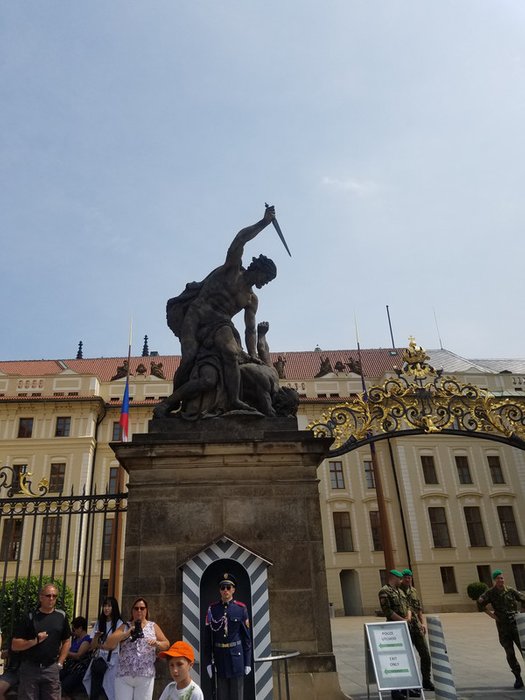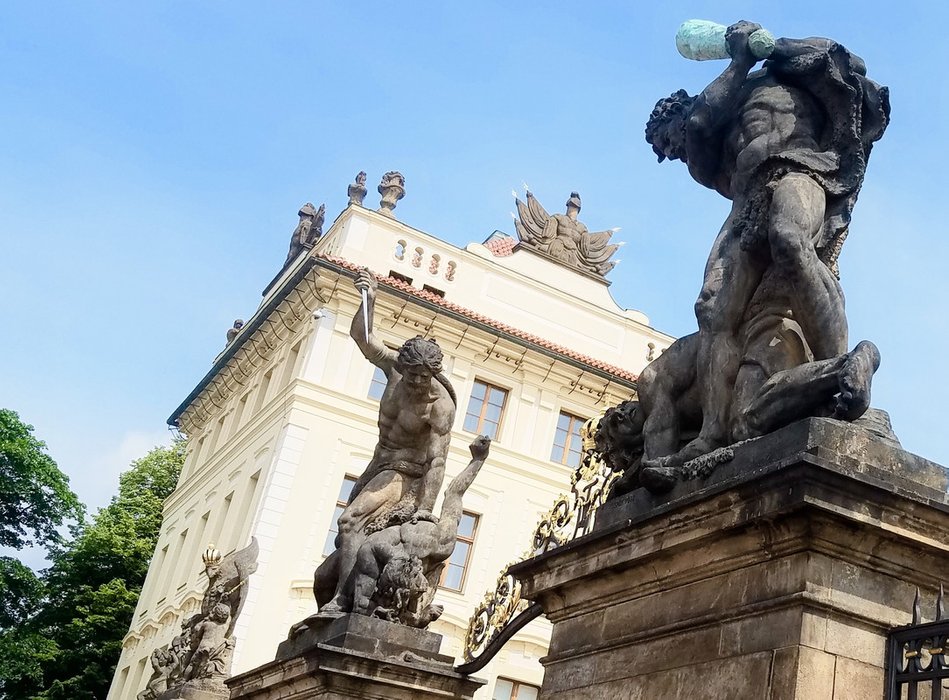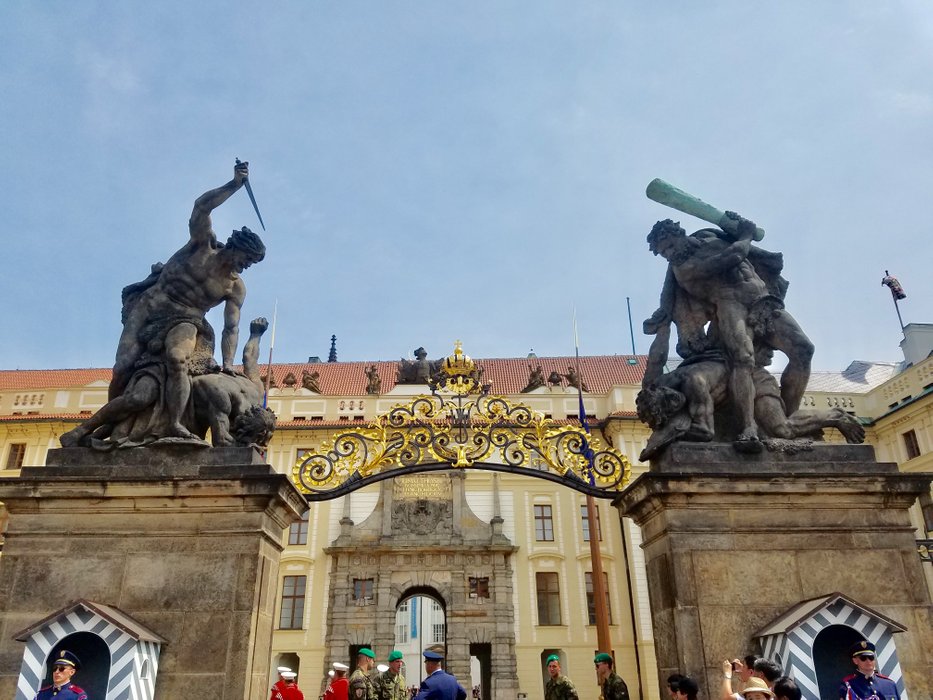 (I literally almost walked straight into the changing of the guard. After my experience at Buckingham castle, I didn't bother watching the shift change. Can't they just give report and go home, like nurses?)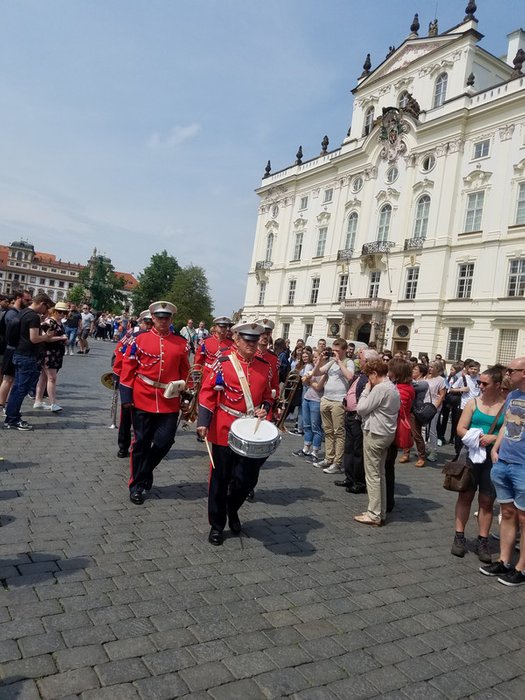 (I think they're guarding the castle from these dangerous, marauding gangs of fat-tire bicycle tourists. These bikes are as popular as Segues for tours in Eastern Europe.)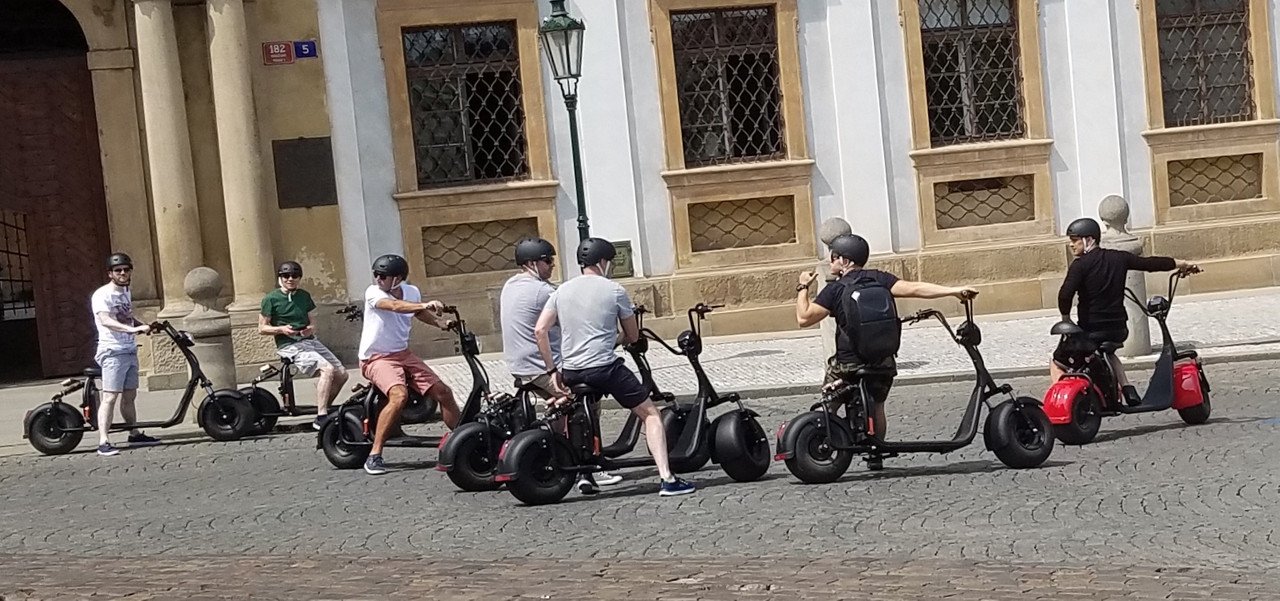 (I was a good 200 yards from the castle entrance when these guys marched past me. I suppose, they're on their way to work, or Starbucks.)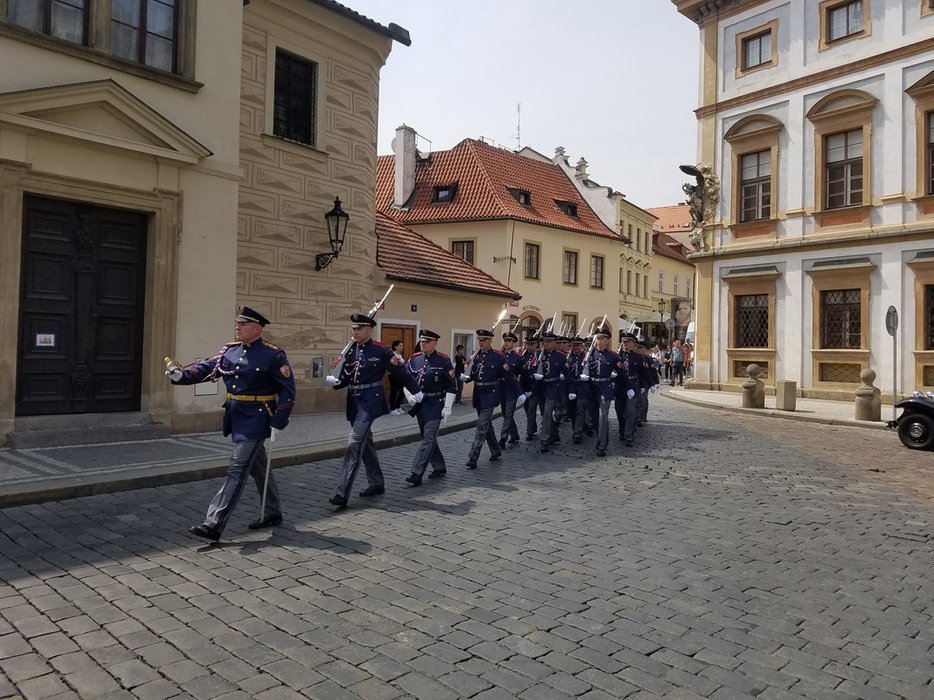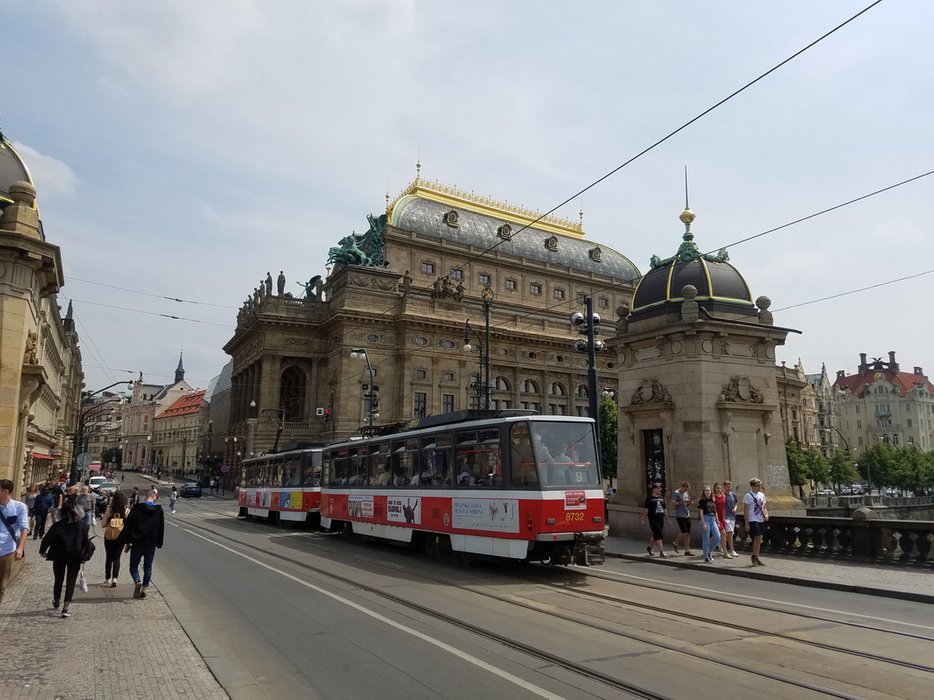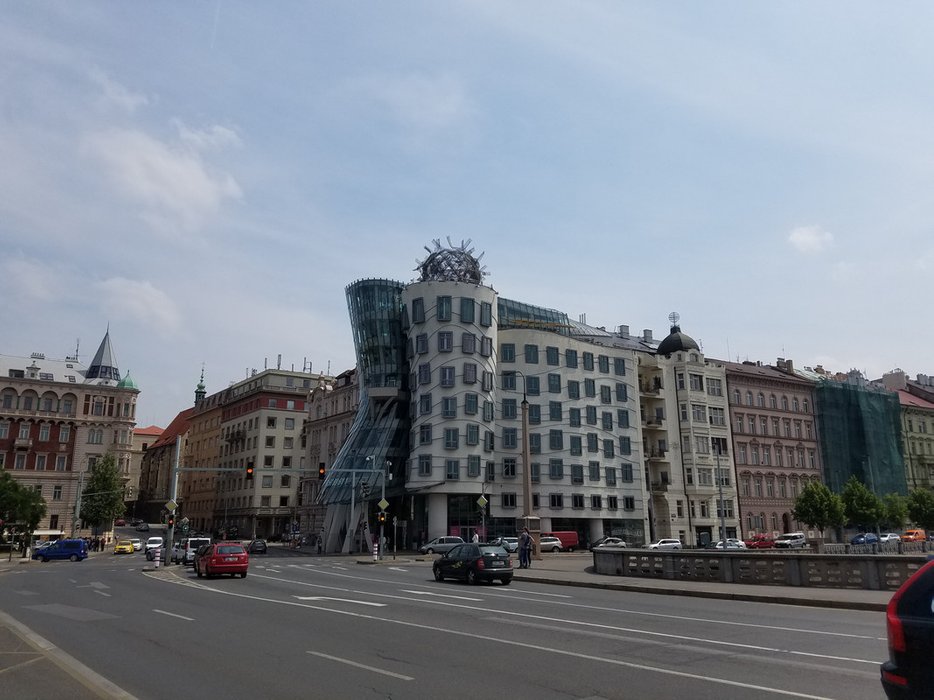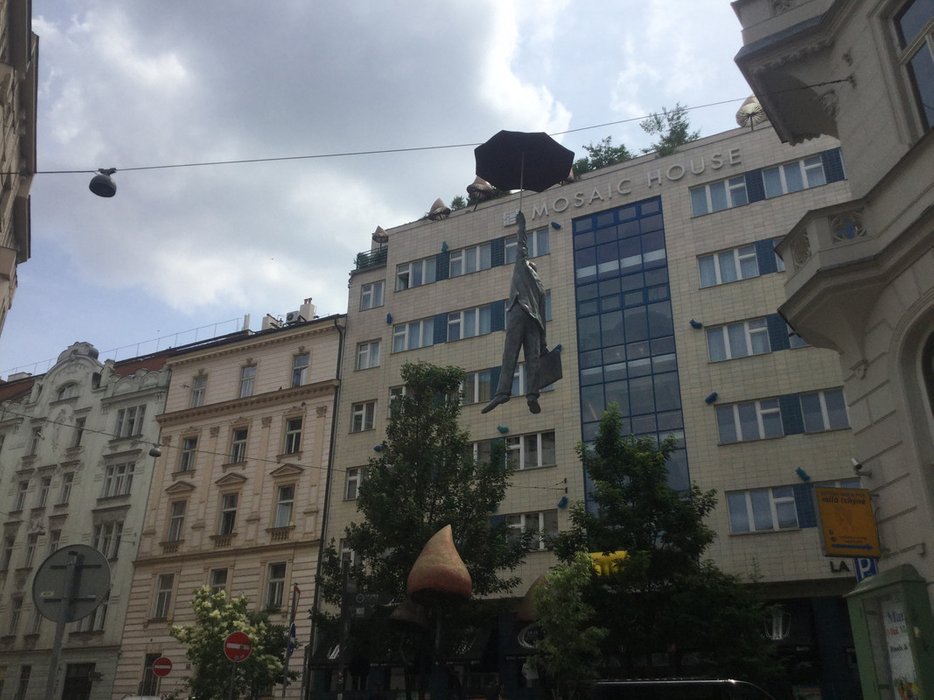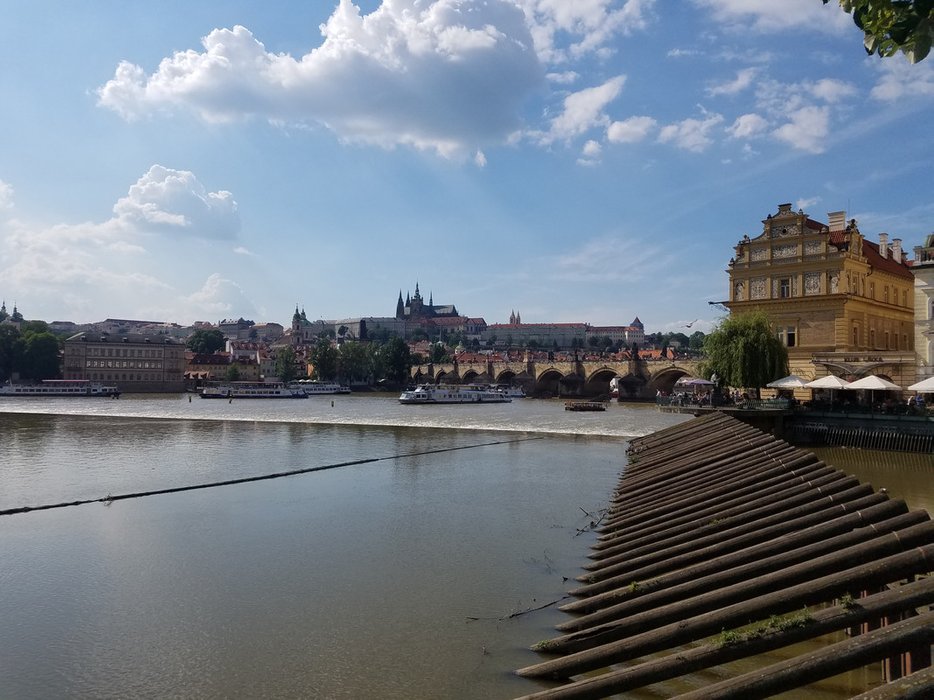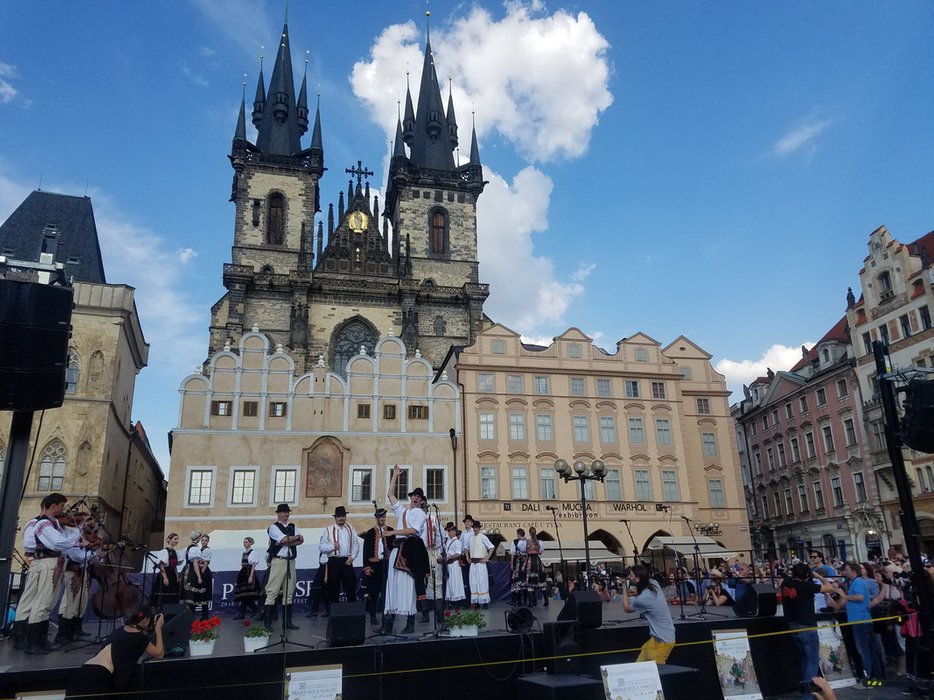 (These next few are St. Charles Bridge again.)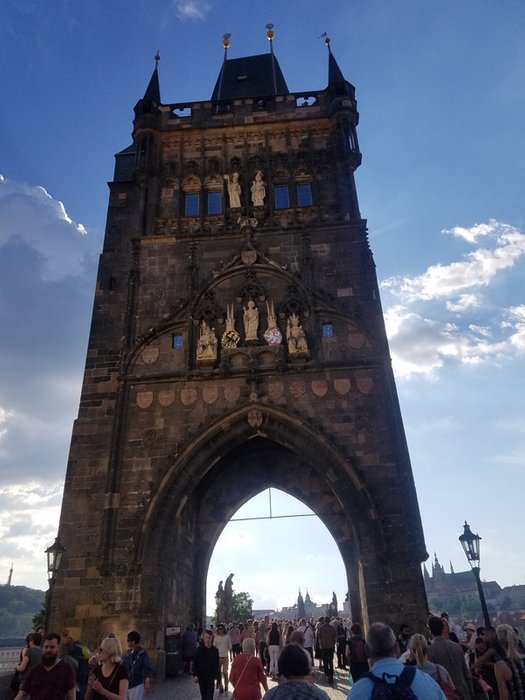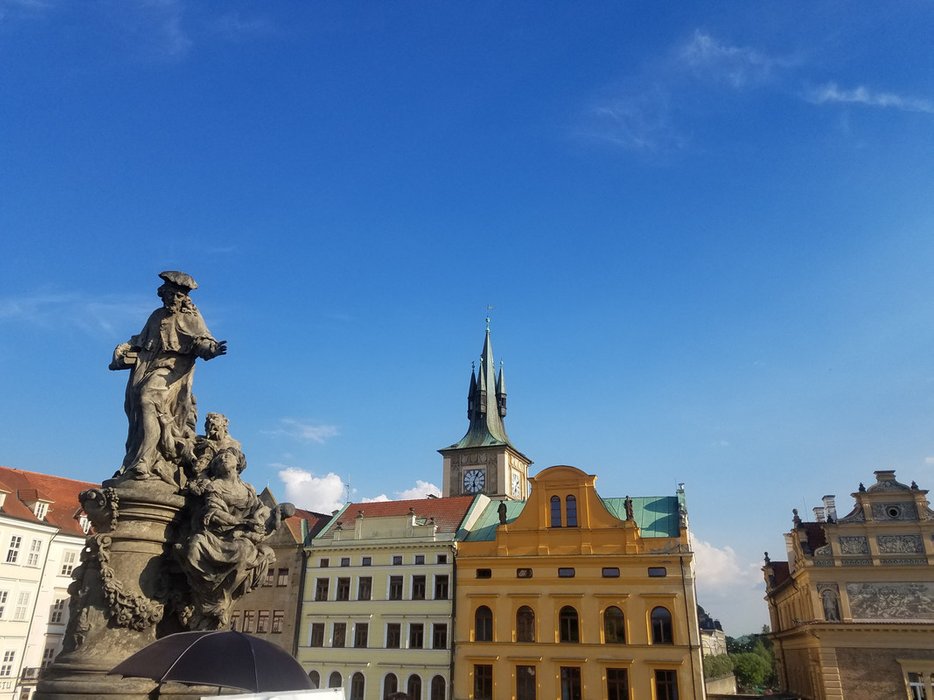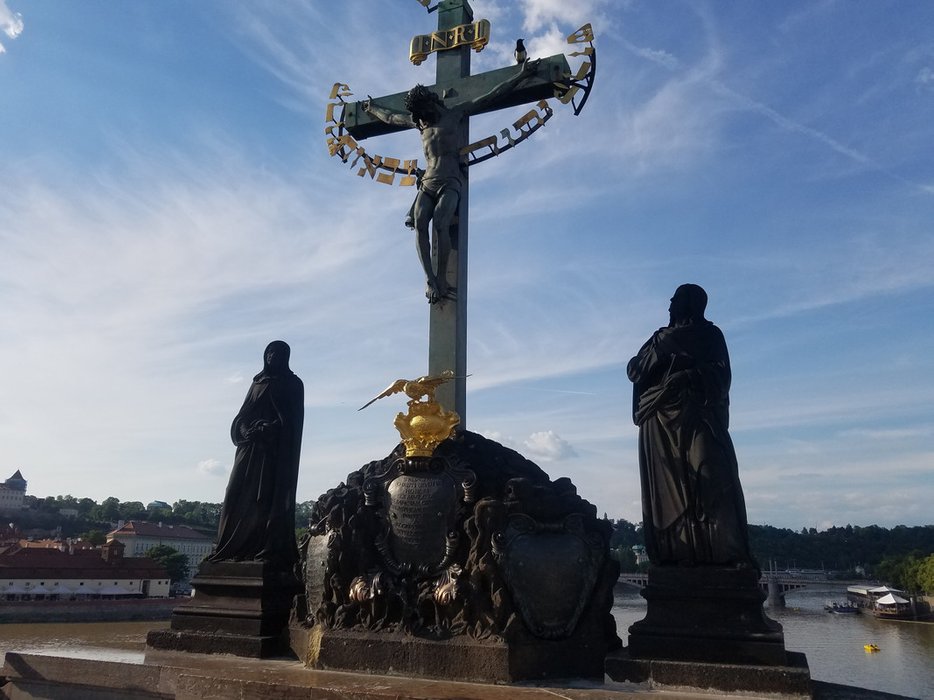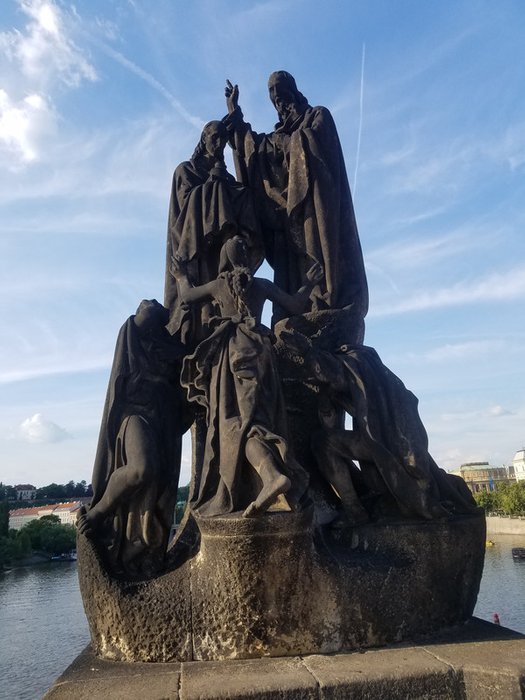 (I stood here for a minute hoping that this pathetic looking family would move out from under the statue. Nope, they stood there eating their ice-cream, oblivious. Nothing wrong with that, they just didn't give off the most winning energy.)