Hello there, little Bees of the Hive!
It's been a long time since I published something for the #MarketFriday initiative by @dswigle. It's about time I share a new post. Please check out @dswigle's latest post here: Market Friday Breaks Her Fast 😉
This little market was set at the entrance of Vila do Conde, on a square by the river, and it was one of the many initiatives organised by the city hall through the year. If you ever visit Portugal, don't forget to take day or two to know Vila do Conde, as this kind of initiatives are a constant all year long... Nearly every weekend there is a different outdoor event going on.
As soon as I got to that place, called Parque da Memória (Memorial Park), I saw some activities directed to the kids, to keep them entertained while their parents went browsing at the various stands and stalls.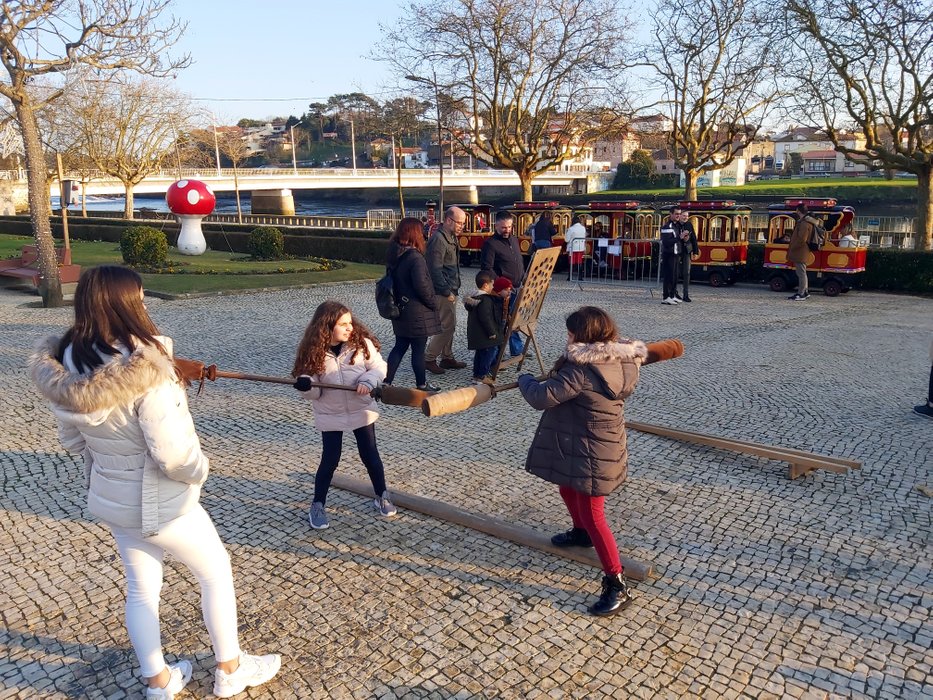 Here's a brief animation of the two girls playing this well known game based on a medieval form of battle.
(Click Here If the Animation Isn't Loading...)
Other kids preferred to ride a train that was circling the square...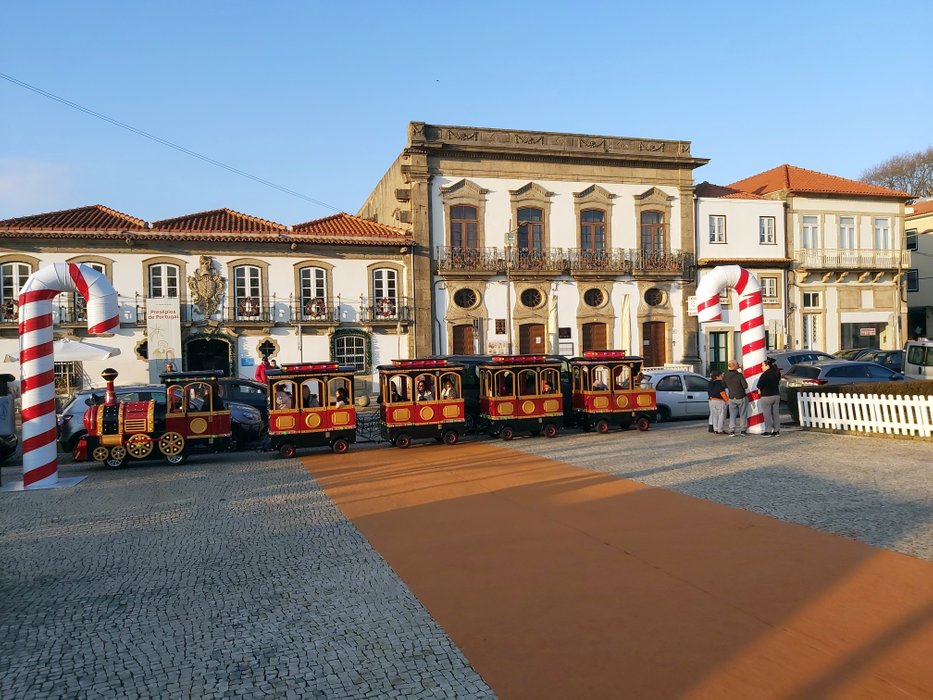 The ride would start on the other side of the square, by the river... and the train would start moving when enough kids (and adults) were on board.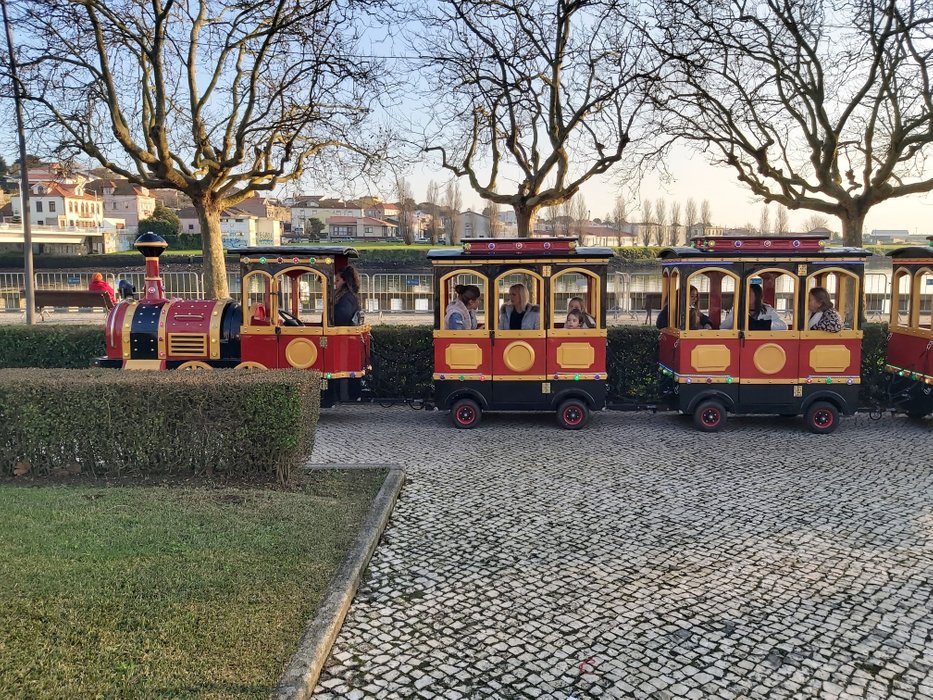 The train would then go around the square a few times and would stop at the starting point, where other kids were already waiting for it...
... and no, there was no need to buy a ticket. The train ride, exactly as any other activity available for the children, was free. 🤗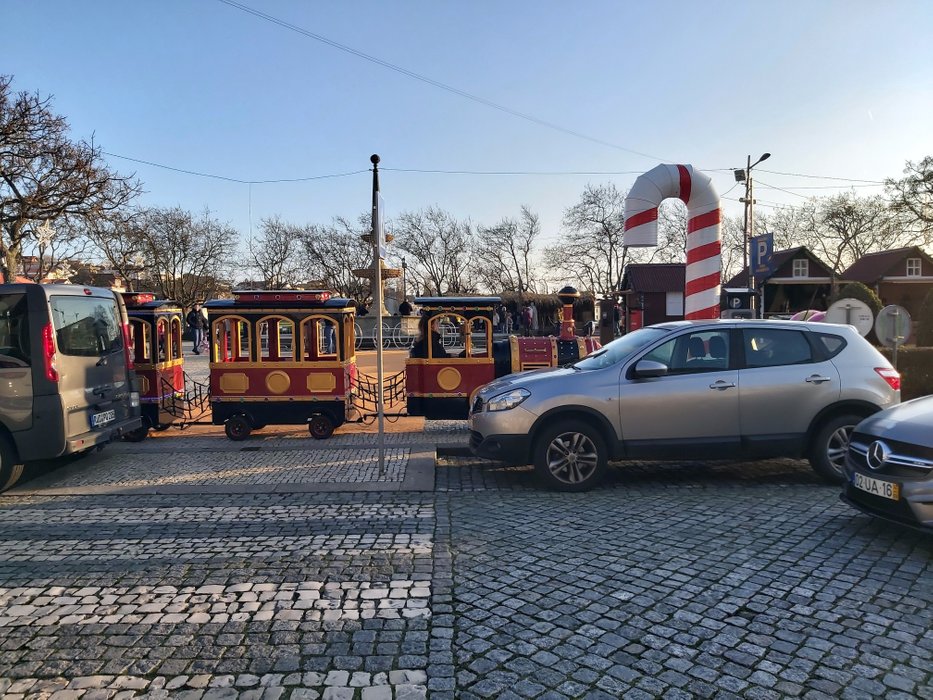 A few parents would stay by their kids, to make sure they didn't do anything stupid, wrecked anything or picked up a fight with their siblings. 🤭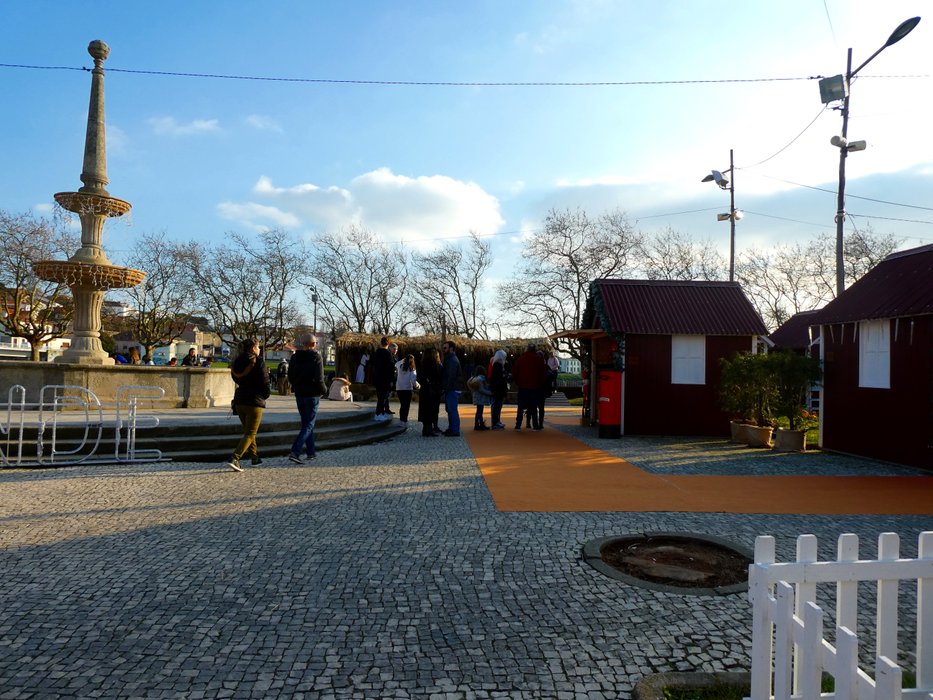 But most adults would trust their kids to stay alone for a few minutes while they went to check the available shopping stands, grab some souvenirs, some delicacies and something to eat and drink. 😋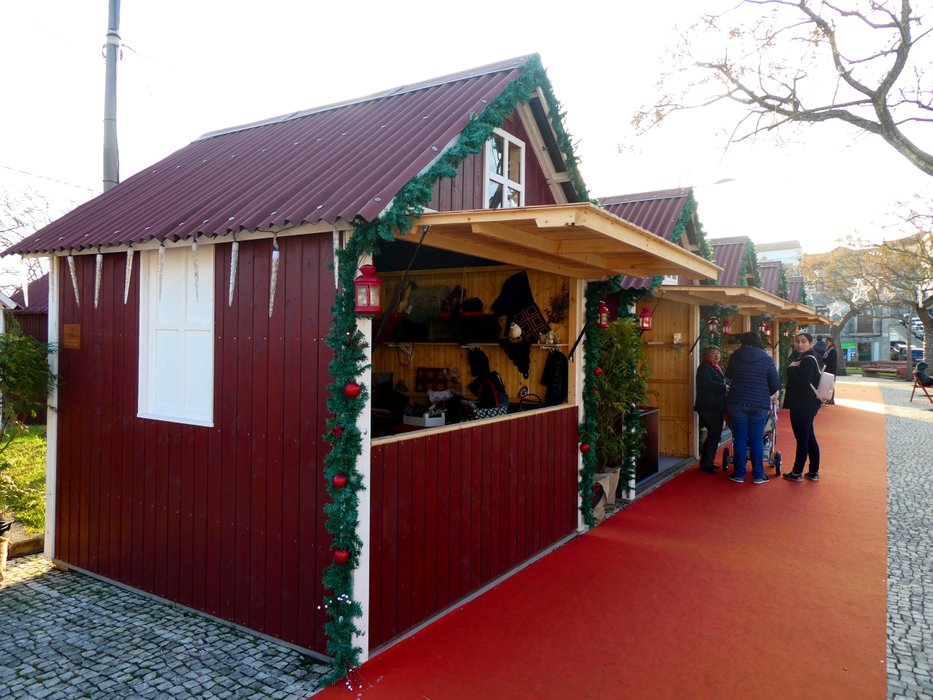 As you can see, the various stands were decorated with a Christmas theme... both on the outside and on the inside.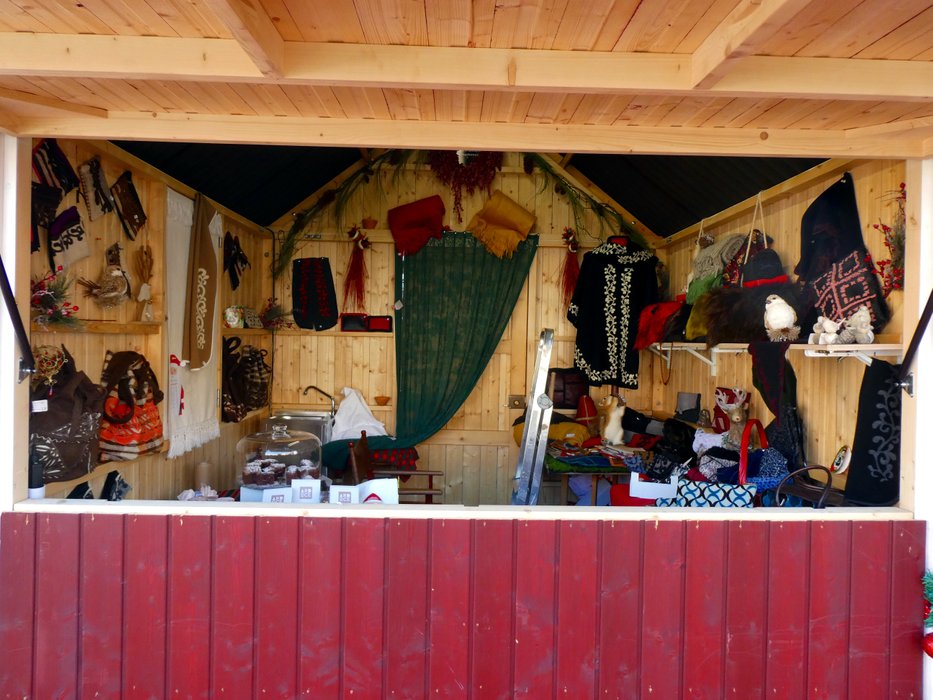 This one was full of clothing and had a few homemade jams, too. Here's a closer look at the inside.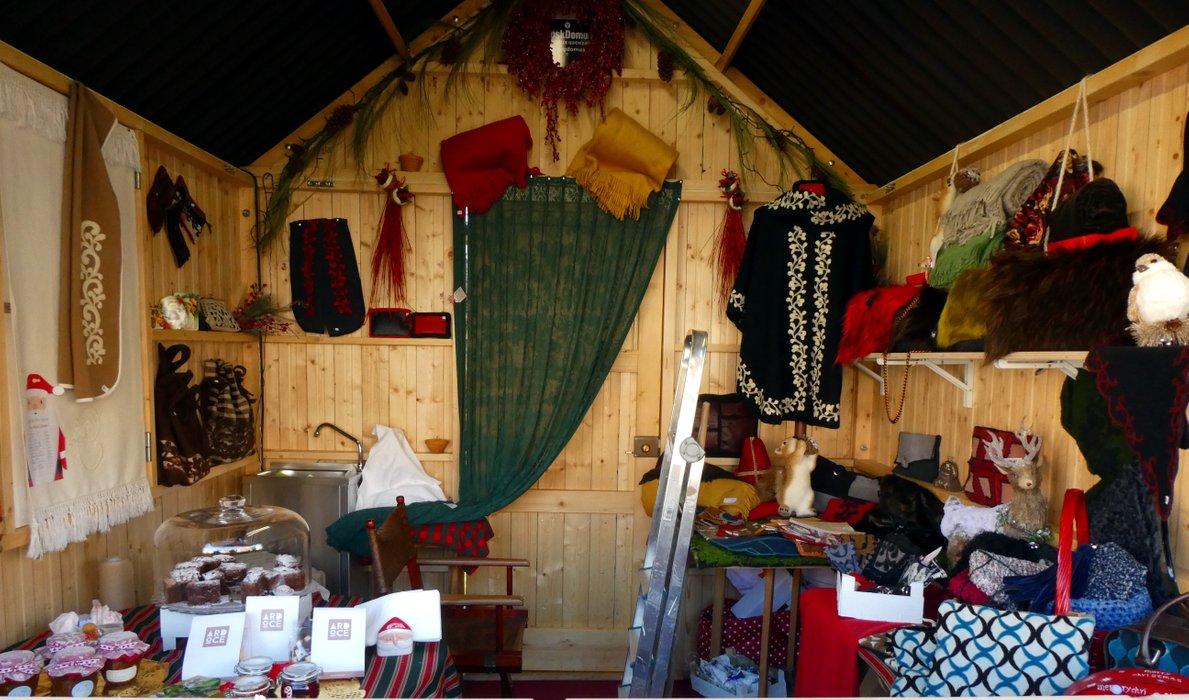 The next stand was promoting a product very associated to the fishing villages of Portugal - the Bobbin Lace.
These works are still manufactured according a traditional technique, mostly by hand and without resorting to any mechanisation or automation, but the kind of people who buy it nowadays are mostly tourists - while in the past these were products directed to a more elitist target audience: the noblemen and noblewomen of Europe.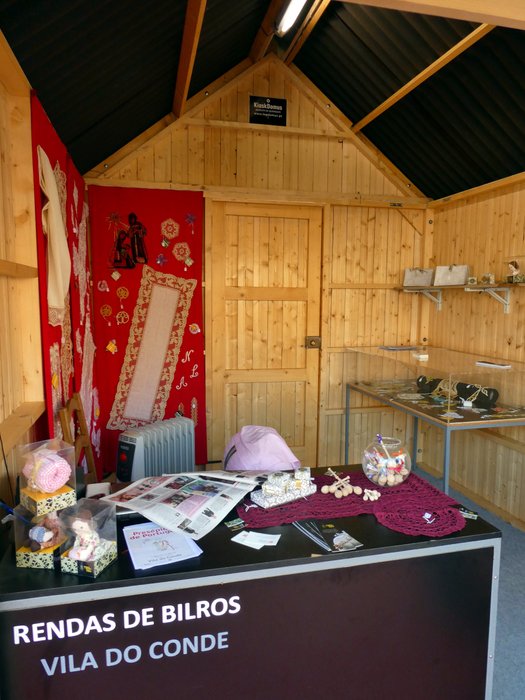 The neighbouring stall was full with products made of animal furs and leathers, which will probably be something the animal defense organisations won't like... but the techniques to produce these products are being passed from generation to generation for a long time... and that tradition is not going away from one day to the next.
Here you could find all sorts of stuff, from slippers and handbags... to rugs and table cloths.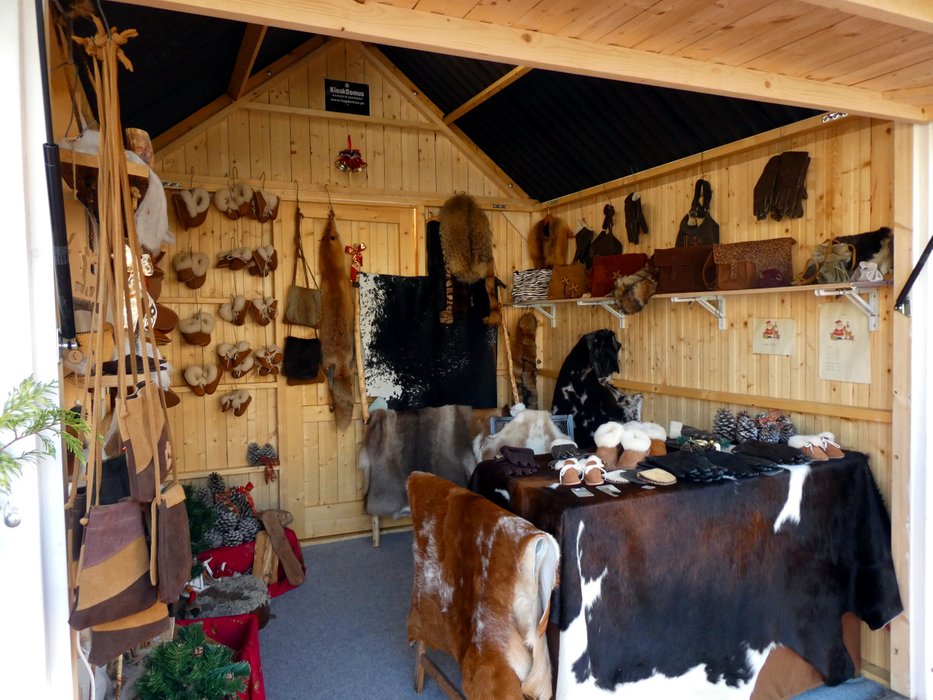 There was another stall dedicated to these sort of items, but instead of leathers and furs they were manufactured with more sustainable types of fabric.
This vendor should appeal more to the animal lovers...
You could also find some handbags, rugs and table cloths here, among other stuff, such as bijou and all kinds of necklaces, pendants and bracelets.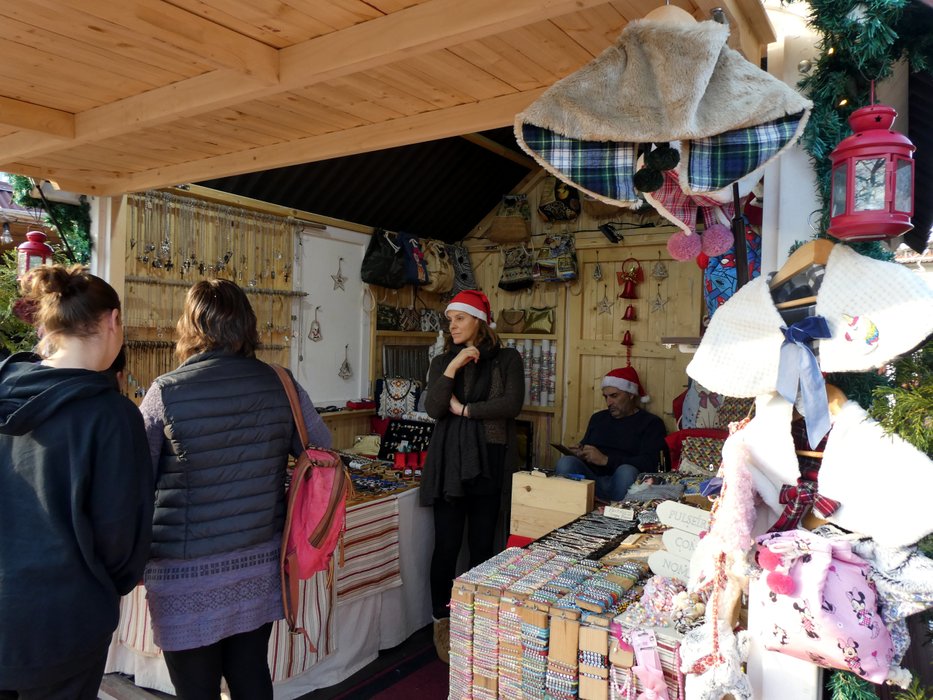 ---
While the above stands were more popular among women, the men and children would prefer the remaining stands... which were, of course, focused on edible delicacies and drinks from all over the country.
This stand was all about crêpes - both sweet and savoury. You could choose from a wide variety of filling flavours and for many, just one crêpe wouldn't be enough. Of course, eating more than a couple would have its consequences, as this girl was realising... 🤭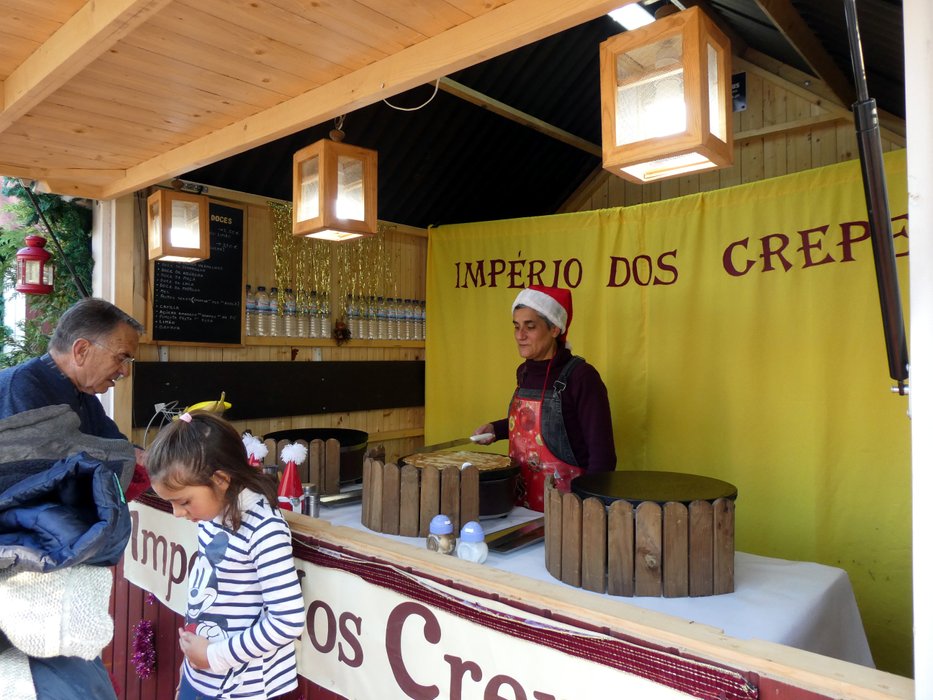 She was holding up her stomach... clearly she ate more than she could handle. Ahahahhah! 😁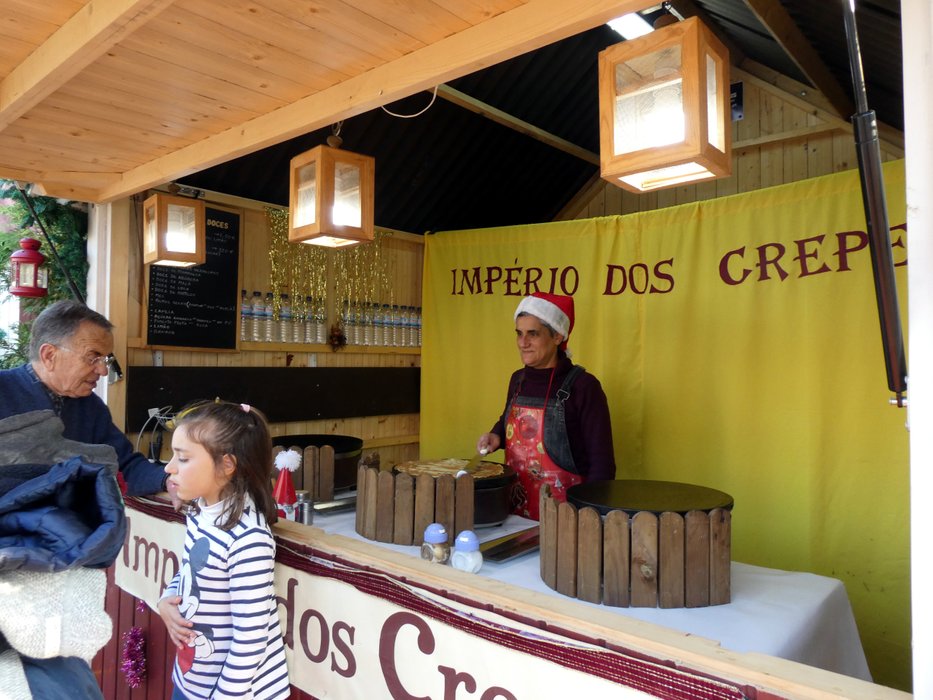 As soon as she realised someone was watching - me - she tried to conceal it save face. Too late, kid - I had already caught you! 🤣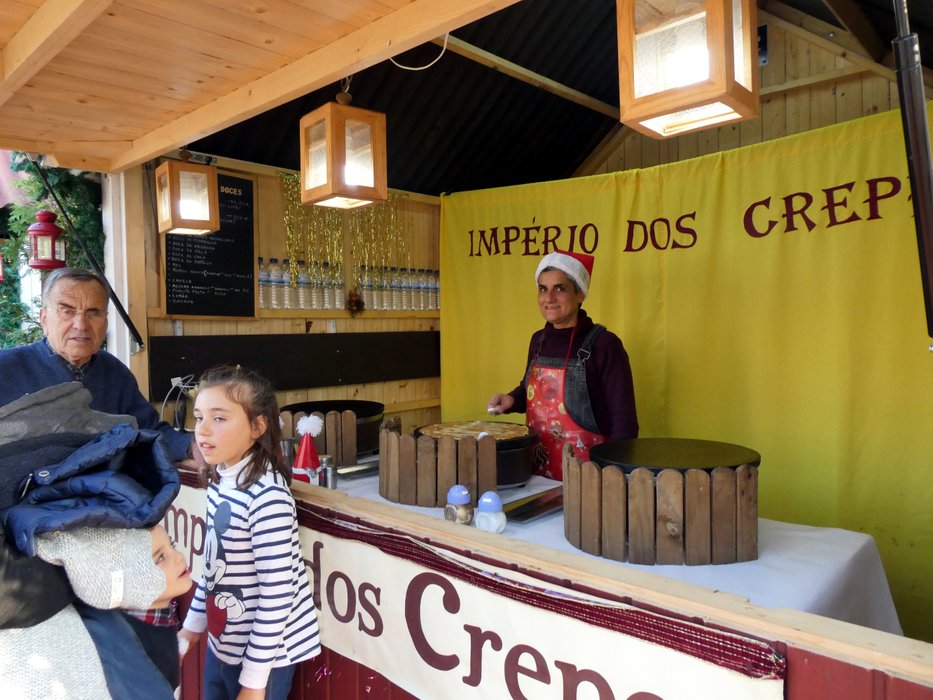 Her father and the vendor saw me laughing at her too... and made some cool expressions. 🤭
Right next to that stand there were a few tables for people to sit, relax... and taste some of the delicacies and sweets they bought.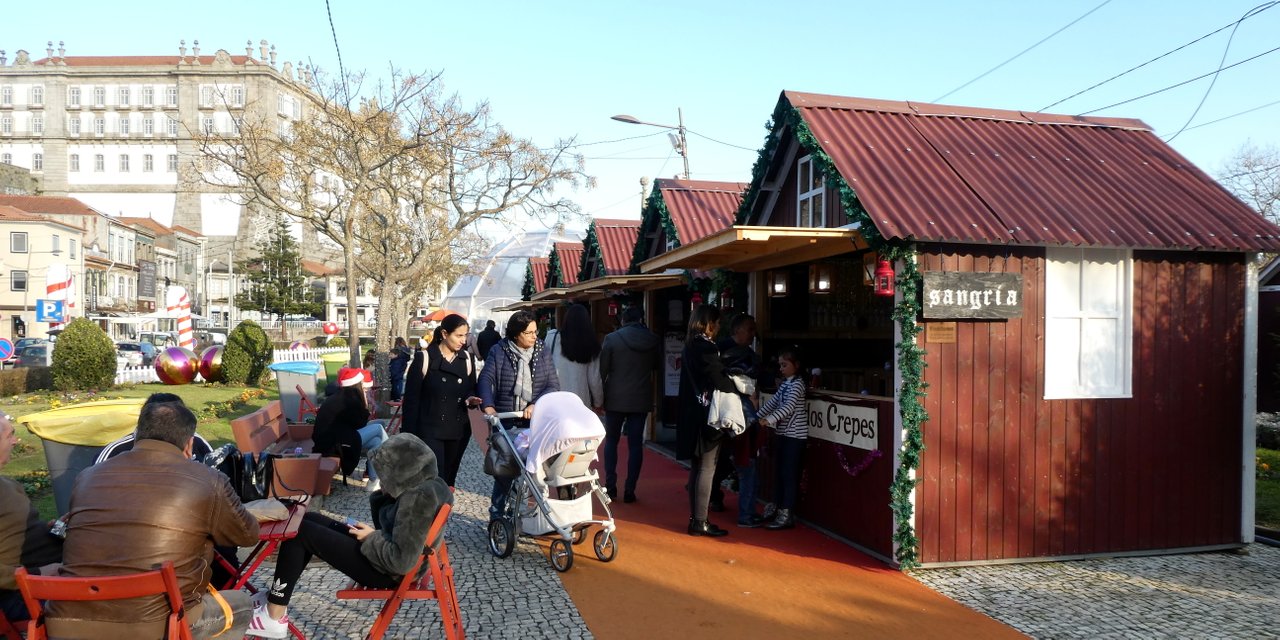 Next to this, there was a place selling a traditional drink from Óbidos - a city in the Center of Portugal.
This drink is called Ginja and it derives its name from the fruit it's made from. That fruit is the morello cherry ("ginja" in Portuguese), which are harvested from the morello trees ("ginjeiras" in Portuguese), grown in orchards ("ginjais" in Portuguese).
It is a very sweet alcoholic drink but also quite strong and because of that, you have to be careful and not fall into the temptation of drinking it as if it was a juice. It is usually served in a little shot glass... so that people avoid the mistake of drinking too much of it. 😉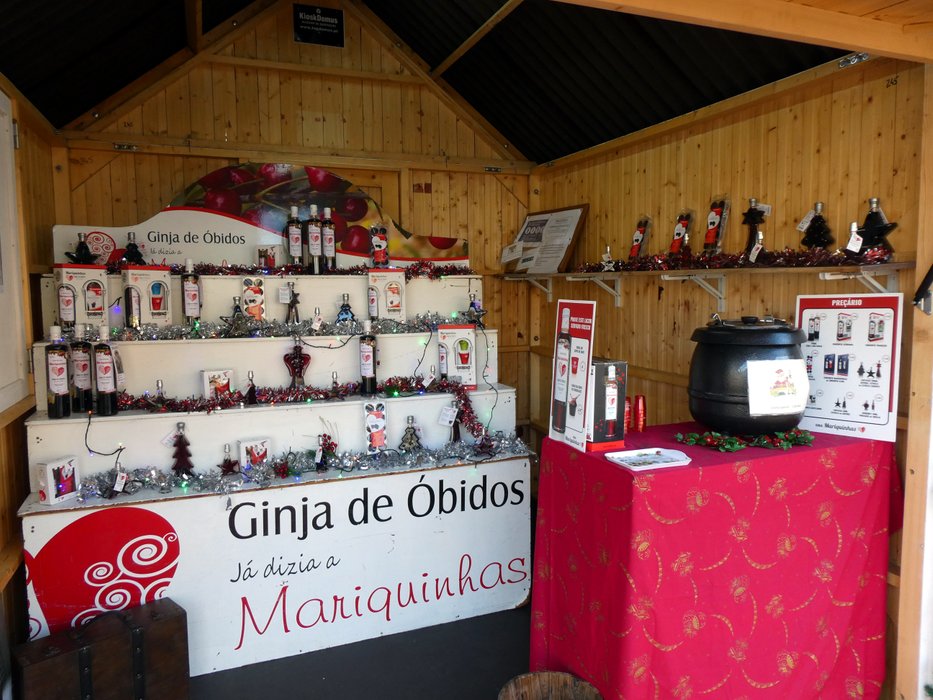 The sign on the stall reads: "Ginja of Óbidos - It was already told by Mariquinhas."
This is a reference to a classic Fado song from Portugal, immortalised by Amália Rodrigues:
One of the verses reads...
| Portuguese | English |
| --- | --- |
| Recordações de calor | Warm memories |
| E das saudades o gosto | And I miss the taste |
| Eu vou procurar esquecer | I'll try to forget |
| Numas ginjinhas | In some little ginjas |
| Pois dar de beber à dor é o melhor | Because easing the the pain with some drinks is the best |
| Já dizia a Mariquinhas | It was already told by Mariquinhas |
| Pois dar de beber à dor é o melhor | Because easing the the pain with some drinks is the best |
| Já dizia a Mariquinhas | It was already told by Mariquinhas |
---
To the right of this vendor, there was a place dedicated to enchidos. If you don't know what it is... and you are a meat eater, then you're missing out on one of the greatest guilty pleasures in the world.
These products are traditional to the Iberian Peninsula (Portugal and Spain) and they are basically fermented sausages.
However, there are hundreds of different types of enchidos, with all sorts of flavours. The first stand in this row dedicated to food sold a few varieties of enchidos but only a small sample of the market, really.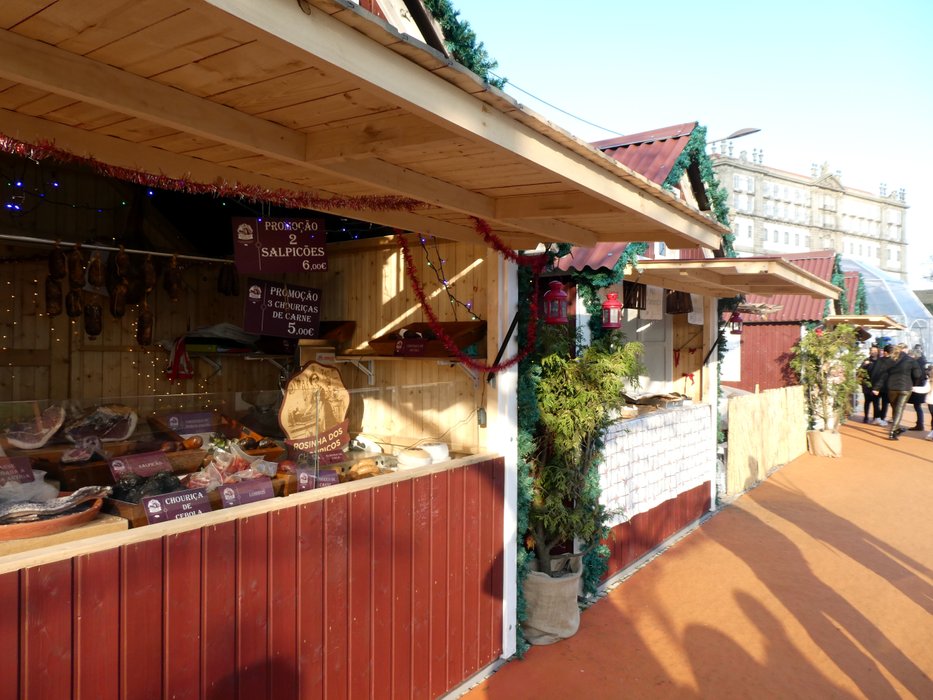 These products are usually salty. Since they are manufactured with a technique which removes most of their water - while maintaining a high level of salt - they can be stored at room temperature for a very, very long time.
This kind of products were one of the main reasons some Portuguese cities were able to sustain long enemy sieges without their population starving to death, in the past... They were also used to stock the ships used in the 16th centuries, where sailors would set out to explore the world and reach distant places such as Brazil, India and Japan.
One example is the enemy siege of my hometown of Porto which lasted 13 months, from July of 1832 to August of 1833.
We've learned about all of this stuff when we were in school... so my memory might be a little fuzzy. I beg your pardon if some of this info isn't 100% accurate...
A traditional dish called "Tripas à Moda do Porto" (Tripe in the Style of Porto) was one of the main meals of the population during such periods.
This is a dish made basically with beans, enchidos and white rice, ingredients which can be stored for a long time before they go bad. 😉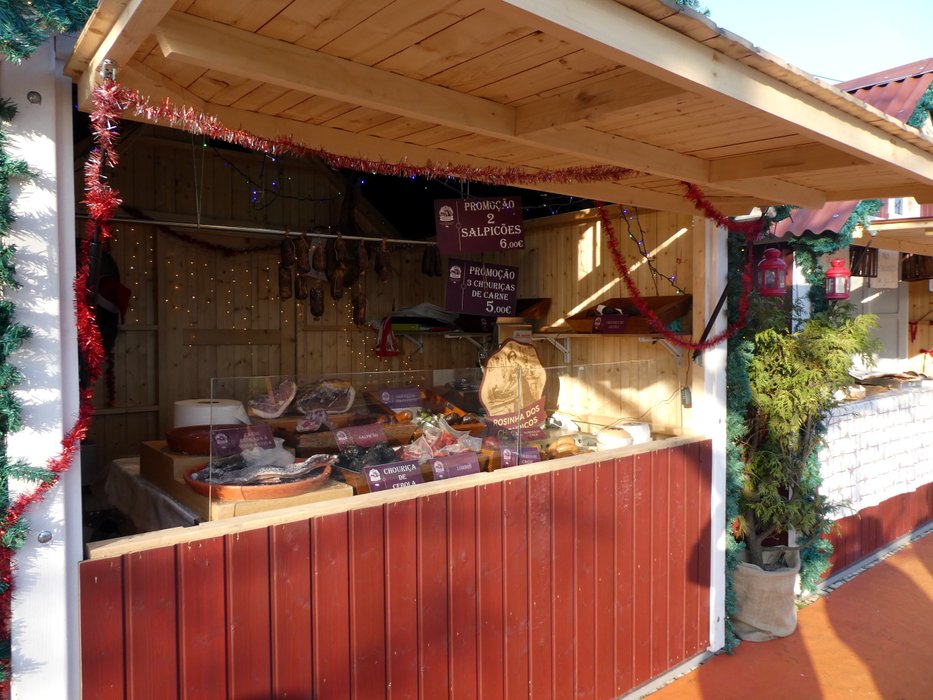 To the right there was another stand where some of the ingredients were also enchidos but here they used them to make sandwiches and delicious meat-cakes. 😋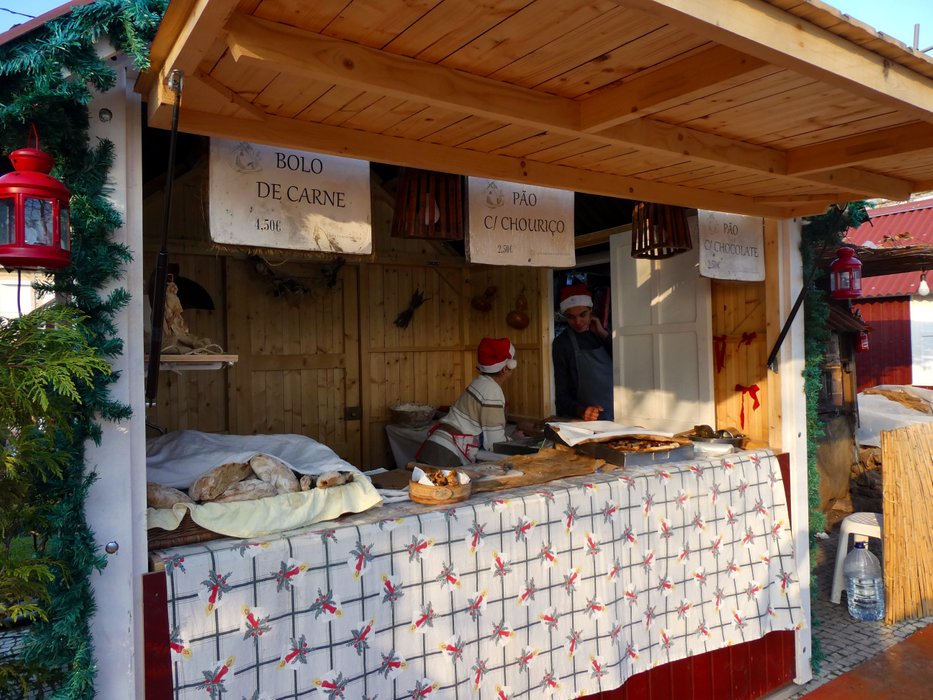 Of course, the desserts weren't forgotten. Over here there was a stand which dealt with all of that.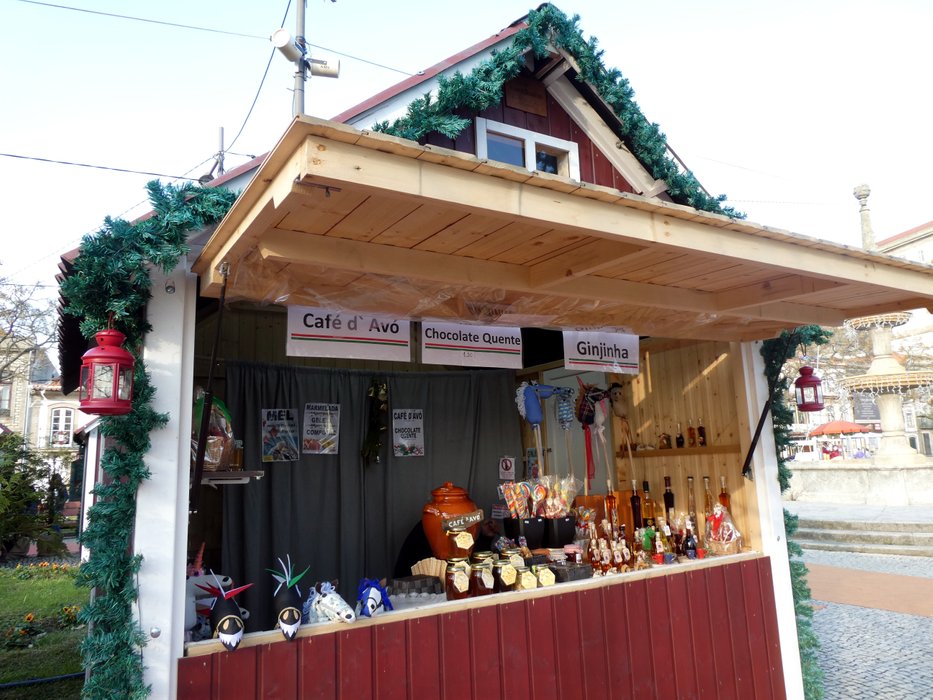 Here is a closer look at the products they had, which included marmelades, jams, jelly, honey and a few drinks, too... such as coffee, hot chocolate and ginja.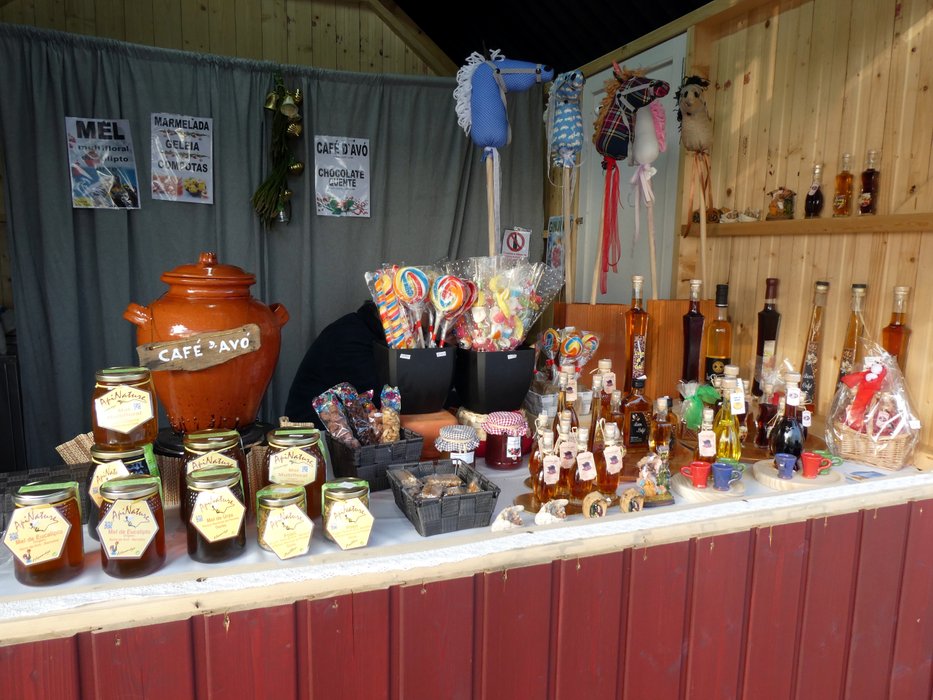 After we circled the food and drinks section, we would reach the centre of the square again, where the kids were playing... and parents would pick them up and leave the market.
But before, they could experience some displays related to Christmas such as this life-sized nativity scene.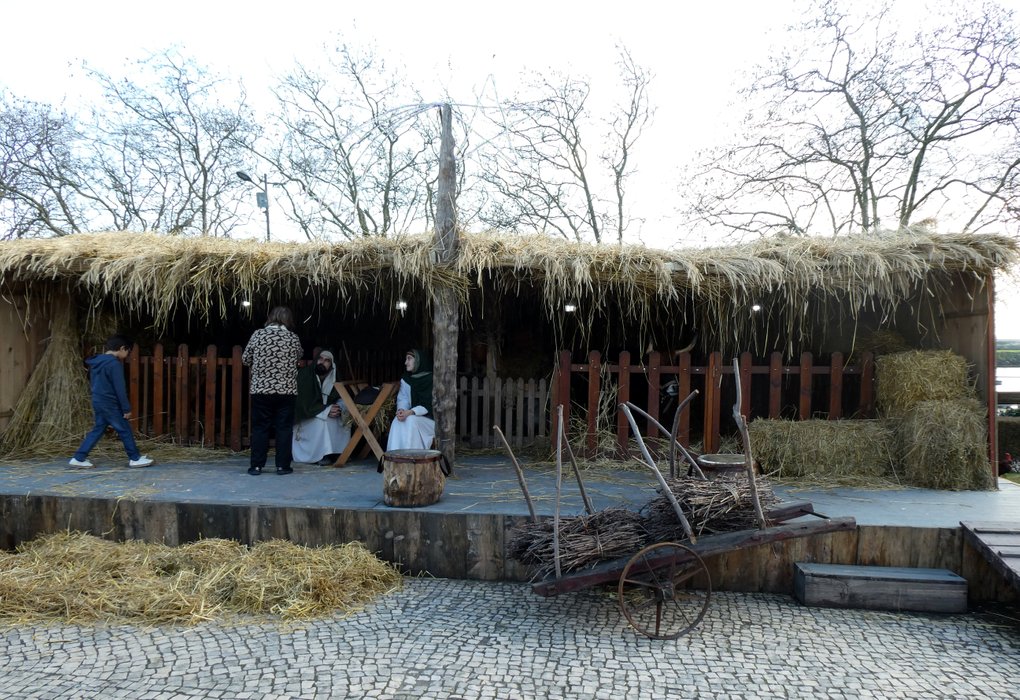 I've already shared a few of these photos in my post The Life-Sized Nativity Scene in Vila do Conde, earlier in January this year.
I've included a few different ones, this time. If you want to see the other shots from this set, please visit the link mentioned above.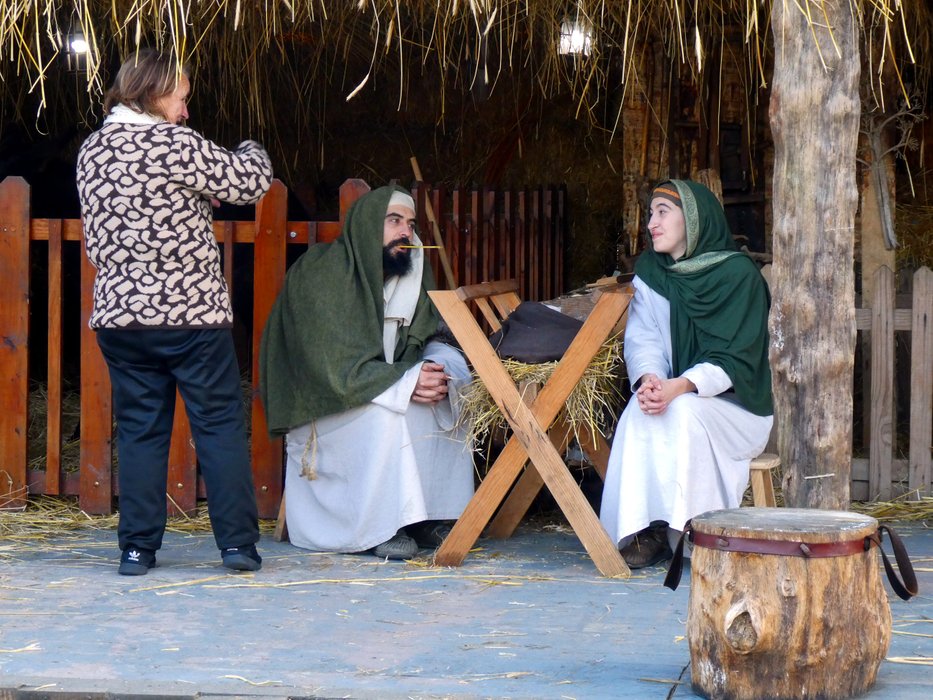 Joseph and Mary looked really cool on this shot, it's one of my favourites.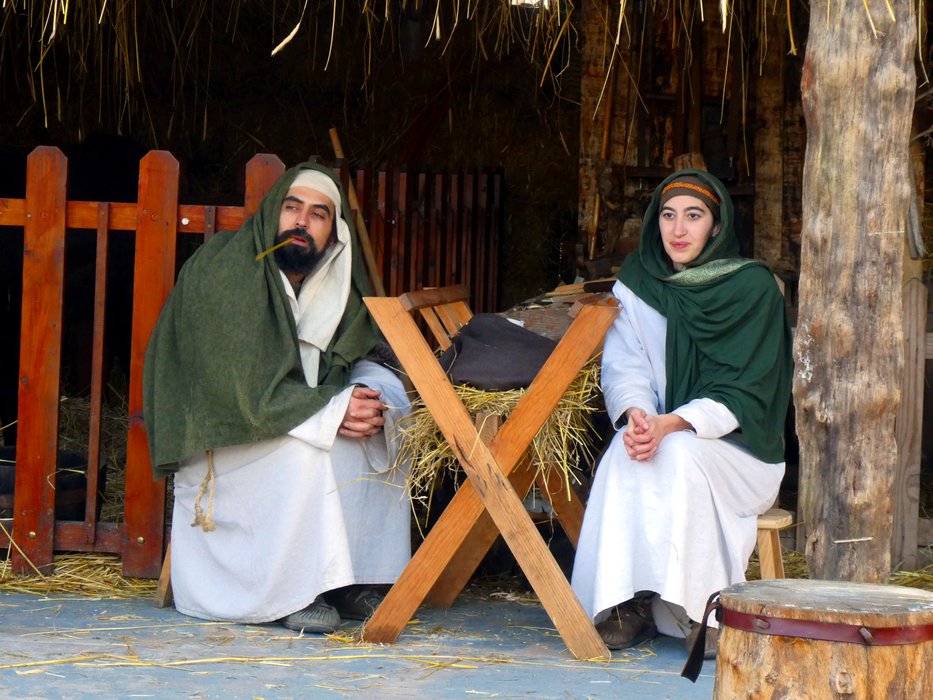 The cow was pretty relaxed and had enough space to move around a bit.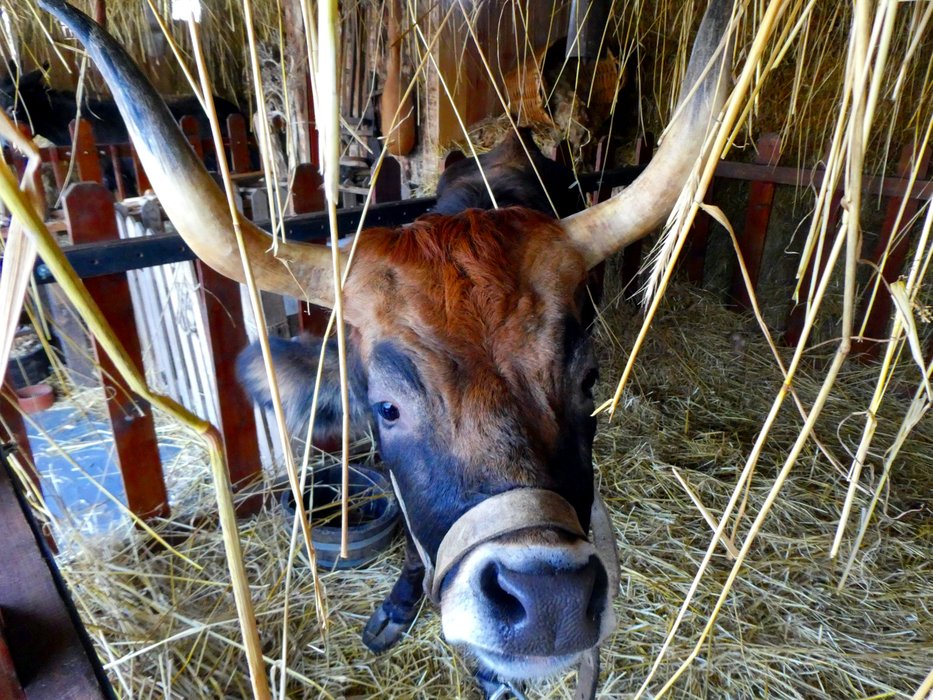 Near the above scene, there was another stand with a Santa Claus, waiting for the children to go ask him what they wanted for Christmas...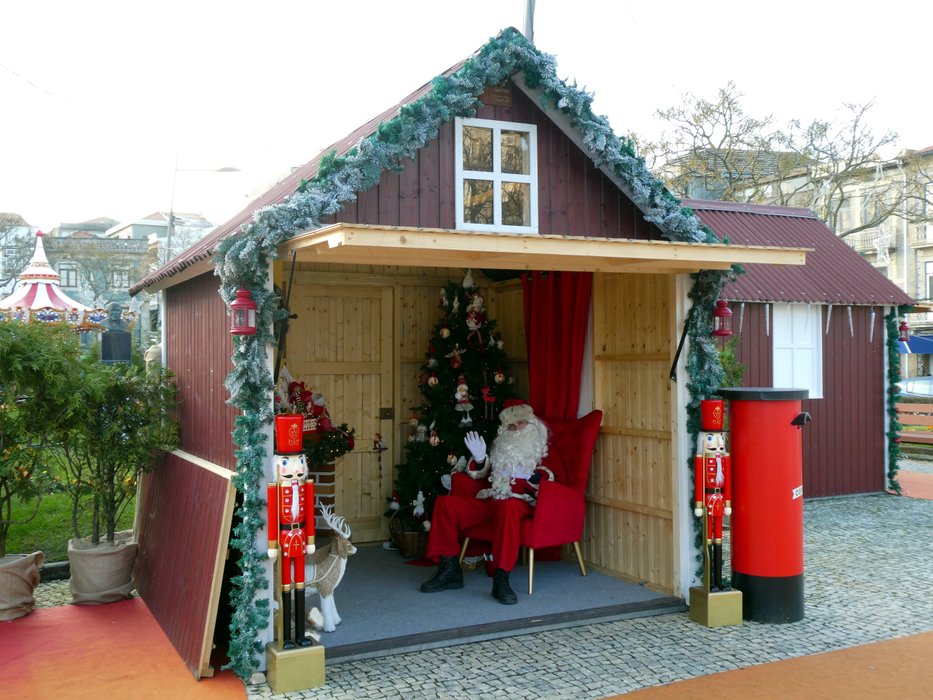 He looked quite content, even though he had to sit all day long in the same spot.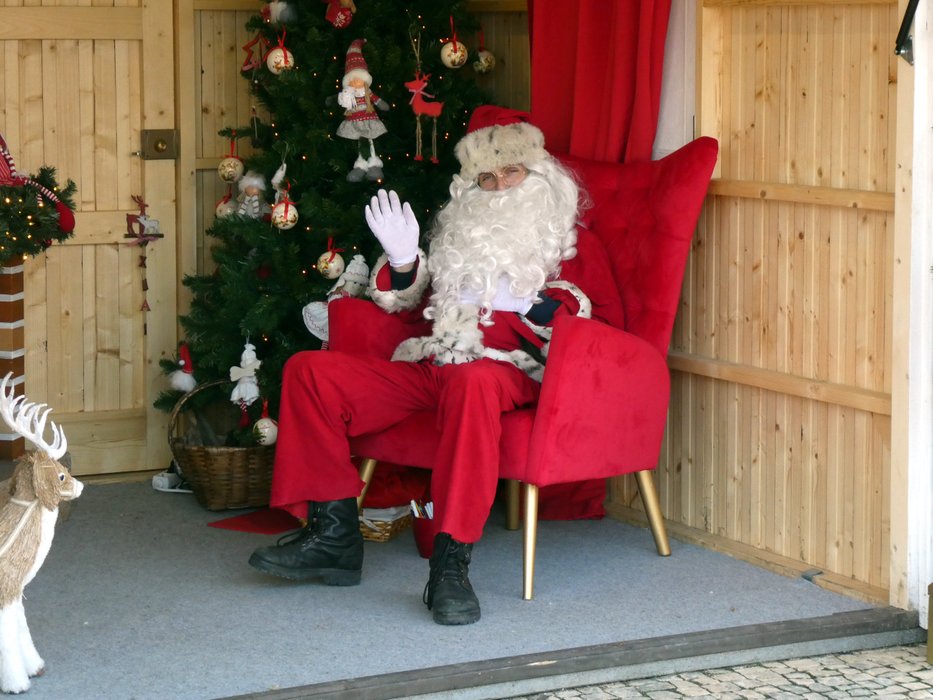 The only thing left to show you is this area, which included a covered area with a stage for night concerts... and a lady selling popcorn and sweet cotton candy.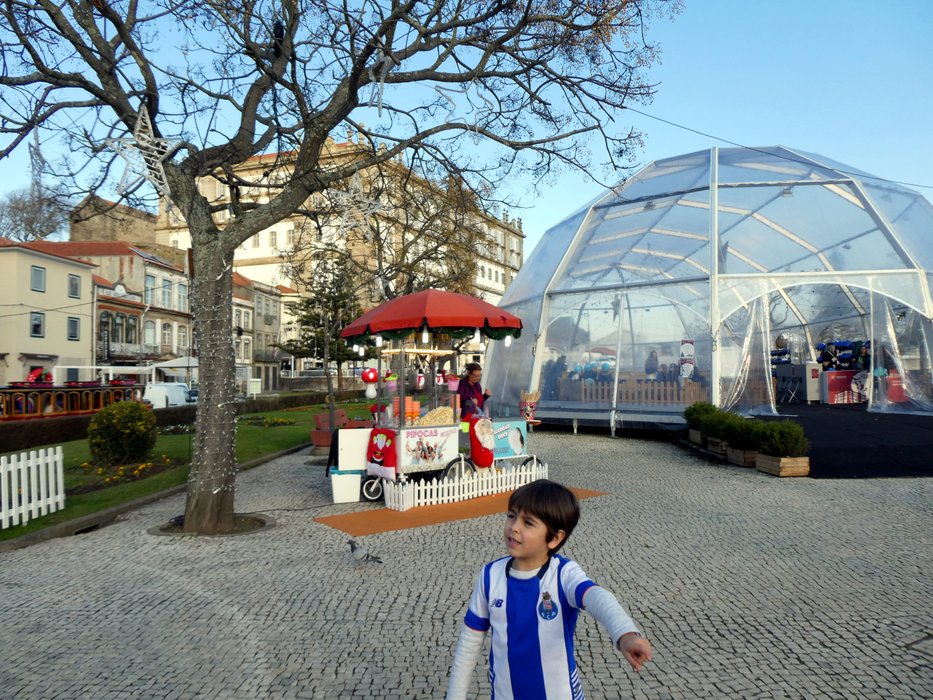 This kid had his dose already and was ready to go meet Santa Claus.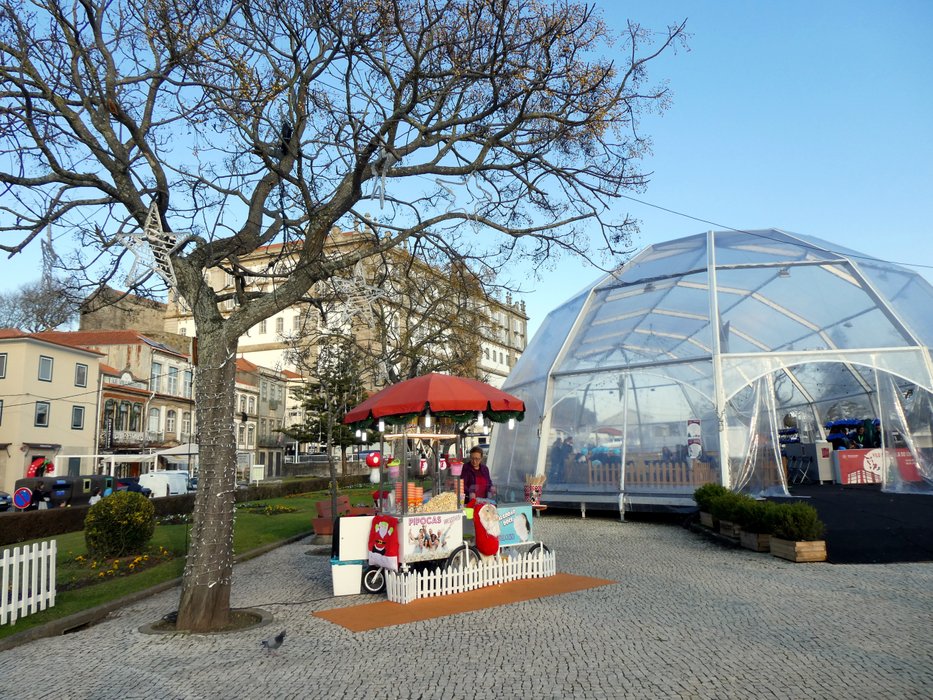 The lady had no customers at the time... but she was confident they would appear, so she was preparing another dose of sweet cotton candy. 🤗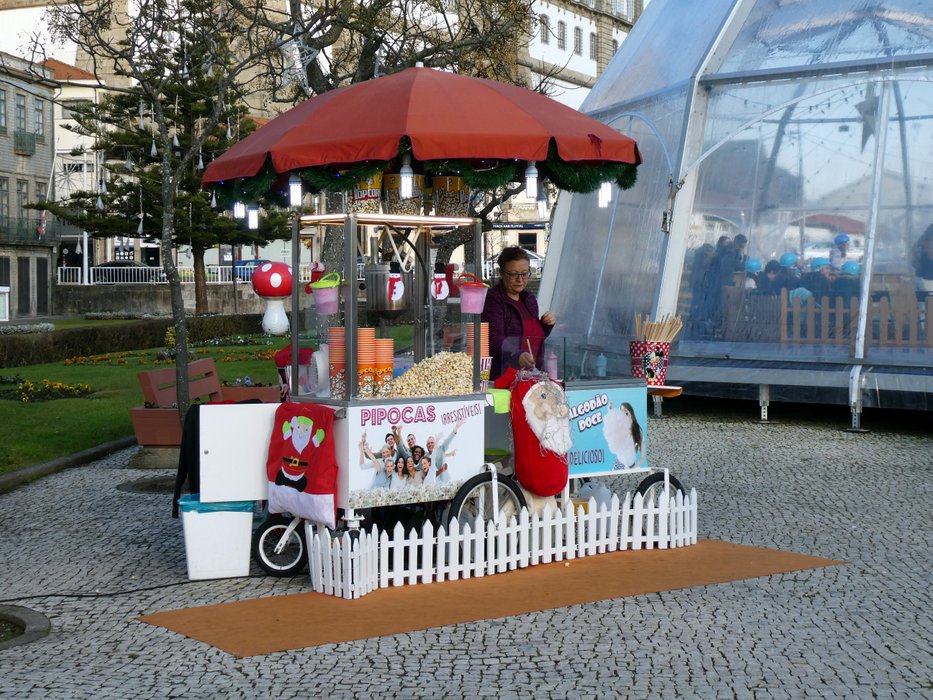 I hope you enjoyed the virtual tour to this temporary market.
These photos were taken on the first weekend of January, just a little before the event was over. The market was in place for around a month and a half, from mid-November to early January...
---
Location
Vila do Conde - Portugal
Cameras
Panasonic Lumix DC-TZ90
Samsung Galaxy A70
Photos
30 (Edited with GIMP)
Animation
11 Frames
---
Join us today... or any other Friday. Read @dswigle's post for more info: Market Friday Breaks Her Fast
---