We all have some days that we will remember forever, be it for something good or something bad that we experienced. There are many memories that fade away and get lost but there are others which will stay with us for all eternity.
The days of 23th and 24th of June of 2012 are two days I will never forget and whenever I think about these moments, I always smile.
I hope you enjoy this ride back my memory lane...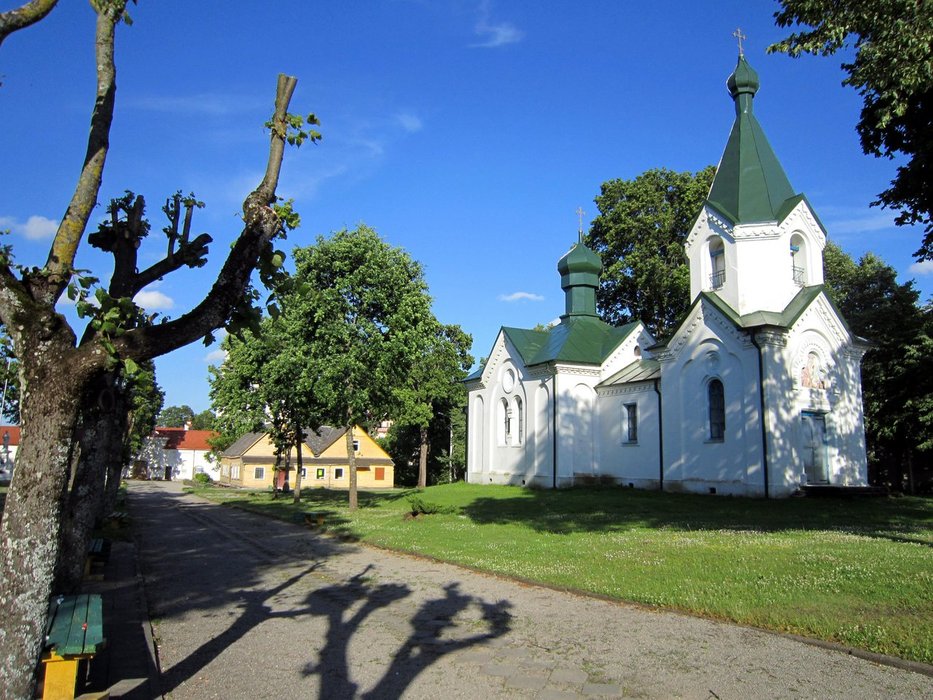 ---
It all started on a Saturday morning. I happened to be in Šiauliai with a friend when she found out that a group of local students were heading to a party by the Bridvaišis Lake, in Tytuvėnai. The party was a celebration to Saint John, which we also celebrate in Portugal, so we got curious... it was nice to see the Lithuanians shared some traditions with us. We heard there would be a party with music and drinks, so we tagged along. We didn't pack anything special, we just grabbed a few things, took the first available bus and went straight to Tytuvėnai.
After riding the bus for one our or so, we got out and gathered the troops.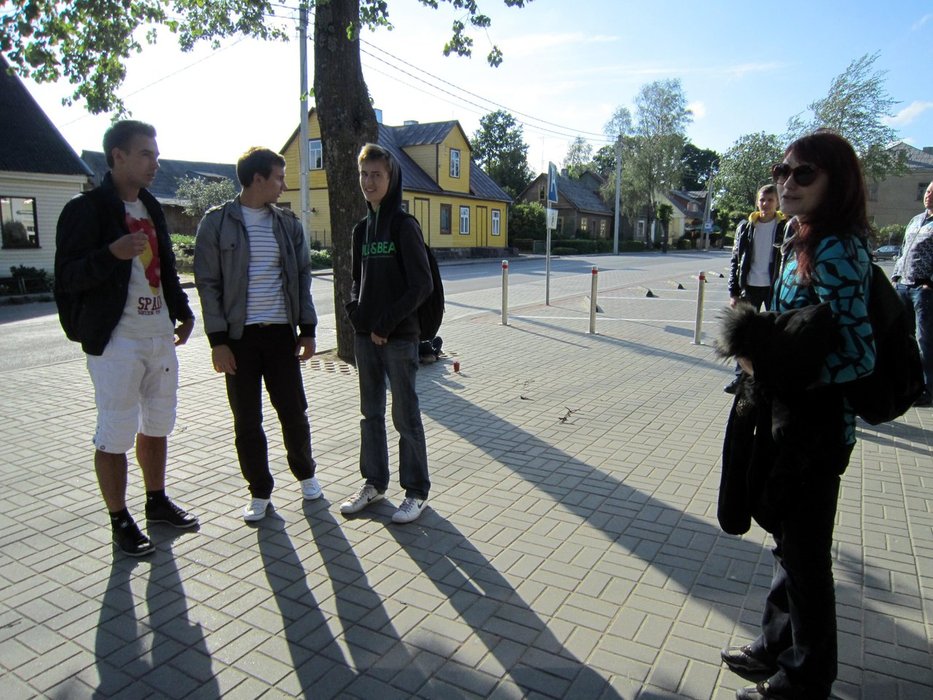 Taking place in the night of 23th of June, this holiday is a Christian feast day celebrating the birth of John the Baptist.
However, let's be a little realistic here. Over the years the festival has become less and less religious and more commercial and recreational. I'm pretty sure that over 85% of the people cheering on the streets don't even know what they're celebrating about! It has become a traditional party day, for people to unwind, to forget about work and other worries, to revisit old friends and to enjoy life for a night! Eh eh! 😂
All of us were looking for a party that day, same as almost everyone else out there. We took a quick look at the map and my friend led the way...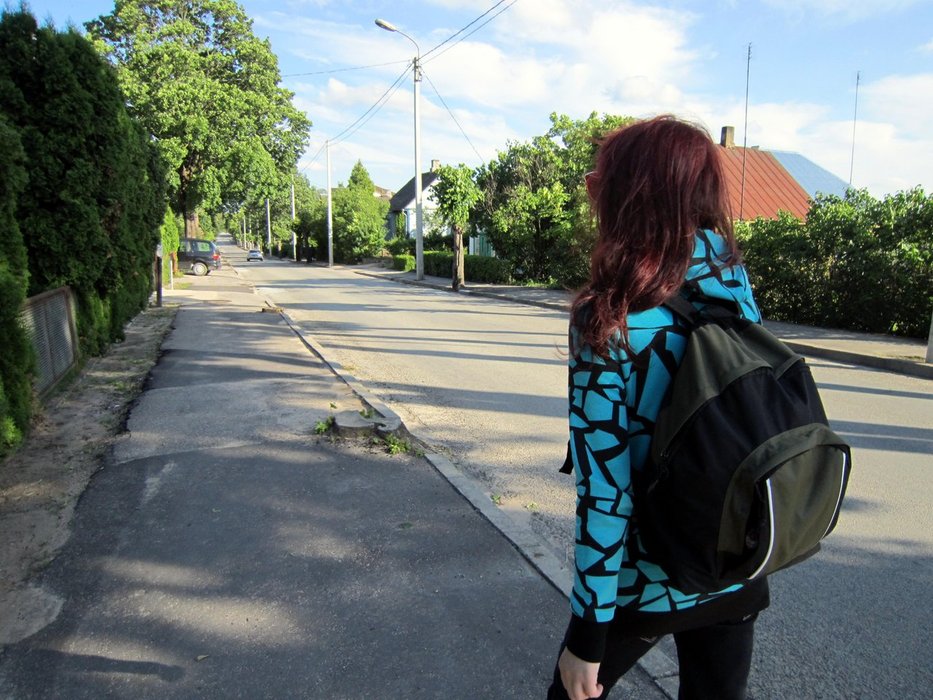 I kept falling a bit behind, briefly stopping here and them, to take a few shots of this cool little village.
This is a very small town, with less than 2000 people, but it's a truly beautiful one. There's an old charm to these constructions that take us back to a time when there were no computers nor electronics.
This wooden building is the local Library. How cute is that? It's also interesting to see that the word Library in Lithuanian is so similar to the Portuguese word and they are read in the exact same way: Biblioteka / Biblioteca.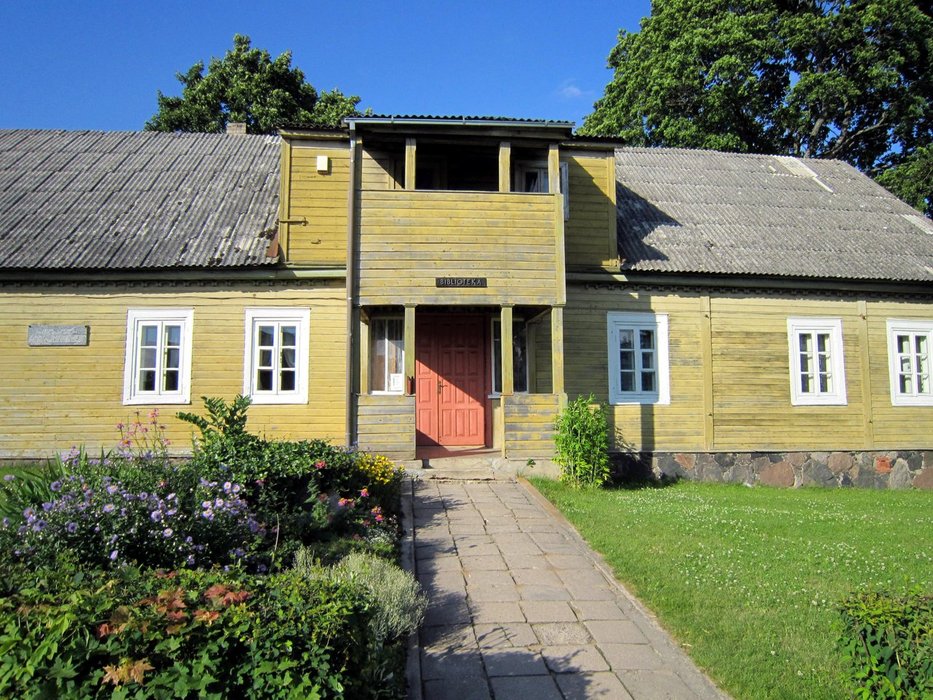 As soon as I stopped to take a photo, my friend kept going. She said we would be too late. She wasn't stopping for anything. My friend had only one goal in mind - and that was to reach the lake as soon as possible.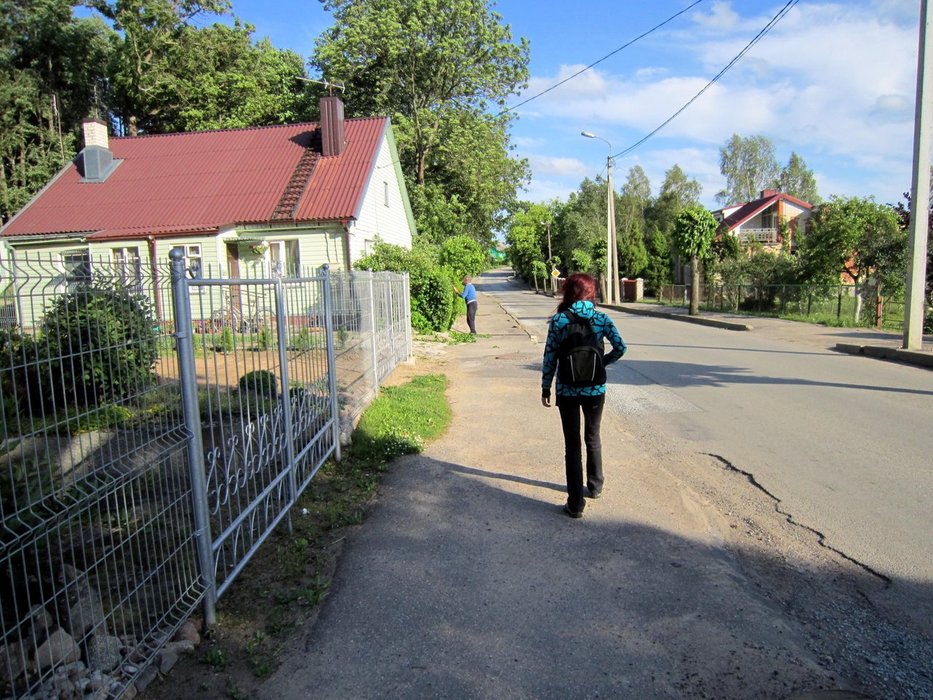 No, I don't mean this lake... this is nothing but a small pond, in the backyard of a villager's house. 😂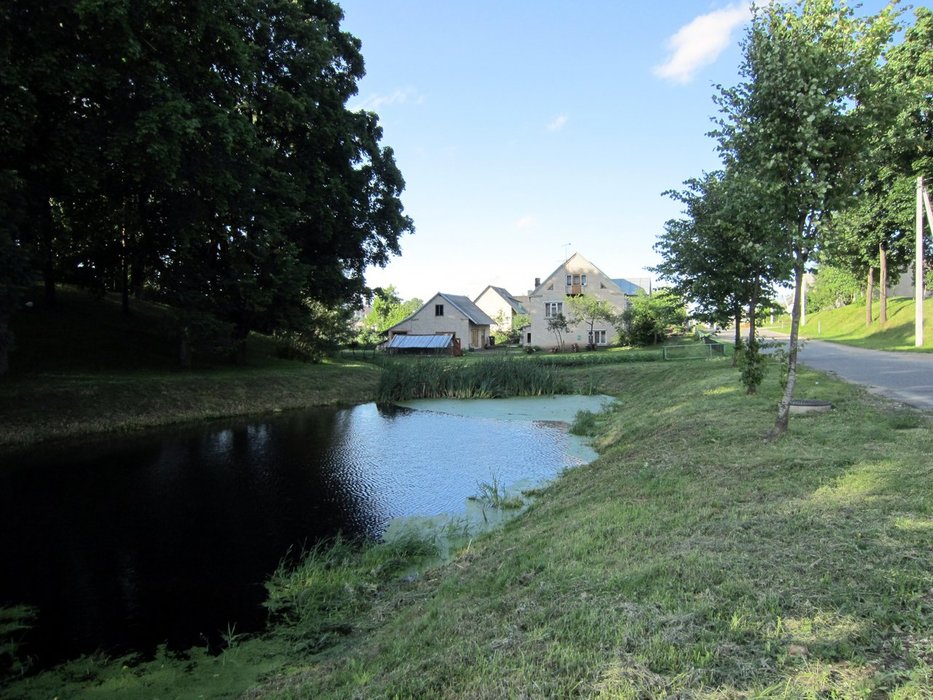 There are a lot of uncommon houses in the town, it looks like the architects were pretty creative around here. This one makes me think about old cartoons like the Smurfs.
The house seems a little tilted but I'd move there in an instant! 😄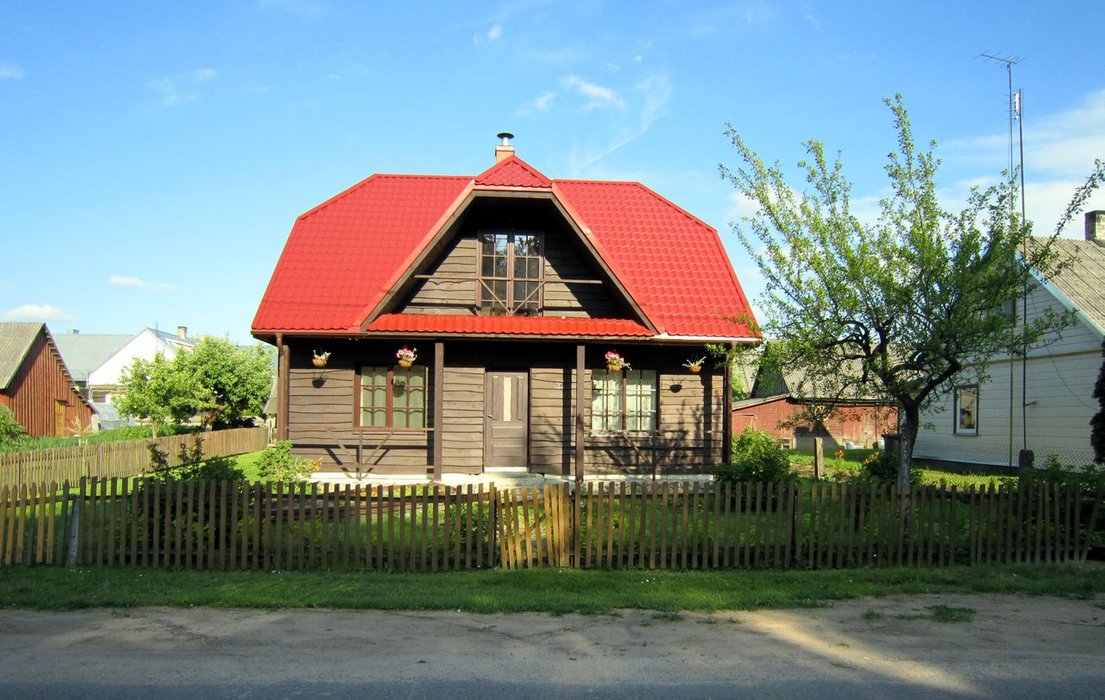 In small communities like this, it's quite common that people are more independent from our capitalist society than most of us. The local inhabitants make full use of their space and resources. They maintain their little farms and greenhouses fully functional and take care of them as if they are their most valuable treasures.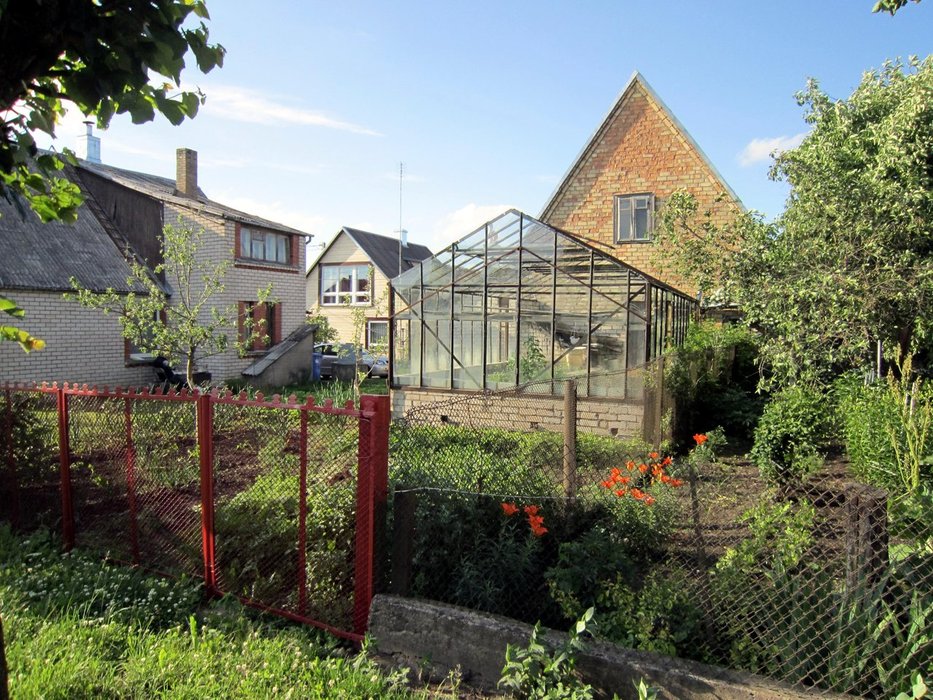 The security doesn't look very tight, I know. But don't let any stupid ideas get into your head. Don't you dare messing up or stealing anything or they will unleash their demonic dogs on you! 😂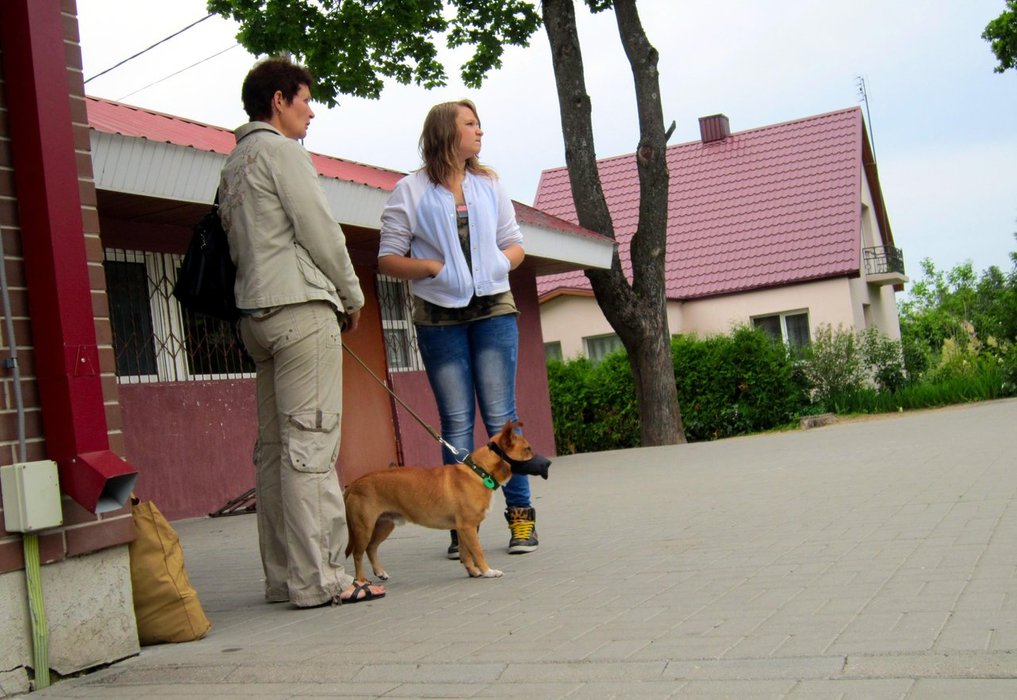 We kept walking through these lovely houses and neat lawns until our destination. The road was simple and straight and the air was changing: we could already sense the lake approaching.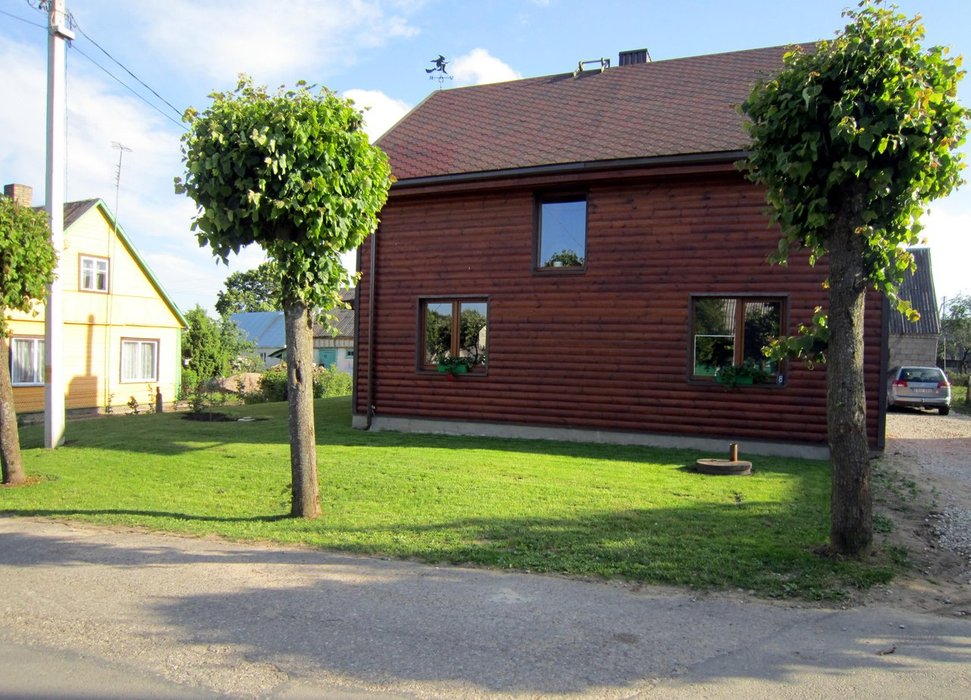 Finally, we arrived. The place was as beautiful as the guys had described it - and more. What a perfect place to enjoy a lovely afternoon.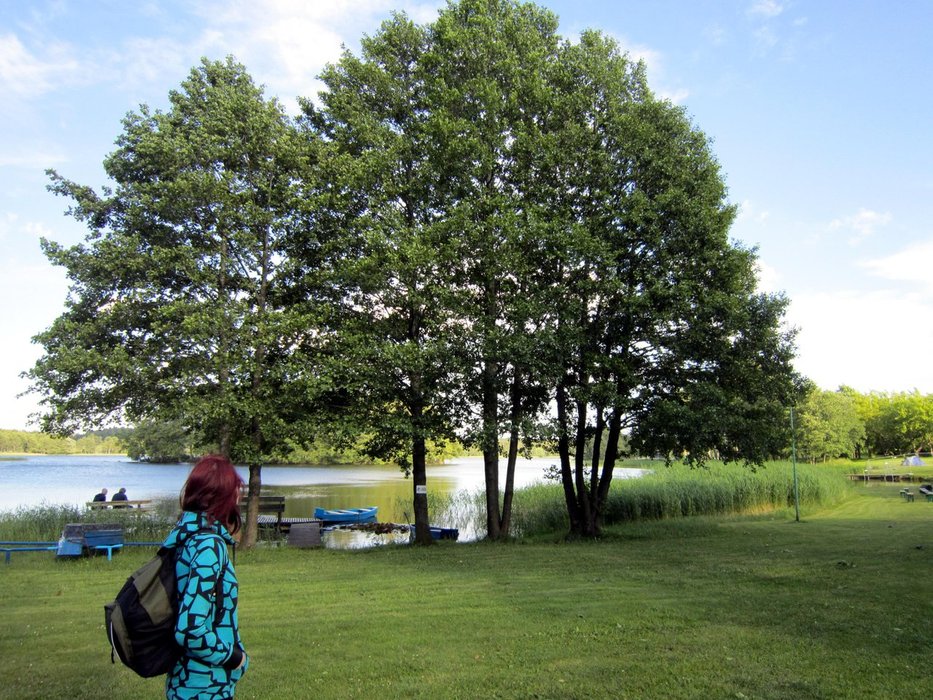 At this moment, we were all happy. The day was warm and shiny. However, the night would prove to be a challenge. Later on, we would face freezing temperatures for a couple of hours. 😱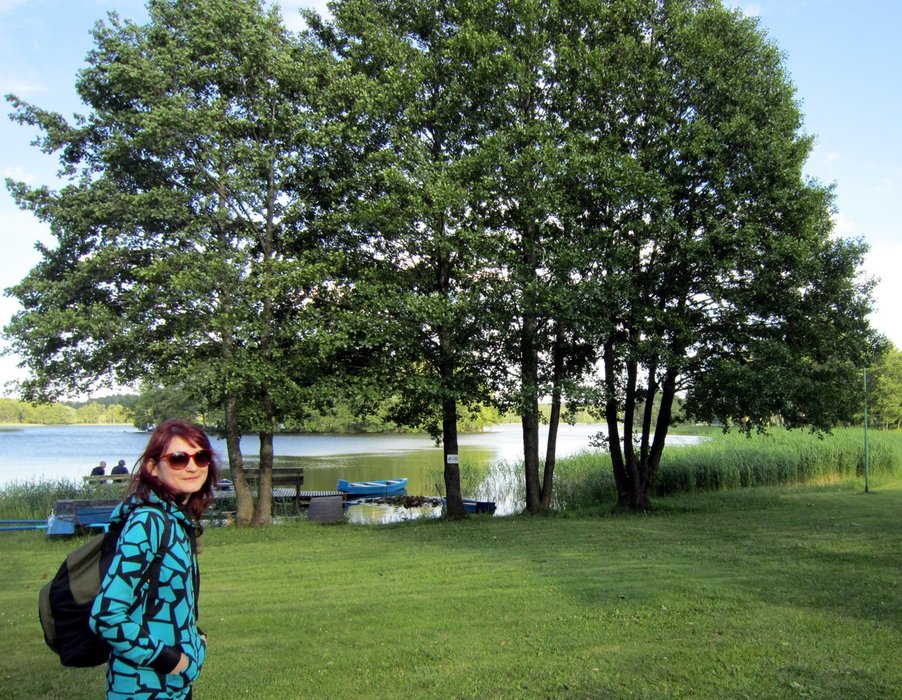 We settled down and prepared for the party. Apparently, my friend had been rushing for nothing. We were one of the first ones to arrive! There was no music, no place to get a beer. Nothing.
Yes! We were really that early! 😂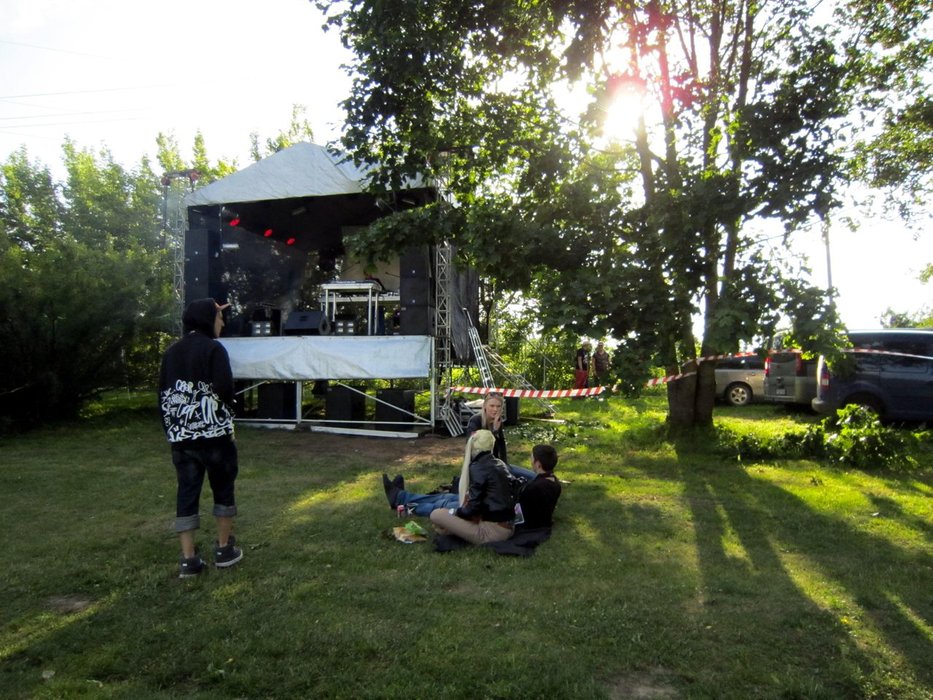 We chilled out and appreciated the view for a few more hours before anyone else got there. We had the whole place for ourselves.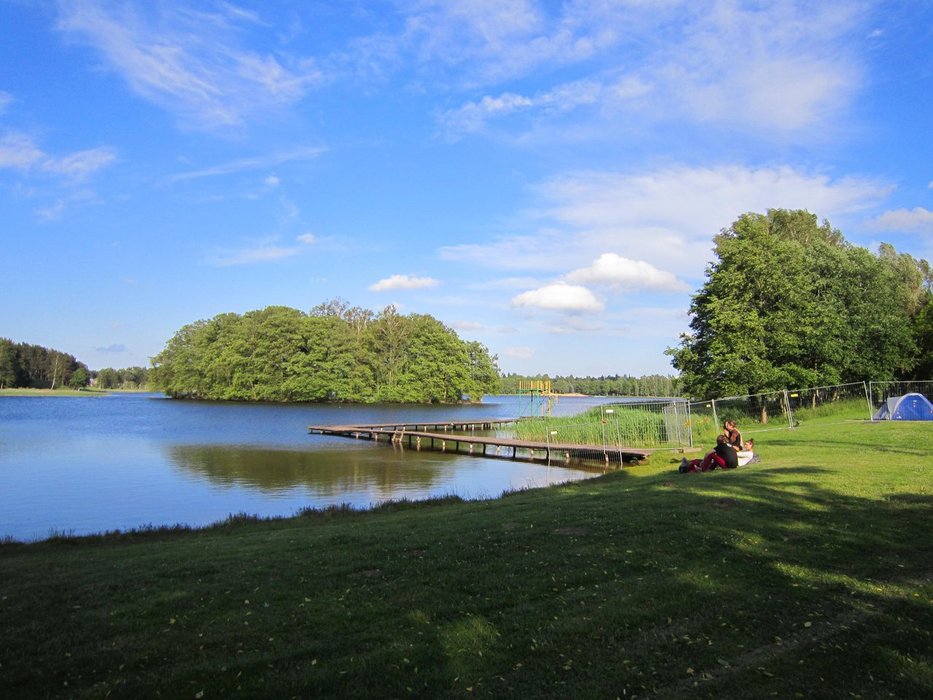 Then, suddenly, people started to pop up. The beer stands were opened. Music started... and lasted all night long. Everyone had lots of fun with the local bands and DJs. They made sure the party was a big success, with their unlimited flow of energy.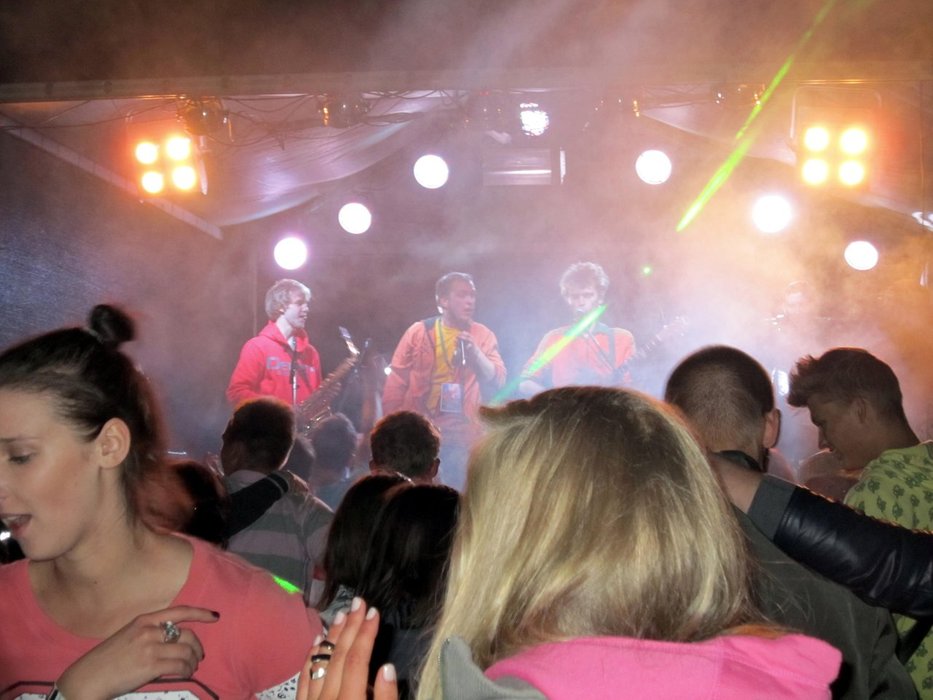 After the music stopped... only the strongest remained. And that means, us. One group at a time, people started leaving and we were the only ones there. The last couple of beers were ours, too! And the sun was up again.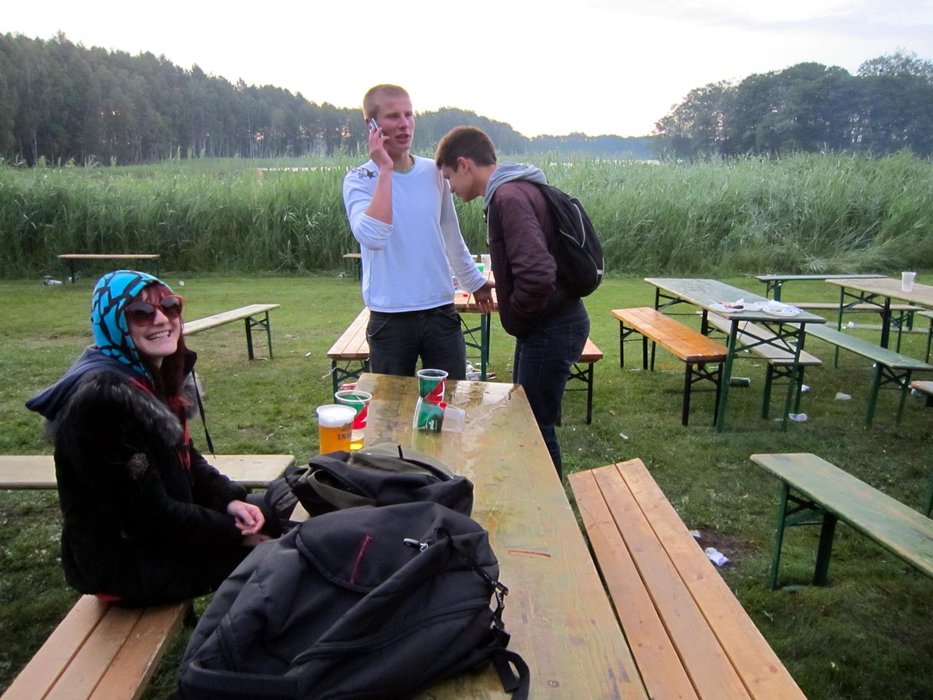 Eventually, we had to leave the area, too.
We had no rush to get back home, so we stopped at a local restaurant and ordered a couple of Beetroot Soups to warm us up.
The owners thought it was a bit strange to see a couple of people ordering soup so early in the morning but they didn't back down on the deal. After all, business is business. Right? 😋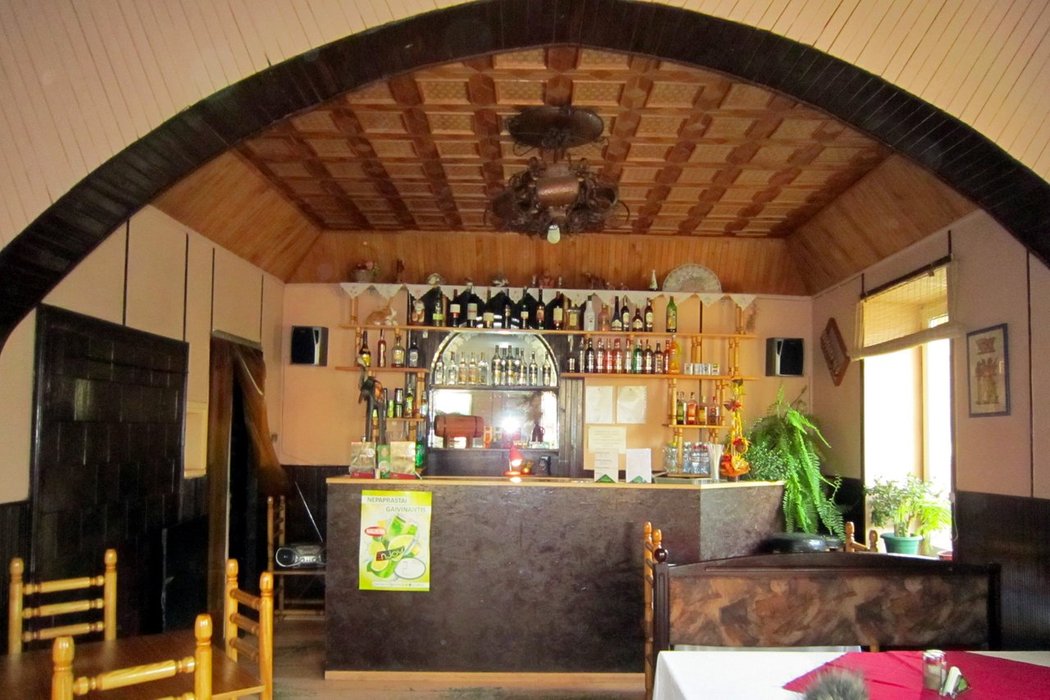 After filling our bellies up, we stocked up at the supermarket and laughed our asses off looking at this package of toasted bread slices.
Why? Because we were miles away from home, and here it was, in a little town in Lithuania, a supermarket selling things with Portuguese labels? No English? But Portuguese? How? What? We were dumbfounded.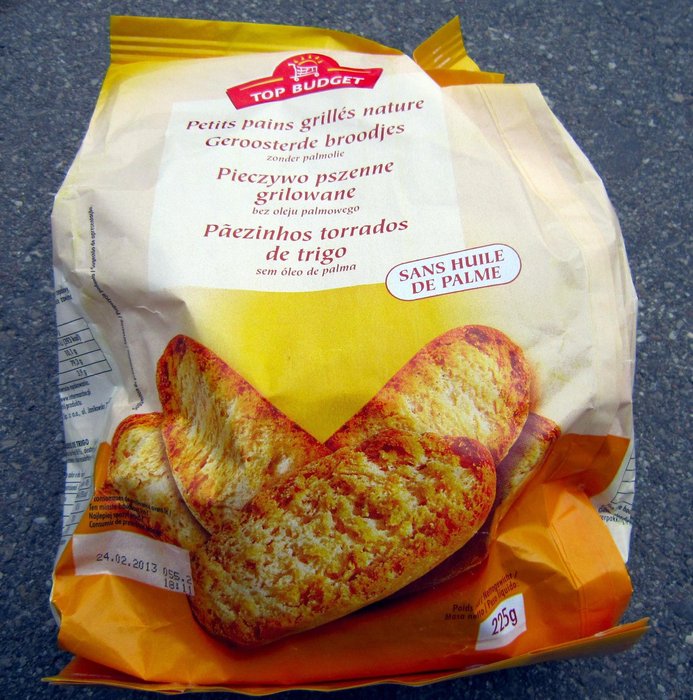 We were welcome by the locals as if we were one of them. Their hospitality was excellent and some of the kids even offered us a room in their homes, in case we wanted to stay a little longer.
Since it was still morning and the next bus to Šiauliai only departed in the afternoon, we gladly accepted their invitation and walked with them back to one of their homes, where we slept for a few hours in a typical little house. It seems that their parents were on holidays and the kids had the whole house for themselves. 😁
Afterwards, we caught a bus back to Šiauliai, which concluded our little adventure. It sure was a fun one.
I hope this little animated gif is enough to give you a small glimpse of the Šiauliai County area and what it looks like. Outside the capital of the county - Šiauliai - it's mostly a rural area.
---
| | |
| --- | --- |
| Camera | Canon IXUS 210 |
| Location | Tytuvėnai, Lithuania |
| Photos | 18 (Edited with GIMP) |
| Gif | 128 Frames (Downsized to 400x300) |
---