Good morning, little Bees!
My original idea was to post the full set of photos from our walk starting in San Francisco to the neighbouring town of Sausalito... but after I began preparing the post I realised it I had 86 photos to share, which is probably too much for a single post. So, I'll be dividing this publication into 3 parts with nearly 30 photos each. Let's begin:
I stayed in San Francisco with my brother and a friend who was working there at the time. During the day he was working, so me and my brother decided to take a day to walk all the way to the famous Golden Gate Bridge... and we started from this public park, the Great Meadow Park, from where you can see the Golden Gate Bridge at a distance... as well as some great views over San Francisco.
The park is very popular among the locals, as it is located in a higher area, allowing people to enjoy fabulous views... and some fresh air.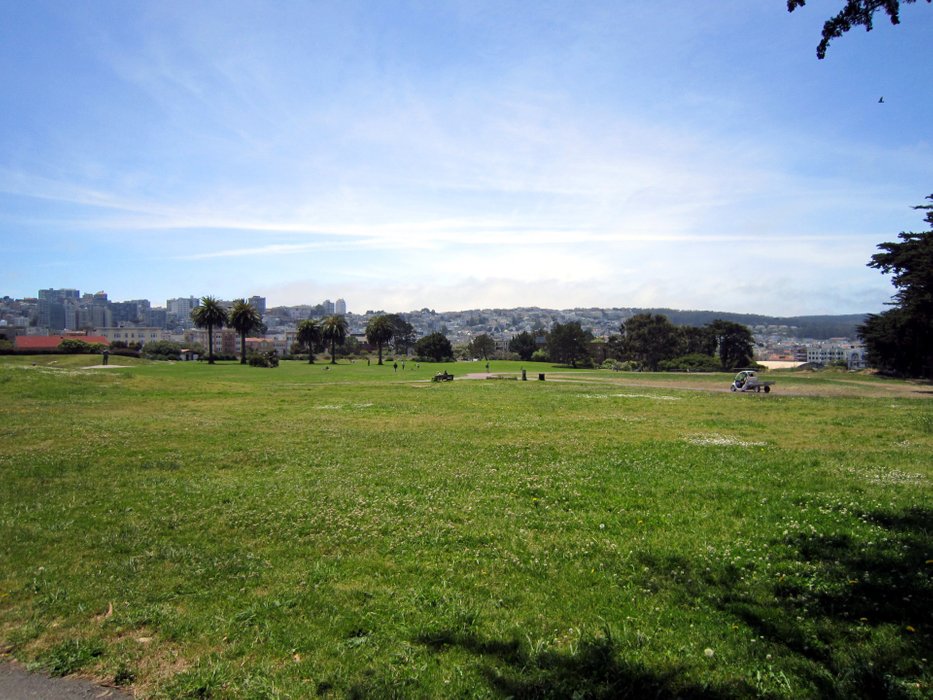 There are a lot of people just walking around, talking about life, the universe and everything... and, of course, walking their dogs - so that they don't stay awake barking all night and driving the neighbours crazy. (Now... if only every dog owner was as considerate as that... life in apartments would be so much better.)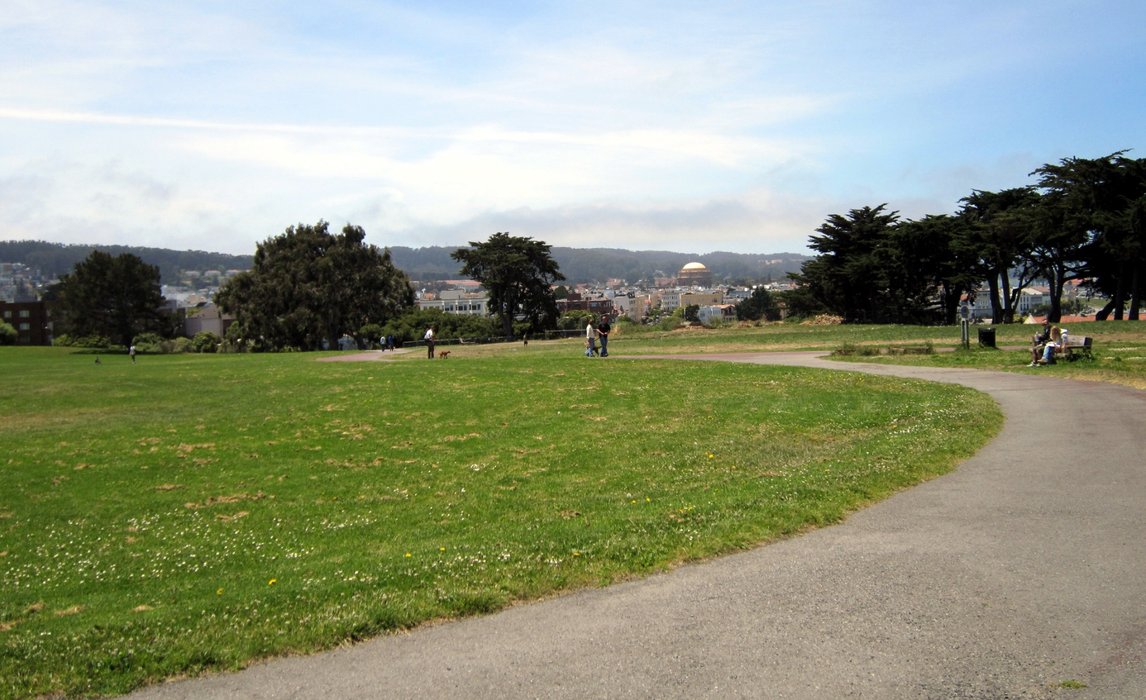 At the middle of the park there's a statue of Congressman Phillip Burton.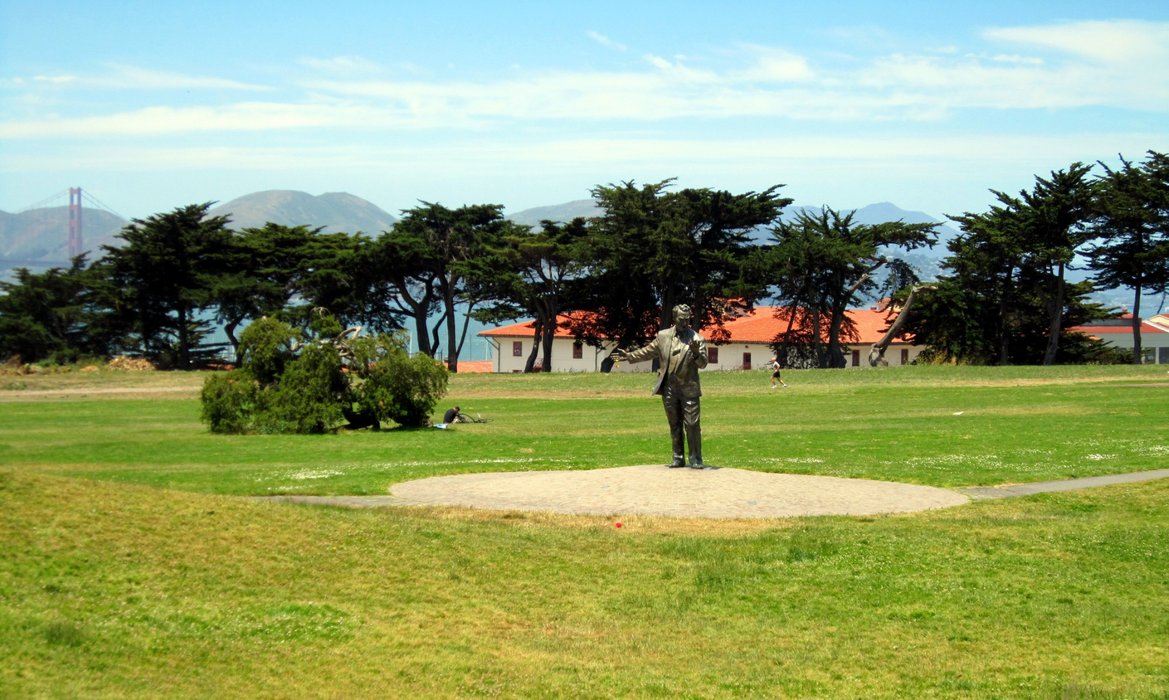 If you're asking yourself... "Why?", don't worry. I was making the same question, so I went ahead and dug out some info about Phillip Burton:
His role in the creation of Golden Gate National Recreation Area
Phillip Burton, a member of the U.S. House of Representatives from California from 1964 to 1983, was the powerful and charismatic politician behind the creation of Golden Gate National Recreation Area. His vision and his influence helped galvanize the growing conservation movement in the Bay Area during the late 1960s and early 1970s. As the chairman of the Subcommittee on National Parks, he battled boundary lines with the military, brazenly added more acreage of land to the bill than thought imaginable and pushed, and perhaps, bullied through the legislation that created the new urban park.
His influence on the National Park Service
As a champion of democracy and the "little guy", Burton was adamant about America's responsibility to provide national parks and local recreational opportunities to everyone, regardless of their socio-economic status.
Throughout his career, he believed in the value of urban parks as "parks for the people, where the people are".
Source: National Park Service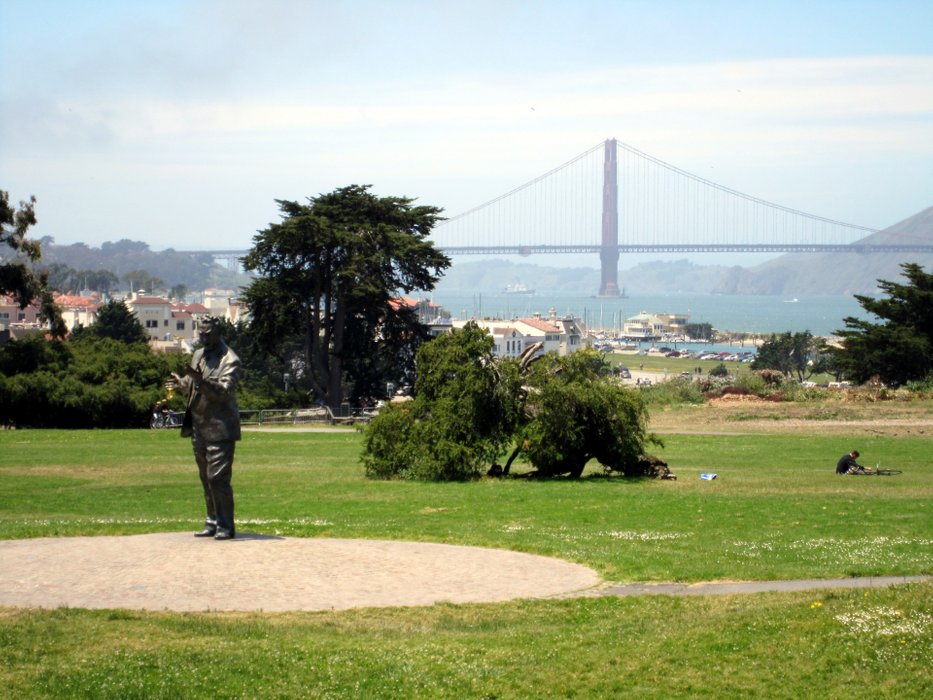 So, this guy was a politician in the 60's and 70's who cared for the people who elected him, eh? 🤔
I wonder what happened to such politicians? It seems they got extinct in the 90's. Now we're left with greedy and evil politicians who rule against the very same people who elect them... go figure. 🙄
Moving ahead, we decided to leave the area towards our goal: the Golden Gate Bridge.
While we were leaving the park we found another statue: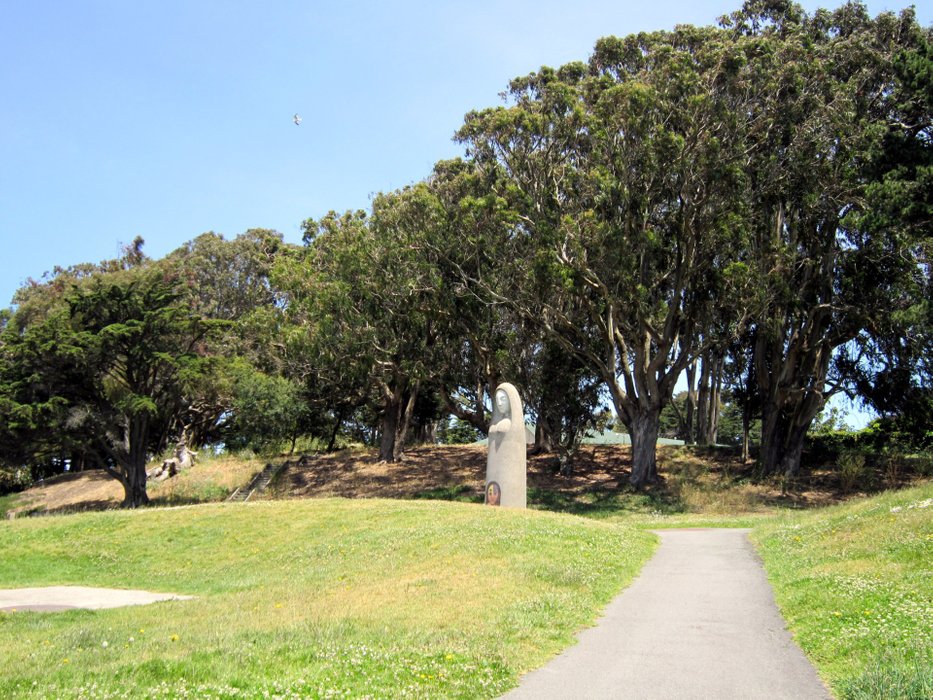 This is a Madonna Statue. No, not the pop star. She represents Mary, mother of Jesus... and I found it very interesting, particularly for the painted image at the bottom.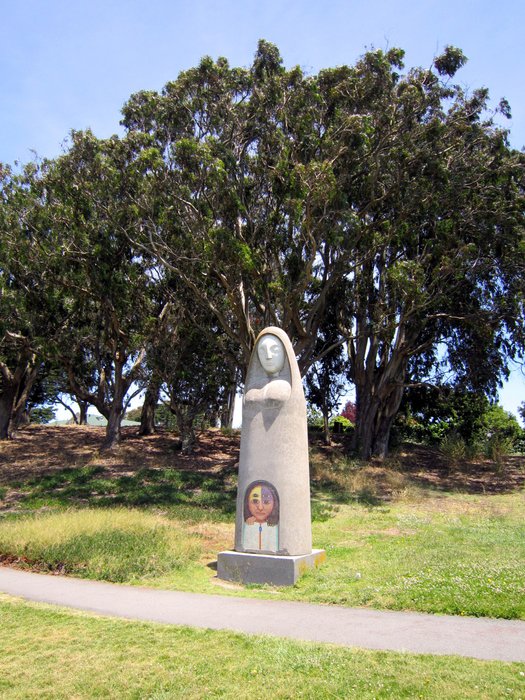 After walking out of this park, me and my brother reached a road with a view over the Fort Mason. That's him on the photo, if you're wondering.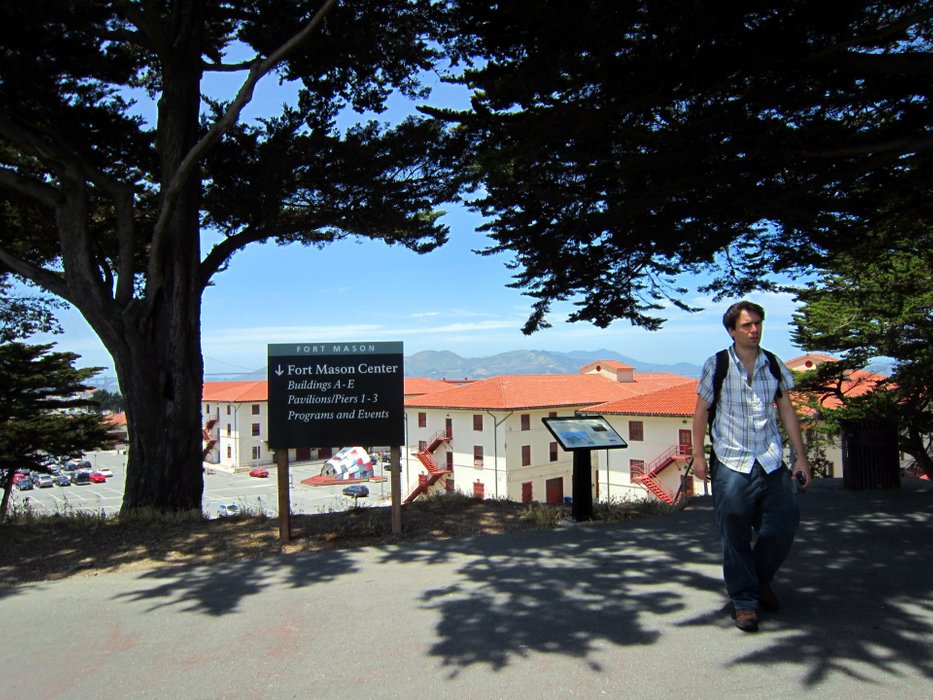 Here's a better view of the area, including the Golden Gate Bridge in the background: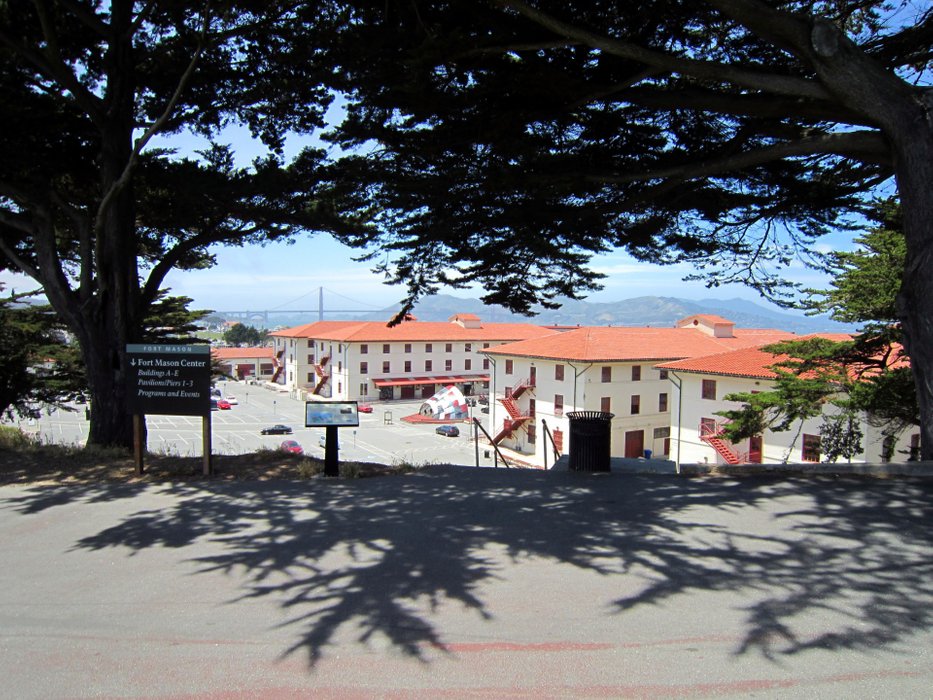 Despite we were living in a period of peace, there was some movement down there... we could see some men in uniform walking around. No idea why, though.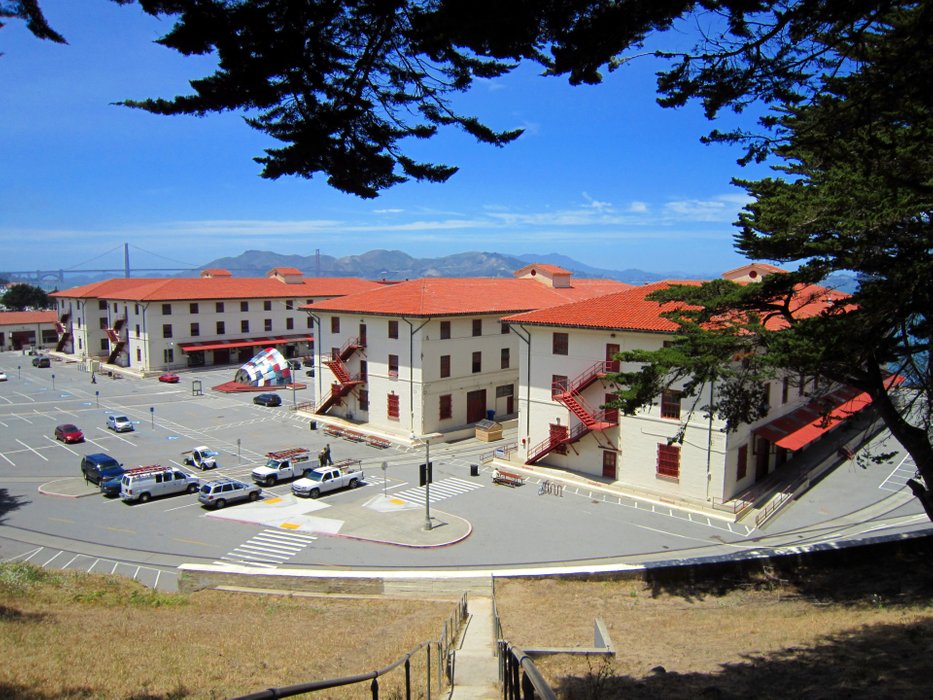 Here's a closer shot of the bridge, over the roofs of Fort Mason.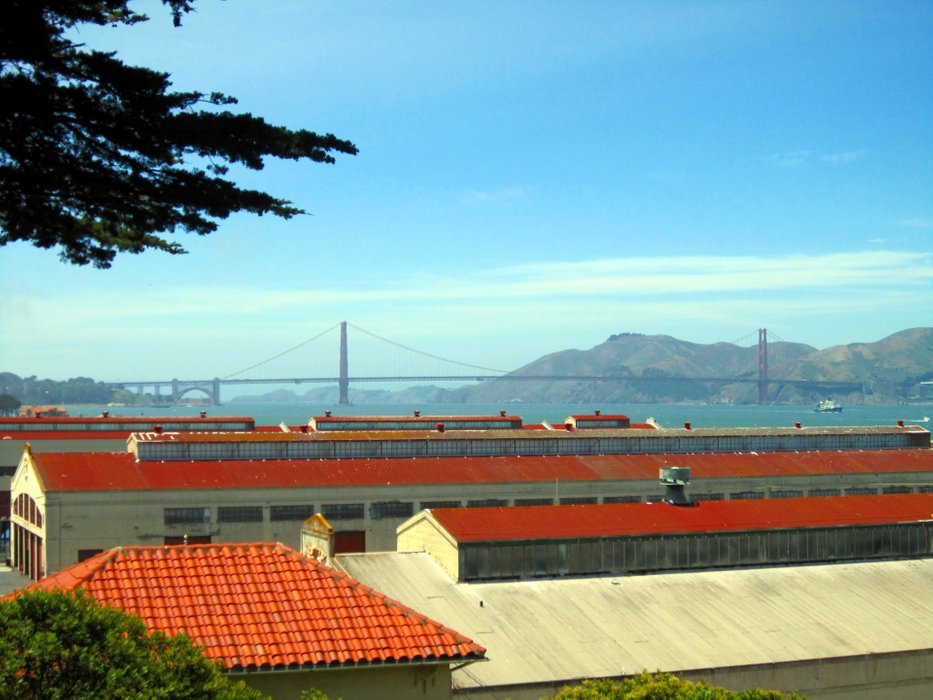 ---
We carried on foot for a while until we reached a small road going up... and we weren't the only ones who had this idea. This tourist was following us.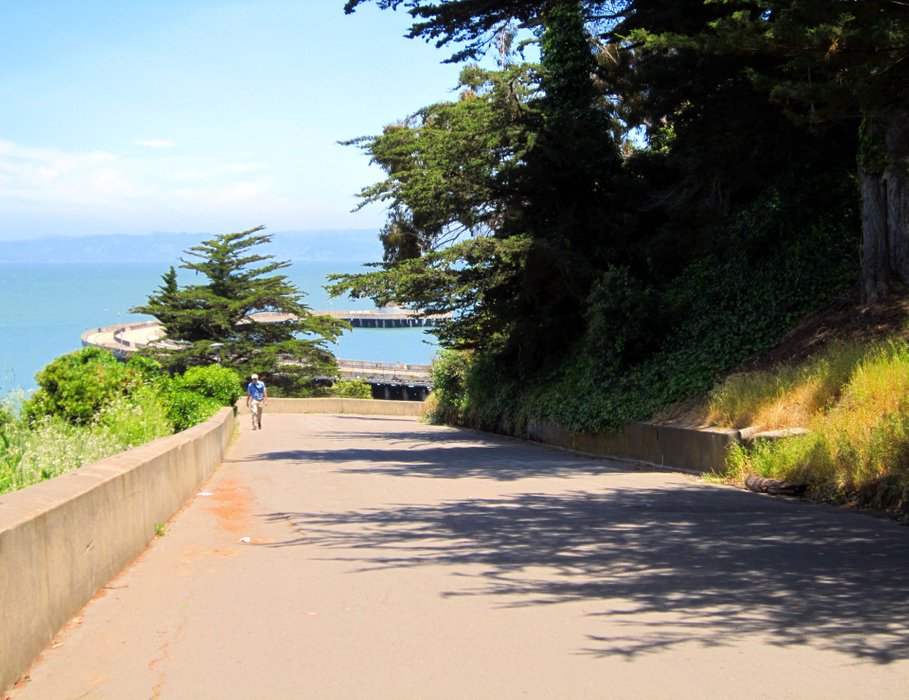 We made a little pause at the top of the road, to enjoy the views over the Bay Area and the Alcatraz Prison.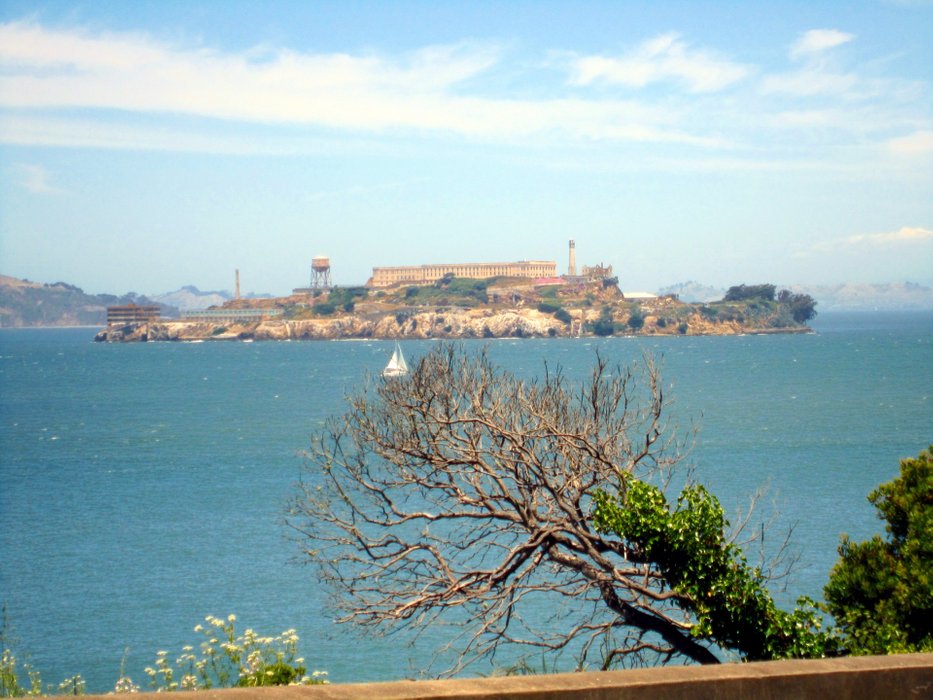 A local cyclist decided to do the same... after all, this is a perfect place to enjoy the scenery. 😎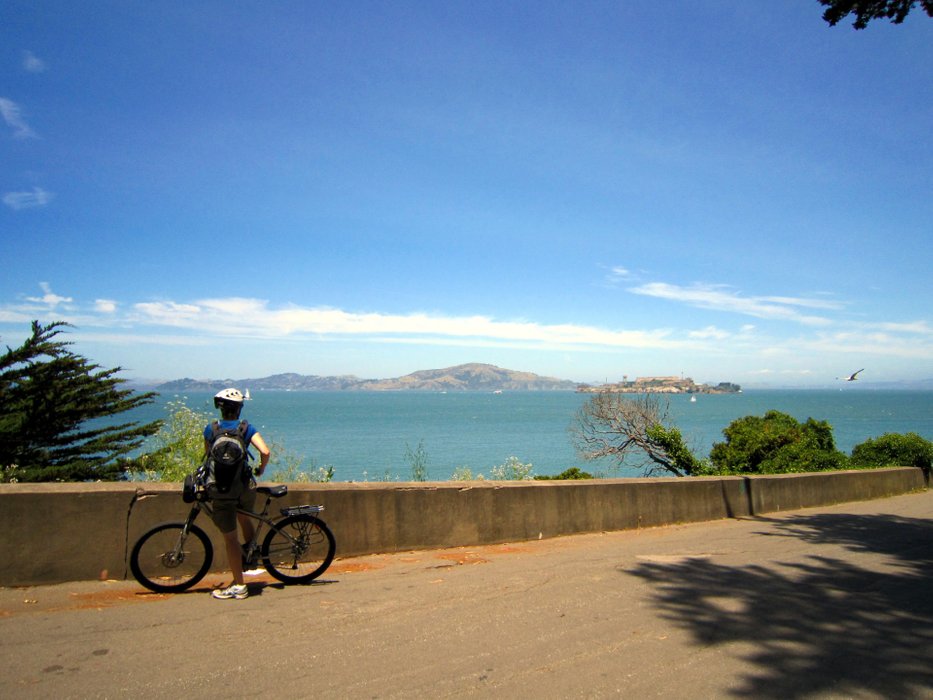 Not only you can look over the island of Alcatraz but also appreciate the pier area nearby.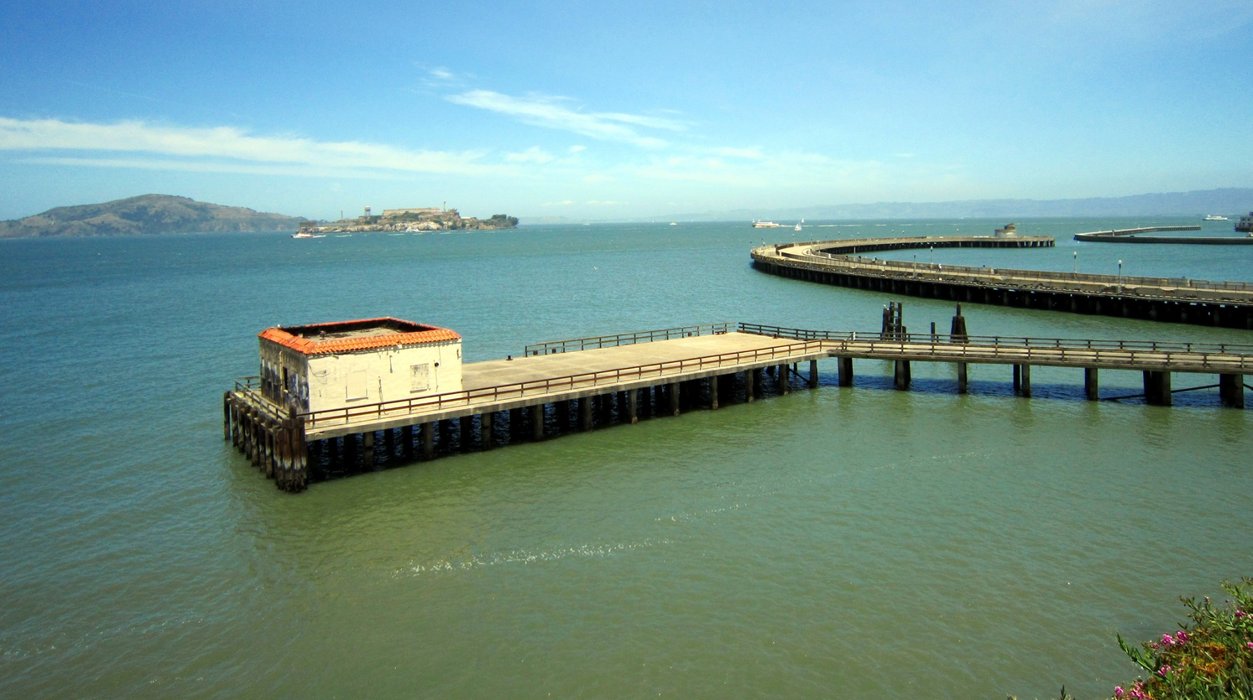 ---
After this short break we carried on and proceeded by the coast until we reached a more populated area by the beach.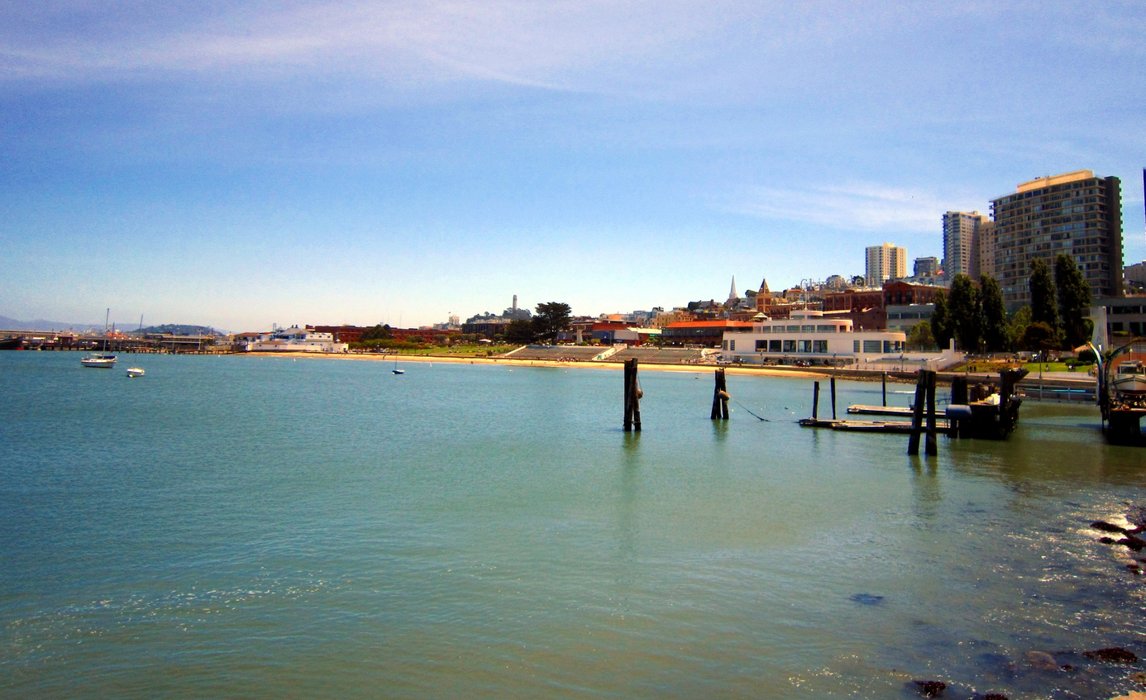 It looks lovely... but with so many boats around I doubt it's a good spot for a swim. The water is likely to be too polluted for that. 🤔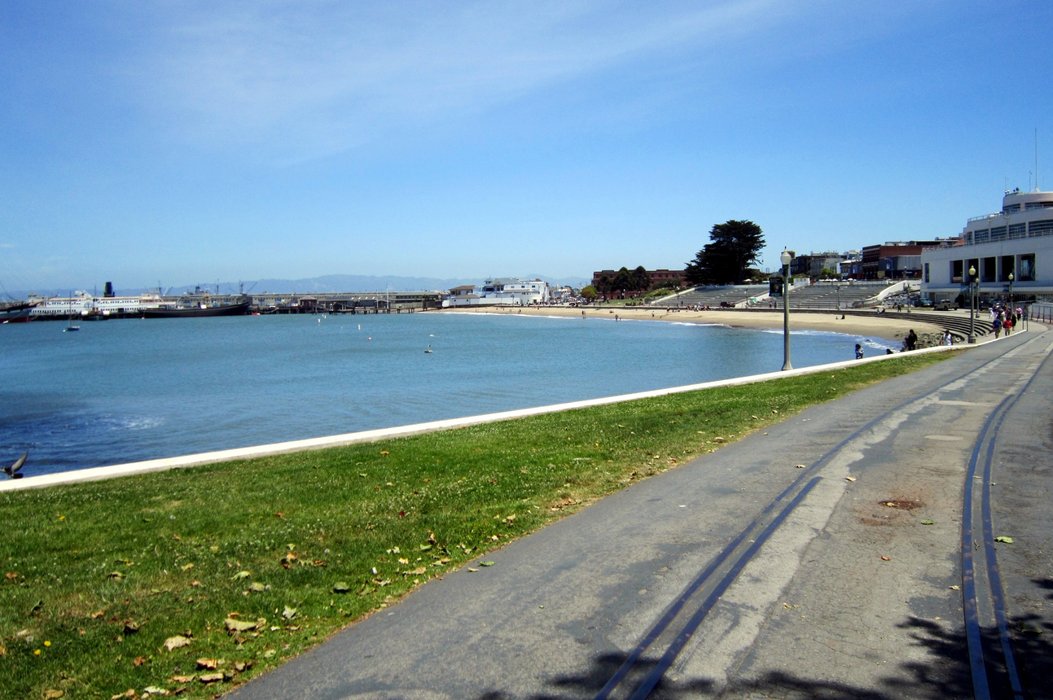 We were trying to reach Sausalito before lunchtime, so we hadn't time to stick around, anyway. We walked for a few more minutes until we reached a different area, with great looking buildings, fit enough for a movie's scenario.
This is the National Park Visitor Center: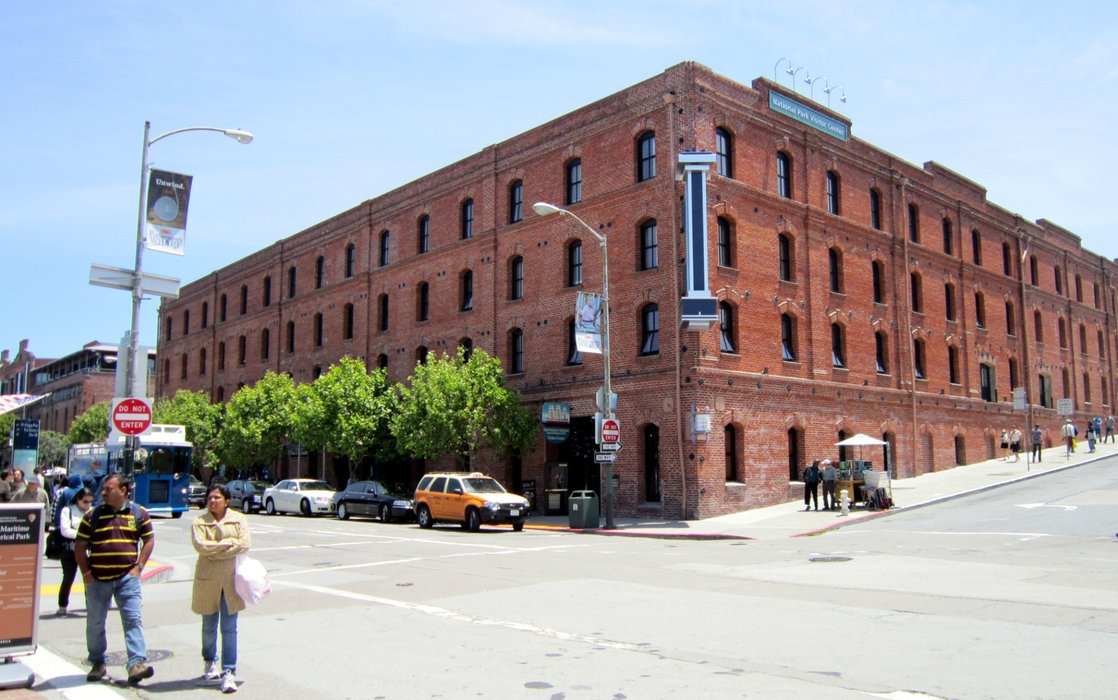 Right next to it, there was another old and large building: The Cannery... but what attracted me the most was the fine looking classic car parked in front of it. Just look at that beauty. 😘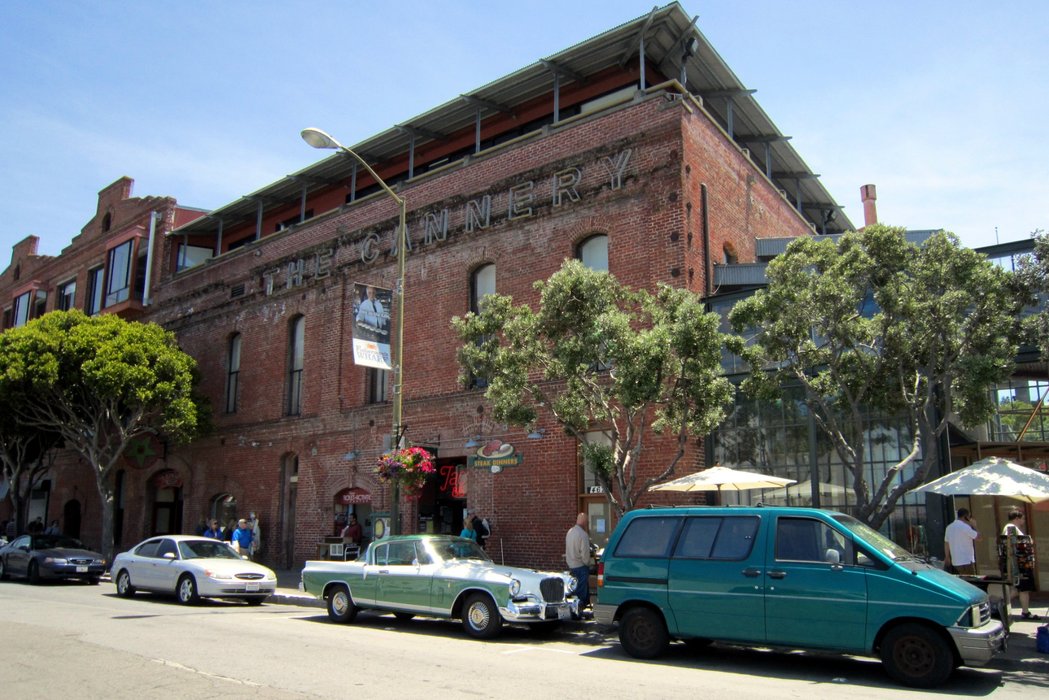 ---
A bit ahead, one of San Francisco famous cable cars passed right by us... and I couldn't miss the opportunity for a photo.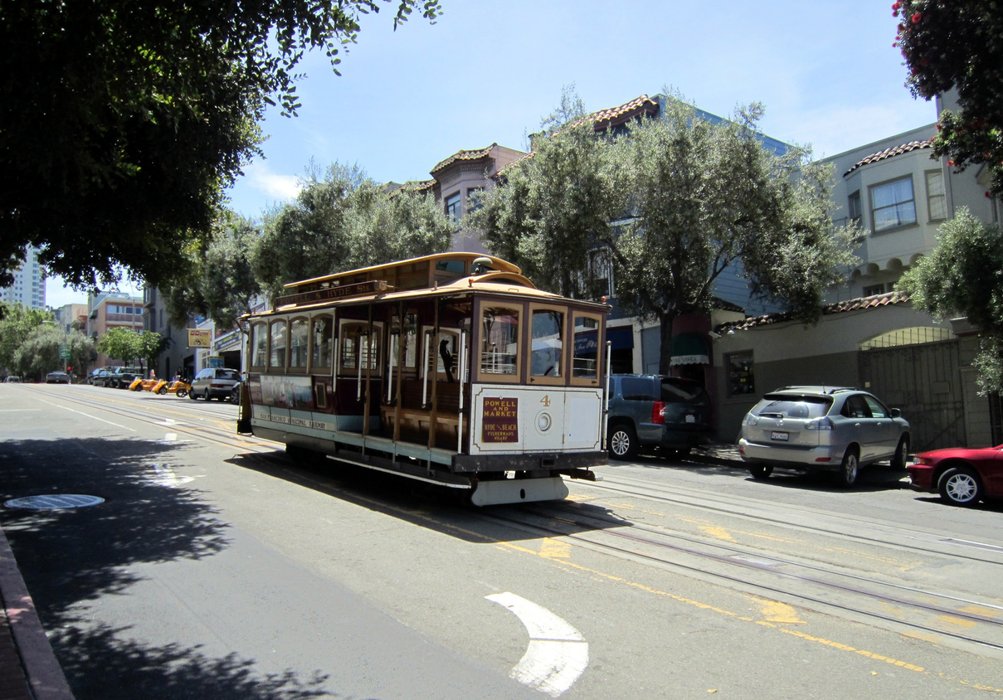 ---
After a few minutes we found ourselves in front of the Marina Branch Library, where we saw some families walking around with their kids and entering the library.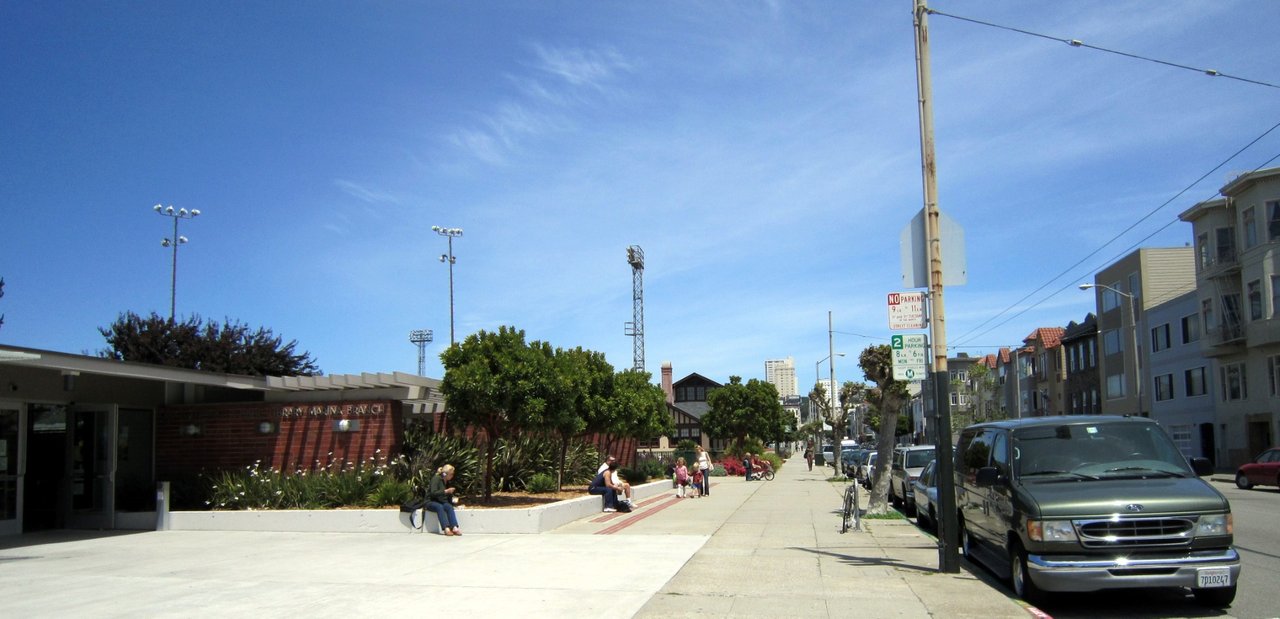 The building is very modern and cool... and transmits a great sense of peace and tranquility. It should be a perfect place to relax and do some reading.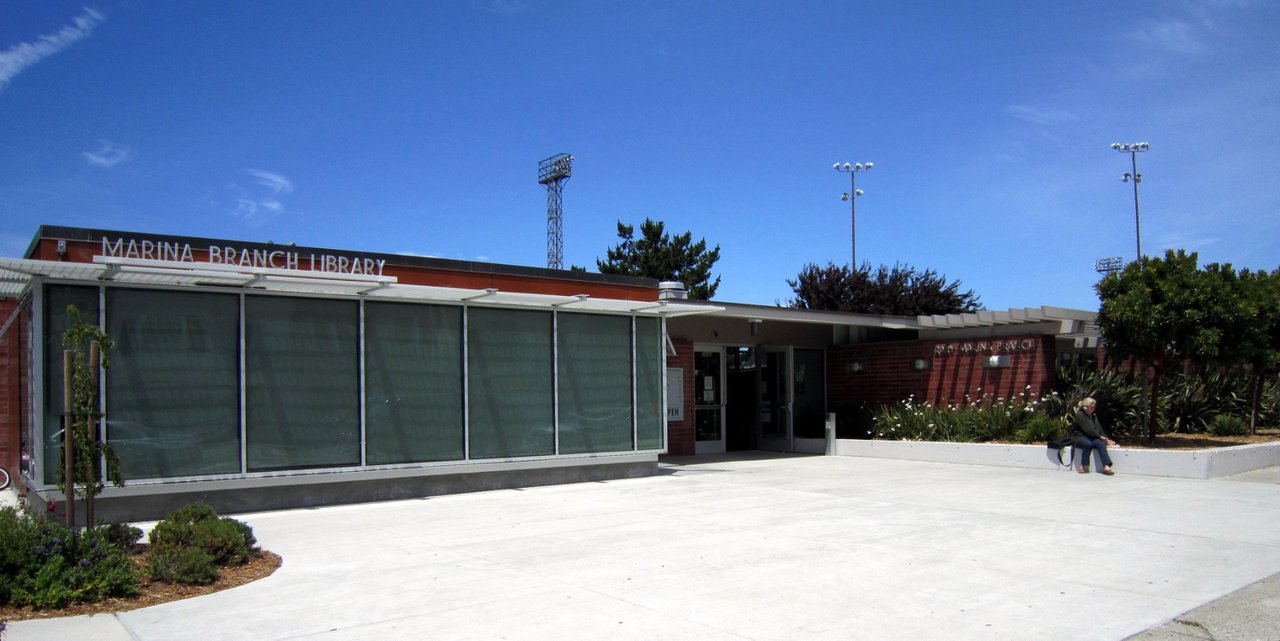 This lady came out while I was taking these shots... A local teacher, perhaps?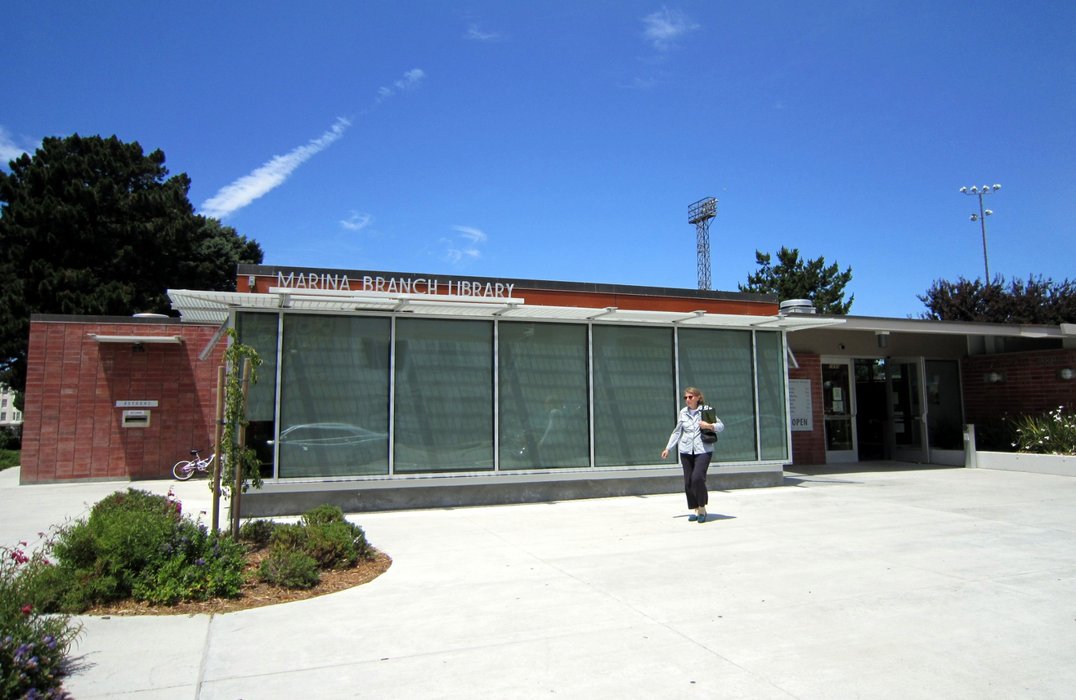 ---
The surrounding area seemed quite nice, a residential area with beautiful apartments with diverse shapes and colours but never high enough to block the skyline.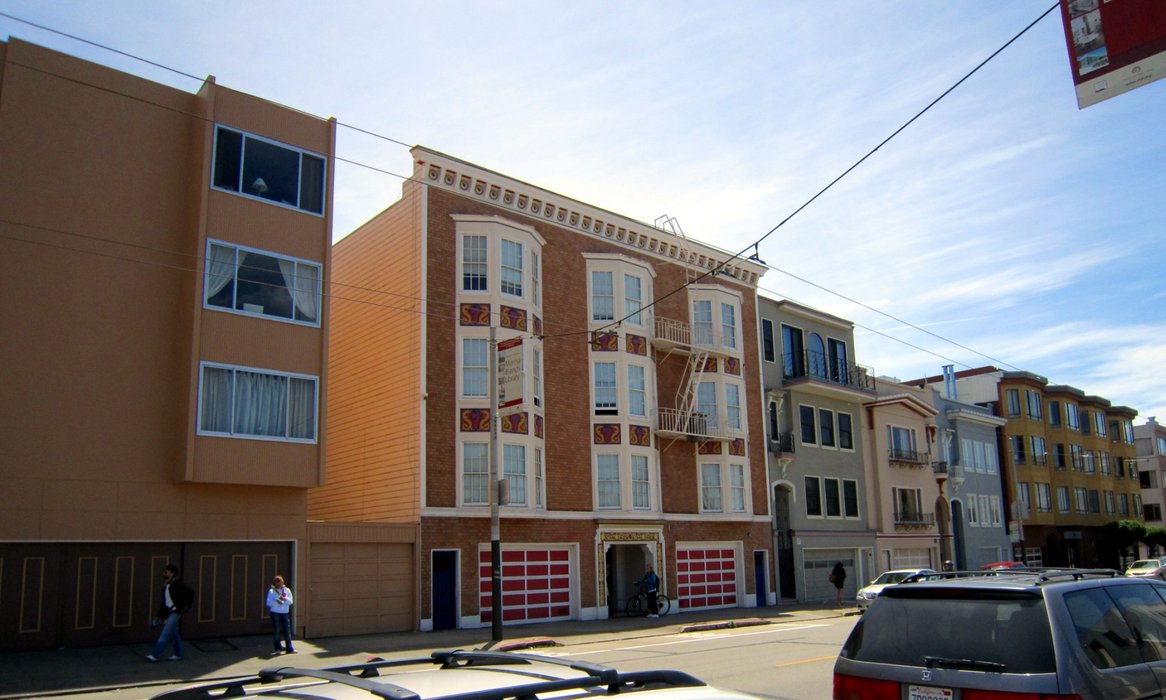 However, just a little further ahead there was another residential area that made it look weak by comparison. Just take a look at the magnificent buildings, gardens and lawns we saw at this place: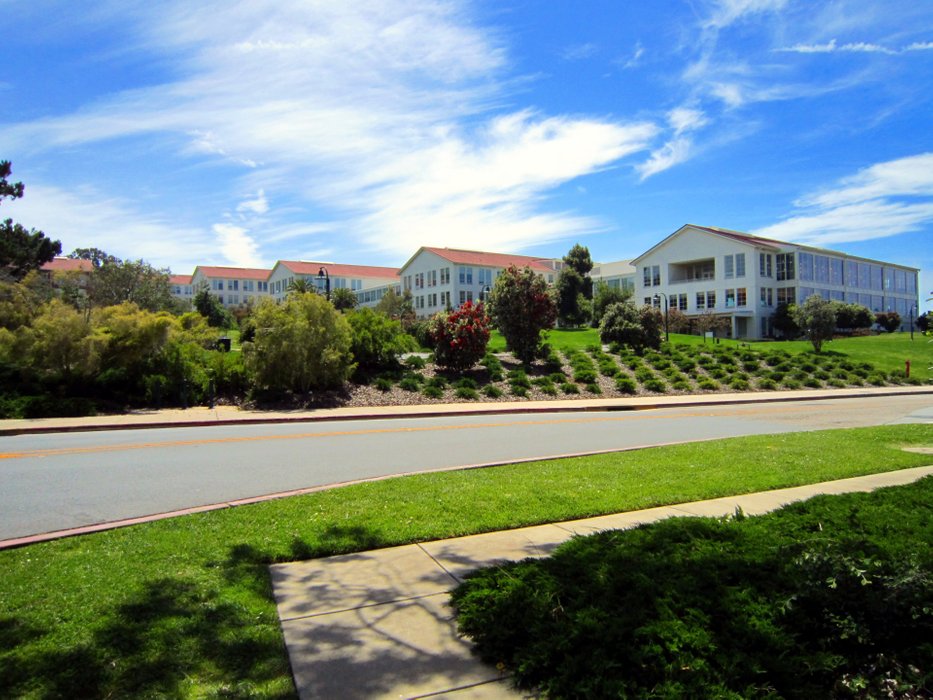 Wow... are these apartments or palaces? Either way, this must be an area with very rich inhabitants, that's for sure!!! 😎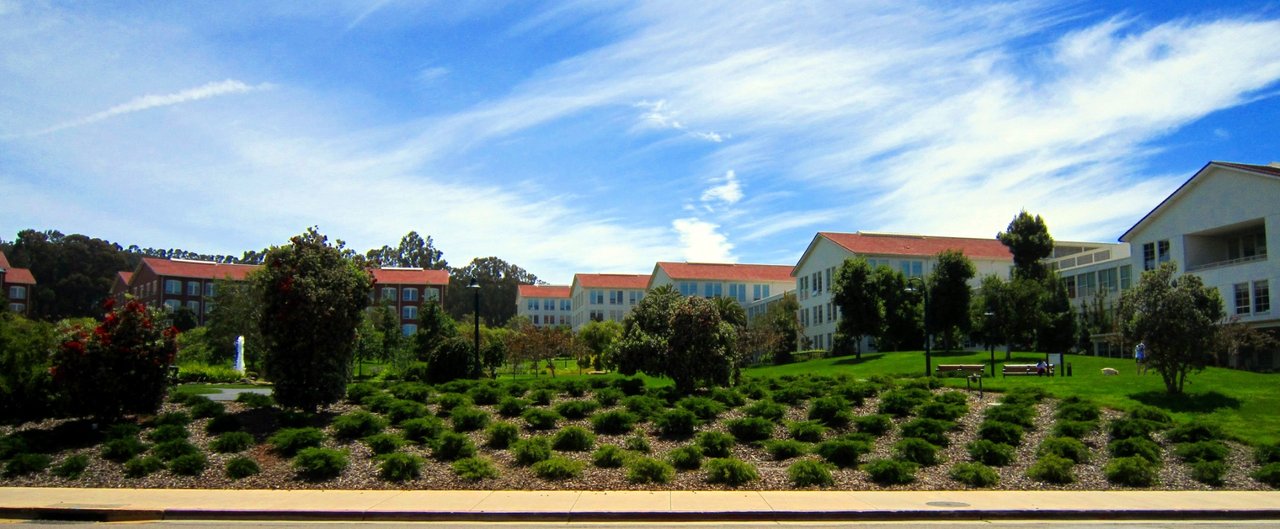 And... here's a final shot I took before we left this residential area. The structure you see ahead is The Palace of Fine Arts and it's a Greco-Roman building which hosts some artistic events.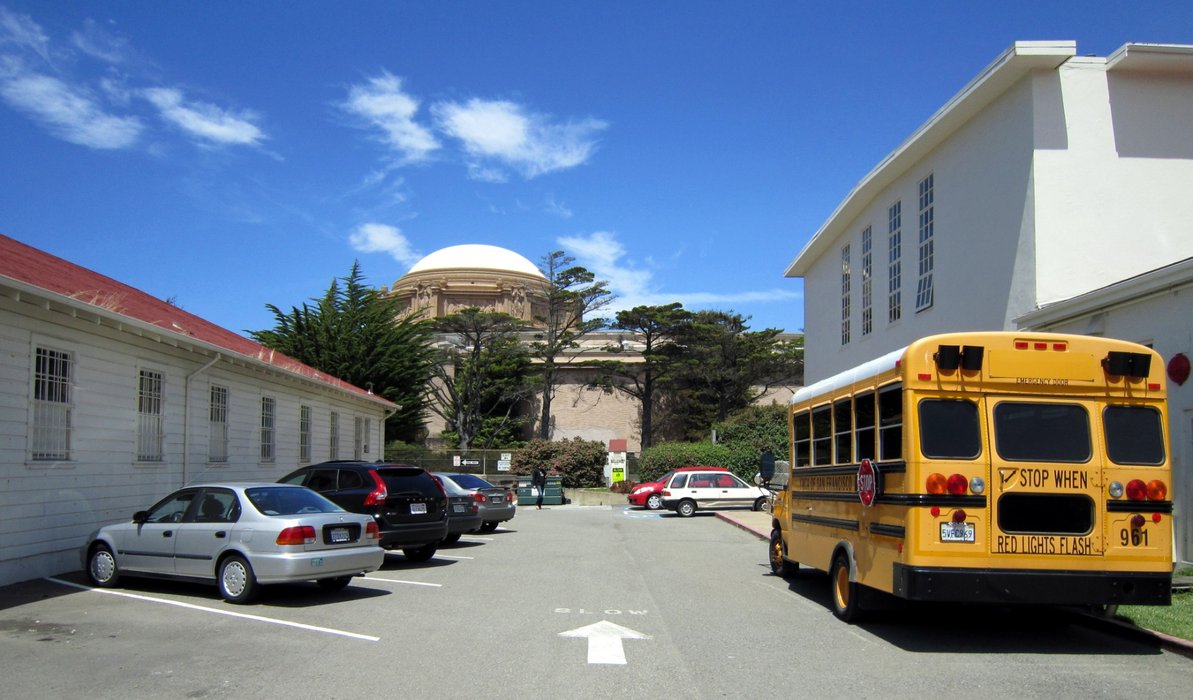 After this, the scenery changed a lot, so I think this is a nice spot to make the first break in this post. Be sure to come back tomorrow, for another part.
---
| | |
| --- | --- |
| Camera | Canon IXUS 210 |
| Location | San Francisco - USA |
| Photos | 27 (Edited with GIMP) |
---