Hello again, fellow Bees.
I'm picking up this post right after I'd left on my previous publication... As you remember, I told you the scenario changed a lot after leaving the Marina District in San Francisco... and this superb view is what we encountered:

This area is full of ponds and marshes, so we had to tread lightly since we didn't want to fall on these weird terrains full of algae and reeds. We don't know what kind of beasts lurk in these waters, better not to take any chances and stay clear from the edge of the waters. 😁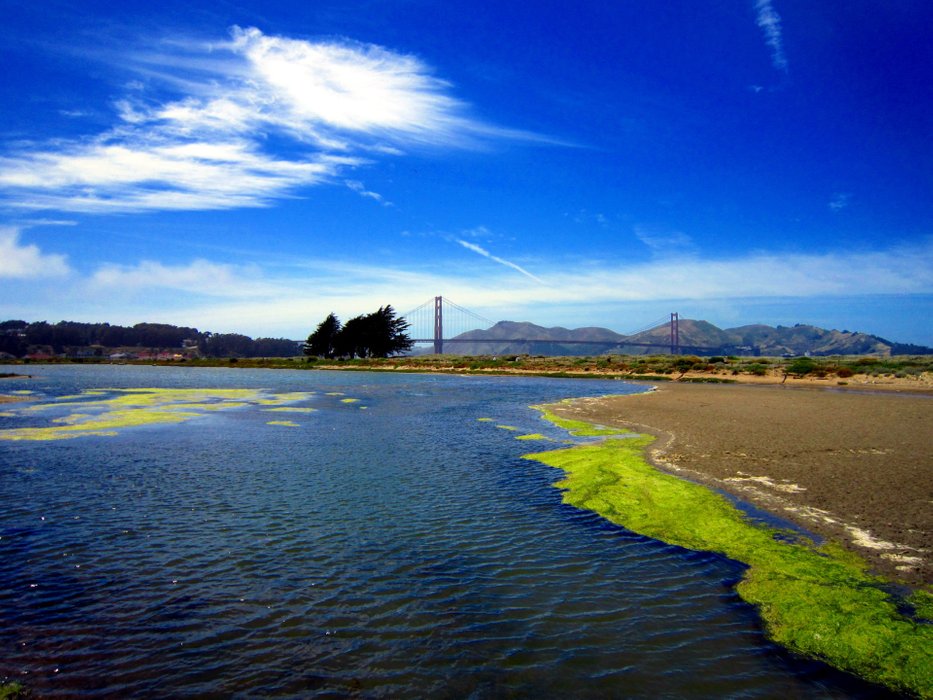 The scenery kept changing from marshes to open beaches, riverside and back to marshes... It was a very surreal adventure, at this point. We wondered if we should go back and try another route.
We ended up at a small beach.

A bit ahead the path was clearly marked and with fences so we've felt a bit safer again and we carried on. We came across a lot of people jogging so we were kind of relieved. 😌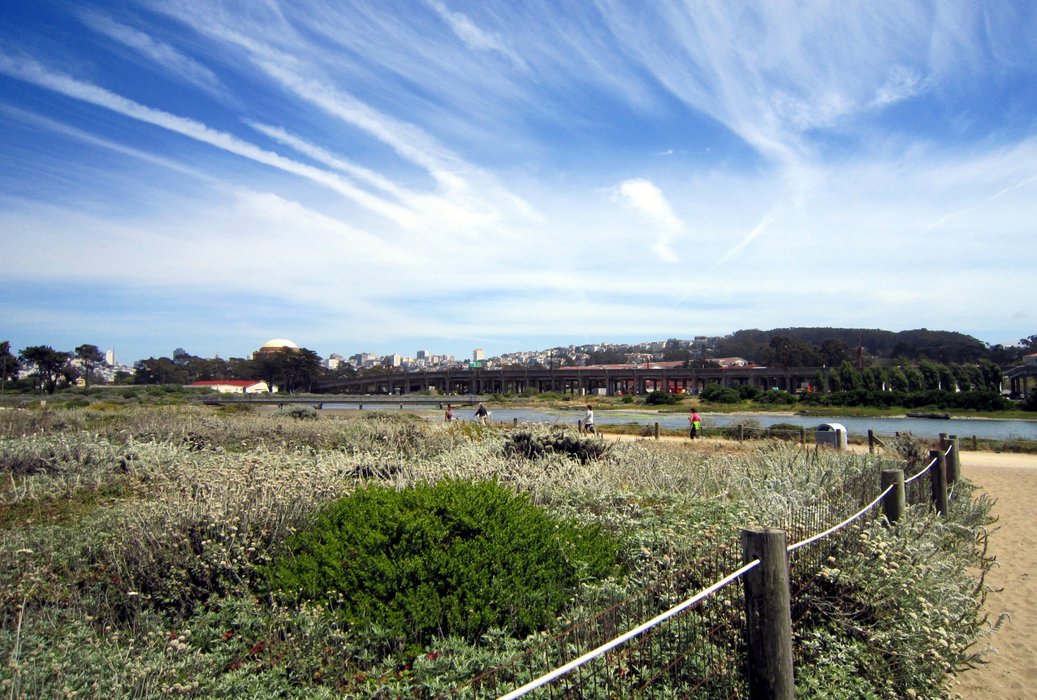 We kept walking at a slow pace, taking the time to appreciate what the city had to offer us. At the other side of the waters we could see some residential areas that looked as if they had been designed in a Sim City kind of simulation.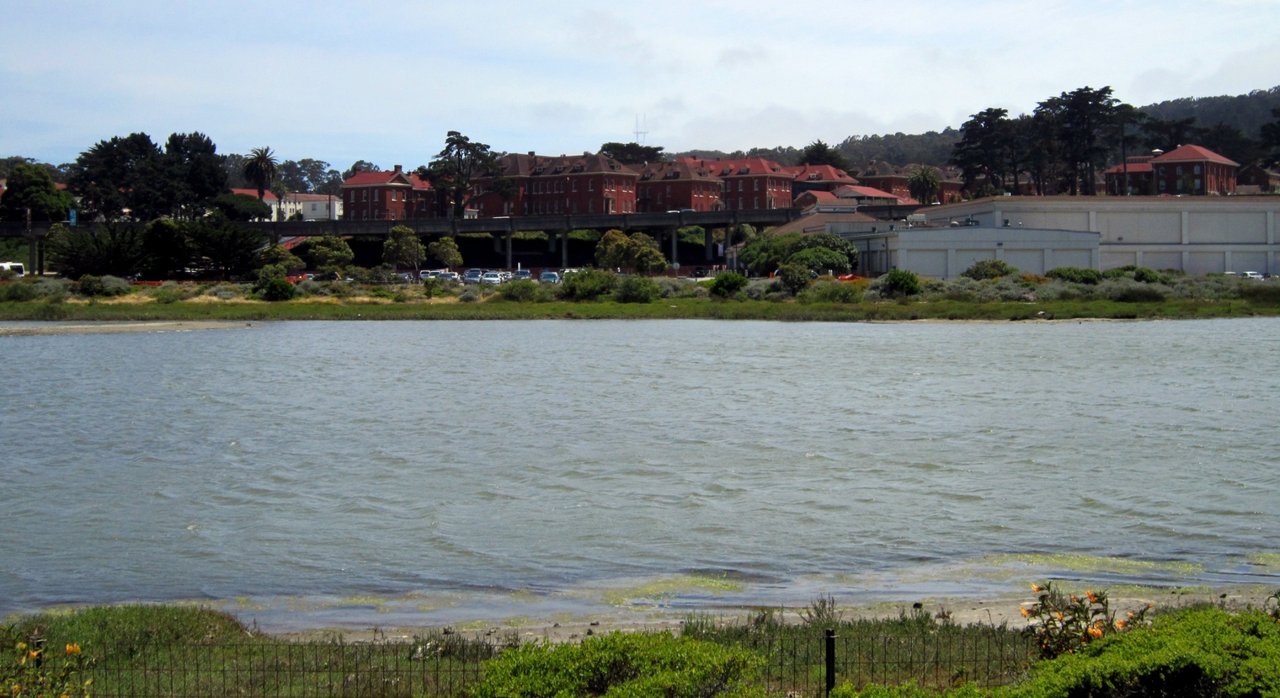 Looking back from where we had come we could still see the high buildings from San Francisco's downtown, at a distance. What a difference, eh?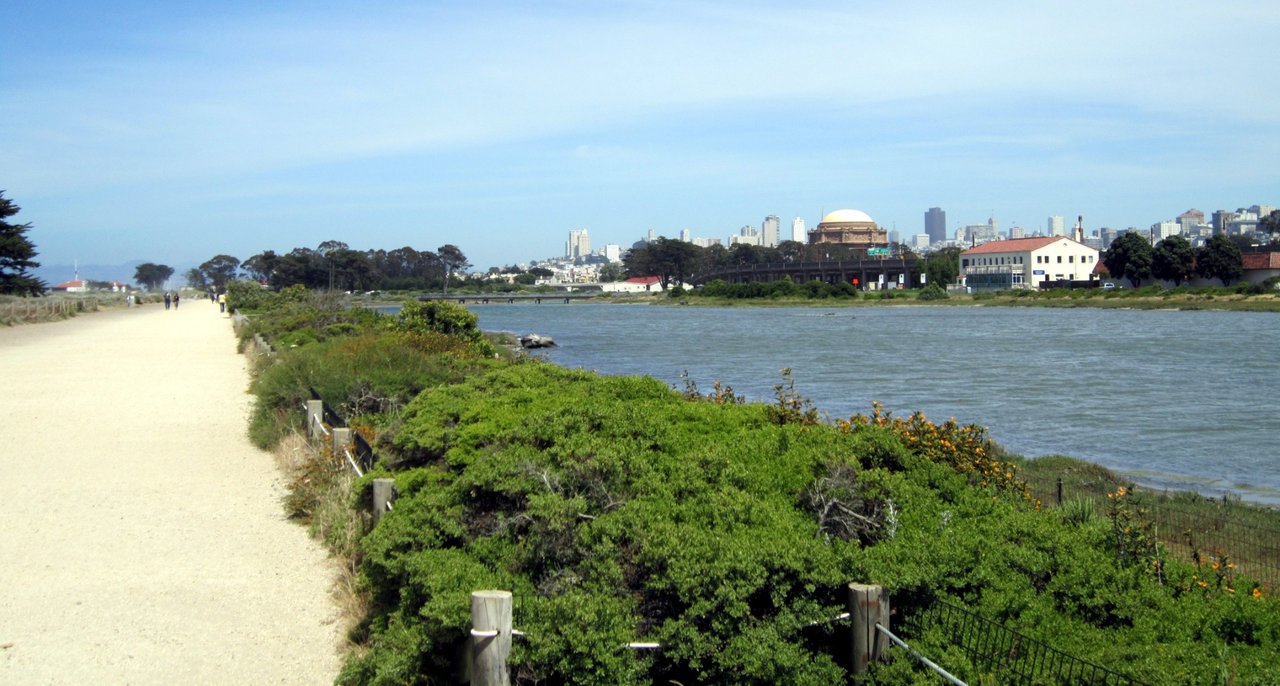 We walked along this path until we reached another beach. This one was a bit larger and the Golden Gate Bridge was now very close to us.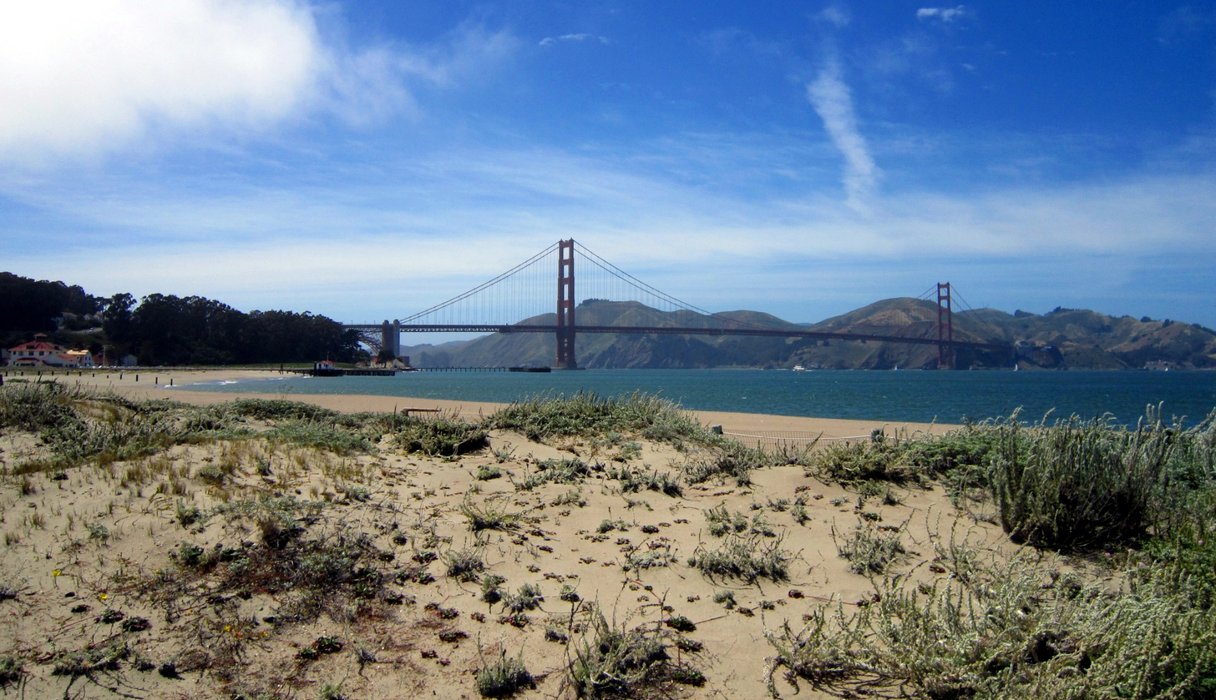 To reach the bridge, however, we had to get away from the coast and travel a small road uphill. If we had kept moving along the coast we would walk under it and that wasn't our goal.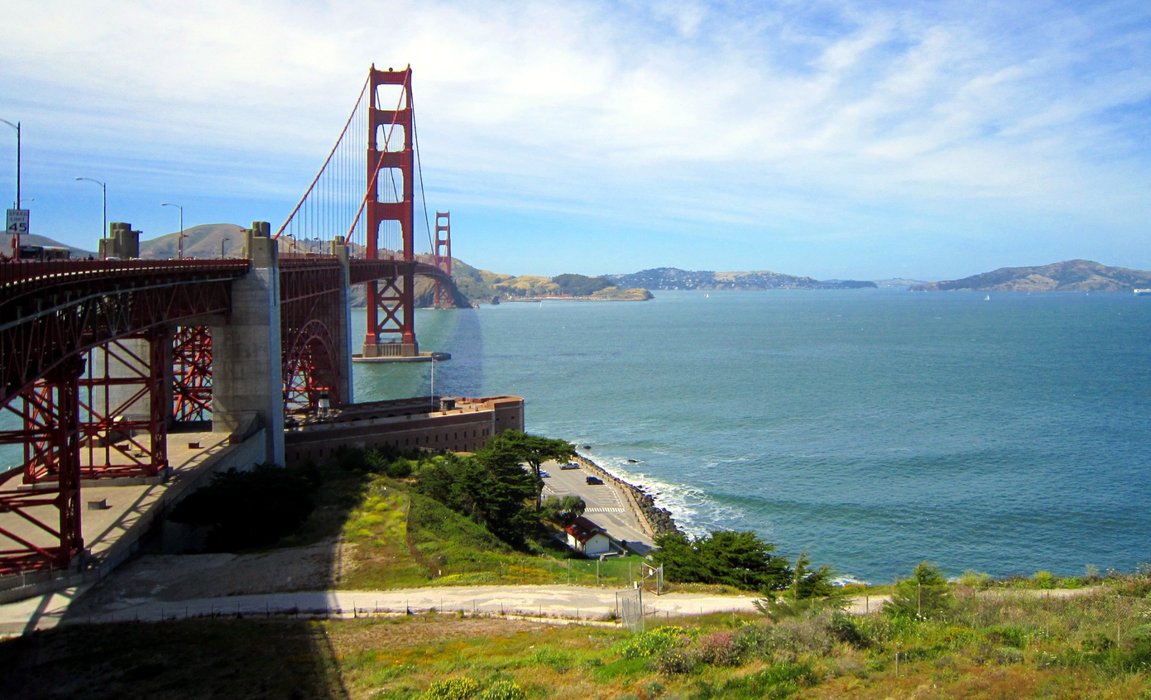 After a long walk but which appeared to pass real fast, as we were always meeting incredible landscapes and views, we finally found ourselves at the top of the bridge.
Behind us, we could see San Francisco's downtown again... What a long way we had come.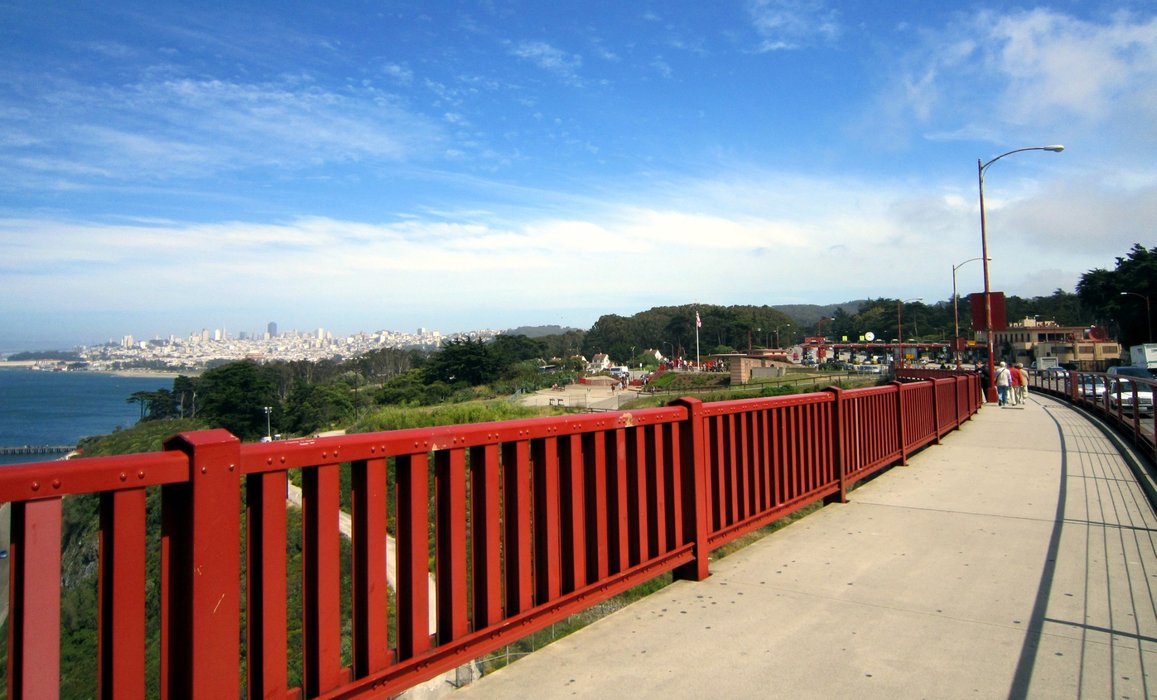 We took the time to appreciate the view over the Bay Area again and see the whole path we have walked... 😊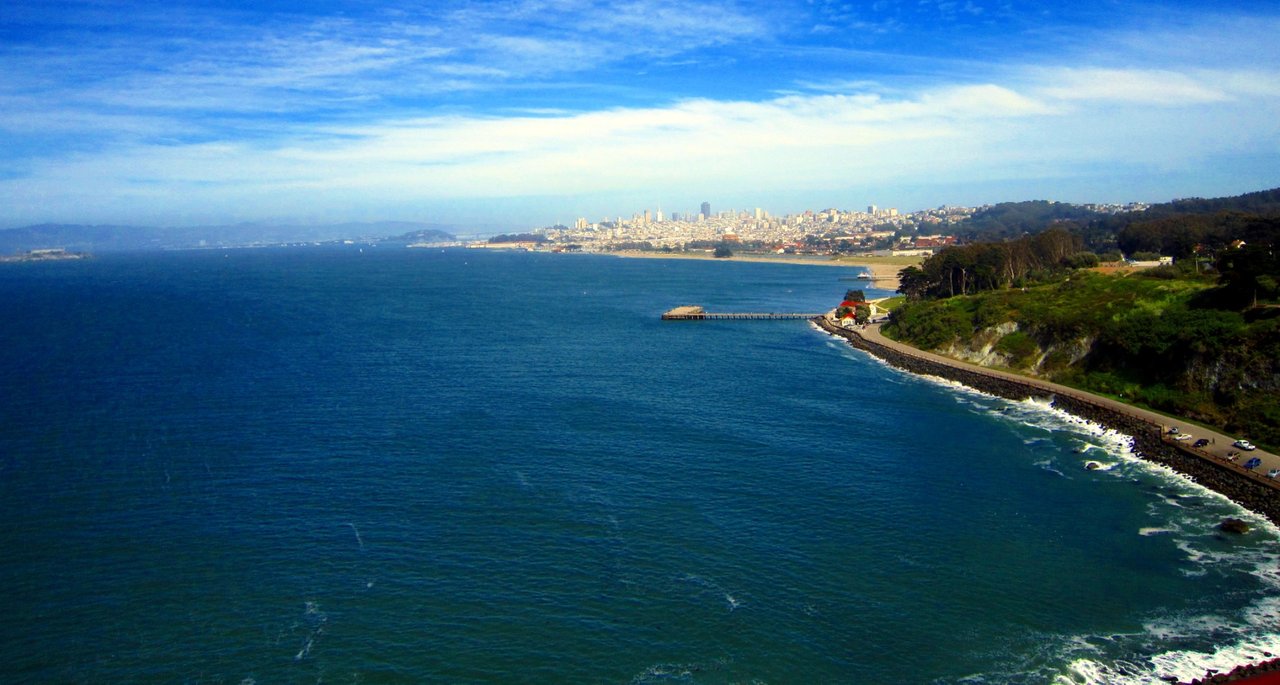 We had walked this far already, so we decided to cross the bridge all the way to the other side.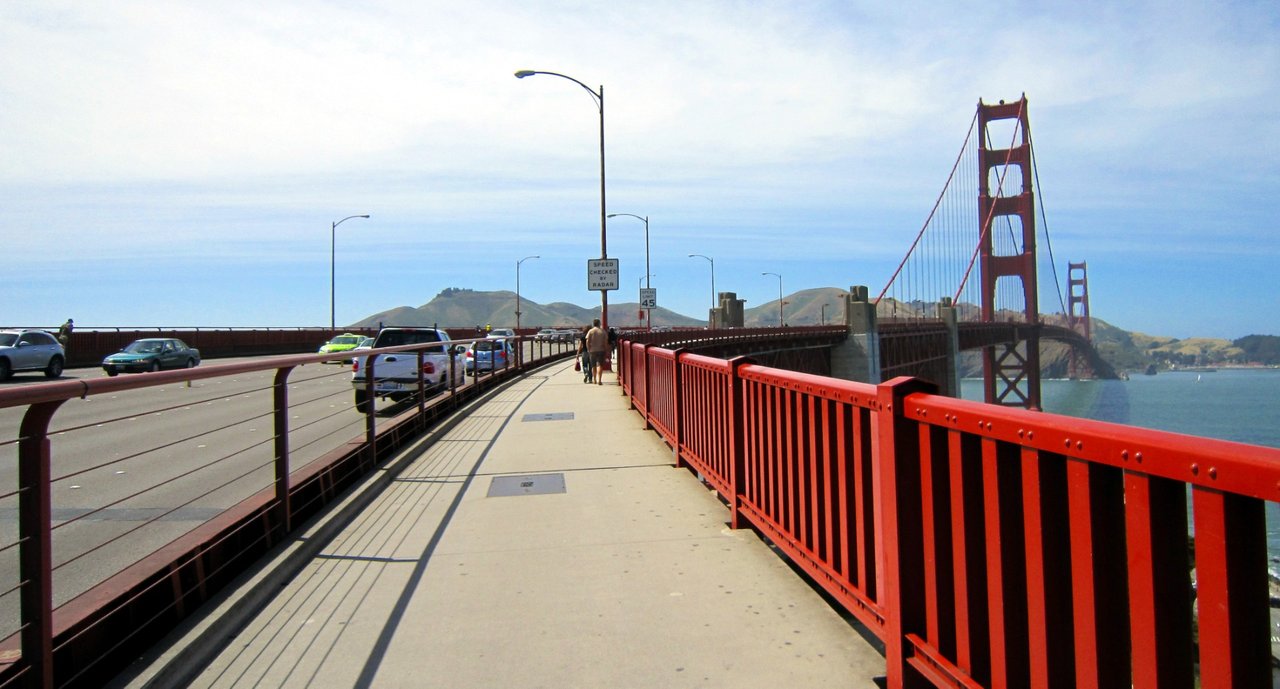 Most people do this by car or autobus but as you can see we weren't the only ones crossing it by foot.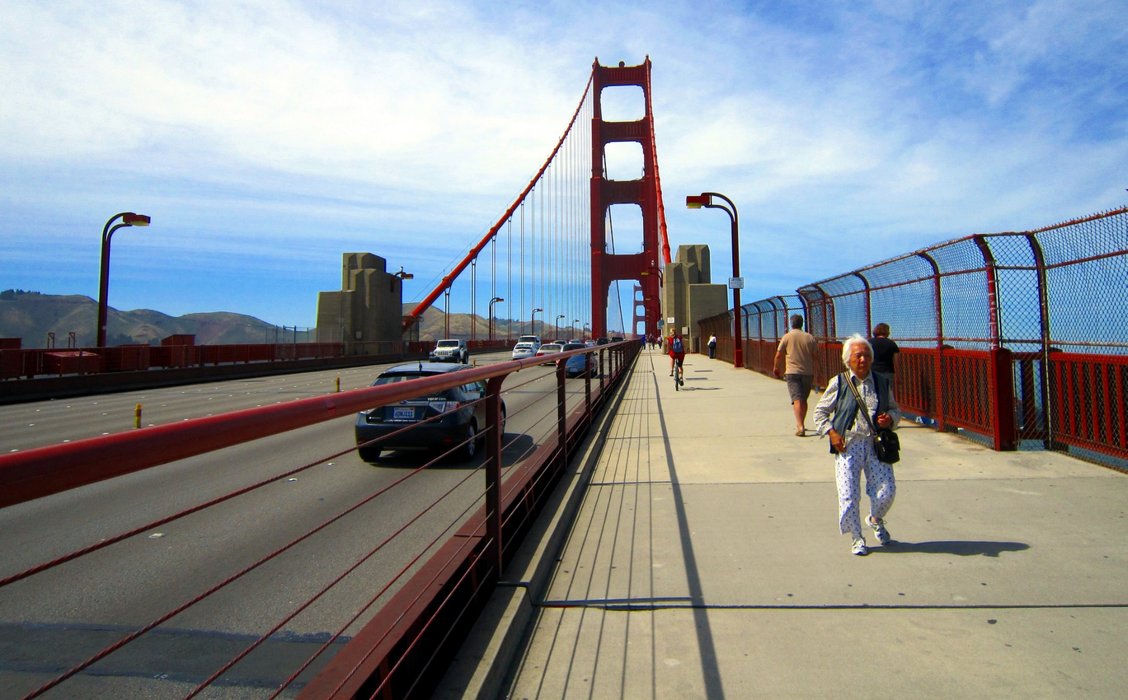 Along the bridge there are some protective fences to prevent people from falling into the river. Or to deliberately jump. Taking photos is almost impossible until you reach the centre of the bridge. At that point, you are free to take photos again...
We saw a Hyundai cargo ship which appeared to be heading towards Alcatraz.

As soon as you reach the middle of the Golden Gate Bridge you can see a big plaque with the main people who worked at this project, from officers to engineers. It's a very vast list... and it doesn't include all the labourers at the bottom of the chain. I think they would have needed 5 or 6 plaques like this, had they included them all. 🤫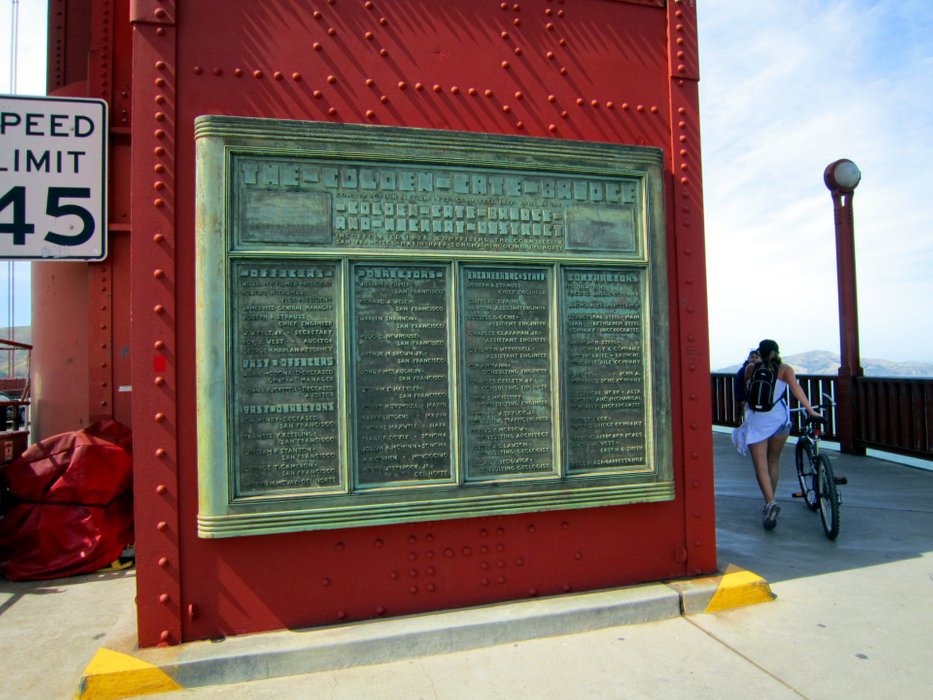 Oh, and we say a Marylin Monroe wannabe, with her dress being blown away by the wind. How sexy. 🤭
At this point, you'll find a lot of tourists enjoying the view and taking pictures, exactly like us.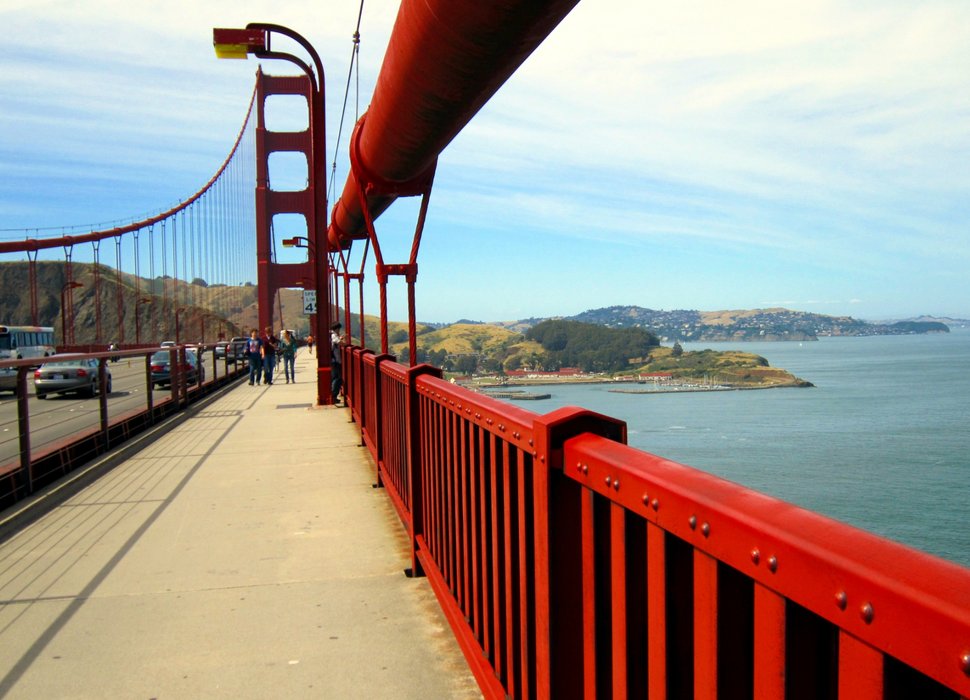 Down below, there were some adventurous windsurfers...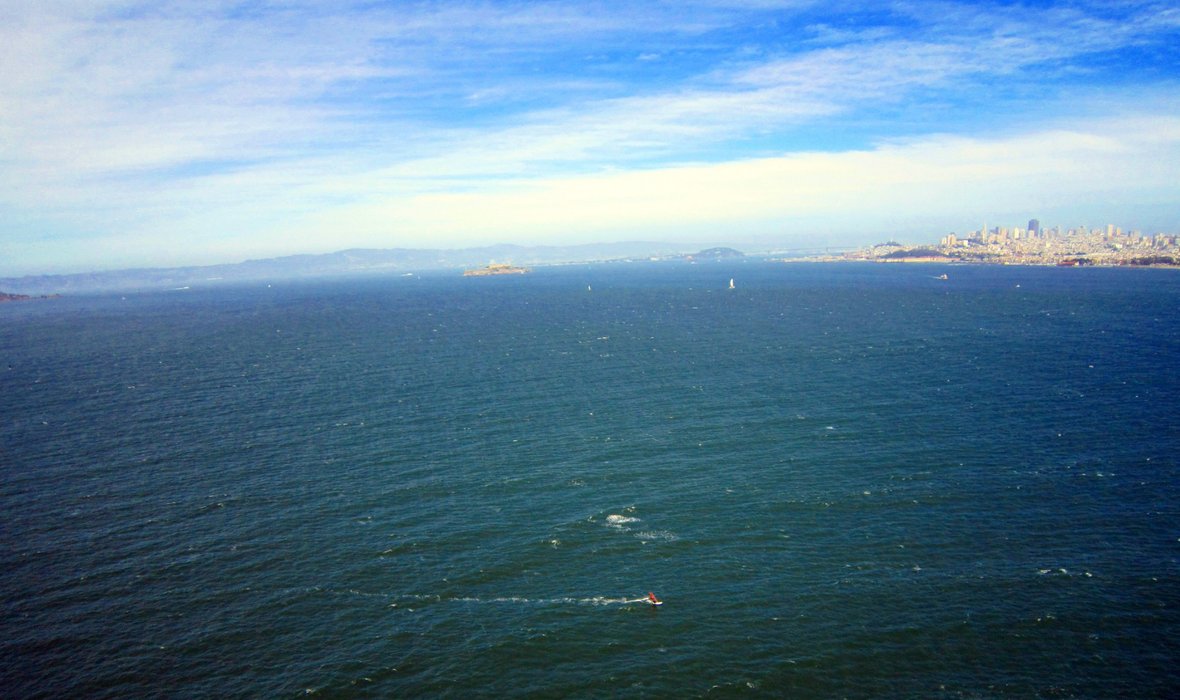 Even though there are plenty of tourists, you'll see a lot of locals crossing the bridge, as well.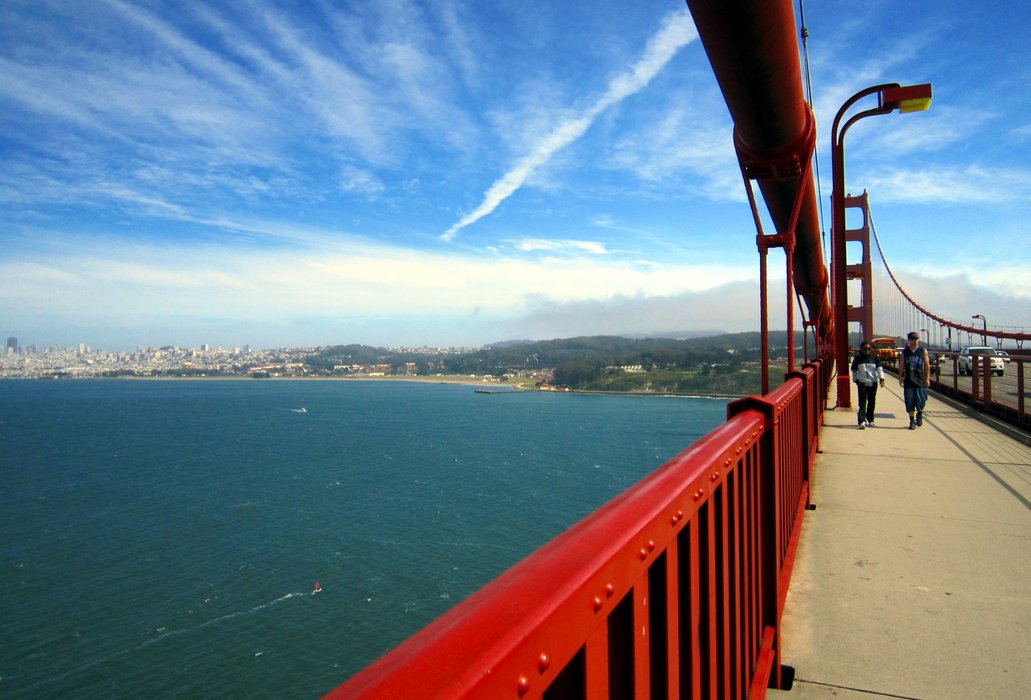 Those two guys walked right by us as if this was the most natural scene in the world. They kept walking and talking to each other as if they did this every day.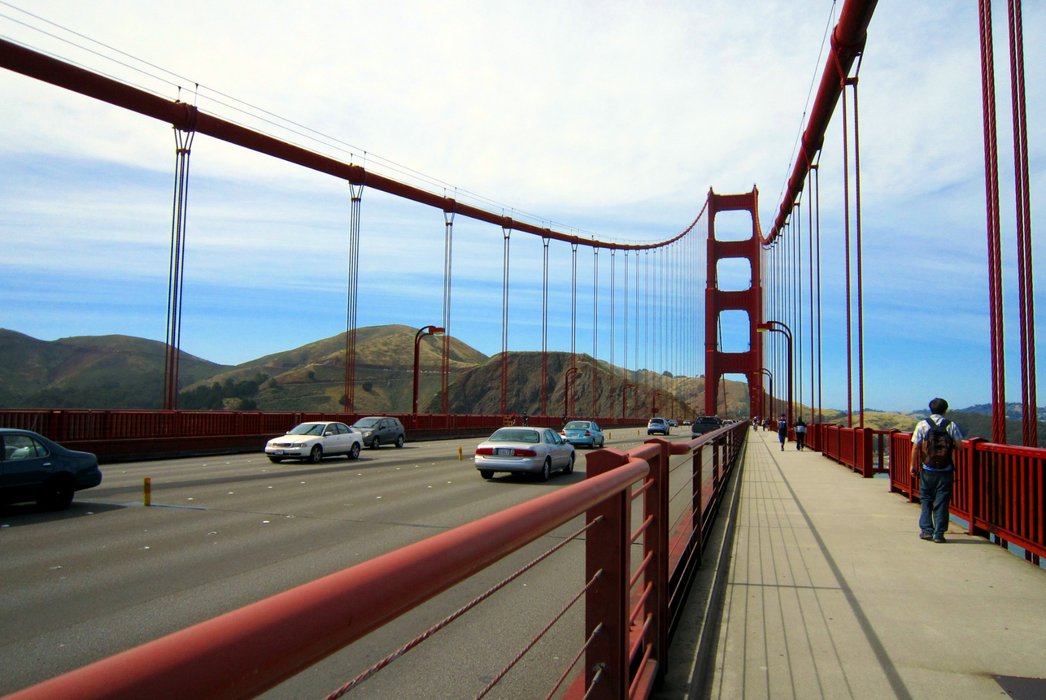 We've kept admiring the view for a while... and taking the opportunity to rest a bit, at the same time.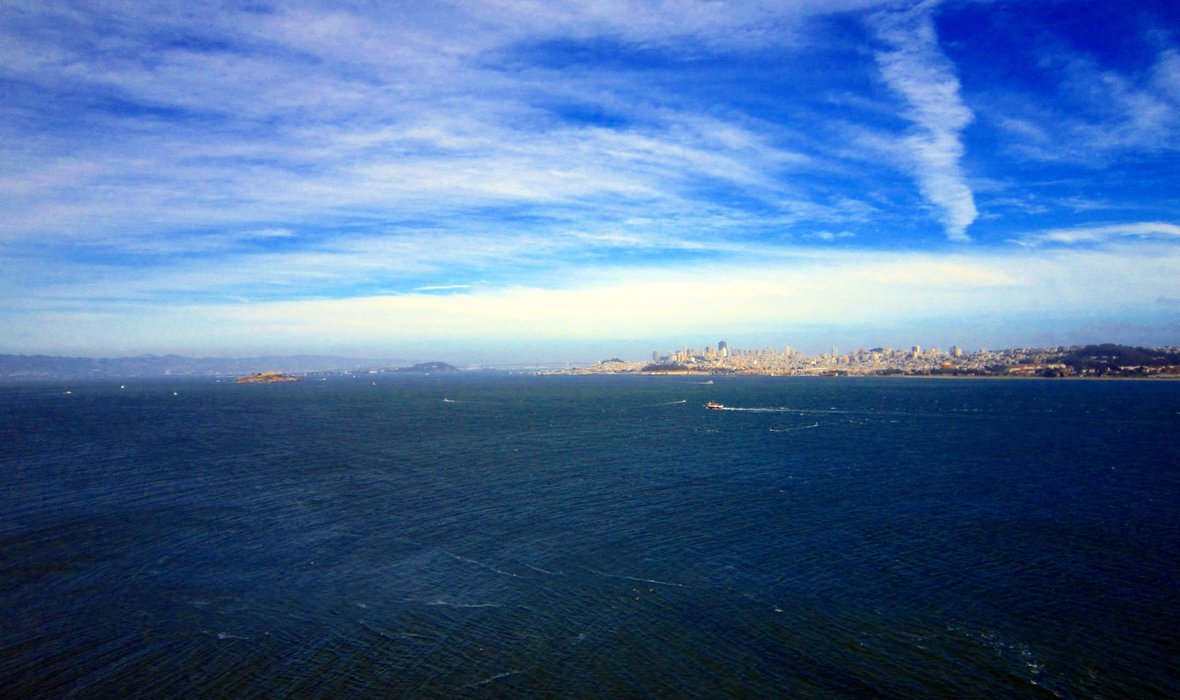 This lady passed by us while talking on the phone, not even looking at the scenery. Obviously another local on her daily routine.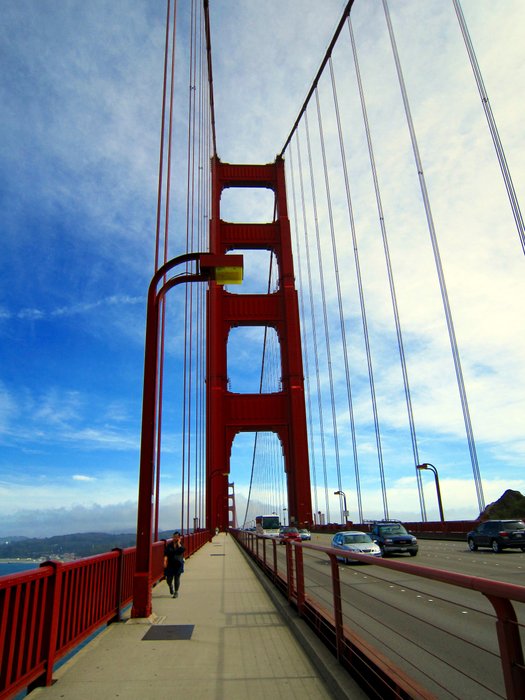 More and more people kept walking by... and that got us thinking:
They must be heading somewhere... Right? Let's take a look and see what's ahead.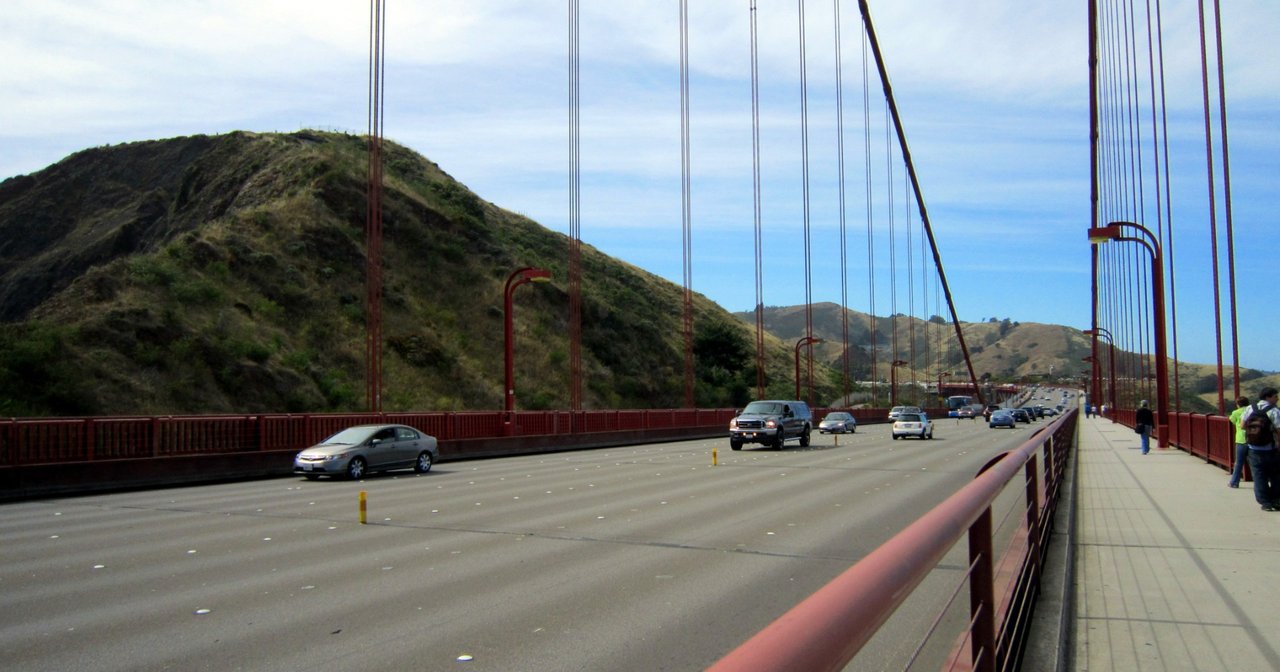 We could see a dock of some sort, with lots of boats but that wasn't the destination of all this people. There had to be somewhere else. Some village or city where these folks were heading to. 🤔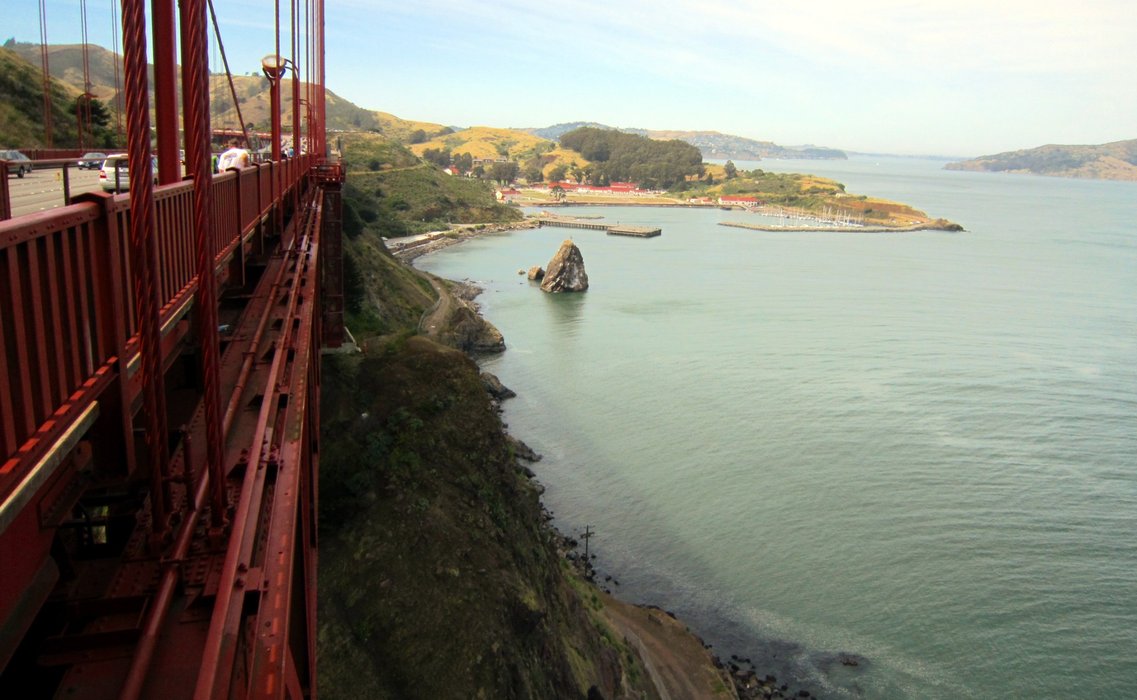 More and more locals appeared... the more people passed by us, the more curious we got. 🐈
(You need to keep in mind that this happened 10 years ago. Having Smartphones with GPS and a global data connection wasn't a thing, back then.)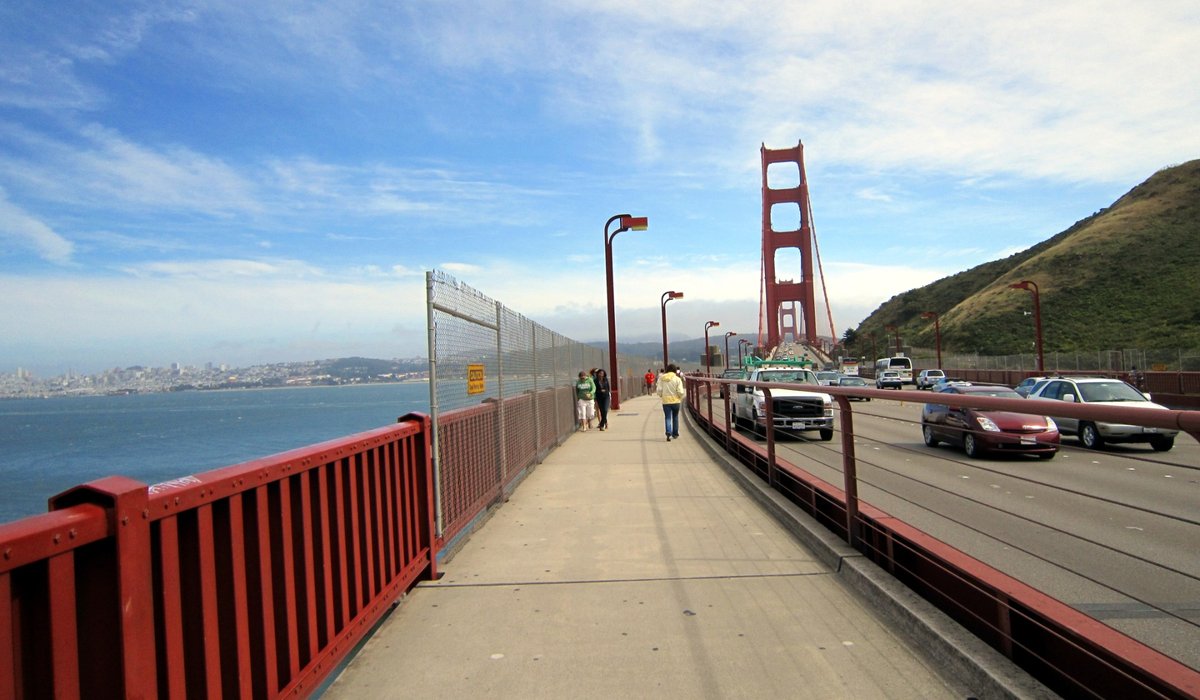 We finally had reached the end of the bridge... so we had to decide:
Shall we push ahead or head back to San Francisco?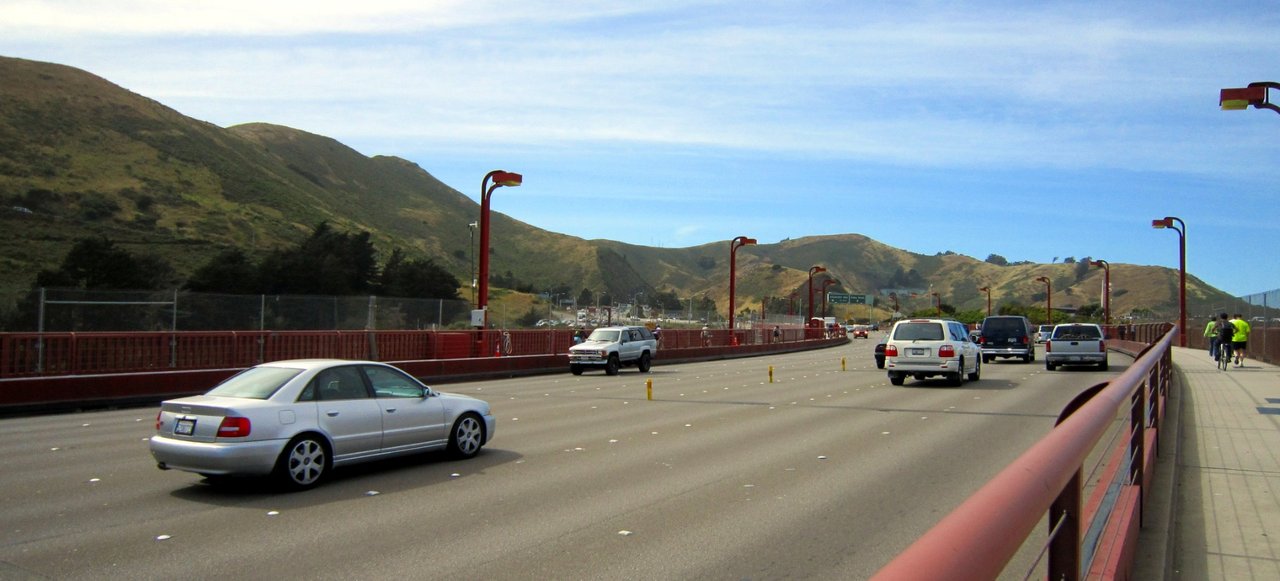 The Hyundai cargo boat was still heading towards Alcatraz. Supplies for the prison guards and inmates, maybe?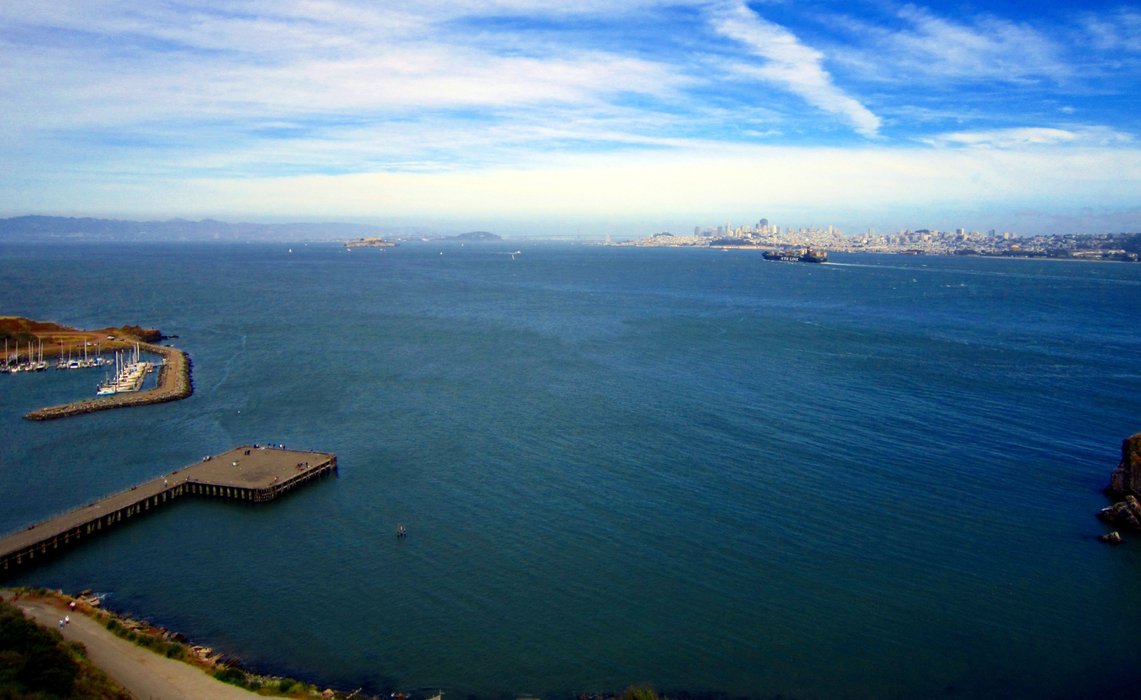 The docking area was closer now... and didn't seem that attractive to us. I mean, it's cute and all... but we had no boating license. There wasn't much for us to do there.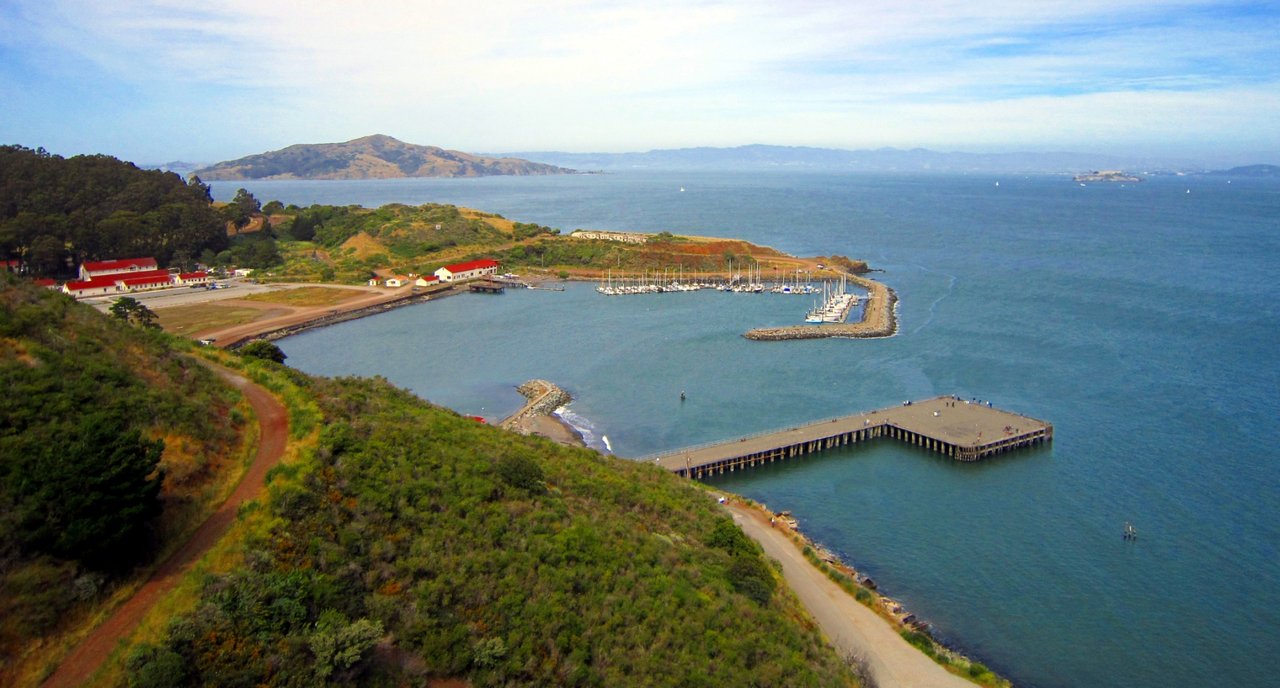 Well... that appeared to be the only path available so headed down there anyway. Just for a while...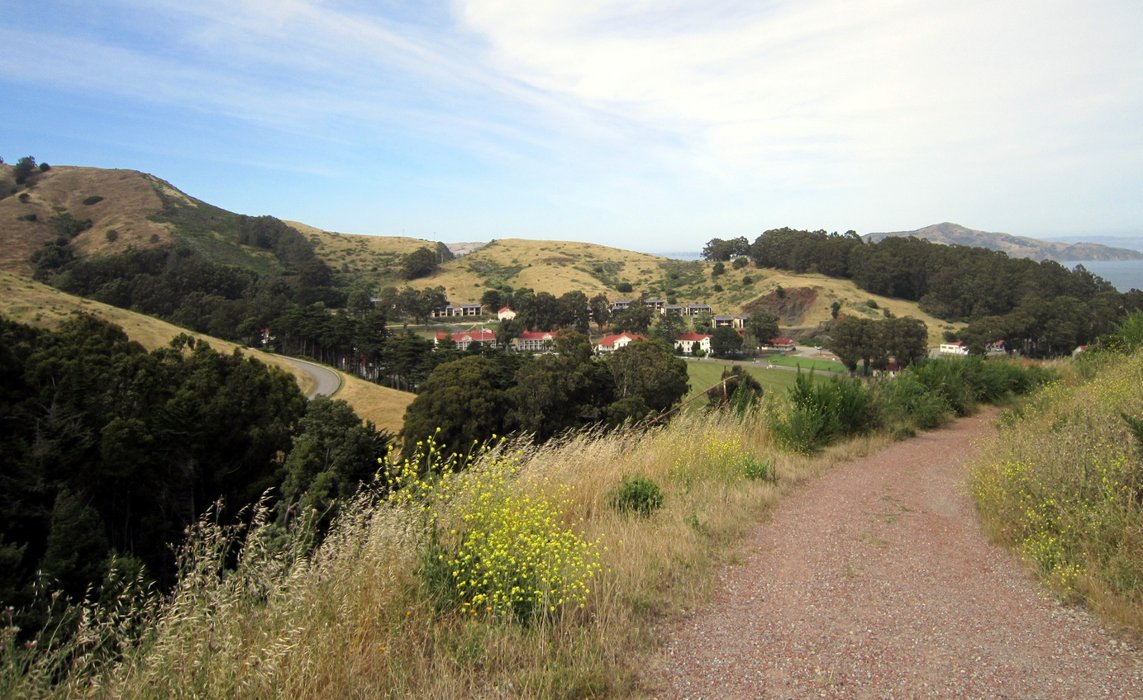 We kept looking... and we realised that no one except us was going down this path. Where were all the locals? 🤔
We surely must have missed something along the way... We forgot that idea and headed back to the main road. There weren't many options there... at this intersection you can either go forward of turn back to San Francisco, from the same path we had came. We were very confused. 🙄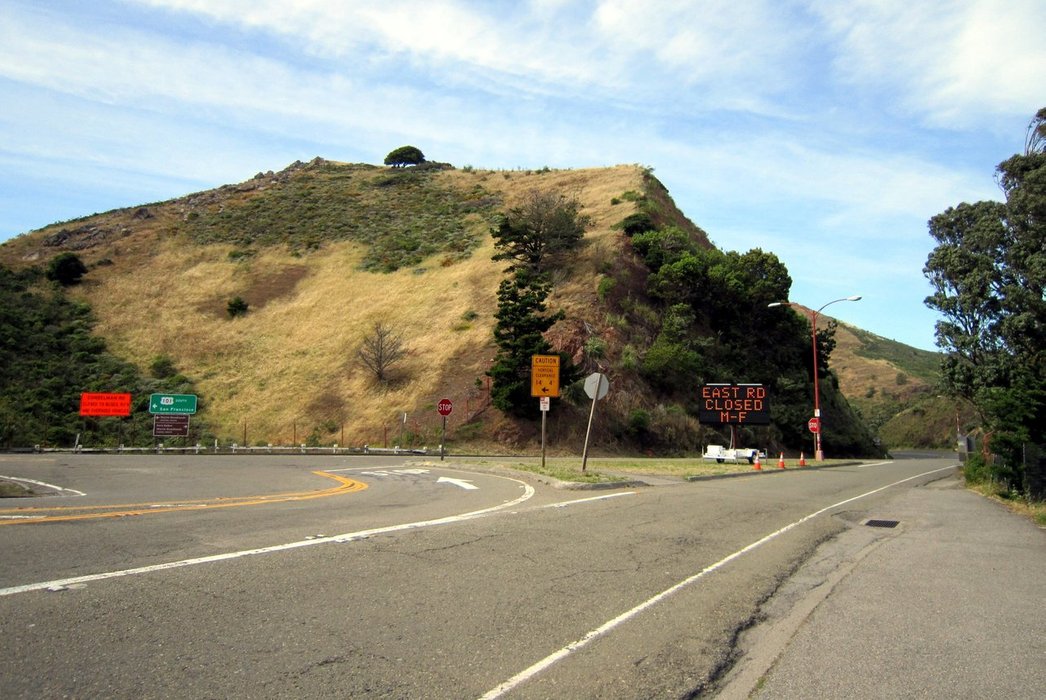 Apparently, the locals were simply heading down the main road, even though it didn't appear to have an end in sight. How strange. Oh, well.
"When in Rome, do as the Romans do." - Right? And so we did...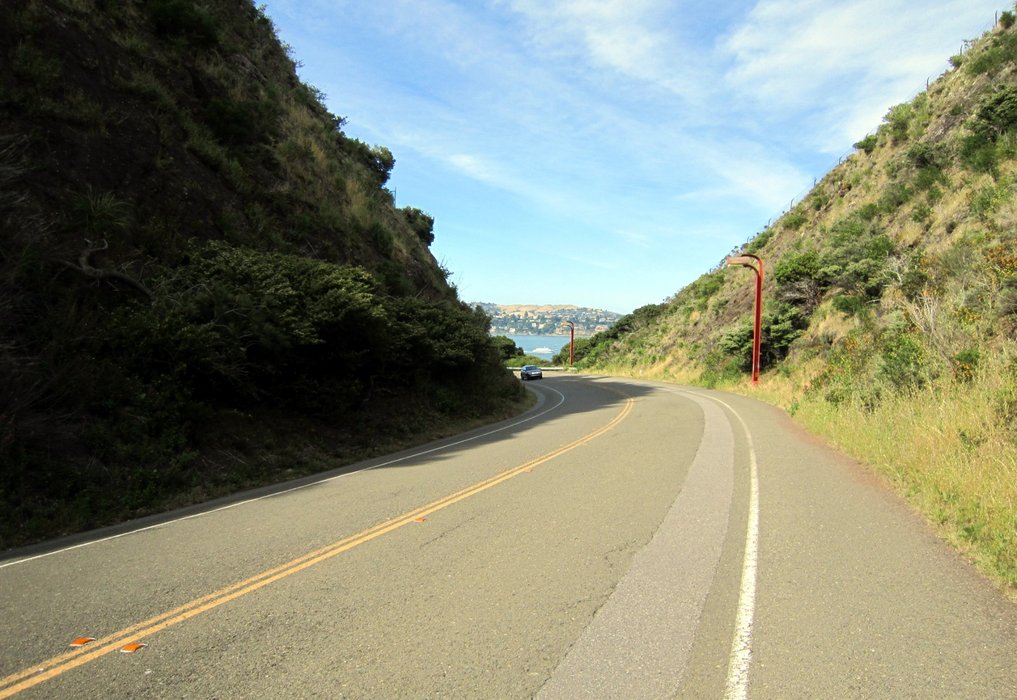 We've kept walking and walking, waiting for some interesting place to pop up.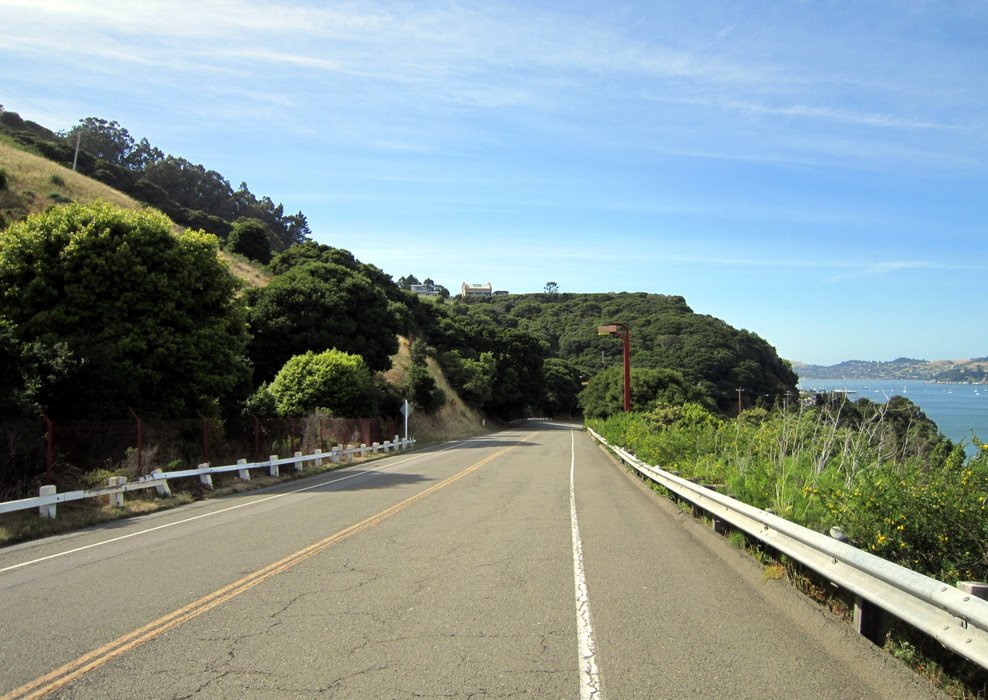 After a long walk, our efforts were compensated. We had reached... Sausalito!!! 😎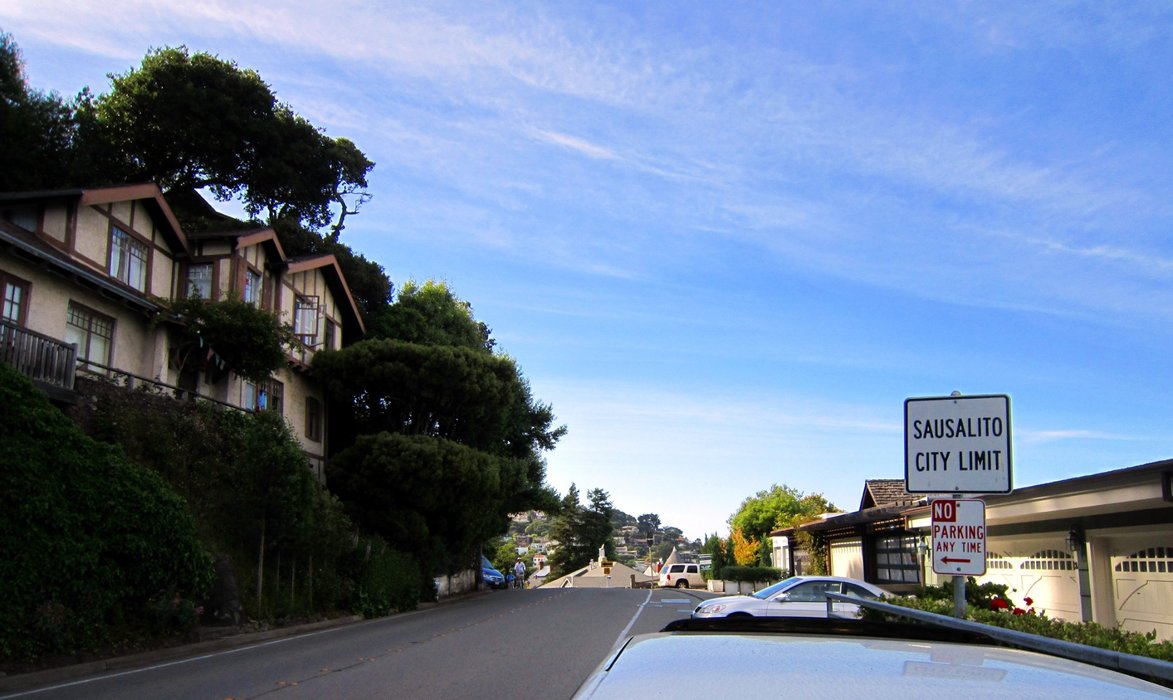 On the next and final part of this article, I'll show you some really cool images of this picturesque little town. Stay tuned...
---
| | |
| --- | --- |
| Camera | Canon IXUS 210 |
| Location | San Francisco - USA |
| Photos | 31 (Edited with GIMP) |
---