Good night, fellow Bees.
If you remember, on my previous post I left you at the entrance of Sausalito. Here is the final chapter from that adventure.
Upon our arrival we immediately saw we were in a really exquisite place. This town seemed to be a very upscale neighbourhood, even more than San Francisco. The type of houses we saw left no margin for doubt.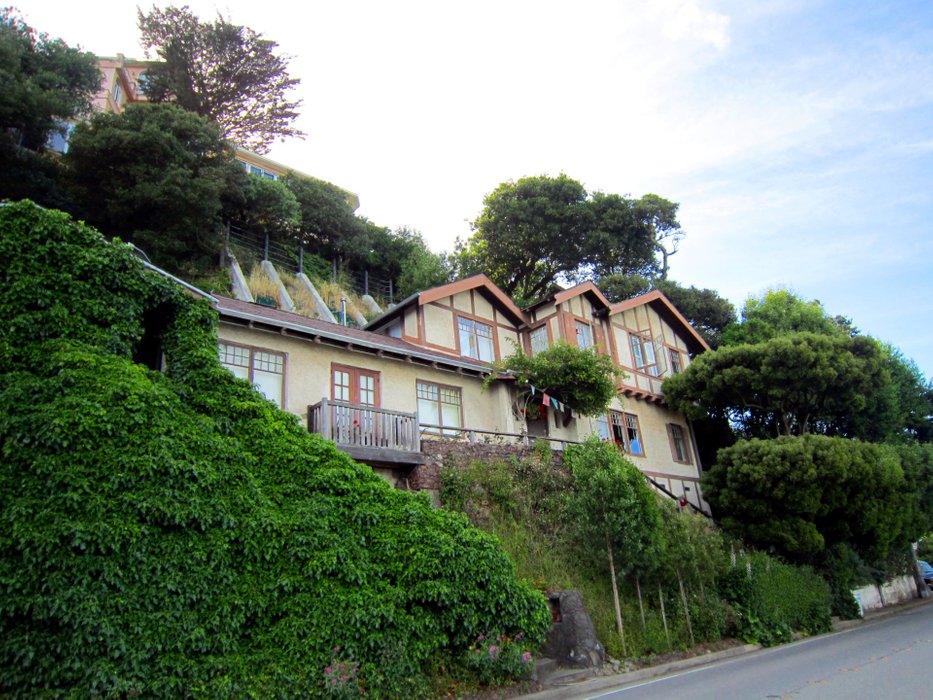 And this was just the entrance, still a few minutes away from the downtown. Like it happens in many towns, rich or poor, the entrance is a bit raw, with no sidewalks for pedestrians.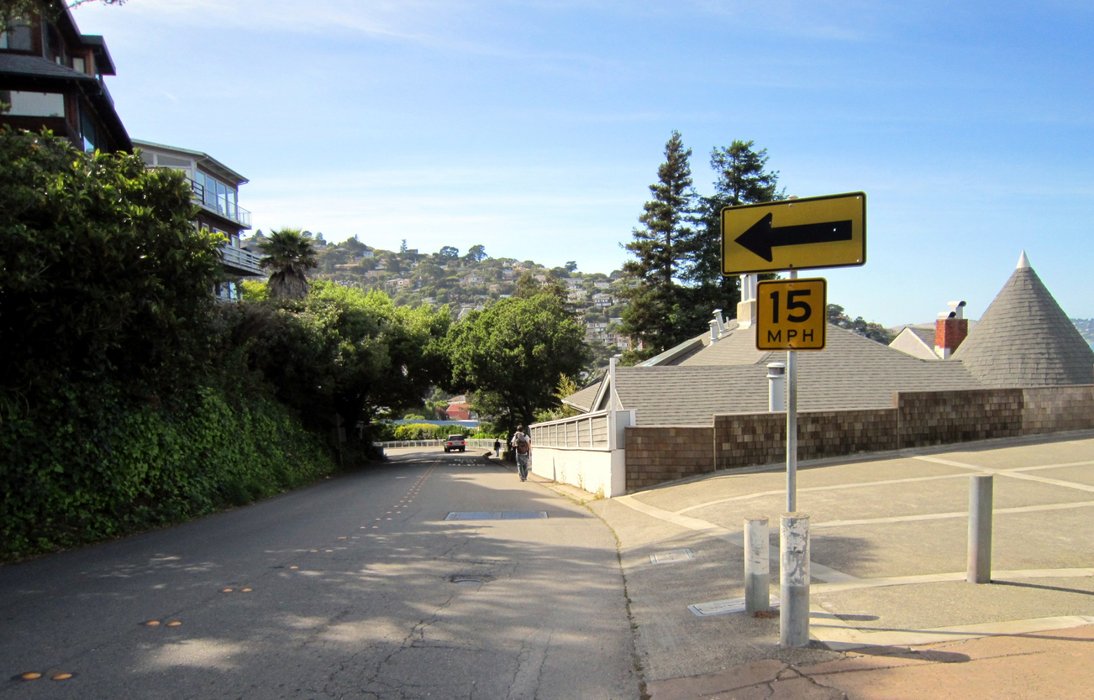 We went down the road in direction to the centre of Sausalito, eager to know what we were going to find.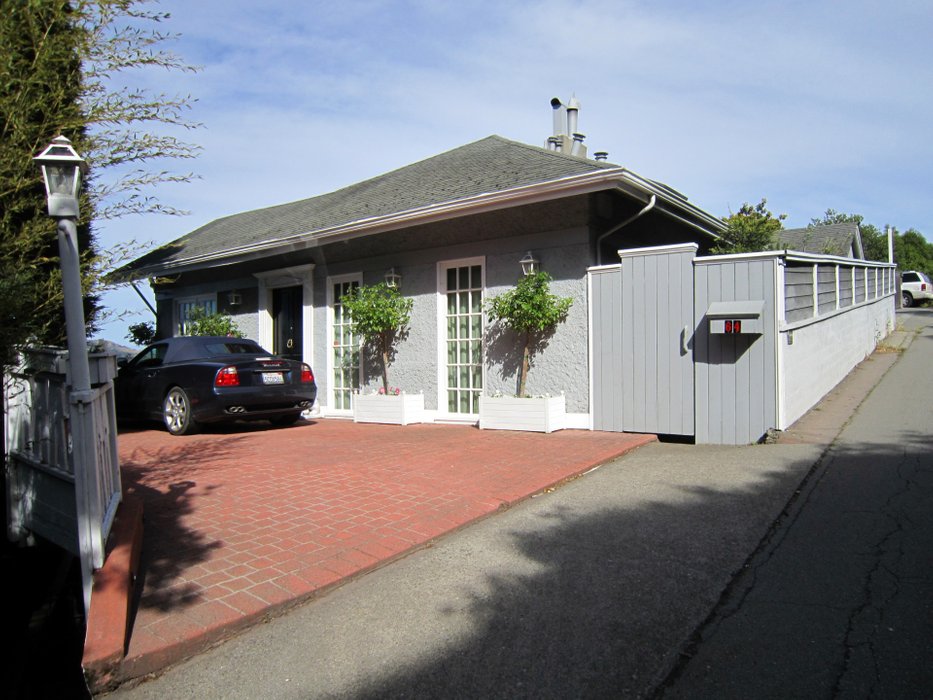 Not very long after, the sidewalks started to appear... and with them, an incredible view over the town. 😎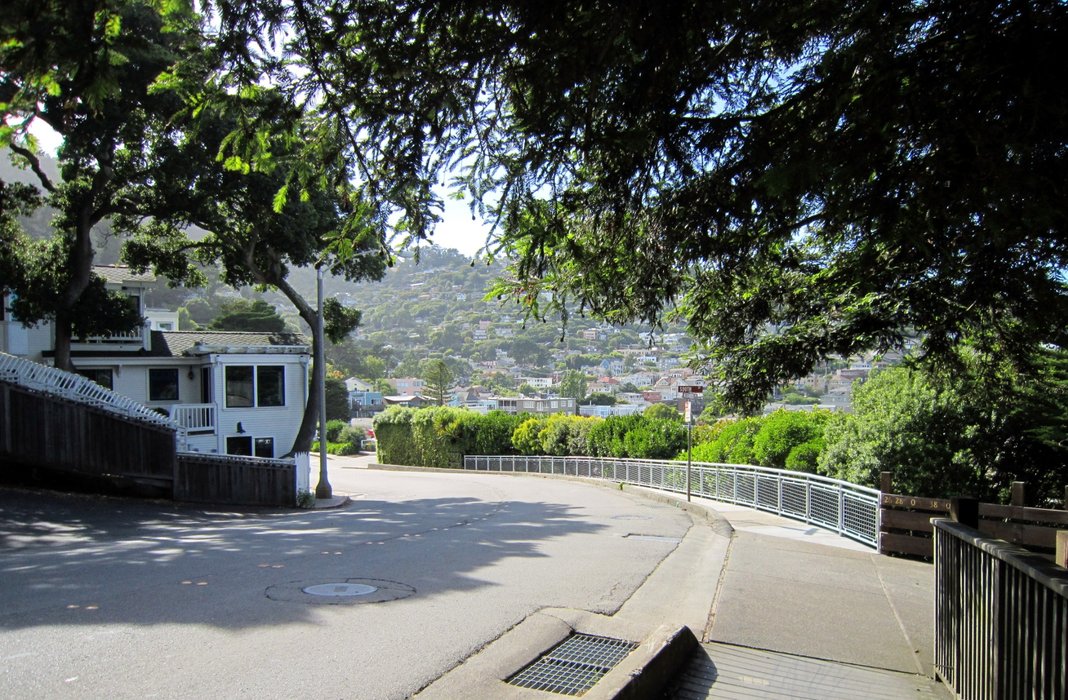 Even though Sausalito is a very rich town, it seems that they forgot to hire a city planner. Apparently, there aren't many rules here. Everyone built whatever they wanted, wherever they wanted.
The owners of this white house weren't the slightest concerned about the roots of those trees...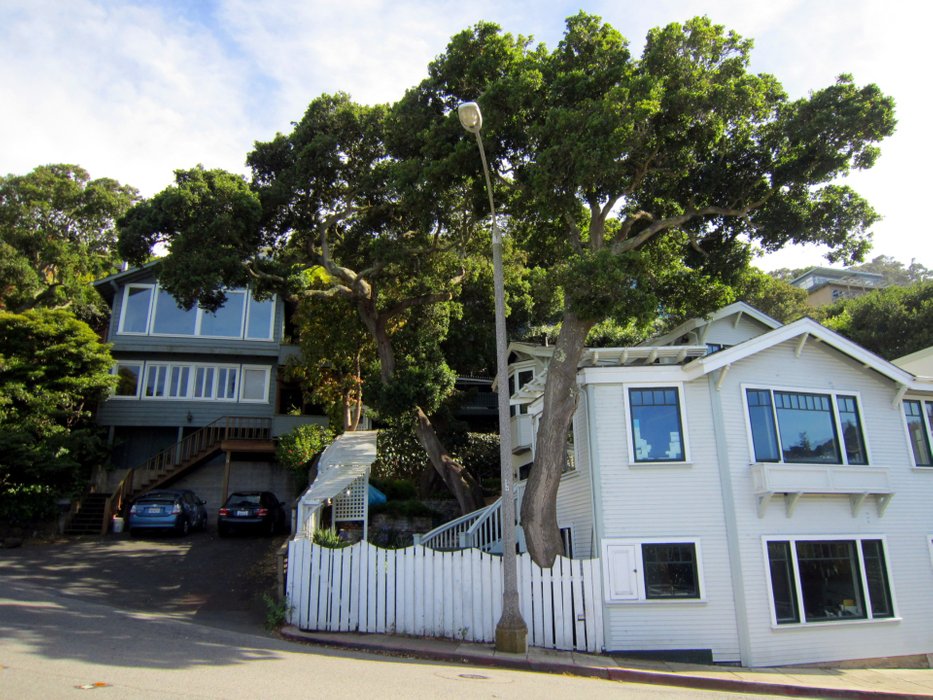 There was nothing uniform about this place. Houses of all kinds, colours and shapes were built side by side. Some would have walls and gardens, others would have the garage opening up directly to the sidewalk.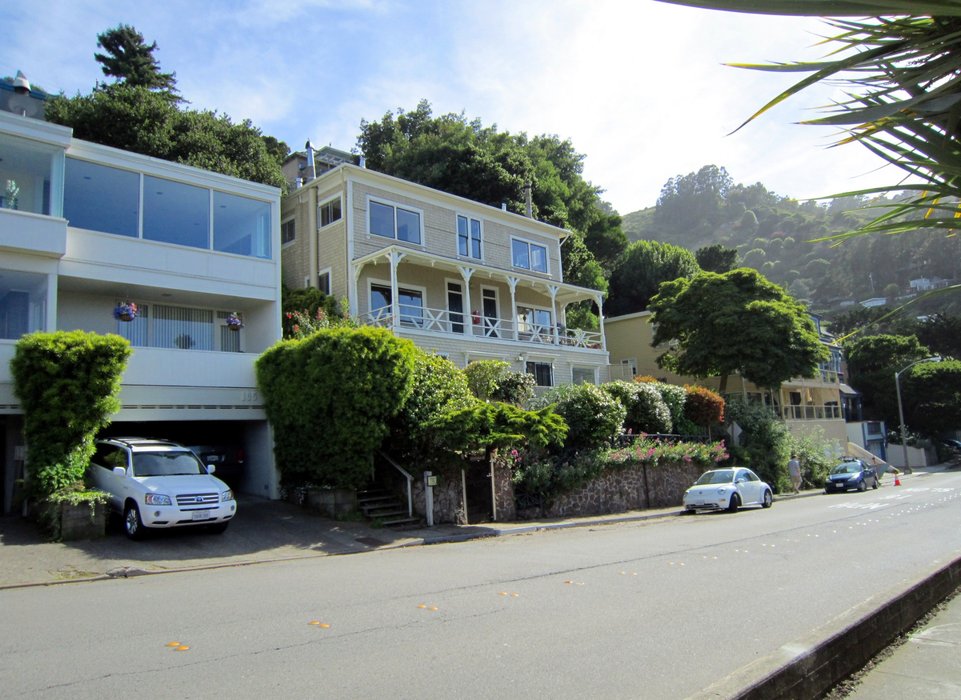 Here's another example of that. A house that reminded me of the old Far West... next to a more modern construction, which was hidden behind the trees.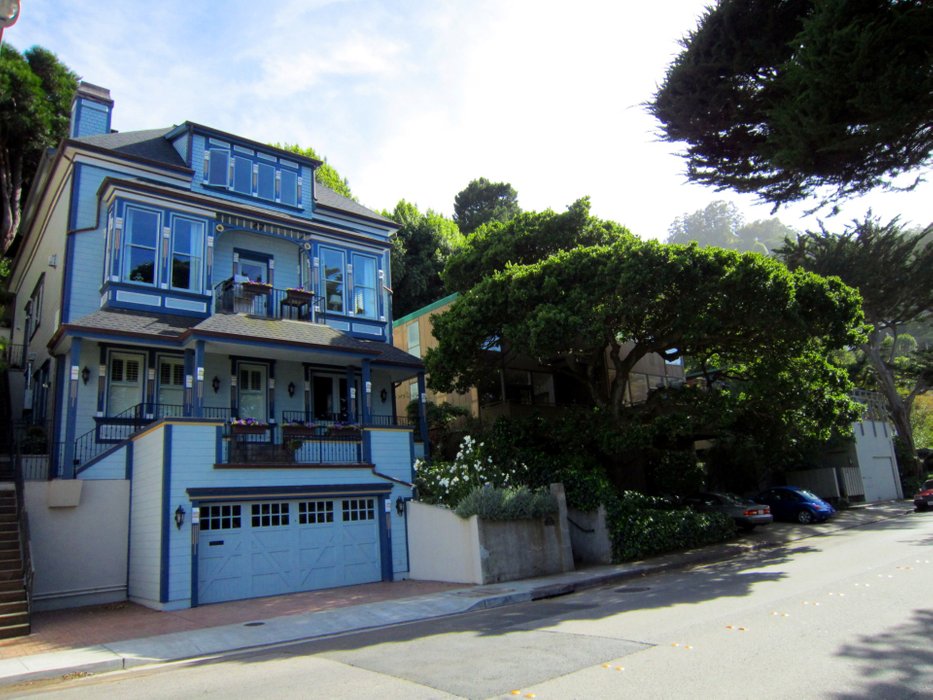 Here's a frontal shot of that house. There were some many trees growing around it that the building was almost invisible, camouflaged among the vegetation.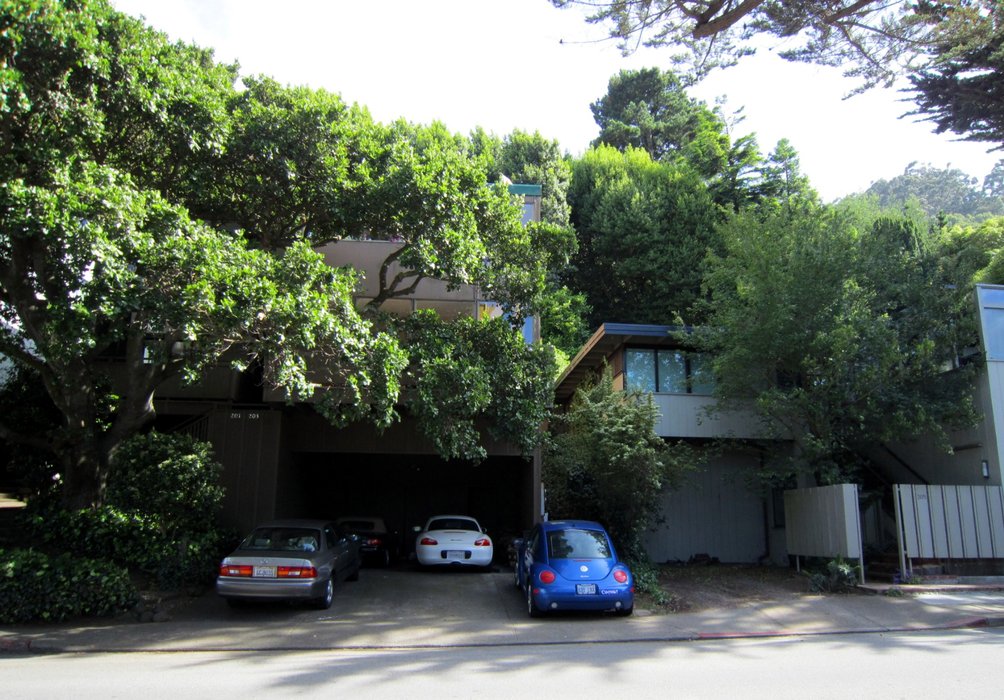 This was a common theme... many of the houses were hidden among the trees. That should feel good during hot summer days. 😅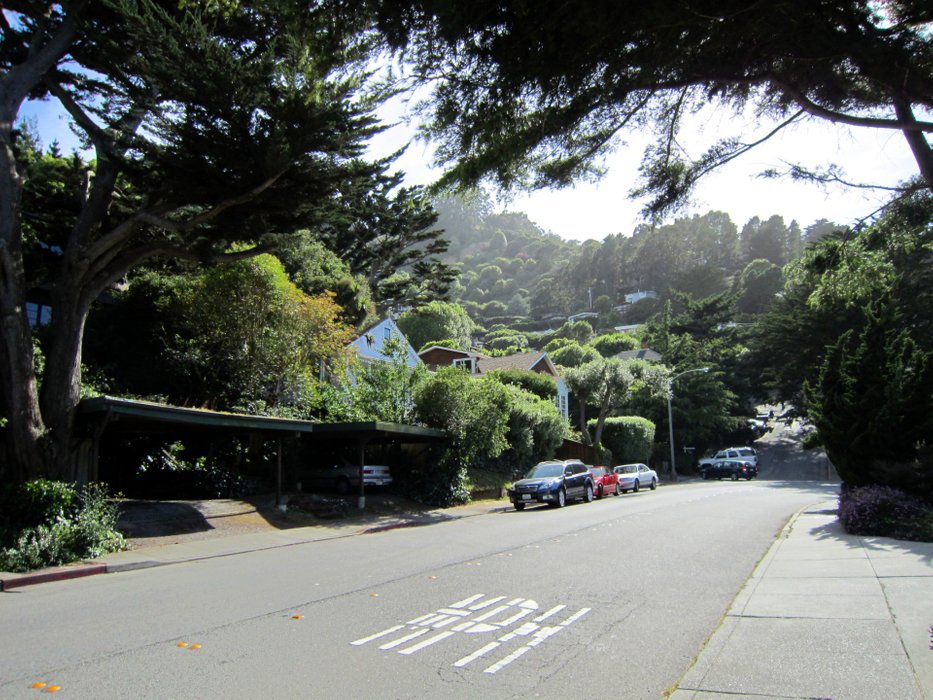 The total lack of planning was noticeable everywhere. The only rule seemed to be: no high buildings allowed. 😁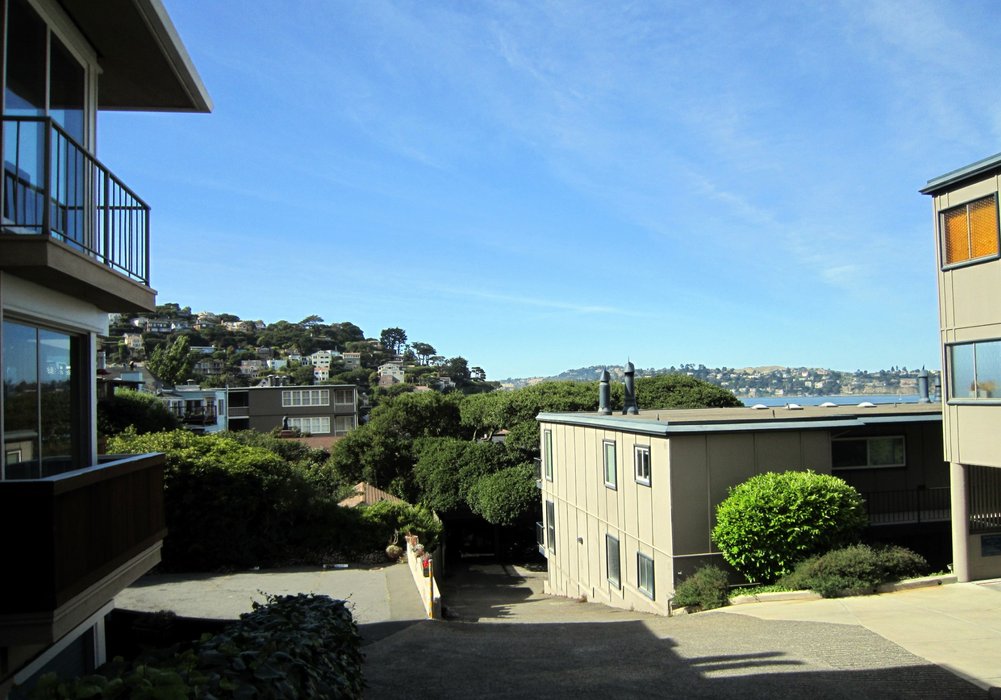 Sometimes the trees were so huge that it made the houses look tiny by comparison...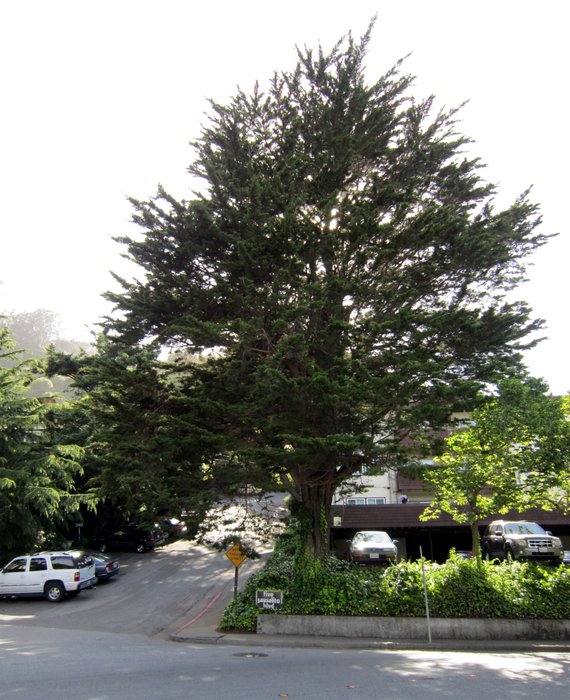 Despite the total lack of city planning, from afar it made a great view. All those different houses come together in a perfect postcard scenery. 🤗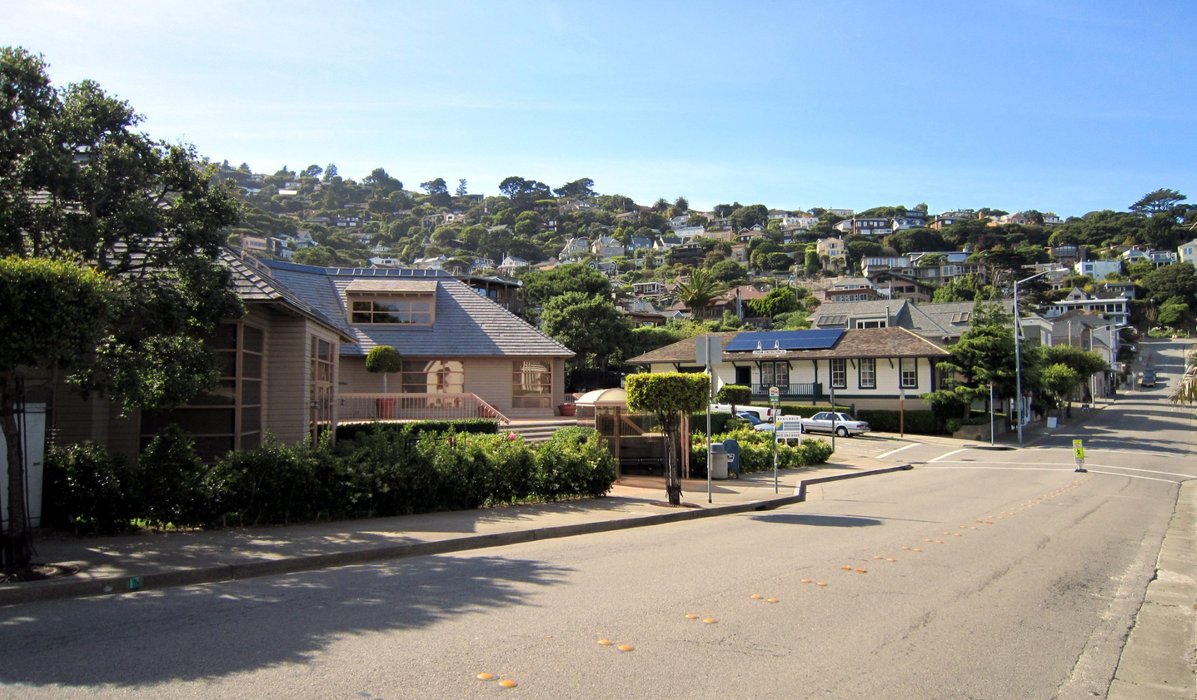 There was hardly any traffic and most intersections showed that... as there weren't traffic lights to control the flow of cars.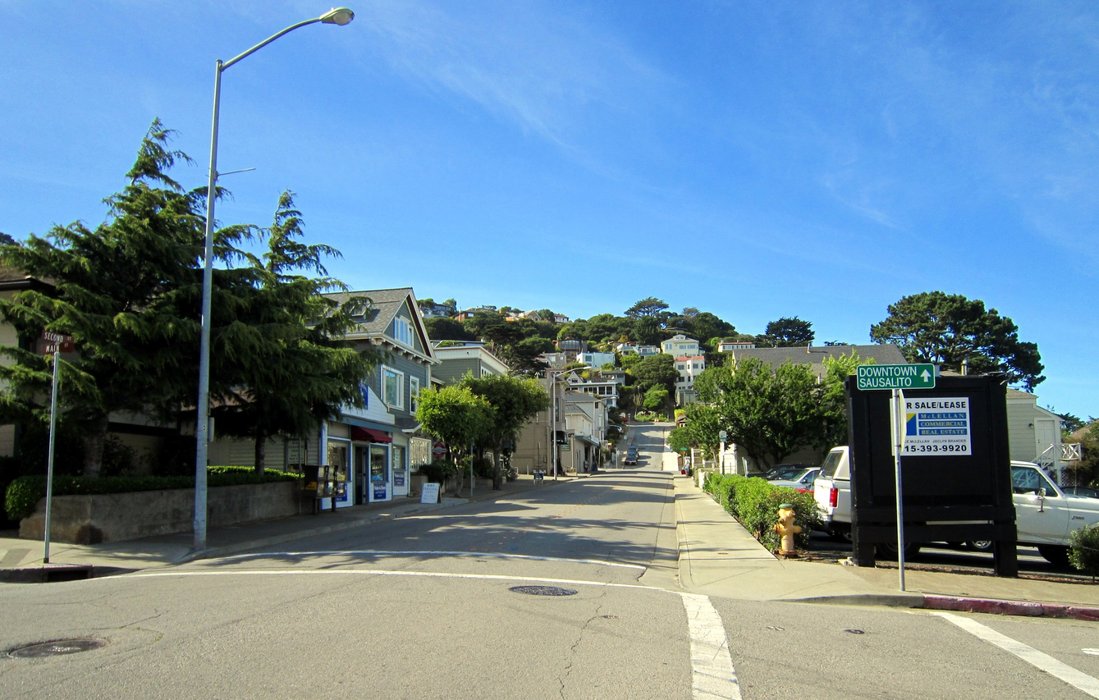 Walking around this little town gave me a feeling that some form of anarcho-capitalism was in place.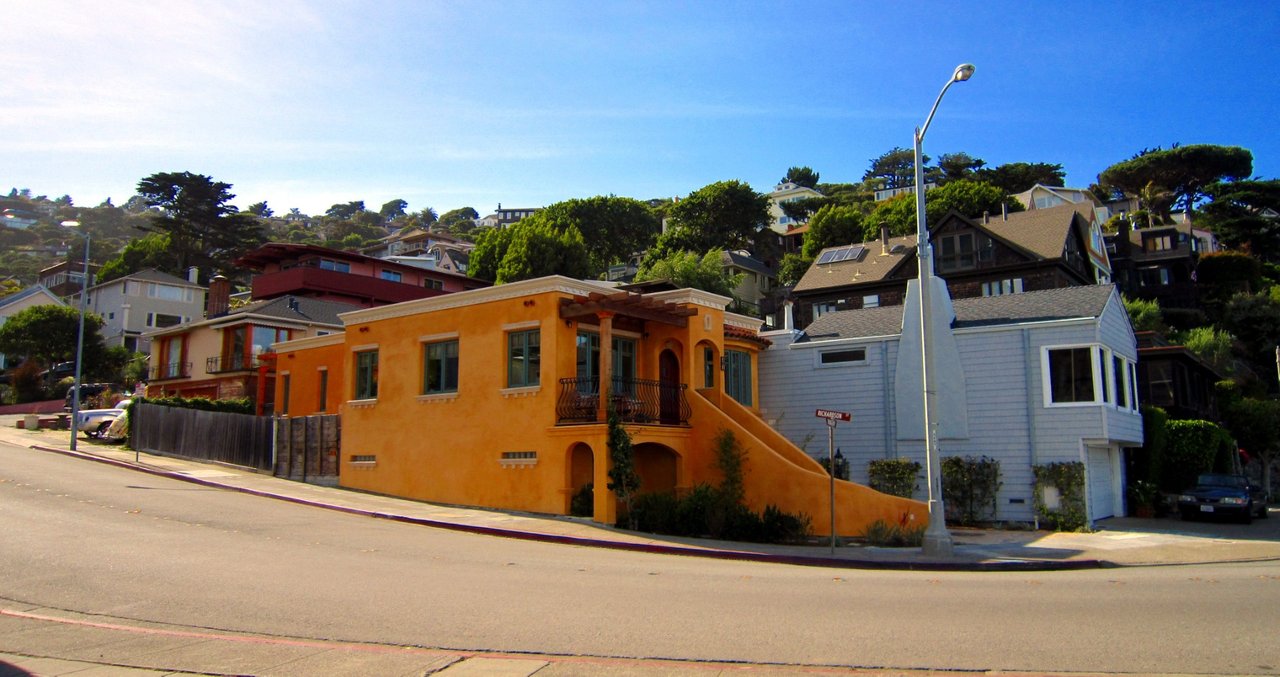 I mean, just look at what's happening here... trees growing among the houses, houses with totally different shapes built on top of each other, cars parked on the sidewalks... if there was a restrict form of law, I couldn't see it.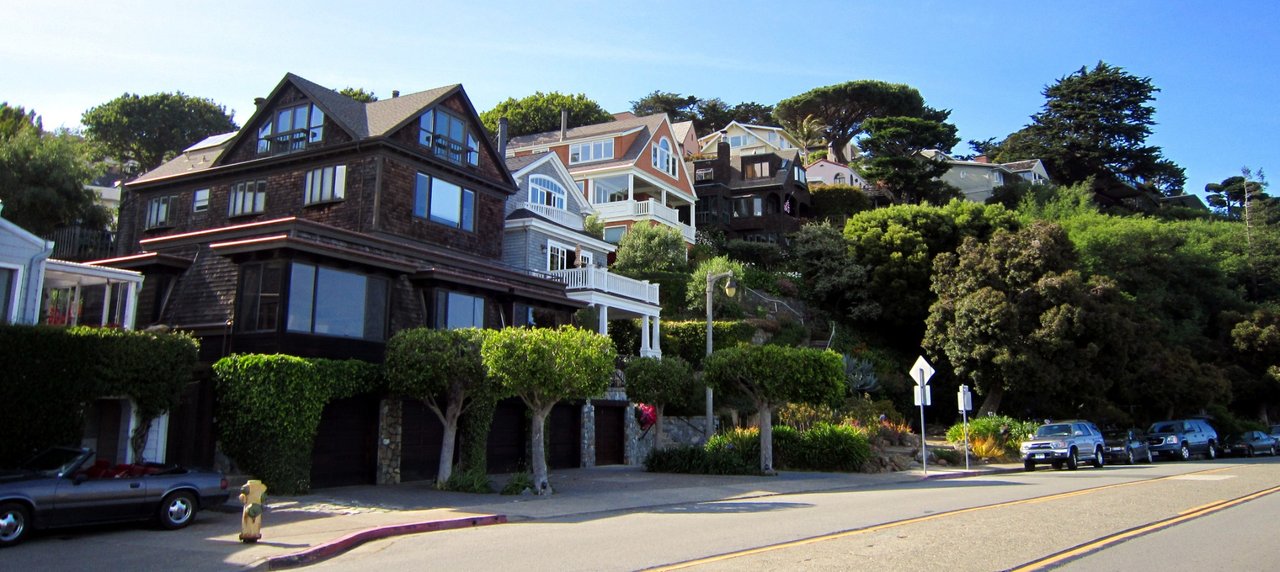 Constructing such a big house dangling on the side of a hill would be forbidden in most places I know. 🤭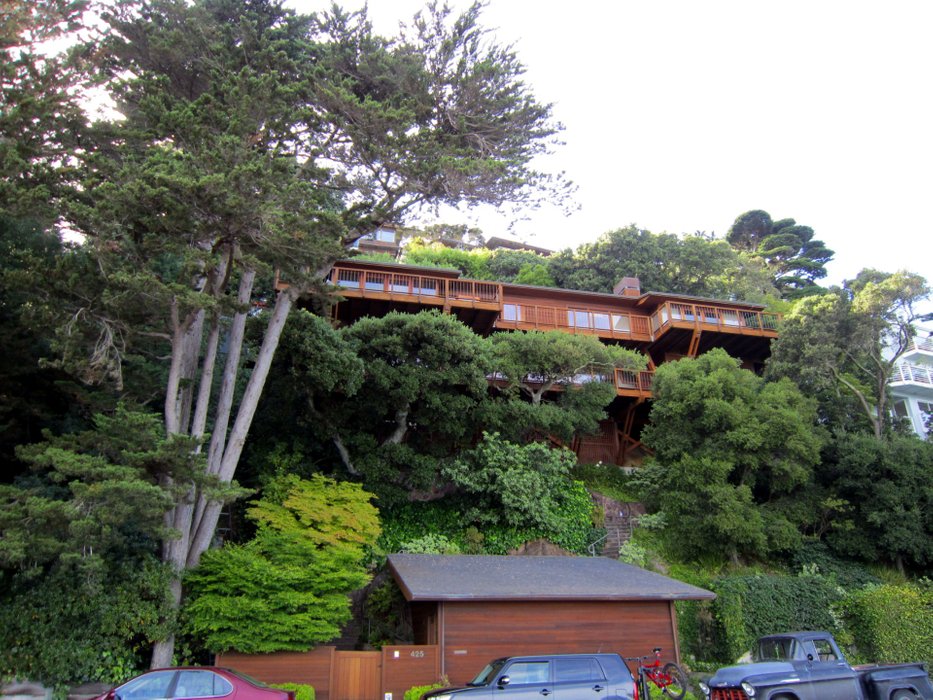 One more example of the diversity of the place: a tiny house which seems to have more garage than living space was built under a large tree... and right next to a bigger mansion.
After a walk at the middle of the town, we head ourselves to the shoreline.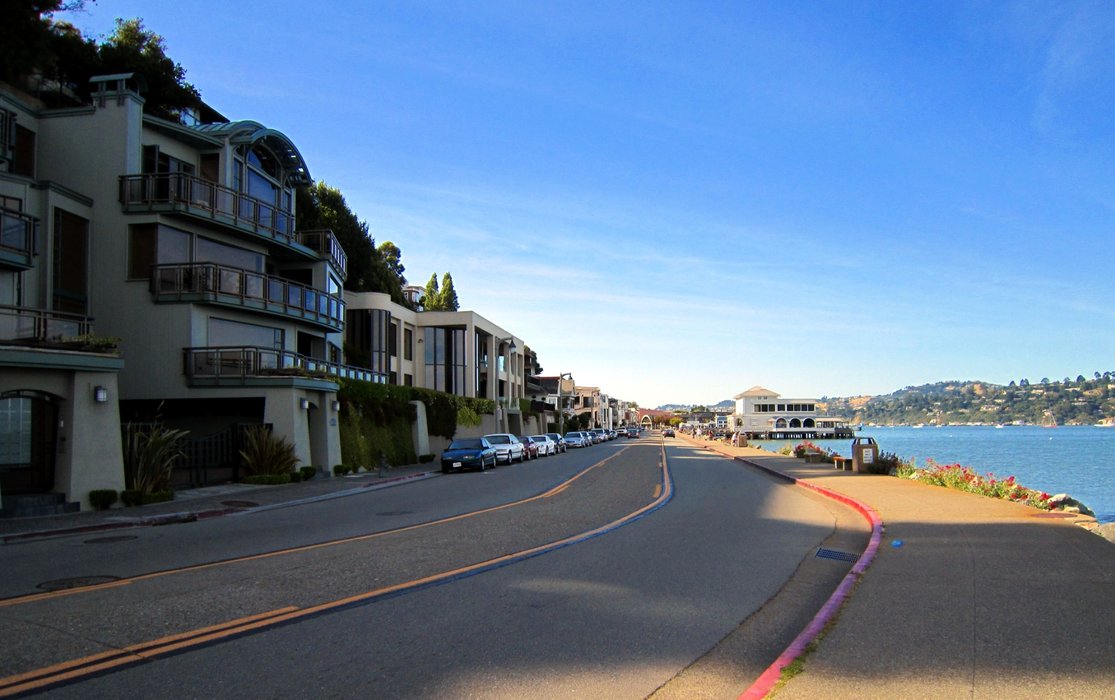 This part of the Bay Area appeared to be very tranquil and the waters had barely no movement. It almost seemed like a big lake and not a spot of water connecting to an ocean.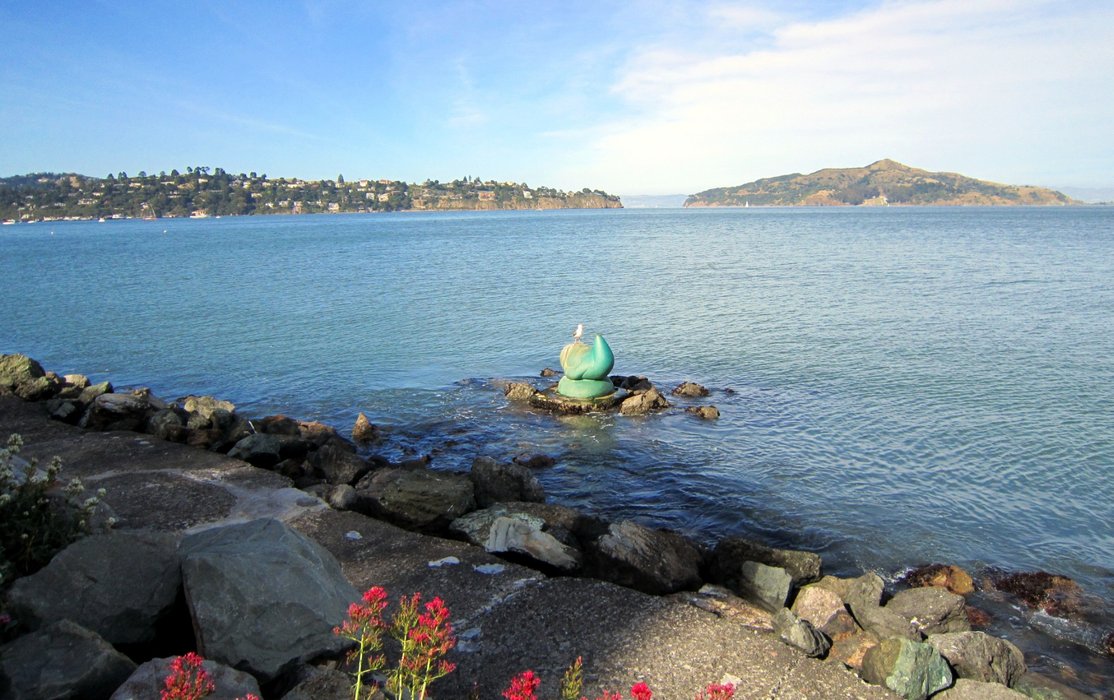 The locals had some houses placed right by she seashore... and apparently, they thought that the little bit of sand you see here... is enough to warrant it the title of ... beach! 🤣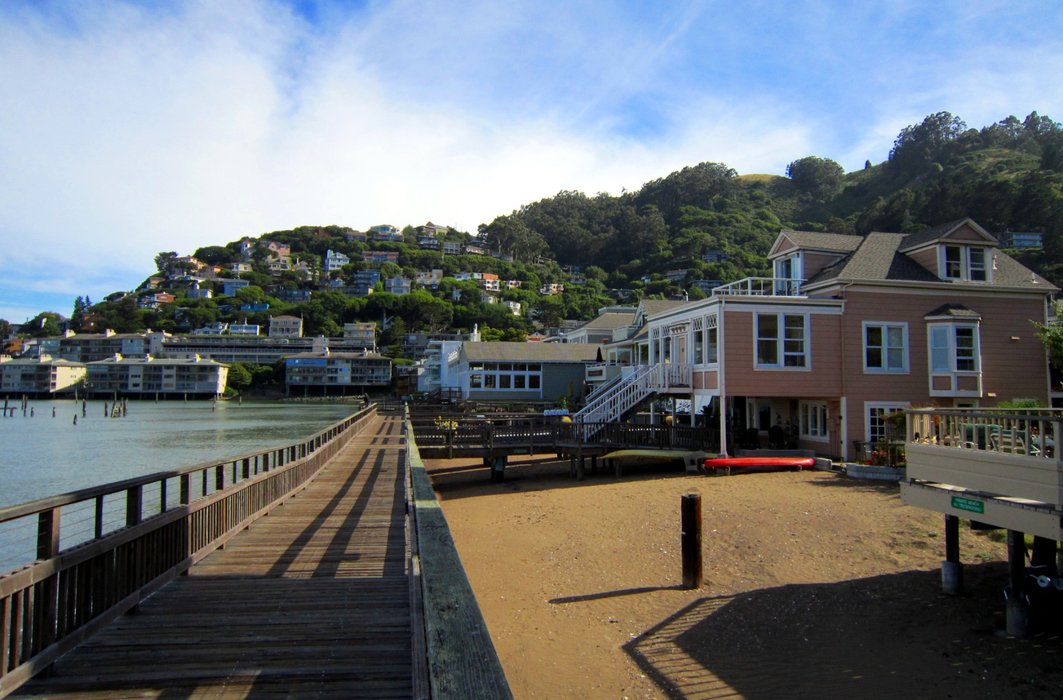 I kid you not. That little green plaque you see near the bottom of the house reads:
Private Beach. No Trespassing.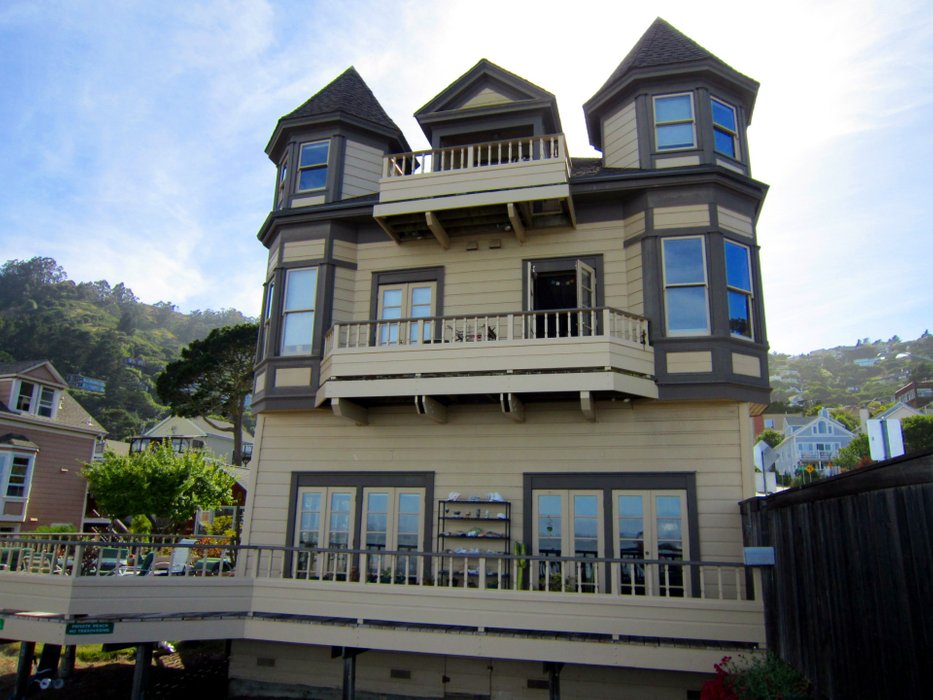 Private beach...? 🤔 Where? 😁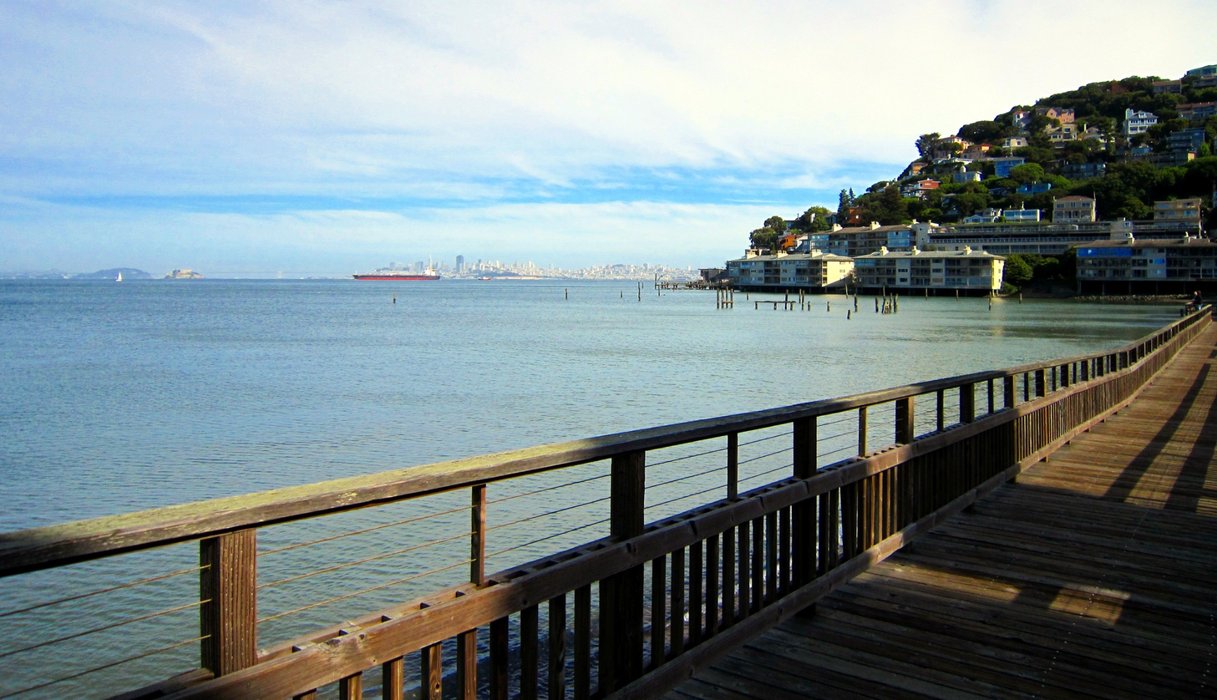 Well... beach or no beach, the guys living there had a superb view right from their bedroom window:

There seemed to be a few houses built on that island and it was only accessible by boat... or helicopter. I bet the most rich people of Sausalito live there. Just because they can. 🤑
I would be more than happy with a house like these... right by the shore.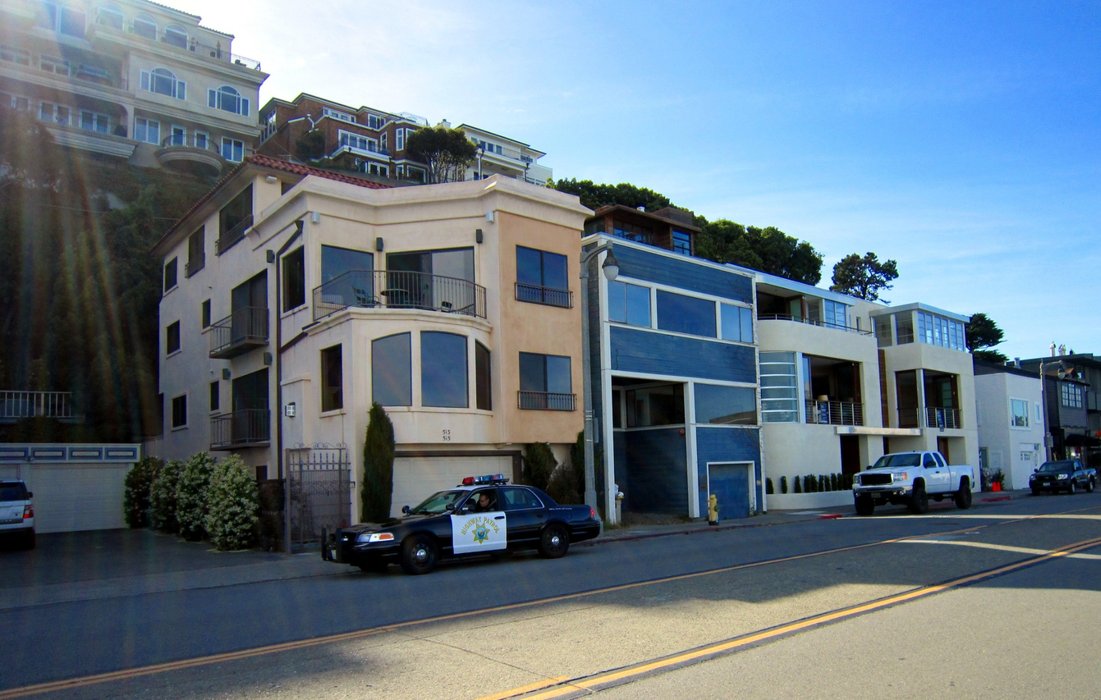 I would dismiss the 24/7 patrol car on my doorstep, though. This town seems so peaceful that I bet there is no crime here. These police officers must have stopped there to take a nap or something like it. 🤫
Waking up to such a view must be a great feeling. At the distance, on the right, you can see the downtown of San Francisco.

We didn't saw many public areas, though... it seemed that people here don't feel the need for that. This tiny park with a fountain was all we could find.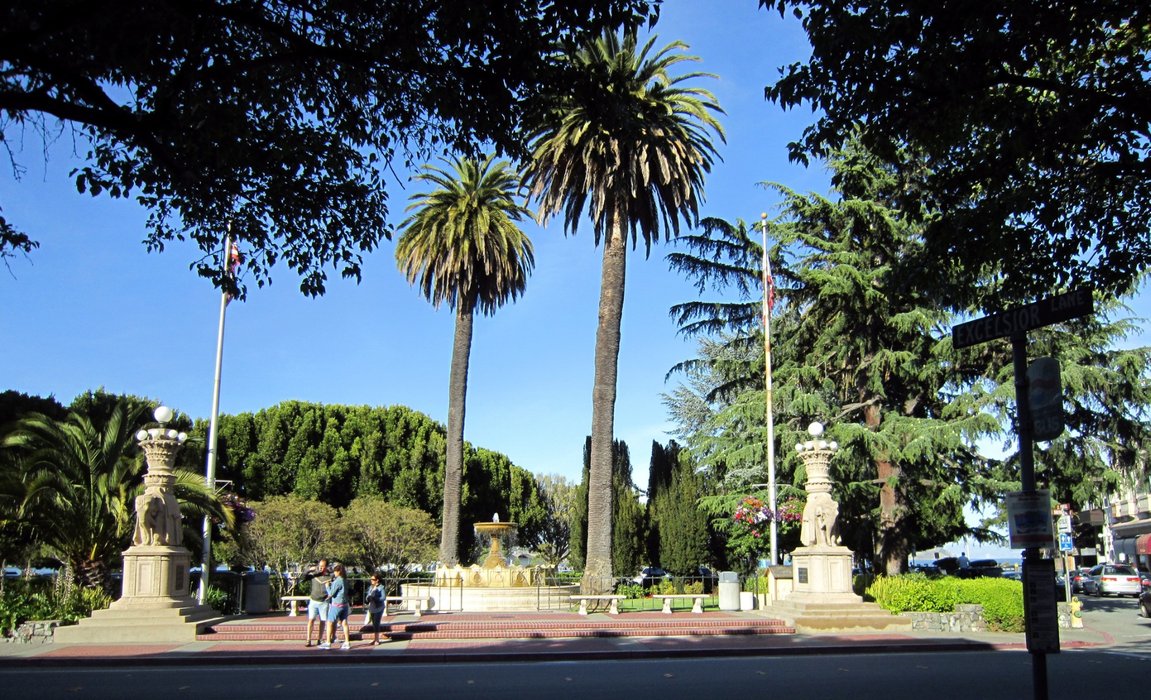 After seeing the place we decided to stop at a local café, to have a mid-morning snack. We sat down and waited for the menu. However, the prices were a bit too absurd for our pockets, so we only ordered something to drink and headed back to San Francisco, with plenty of time for lunch. 😌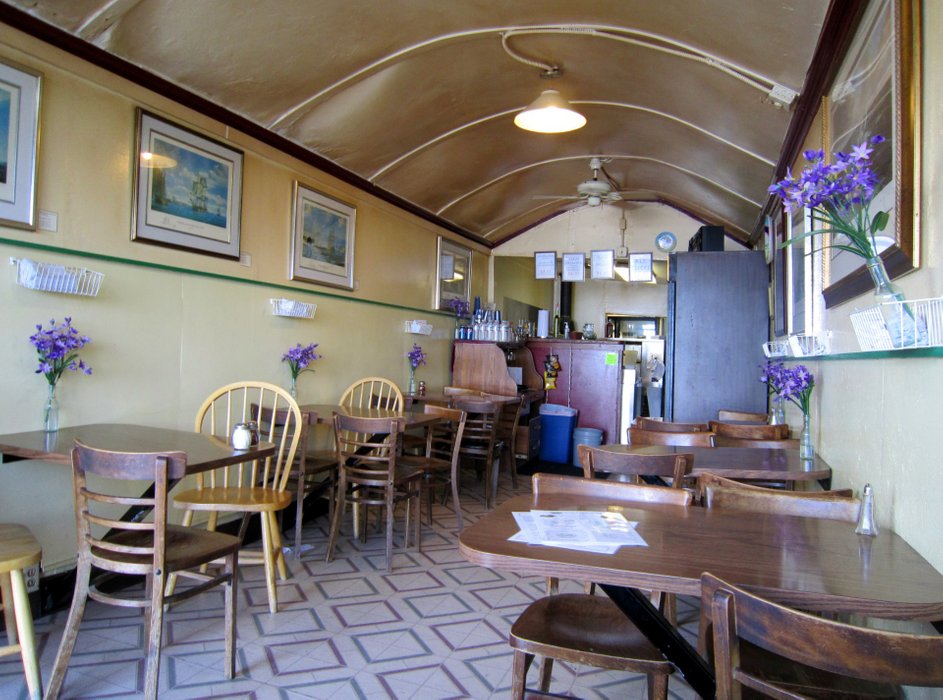 We decided to return by bus, instead of backtracking by foot by the exact same routes... and that was a great call. In a matter of minutes, we reached San Francisco, instead of walking 3 or 4 hours. 😉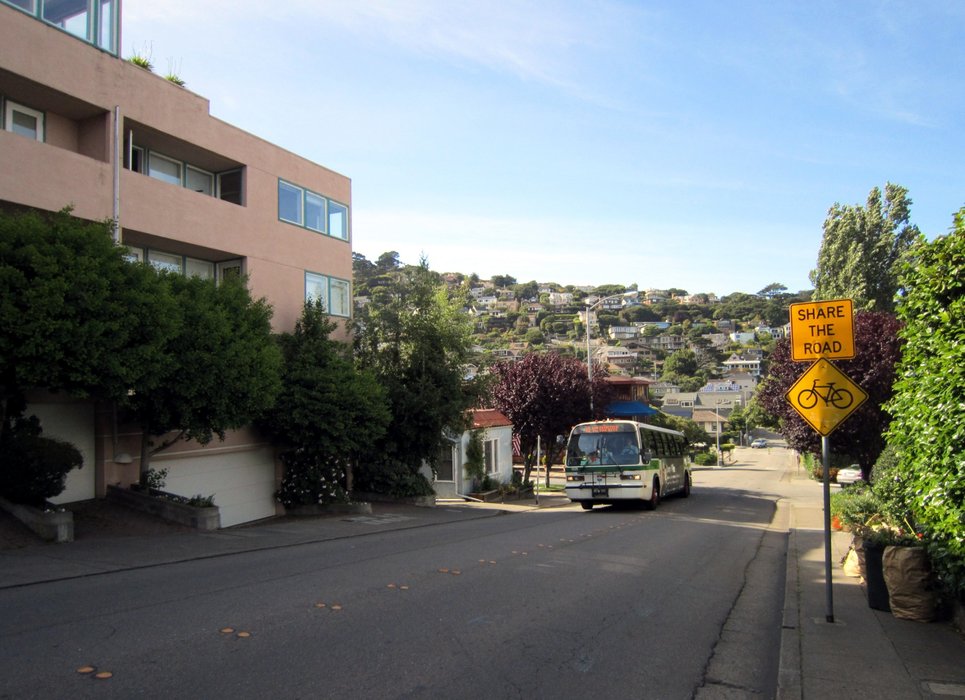 This was a great plan for a morning, as the sun wasn't too hot. If I recall correctly, we left San Francisco by foot around 7 AM... and returned by bus just around noon. 5 hours, in total.
We loved the views and everything we saw along the way.
I hope you enjoyed these articles as much as I liked reviewing this small adventure. 😊
---
| | |
| --- | --- |
| Camera | Canon IXUS 210 |
| Location | Sausalito - USA |
| Photos | 28 (Edited with GIMP) |
---