Following up on my post Cute Caricature Graffiti in Vila do Conde (Portugal), today I'll share some photos of the Street Market which takes place in the same location, every other Saturday.
(Well, I've started writing this on Friday Night, but's Saturday already. Since it's still Friday for a few more hours in America, I'll join the #marketfriday initiative anyway... I hope that's OK, @dswigle?)
This is situated right in the centre of Vila do Conde, in a public garden called Jardim Júlio Graça.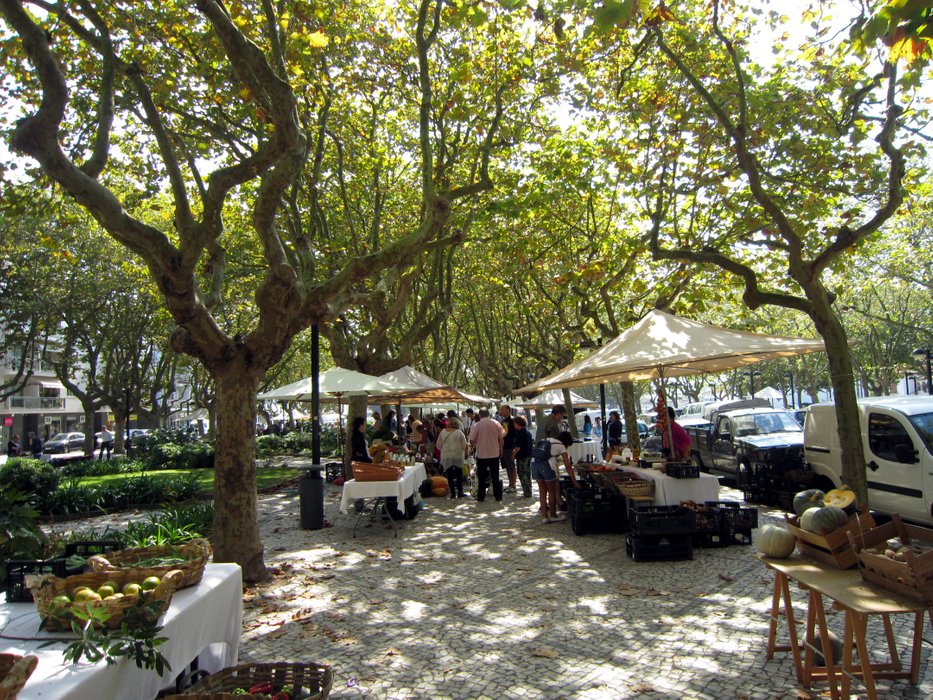 Since the garden is protected from the sun by enormous trees, it makes it a perfect place not only for this Street Market, but also to host several other events throughout the year.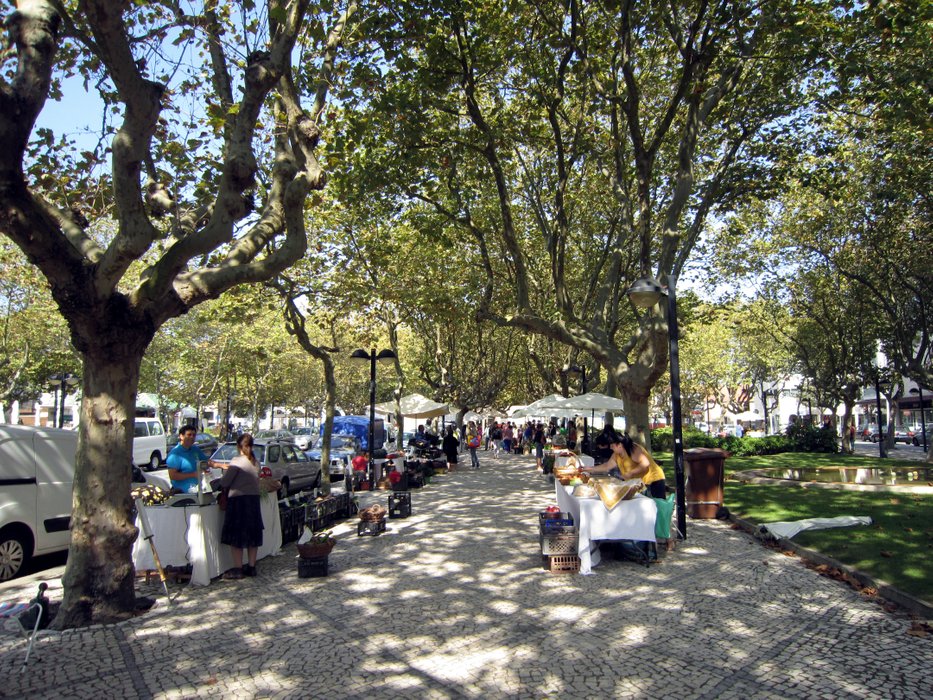 These huge trees were planted back in 1870, when the garden started to be developed. Back then, the city of Vila do Conde was beginning to expand towards the sea.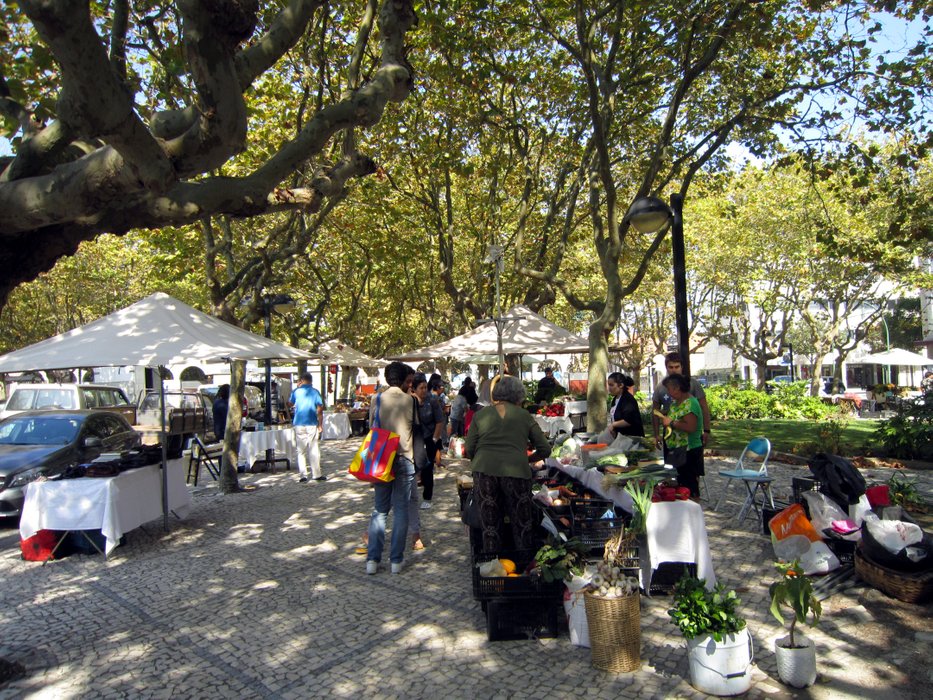 If you're looking to stock up your kitchen, you've come to the right spot. You'll find everything here, from the common onion, garlic, cabbages to all kinds of fruits... The choice is endless.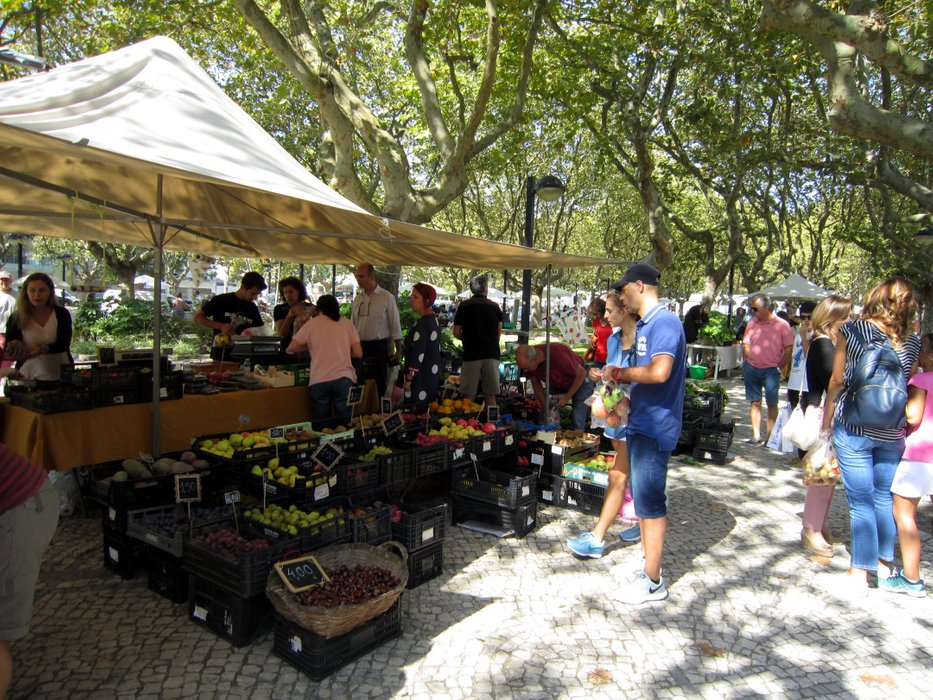 It's a very lively Street Market, seeing that the products are really good and very affordable.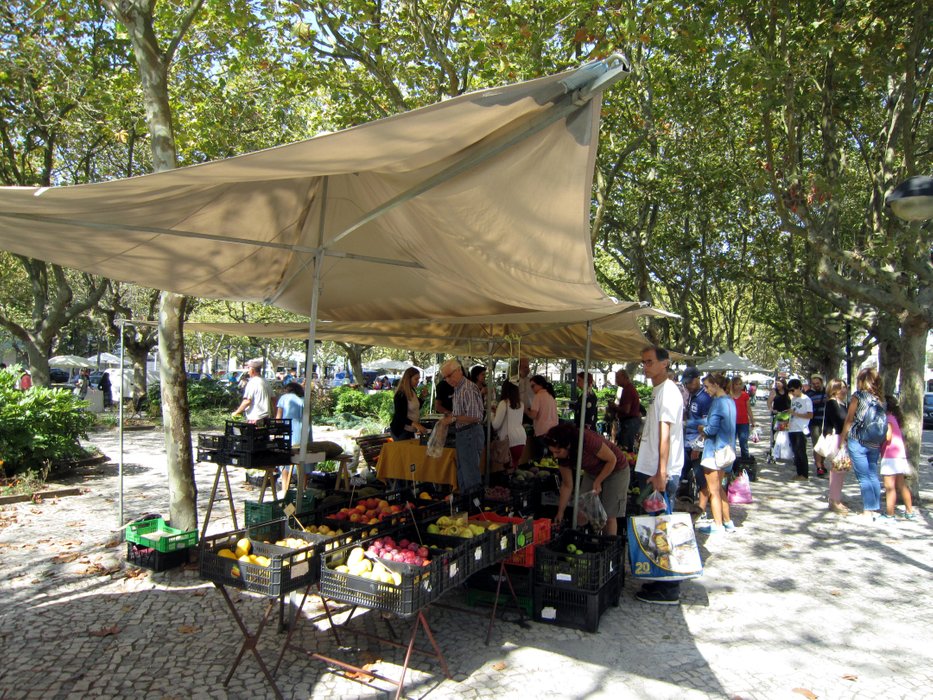 You'll find no stuff imported from China or Chile in here. It's all grown locally and sold directly from the producers to the consumers.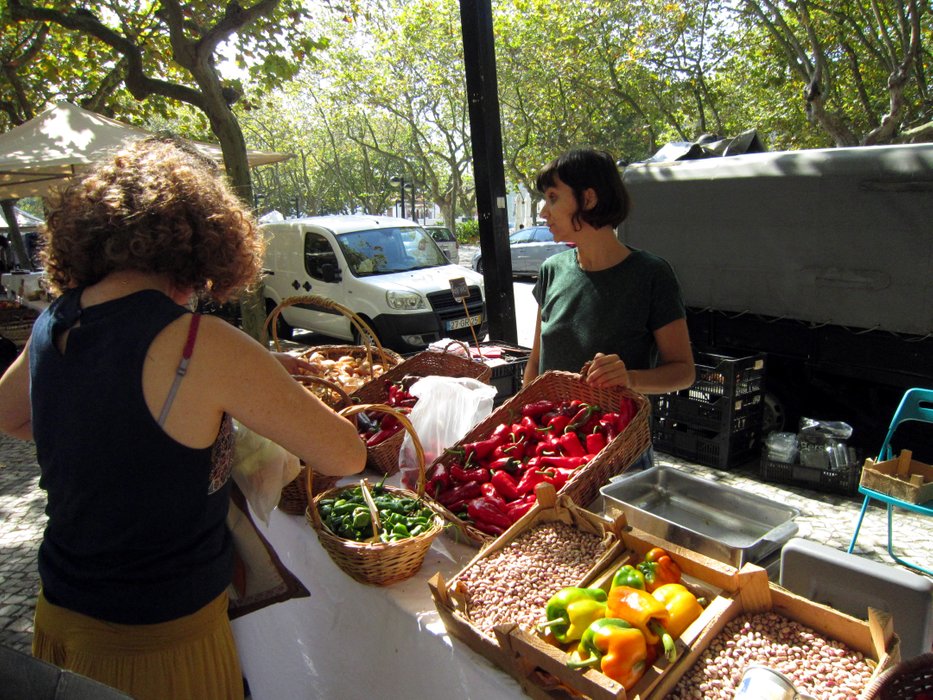 Besides the unmissable vegetables, you'll find all sorts of edible delicacies. Such as these amazing mushrooms.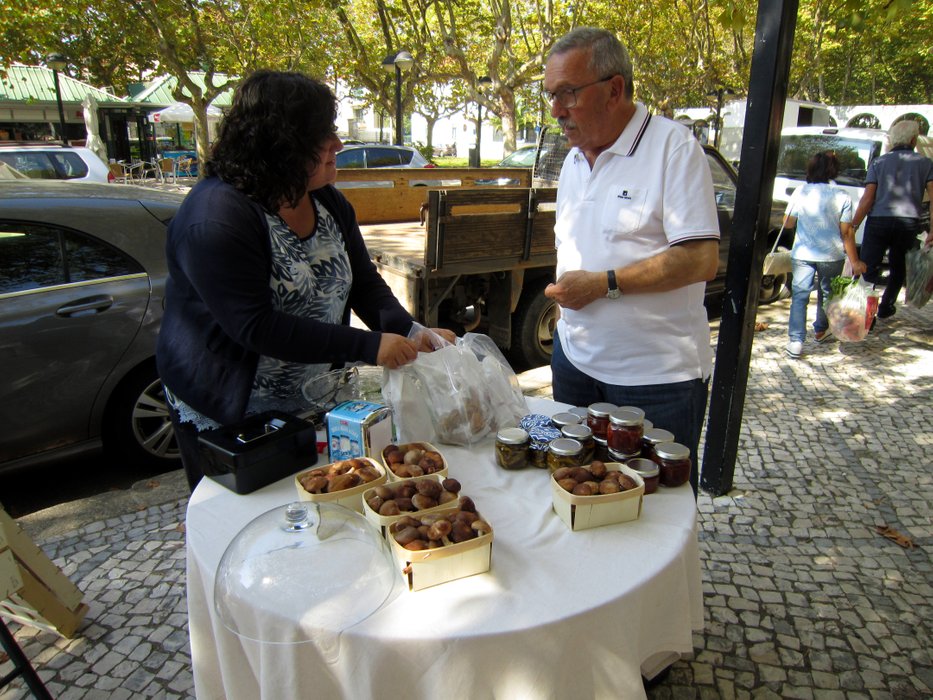 Of course there had to be jams... from all kind and variety! What's your addiction? Strawberry Jam, Cherry Jam? Blueberry Jam? Peach Jam? Maybe Orange, Pear, Fig-leaf Gourd?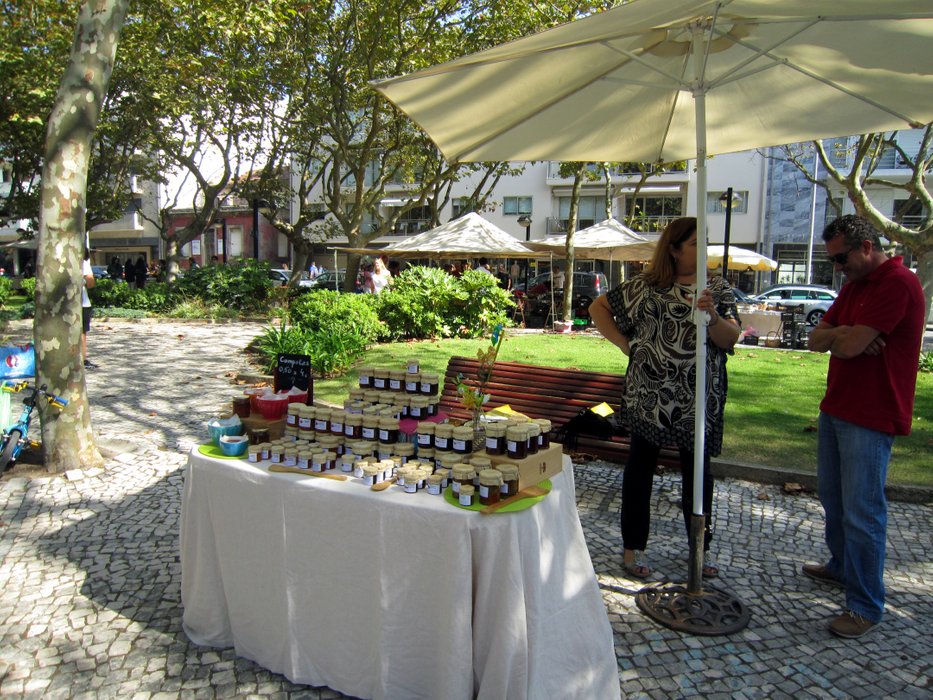 I've got to admit I'm addicted to jam and cheese, so I brought two jars with me.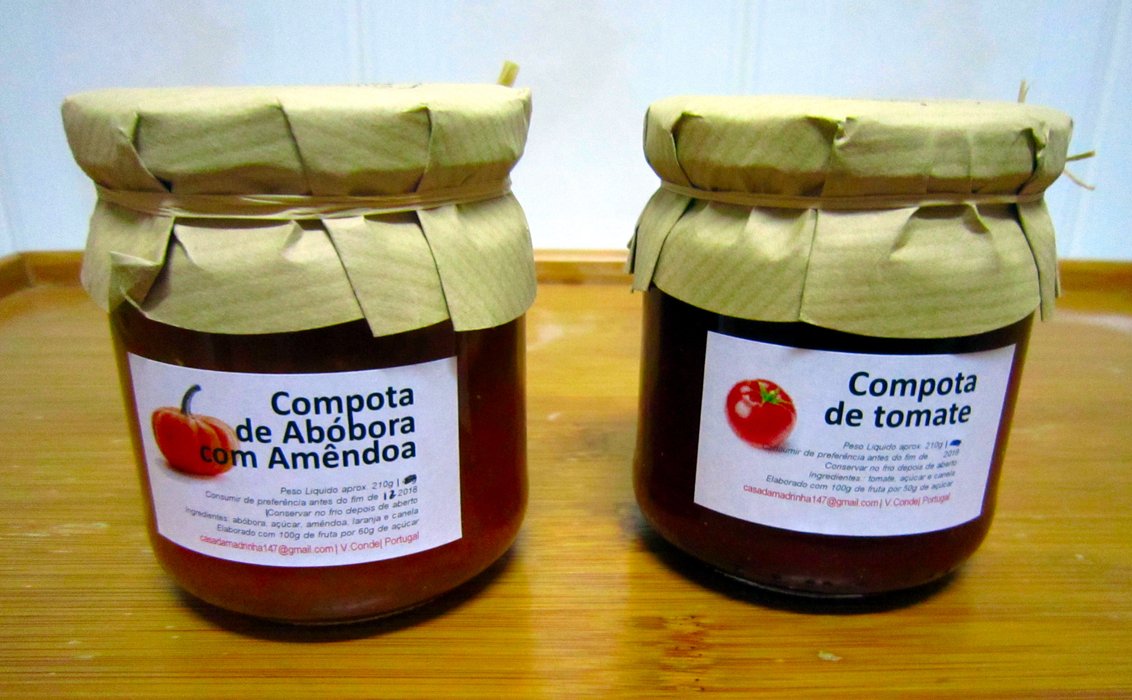 One of Pumpkin Jam with bits of Almond and the other is Tomato Jam.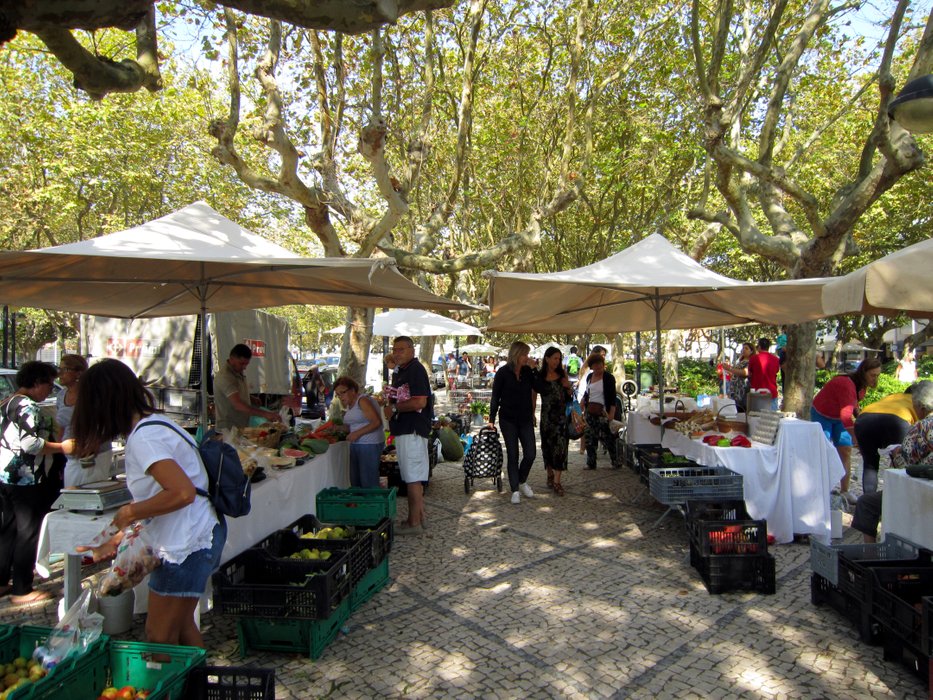 For the meat eaters, there's also a corner... See those cages at the left, by the first tree?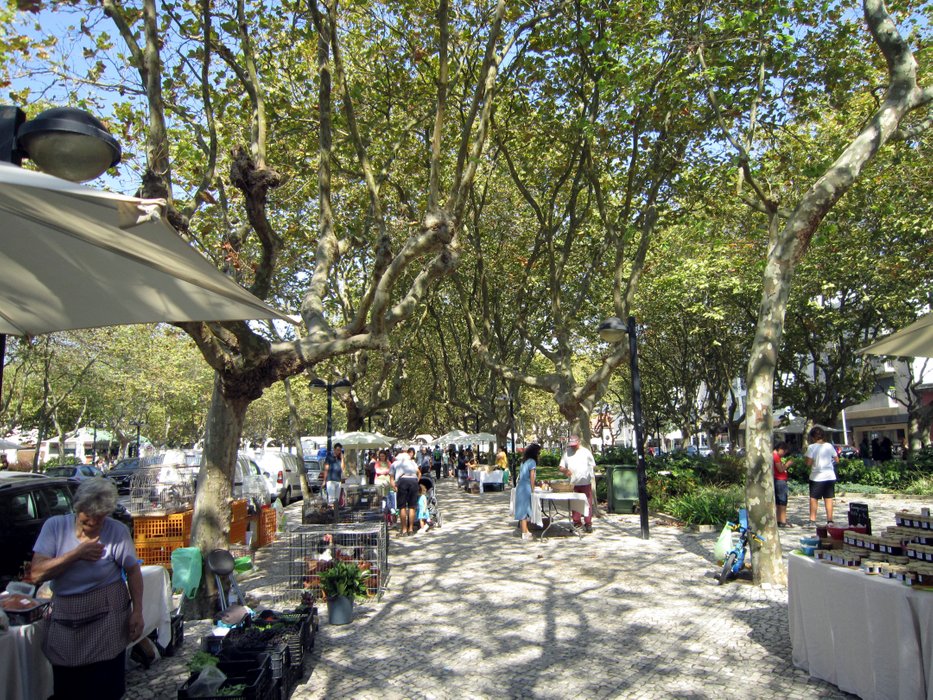 Here's a closer shot. There are a lot of different birds here. Poor things can't imagine how close they are from being cooked. 😶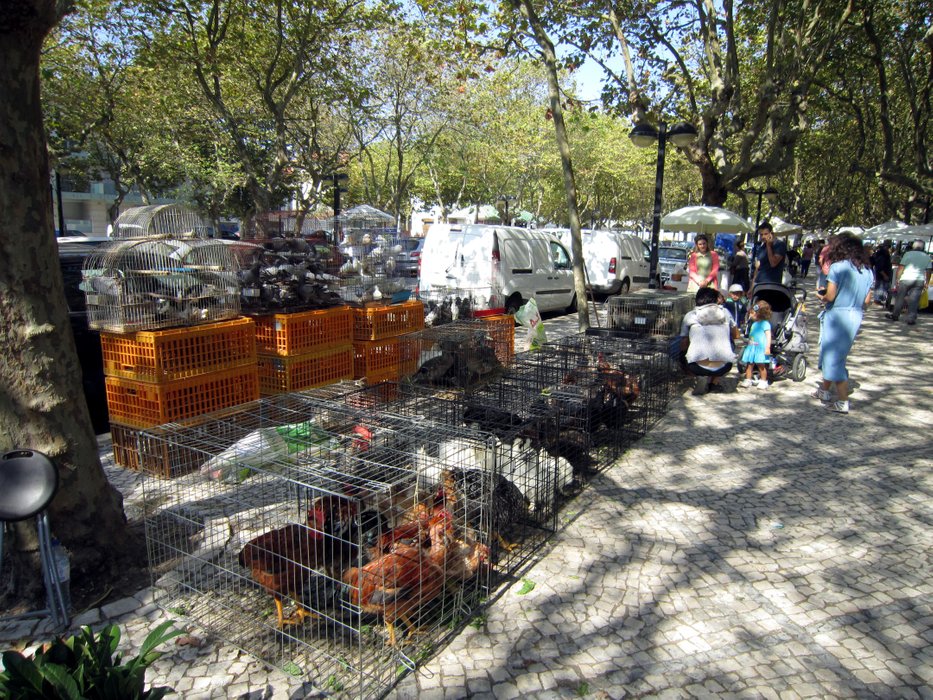 Unfortunately for these yellow little fellows, Duck Rice is a speciality around these parts.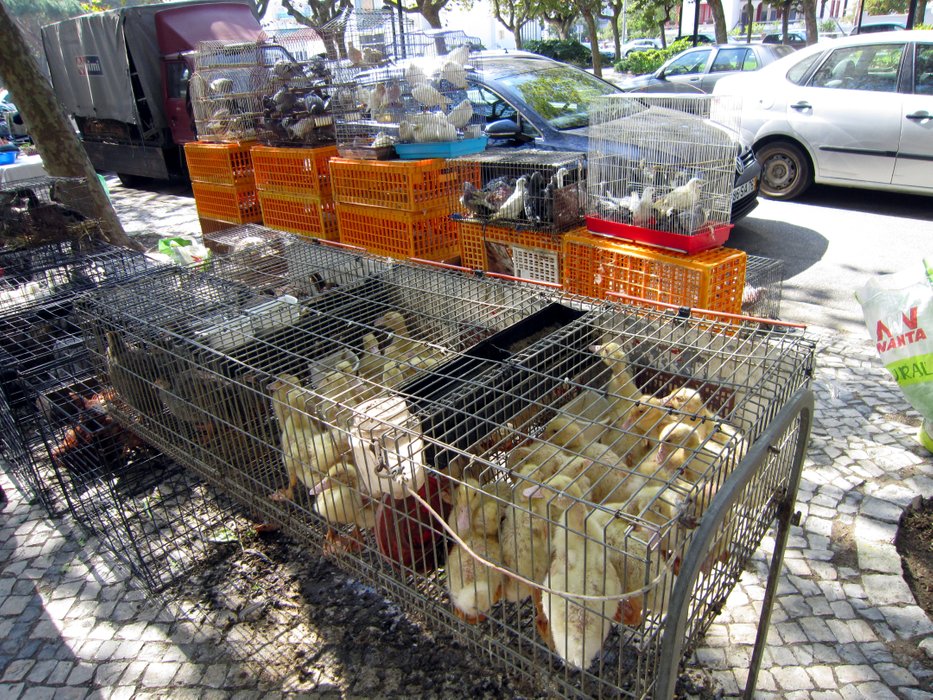 Here's some more meat... Dried meat, to be precise.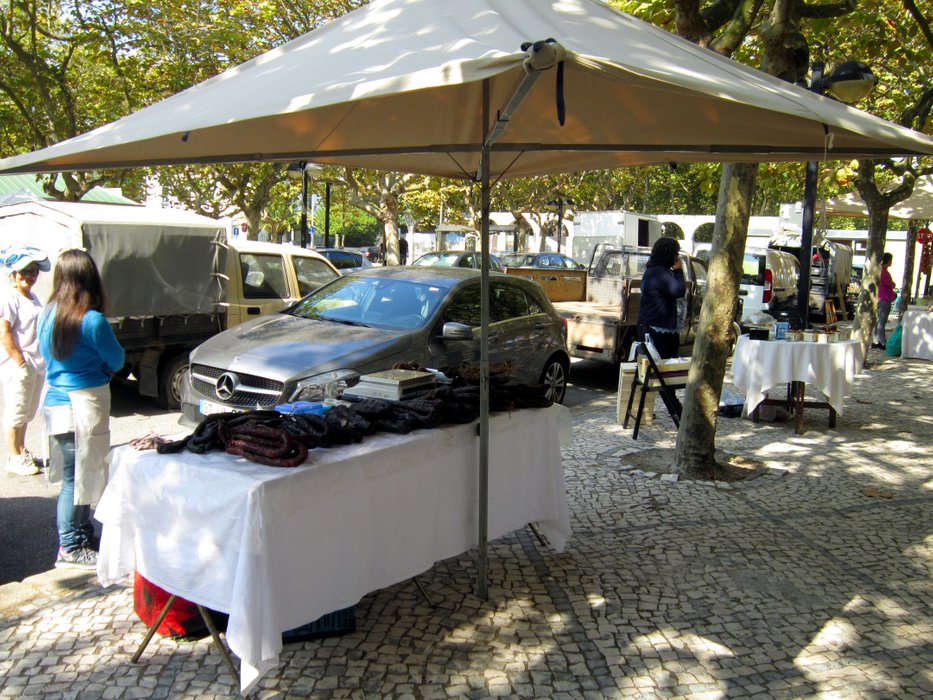 One can't make a Duck Rice without some Chouriço (Chorizo). Right?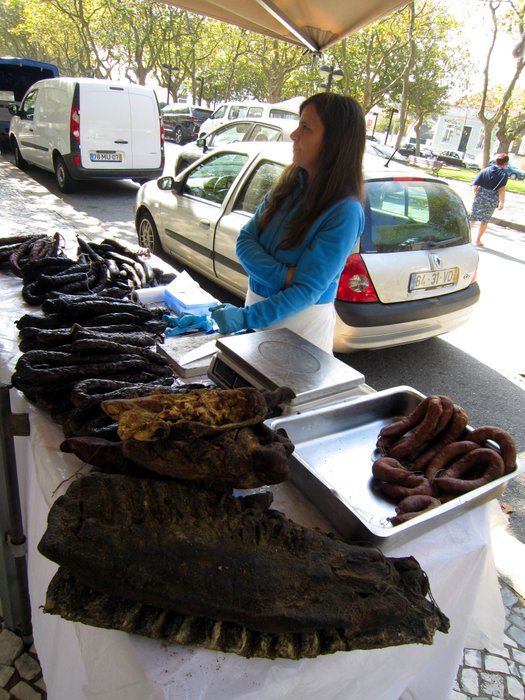 Perhaps you're more interested in a good salad?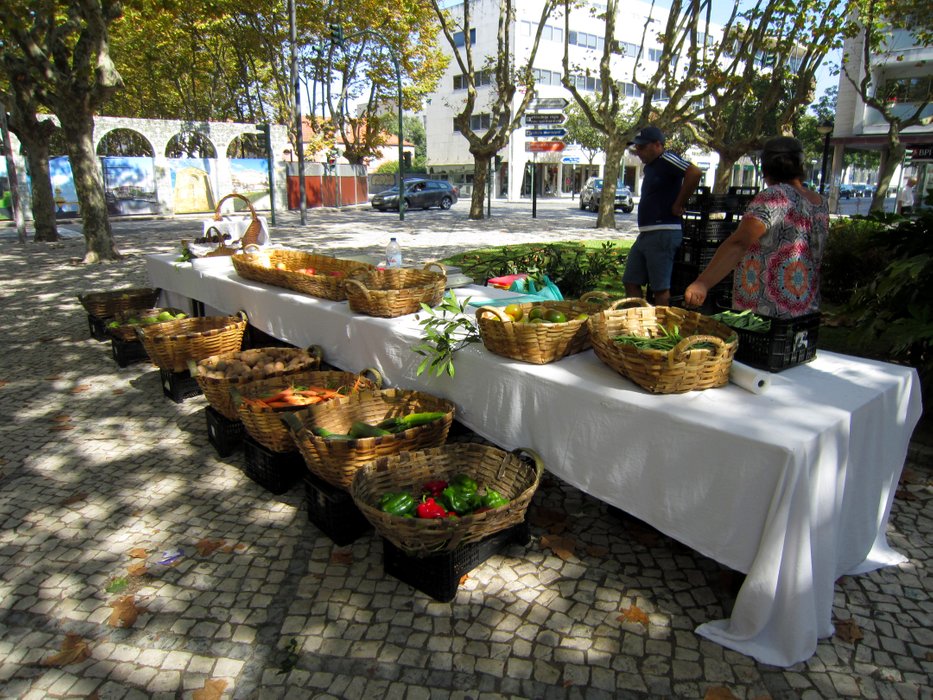 Would you like some olive oil and vinaigrette for your salad? From what kind? There were so many different bottles I can't even begin to imagine what they all taste like.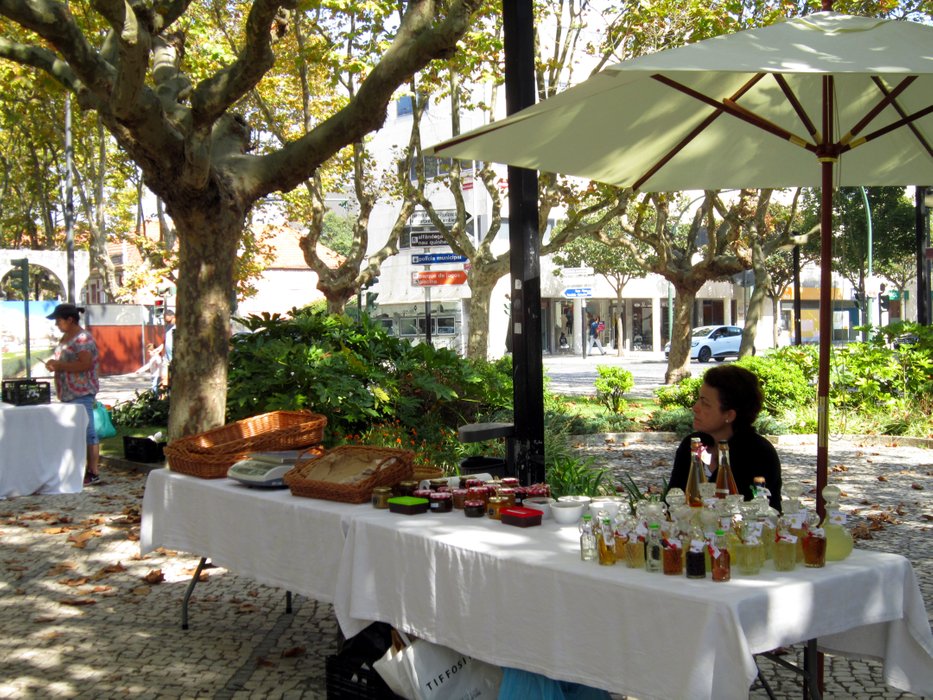 The lady in the photo above also sold some jams. Across her stand, there were more vegetables, potatoes... and even pumpkins.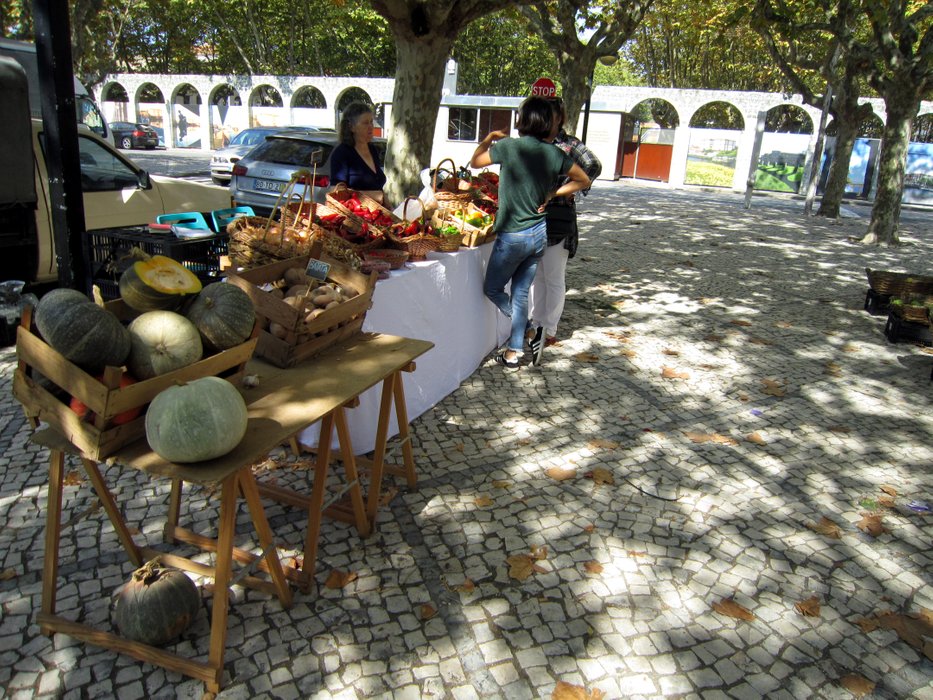 My little tour was coming to an end. This is the final shot...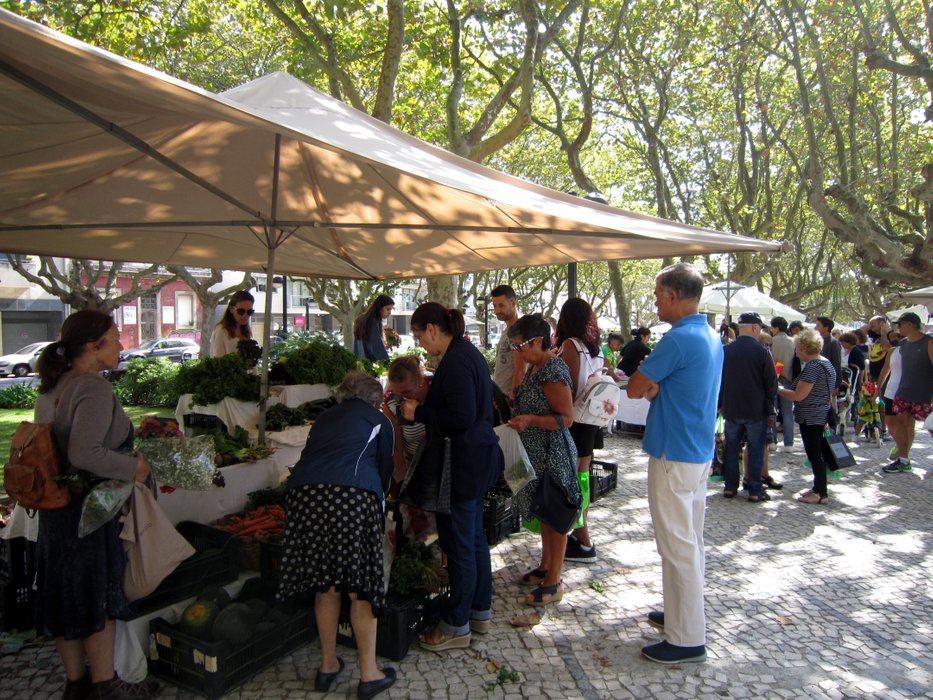 I couldn't leave you without a scene from a bored husband waiting for her wife to buy all the stuff he wants to eat later on. Typical! Ah ah ah! 😂😂😂
---
If you happen to be in Vila do Conde on a Saturday morning and you find this garden empty, then head towards the beach. Once you get there, follow the coastline until you reach the Caxinas neighbourhood. That's where the Market takes place, on the remaining Saturdays. It's a 20 or 25 mins walk from one place to the other.
(I'll have to go there tomorrow. I mean, today. To Vila do Conde, not to the market... So perhaps I'll make another post about that particular market.)
Edit: Well, Caxinas Market is not really an alternative. There's not much to see there. Just a small fruit stand besides The Fish Market I had posted about last month.
Please give me some feedback. Did you enjoy this article?
---
| | |
| --- | --- |
| Camera | Canon IXUS 210 |
| Location | Vila do Conde - Portugal |
| | Edited with GIMP |
---
@trincowski signing out.