Today I want to show you a different side of the Naschmarkt. The more artistic side, if you prefer.
Yesterday, in my post, I showed you the traditional side of the market, when most stands were open to business.
When the evening comes, many of the vendors go home and only restaurants and cafés stay open. It's only during this time, and before the sunset, that you can fully enjoy some of the masterpieces hidden in this place.
Here are some of them.
---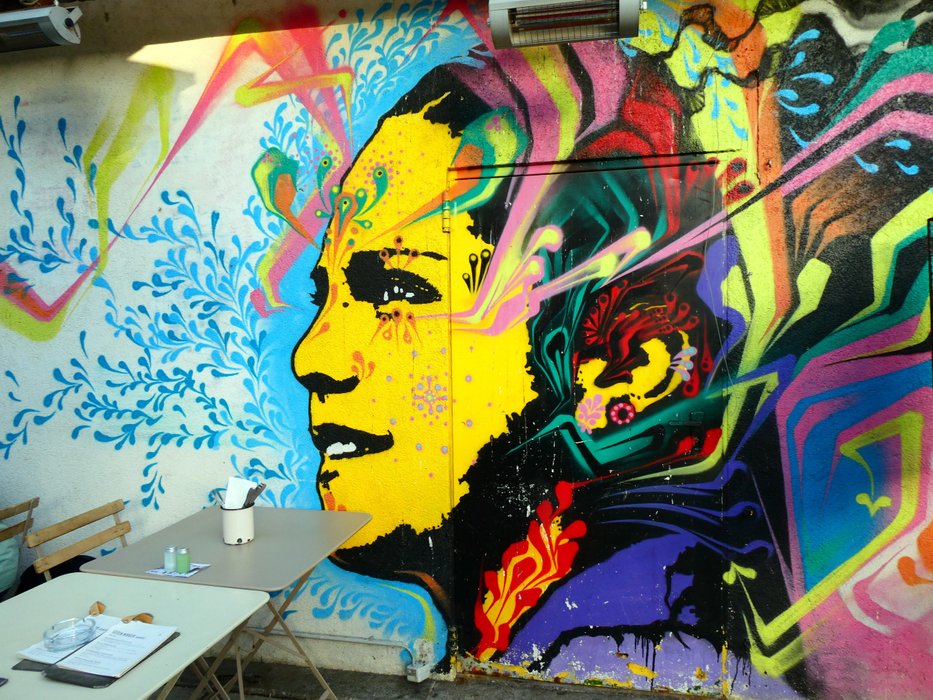 I really enjoyed this one, it's so cheerful and colourful! Excellent piece.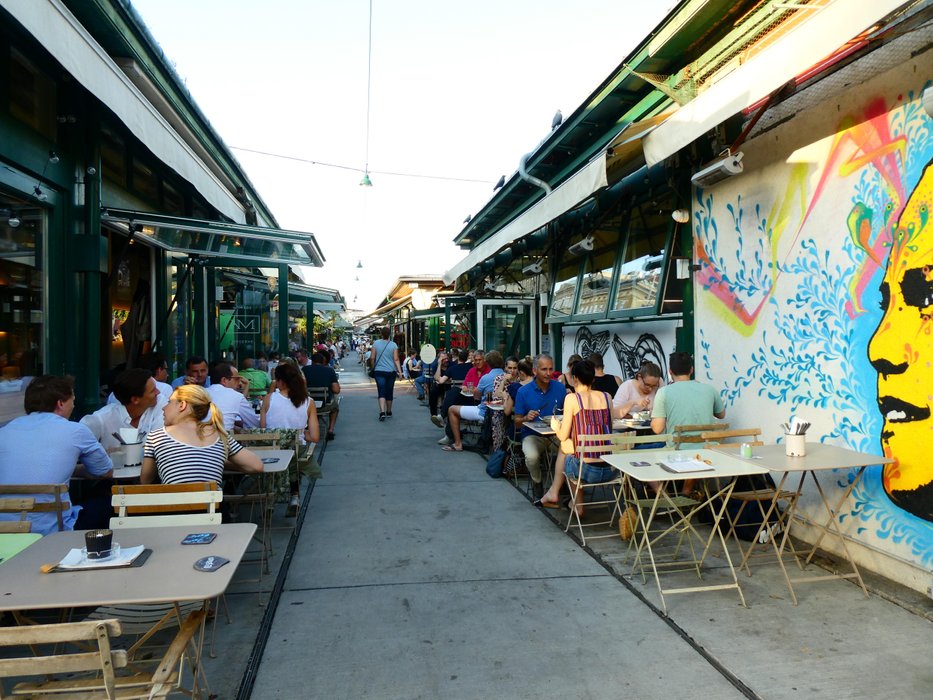 Most of these Graffiti pieces are completely hidden during daytime, since they are painted on the doors of the shops.
Before dinner, most part of the market looks like this. And to be honest, most pieces aren't good at all.
But if you look closely, you'll find some real gems in there. Some are almost impossible to miss, like this Battle Royale between Dragons, Eagles and Snakes, which spans over three shops. 😮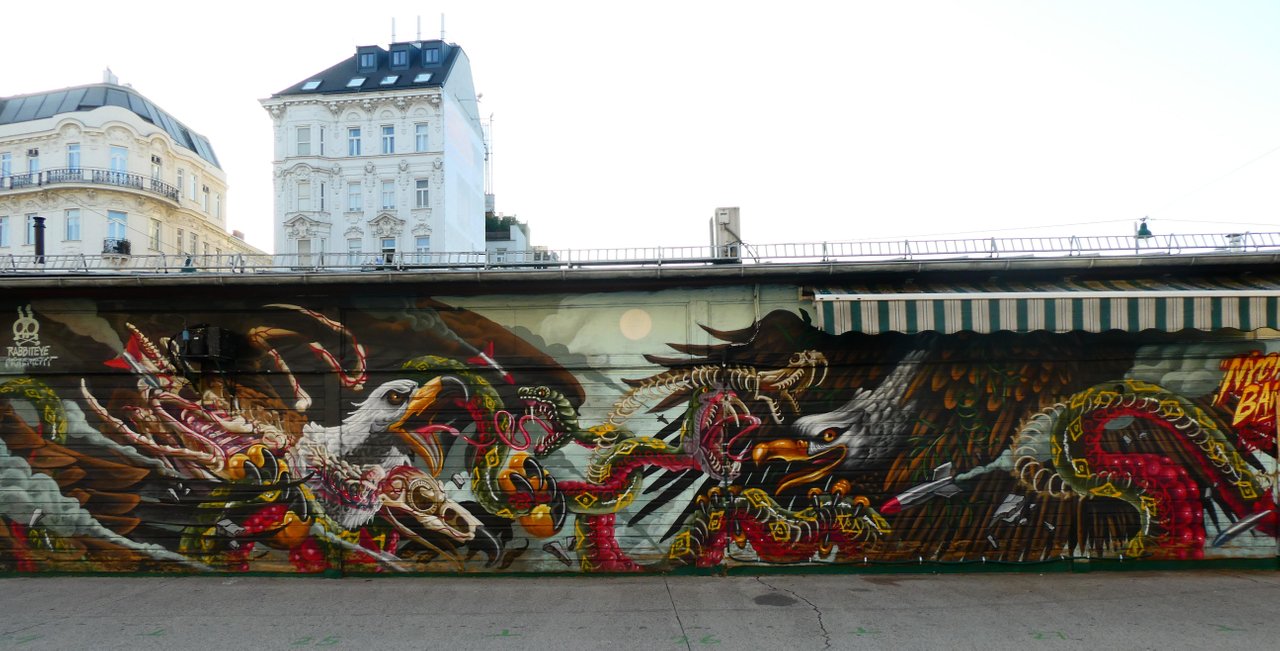 Here is a close up of the left side...
... and another one of the right side, so you can absorb all the details that were put into this huge piece.
Other works were smaller and funny, such as this couple having a toast.
There are artworks for every taste... or distaste. 🙃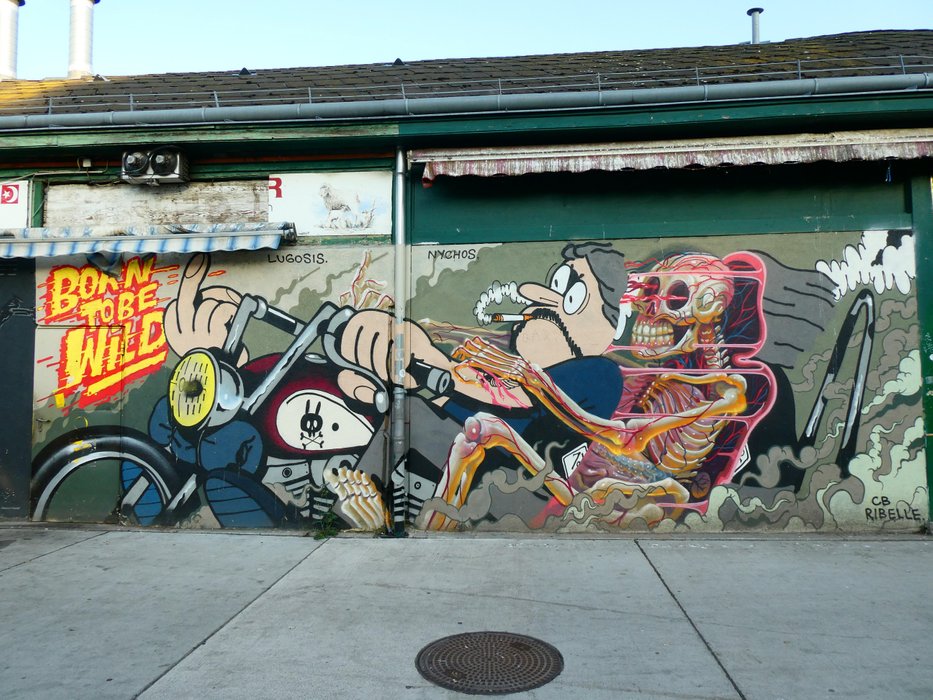 Skulls... and more skulls. Some Graffiti artists really love skulls. 😂
Others prefer to paint fluffier things. 😍
For some artists, it's all about passing a message.
What message? That is up to the reader to find out. Interpret it as you will.
The above phrase is part of a three piece set, here are the other two.
There are a few pieces that are visible all day long, as they are located on the surrounding walls of the market.
Just like the above piece represents so well, other Graffiti is located in the walls of the Metro lines.
Here's a zoom of that piece.
There is also moving artwork, painted on the vans of the vendors.
This one is quite amusing.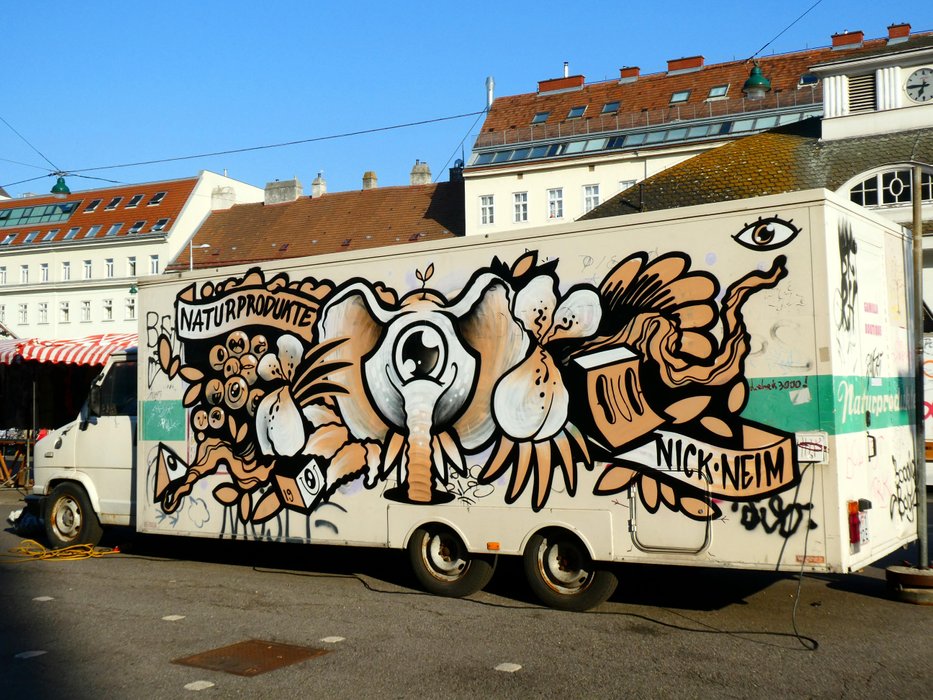 What a nice advertisement.
There is a small parking lot, right next to the Market and this is where I've found another incredible piece.
Tucked between the cars were Voltaire, Michael Jackson and Mr Burns. I laughed out so much!!! Gladly, no one was around.
I was able to get a good angle to shot the left side of the mural...
The other side, was totally impossible, as that little car was glued to the wall.
---
So, the first time I was in Vienna, I've found different Graffiti pieces everyday... the second time, exactly the same thing happened. I have a feeling there are a lot more I am yet to find out.
---
Please don't forget to check the first part of this post:
---
| | |
| --- | --- |
| Camera | Panasonic Lumix DC-TZ90 |
| Location | #Vienna - #Austria |
| Photos | 8 Untouched |
| | 17 Edited |
---
View this post in: 1Ramp / Busy / SteemPeak / Steeve / SteemIt / PalNet