Earlier this year, I've visited Vienna for a week. I've stayed in a hotel right by the Danube River and I took the opportunity to walk around the riverside and check out the surrounding areas.
When the week was over, I didn't have the time to visit the well known Naschmarkt. I've decided to correct that mistake on my last trip. Thus, I stayed for 3 days in a hotel right next to this incredibly huge street market. 😎
This is an entry for #MarketFriday by @dswigle. Check out her post if you want to participate:
---
Also, please check out my follow up for this post. The next part is all about the artistic pieces of #Graffiti I've found in the Naschmarkt:
---
Revisiting Vienna allowed me to see different parts (and parks) of the city and, of course, the Naschmarkt, which is a lot bigger than what I was expecting! I ended up coming back here on the following days, just to see some more of it.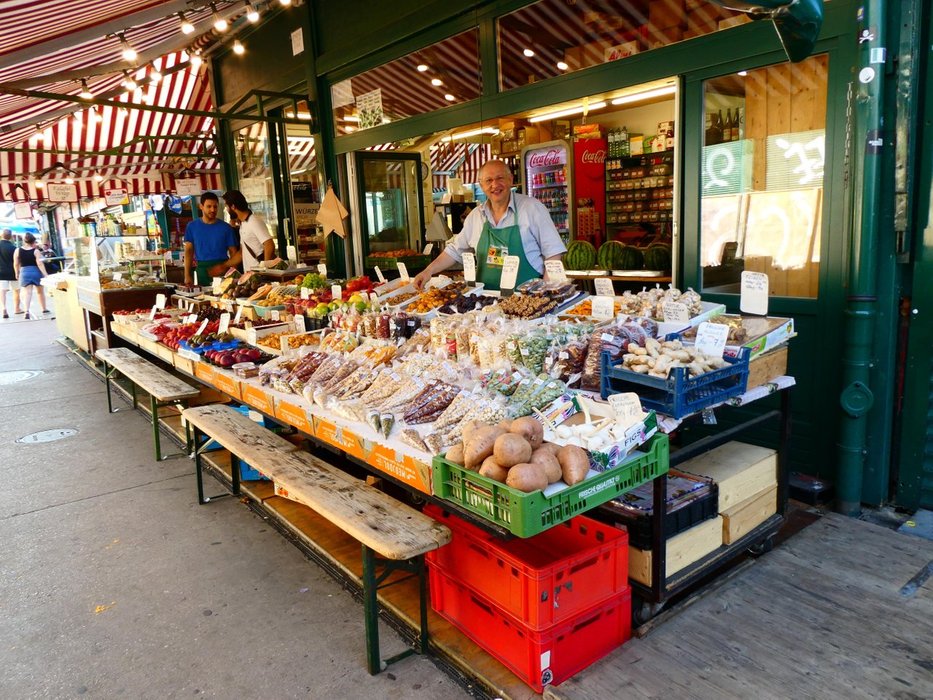 As you can see, the vendors at the Naschmarkt are so used to tourists taking photos that they even stop what they're doing to make a pose. 😄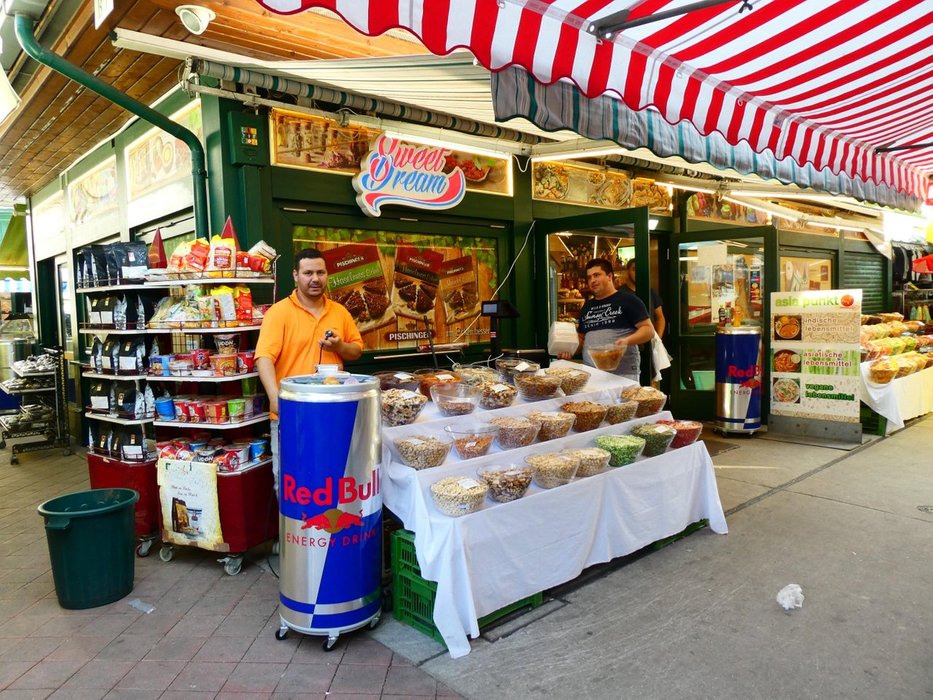 This market has its origins in the 16th century, it includes more than a hundred stalls and it occupies a area of over 1km, along the Wien River.
Here, you can find a huge variety of products, ranging from Food to Clothes. The first area I visited was filled with all kinds of Spices and Seeds.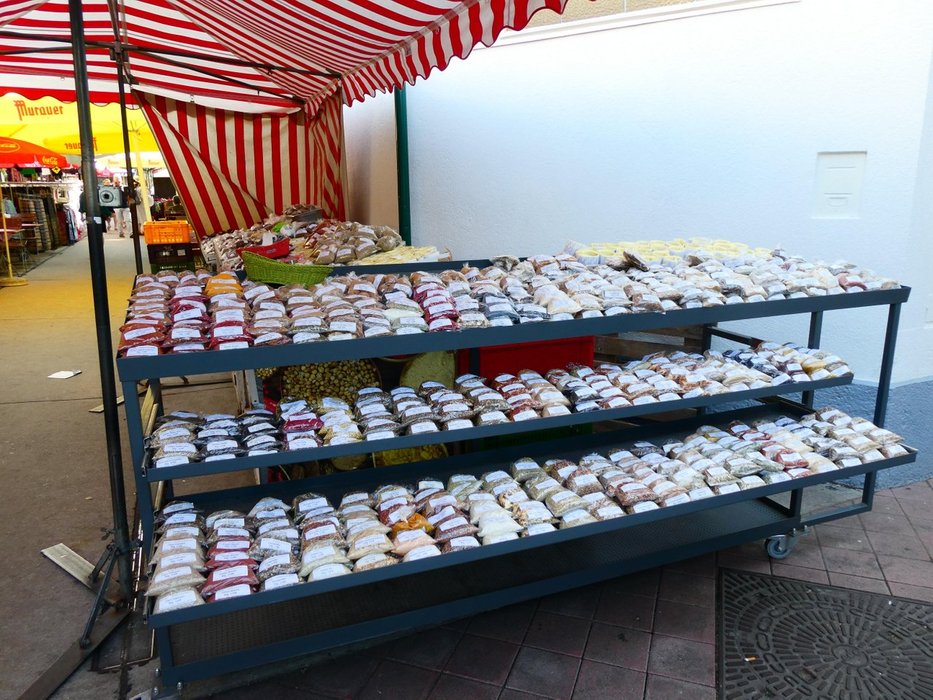 It seemed like a never ending corridor of Spices and all kinds of Seeds and the smell was amazing. 😋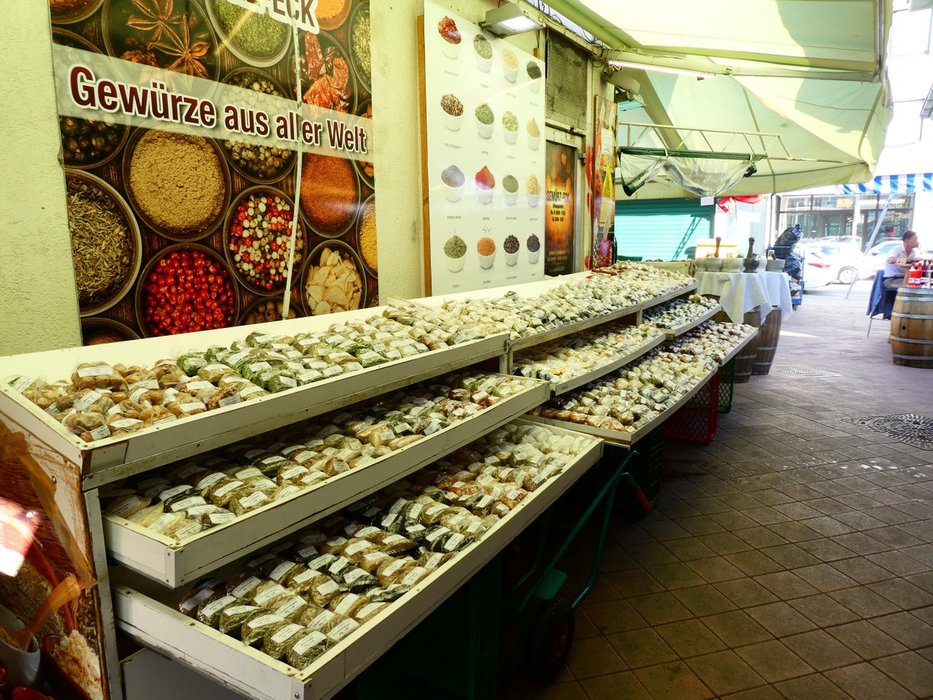 You can find a lot of displays, from long stands to much smaller ones... some packages seem more professionally wrapped, others look more artisanal and handmade.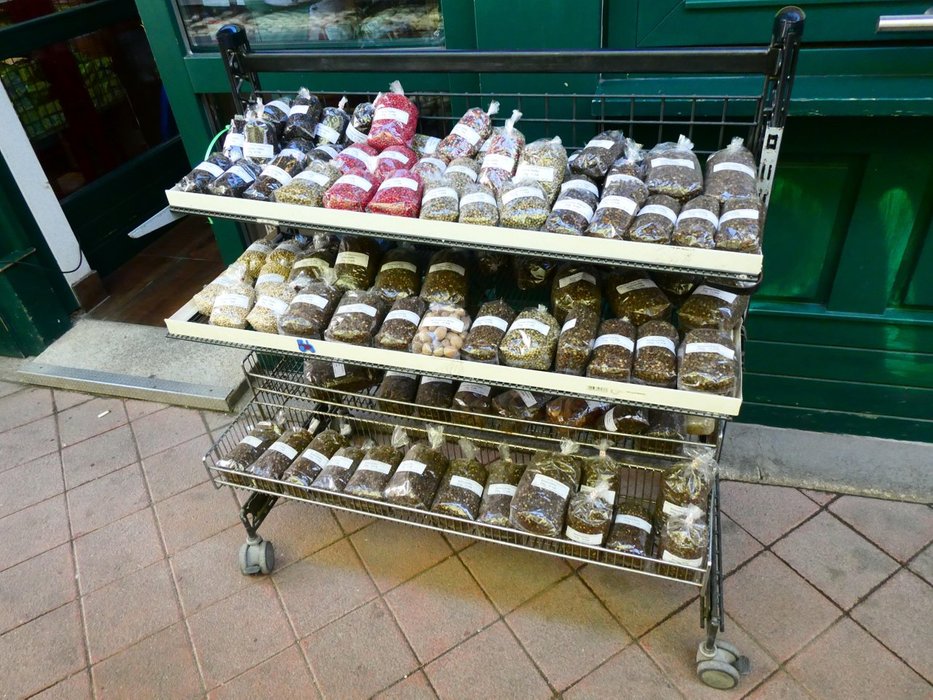 There were a lot of tables for costumers to sit and have a snack and a drink. Or maybe just to check their phones. 😂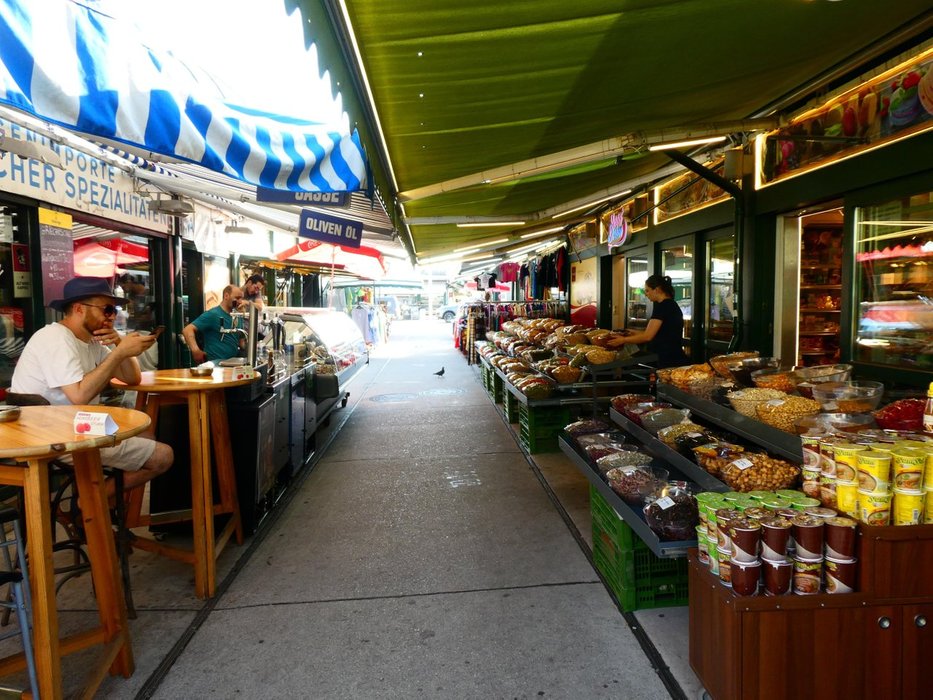 The collection of spices was really huge. There were stands specialised in European products, others were focused on African, others were only selling Asian material. What a huge selection. The mixture of smells and senses was amazing and made my brain spin! 😵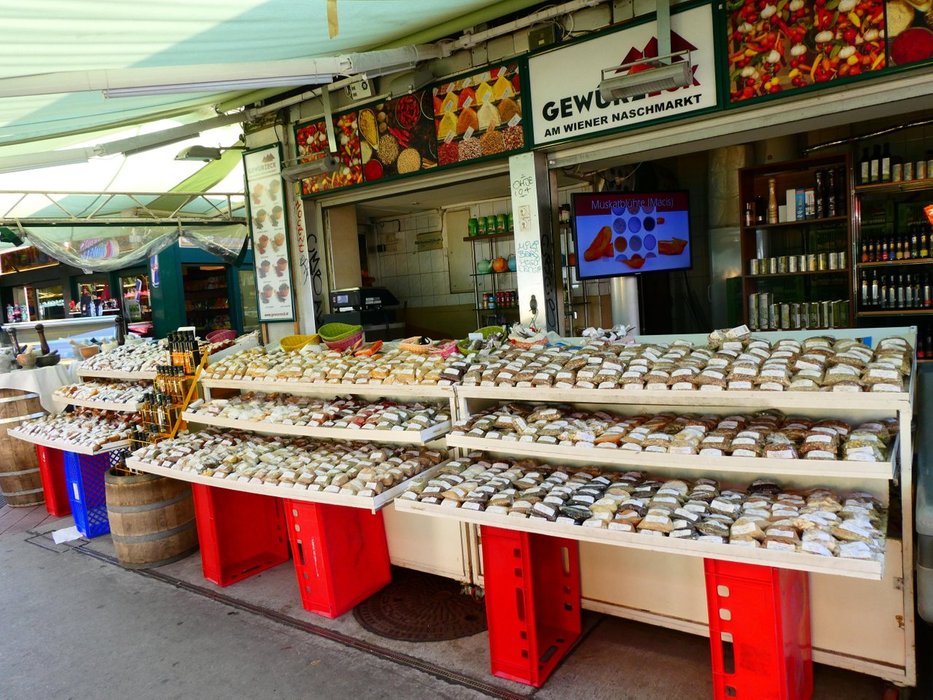 This was one of the stands selling mostly Asian products... as you can see, the Wasabi is right at the front, in the first row.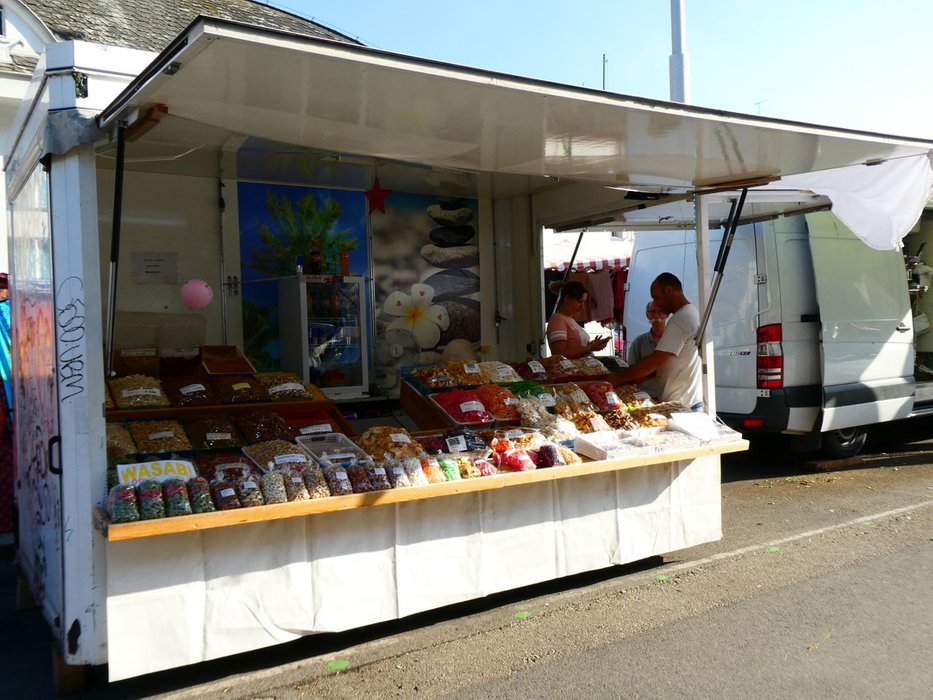 Here's another stall selling a lot of Asian groceries.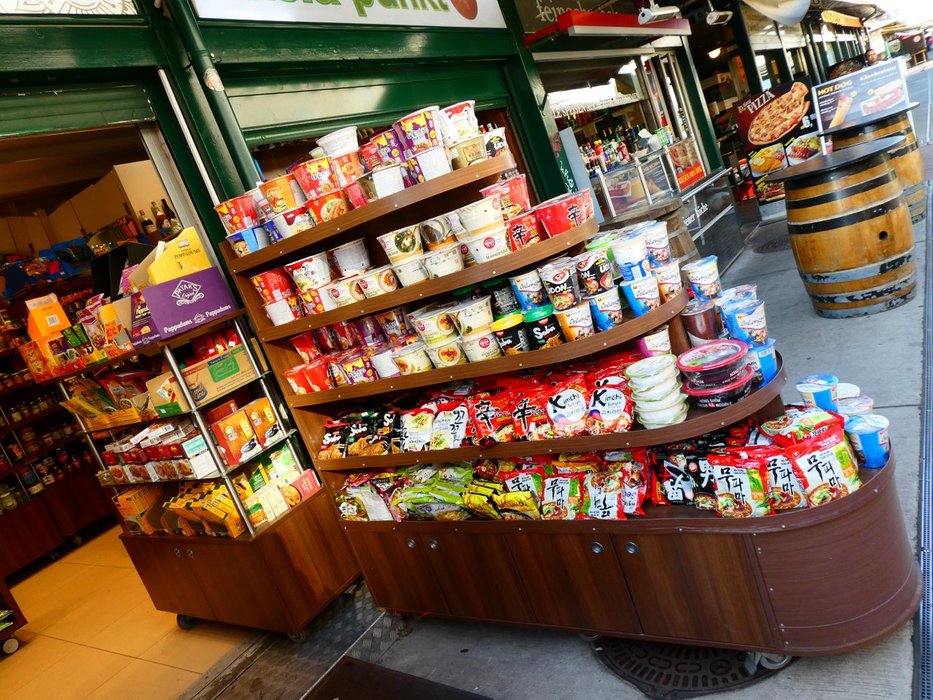 This was one of the most beautiful stalls I've saw, focusing on Asian cuisine. 😍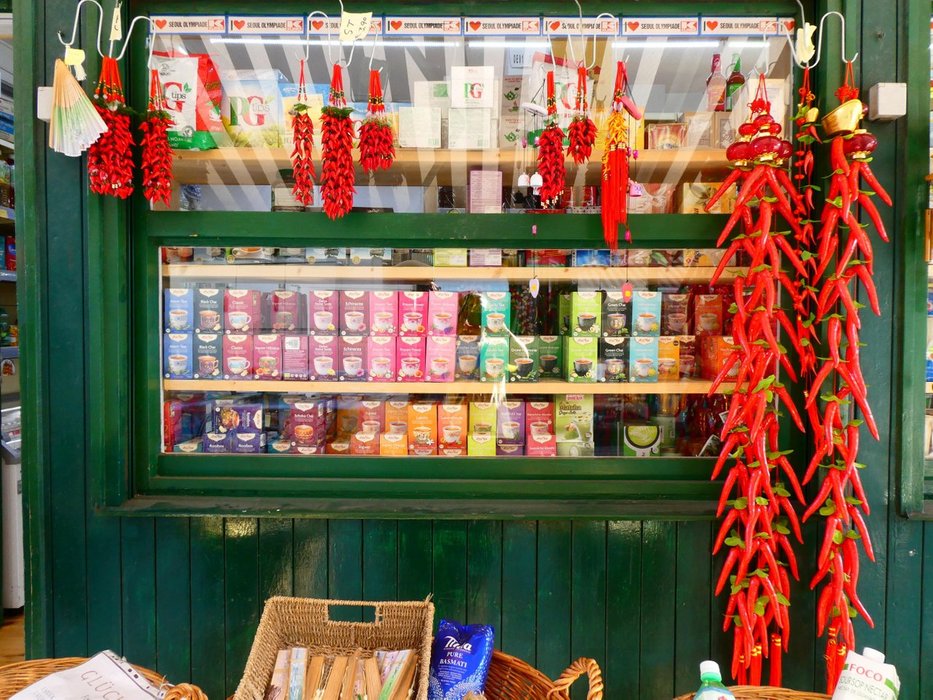 The hanging Chili Peppers looked really fresh and vivid. Rice, Noodles and Aloe Vera products were spread through the baskets at the front of the stall.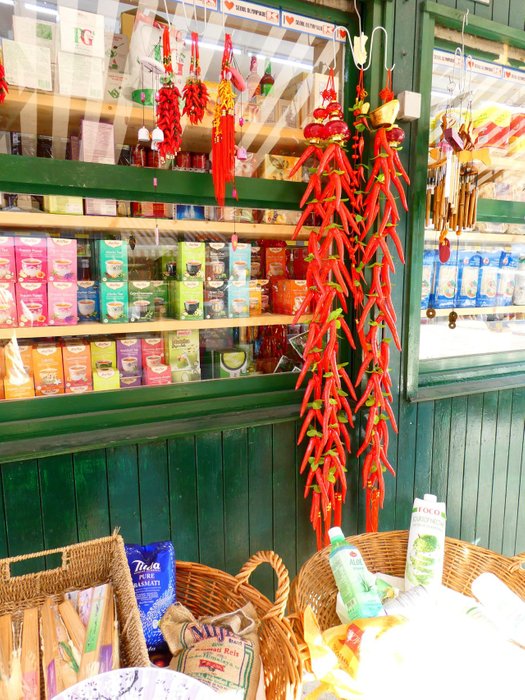 A bit ahead I started seeing more Dry Fruits, Olives and such.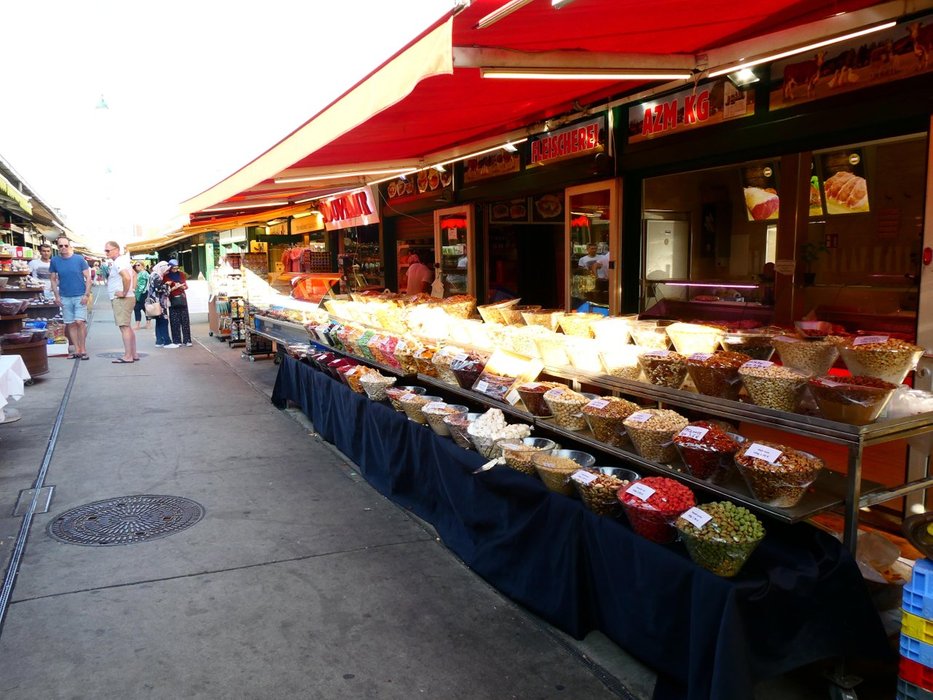 There were a lot of Fruits I had never saw in my life... until this moment.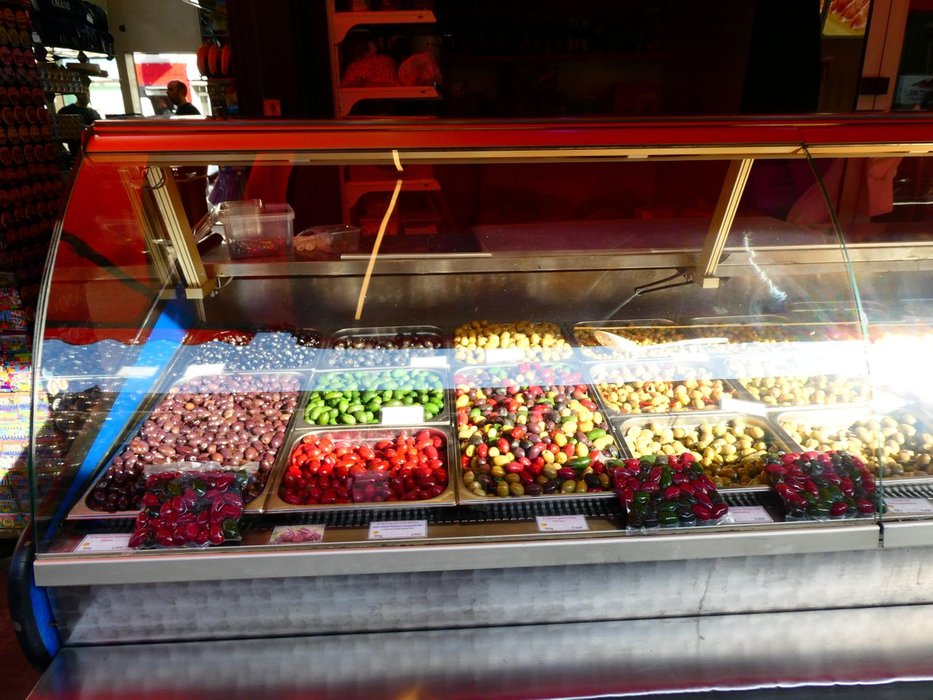 The variety was so big that these stalls looked like rainbows, with dry fruits from every colour. Reds, oranges, yellows, greens... you name it. 🌈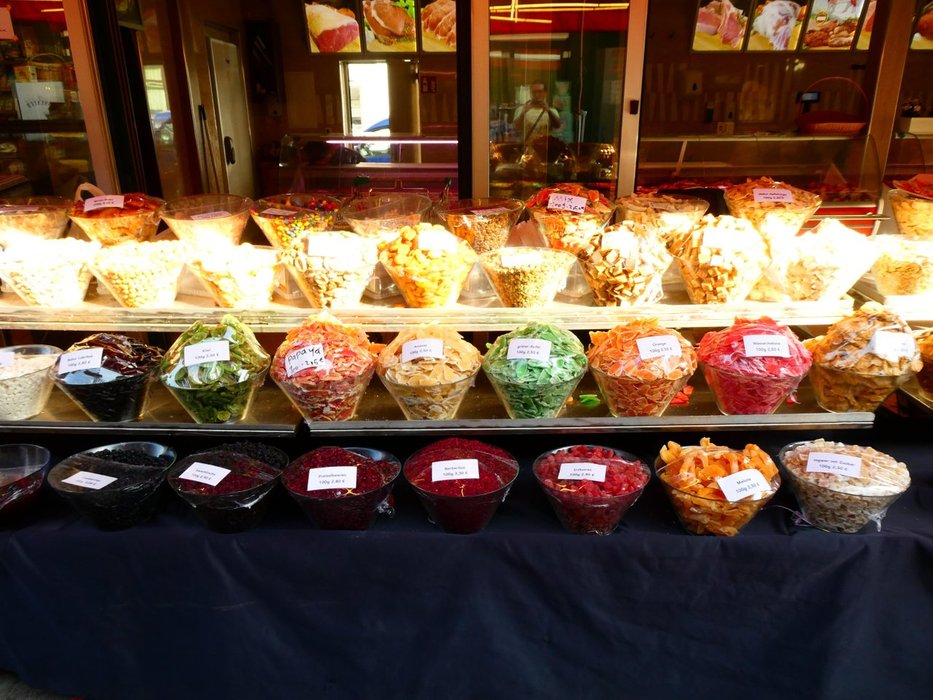 Of course not all choices were healthy. There were plenty of Sweets available, too. Gums, Candies, Cakes, Cookies and Snacks... the temptation is incredible. Don't stare for too long or your brain will start playing tricks on you. Yes, you'll get hungry just by watching all of these delicacies. 😋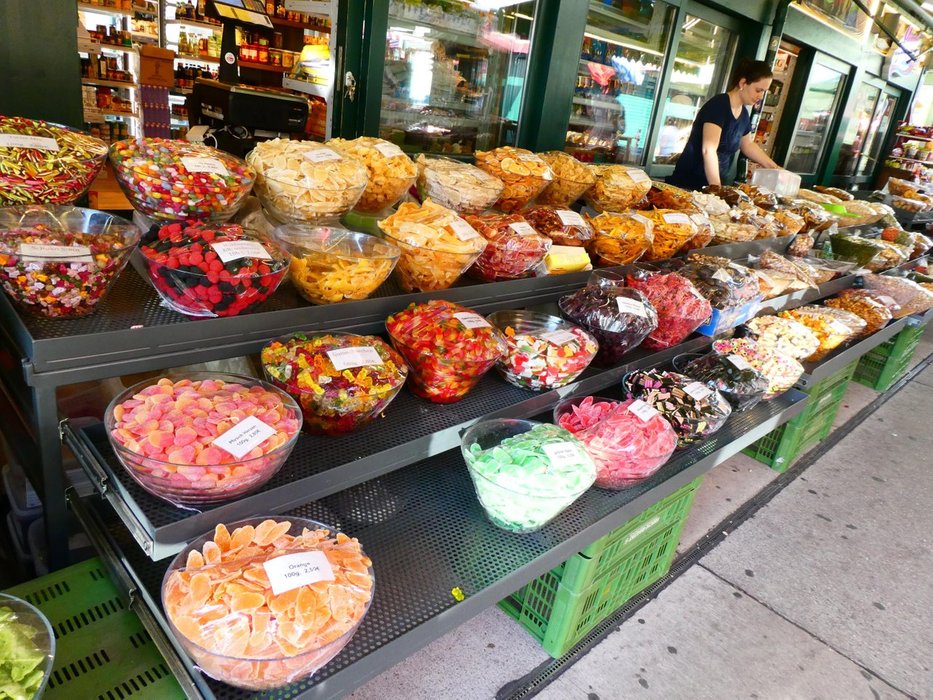 Let's go back to the healthy zone, I thought... and I grabbed my camera again, to shoot the more traditional Fruit stands.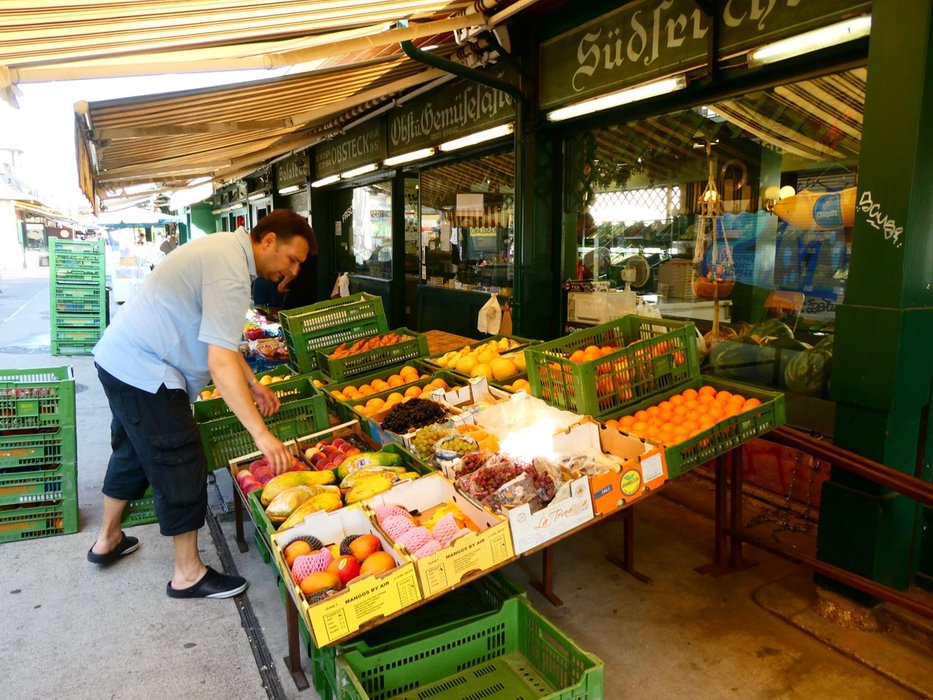 The market was buzzing and customers were eyeing their favourite Vegetables, checking out the prices and do some mental calculations to see what they could or could not afford.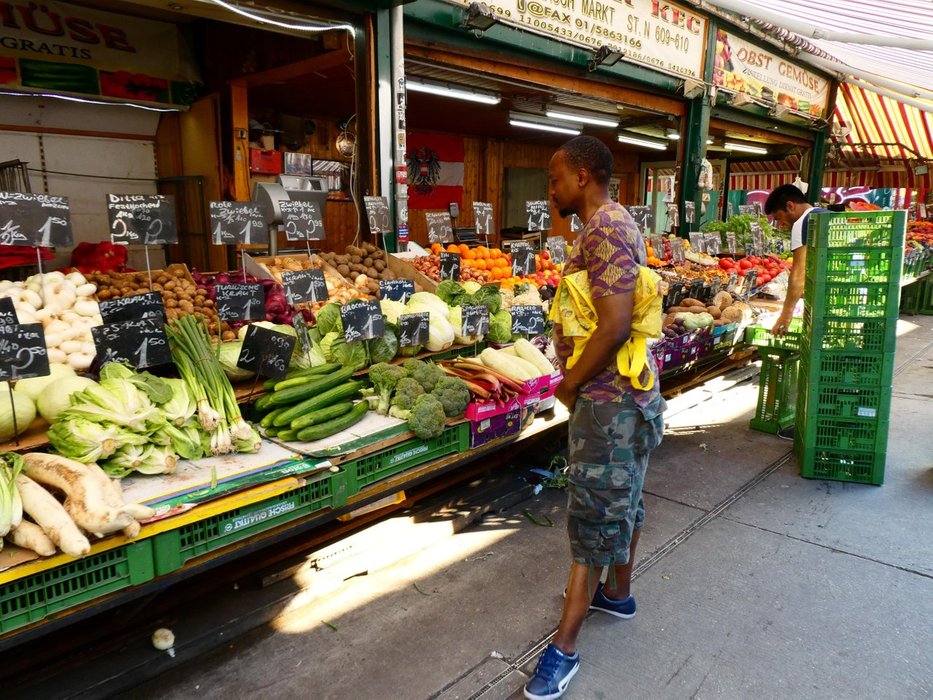 This vendor was still unpacking part of his stock. What a trouble it must be, to set up all of this, only to pack it again at the end of the day... 😰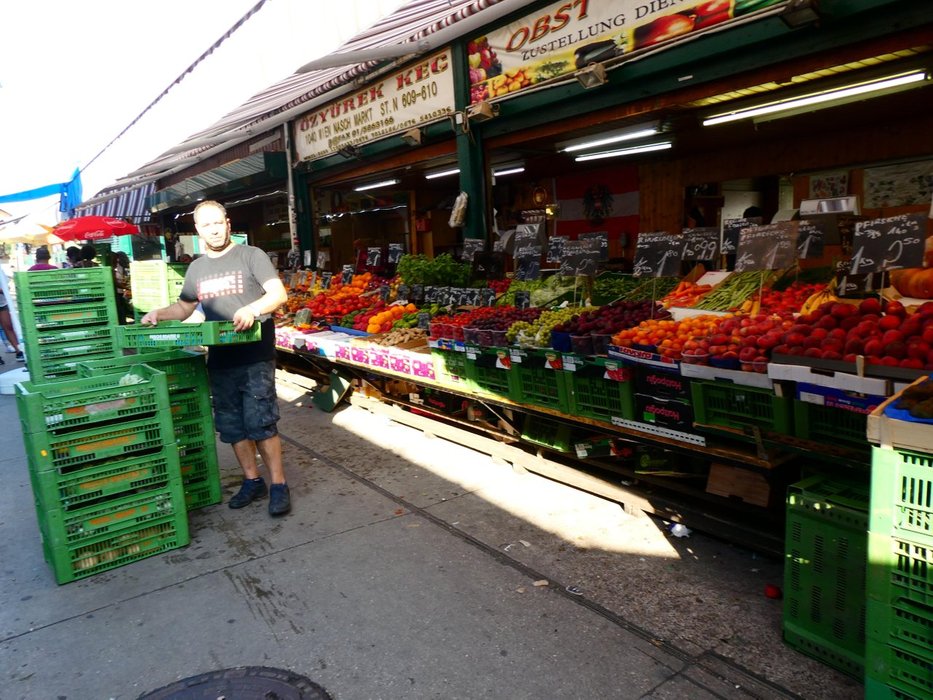 Honestly, I didn't understood how Bananas, Coconuts and Yams were packed together... but they all looked good and fresh.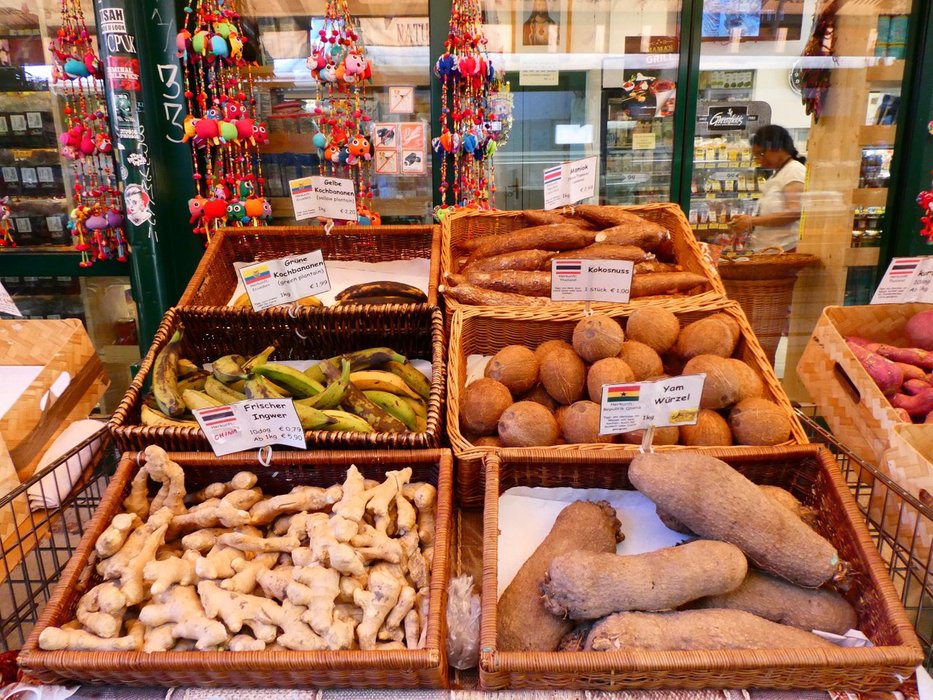 Here are a few more Vegetables and Fruits. Limes, Papayas and Garlic - these I already knew. The other 3? I have no clue what they are. 😖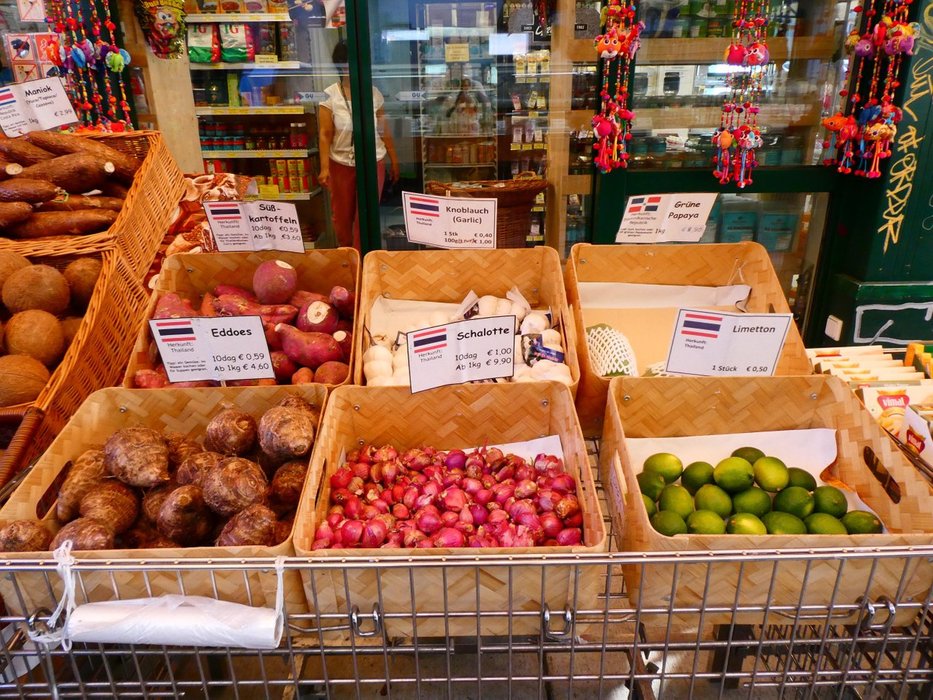 Hmmm... here we are arriving at my favourite part. Cheese. Who doesn't love Cheese? From small and expensive to big and cheap, you could find the perfect Cheese for your mood.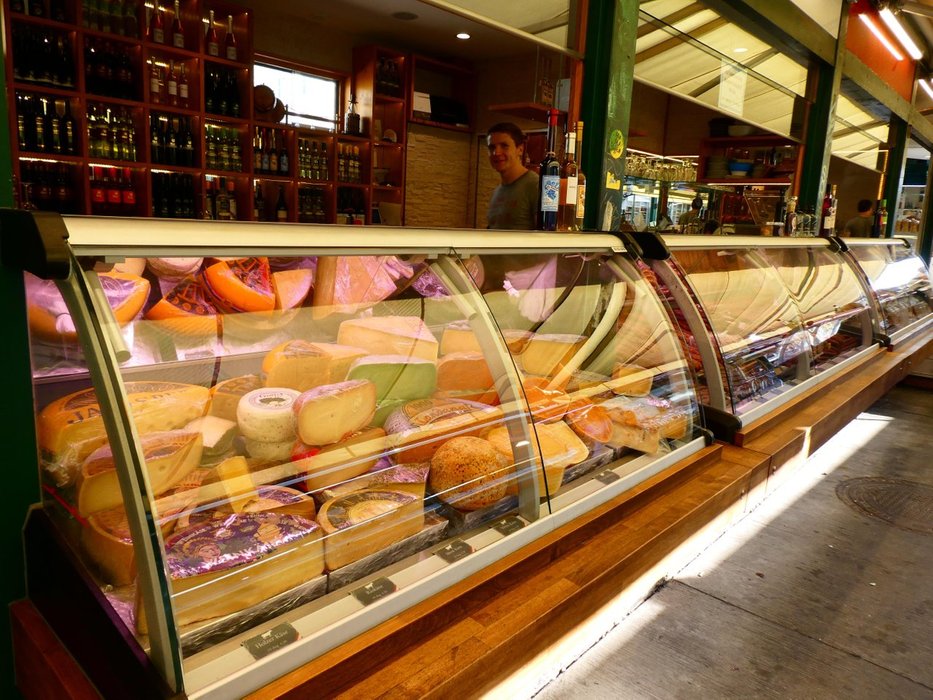 Right next to the Cheese, there was a stand with Middle Eastern products... Humus was the only one I knew about.
---
So much food... and nothing to drink? Problem solved. What do you want? Wine, Liqueur, Vodka, Whiskey, Rum? Perhaps just a Coca-Cola or a Bottled Water?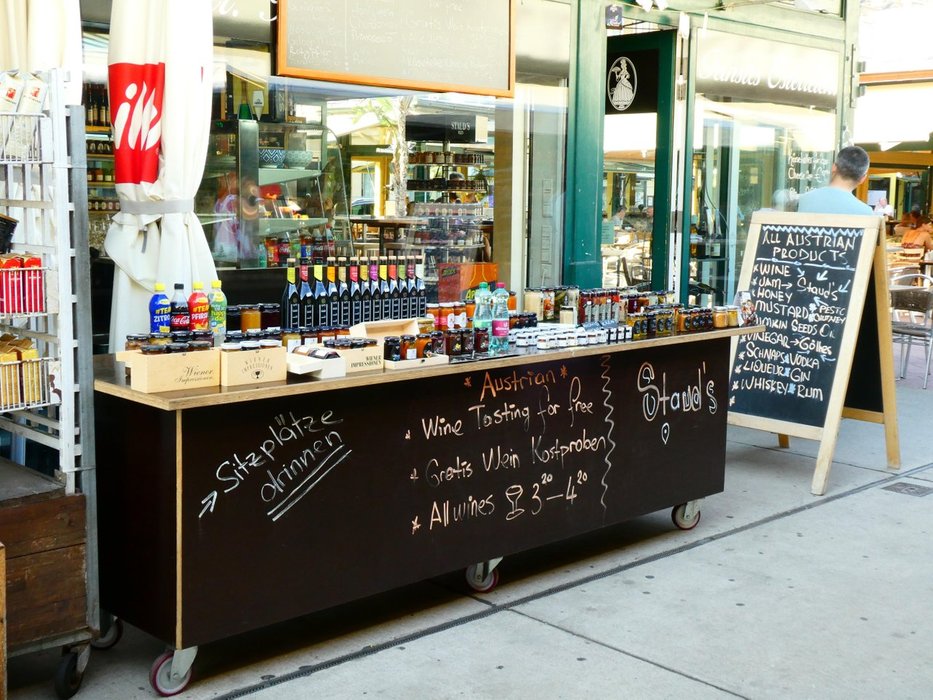 Besides Drinks, they also sold Jam, Honey and Vinegar.
---
In this spot, the part of the market dedicated to food ended... and I saw a few workers on their break, playing some card games. One of the youngest decided to pose for my camera. Ah ah! What a look he gave me! 😎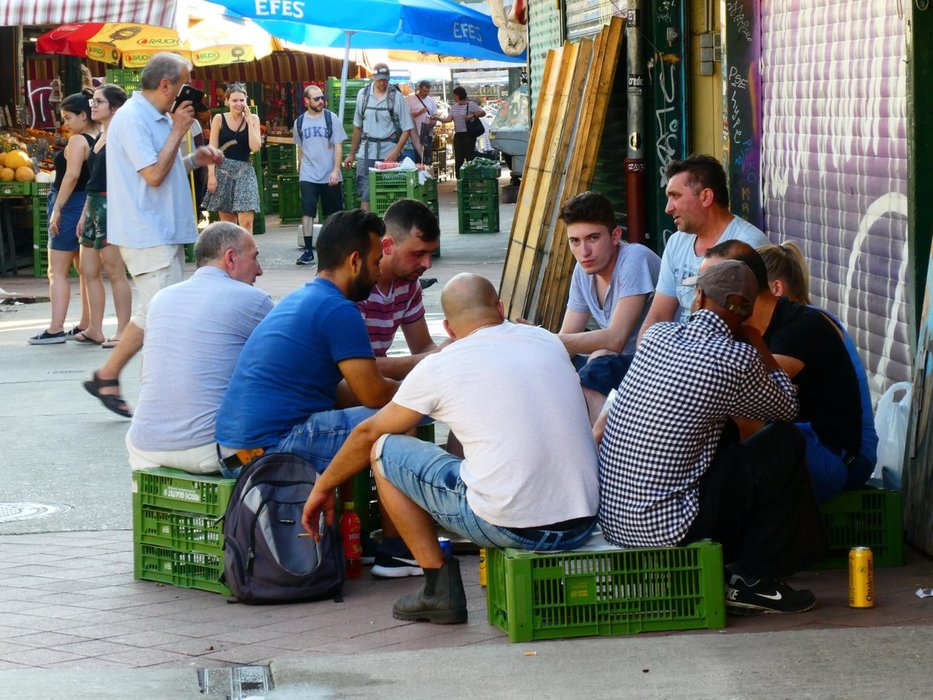 I left them to their games and distractions and moved on...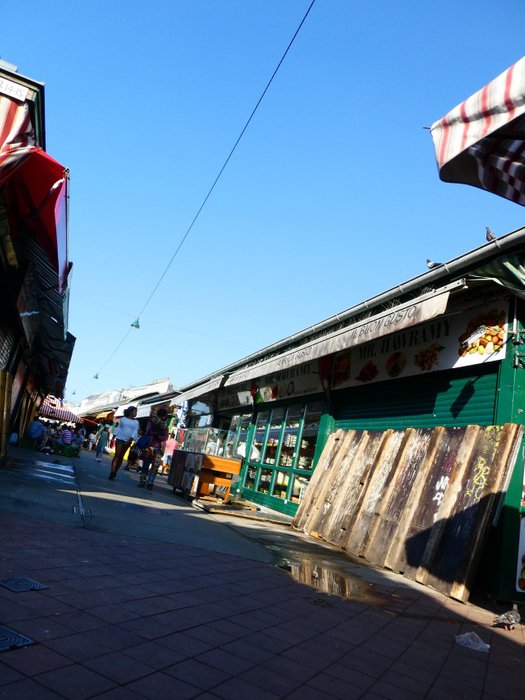 ---
The next part of the market was all about Cloth Wear.
All kinds of Hats and Sunglasses were on display, though I suspect most of them were counterfeit.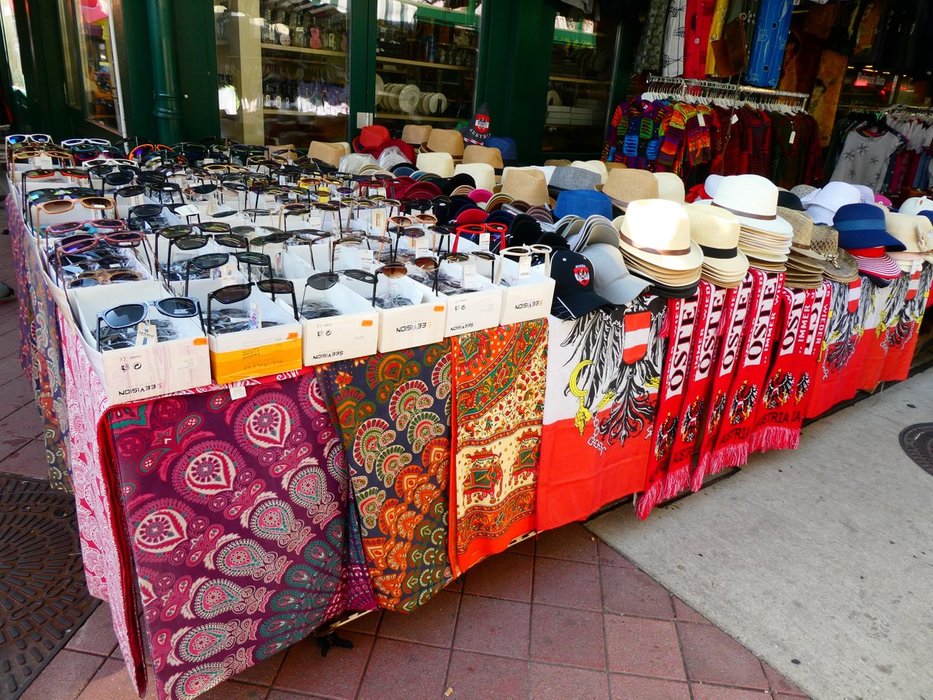 They sold a lot of wallets too, but here the variety was resumed just to the colours. In style and shape, they were almost all similar to each other.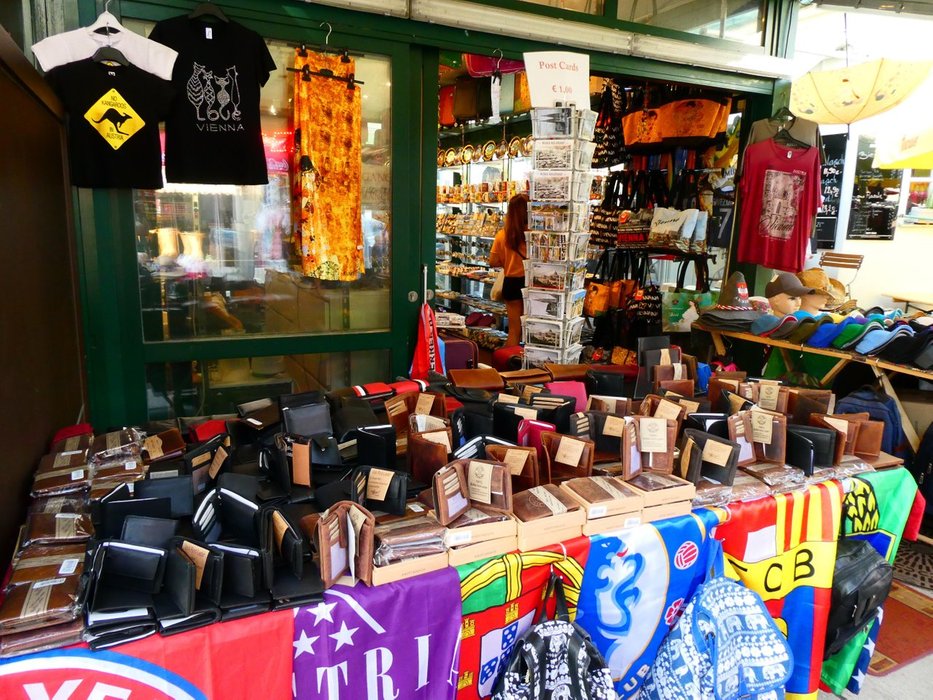 As usual, most of the products were directed to women. After all, we guys tend to avoid buying clothes and these vendors know it. Ahahahh! 😂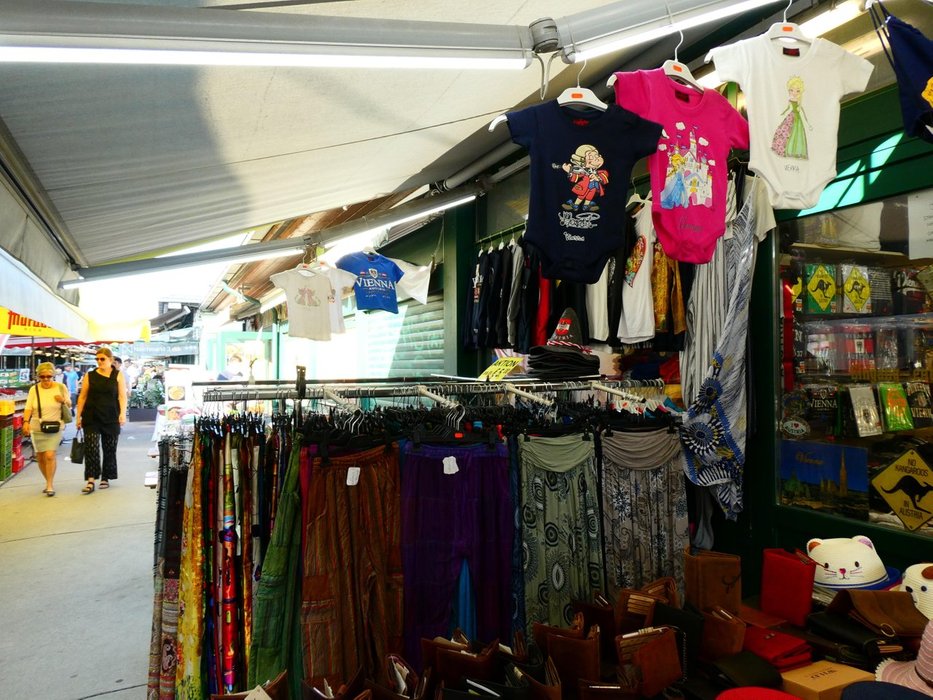 Hats and Scarves made the majority of the offer...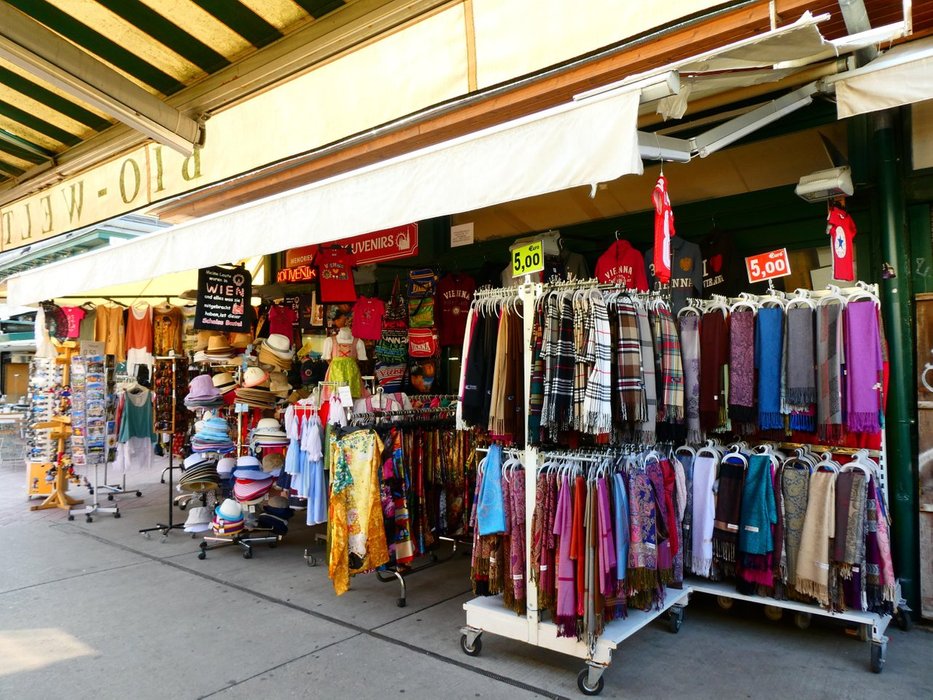 ... but there were also Dresses, Purses and Bags.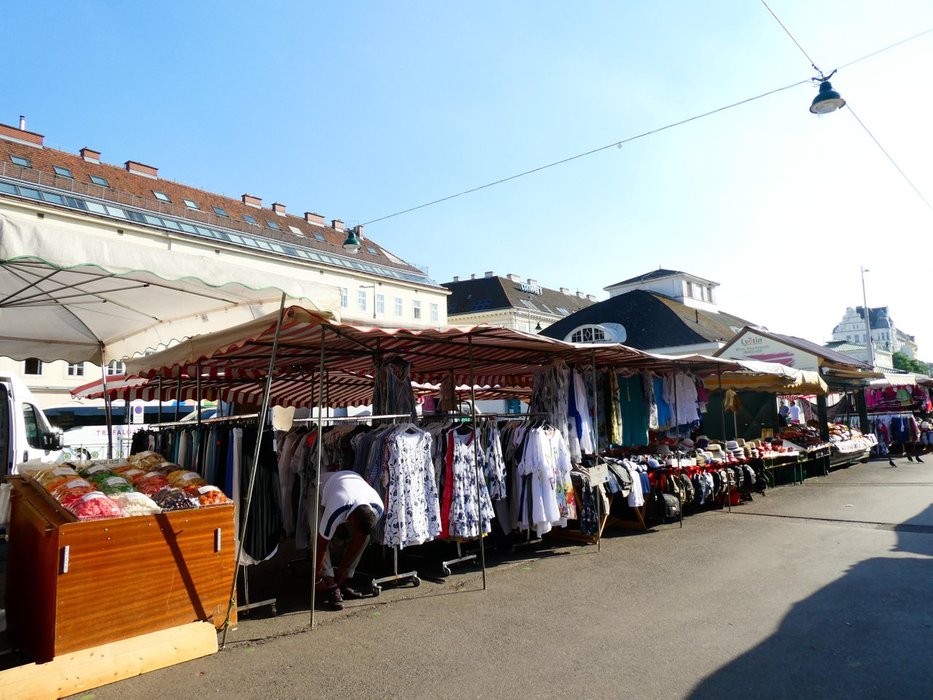 As you can see, the girl is looking at the Dresses... and the boyfriend doesn't really care.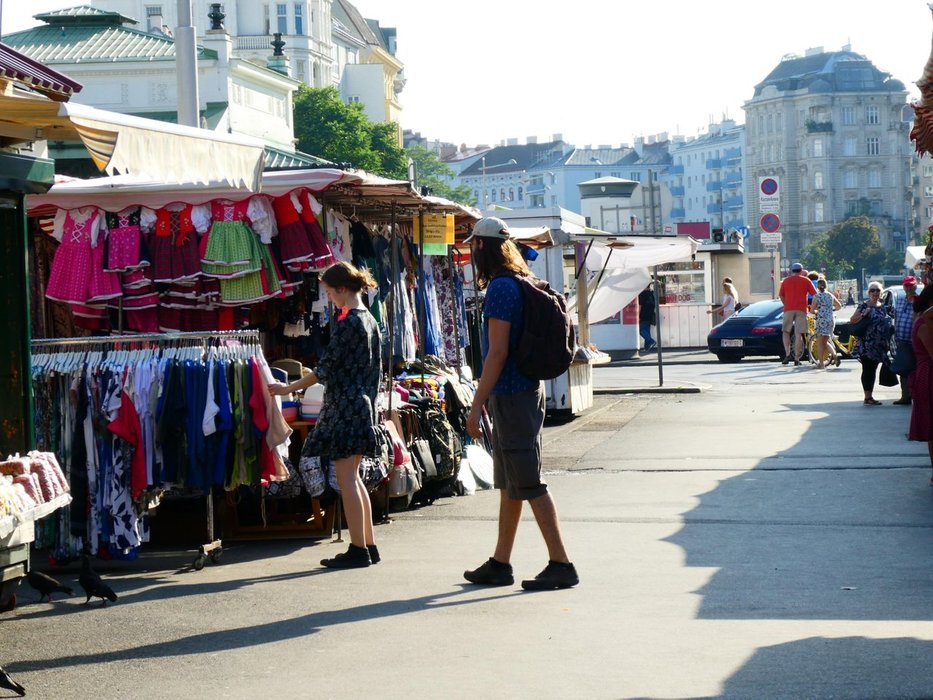 ---
There were also other products being sold. For instance, this shop sold everything related to Tea and Coffee.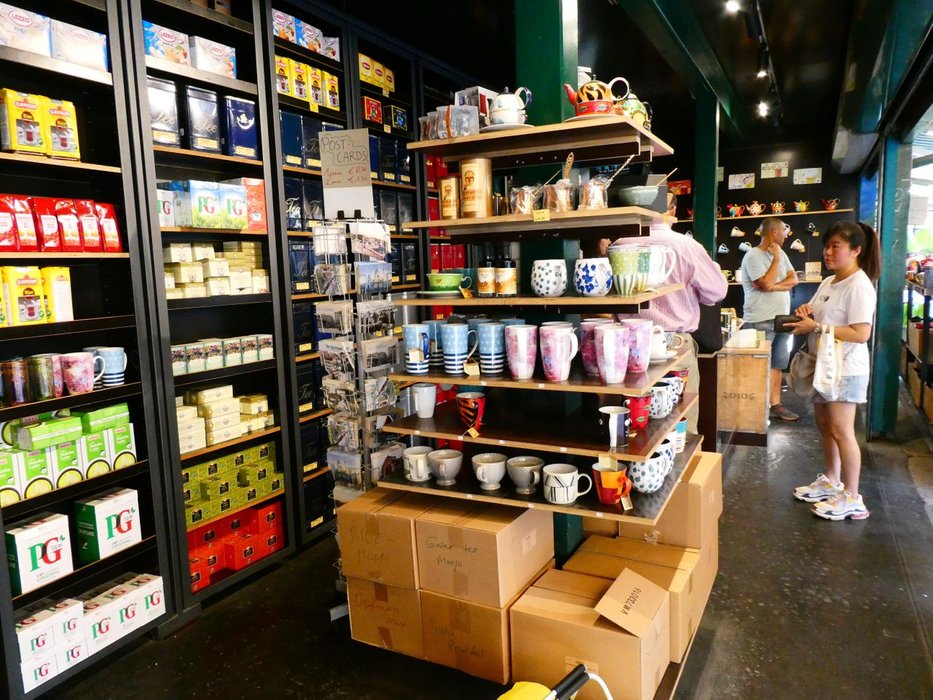 I take my hat off to this guy. In a market full of food, he decided to capitalise on those consumers, by selling an item they all need: Wooden Spoons. And quite funny, on top of that.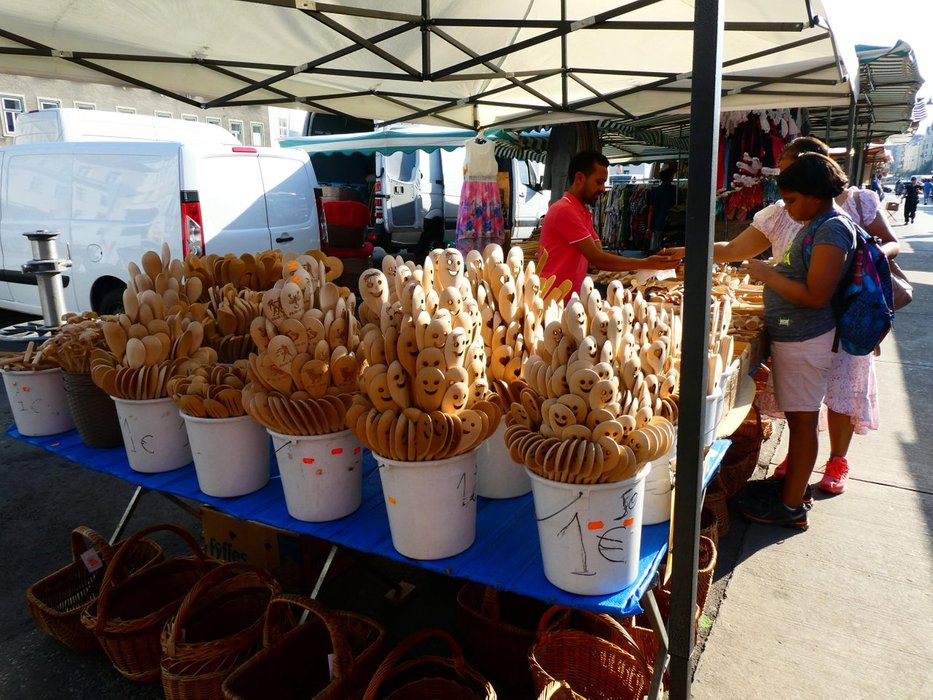 ---
Leter on the afternoon, right before evening, the market transformed itself. Most of the shops closed and the open restaurants took the chance to pick up the chairs and tables and spread them through the corridors, in front of all the closed stalls.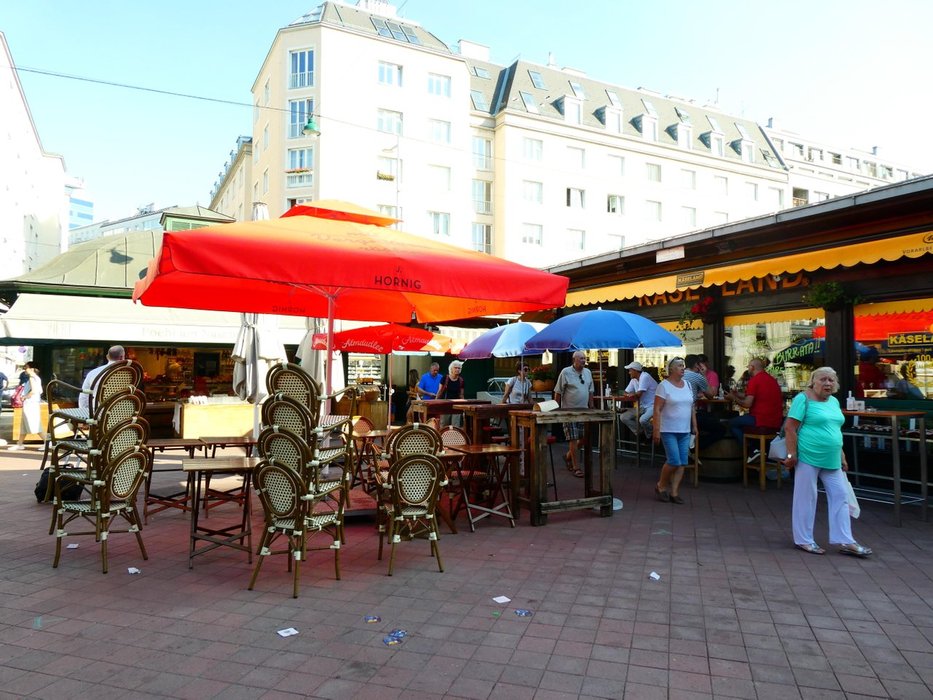 I don't know what kind of food you prefer but I'm pretty sure one of these places would be a fit for you. There were places specialised in Fish.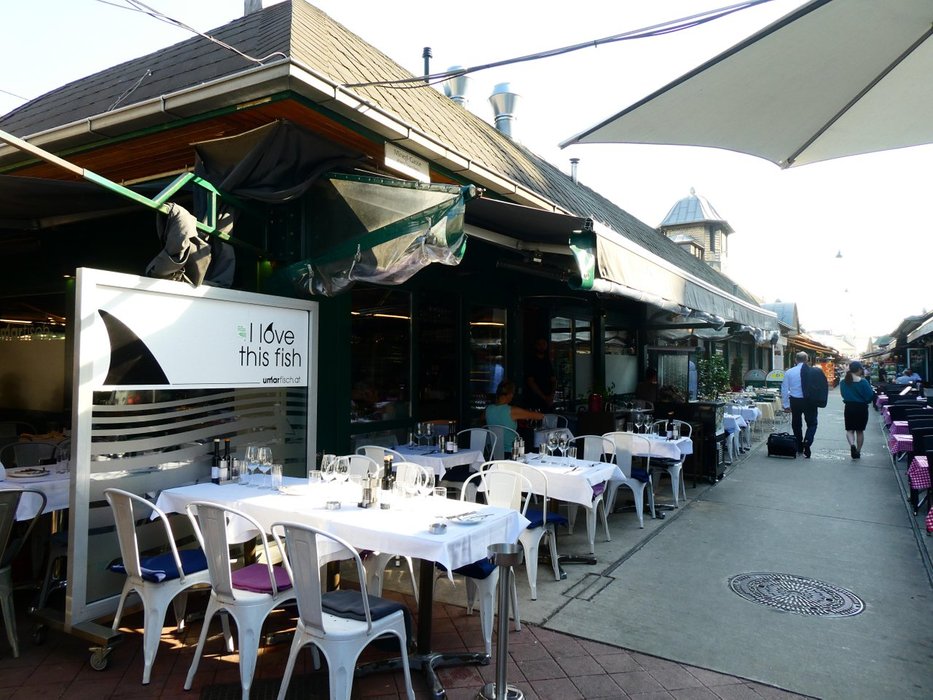 Some of them displayed their selection of Fish outside, so you can have an idea of what you're going to eat.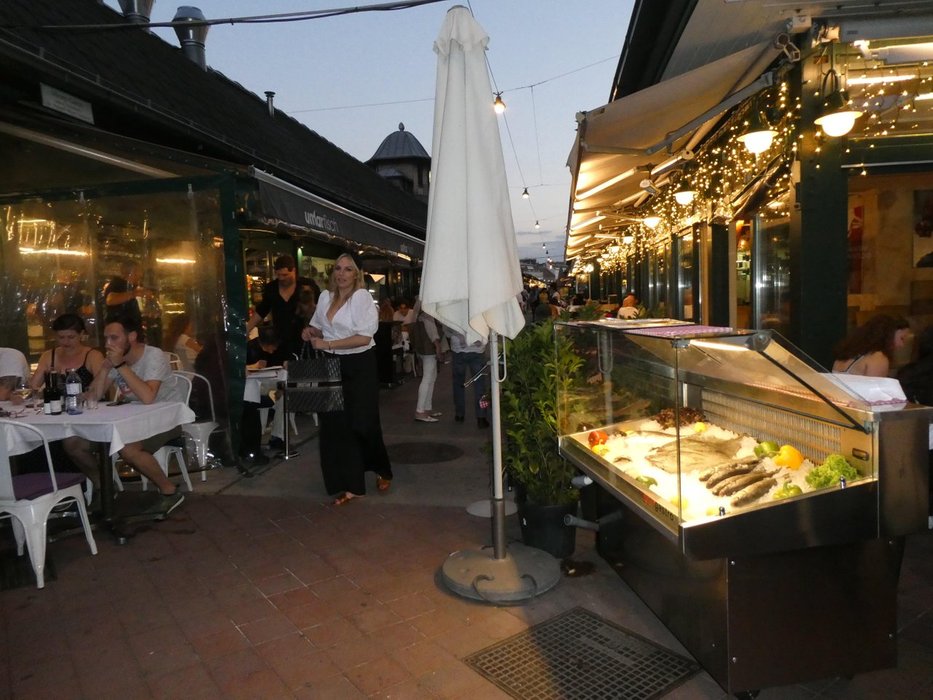 Others sold a bit of everything... if you want traditional Austrian restaurants, there is plenty of choice.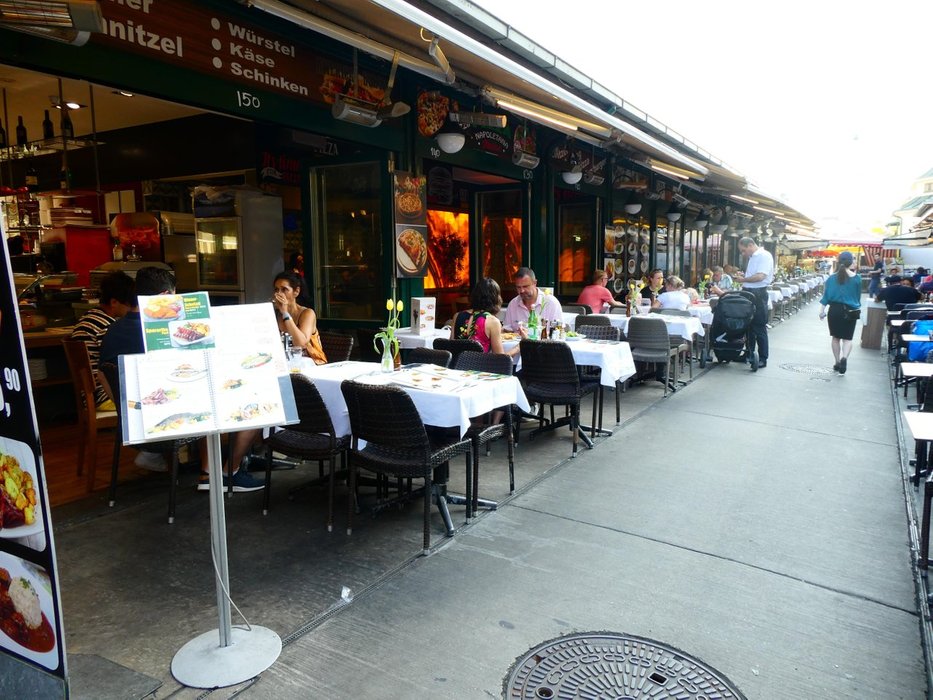 Every place started filling up at the evening, as people would leave their jobs and arrange for dinner with family and friends.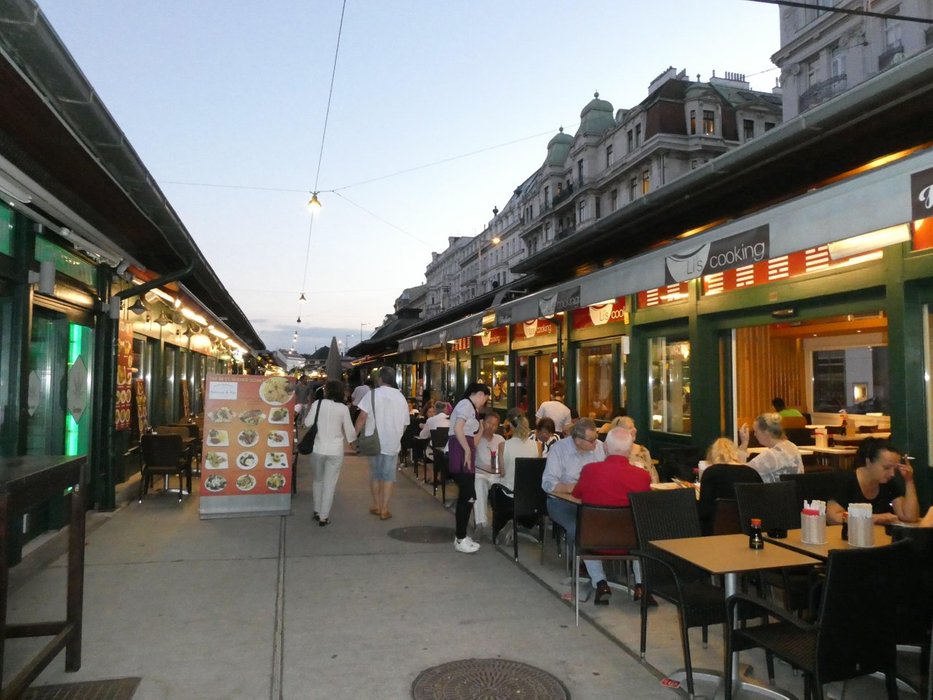 I even saw a place selling Hemp based products. Unreal. I didn't even know this was legal in Austria. Live and learn, right?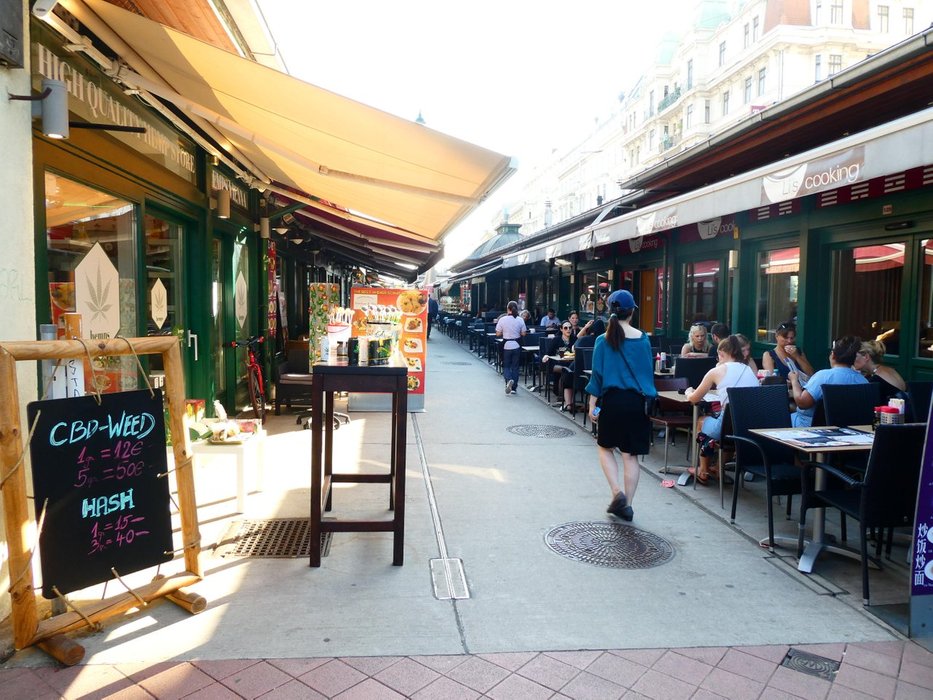 ---
I can't believe I was in Vienna for a week and missed this place. But hey, now that error has been corrected. I hope you have the opportunity to see this market for yourself. Believe it or not, these 39 photos only show a small fraction of the entire area.
---
Please don't forget to check the second part of this post:
---
| | |
| --- | --- |
| Camera | Panasonic Lumix DC-TZ90 |
| Location | #Vienna - #Austria |
| Photos | 37 Untouched |
| | 2 Rotated |
---
View this post in: 1Ramp / Busy / SteemPeak / Steeve / SteemIt
---