Coolys Rocks On Festival. Part #3.
The Coolys Rocks On Festival which takes place every year in Coolangatta in Queensland, Australia isn't all about Rock n Roll and Classic Cars. For the uninitiated, a big part of this very popular festival encompasses Fashion. Oh yes! Fashion of the Rock n Roll kind puts the icing on the cake by adding flare and fun and a little frivolity mixed with a liberal dose of fanaticism. All will be revealed later in this post.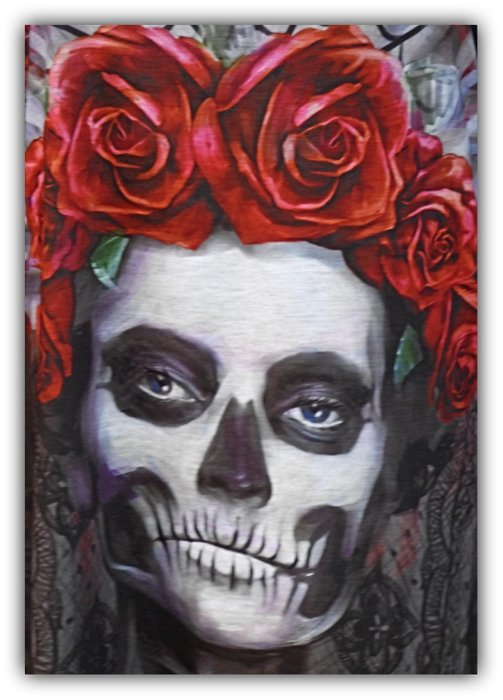 Vehicles played a pivotal part during the era of Rock n Roll and the very unique holiday on wheels (below) would have been the envy for many back in the day. Perhaps even today!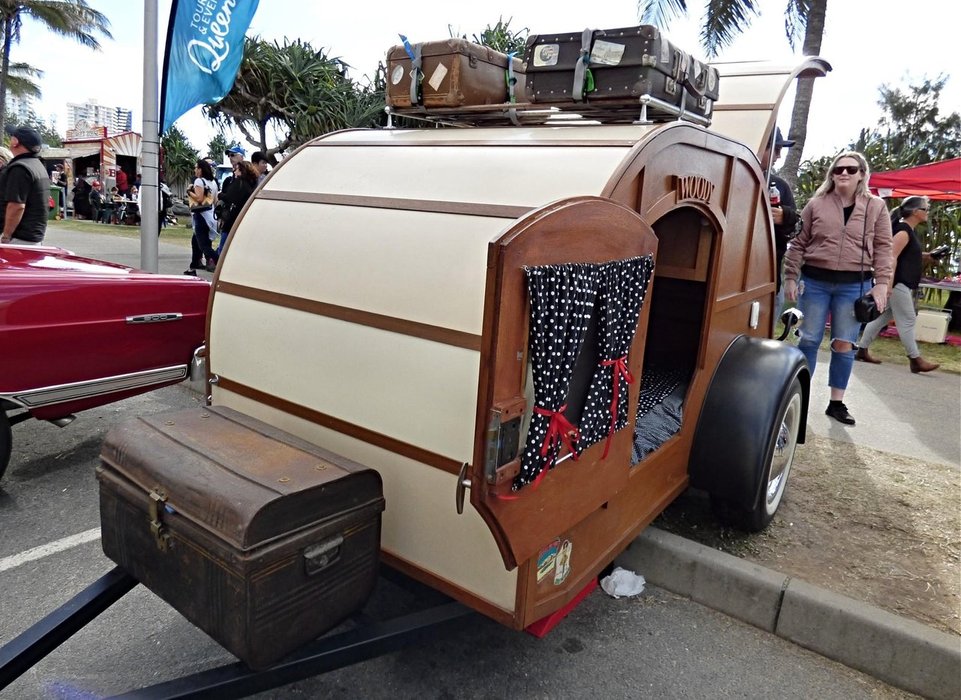 With bags packed and stacked on top of the caravan, all that was left to be done was fill the cool black convertible with petrol and head for the beach.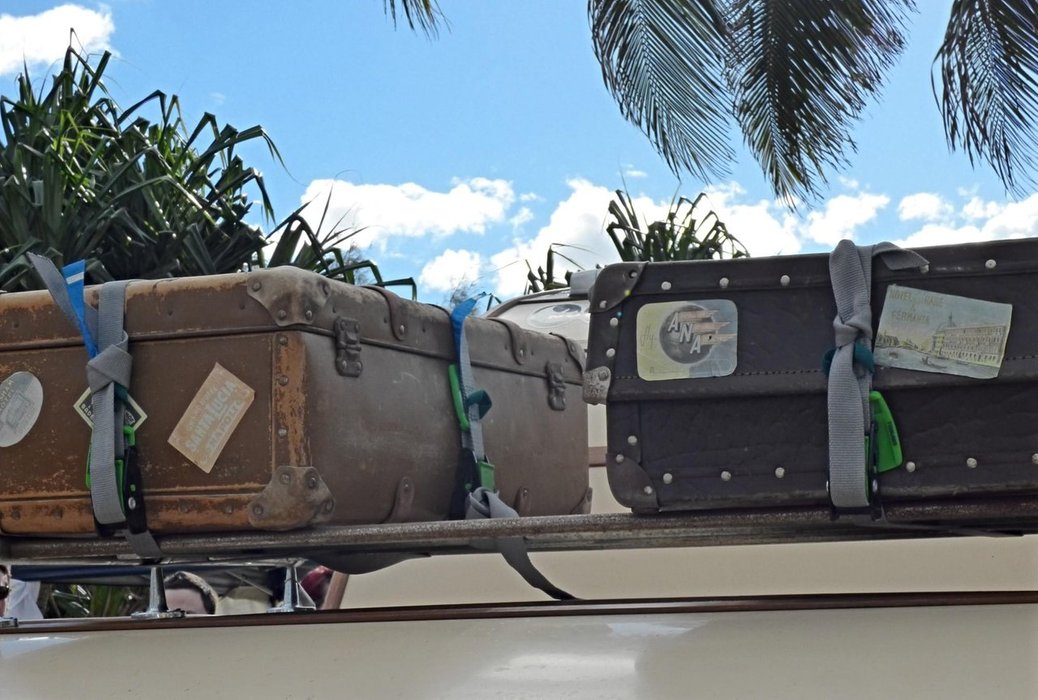 If the Gold Coast in Queensland was a chosen destination, then Woody would not have far to go at all. Take a peek inside and check out the distinctive black and white polka dot curtains and the cosy mattress and soft pillows. What more could you want?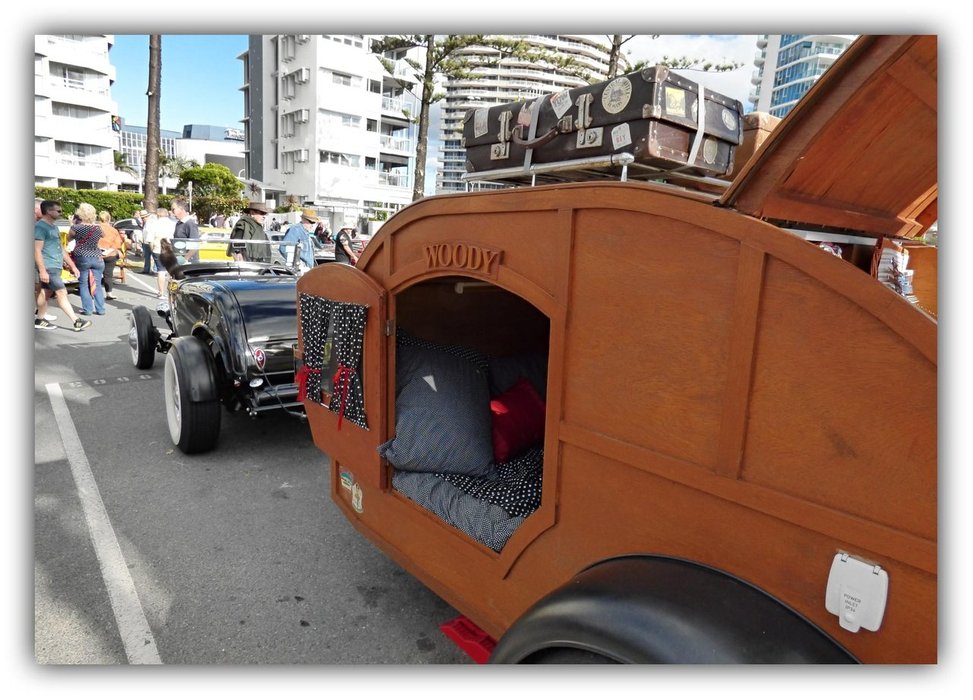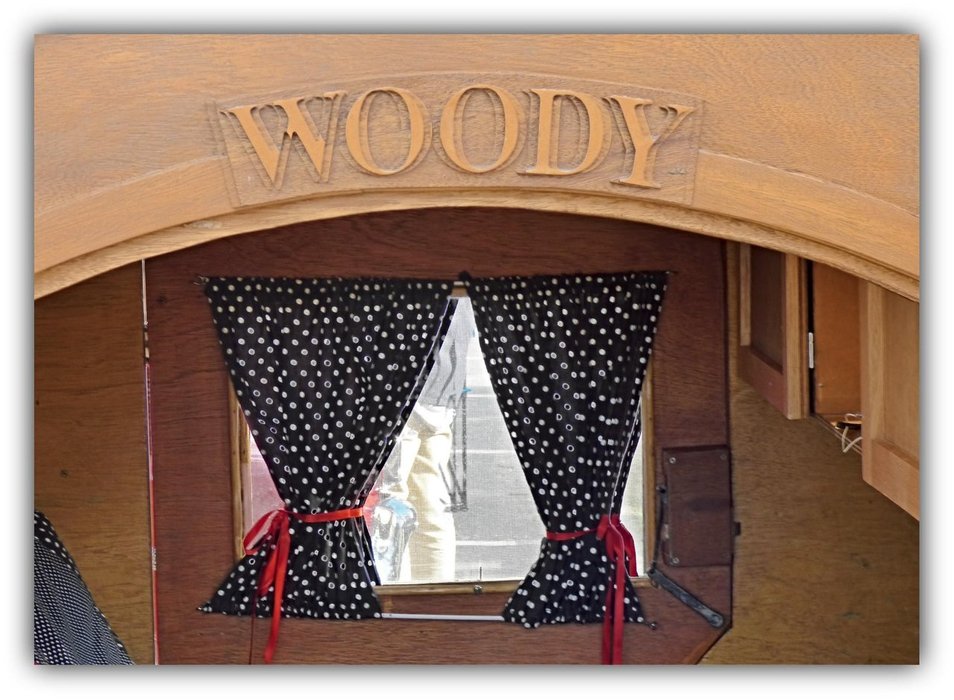 Have Woody! Will Travel!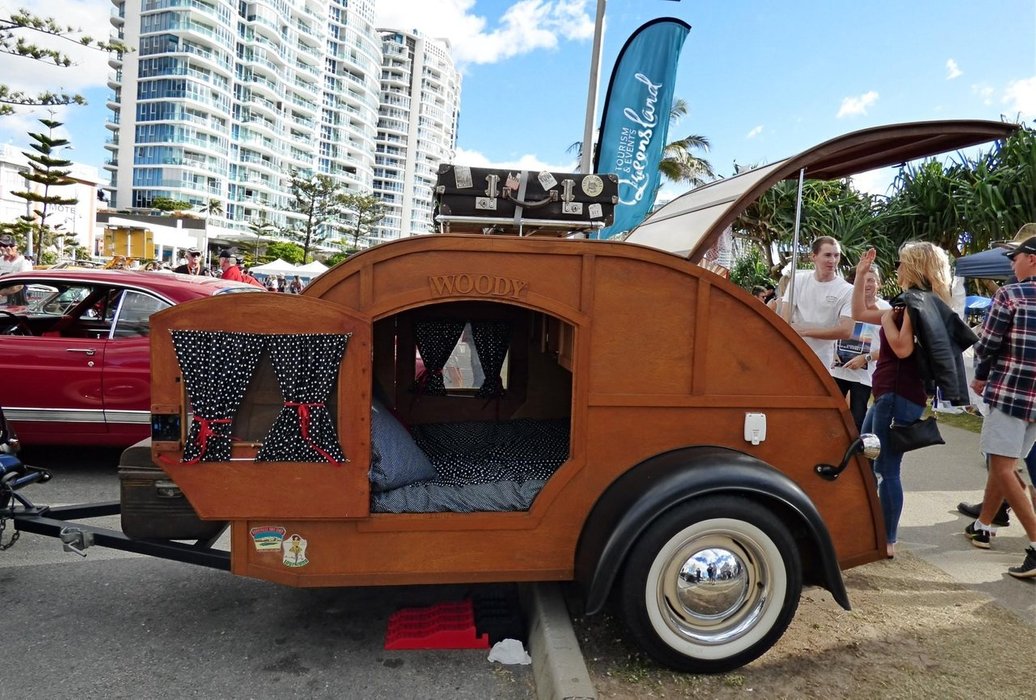 A yellow Corvette in pristine condition created a lot of attention.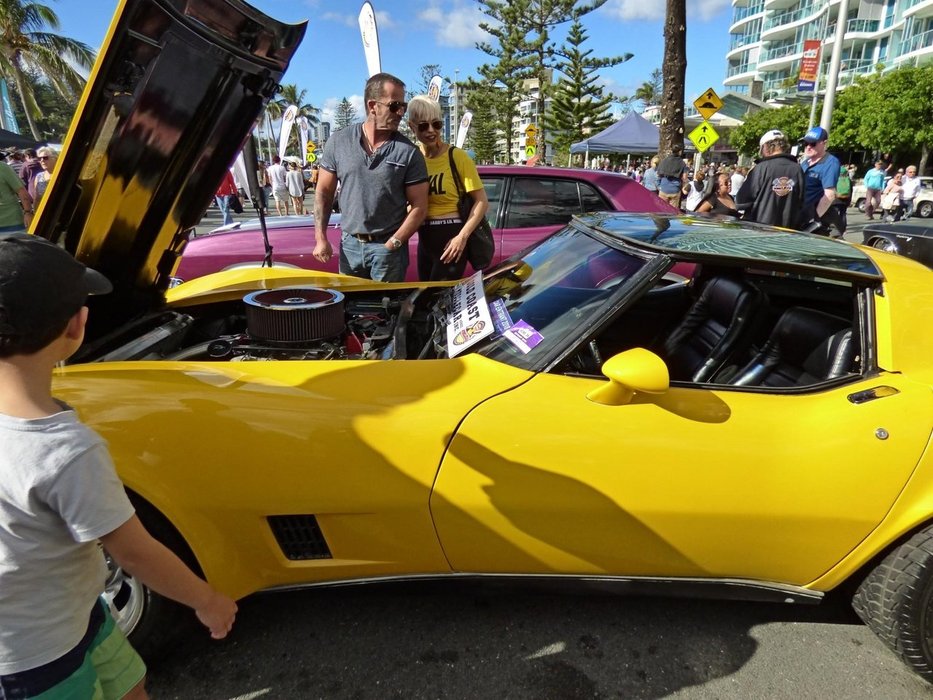 This White Cadillac was also in excellent condition.

And this Red Mustang gleamed in the sun, showing off all her best features.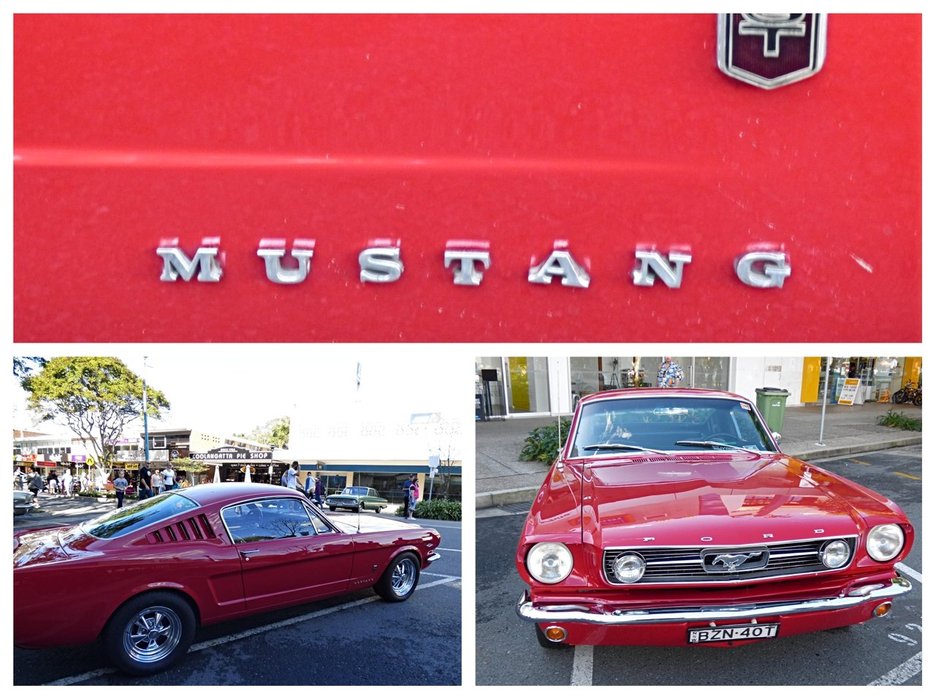 Now.......lets take a look to the subject of 'Fashion.' I saw many visitors dressed in Rock n Roll attire and not all of them took advantage of the music bands or the dance floors. They clearly loved all things Rock n Roll and this was their opportunity to re-enact those heady days of that era.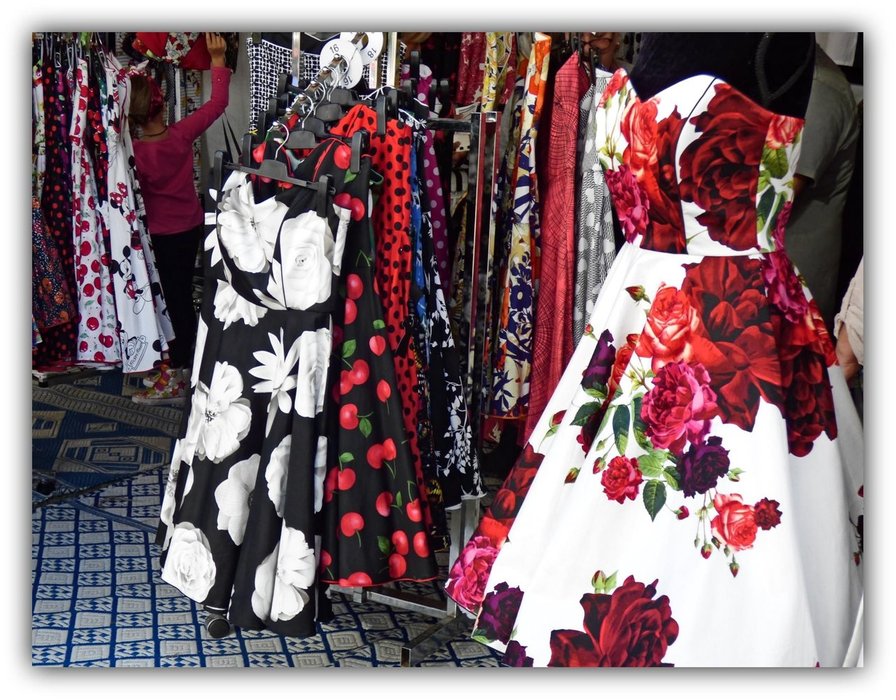 I have to say, the atmosphere was buzzing with excitement and energy and Coolangatta was 'THE' place to be during the festival.
This pretty dress with the red roses was just one of many to choose from.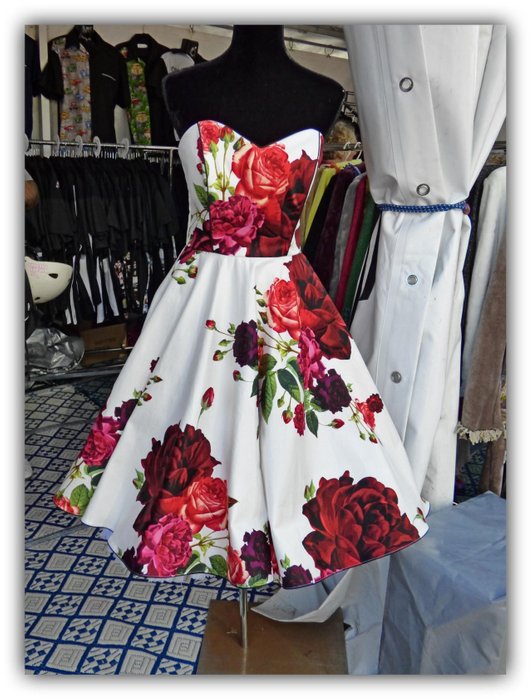 Polka Dots dresses with flared skirts were another popular choice.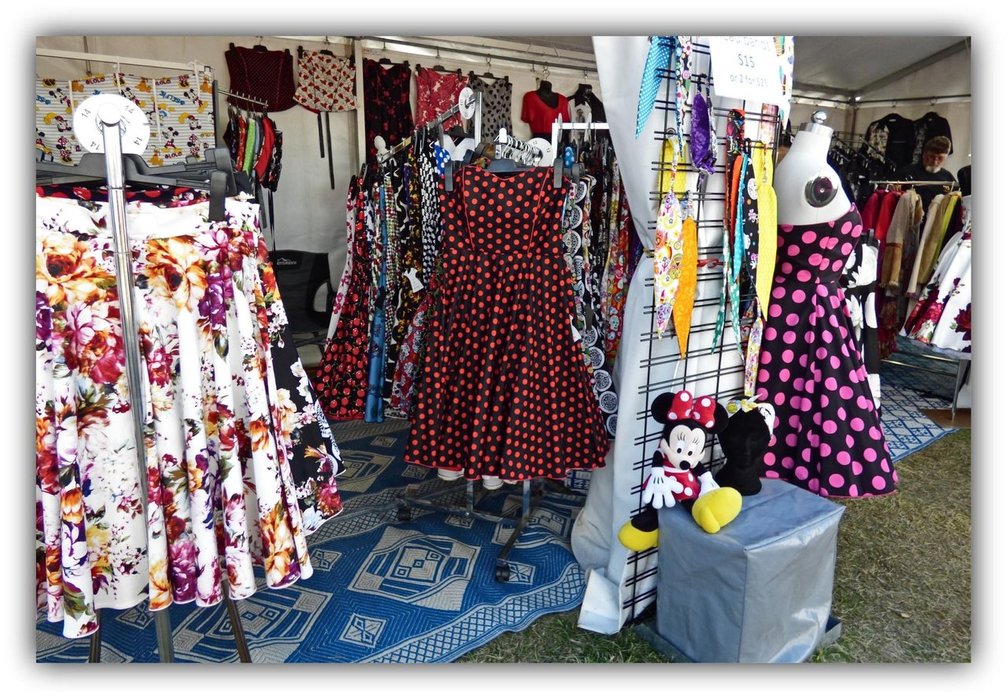 From head to toe........ these women rocked!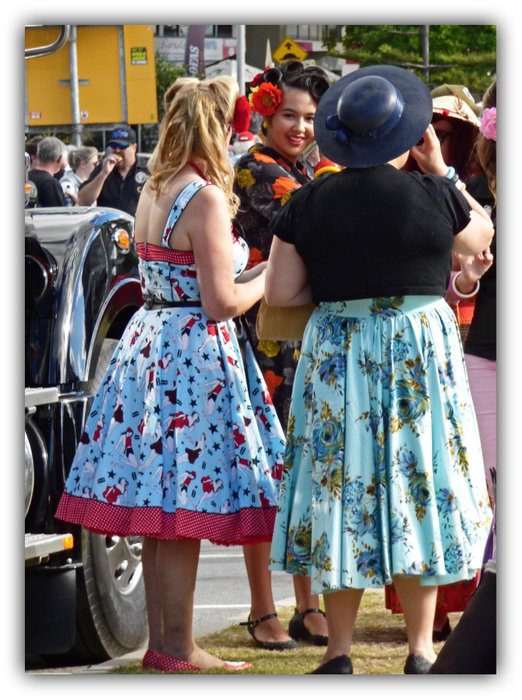 The truck in the background to this scene provides not so subtle hints that the Harley Davidson brand was well represented at Coolys. (My final post will feature images from the Harley Davidson section.......coming soon.)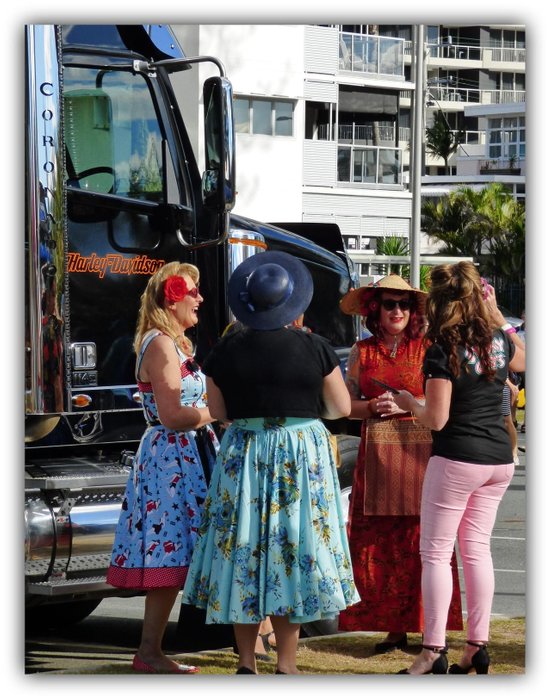 Now that's what I call a 'Red Head!' Don't you just love the vibrant hibiscus flower in her hair and the orange monkey dangling from her ear? Sooooo cool!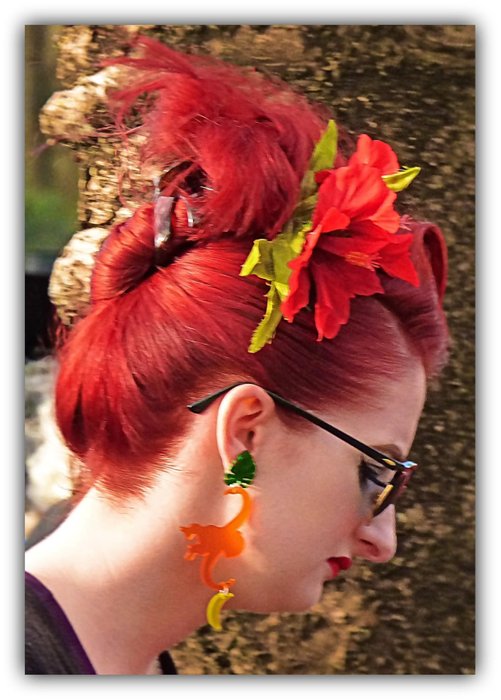 If you weren't groovng to the music on the dance floor you were being thoroughly entertained by the everyone having so much fun whilst appreciating the quality of the bands playing.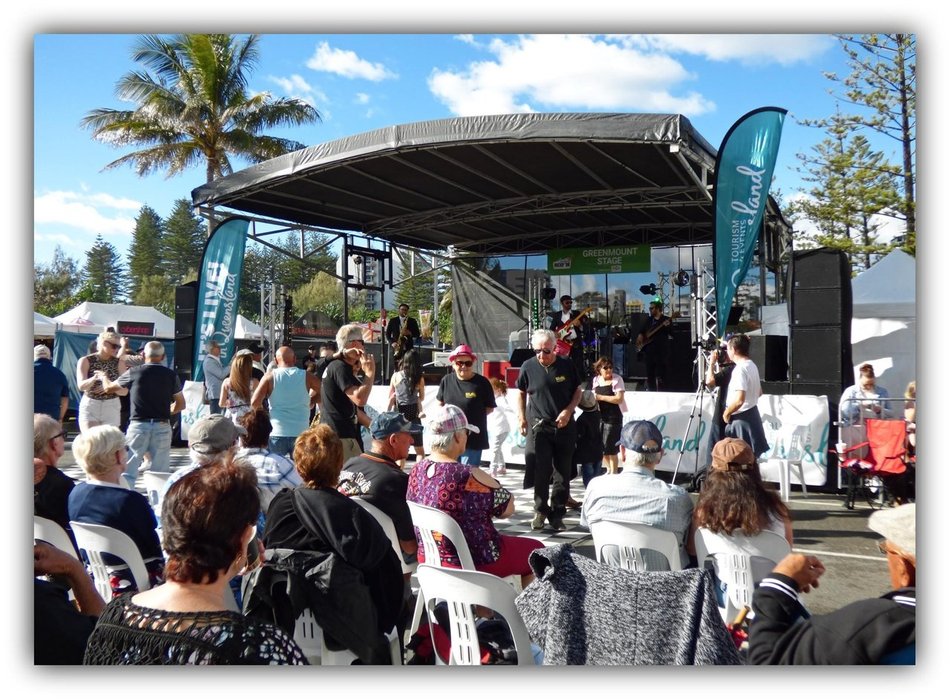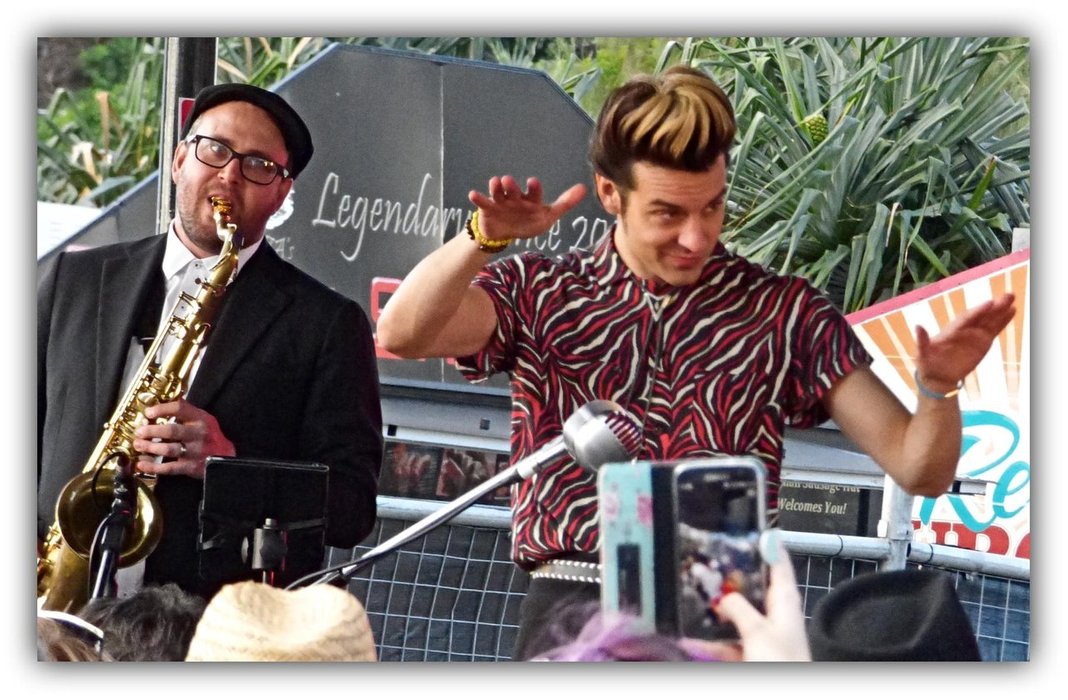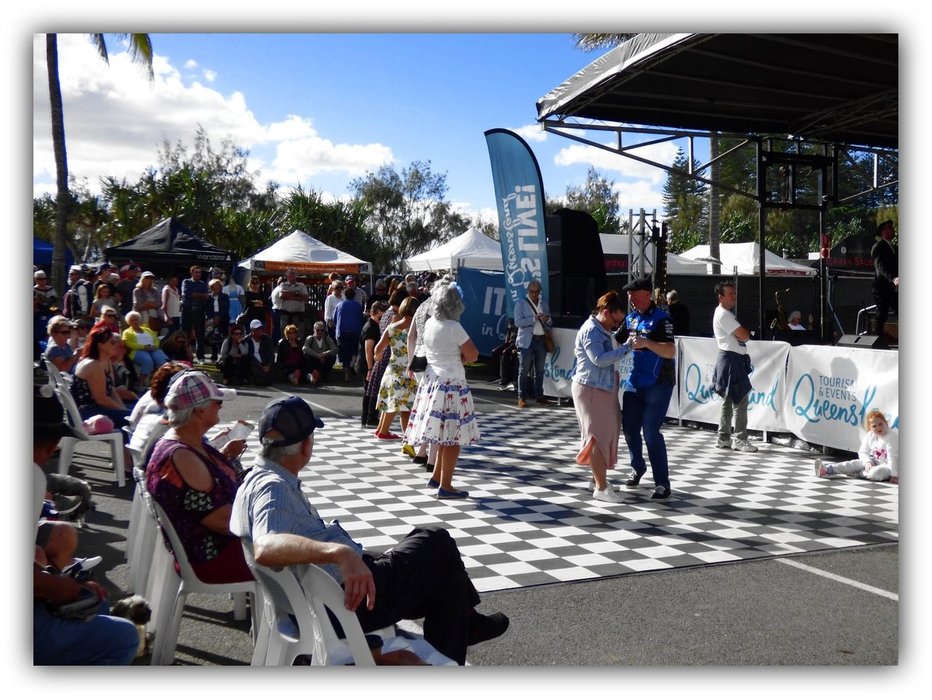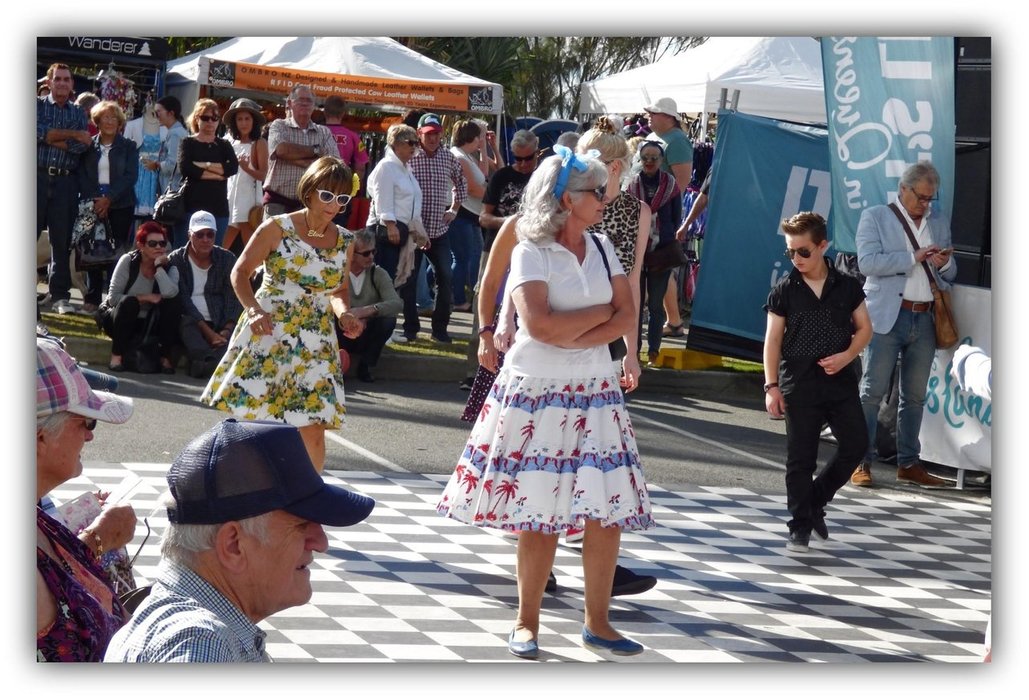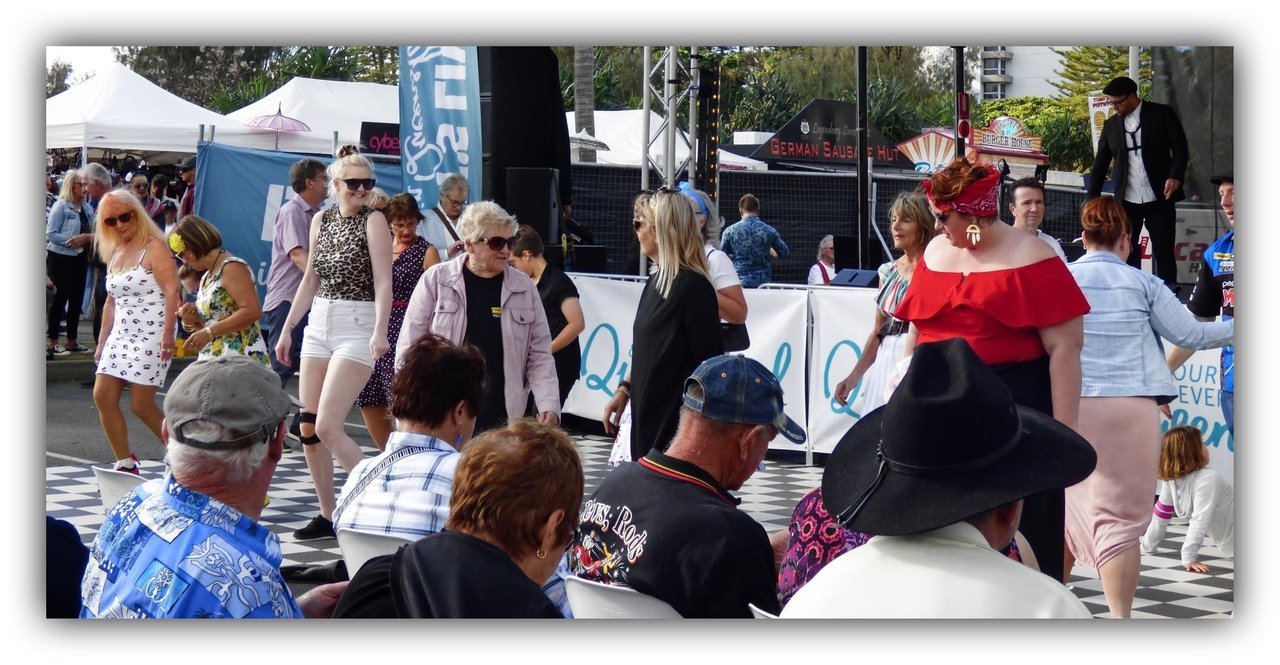 It was great to see the young ones learning to Rock n Roll.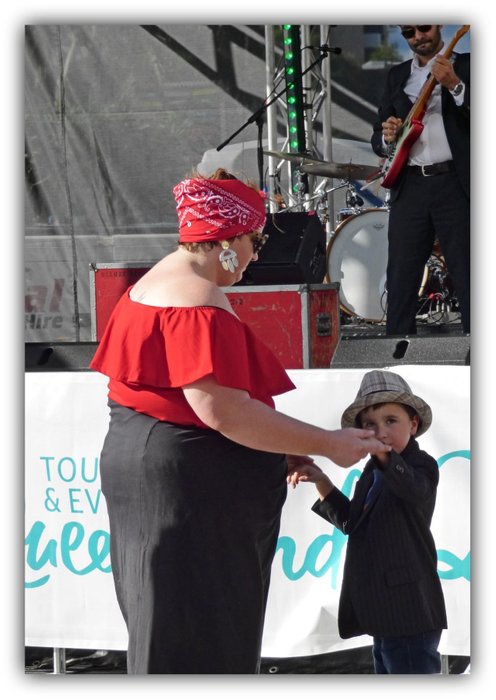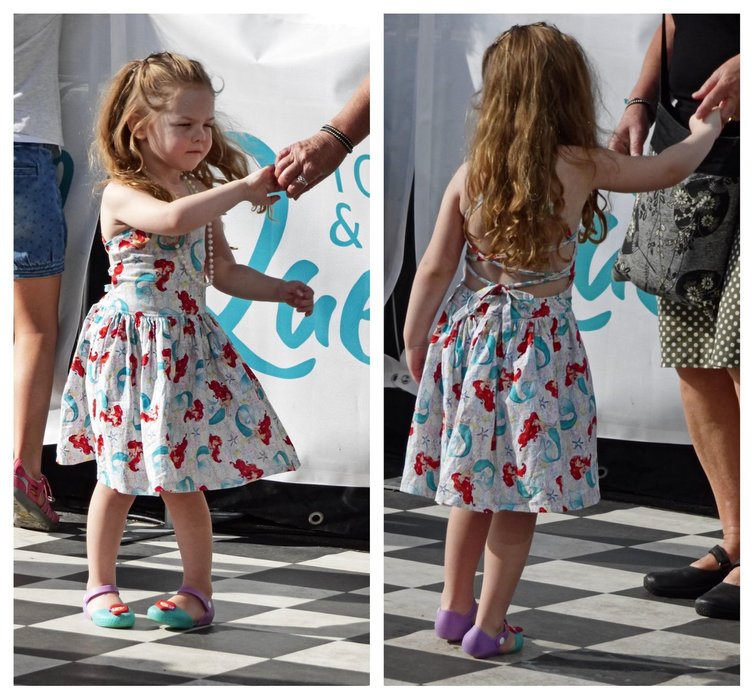 Great also to see that age was no barrier for Rock n Roll lovers and that is exactly how it should be.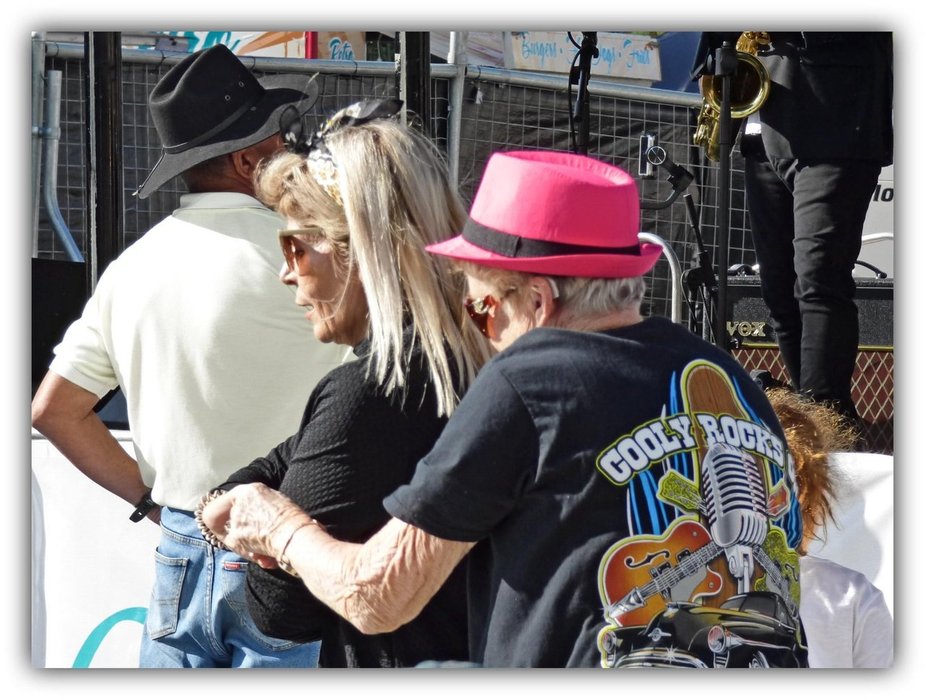 This young boy was attempting to drag his granddad up to dance with him and I'm pleased to say, that he succeeded in his attempts.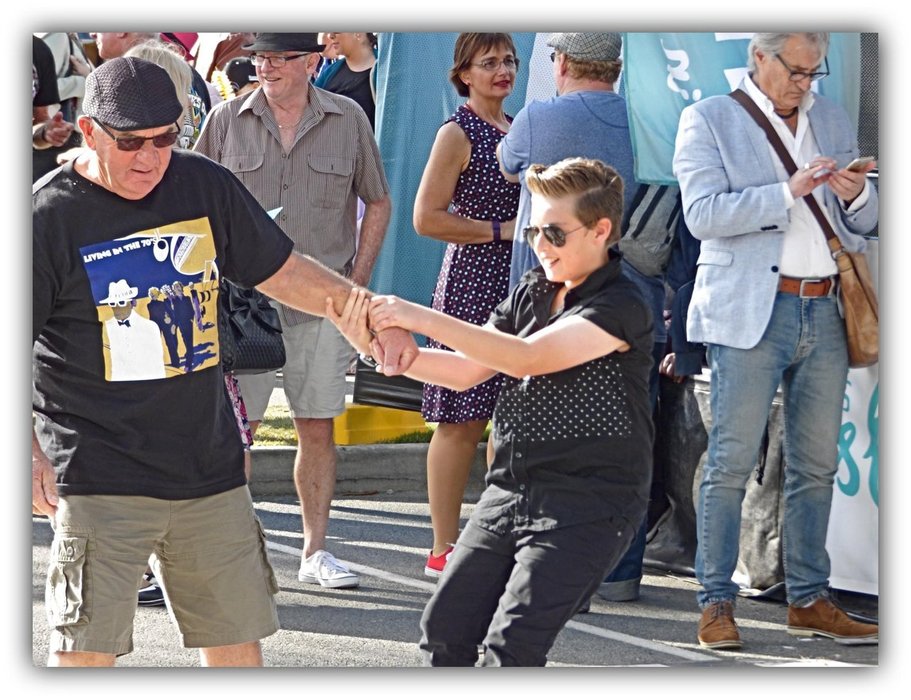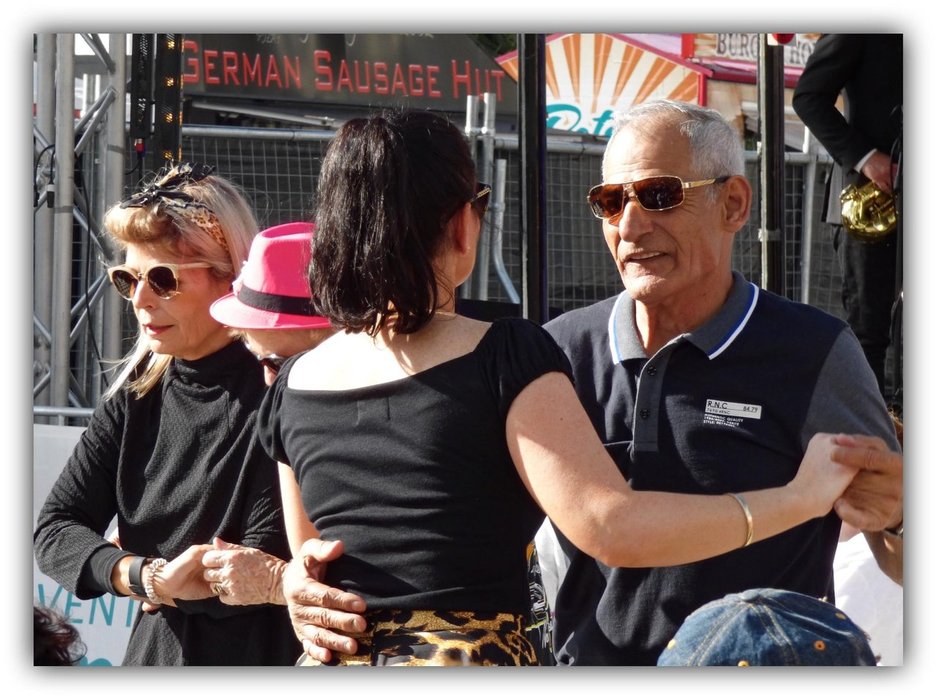 Rows of funky......and slightly scary T/Shirts were available for sale.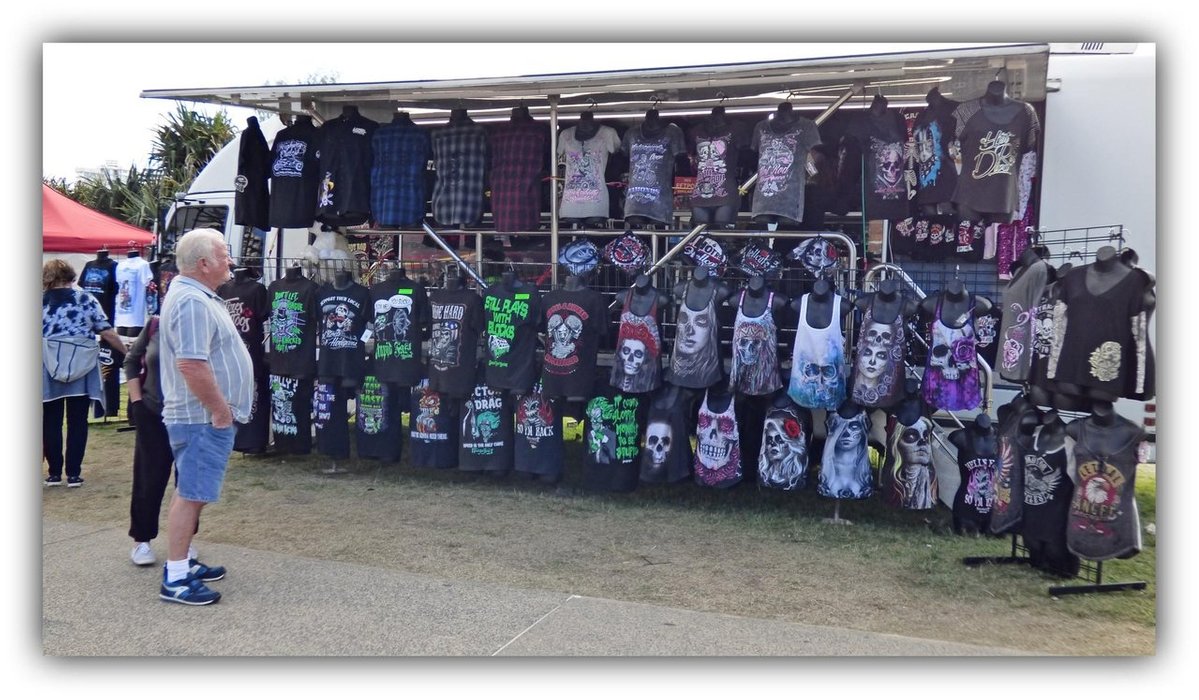 I admired the amazing art work on these garments.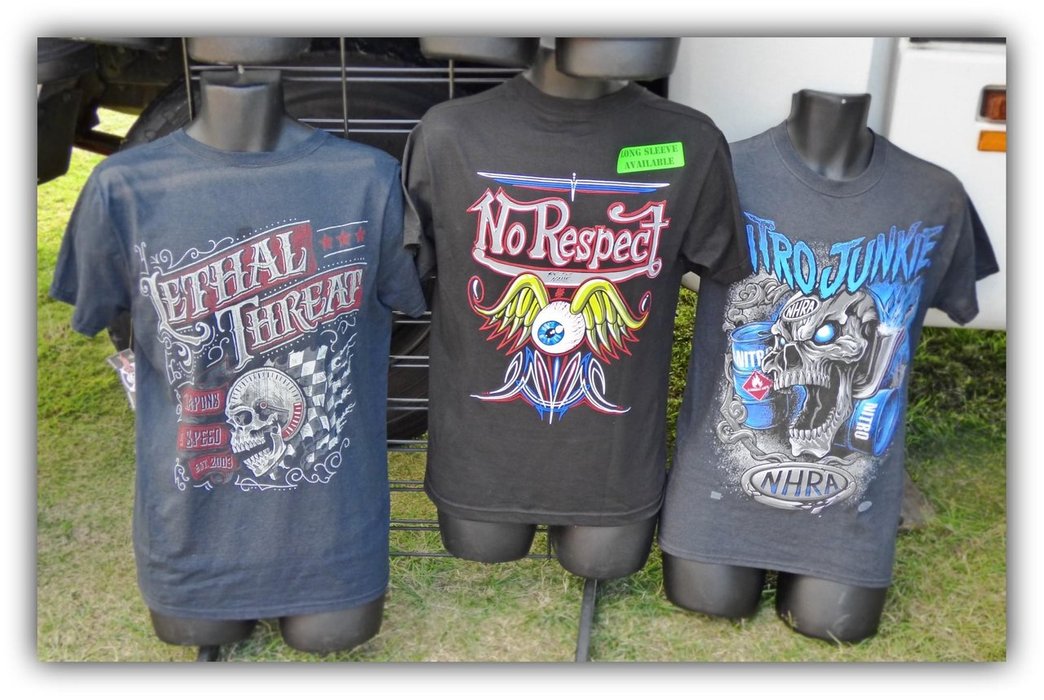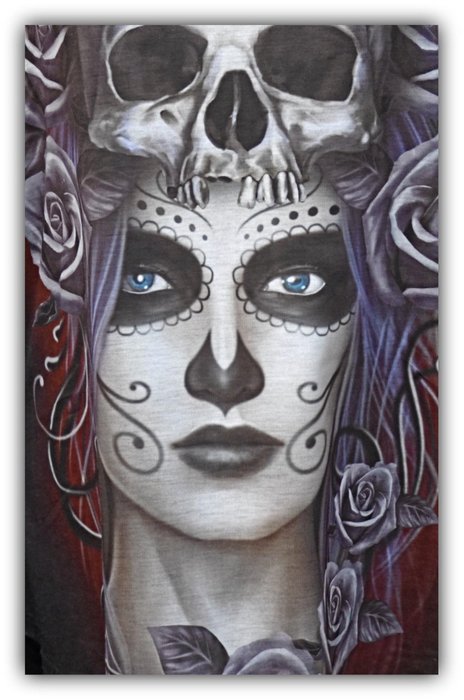 As much as the activity on the streets in Coolangatta was well worth absorbing or being directly involved with, one of the other
main attractions of this festival was the location.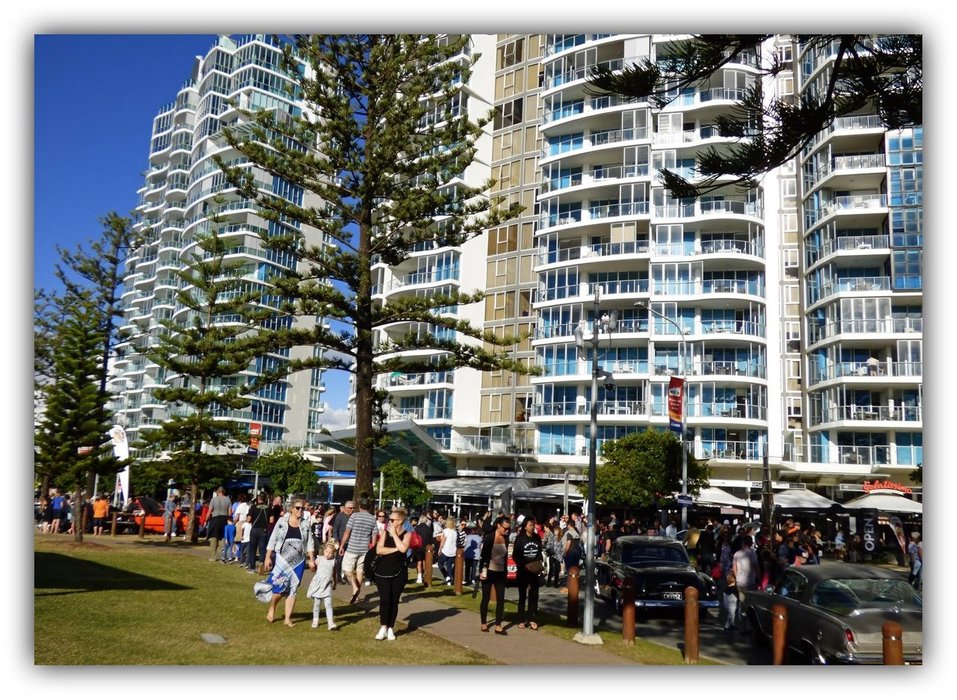 With beaches, rolling surf, and picturesque coastal headlands adjacent to the festival, visitors had the best of both worlds and I am sure that not many would go home feeling disappointed.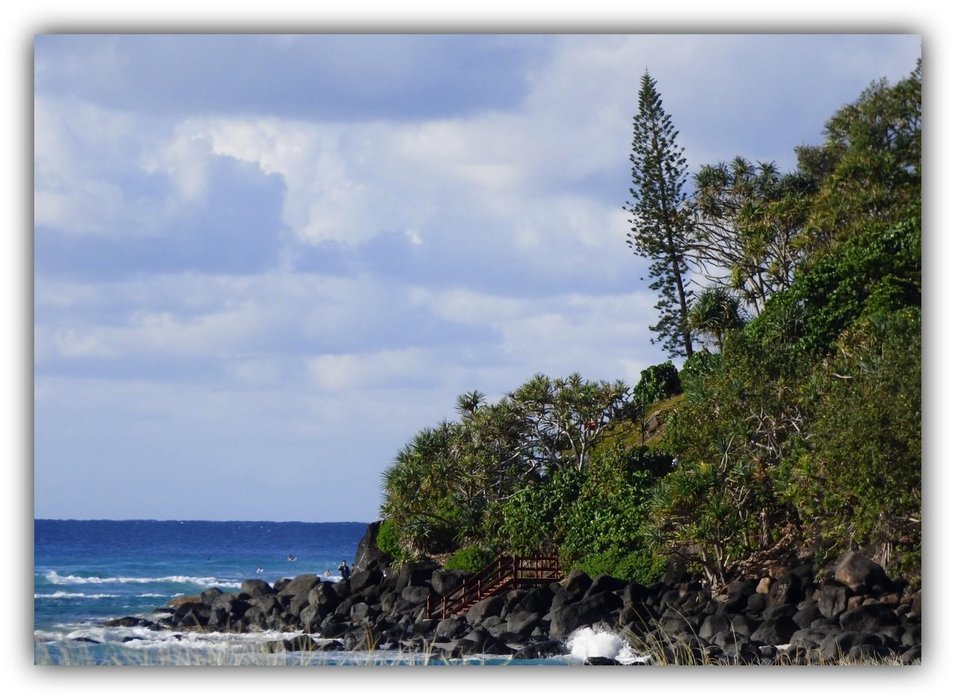 Wait until I show you the fabulous selection of Harley Davidson motor bikes in my next blog. You are in for a treat. Stay tuned!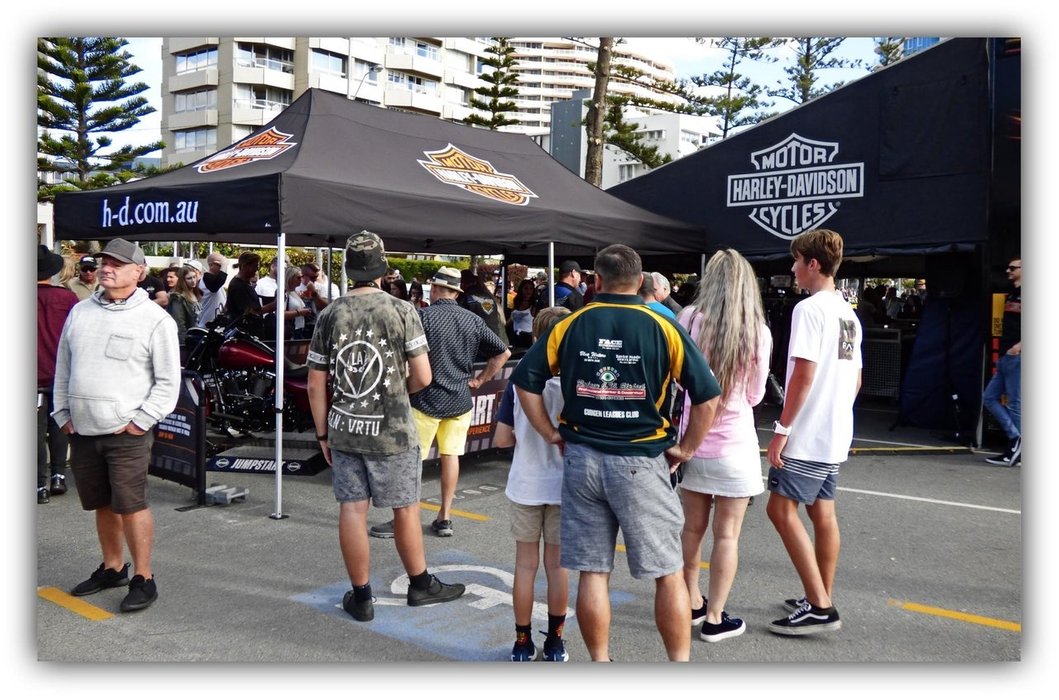 If you missed Part 1 and part 2 of my Coolys Rocks on blogs,
Click Here: Part 1.
Part 2.
THANK YOU FOR VIEWING. HAVE A GREAT DAY.