Cruising With Radiance. Part 4.
I promised to share more of my 'Cruising With Radiance,' experience with you and here, finally is Part 4. If you missed the first three blogs, check out the other three links at the end of this post.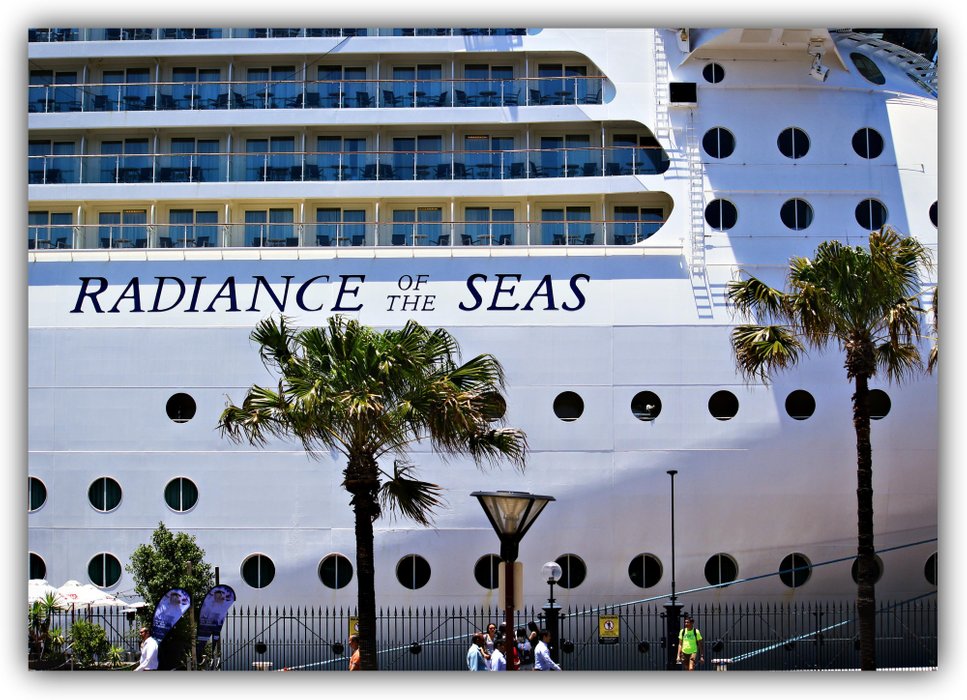 A brief recap: We'd flown from Brisbane to Sydney. Boarded the train from Sydney airport to Circular Quay where our home for the following nine days awaited at the dock. After our bags had been checked in and we'd been cleared to board the ship, I had time to have a good look around to determine how best to spend my time when cruising, before our rooms became available. I mentioned in my last blog that after enjoying our first meal, there was still plenty of time to get familiar with the layout of the boat and save ourselves an ideal position for the best views of Sydney Harbour as we sailed away.
Sydneys' iconic landmarks were soon targeted by the setting sun, turning them into remarkable, unforgettable silhouettes.
The delicious meals of course, are one of the many treats we look forward to when cruising. The challenge for most, (us included) is the variety. There is so much to choose from, it is difficult to decide what to eat. I will add random meals throughout this post to give you an idea of what I am talking about.They were either enjoyed by John and myself or meals that our friends who travelled with us found delectable.
Cascades is the fine dining area. For breakfast, fruit, cereals, breads, cold meats, cheeses and pastries are laid out for people to help themselves. We also have the option to order anything our hearts desire from the menu. Personally, I found their eggs benedict hard to resist.
The dining room was definitely not overcrowded on the morning of Day One at sea. Luxuriating in bed for longer than what one is used to is a 'right of passage' for cruise lovers, but as for us, we were up bright and early.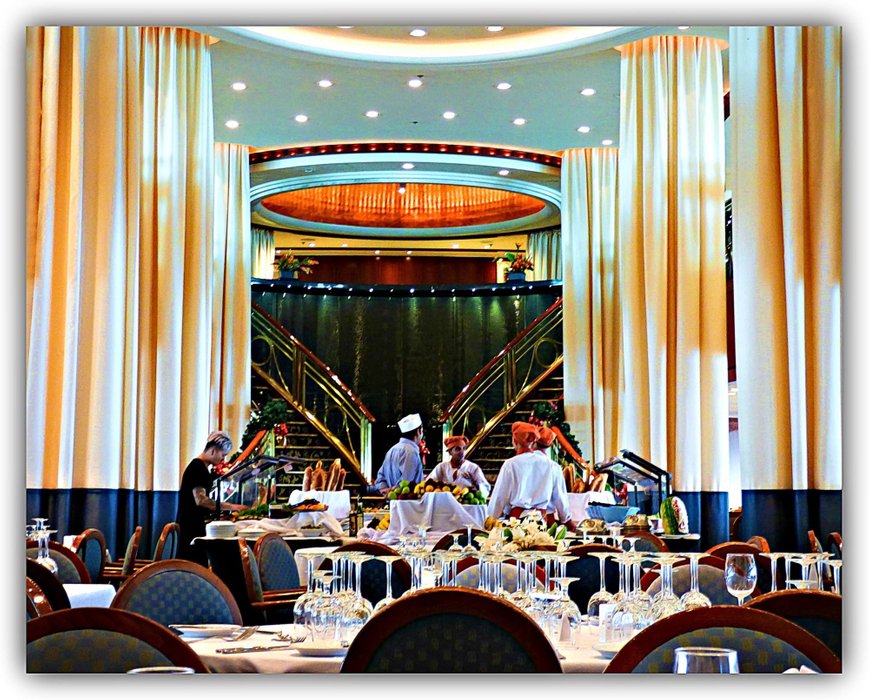 Before you read further.....a word of advice! You may want to go and get yourself a tasty snack or two because this blog will undoubtedly stimulate your appetite, if it hasn't already.
But, I'll be kind to you........for now, and take you away from all that food. Let me introduce you to The Captain. I think he likes a drink or two because he's often hanging around the Schooner Bar. He's always immaculately dressed but he's one of those quiet types. He doesn't say much.
To the left of the entrance to the Schooner Bar are these rows of beautiful poinciana flowers. Remember it was just before Christmas so these flowers were adding to the overall festive spirit of the ship and doing a great job of decorating this area at the same time. You can see people waiting for the lift in the foyer beyond the glass walls.
Everywhere you go, you will see portholes. But not just ordinary portholes. Look at the sparkling diamantes on this one!
It took me a minute or two to work out why these gun powder barrels and cannon balls were paced strategically at the entrance of the Schooner Bar. And why the captain seemed to stand on guard a couple of feet away.
He was guarding his rum of course! No passenger or crew member on board his ship was allowed more than their allocated, daily quota!
Now, most people don't mind a few rules and regulations when travelling but as usual, there will always be those who test the boundaries of fair and reasonable guidelines. And when you are responsible for the peace and safety of large numbers of people, a captain cannot afford to be lax in his duties.
He was more than prepared to protect his ship and deal with trouble makers. I remember when cruising holidays first became an affordable and popular choice for average Australians. Free alcohol was available as part of the package deal. That was doomed from 'Day One' if you ask me. One too many drunken incident, (and tragedy I might add,) has caused cruise lines to ditch the free drink policy and now passengers have to buy their own alcohol. It is not cheap but that doesn't stop some from 'going overboard' with the amount they drink and causing major disturbances for crew and holiday makers alike.
Therefore you can't blame a captain for being prepared for all possible scenarios. And if there was any hint of a mutiny on The Radiance of the Seas; he had it covered.
Now don't be getting your knickers in a twist! No such incidence was likely to happen when we were sailing on this floating hotel and honestly, if people had cause to complain about anything, the always courteous management staff were well equipped to handle every possible situation.
Here is a wide view of the Shcooner Bar. We occasionally played cards at one of these tables to the sound of talented musicians. We'd pause to admire the ocean, sip our cocktails and plan our agenda for the following day from the daily newsletters that are left in our rooms.
We'd also dream about where else in the world we'd like to sail to. Believe it or not, there are people who cruise all year round. They leave one cruise to go on another.......and so on. How cool would that be?
I thought I'd add the map of Australia just for interest. It is made of brass......along with the base and supporting structure of this huge globe. Very ornate don't you think? But that brass doesn't clean itself. Spare a thought for the staff members who keep it polished and shiny.
Crew members work very hard on these ships and they don't stay on the same ship for years. They seem to get transferred about every six months to other ships but many are away from their families for long periods of time. It's great that they have jobs but this comes at a cost and is a big sacrifice for them and their loved ones. So, it is a pleasure to show our gratitude for their tireless service which can sadly, be taken for granted by some.
Another interesting porthole! But I cannot waste too much time gazing out of this one. It's nearly dinner time. I need to go to my cabin and work out what to wear for my first dinner at sea. When I am suitably attired, coiffed and perfumed, I take the arm of my equally suitably attired, coiffed and after-shaved husband, and we make our way back to Cascades.
Hmmmmm! What is on the menu tonight? I narrow my choices down after taking ages to decide and choose a prawn cocktail as my entree.
Lamb cutlets and vegetables followed. And.........
A mini pavlova sitting on a bed of tangy strawberries topped with whipped cream and decorated with a slice of kiwi fruit and a strawberry proved to be more than sufficient. Definitely more than sufficient, but not to worry, I can soon dance those extra calories off wherever a dance floor is available and lively music is being played.
Tonight, we'll see what's happening in the Colonade Room. This area holds multiple functions such as trivia, karaoke, and various forms of entertainment, complete with an inviting dance floor. Some time later we head to our rooms ready for a good nights sleep in preparation for another enjoyable day ahead. But........
There is a stranger in our room. Not only in our room, but on OUR bed! I didn't have the heart to turf our intruder out into the corridor so I decided that if we turned the lights down low and told him to keep his sunglasses on, we could undress, slip under the covers, and pretend he wasn't there.
Good night everyone. See you when I complete, 'Cruising With Radiance, Part 5.
Here is Part 1:
Here is Part 2:
Here is Part 3:
THANK YOU FOR VIEWING. HAVE A GREAT DAY.