This is my entry for this weeks Market Friday challenge hosted by @dswigle
Here we are back again for our 4th and final visit to the famous Eat Street Markets in Brisbane, Australia. I've had a few people ask me since posting Part 1-3, "What DID you eat during your visit Trudee?" And I know the answer may come as a surprise to most of you but John (my husband) and I left without tasting anything. Are we mad? Are we crazy? Yes! What possible explanation could suffice for our super human efforts to not partake of the delicious food on that occasion? We were actually a little short of time on our first visit and we went with the intention of satisfying our curiosity and to see what all the hype was about. And we succeeded in our mission.

HOWEVER....... we had every intention of going back and we did this last night. But this visit was made all the more special because John and I were accompanied by two V.I.P's from New Zealand. It was a great pleasure to meet @kiwideb and @andysantics after getting to know them via our Steemit communications and when we heard that they were coming to Australia for a few days we managed to organize a 'get together,' which found us finishing our day here, at the Eat Street Markets.

A different band from last time was in full swing when we arrived (so were @kiwideb's hips..........(she's a singer and a dancer in case you weren't aware) and she and her sister @andysantics sang the lyrics as they got orientated with the place.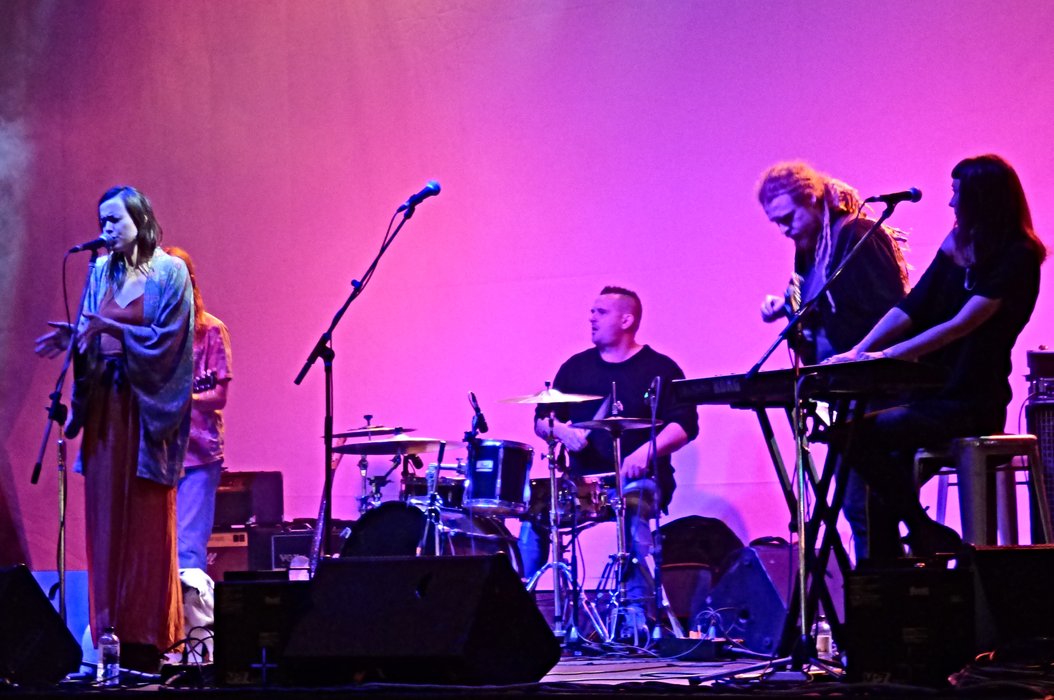 After paying our $3.00 entry fee we passed a red, painted caravan which had been converted into a café on wheels. So Cool!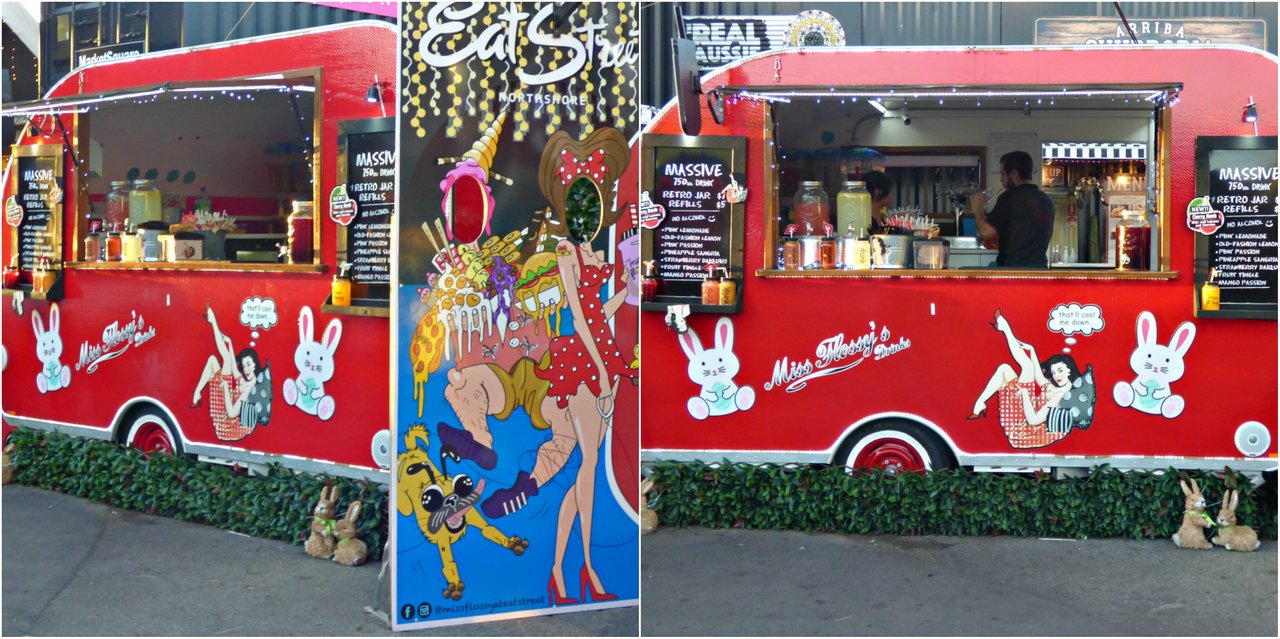 I'll be the first to admit that food was on our minds as we had eaten sparsely prior to our visit, knowing what was in store for us. We looked around, priming our taste buds with every longing glance. This time we were not leaving without satisfying our hunger.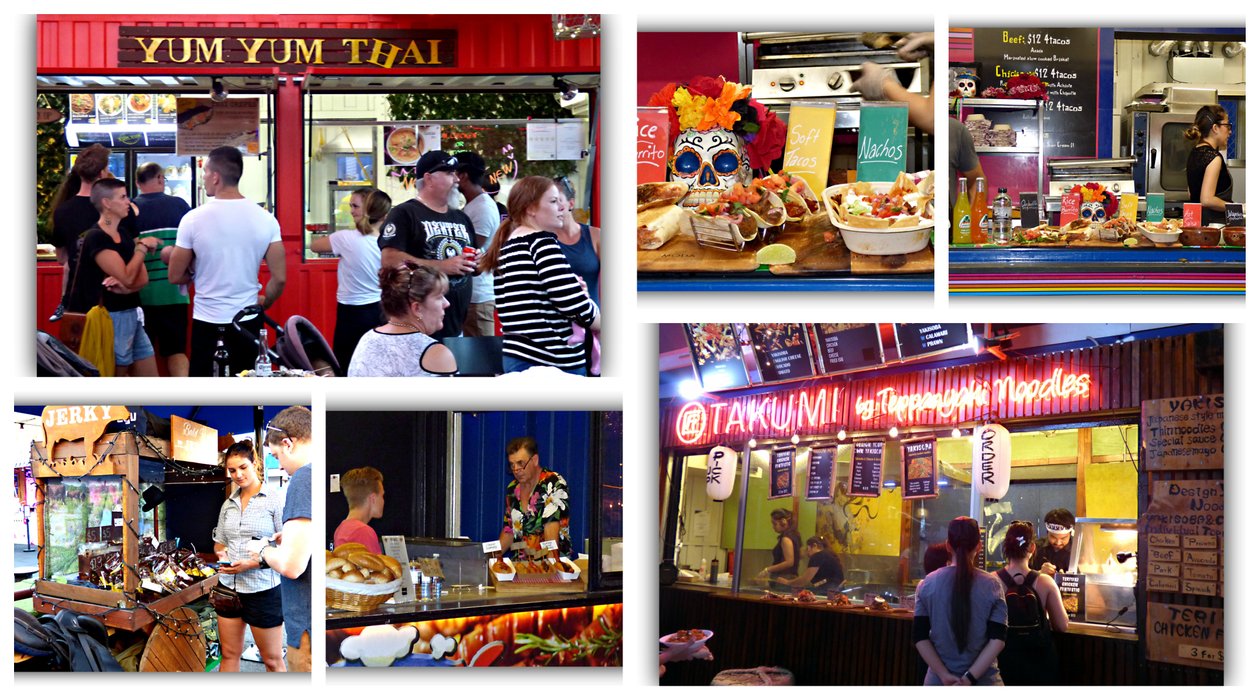 The four of us were asking ourselves. "Where do we start?" The Moreton Bay Bugs got the nod of approval and we decided to make this dish an entrée, so we ordered two serves to divide between each couple. My apologies for the poor quality photo dear friends but I do have a plausible explanation. My long awaited anticipation to partake of these bugs had turned into desperation. At last I was in a position to sink my teeth into the sweet, succulent flesh of that seafood and in my feeble effort to be patient, my hand which held the camera was shaking uncontrollably.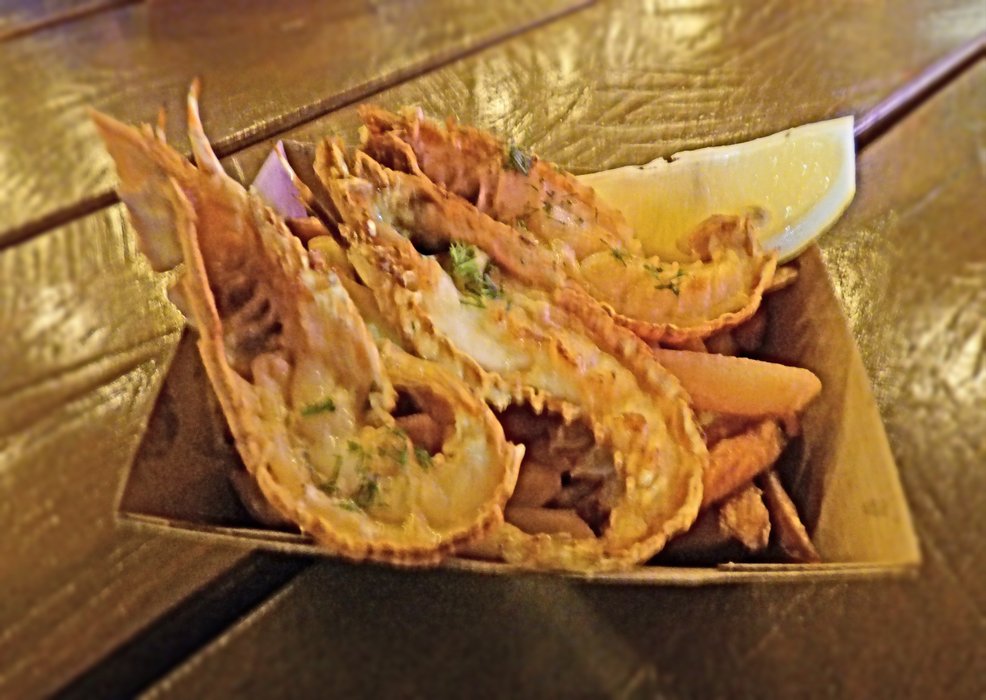 @kiwideb had a great idea. She asked the cook if they would include sweet potato chips in with the potato chips. They didn't mind at all and I have to say, they were really scrumptious! I wished I had made our order all sweet potato chips........Oh well, we can do that next time.
We took a stroll around to view a variety of products available as we let our entrees digest. The River Temple displayed an interesting range of clothes and jewllery.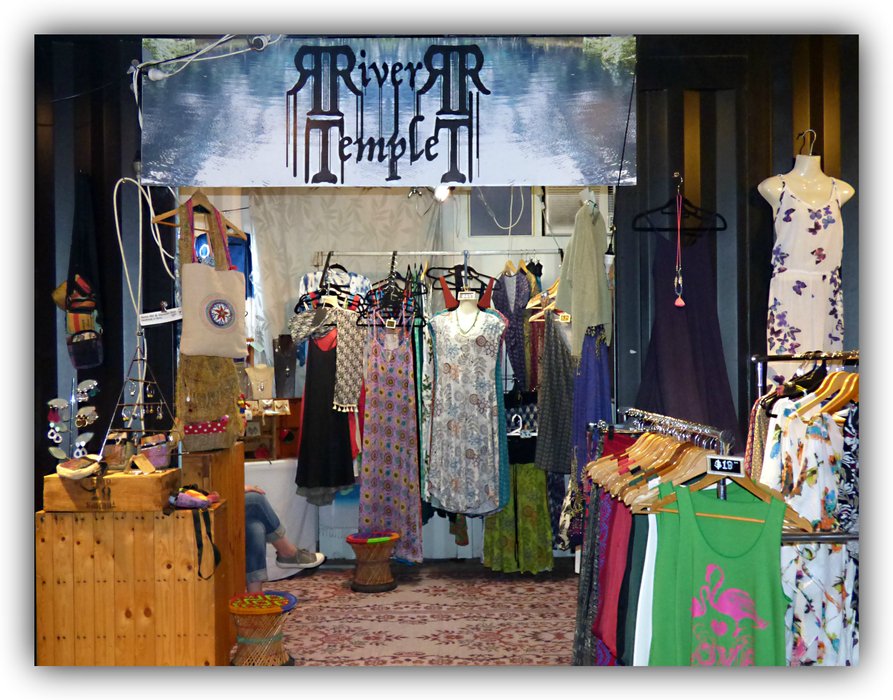 The Homeware range looked to be very good quality.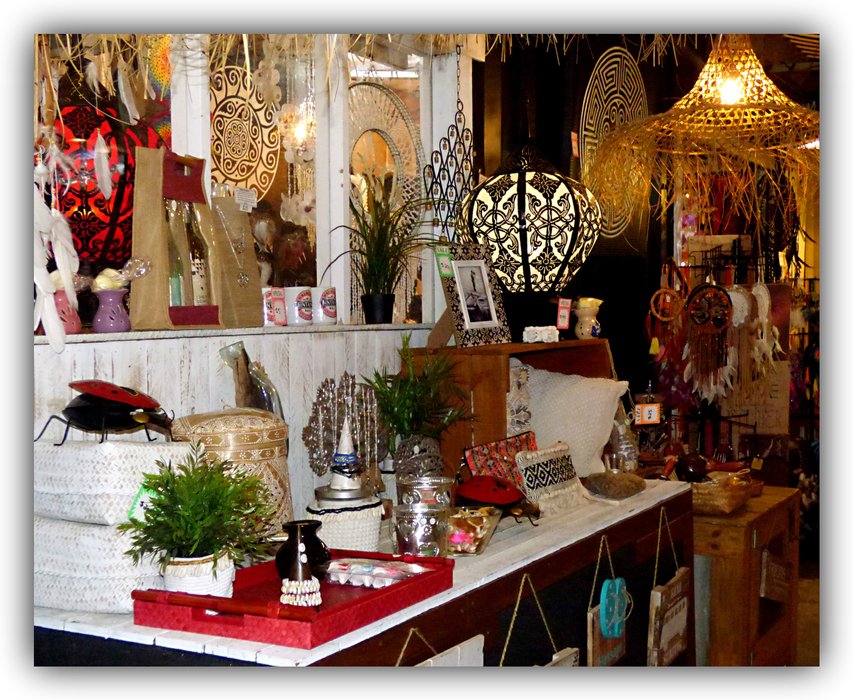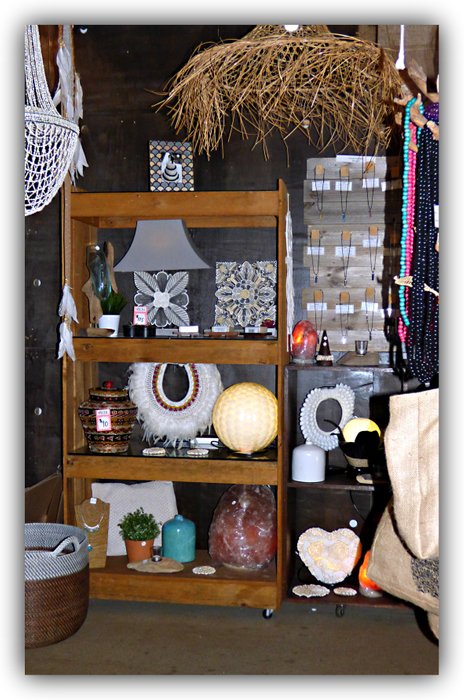 I was amused at the sign beneath this lovely display. "Do what you LOVE and you'll never work a day in your LIFE." I think that statement is easier 'Said' than 'Done' at times. Wouldn't it be great to earn a living with Steemit?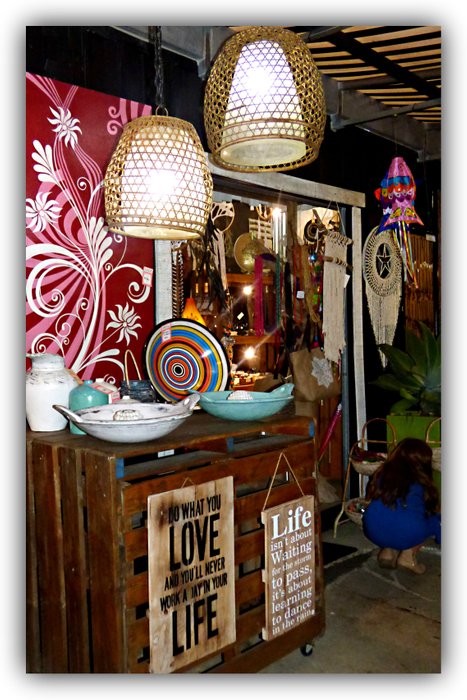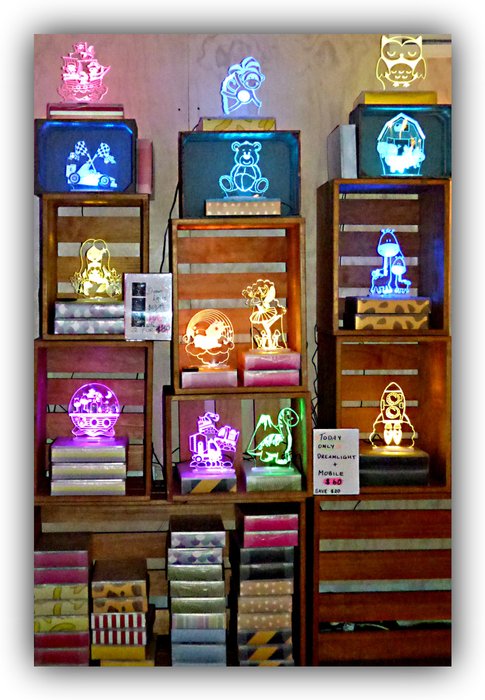 Blue ceramic coasters with appealing designs were on display.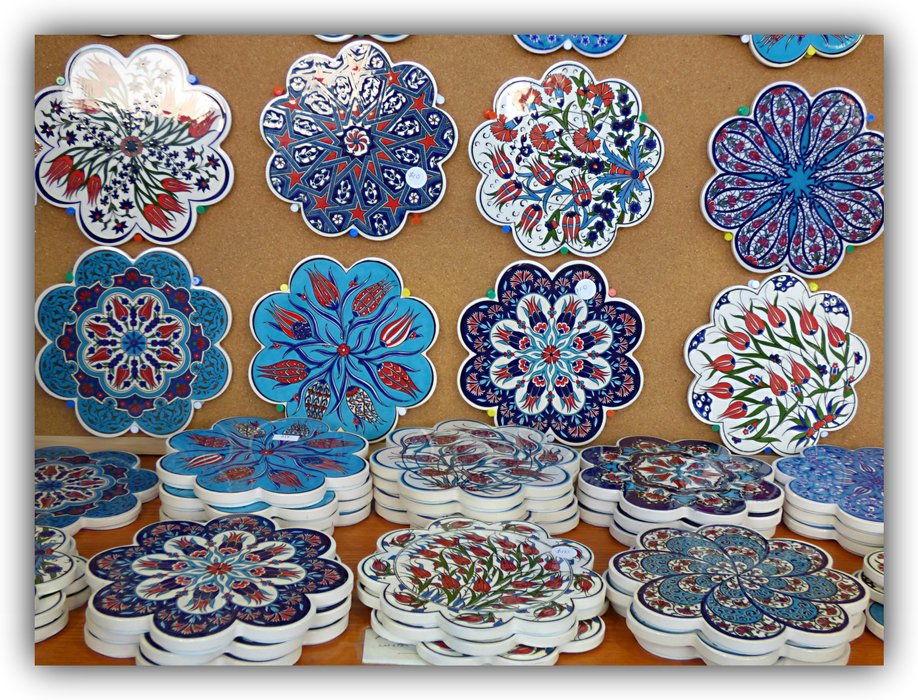 And Hugglo elephants of various sizes and materials were waiting patiently to be bought by Mother's and Grandmother's for their Daughters and Granddaughters. But lets get back to the real reason we came here tonight. FOOD! We'd walked off our entries so there was no point in pretending we were interested in elephants.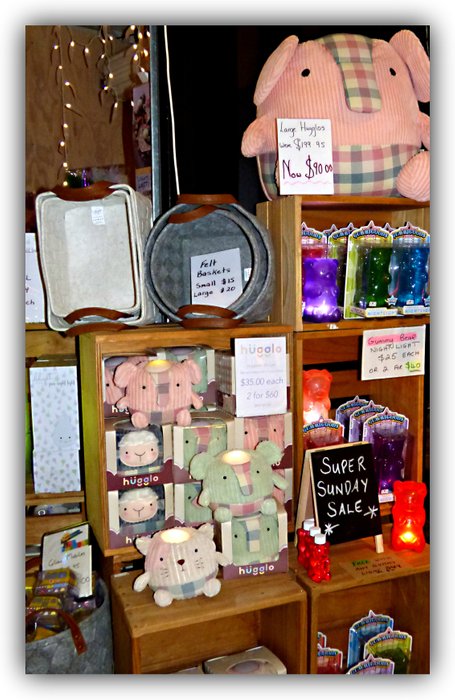 We tried two or three samples of jerky and @andysantics was ready to jump on that empty saddle and ride full pelt, (minus the horse) into the nearest paddock and deposit her jerky on some cow dung.......such was her dislike for the stuff. (She's an accomplished farmer and homesteader in case you weren't aware and very familiar with how to handle cows and horses and pigs.) But in this instance, without an available horse she was forced to swallow her jerky unceremoniously down her unappreciative throat and think vigorously about her next course which hopefully, wasn't too far away.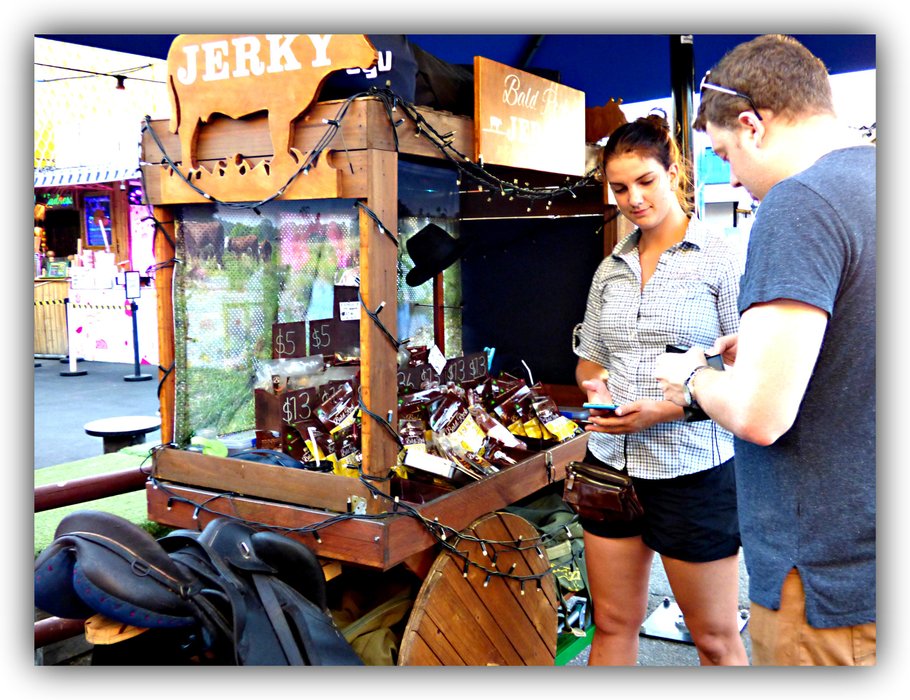 'Rogue Spice and Jerky?' Not the best combination. But wait! Did I see Lamb Shanks mentioned? Too late! The others were way ahead. Moving on.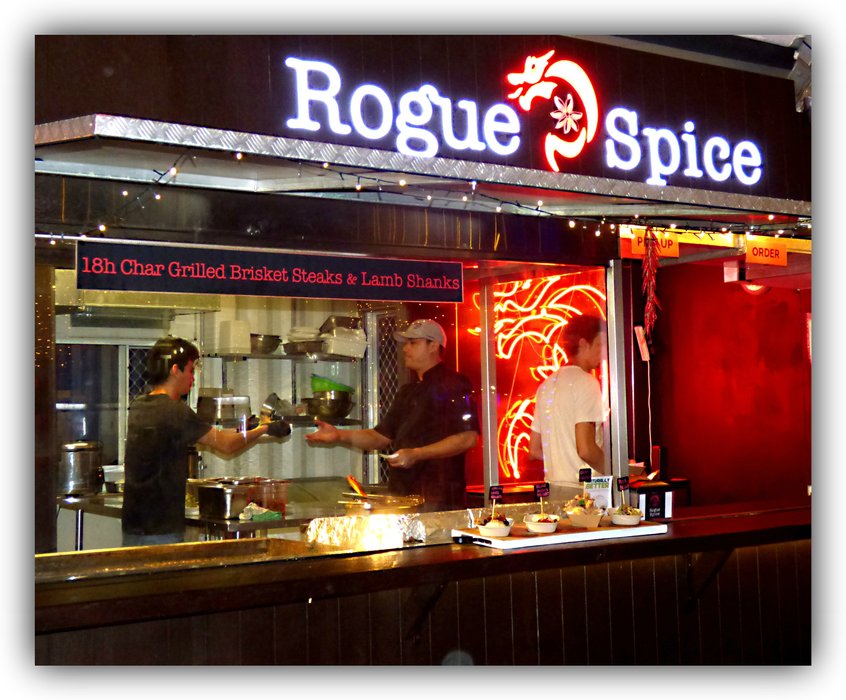 South American Premium Meat and Vegetarian dishes? Not today. What @andysantics and @kiwideb did settle for was some tender Pork ribs whilst John and I bought chicken curry. One hot. One medium. I'd love to give mine a raving report but I did struggle to find the chicken amongst the sauce and piles of rice. I couldn't finish it.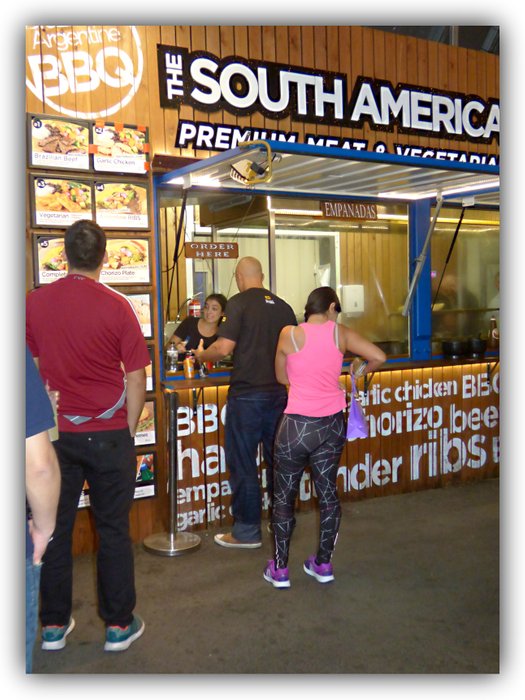 A glass of fresh, home made ginger beer made up for my disappointment of the curry.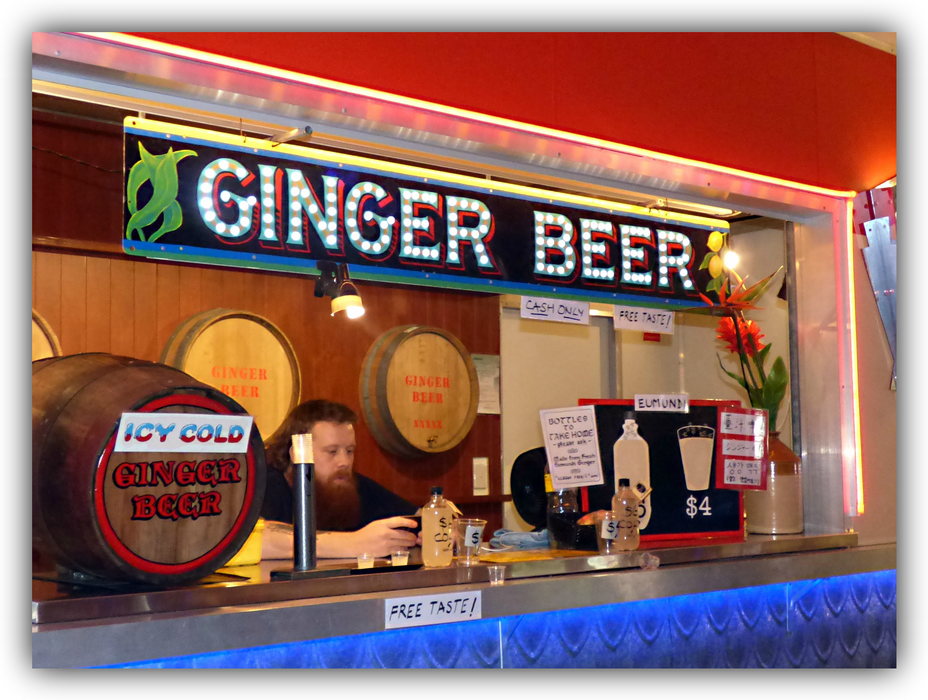 Ok. I have a question for you. Do you think I deserve a dash of desert to make up for my lack lustre curry? The Desert Depot was calling my name.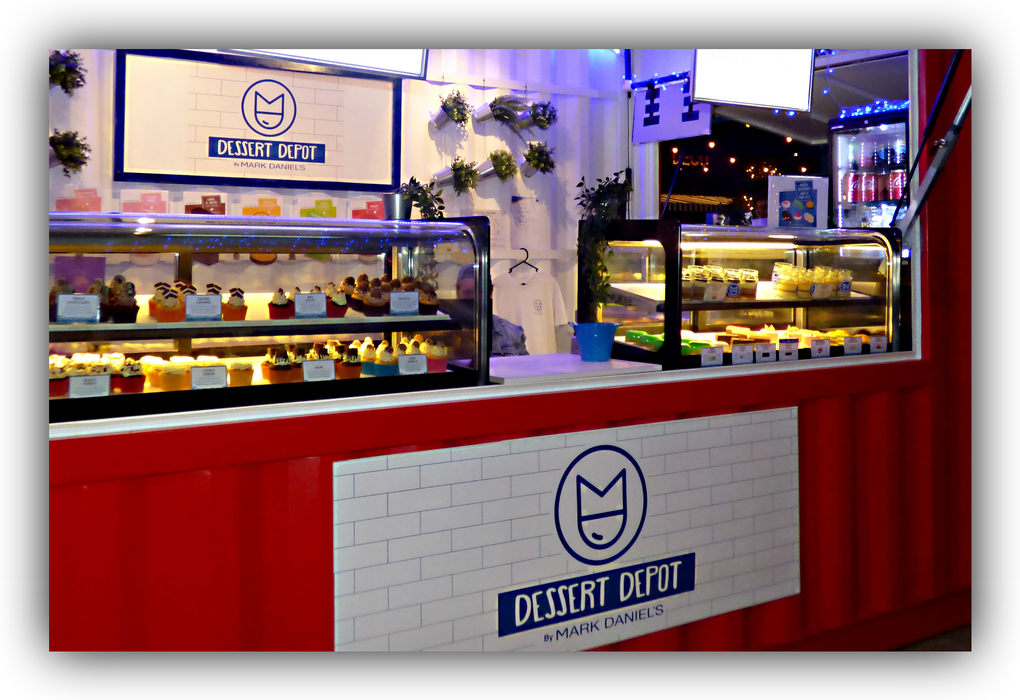 If your answer to my question was a resounding YES, what should I have? A simply divine looking, Creamy Mango Panna Cotta?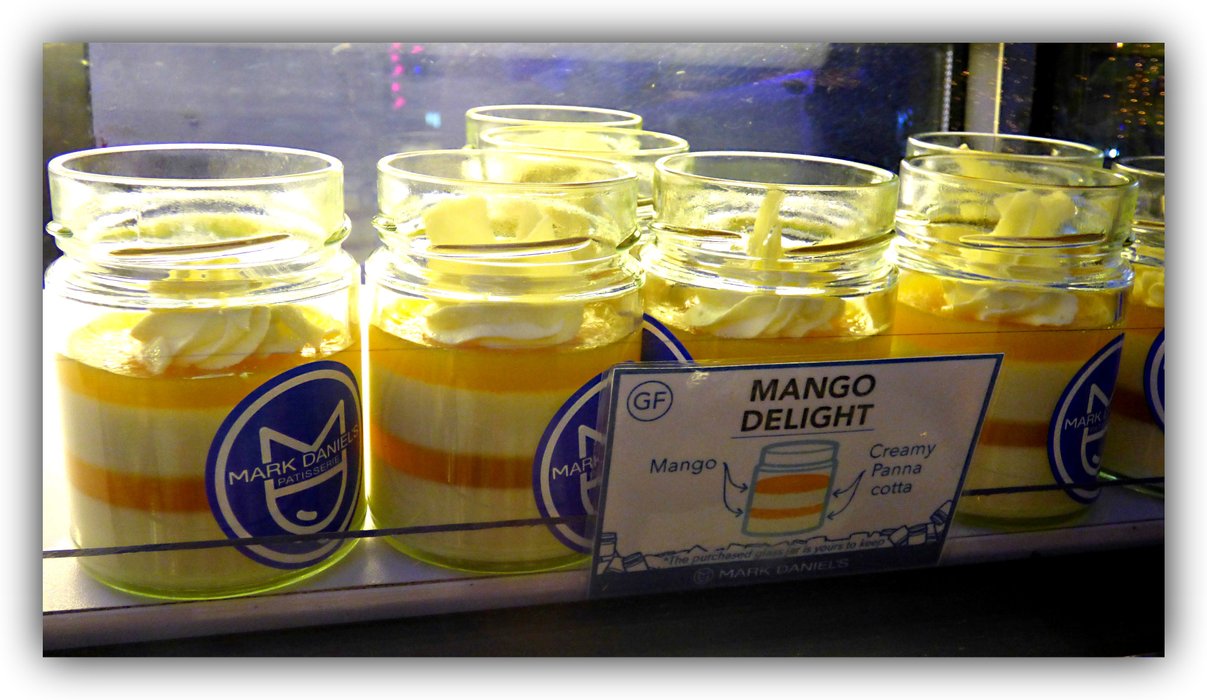 Or bite sized pieces of home made confectionery wrapped up so beautifully in a shop just around the corner?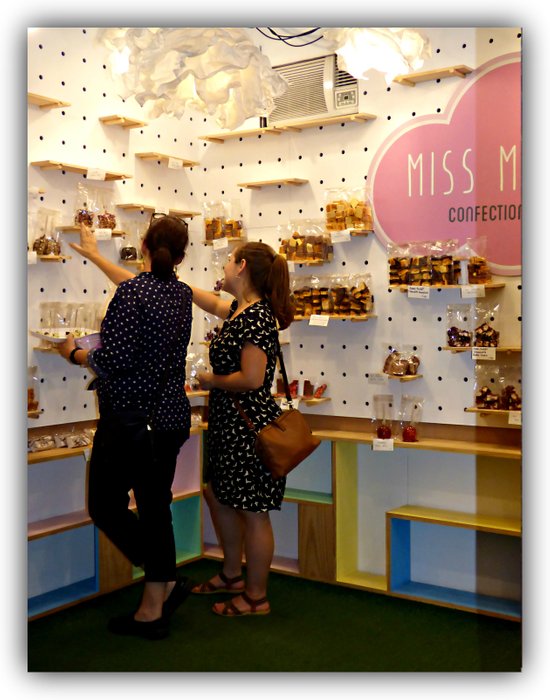 Or what about some sweet sensations all the way from Switzerland? The very informative shop assistant informed us that the Swiss eat a lot more sweets than Americans? How's that for a bit of sugary trivia? I wasn't going to enter this arena of sweet delights. I had eaten well and my hunger was satiated. But my three companions walked in and I didn't want to be left out in the cold so.........I followed them with a hint of hesitation.
I don't know what you think of the need to have a sweet shop smothered in smoky mist with loud disco music filling every centimetre but I have reason to believe that some sort of magic was taking place and a subliminal message was seeping into our pores as our eyes travelled the length and breadth of this narrow sweet shop. Once we were inside, it was very hard to turn around and walk out. True story. But that's ok. I spied another exit............right next to the free samples on the counter. I think you know how this story is going to end don't you?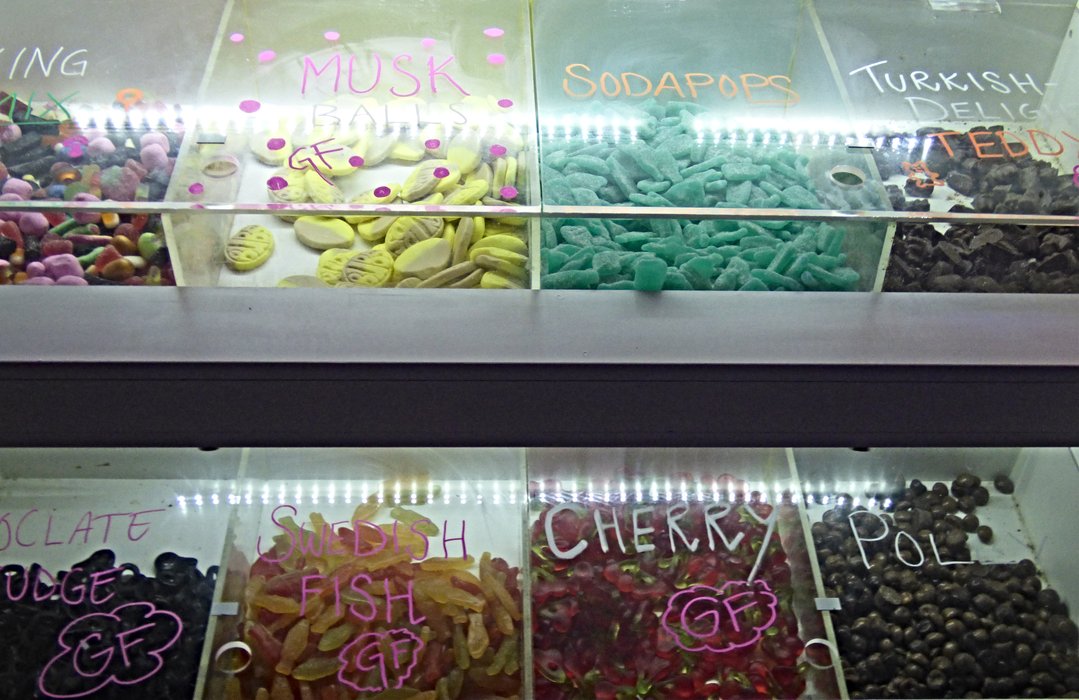 After we all fell for the, "Try this FREE sample trick," we turned back to the sweet laden shelves we'd succeeded in walking past seconds before. And then what do we see? A sign showing us just how affordable these sweet little temptations were. ONLY $2.50 for 50gms! What a bargain! With our taste buds dancing a tingling tango on our tongues, we saw only the small amount of $2.50. We ignore the measly amount of 50gms because no one.......and I mean no one, can restrict themselves to just 50gms once they have sampled the goods.
Did the alarm bells go off in Johns head when there were no scales visible with which to monitor the amount he placed into the very long plastic bag from the dispenser? Obviously not, because three of four of these and three or four of those, a few times over added up to much more than the 50gm figure we all conveniently chose to ignore. Armed with our $9 and $7 worth of sweets, we compared the sum of our purchases. We'd been hoodwinked well and truly.........but it didn't really matter because it was a lovely way to finish a lovely day.
And before I sign off on my Eat Street market series, and whilst I am still on the subject of 'Sweet Things,' I'd like to say a big 'Thank You' to @kiwideb and @andysantics for taking time out from your brief visit to Brisbane to spend with John and myself. We look forward to your next visit.
..........and a big THANK YOU to Steemit for making this platform an ideal place to meet so many wonderful people which, in turn allows us to make genuine friends.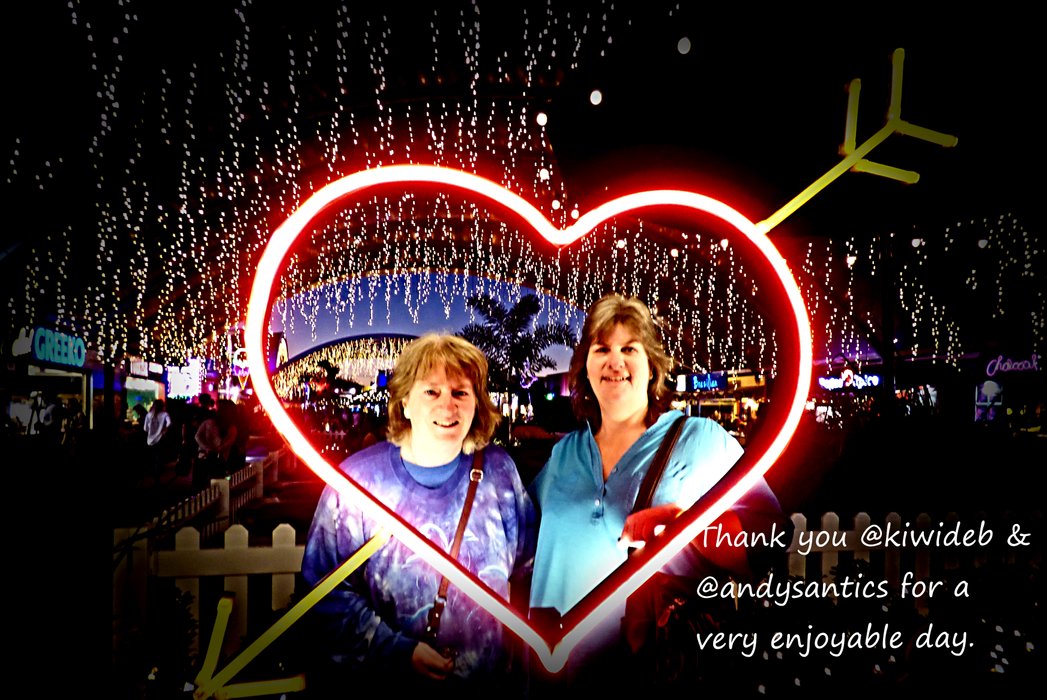 If you've managed to stay with me until the end of this blog.......many thanks for viewing and have a great day!
I look forward to taking you with me on another Market Meander, somewhere Down Under.......next week. Until then. Bye for now. See you next Friday!