Glenelg Jetty, South Australia.
Glenelg; a popular seaside destination in Adelaide, South Australia is a hub of activity, especially in the summer with so much to entertain and stimulate people of all ages. Glenelg Beach features a beautiful, wide beach, white sand, attractive parks and playgrounds, a pier which stretches over the water and many cafes and restaurants.
They all combine to create a vibrant and relaxed atmosphere throughout this picturesque venue. It is considered a premium beachside holiday area due to its superb coastline, various events held throughout the year and award-winning indoor and outdoor dining facilities.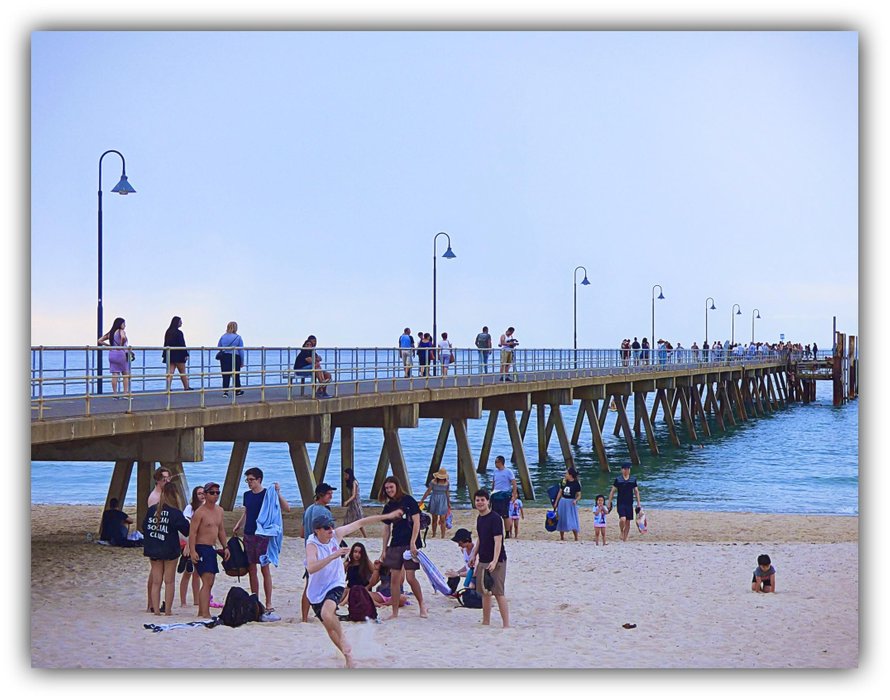 The original Glenelg jetty was built in 1859 and it measured 381 meters in length. A lighthouse was erected at the end of the jetty but in 1873 the jetty caught on fire which destroyed it completely.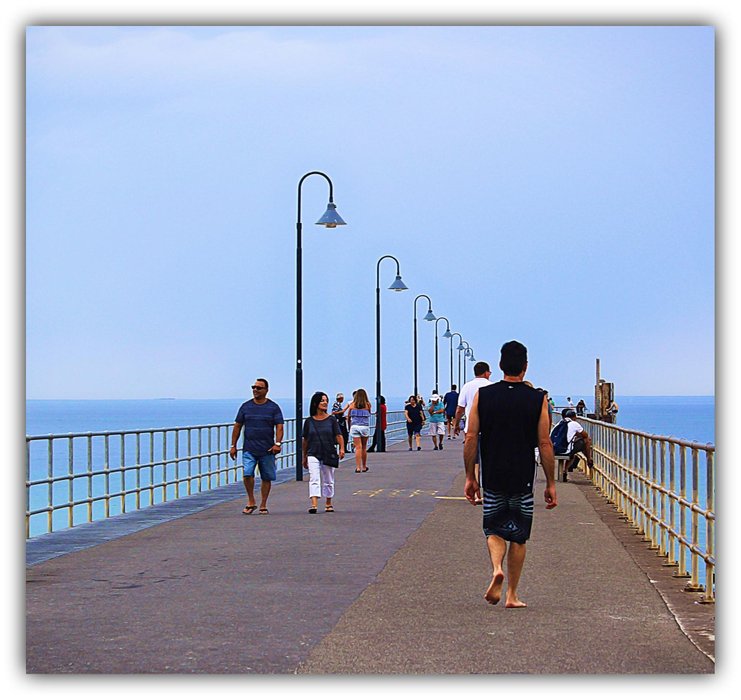 A hurricane caused havoc in 1948 and the jetty was washed away. The kiosk and aquarium were left intact but they were considered to be unsafe, so they had to be demolished.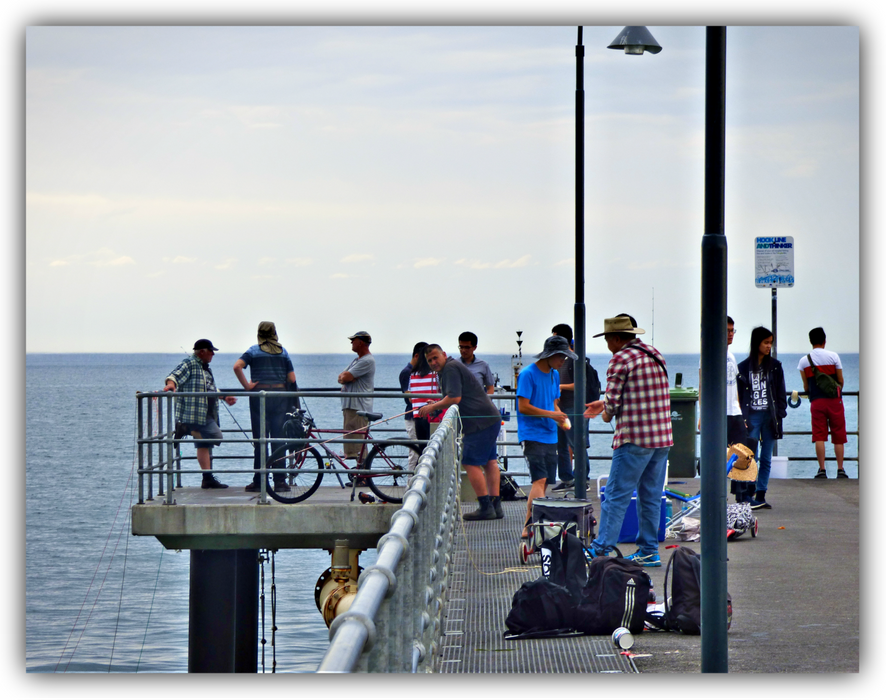 The jetty was rebuilt in 1996 but the length was shortened to 215 metres. And a few other changes have been made since then. This lady was trying her luck with a bit of fishing. I did see a large crab in the water below her but he proved to be rather camera shy.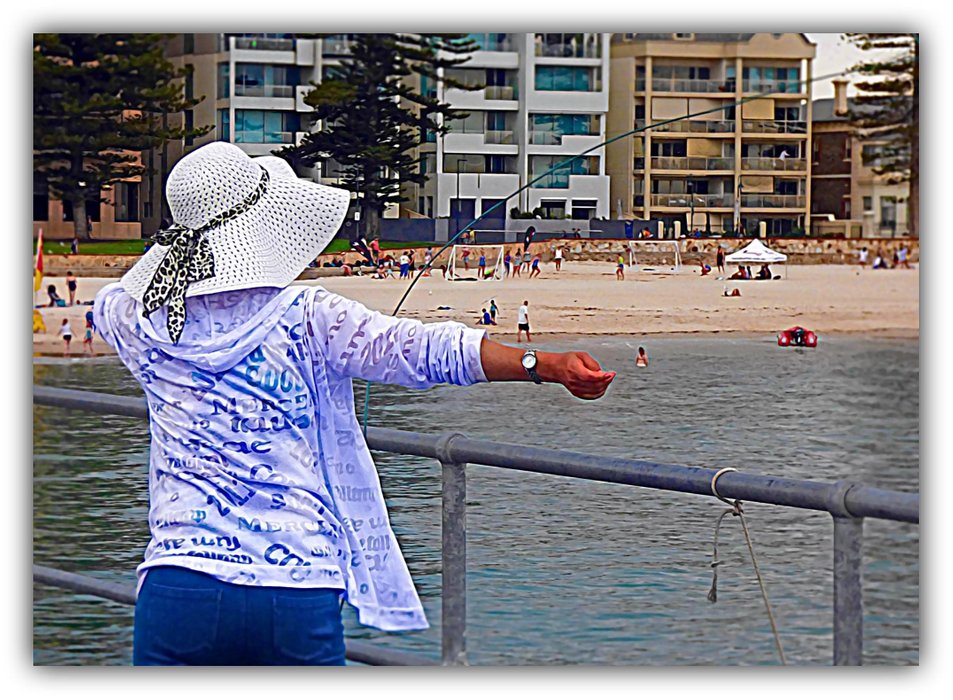 Diving is also popular from the jetty but I'm pretty sure I saw a 'No Diving,' sign somewhere. This is wise advice as there is a lot of activity going on near the jetty such as jet ski-ing, water ski-ing, and pleasure boats coming and going all day long and it would be easy to injure a diver submerged just beneath the surface of the water.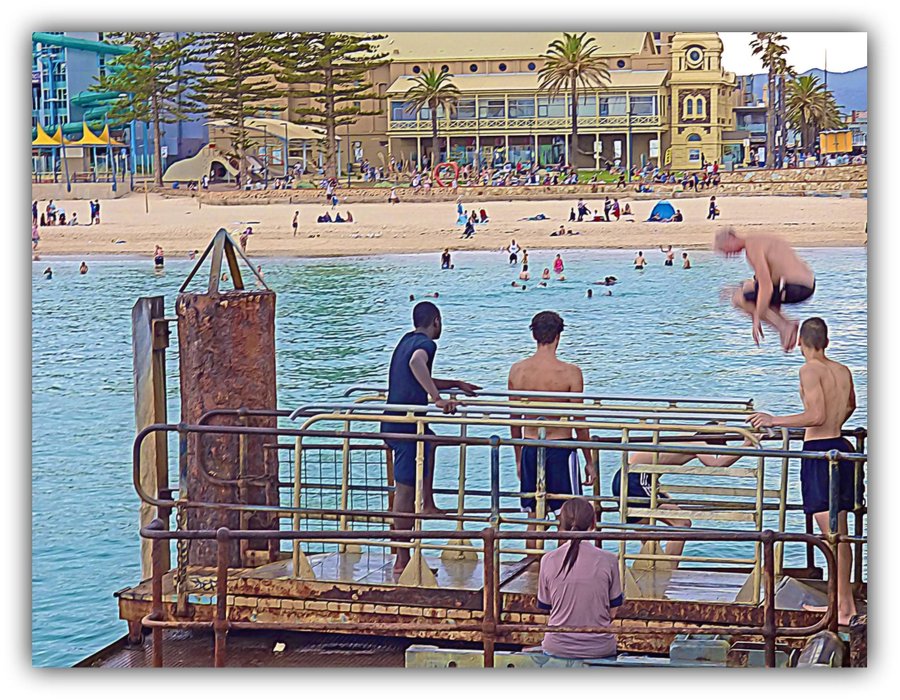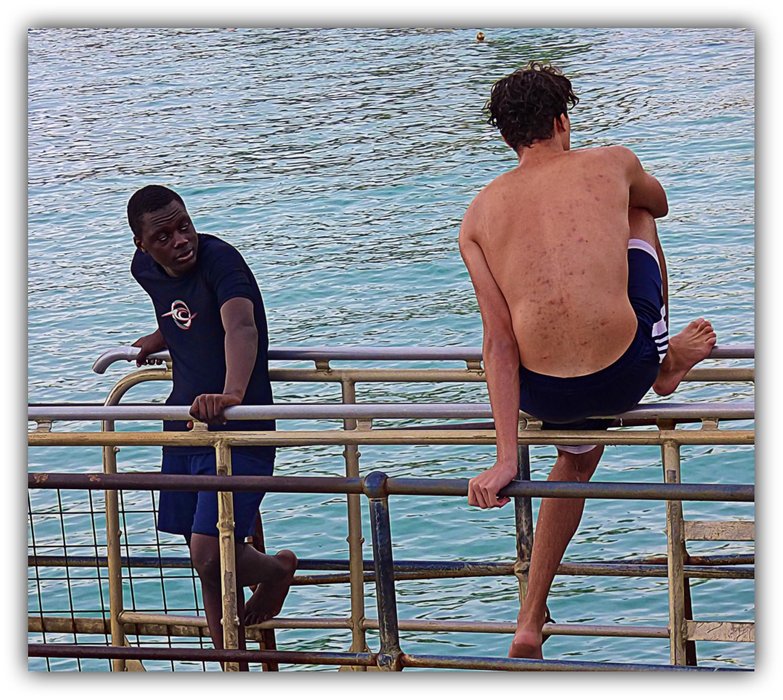 I loved the color and texture of this large rusted, iron hinge attached to the side of the jetty.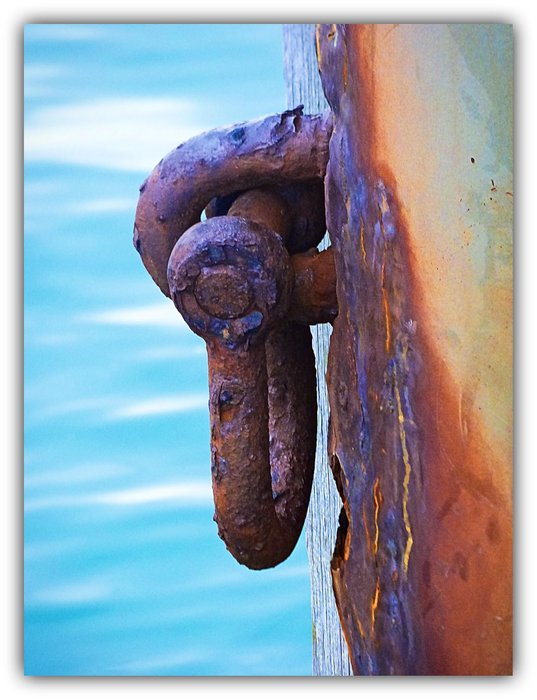 If you're not into swimming, ski-ing, fishing or illegal diving, you can enjoy playing hop scotch in the middle of the pier.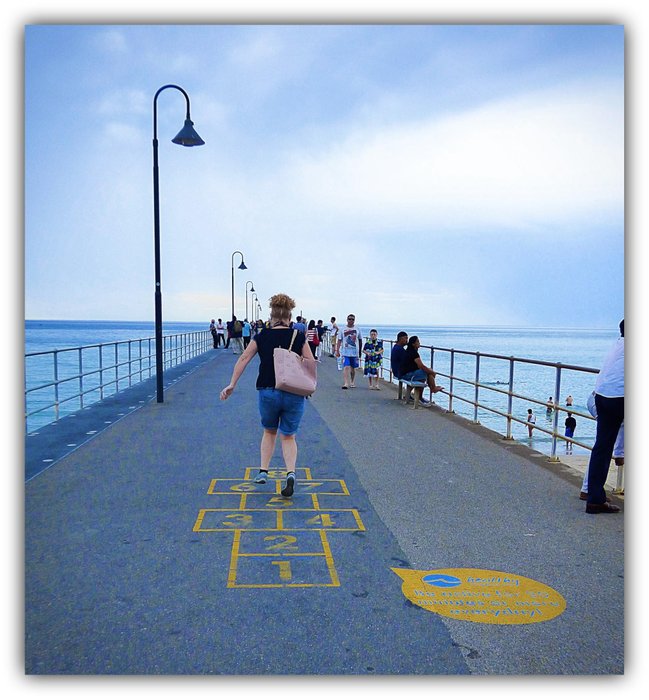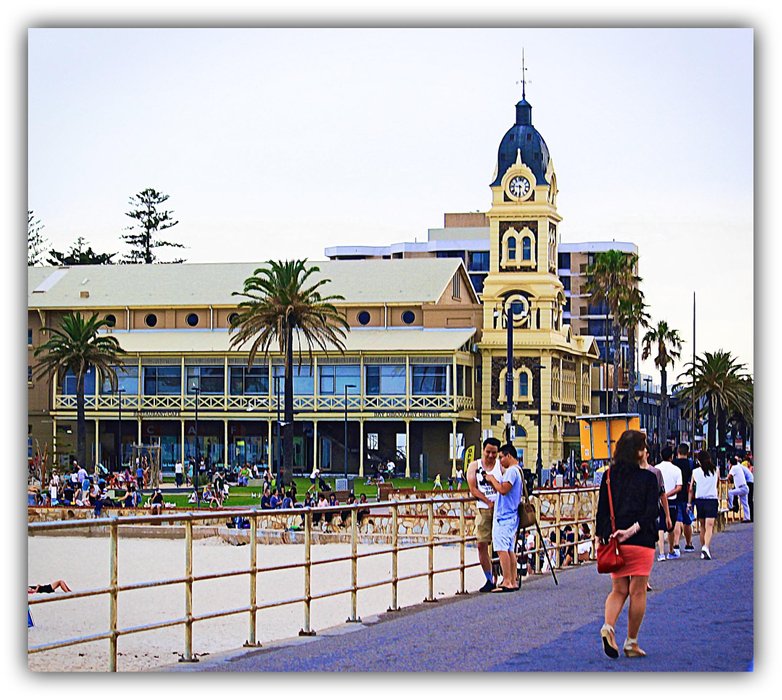 Glenelg has average maximum temperatures of 19-25 degrees centigrade and a minimum of 12. Their monthly rainfall is 45mm.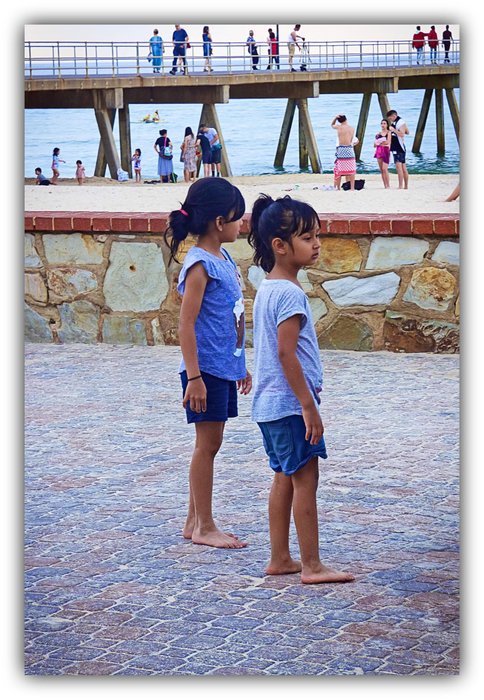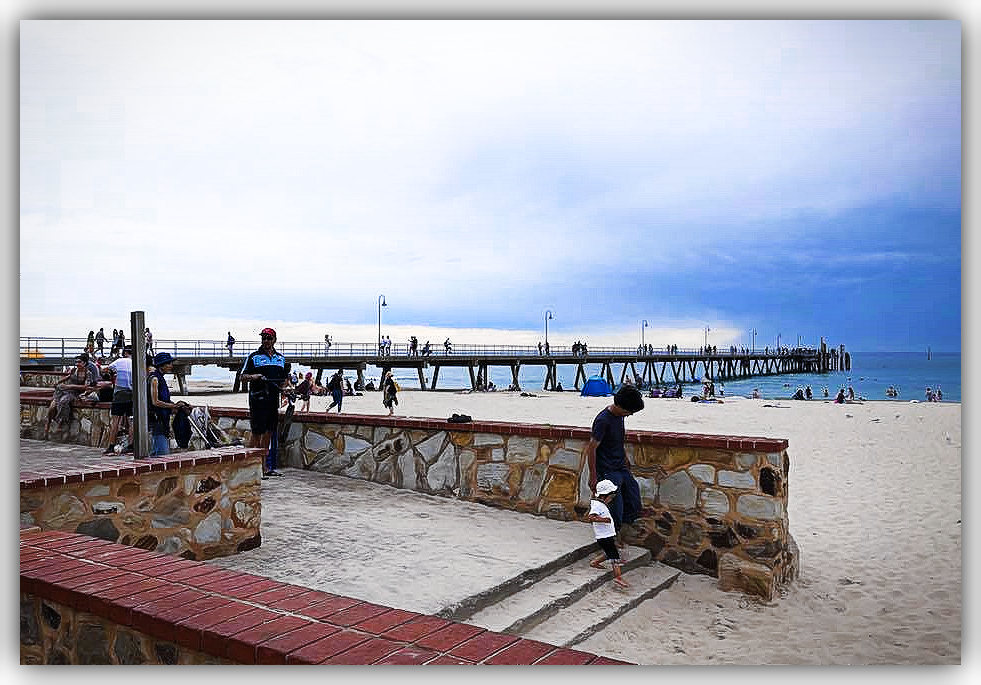 The population of Glenelg is approximately 35,000. The popular beaches are patrolled by the Glenelg Surf Life Savers and people are advised to swim between the flags.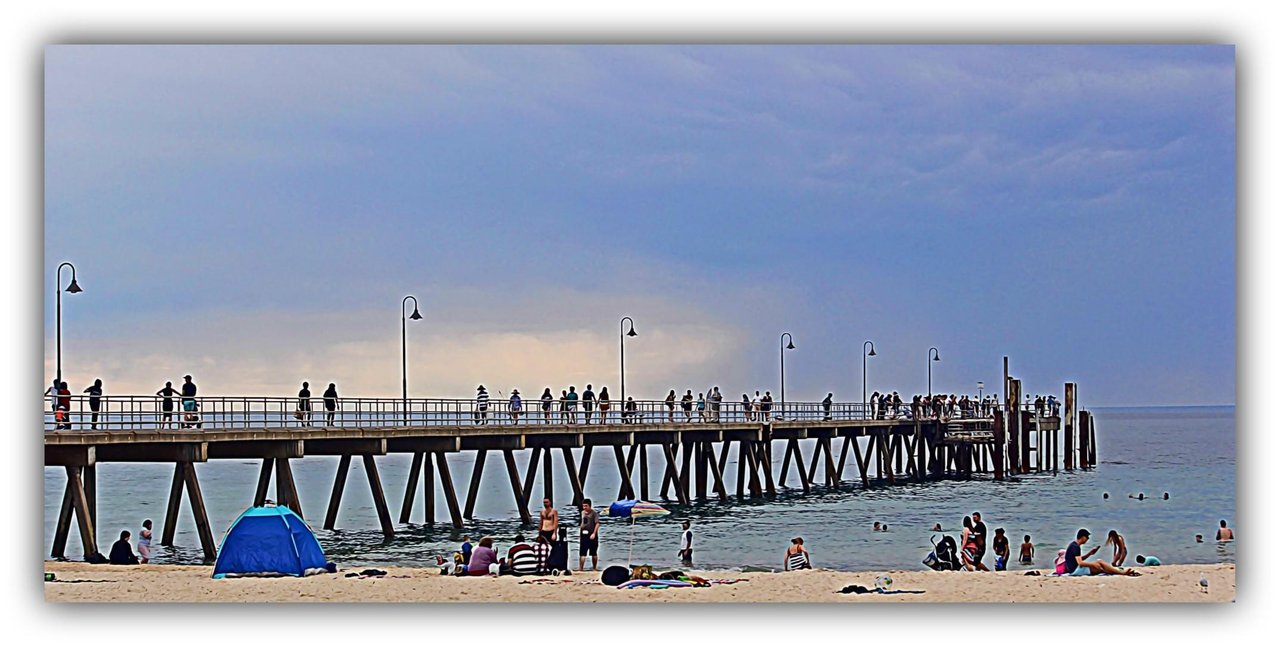 To finish this blog I have added a colourful background to my original photo of a boy getting ready to jump off the pier for my fellow digital art lovers.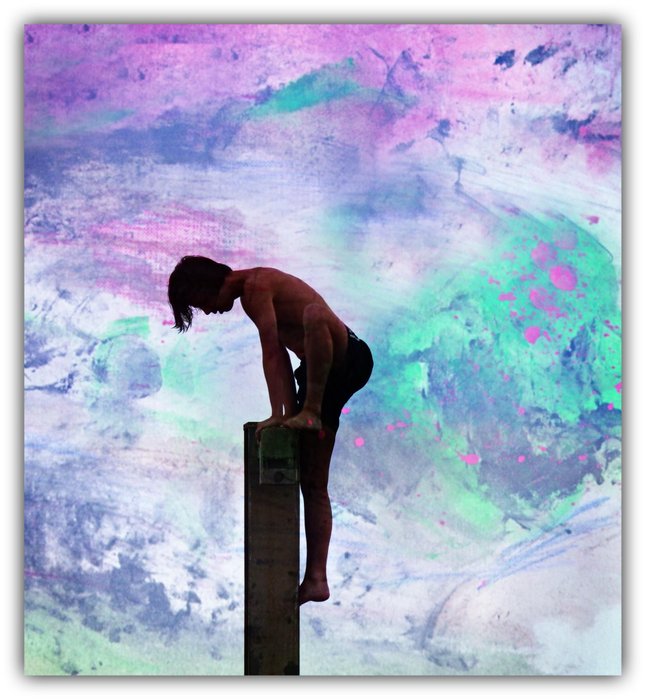 Source:
THANK YOU FOR VIEWING. HAVE A GREAT DAY.