MY TRIP TO HOLLAND. PART 2.
A few days ago I wrote Part 1 of My Trip to Holland. If you missed it, here is the link.
I've always wanted to go to Holland. So much of this beautiful country fascinates me. Therefore, I was delighted to wander the streets, admire the canals, the magnificent buildings and castles, absorb geological and historical facts and allow myself to become entranced by all things 'Dutch,' during my visit.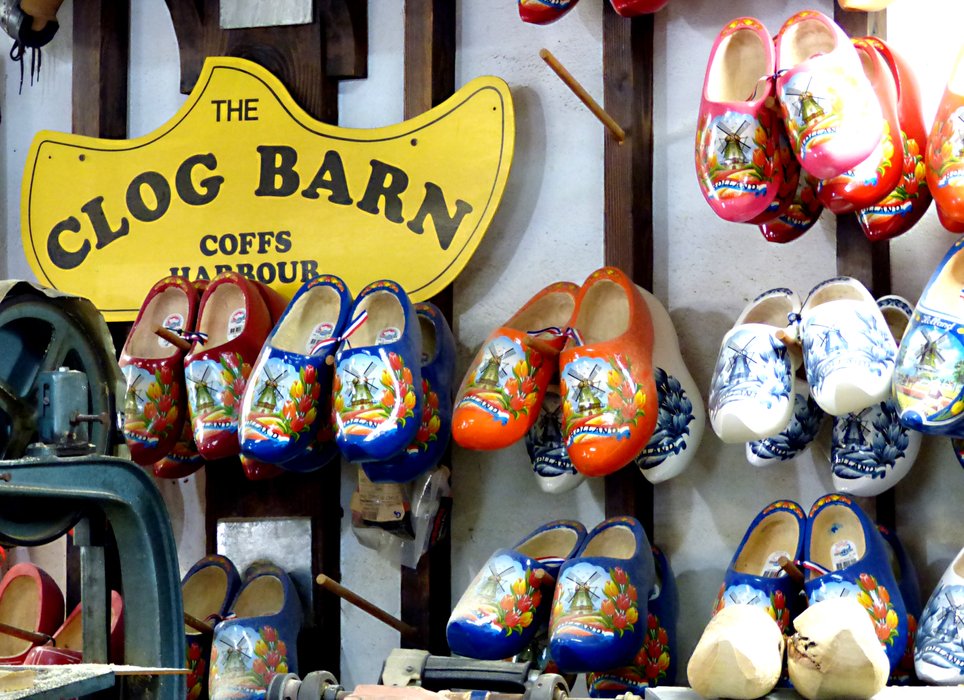 As much as I would have loved to have boarded a plane and seen the real Holland, I was very grateful to learn so much about this country from my own background, so to speak, by visiting The Clog Barn in New South Wales, Australia. The miniature buildings have been lovingly crafted over a period of more than 35 years and it was a privilege to stroll around this remarkable Model Dutch Village and take in every detail.
The souvenir part of the building displayed many Dutch treasures such as an eclectic range of intricate hand-made Cuckoo Clocks.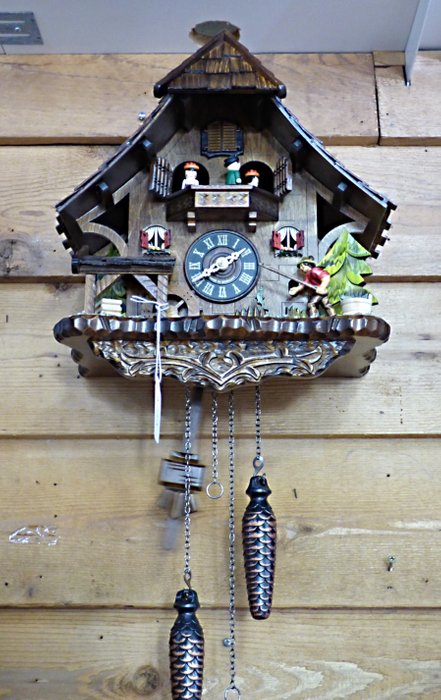 And versatile clogs made not just for wearing on your feet, but as money boxes, brush holders, fridge magnets and so much more.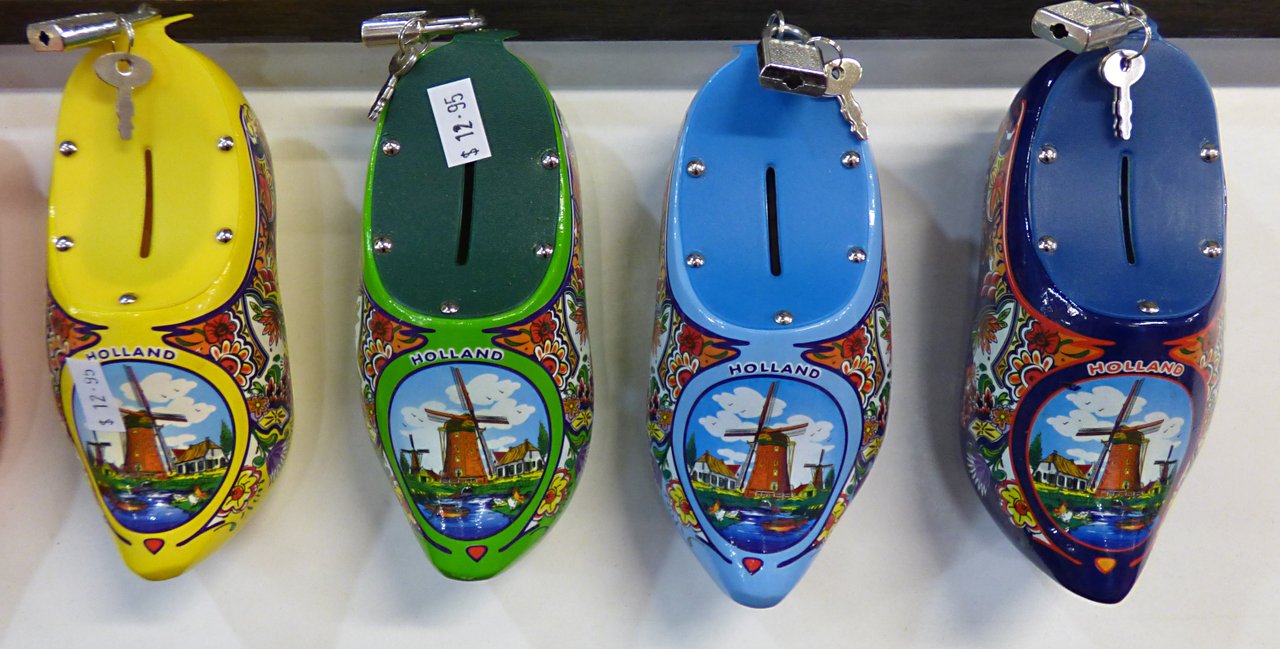 The well known Deltware Dutch pottery was a beautiful feature at the Clog Barn and this 'Kissing Couple" looked adorable with their cute pose and glazed finish. Tin glazed pottery was made in the Netherlands particularly in Antwerp by an Italian potter by the name of Guido da Savino back in 1500.
Later on, much finer work was produced in Delft and their work ranged from simple household items which were fairly plain, to detailed artwork. Many Dutch houses still have tiles fixed in their homes which date back to the 17th and 18th centuries. Today, the Delft Blue Brand is hand painted on the bottom of ceramic items which makes them authentic and collectable items. Obviously, ceramic pieces like these little windmills are commercially made for the souvenir business.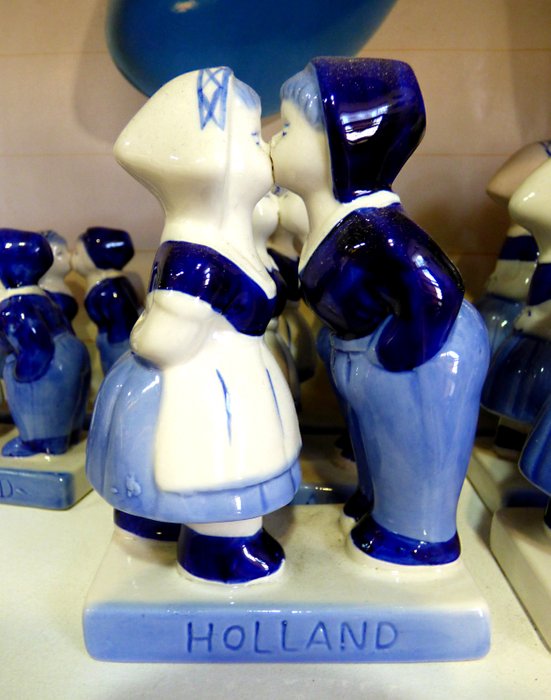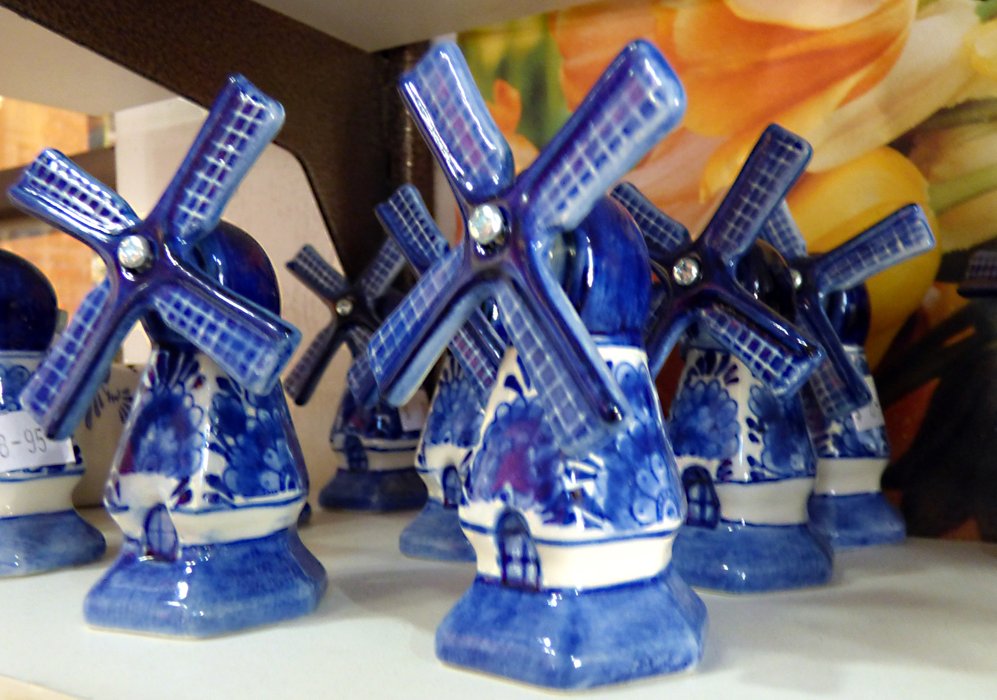 There was so much to admire in the souvenir shop but the remarkable Model Dutch Village set amongst real plants on freshly mowed lawns and arranged around canals with running water and a working railway track and I was keen to explore. Windmills were in fine working order, taking advantage of the autumn breezes.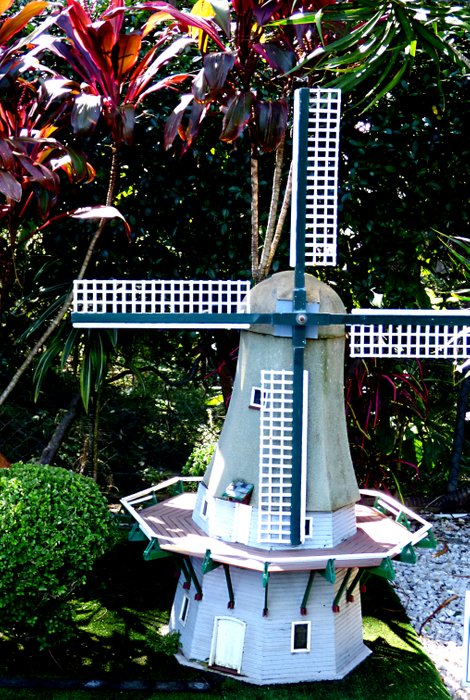 Impressive buildings dwarf the bridges built over dams. Heineken Bier signs are visible on the building on the right.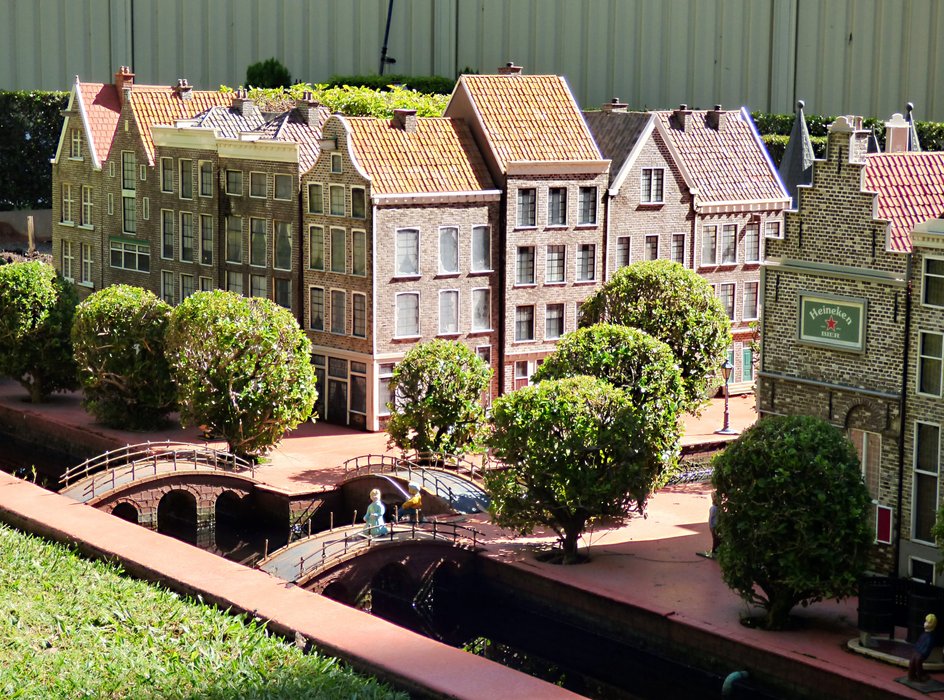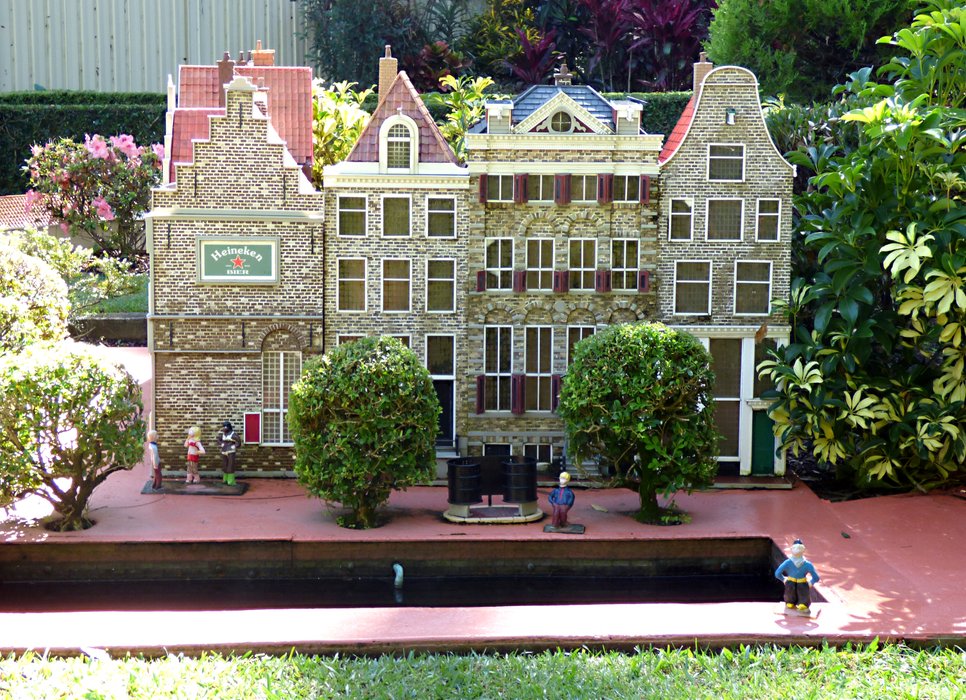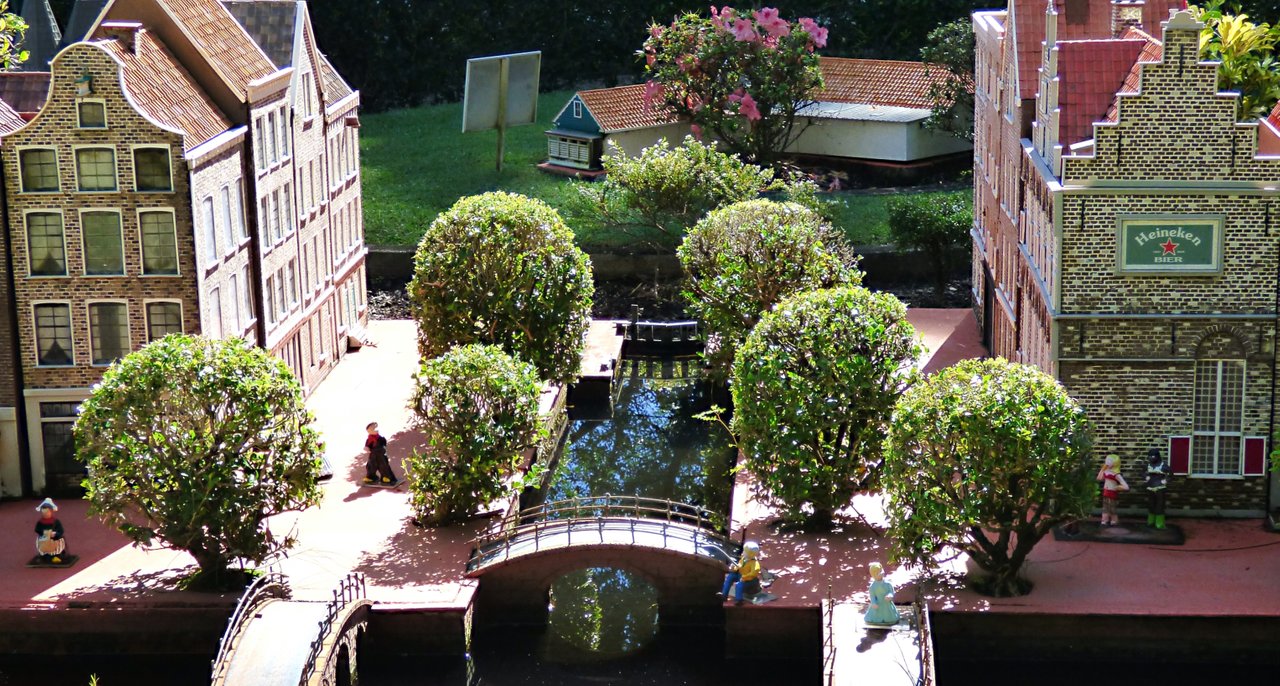 Placed between large buildings I came across typical canal homes, farmhouses and restaurants.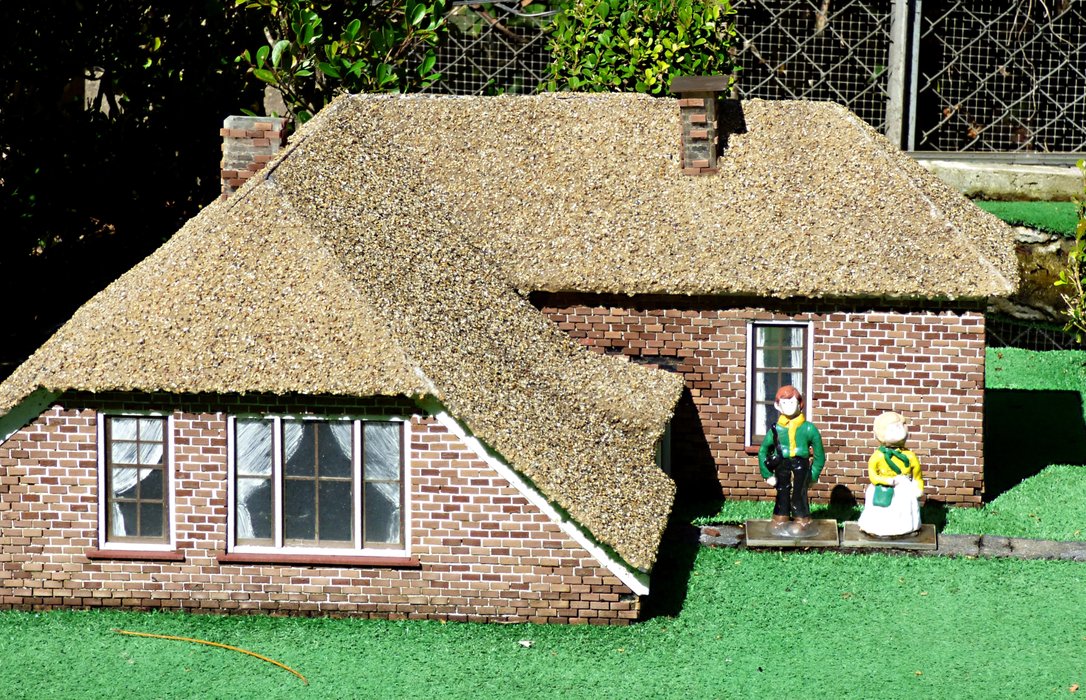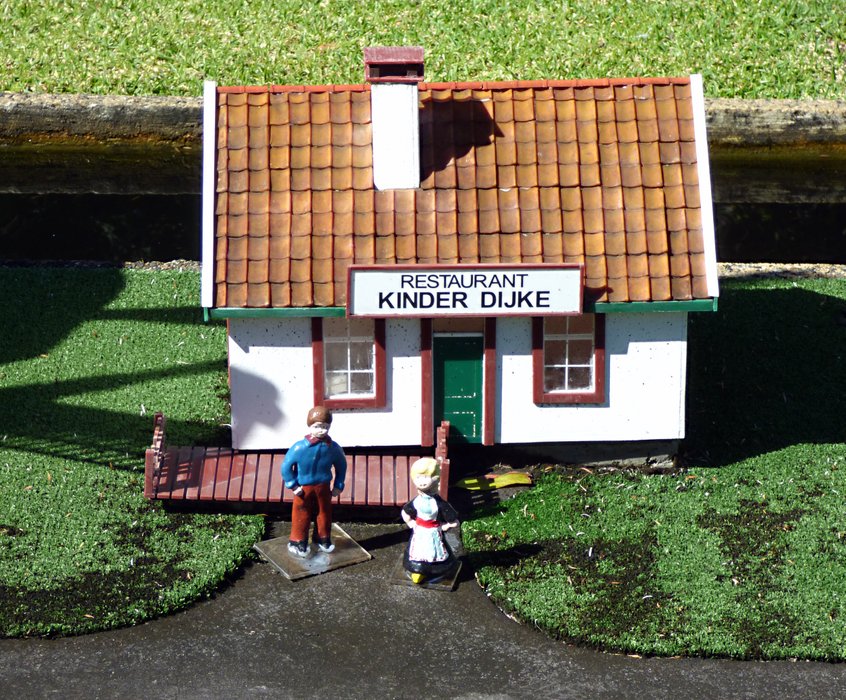 I have long been fascinated by castles and it is a dream of mine to visit countries (just one would do) who have established historical castles available to view, preferably where I can admire their interior and exterior features. The Medemblik Castle (below) was built at the end of the 13th century. Between 1256 and 1296 Count Floris commissioned a series of castles to be built in the town of Medemblik and sadly, this one is the only one remaining. It is called Radboud Castle or Kasteel Medemblik and is situated in the province of north Holland in the Netherlands.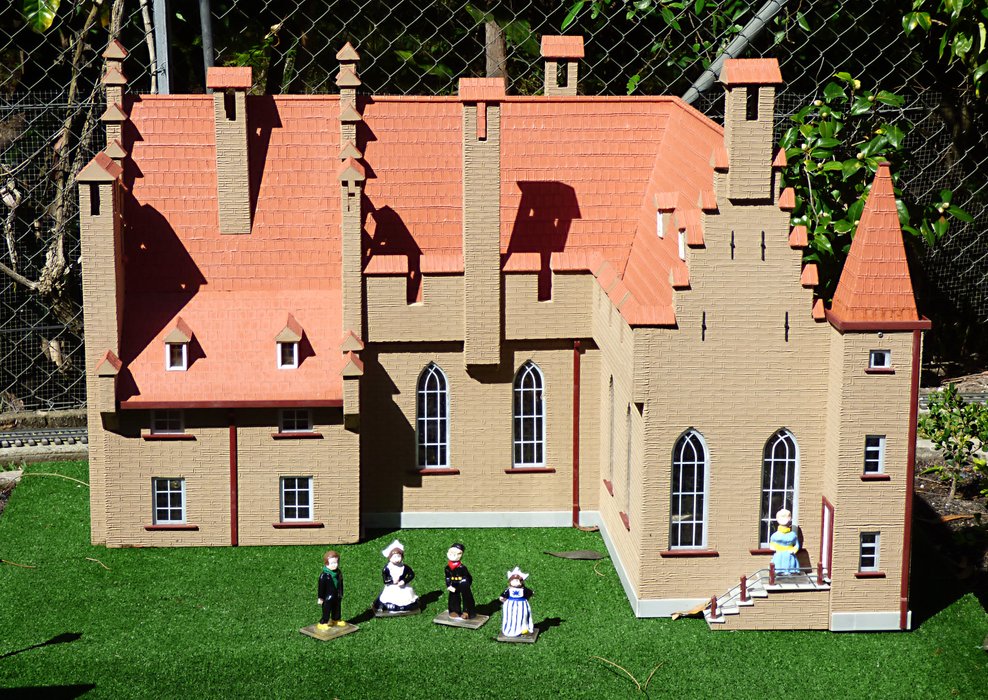 Middleburg Castle (Kloveniersdoelen) is situated in the province of Zeeland. It was built in 1670 in the Flemish Renaissance style and has Flemish facades with dormer windows. Originally this building was used as a practice space or shooting range for archers and gun-armed members of the militia in the Netherlands. Nowadays, the building operates as a catering and function area in the form of a Grand Café and Cinema.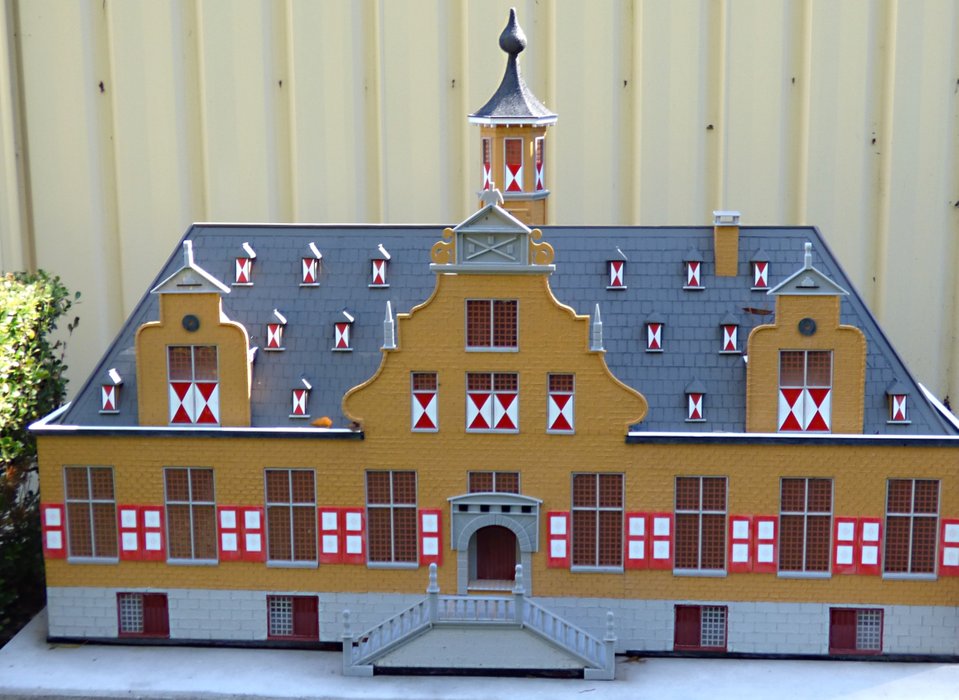 This picturesque village is called "The Venice of Holland." It is a replica of part of the area situated in Giethoorn which is well known for its peaceful, simple beauty. Its name originates from the first inhabitants discovery of hundreds of goat horns (Giethorens) in the marshlands which were remnants of a 10th century flood.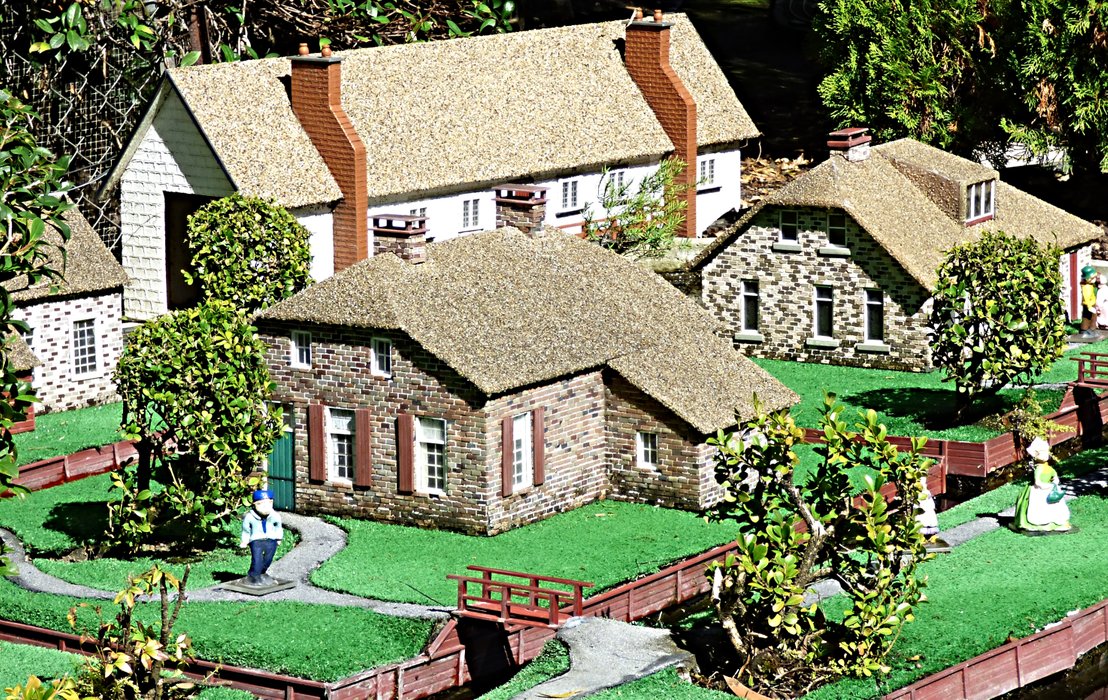 The area consists of a vast series of lakes and canals frequented by boaties, anglers and paddle cyclists. Canal cruises are very popular with tourists.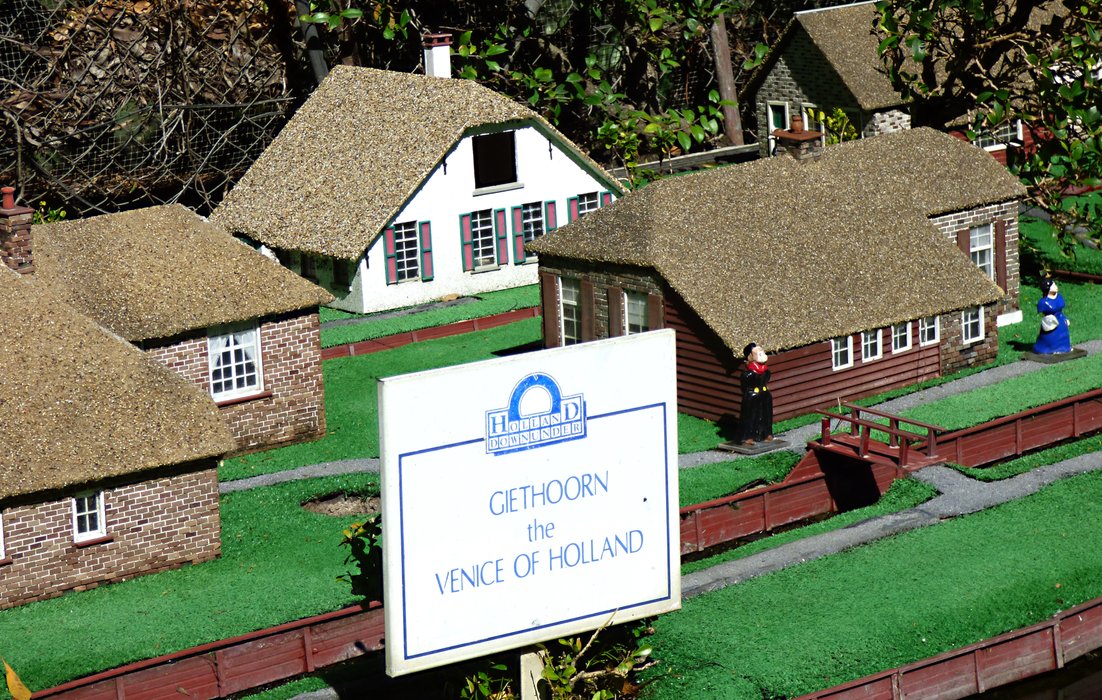 The historic Wolvega Railway Statin in the Netherlands was opened in 1868.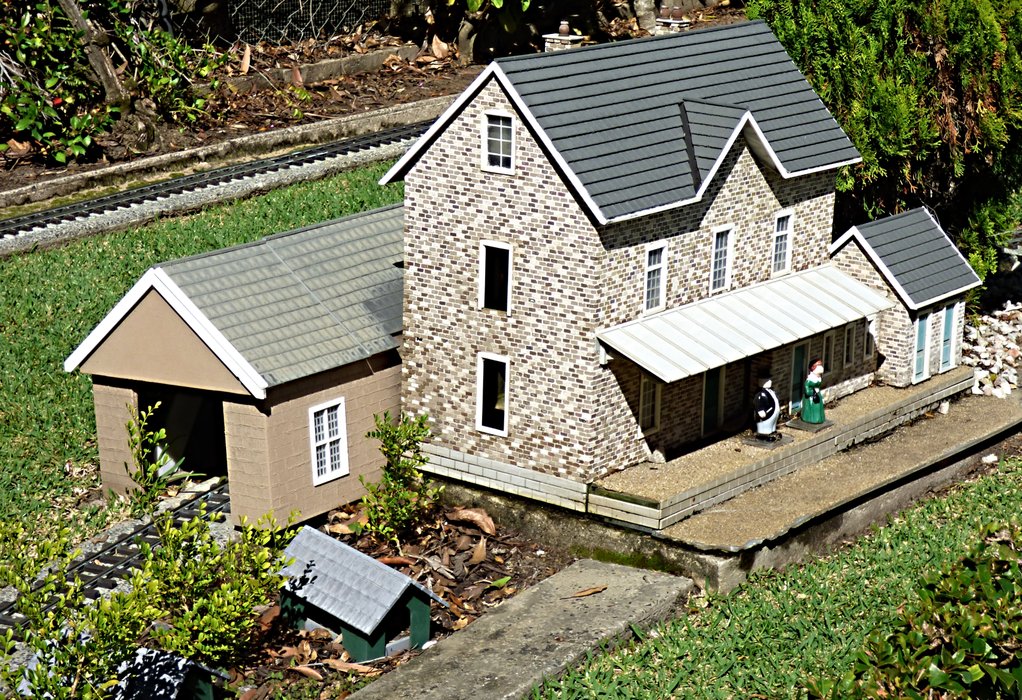 The Scots House in Veere was originally built in the 15th century to store magnificent cloth produce. Its flamboyant, gothic style was greatly influenced by the Scottish wool traders who used to come and sell their wool between 1541 and 1799. It is currently being used as a museum.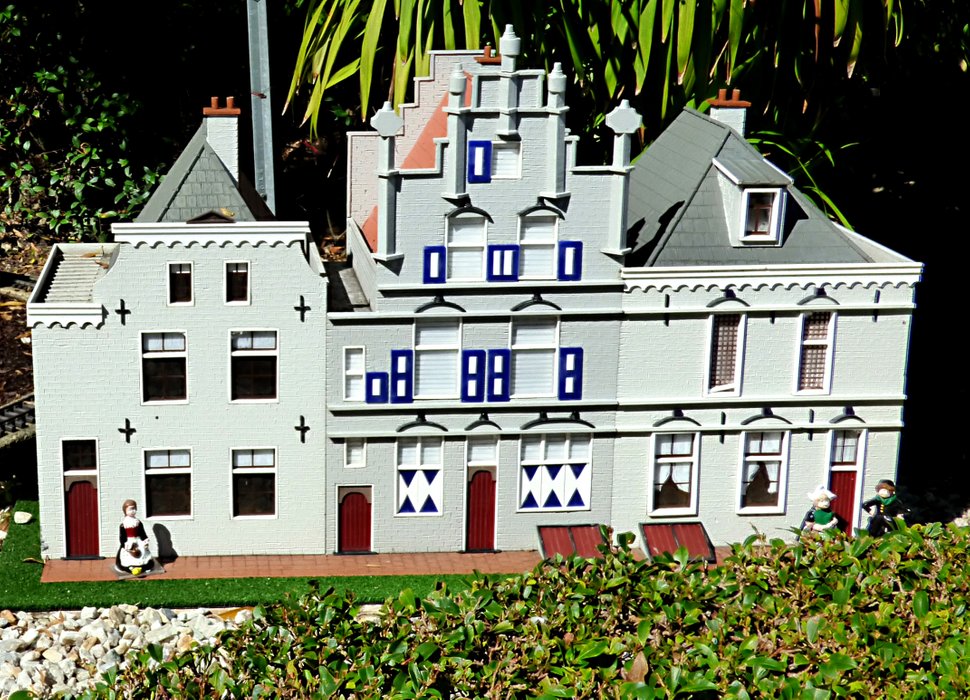 These unique and innovative Cube Houses were the brain child of architect Piet Blom. He based this concept on "living as an urban roof," using high density housing whilst providing sufficient space on ground level. The main idea behind this concept was to create optimum space inside. Blom tilted the cube of a conventional house by 45 degrees and then rested it upon a hexagon-shaped pylon. The Rotterdam Cube Houses are made up of 38 small cubes and two super cubes all attached to each other.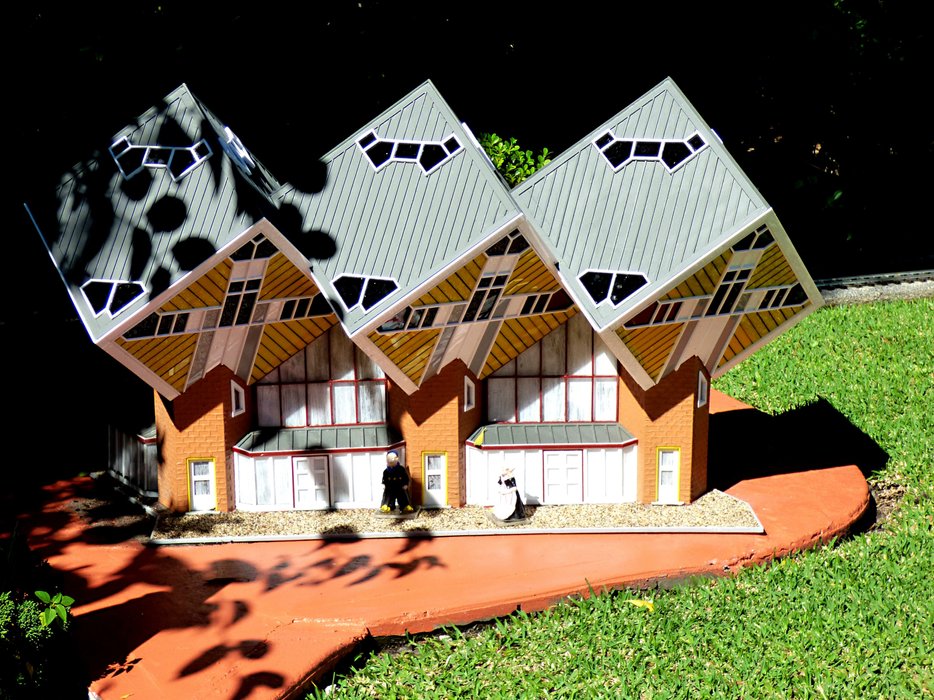 Anne Franks House (below) is situated alongside a canal called the Prinsengracht which is close to the Wesetrkerk in central Amsterdam. Today it is used as a writers house and a biographical museum dedicated to the wartime diarist, Anne Frank. In 1947 Anne's dairy was published and in 1957 the Anne Frank Foundation was established as a means of protecting it against developers who planned to demolish the block.The museum was opened in May 1960 and it has preserved Anne's hiding place. It also provides a permanent exhibition about the life and times of Anne Frank.
This is a model replica of The Clog Barn complete with its own miniature azalea bush.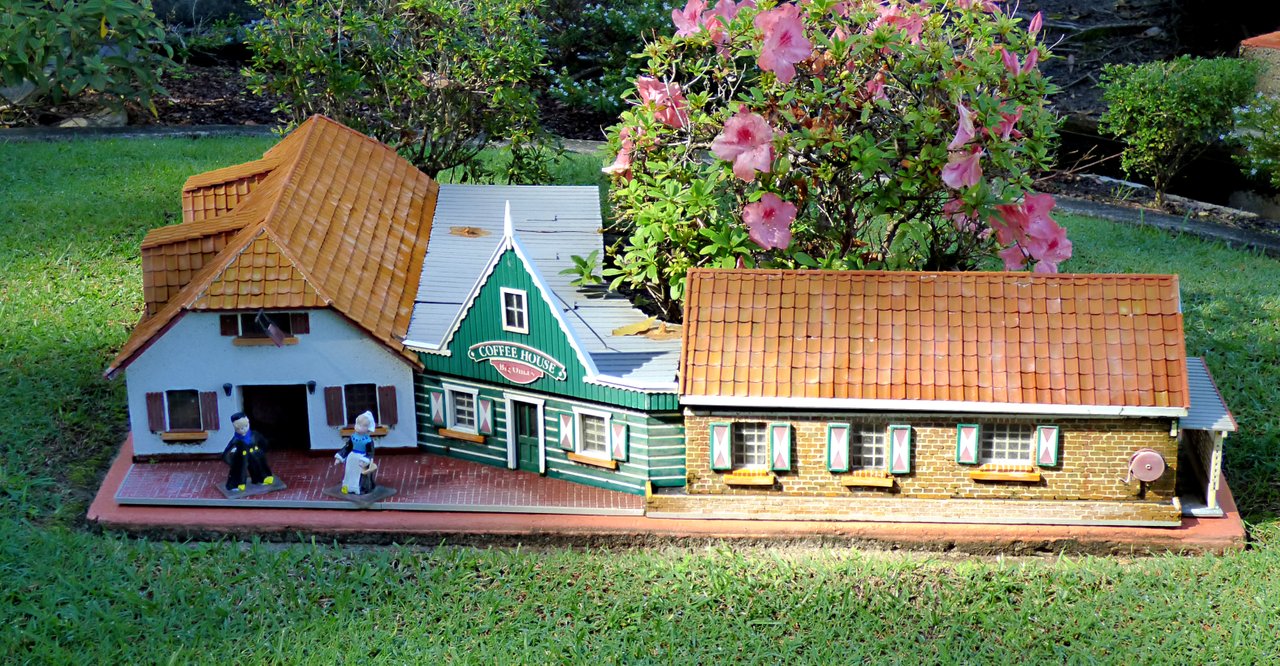 Volendam is a popular destination on the Zuiderzee.

This image gives us an idea of proportions as we an compare the model buildings with the Clog Barn in the background.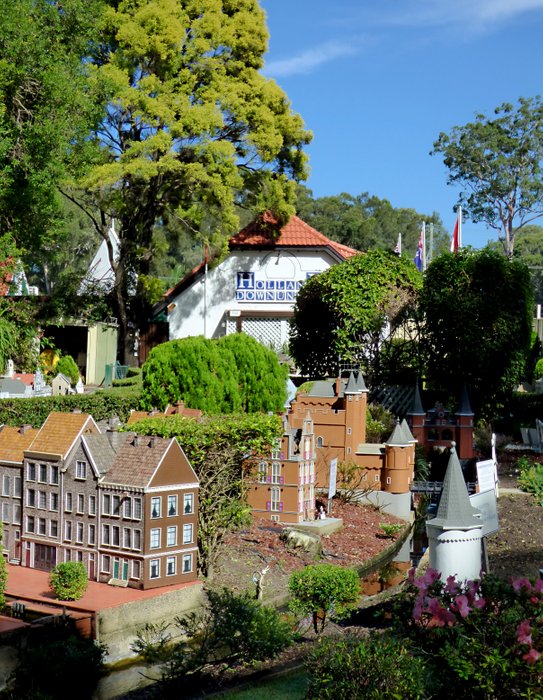 As we head towards the back entrance of The Clog Barn I noticed the sign, "Holland Downunder," and thought this enchanting place was well named. This entre experiment is offered to the public free of charge but there is a donation box situated at the back entrance. We had no hesitation in placing our donation there and when I read the words on a sign on the wall, I was so glad I did. It read:
"All models on display were built on site. They are made from fibreglass and each brick and tile has been moulded using latex moulds, trimmed by hand and glued on.......one by one. Some of the larger models contain up to 50,000 individual pieces, taking up to nine months to build."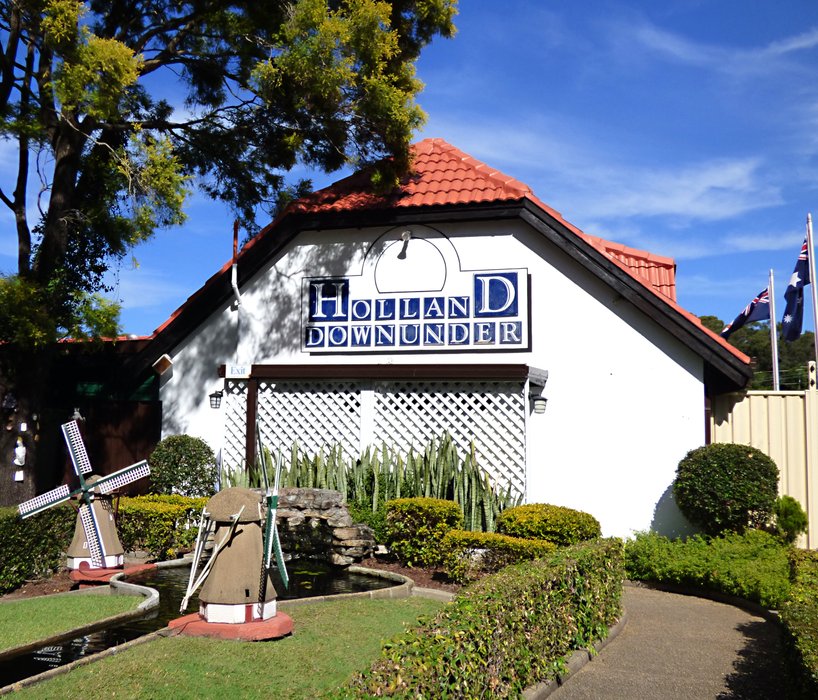 Information Sources: en.m.wikipedia.org
castles.nl
giethoorntourism.com
THANK YOU FOR VIEWING. HAVE A GREAT DAY.