Stradbroke Island. Part #2.
Stradbroke Island is blessed with some of Queensland's most spectacular scenery. It is the second largest sand island in the world and the white sandy beaches compete for ones attention with the rugged rocky outcrops around the coastline. From these picturesque fringes of the island, one looks across the ocean towards an aqua blue horizon by day and the stunning hues of dawn as the sun rises.
If you missed Part #1 this is the link. Click Here:
The Stradbroke Island Surf Lifesaving Club can be seen to the right of the image below.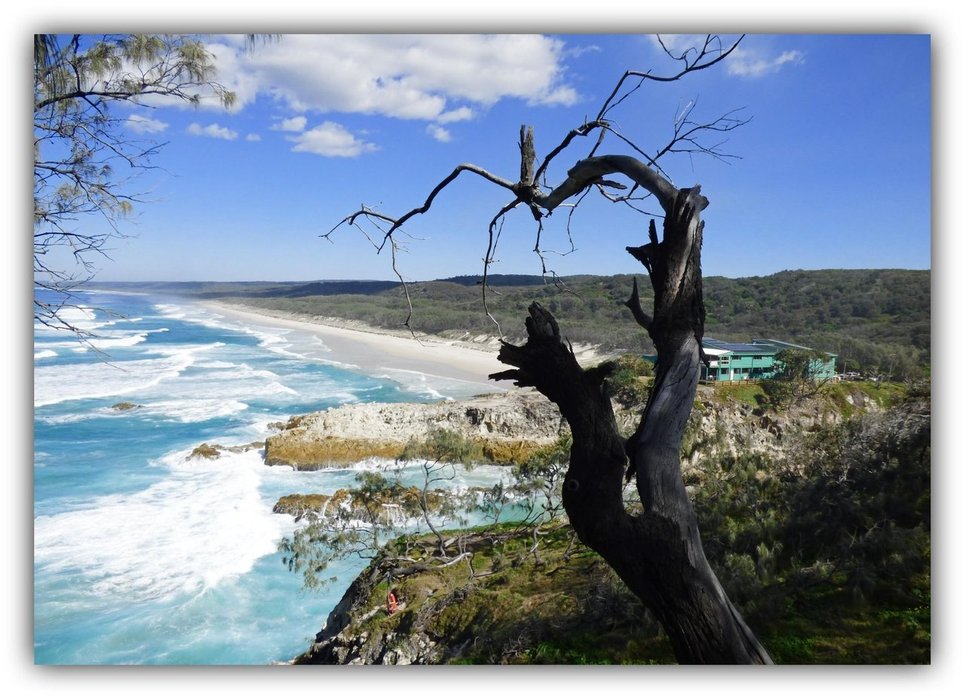 I wandered down the grassy slope to get closer to the magnificent seascape that stretched for miles along Main Beach.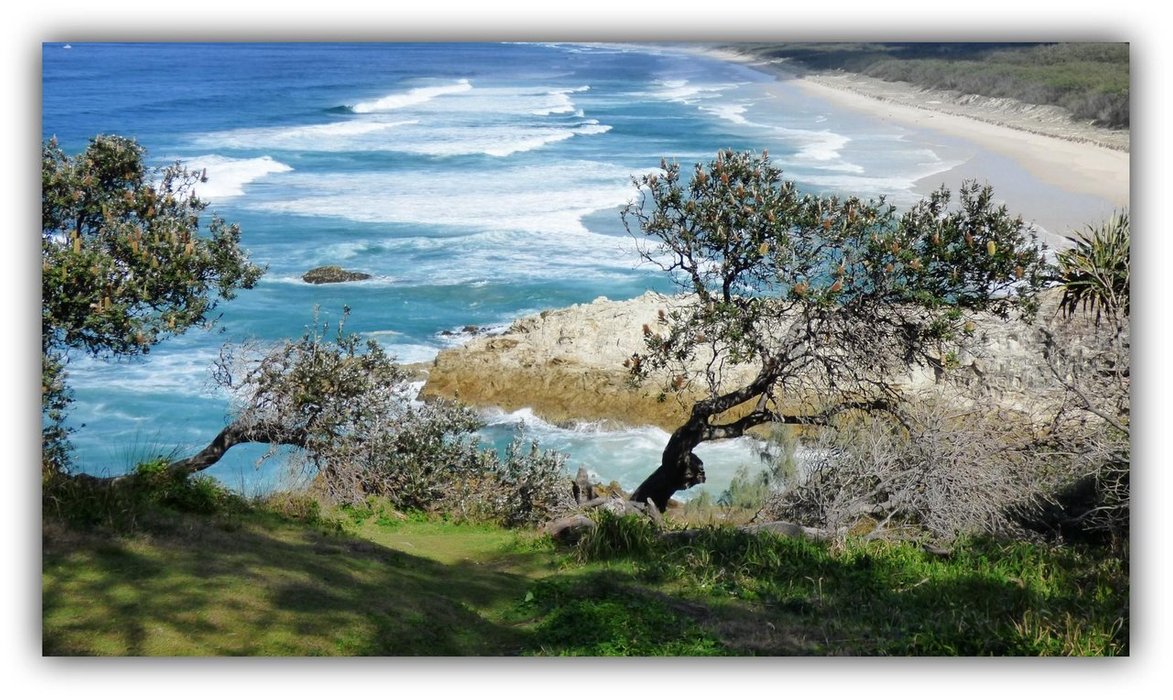 Peering down below, I captured masses of frothy surf surging forcefully towards the shore by strong tidal currents and watched as swirling seas hurl themselves against and over chunky rocks. Their relentlessly journey smashed the coastline, succeeding in gouging their rough signature on them over an extended period of time.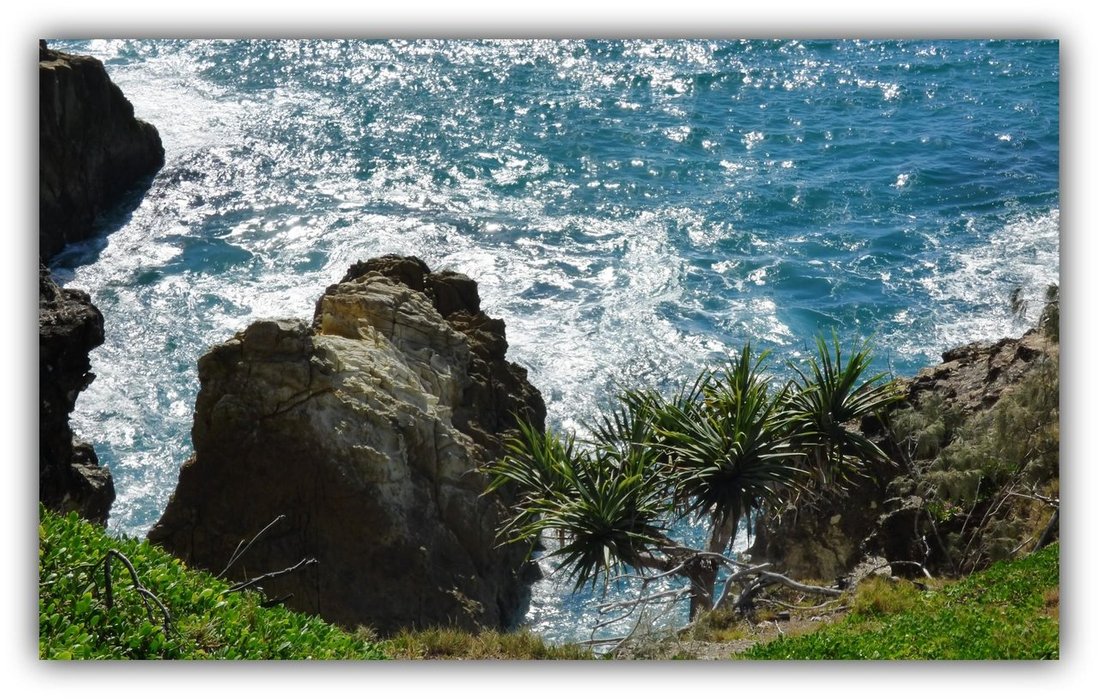 Hardy banksia plants clung with determination to the side of the hill, miraculously thriving on their bed of thin, sandy soil. Vigorous prevailing winds had failed to sweep them from their lofty position making them a testament to their ability to survive despite the harshest of coastal conditions.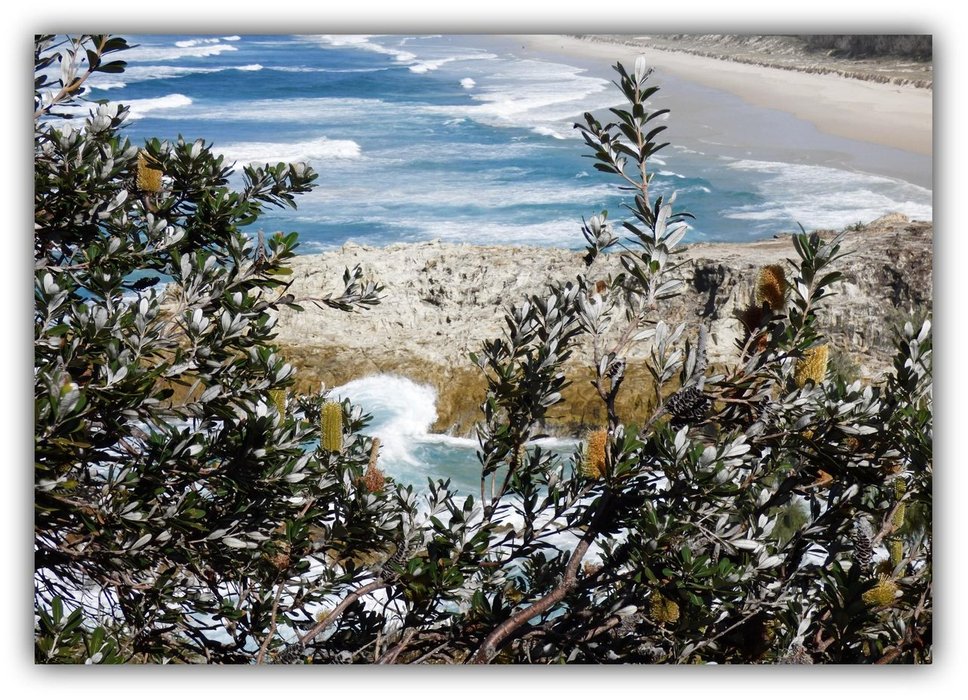 Having said that, Stradbroke Island is situated one hour west of Brisbane and its inhabitants, flora and fauna enjoy the benefits of a subtropical climate all year round.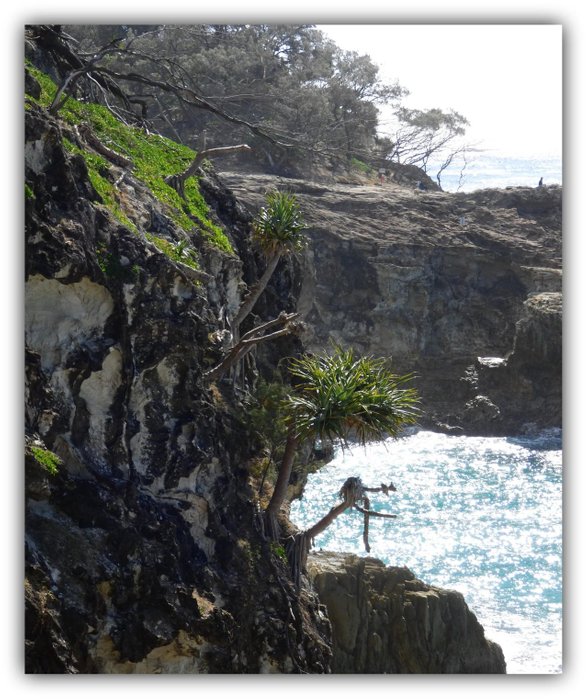 There are many idyllic picnic and swimming spots to take advantage of on the island for those searching for peace and relaxation. There is also a ton of activities available for the more adventurous, such as water sports. This includes scuba diving, kayaking, sandboarding, 4W Driving and fishing, courtesy of regular charter boats.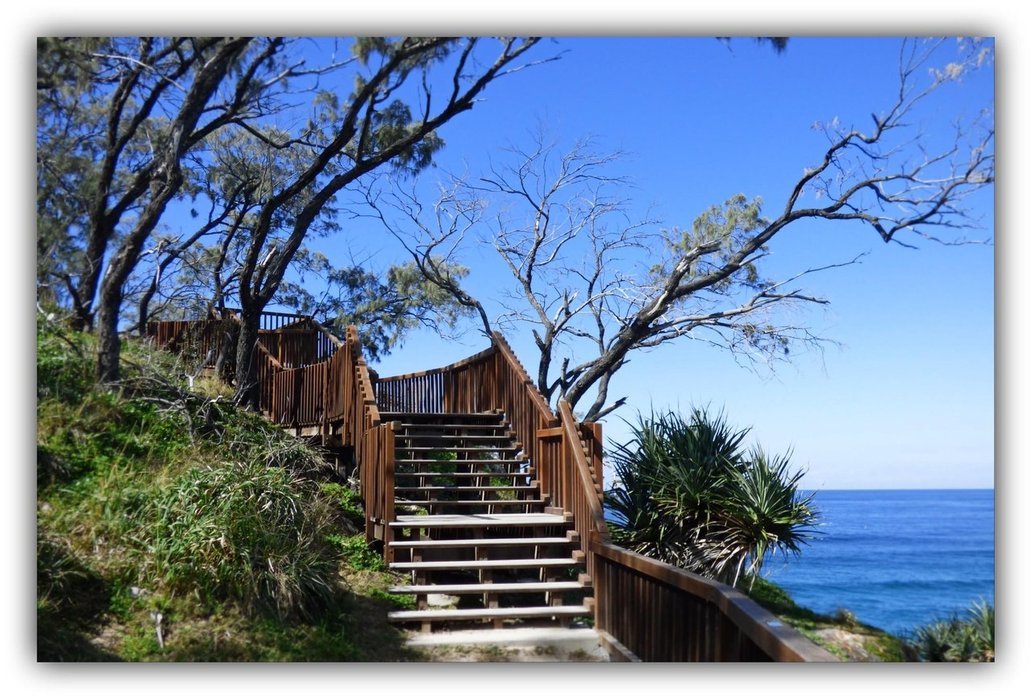 The plaque (below) at the beginning of the lengthy boardwalk is placed on a convenient wooden seat, overlooking main beach. It reads:
Yalingbila (Humpback Whale) are the 5th largest on this planet growing up to 16 metres in length, with a weight of up to 45,000 kgs (99,000lbs) equivalent to 11 elephants or 600 people. The blue whale seen occasionally in this area are the largest animal on earth.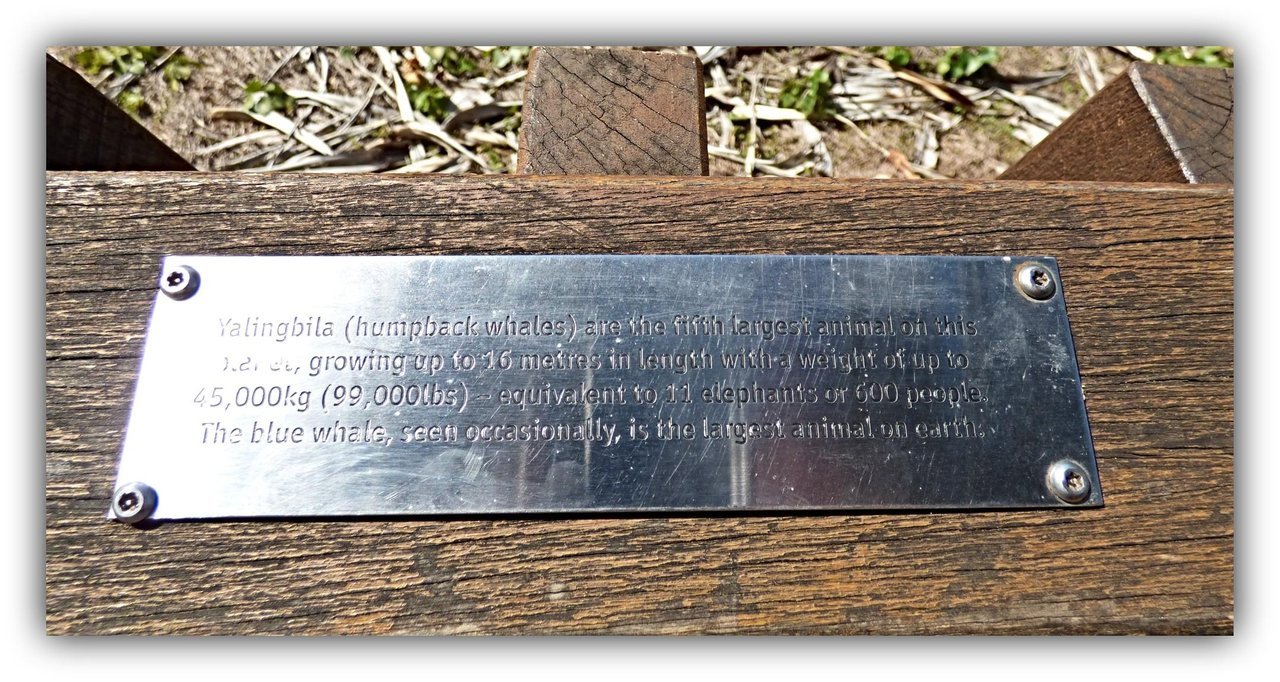 People either held cameras or binoculars in their hands as they scanned the ocean for a glimpse of a whale. Some even dared to venture out onto rocky vantage points giving themselves the best possible opportunity. As keen as I was to spot a whale I didn't want it to be the last thing I ever did, so I stayed a respectable distance away from the edges, high above the water.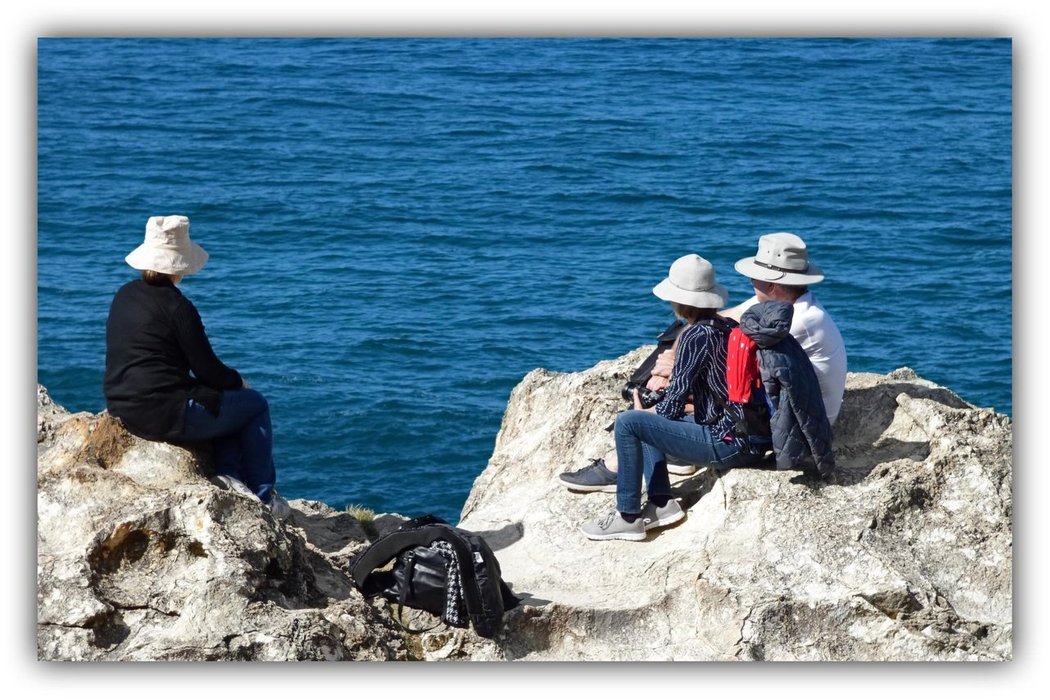 I got really excited when I heard what sounded like air being expelled from the water spout of a very large whale. It sounded so close and I also heard excited exclamations from others near by.
But when I got closer, I discovered it was a huge blowhole at the base of the cliffs and the noise was created by the water rushing into the blow hole and being forced upwards every few minutes. I felt a little envious of the photographers poised on the edge of the cliff but valued my life too much to risk getting any photos of the blowhole.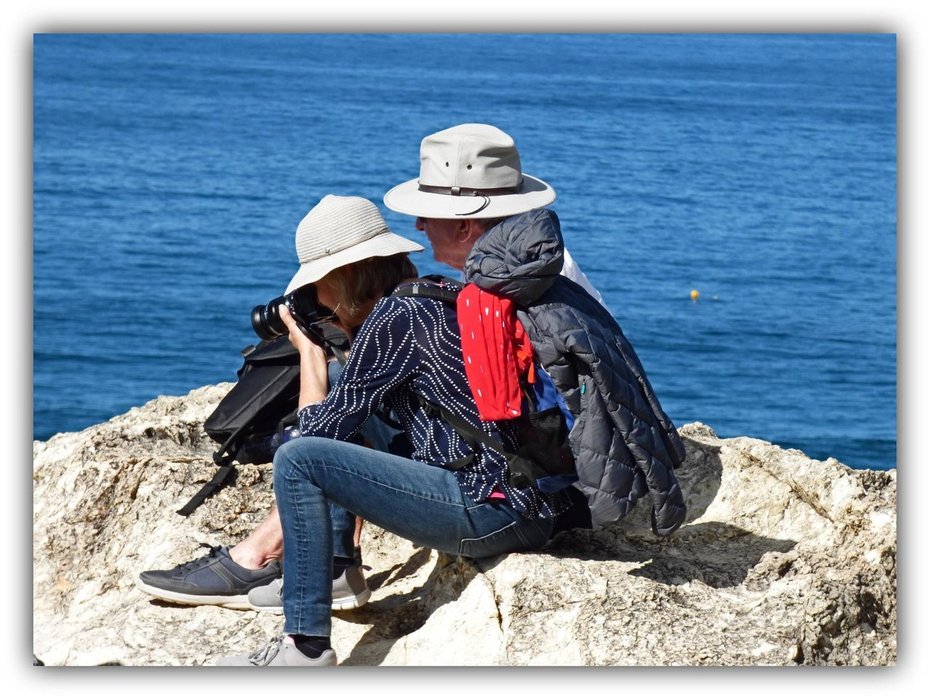 The shouts of excitement were a result of visitors spotting whales fairly close to where we were. With baited breath I watched and waited. But to no avail. We still had a long way to walk and we made sure to stop every so often to look towards the sea in the hope of seeing one with our own eyes.
I didn't need to read the written warnings on this sign, but I did agree that it needed to there.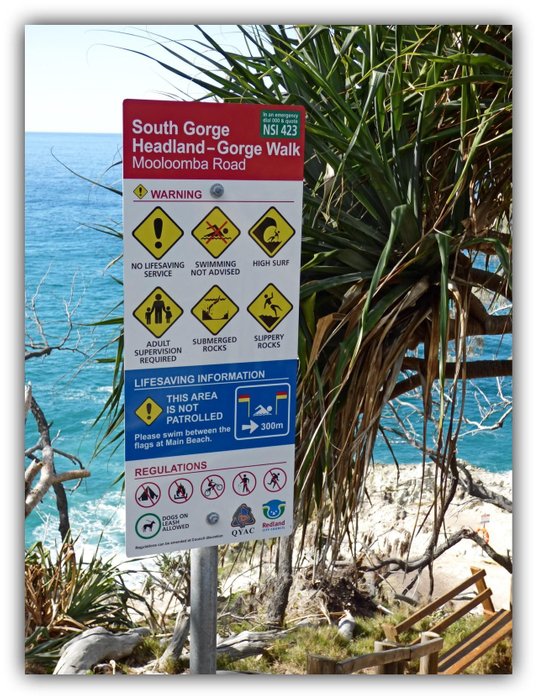 As we approached the Gorge I looked across to the other side and realized that we were probably not even half way around yet. If we weren't lucky enough to spot a whale, then perhaps we may see dolphins or maybe giant sea turtles who apparently love riding the waves near the shore.
Failing that, if we were able to get to Cylinder beach which we knew was up ahead, we may see stingrays or dugongs in the shallow waters. Fingers crossed.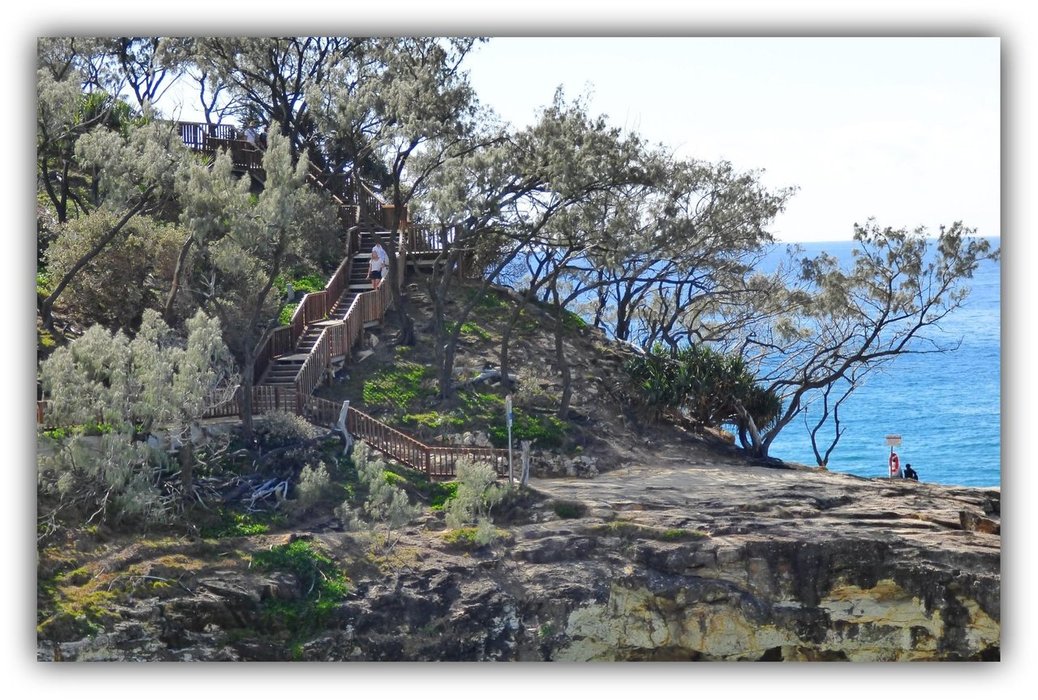 At this point though, our attention was on the huge volume of aqua blue water rushing up the gorge. It was a magical sight, made all the more dramatic by the sound of the waves crashing upon the rocks.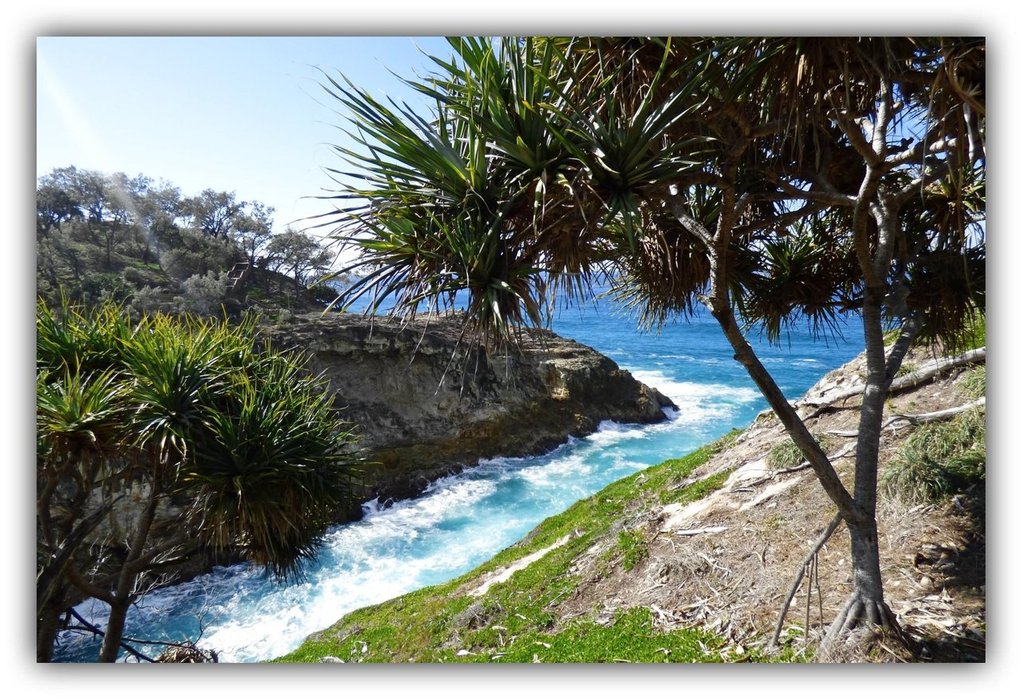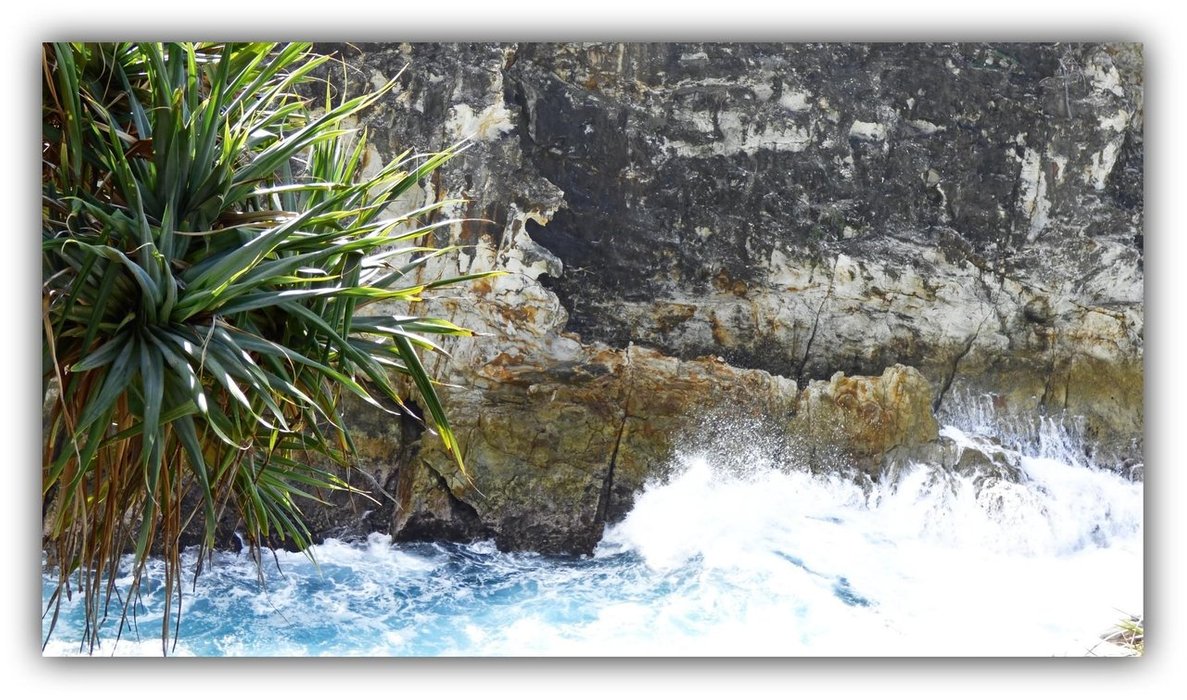 I am always amazed at how plants and trees can grow on what appears to be barren patches of rock. These Pandanas Palm trees were defying the elements (and gravity) as they hung tenaciously to the side of this outcrop.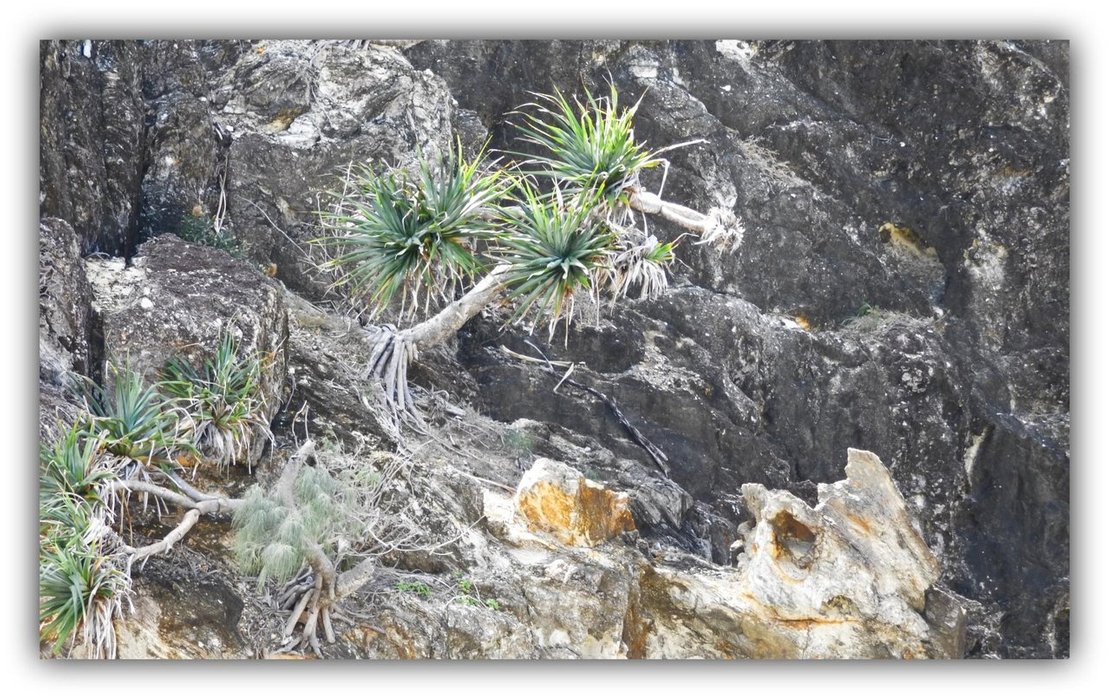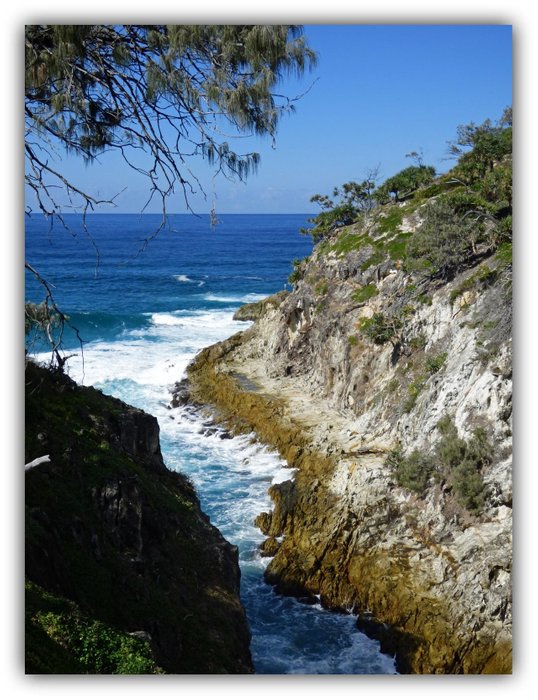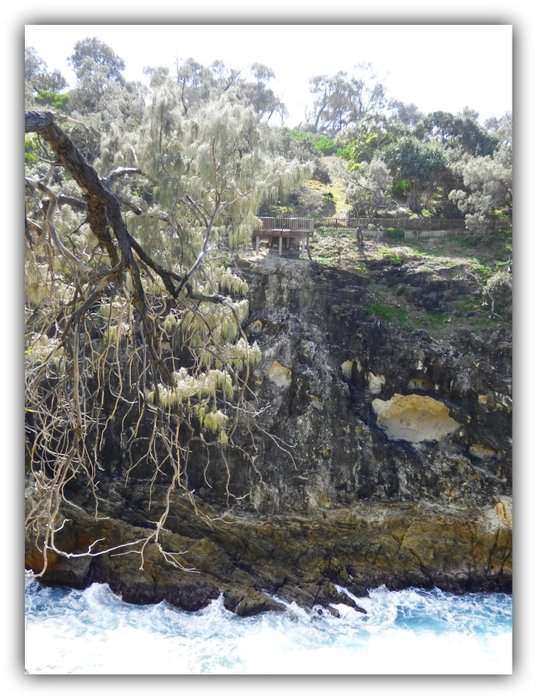 Energetic little wrens darted across our path and made it difficult for me to get a decent photo as they were so full of energy and would not stay in the one place for more than a couple of seconds.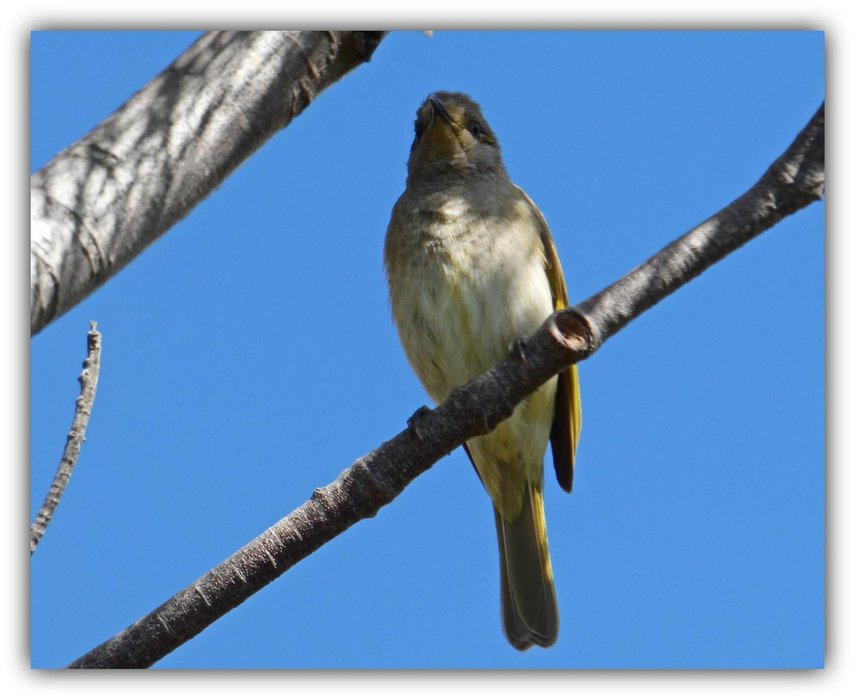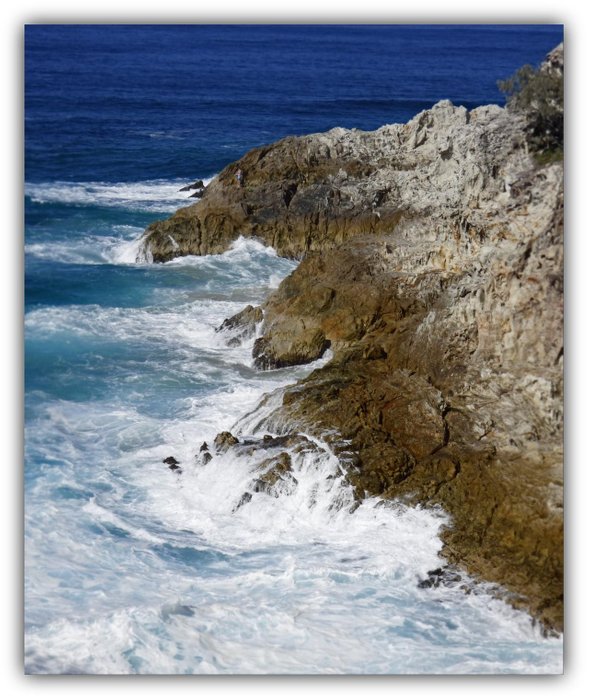 I should apologize for submitting so many photos in this blog but I wont, because I don't want to deprive anyone of the superb scenery that we were enjoying. I just cannot do that to you. (lol)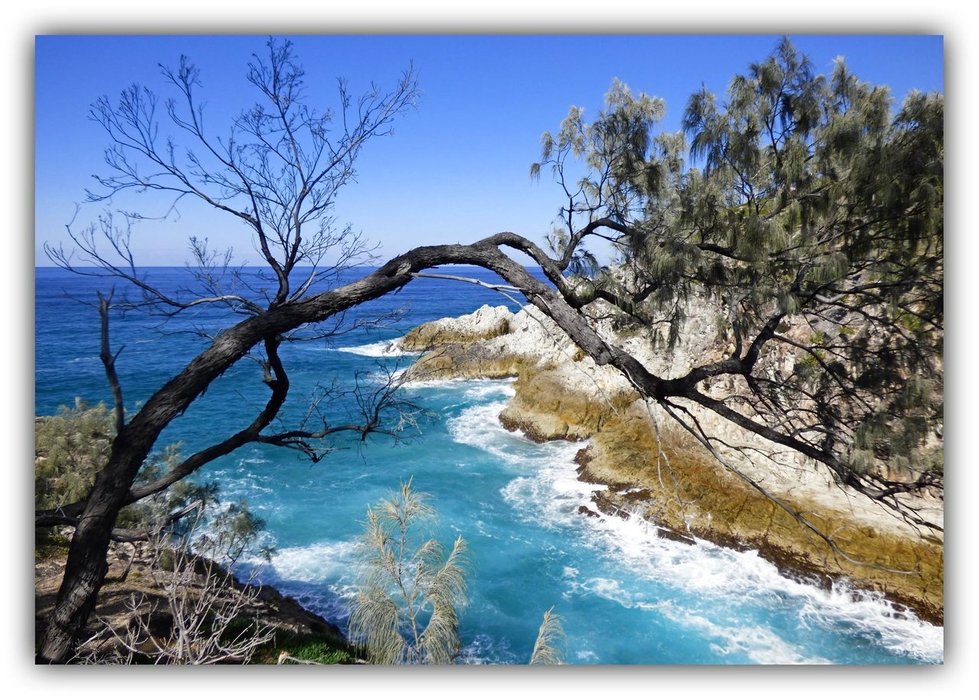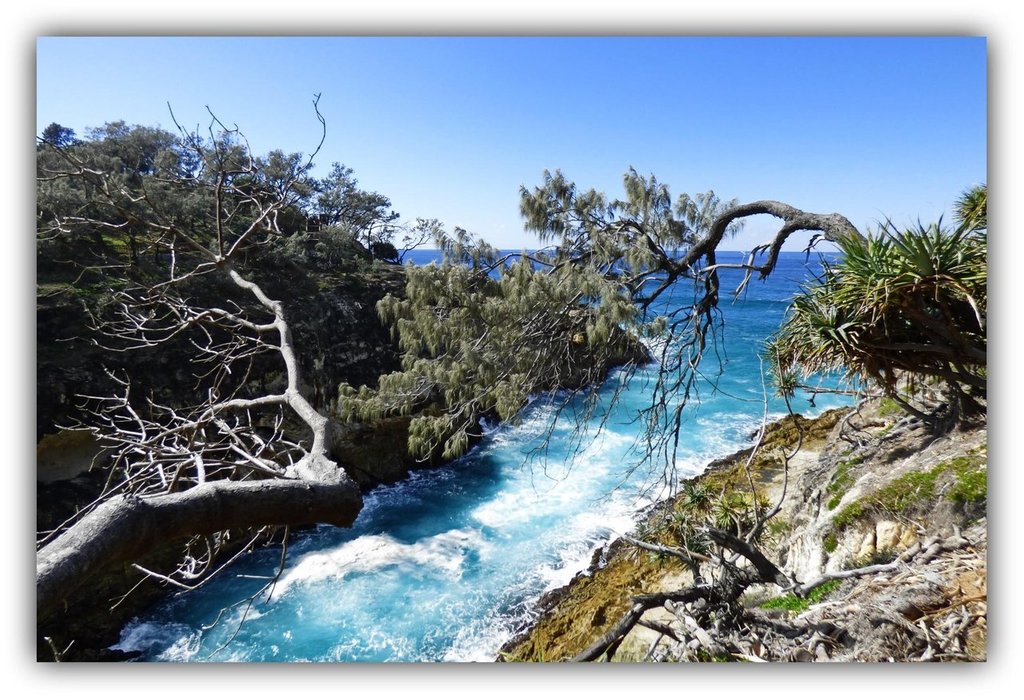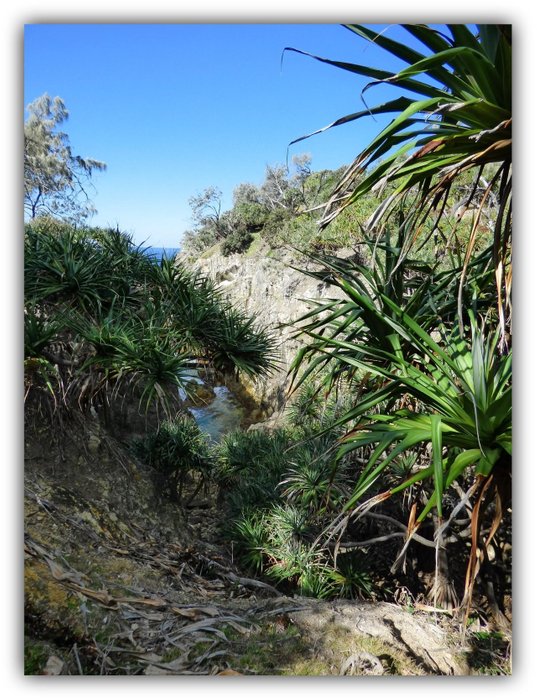 From the other side of the gorge I looked back to where we had come from and was horrified to see a woman balancing on a high, narrow rock for the purpose of taking selfies. My heart was in my mouth as I zoomed in with my camera to get a closer look.
I simply could not believe my eyes, especially as I had read of tourists plunging to their death in recent times during the process of securing the best selfie they could, whilst overlooking the danger they placed themselves in whilst doing so. Crazy! Absolutely crazy!
Moments later, I saw her almost topple over and was very relieved she made it to safety after what I felt was a very stressful situation.

My pulse was still racing when I looked down to my left and saw another group of teenagers doing the exact same thing. I stayed long enough to ensure they got to safer ground.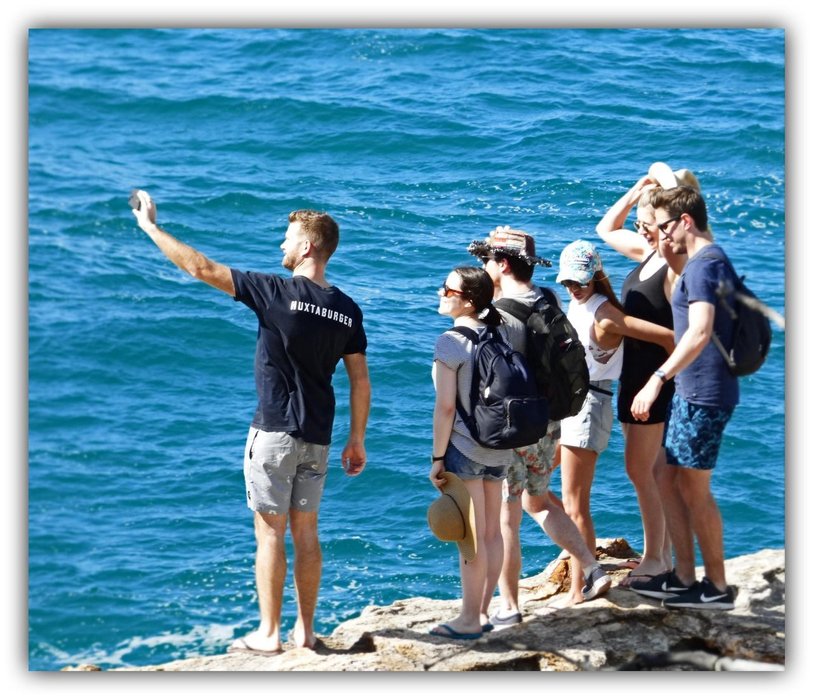 We walked on and soon came upon a most glorious sight around the bend.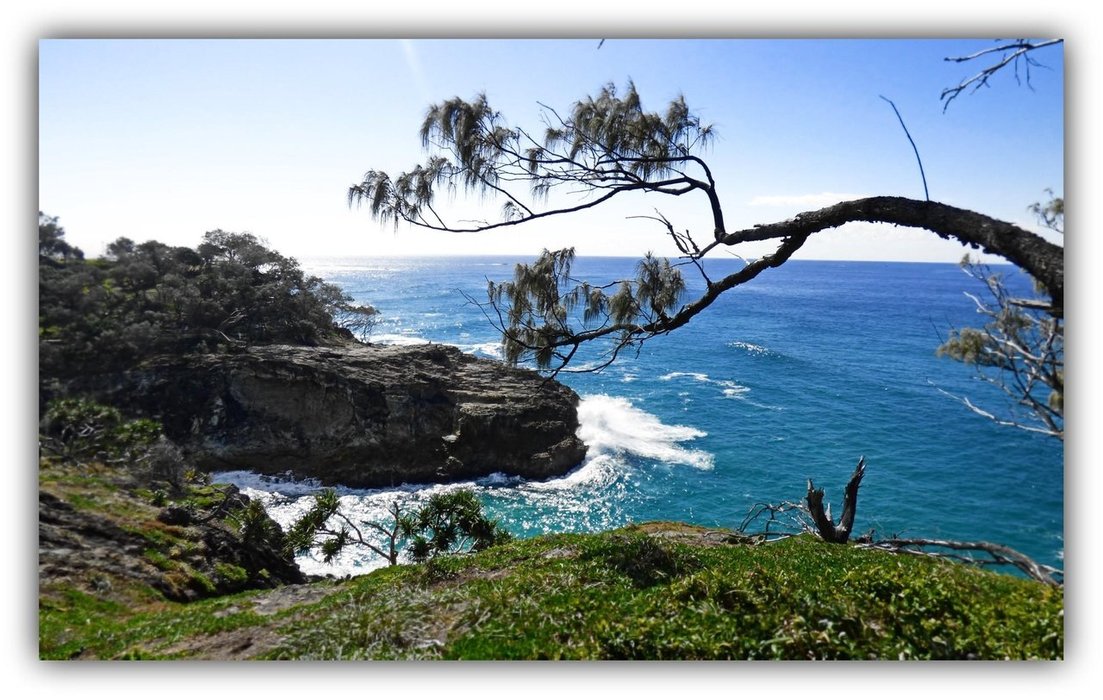 Our first glimpse of Deadman's and Frenchman's beach was a memorable one, for sure! Both spots lie between Point Lookout Village and Cylinder beach ( a popular surfing and camping area) Frenchman's beach is accessed via a walking track along East Coast road.
It wasn't until I looked around that I realized that we had come to the end of the board walk and our opportunity for spotting whales was diminishing with each step. We planned to get the bus to Amity Point at the northern tip of Stradbroke.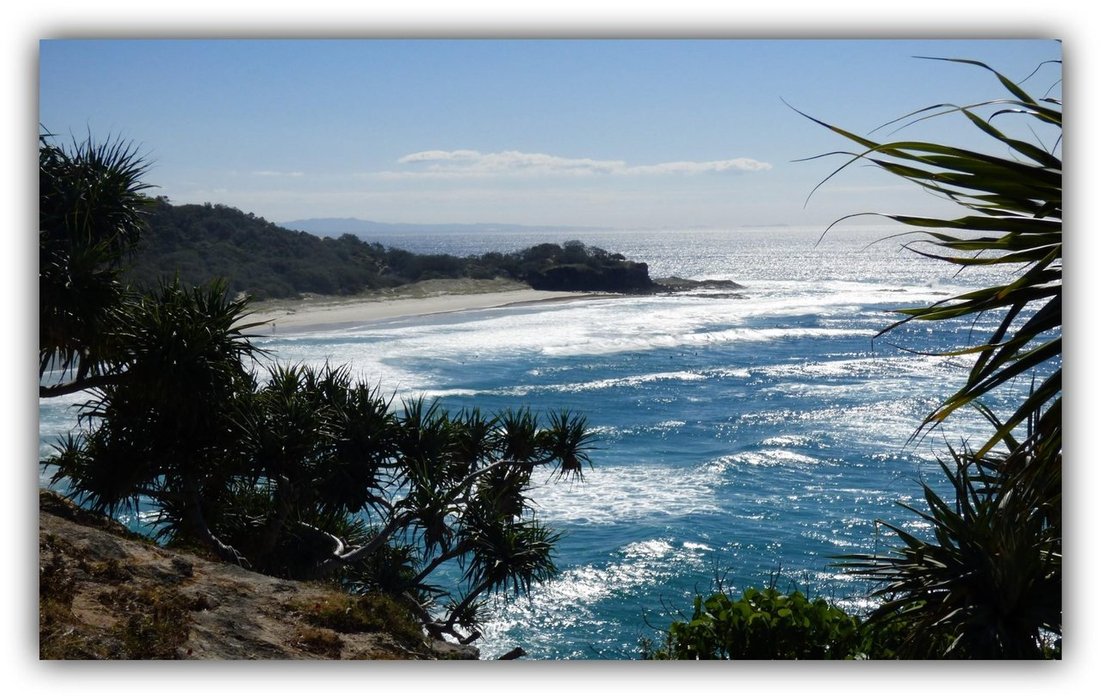 I was not surprised to find a number of people enjoying the fabulous scenery.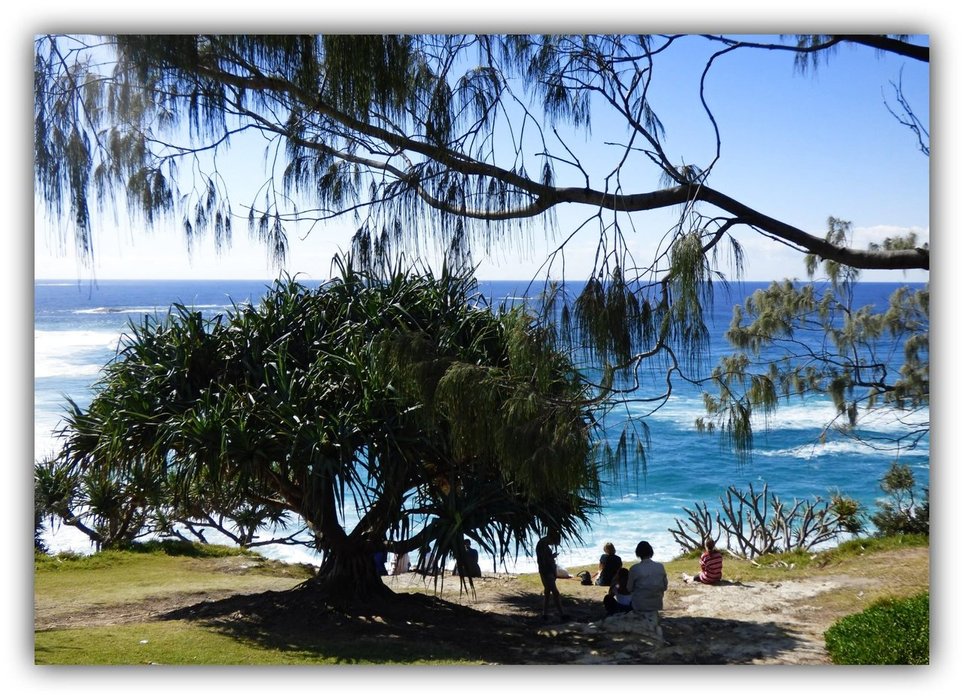 I came across a memorial site and read the words engraved on the plaque embedded into the stone.
1770 - 1970.
This plaque commemorates the Bi-Centenary of the naming of Point Lookout on May 17th 1770 by Captain James Cook.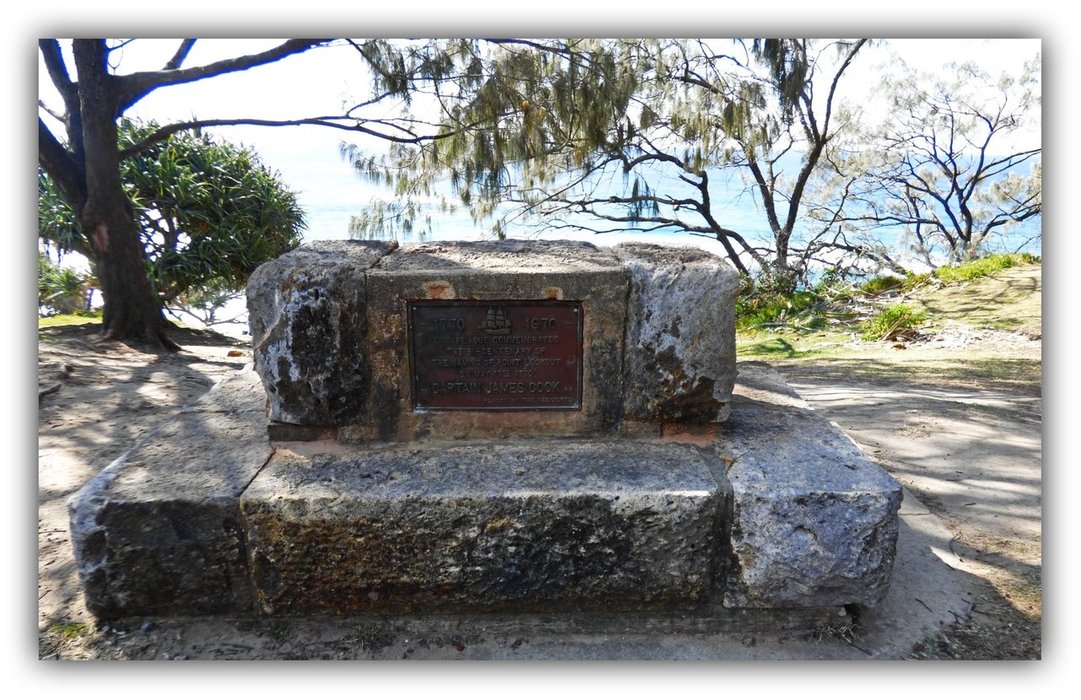 Someone had gone to the trouble of making a long seat made out of stone for visitors to sit and enjoy the view.......and perhaps a takeaway or coffee from the Point Lookout village across the road.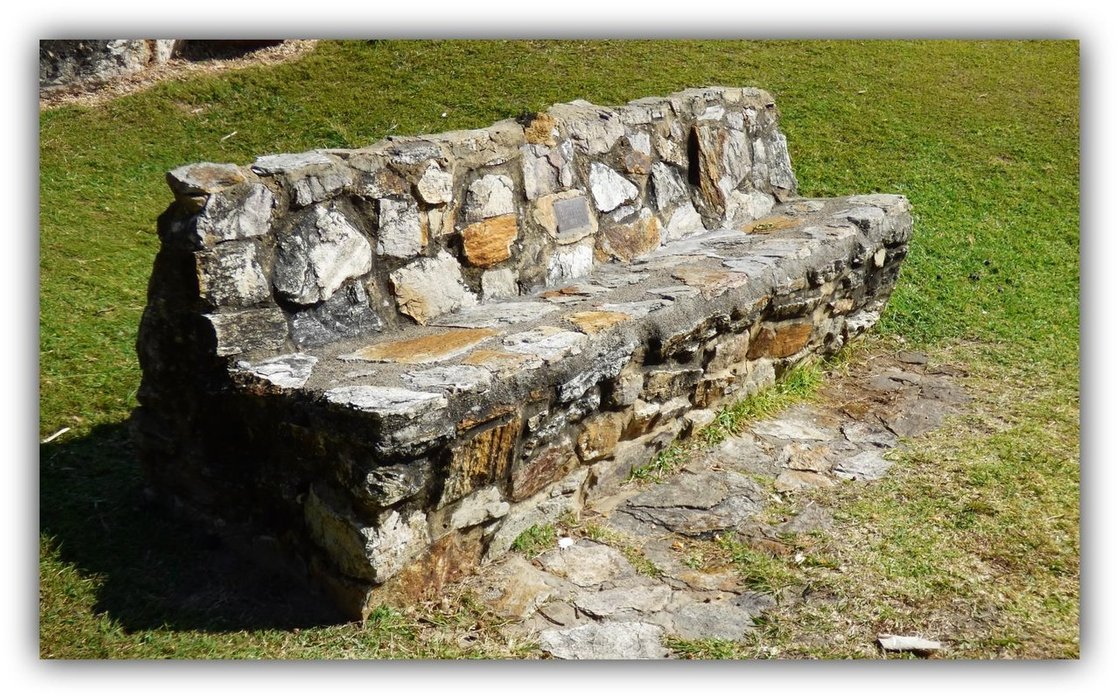 I wandered over to see what was on offer. 'Stradology' is a fashion and accessory boutique and I was amused at the name, assuming it was a play of the word, 'Stradbroke.' Very imaginative!
An ice cream shop had a wonderful selection of delicious treats available. We looked, but didn't buy.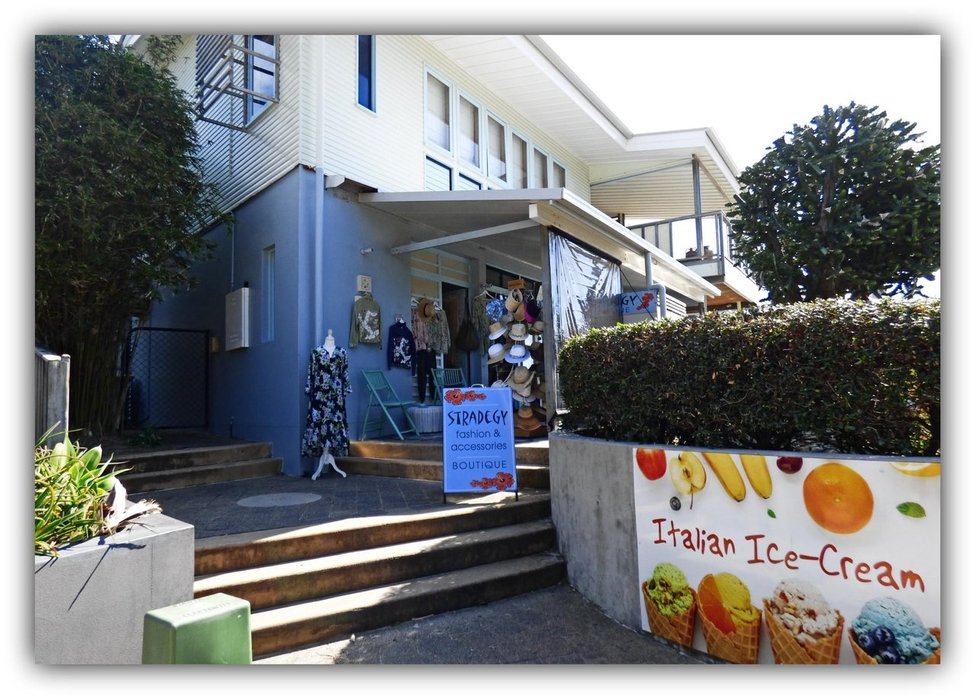 And next door I admired a lovely ceramic sign advertising the name of the store.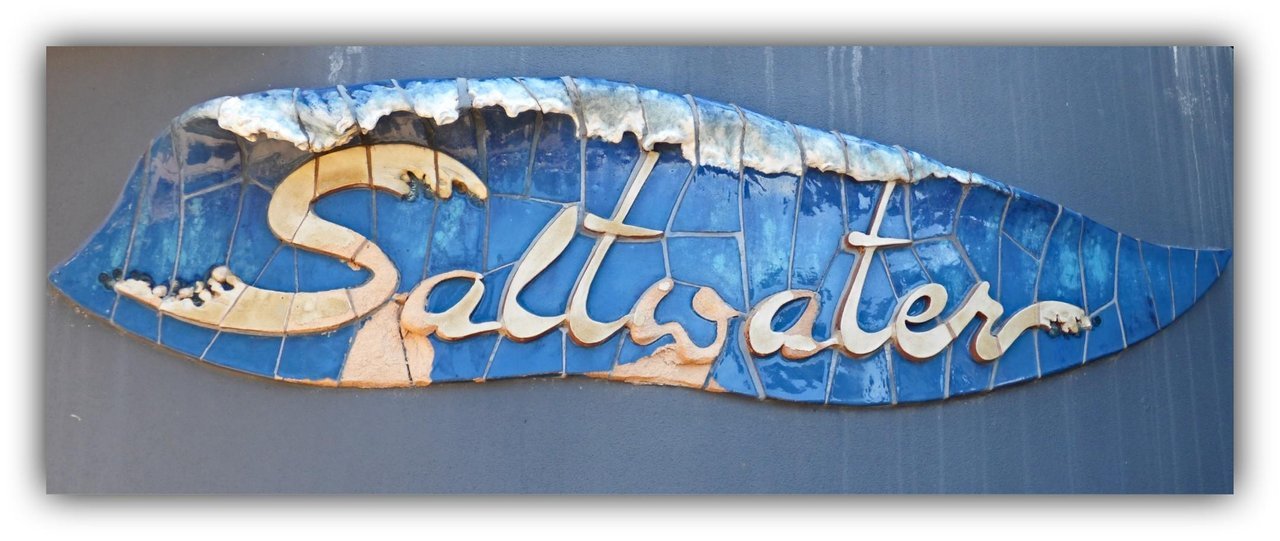 A large woven hat (minus the centre piece) was the main feature of this novel window display.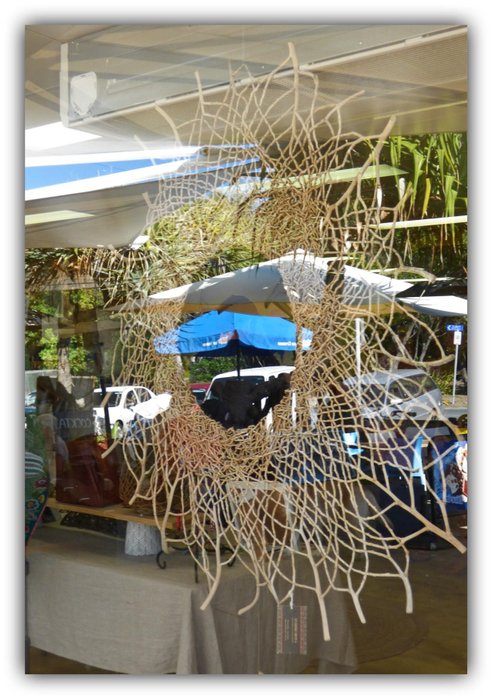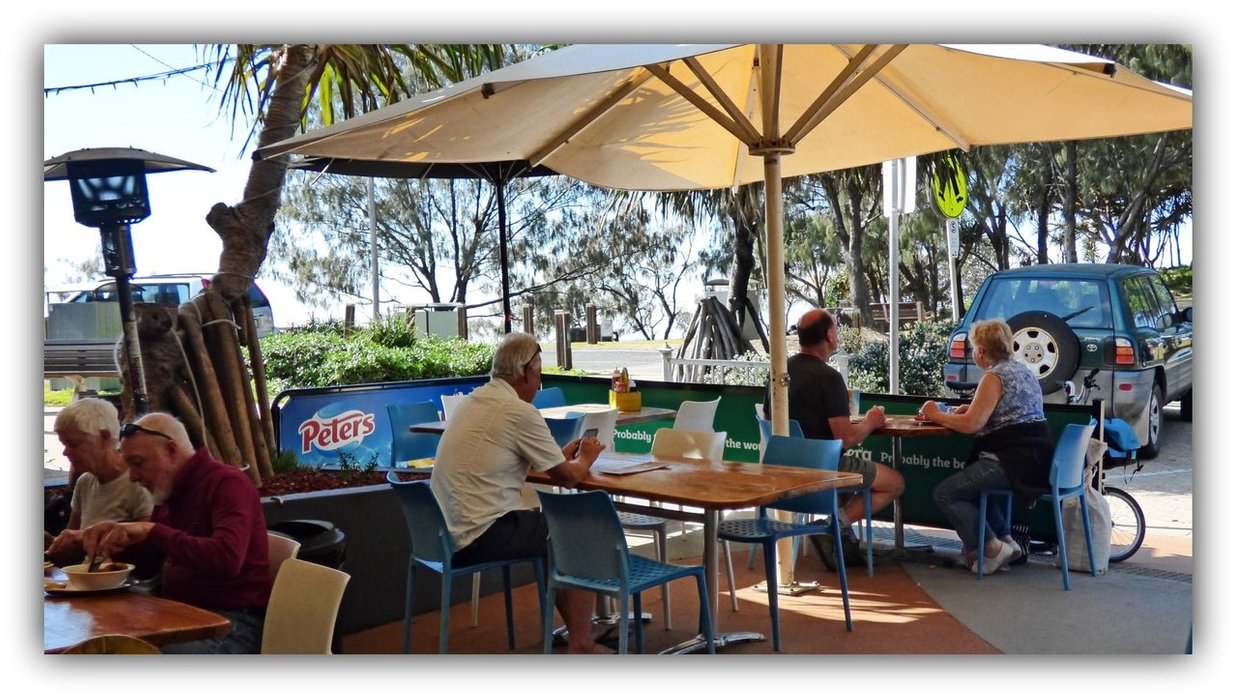 Tempting aromas filled the air as we neared the Fishes Restaurant.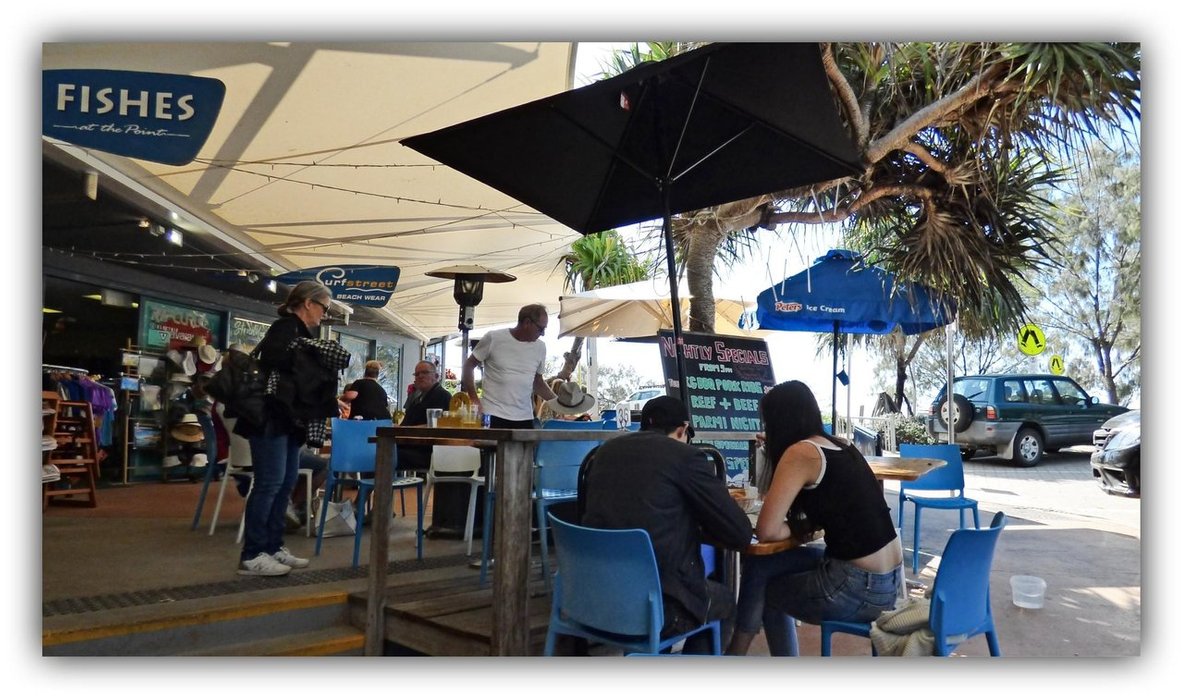 On our way to the bus stop I noticed this car with two kayaks tied to the roof.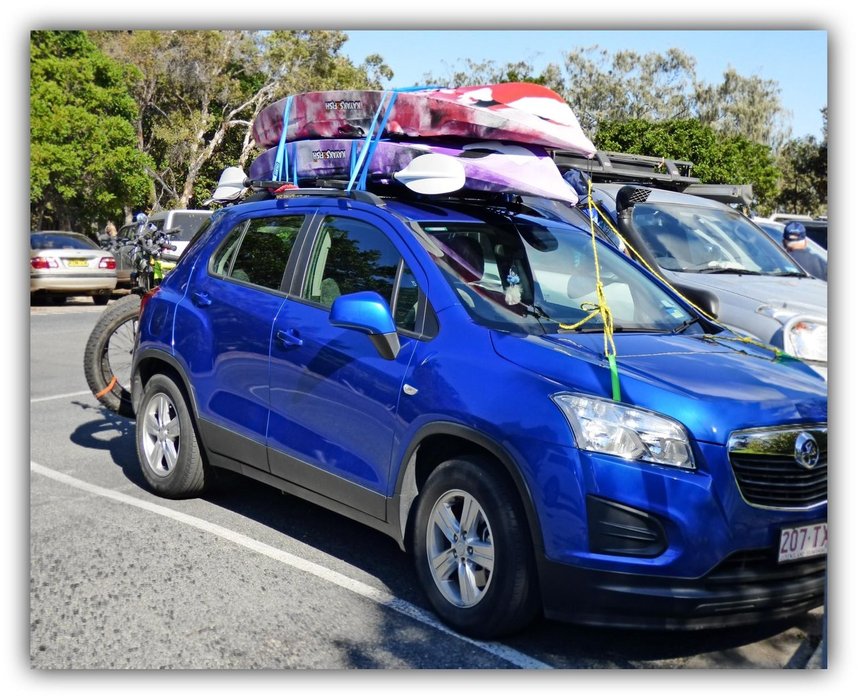 Surf boards and surf wear were on sale outside a cottage opposite the bus stop.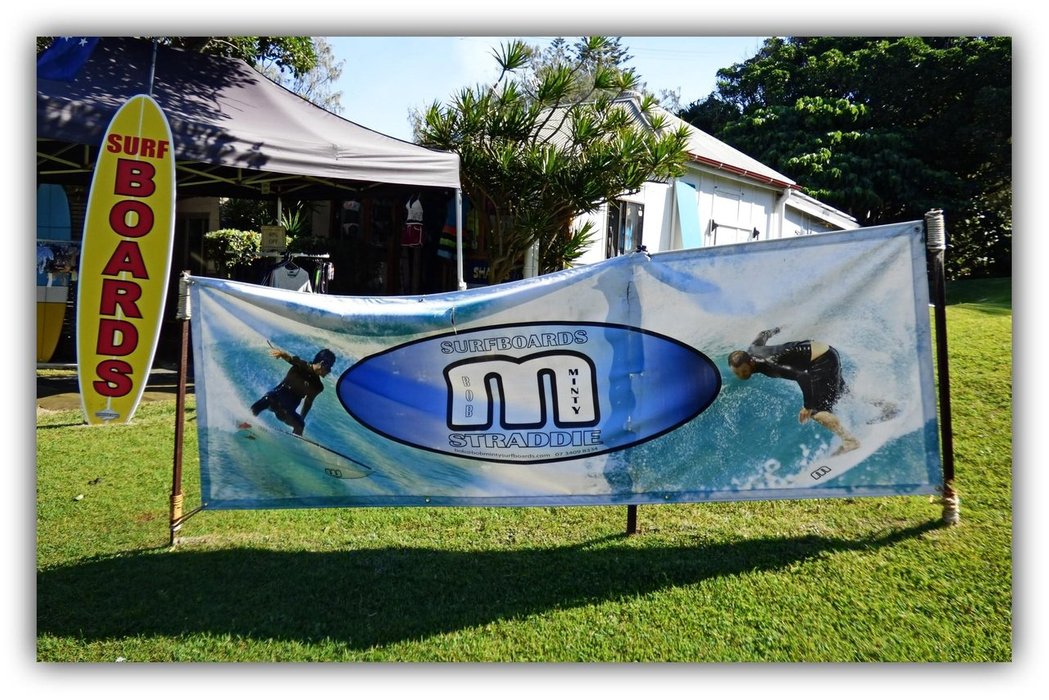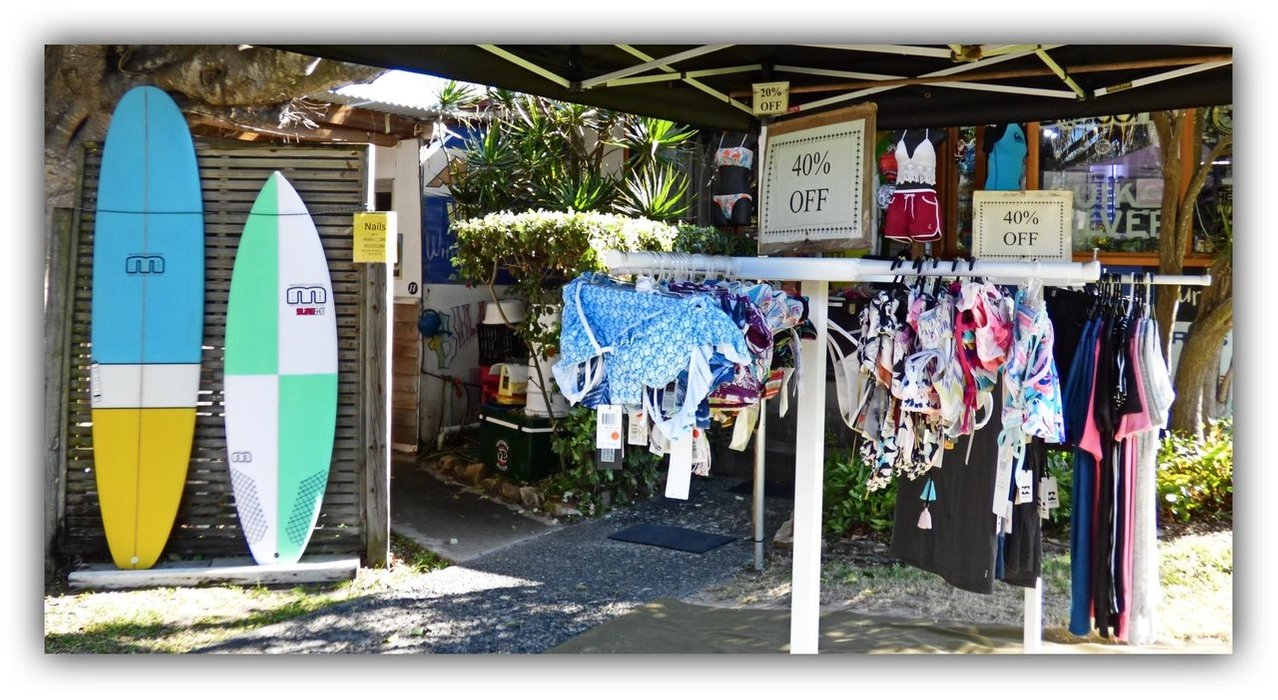 We checked the bus timetable and had a 15 minute wait which I was glad for as I was able to take in our lovely surroundings.
A concrete wall was painted with fish, a smiling dolphin and seagulls on it. We found ourselves a seat and listened to the kookaburras, lorikeets and other, unknown birds in the bush nearby.
After doing a bit of research I found out that the friarbirds are also called leatherheads and there are approximately 15 species of these large honey eaters and are part of the Melitograis genus. I do hope I come across them again as I loved listening to them.
Our bus pulled up and we found out that it didn't go to Amity Point so unfortunately we had to forego this part of our adventure, as time would not allow us to visit it once we got back to Dunich. I was disappointed we didn't see any whales but that disappontment was out-weighed by everything else we enjoyed during our walk.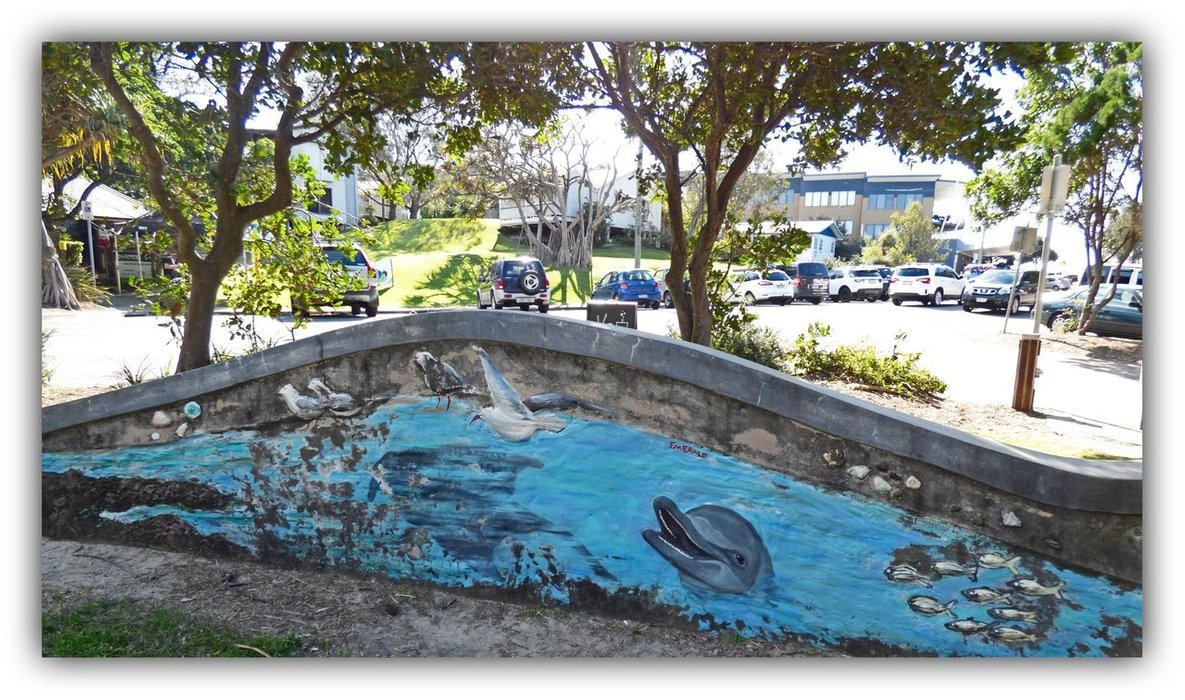 I was unfamiliar with some very distinctive sounds coming from a tree and as I crept slowly towards it I managed to get a blurred photo of this bird. After taking this shot I asked one of the locals what bird was making that particular noise. The bird had flown away so they informed me it was either a Friarbird or a Leatherhead.
After doing a bit of research I found out that the friarbirds are also called leatherheads and there are approximately 15 species of these large honey eaters and are part of the Melitograis genus. I do hope I come across them again as I loved listening to them.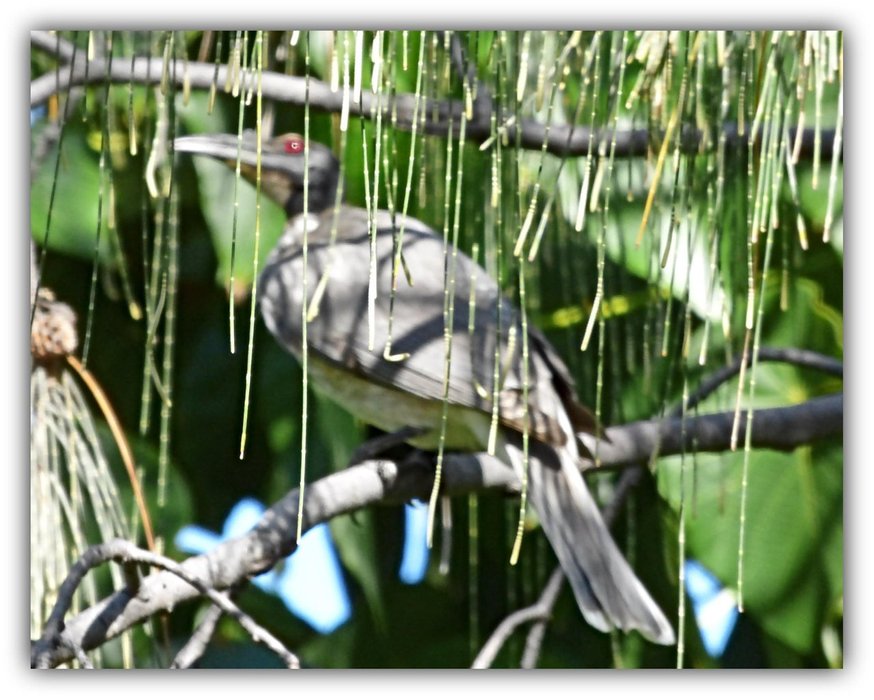 I'd like to leave you with one of my favourite photos of this series. No further words are needed because.........A Picture paints a thousand words.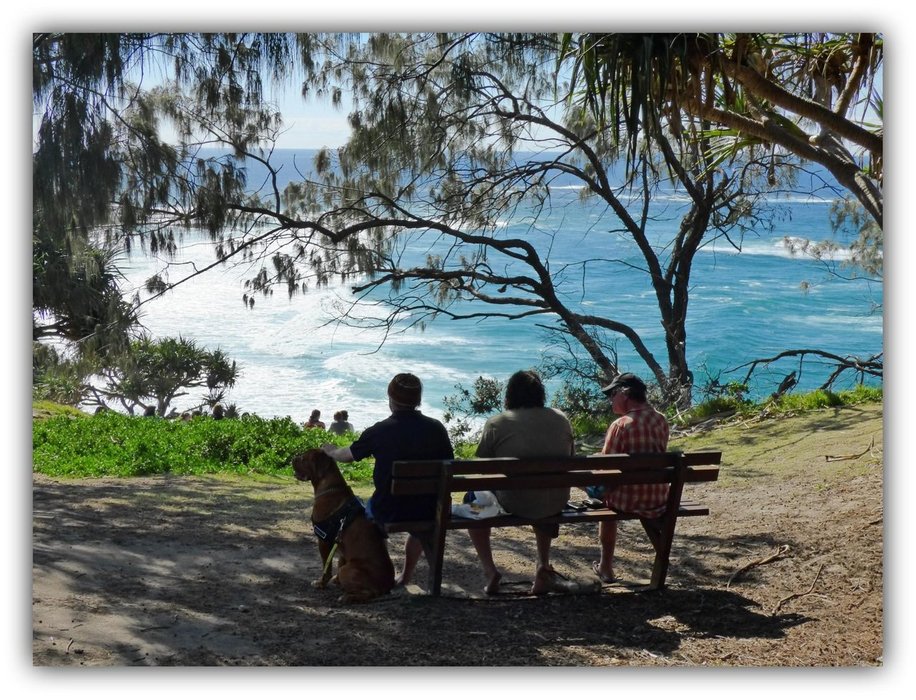 Source:
THANK YOU FOR VIEWING. HAVE A GREAT DAY.
(©Trudee Hunter All Rights Reserved on Written Works and Photography.)