The Poets Cafe.
The charming Poets Cafe situated in 167 Main St, Montville was established in 1995. Its appearance is similar to traditional Europeon styles, and its customers are drawn to the café for their classic cuisine and their tasty coffee made from fresh spring water sourced from the natural spring below the premises which is also available chilled, from their water station.
But a big attraction for me, as far as the interior is concerned, is the stained glass windows and paintings which adorn the walls. Poets Café is a charming place to visit but the uninterrupted views of the beautiful Sunshine Coast has to be seen to be believed.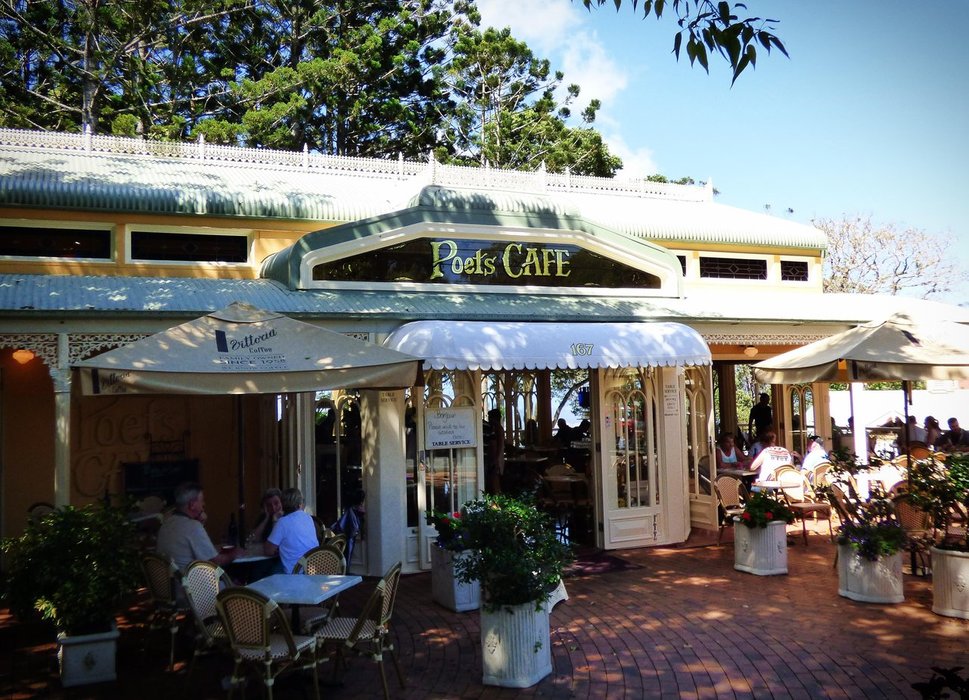 Montville is situated on the Blackall Range in Queensland, Australia and has the most wonderful views overlooking parts of the Sunshine Coast and the Hinterland. Montville was first settled in 1887 and its history includes logging and farming which came later and now produces prime dairy, citrus, avocados pineapples and macadamia nuts.
The village has a great selection of unique shops, restaurants and cafes and there are many fine buildings and architectural delights to be enjoyed. It is a haven for lovers of nature, boasting rolling hills, national parks, picturesque lakes, rain forests and waterfalls.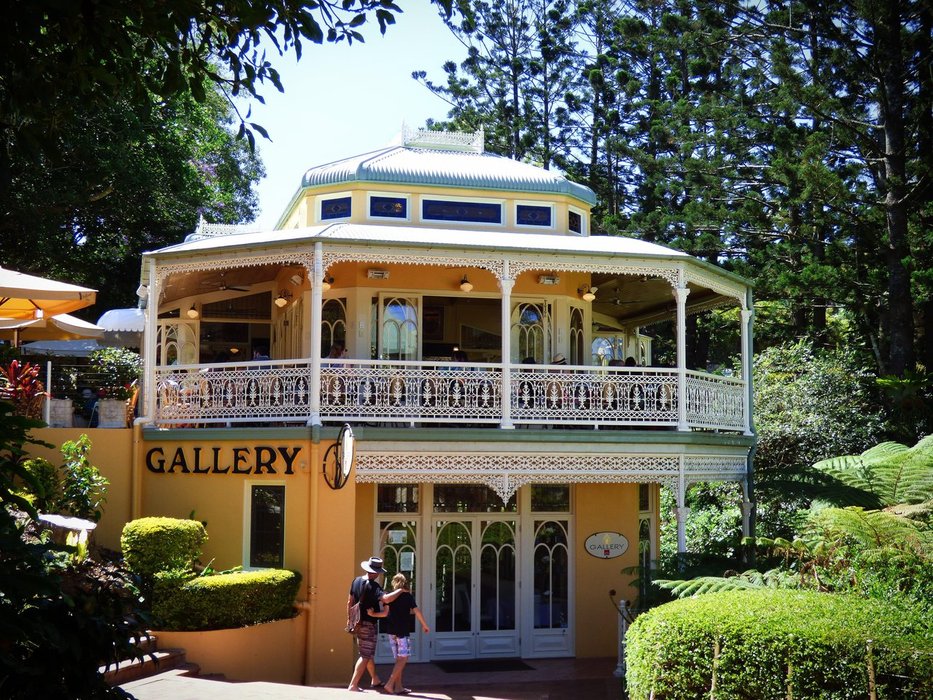 Award winning accommodation includes cosy cabins. Private cottages, country lodges and B&B's with luxury in mind, making it the idyllic romantic destination for many. Other popular attractions are the art galleries, wineries, cheese factories and craft and clothing shops.
The Poets Café is an idyllic setting for weddings and special functions and a choice of packages are available for up to 100 guests which include both venue and food. For those preferring the out door ambience, whilst making the most of the stunning views, arrangements can be made for them as well.
Tables are available on the surrounding balcony of the restaurant for every day diners with some well positioned to take in the glorious vista towards the coast. The Cafe and Brasserie boasts an enticing classical menu with daily French specials, French wines, Australian wines plus an assortment of French cakes & gateaux.
.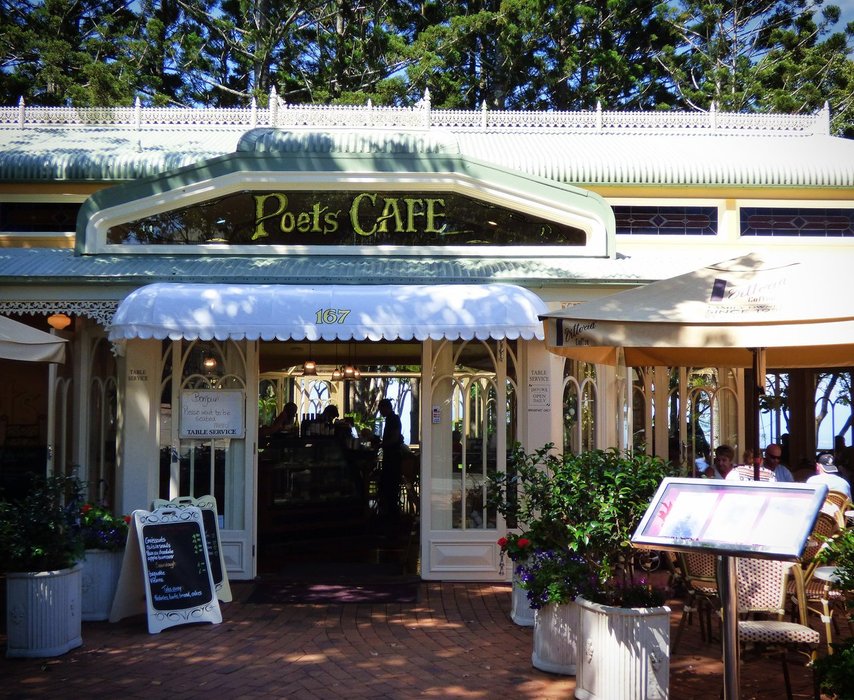 Situated below the Poets Café is an attractive Art Gallery. They feature exhibitions which include modern landscape, figurative and abstract painting, prints, ceramics, glass and sculpture. First established in 1972, the Montville Art Gallery has a long reputation for exhibiting a wide range of established and emerging Australian artists. Some of Australia's most original contemporary artists live in the Montville area therefore there is no shortage of diverse, local art available.
A patron of Fine Arts and A prominent local business owner Ron Geyl custom designed and built 'Main Street Gallery, as well as the 'Poets Cafe' upstairs. He is a patron of Fine Arts and a passionate supporter of the Arts. It is his influence that has helped shape Montville's much loved, strong village identity. Lovers of art enjoy great hospitality and fine art surrounded by the beauty of the rainforest which lies adjacent to this building.
Ron welcomes local, interstate and overseas visitors into the thoughtfully designed Buildings and traditional village street-scape, of which he is justifiably proud. As a visitor destination, Montville is unique in QLD. Their valued clients can enjoy great hospitality, and fine arts, all within the same purpose built complex, nestled into the rainforest.
Supporting the gallery through a new direction, the established Main Street Gallery is now being bought up-to-date with dynamic contemporary exhibitions.
Source:
.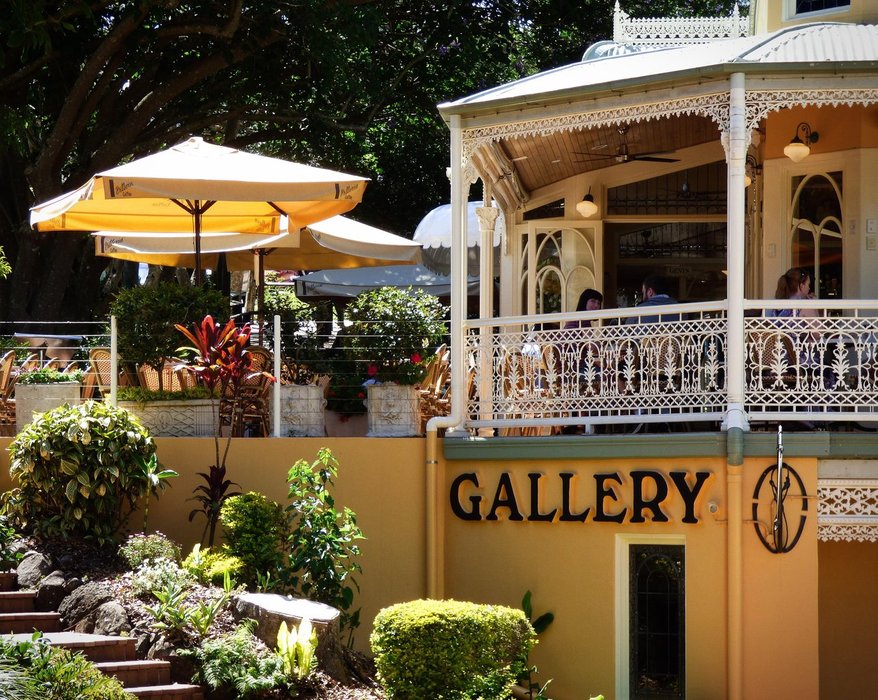 THANK YOU FOR VIEWING. HAVE A GREAT DAY.