I've been fortunate enough to go on a few cruises and I think the anticipation of going on a cruise is almost (almost) as good as being on board and sailing the ocean.
My husband (John) and I favour Royal Caribbean and The Radiance of the Seas is just one of their impressive fleet of cruise ships. This trip took us from Brisbane to Tasmania and back again, but the first part of the trip was via a plane to Sydney.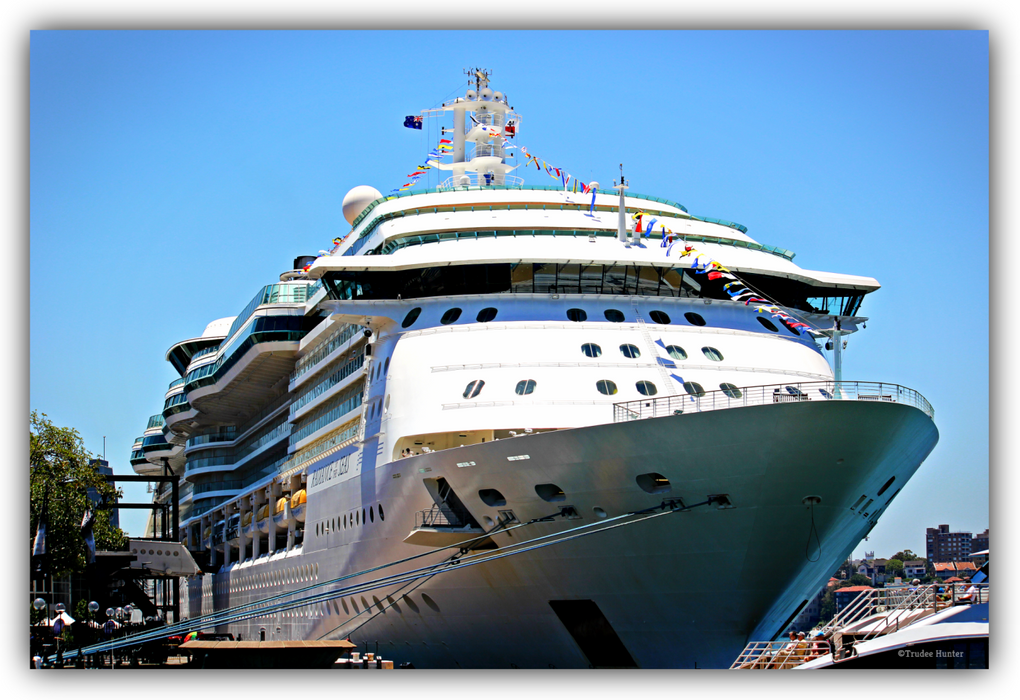 But before we got to the airport we encountered our first real challenge. One vehicle, four passengers and multiple bags. It was a tight squeeze but we managed to get everything in. I'm one of these people who cannot travel lightly. I try, I really do. But I like to have every possible scenario covered, hence the full bags and the frequent checking of the weight........and that was before my holiday even started!
This is an aerial view of the Brisbane's Gateway and Sir Leo Hiescher Bridges. The original bridge was built in 1986 and its duplicate in 2010. These bridges are situated in eastern Brisbane and run between Eagle farm and Murarrie.
"Good-Bye Brisbane!" Brisbane has a popuation of over 2.4 million and is the 3rd most populated city in Australia after Sydney and Melbourne. It is also one of the oldest cities in Australia and was founded upon the ancient homelands of the indigenous Turrbal and Jagera peoples. Brisbane encompasses an area of 15,826 km's.
The five countries who represent the highest number of residents living in Brisbane are New Zealand, England, South Africa, India and the Philippines. It was named Australia's happiest city by Lonely Planet and has been given the title as one of the "World's most livable cities." This may have something to do with the fact that it has more sunny days per year than any other Australian capital city.
This is the view as we neared Sydney. It was an awesome sight.
One and a half hours later, we touched down at Sydney airport. The weather was fine and we couldn't wait to go through customs and make our way towards the train terminal which is conveniently located at the airport.
There weren't many people at the train station which meant we shouldn't have too much difficulty managing our suitcases in the confined spaces of the train. I spoke too soon because with each stop, more and more passengers squeezed in, trying not to frown at the culprits (us) who took up a lot of room at the entrance of the train.
We arrived at the train terminal at Circular Quay. It was a hub of activity as people were coming and going in all directions. They were disembarking off ferries and boarding them, heading towards bus stations or walking to their destinations. They were booking train tickets or pausing for coffee. One young tourist sat quietly in the midst of all the hustle and bustle to plan his itinerary. He was a man with a plan.
Our eyes focused on our reason for being here. There she sat in all her radiant beauty, waiting to receive her excited passengers! The Radiance of the Seas is a cruise ship owned and operated by Royal Caribbean International. I hardly know where to start with telling you about a few of the many amazing features of this ship but as I'll be sharing many photos in following blogs, I'll make this introduction brief.
Activities and events on board include, mini golf, a sports court, table tennis, multiple pools and spas, a fully equipped gym, dance classes, live orchestras, cupcake and sushi making classes, disco parties and teen parties, solarium (one of my favourite places) a library and card room, an arcade casino, a program for babies and toddlers, art auctions, and indoor and outdoor movies.
And of course there are the many bars, cafes, and dining areas which include buffet and fine dining and specialty restaurants which cater for all tastes and preferences. But I will share these with you soon.
Circular Quay is situated on the edge of Sydney Harbour and is the location of many iconic attractions such as the Sydney Opera House the Royal Botanic Gardens, and the Sydney Harbour Bridge.
Busy ferries come and go day and night and it is a merging point for train, bus and cruise ship passengers. The Museum of Contemporary Art Australia and The Rocks are situated on the western side of Circular Quay. Everywhere you walk along this fascinating foreshore you will be treated to spectacular views.
We had the choice of boarding the ship and getting re-aquainted with the layout and her many features and enjoy an early lunch or have a look around the fascinating sights at Circular Quay first. We opted for the latter.
Sydney Harbour is never still. There are boats, ferries and ships of all sizes going about their business and the captains of all floating vehicles need to have their wits about them in order to keep a keen eye on the water traffic to avoid possible collisions.
The Sydney Harbour Bridge, (affectionately known as "The Coathanger,") was opened in 1932 after taking six years to build. Interesting facts: It is made of steel. It contains 6 million rivets which were hand driven. When painting is required, the area covered by painters to complete the job is equivalent to 60 sports fields.
Walking the length of the Sydney Harbour Bridge requires a certain amount of fitness. After a long walk to the base of the pylon, 200 steps are required to reach the top. It cost sixpence to cross it when it was first opened. It is free to walk across and there is a bicycle track for bike riders in a special lane. The Sydney Harbour Bridge is the world's largest but not the longest. Total length = 1149 metres. Arch span = 503 metres. It consists of 8 vehicle lanes, two train lines, a footpath and a cycleway.
Without a doubt, The Sydney Opera House is one of Australia's most famous landmarks and is certainly one of its most recognizable buildings. It was completed in 1973 and has achieved world-wide acclaim for its unique design and construction and also has the distinction of being called an architectural icon of the 20th Century.
It is situated on Bennelong Point and commands all the attention it gets every single day of the year. The Opera House is a predominant feature amongst many others in Sydney's Harbour and is probably the most photographed building in Australia.
There are more appealing sights yet to show you in the Circular Quay area before we board The Radiance of the Seas but I will make sure to include them in my Part #2 blog of my 'Cruising with Radiance.' Stay tuned!
THANK YOU FOR VEIWING. HAVE A GREAT DAY.