Al Fresco dining at Degraves Street.
A short distance from the bustling metropolis of iconic Flinders Street in downtown Melbourne, in Australia one can walk to the very fascinating Degraves Street; a Laneway where Al Fresco is always a most enjoyable experience. The indoor options are also available.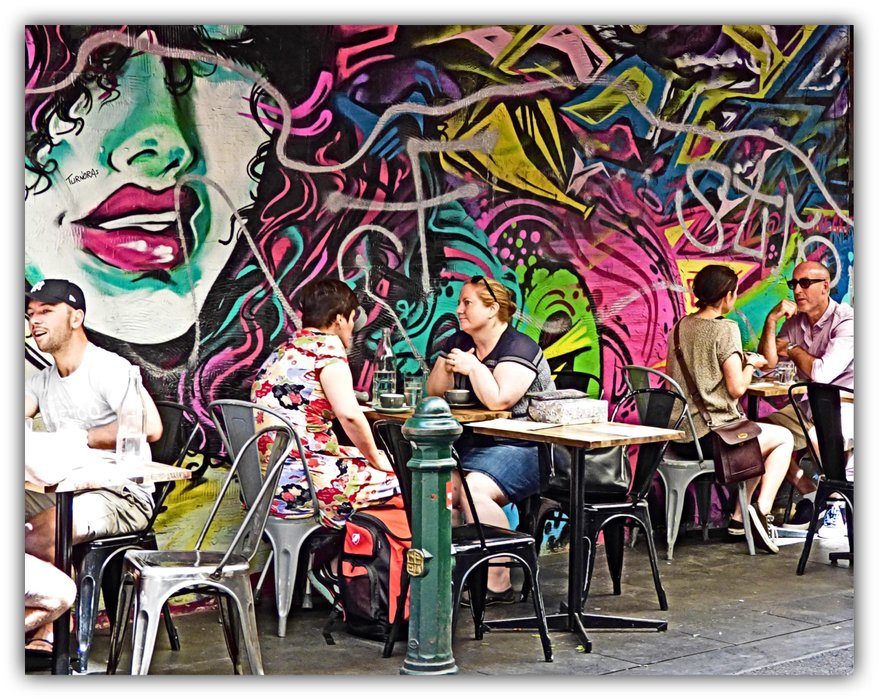 The city of Melbourne is famous for its eclectic and wide range of quality restaurants and cafes and it is not unusual to have a colourful graffiti backdrop to enhance ones' dining pleasure outdoors.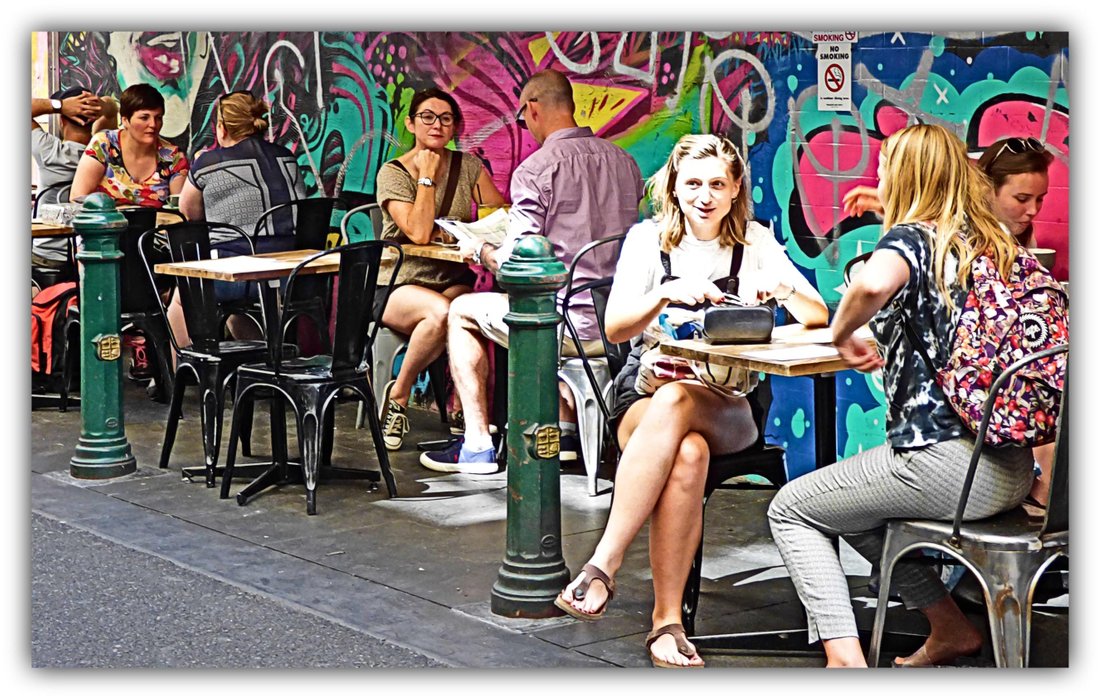 These images were taken in Degraves Street which is a pedestrian precinct and thoroughfare in the central business district.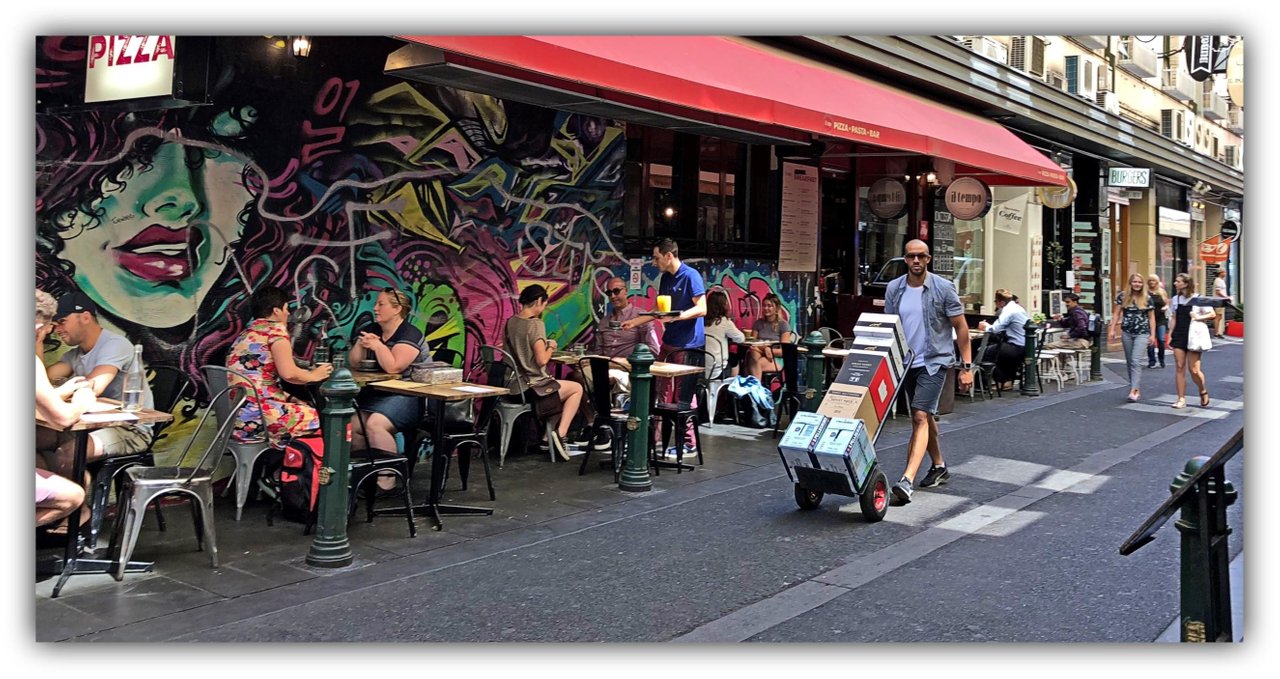 It is a popular place to meet with friends or enjoy some solitude amongst the crowds. The coffee aromas that hover in heavenly wafts in the air confirm to me once again, that life without coffee is a life sorely deprived. Degraves Expresso has a history of being one of the longest-serving cafes in the laneway. It caters for coffee lovers whatever the season with heaters placed strategically around their Parisian styled tables.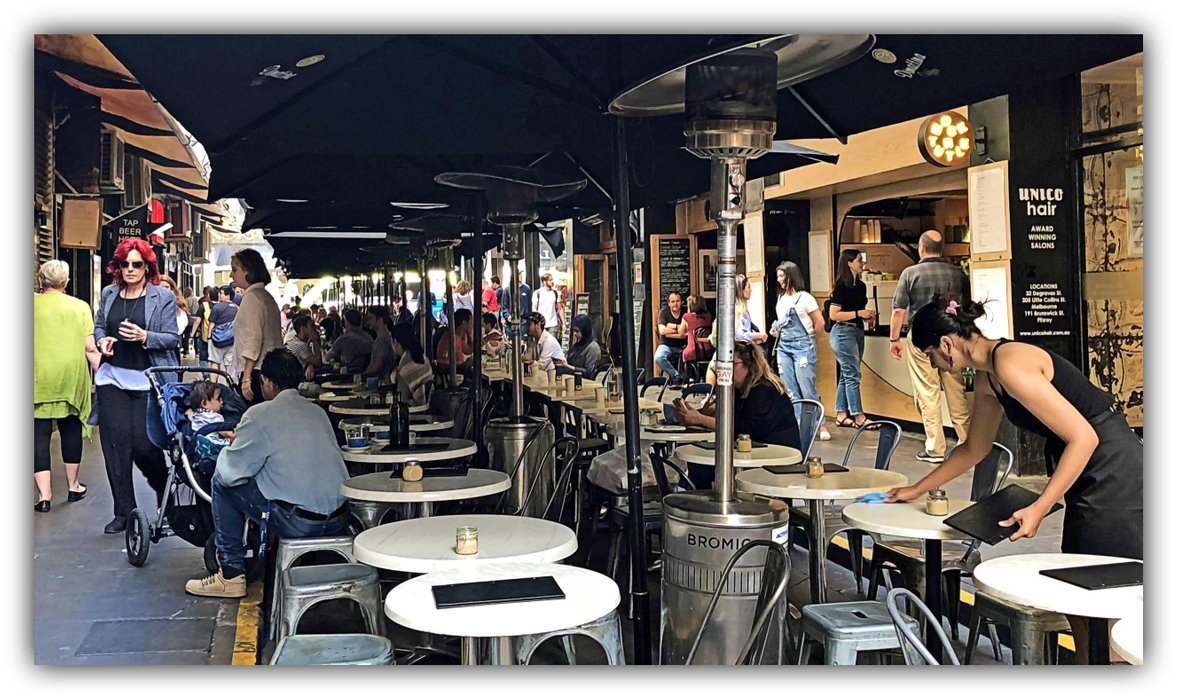 People can decide to take in the interesting sights in the heart of the city whilst enjoying a coffee or meal or immerse themselves in a riveting book for half an hour during their lunch break. For early morning diners, the RMB Café offers all day breakfasts which include Spanish eggs and pancakes with a tempting array of toppings to choose from.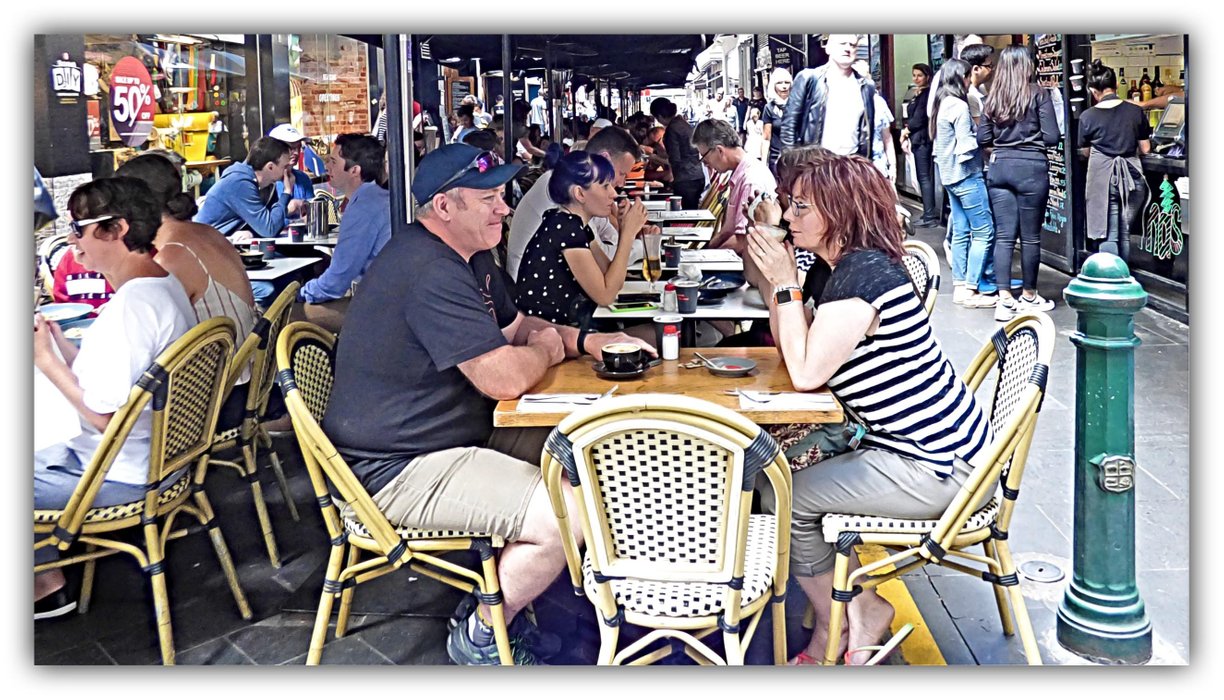 Degraves Street Melbourne is well recognized for its coffee and dining culture and street art scenes. This street was named after Charles and William Degraves who were pioneer merchants from Hobart, Tasmania. In 1849 they built a flour mill on the corner of Degraves Street and Flinders Lane.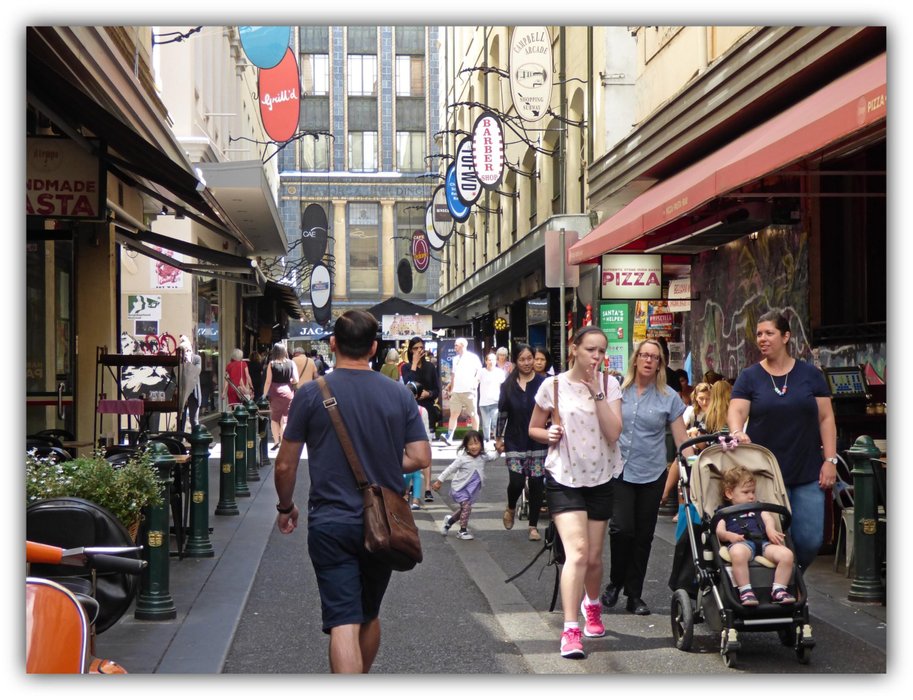 The variety of delicious soups simmering away in large pots smelt divine. This is my kind of food. I loved the fact that this restaurant had a very worthy 'Pay It Forward,' program to feed the homeless.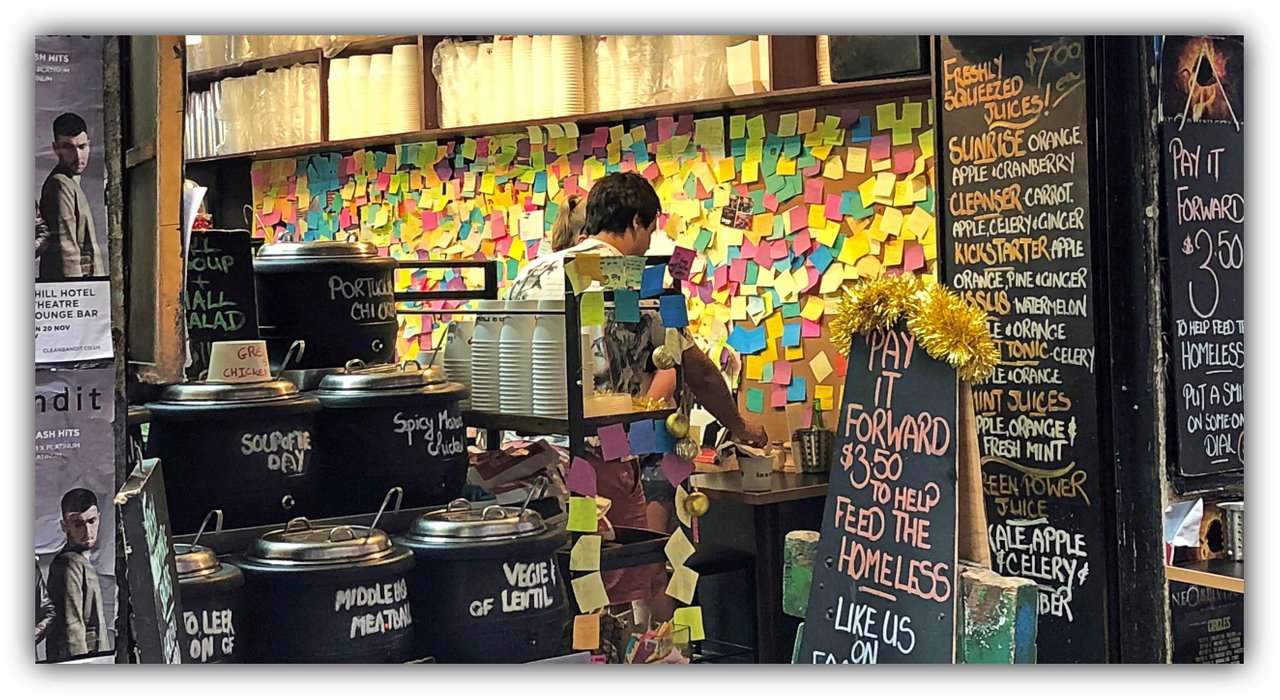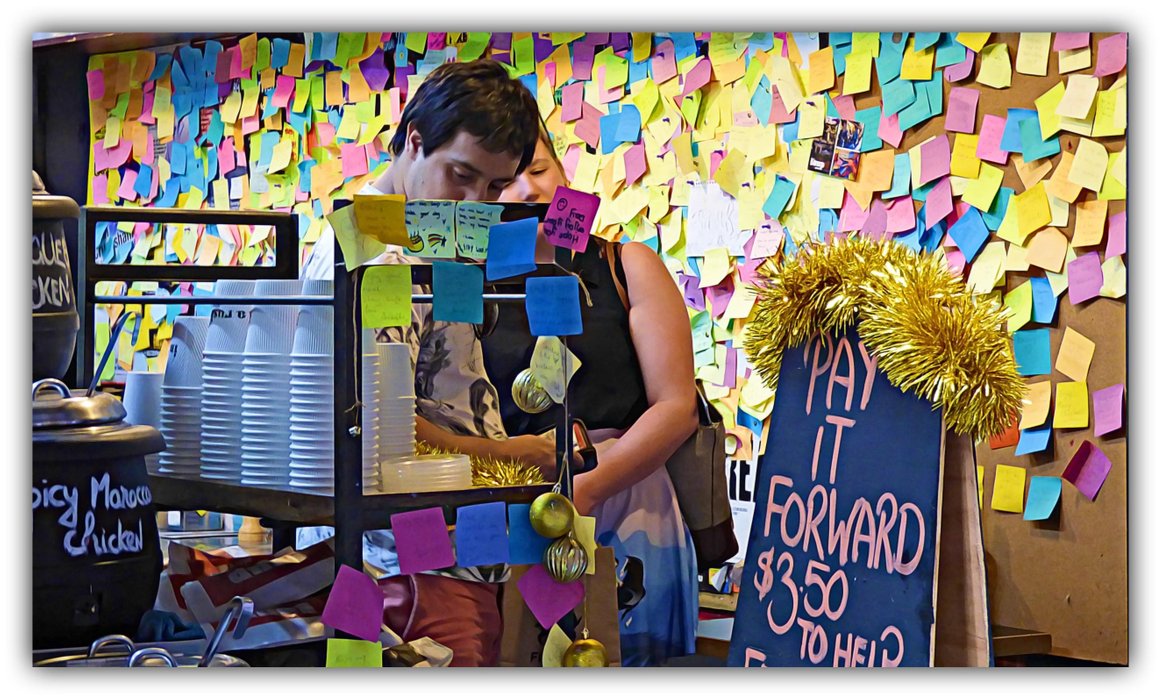 If burgers are your thing, Metro Burgers were advertising something a little different. Such as; 'Lamb Burgers,' and 'The Outback Burger,' which featured Kangaroo patties. I realize this must appear a little 'tasteless' to the uninitiated. I haven't personally consumed Kangaroo meat but apparently it is very lean and if not overcooked, it can be very flavoursome.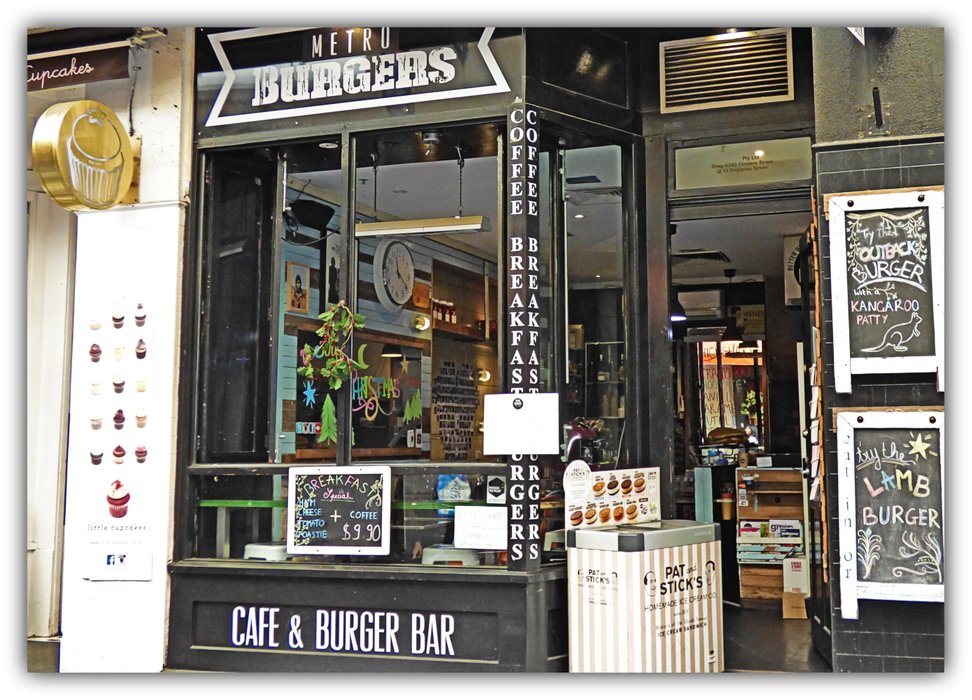 Some of the distinctive features of Degraves Street have prompted people to describe it as having a Parisian or European ambience and appearance. During the 1990's, many of the taller, older buildings were converted into loft style apartments which brought fresh life and energy to the place.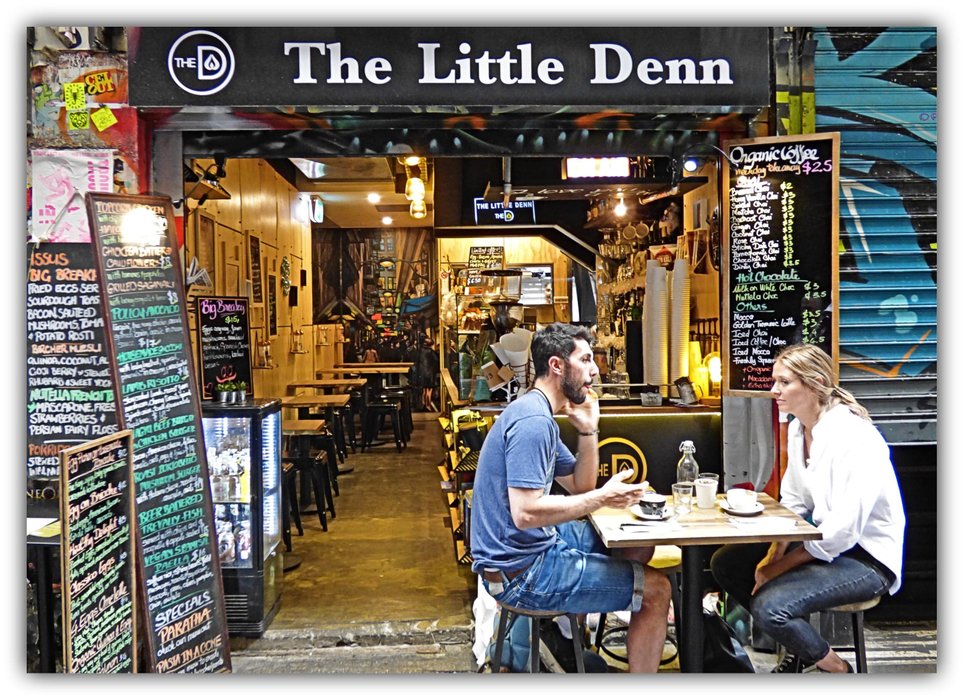 Amongst the many features of this cobblestoned, hundred meter long street, is the Little Cupcake shop. Their variety of sweetness in a cup is amazing, tantalizing and very hard to by-pass. Then there is Waffle On which also caters for those with a sweet tooth. It is situated at the entrance of the Campbell Arcade and a few of their most popular waffle toppings are Nutella, Ice-cream and strawberries.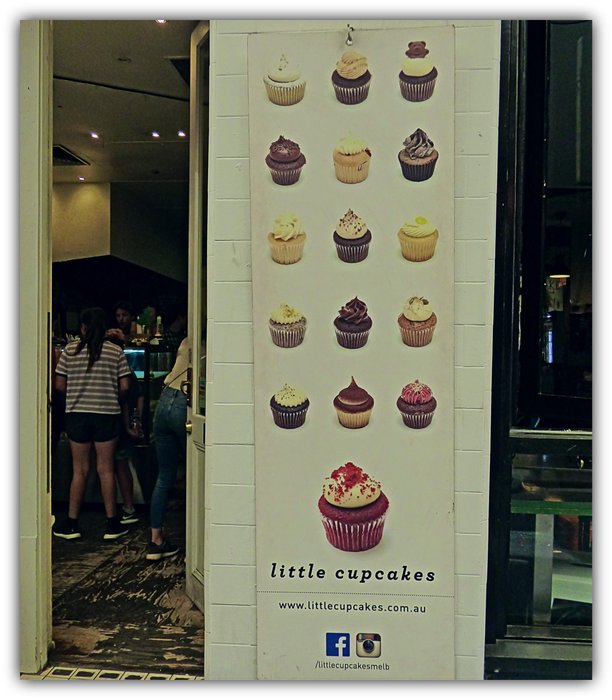 Decadent little morsels aren't they?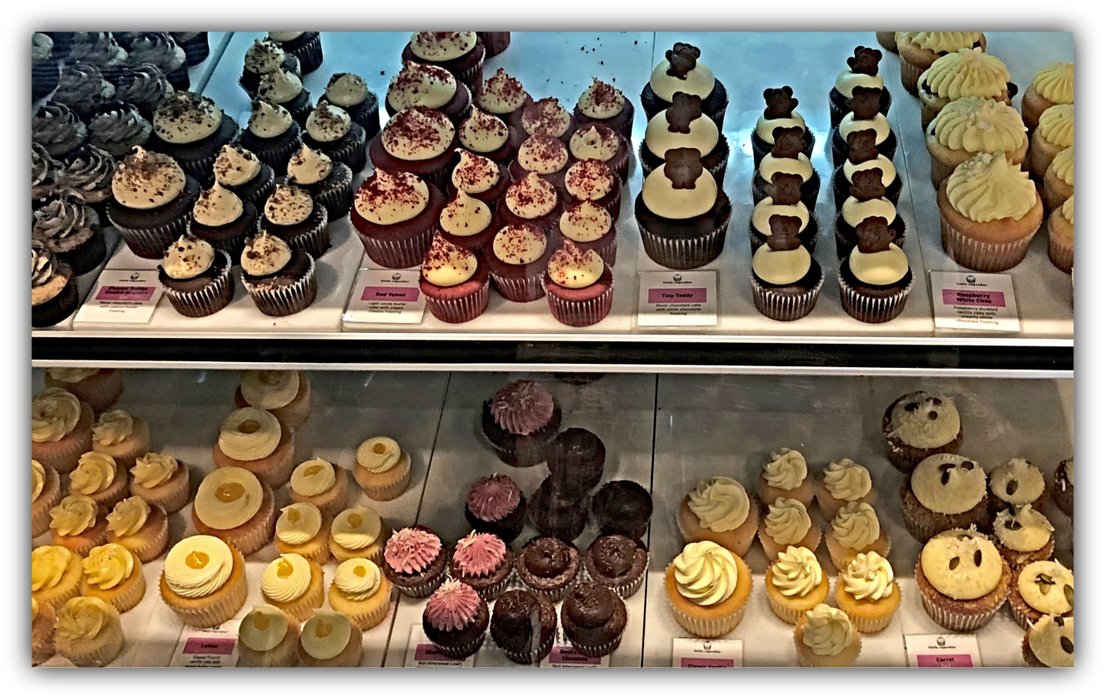 I have it on the best of authority (by my friend who accompanied me on this trip) that the double chocolate cupcakes with caramel frosted icing, drizzled with maple syrup was worth every tantalizing mouthful. It did look lovely but I'd rather enjoy my coffee unadulterated and uncluttered with sweet treats.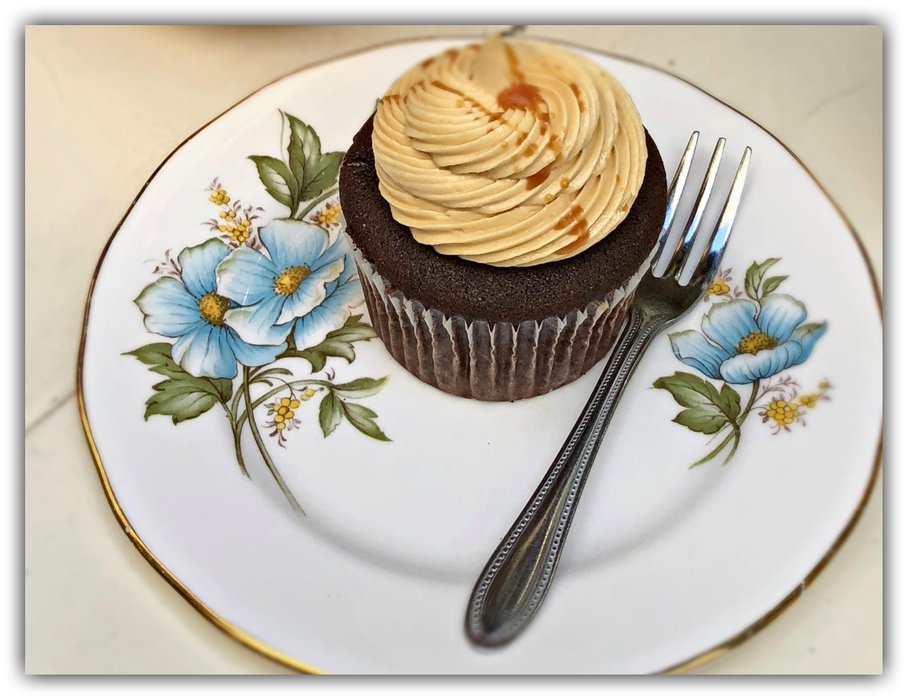 Christmas is just around the corner but who would have the heart to chomp into those artistically created festive cupcakes? Obviously some people because I am quite sure they weren't made as decorations.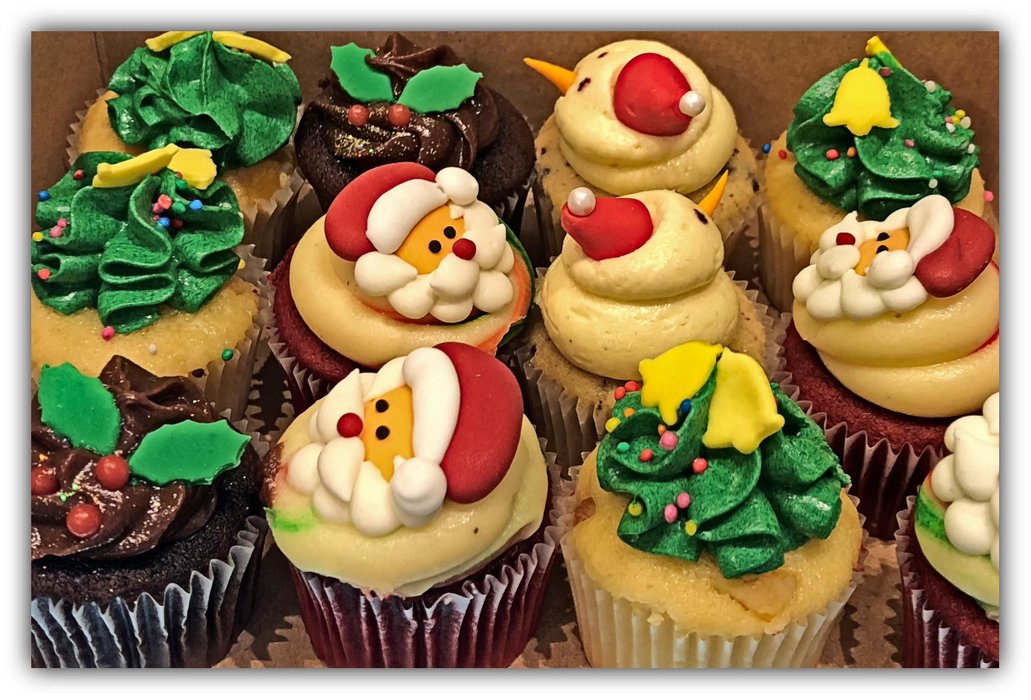 You can't miss Clementine's with its colour coordinated orange scooter as the main prop outside the entrance. This classy store stocks a diverse range of products including fine food, gifts and homewares; many of which are locally produced by small makers and artisans in the Victorian area.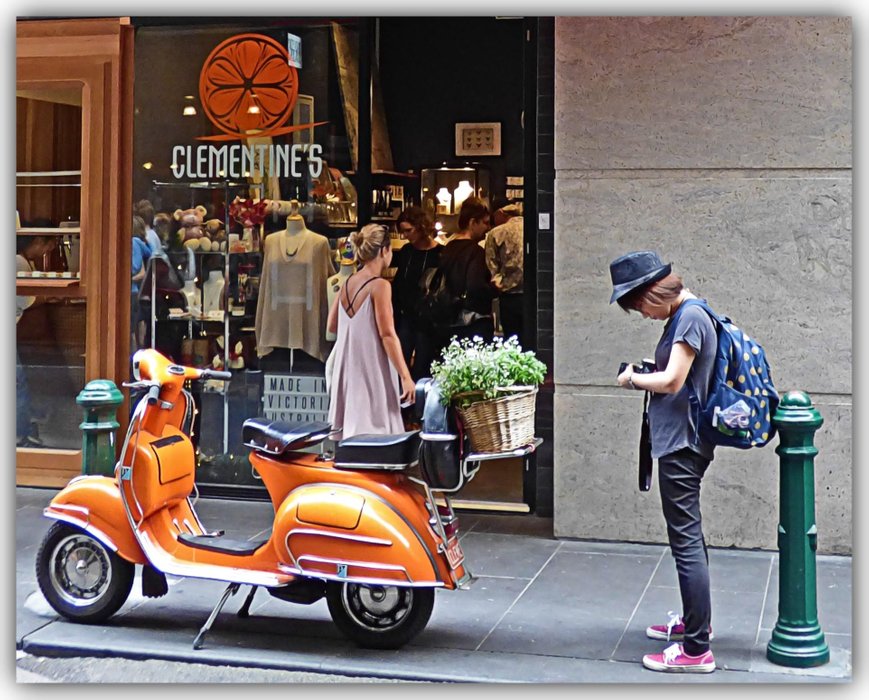 Other goods are sourced from top producers and these items include delicious gourmet food, ceramics, greeting cards, jewellery, scarves, knitwear, toys, tableware soaps and skincare and other fascinating keepsakes.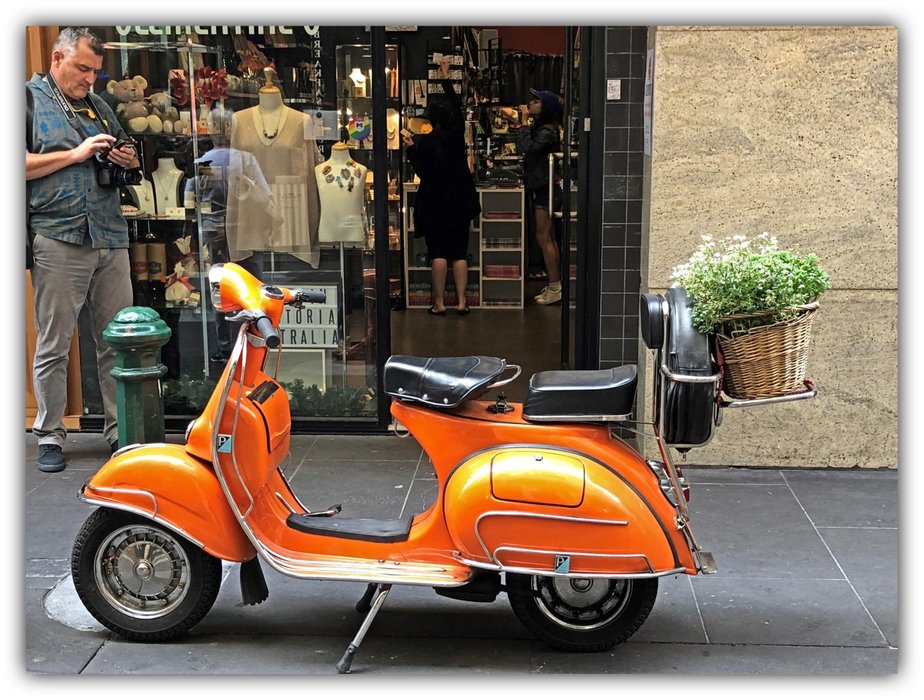 This photo is coutresy of my friend's son who simply cannot resist doughnuts. She didn't buy any but sent the photo to him to let him know she was thinking of him. (Very 'sweet' of her) While she took the photo, I read the description beneath them.
"Chocolate glazed doughnuts with cream glaze drizzle, topped with pieces of double chocolate chip, cookies dough, oreo pieces, white and dark mini chocolate chips and rainbow sprinkles."
(Apologies to all doughnut lovers who can only look but not taste)

This area is a favourite haunt for buskers and street performers which of course creates an enjoyable, casual and entertaining atmosphere.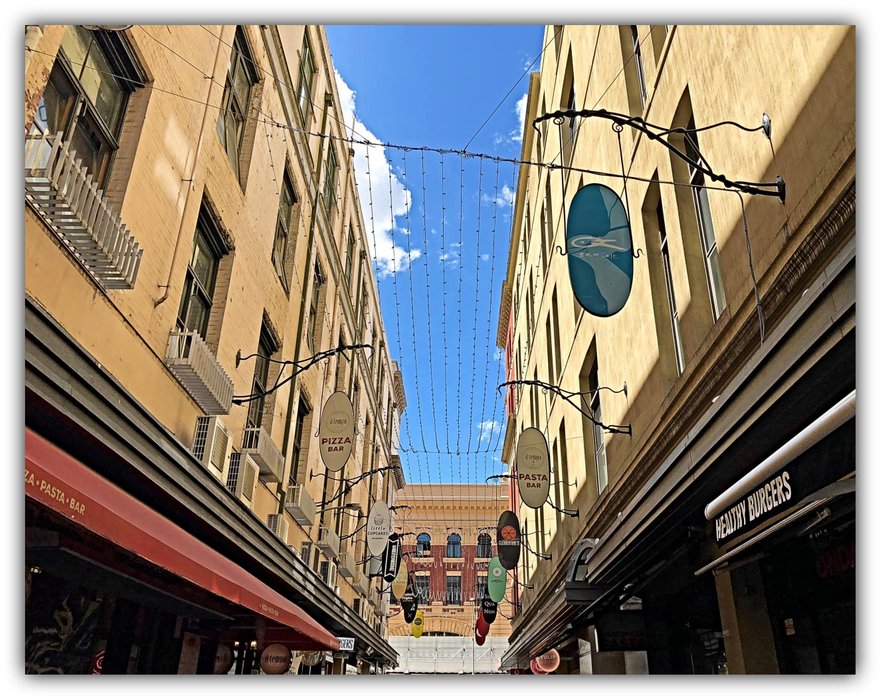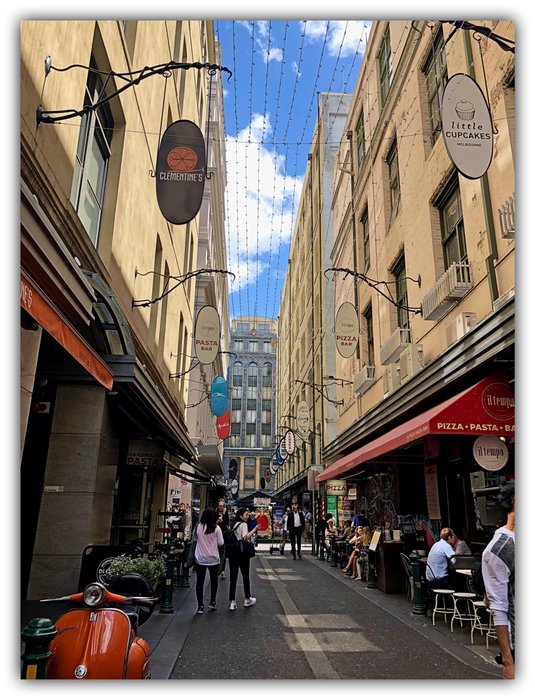 Source:
THANK YOU FOR VIEWING. HAVE A GREAT DAY.