"Stay, low, low, low!!!", our guide was yelling, hardly audible, as the wind was howling, "lie on the ground!!!". I dove to the ground with my feet slipping on the small rocks. The wind had suddenly picked up and was about to blow us off the mountain, but by staying low we managed to avoid a major disaster. We were on our way back from the summit of Mount Bonete (at 5,000 metres altitude), an acclimatisation climb to test our skills. If this acclimatisation climb was going to be anything like summiting Aconcagua itself, we were in for a few very tough days climbing the 'real' mountain.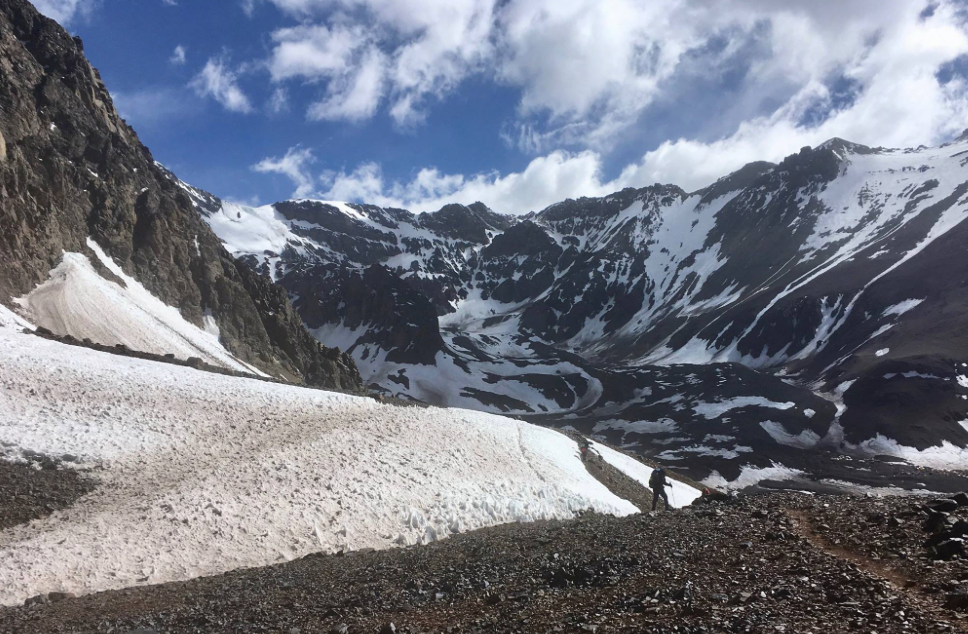 On our way to Mount Bonete, own photo
A quick recap from my latest post We were climbing Aconcagua in Argentina, the highest mountain in the Southern hemisphere, with an international bunch of climbers. We started off in Mendoza, famous for its wine, and were now on the slopes of the mountain, in a tented camp in Plaza de Mulas, base camp for most climbers attempting to climb Aconcagua.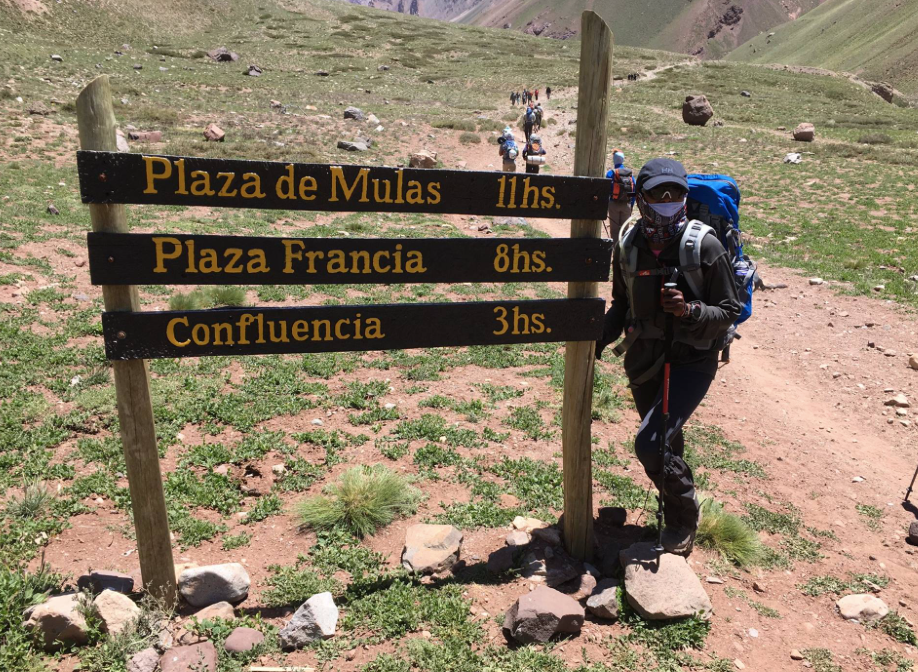 On our way to Plaza de Mulas, own photo
We had set of to Mount Bonete from Plaza de Mulas, base camp for Aconcagua, at 4,370 metres of altitude. Plaza de Mulas is named after the mules, the hardy animals that carry most of the food, tents and luggage for everybody up to base camp.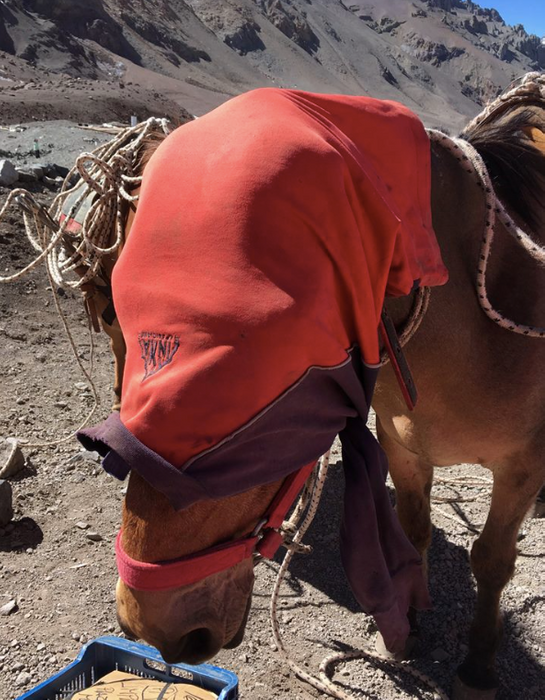 mules, own photo
Plaza de Mulas is an interesting place, almost like a village, it has internet service, albeit quite expensive, and you can take a hot shower if you are ready to pay for it. It's a place where some people get the first real signs of altitude sickness, and it has doctors that will check everybody for any signs before they will give the green light to proceed up the mountain. If the light is red then many people are ordered to go down, often with the helicopter.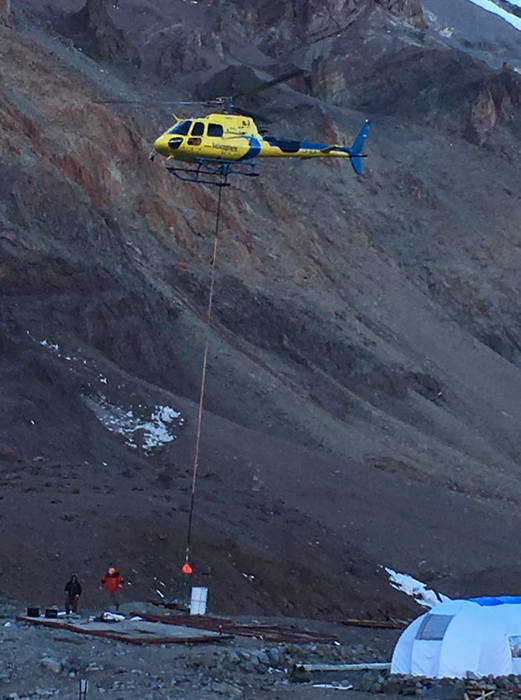 helicopter near base camp, own photo
But Plaza de Mulas is also a place for waiting, acclimatising, waiting for a weather window, or resting after the first luggage drops at the higher camps. The camp can be really cold, depending on the weather and can be hit by serious snow storms as well.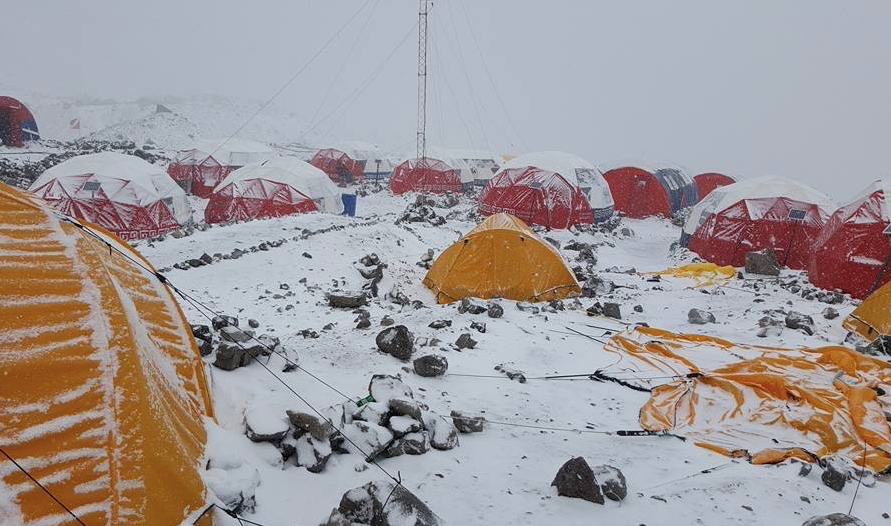 plaza de mulas, own photo
It is in Plaza de Mulas where we also had our practise session with the crampons and ice axe. We were not carrying a lot of technical equipment, but a few items are compulsory for climbing Aconcagua: helmet, crampons and an ice axe. We had been carrying our own, but you can also rent this gear before the climb in Mendoza. We didn't want to take the risk of relying on this important gear without knowing the quality of the items, and that is why we decided to carry our own gear. The ice axe would only be for arresting a fall (there is no ice climbing involved), and the crampons, the metal spikes that you can bind under you shoes, are for the very steep slopes that are covered in snow and ice.
So there we were, practising, sliding down some gentle snow slopes near the camp, turning around quickly and try and arrest the fall with the ice axe, while at the same time trying not to get our crampons catch the ground. It all went pretty well and would be even more fun if it wasn't so cold.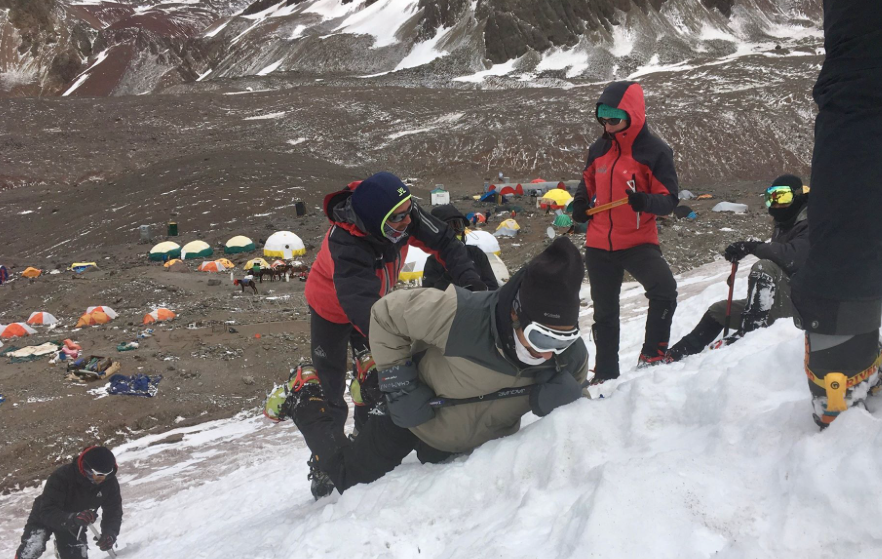 Practising, own photo
The exercise was followed by our climb up to Mount Bonete, the acclimatisation climb. We battled those sudden strong winds, snowfall and very cold temperatures, but all in all it went pretty well. The sudden wind disappeared as quickly as it came and we all came down safely. Our guide was reacting a little panicky when the wind was suddenly blowing, but we didn't think much of it that time. We would see his panic again soon though, on the day of our summit push……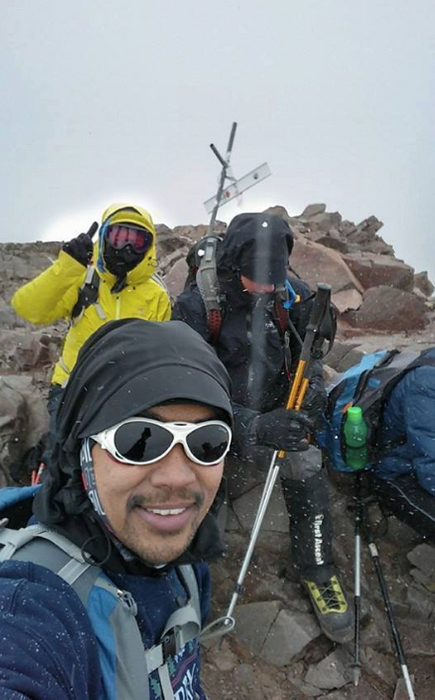 the top of Mount Bonete, own photo
The main reason for timing the summit attempt of course is the weather on the mountain. The high winds are the key issue, which make climbing nearly impossible, 120 kilometre per hour winds are not uncommon. After a few days, our daily walk to the weather station finally brought a bit more positive news, it was "go" time…. Finally we were off, on our way to Camp 1 at Plaza Canada, where we had dropped some of our luggage a few days earlier.
below some facts about Aconcagua:
Aconcagua – some facts:
• 6,961 metres high (22,837 ft)
• Argentina
• Highest mountain outside Asia
• Highest point in the Southern Hemisphere
• Part of the Andes mountain range
• 15 kilometres from the border with Chile
• Aconcagua is one of the Seven Summits
• 'Aconcagua' either means 'Sentinel of Stone', 'White Sentinel', there are some other meanings around as well
Climbing routes on Aconcagua
• The North route is the normal route
• The North route does not require any technical climbing
• The camp sites on the northern route that we passed through were:
o Penitentes 2,740 metres
o Confluencia 3,380 metres
o Plaza Francia
o Plaza de Mulas 4,370 m, base camp
o Plaza Canada, 5,050 metres
o Nido de Cóndores, 5,570 metres
o Plaza Colera, 6,000 metres
• Our estimate is that around 30 % of climbers succeed in reaching the top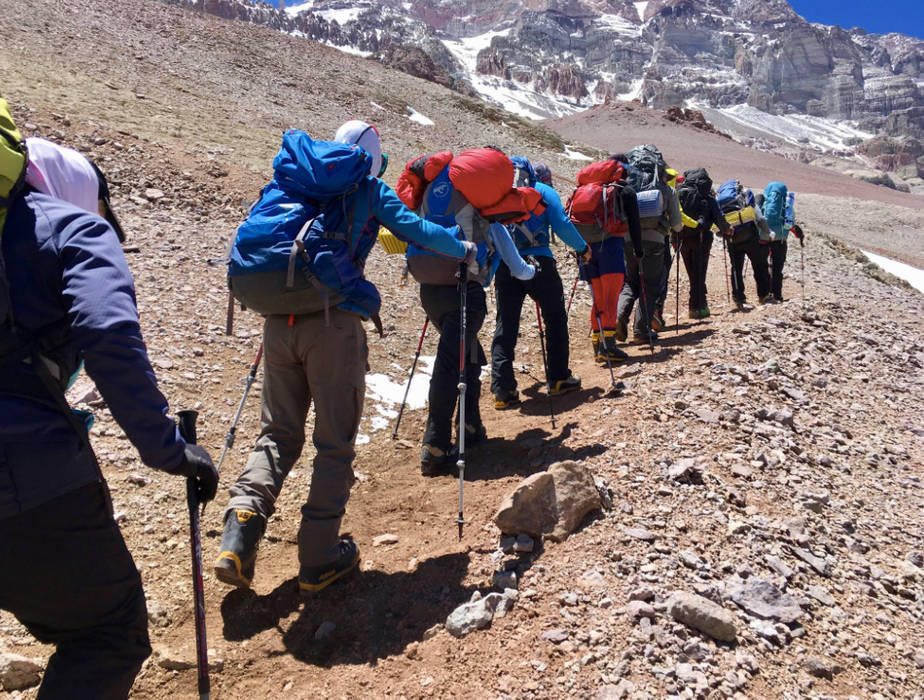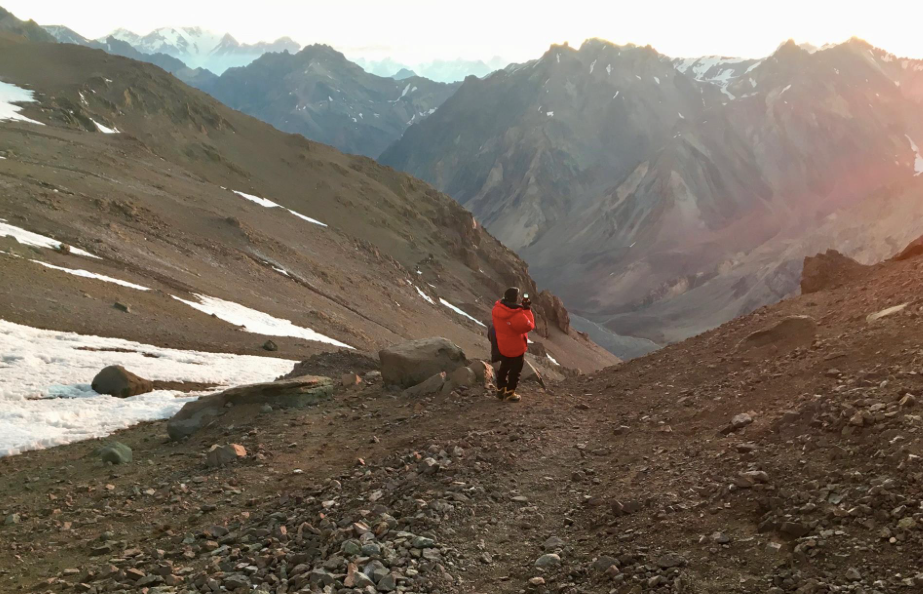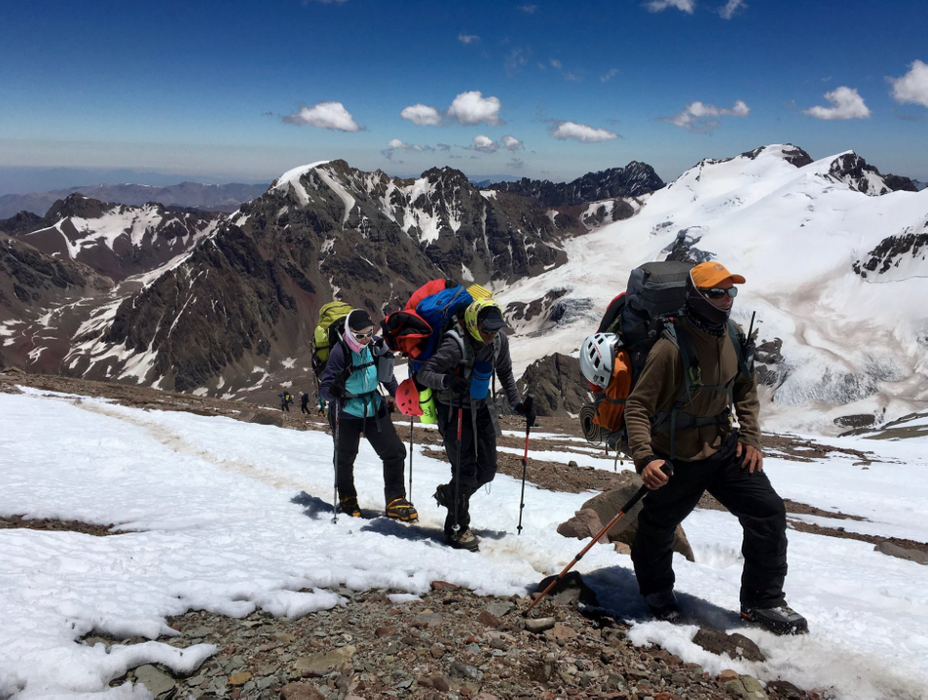 photos are my own unless specified otherwise