I have visited a few countries that not a lot of people visit, mainly for work. This is the fourth write-up on Papua New Guinea; some other countries that are on my list to be included in this series are: South Sudan, Iraq, Bhutan and perhaps a few others.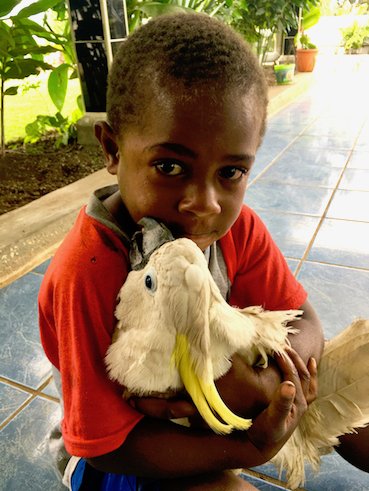 A boy and his bird, photo credit: own
Today I had plenty of exercise. First I went for a run this morning.... Man, those hills in the highlands are steep! And when you run in this area, you have to keep a bit of air for greetings, as everybody you meet will say "good morning!", people are incredibly friendly.
My second exercise came in the car, during the drive from Goroka to Kainantu. I have seen plenty of potholes in my life, but this road has some serious ones, some almost half a meter deep! We bounced around for two hours, and at least I don't have to do any abdominal exercises anymore, they got plenty of exercise….
One of the many potholes, photo credit, own
Traditional house, Goroka, photo credit: own
Today I managed to visit some farms, and it is interesting to see how the local people grow their crops and keep their livestock. An almost unbelievable fact is that in the whole of Papua New Guinea, there are only two local veterinarians at present. There is no Veterinary University in the country, and the Government plans to send students to Australia to study Veterinary Science; somehow this plan has not materialized in recent years.
In the area of Goroka, a lot of Arabica coffee is grown, and there are many exporters bringing the coffee overseas. However, the coffee is not marketed as coming from Papua New Guinea, so you will be hard pressed to find PNG coffee in your stores. This is something that will most likely change in the near future, as the coffee growers think there is a great opportunity for speciality coffees. A lot of coffee in PNG is grown organically, so this coffee can also be marketed as such.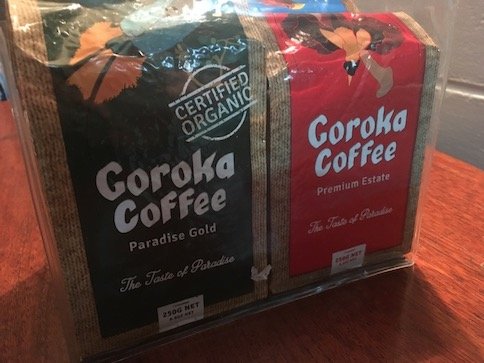 Goroka coffee, photo credit: own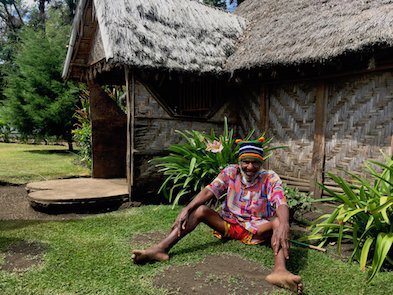 The old man and the house, photo credit: own

"Please no can come inside along here", written in Pidgin, photo credit: own
---
Travel
My Sailing boat
Road less Travelled: Eritrea –-- Somalia --- North korea --- Papua New Guinea (1)
Coffee
coffee porn
Cycling
The toughest MTB races on earth Freedom Challenge --- Iditarod Trail Invitational
MTB back garden ride
Crocodile providing MTB support