I have been lucky enough to visit a few countries for my work, that are not the usual tourist destinations. I recently visited Papua New Guinea, a very interesting country to visit.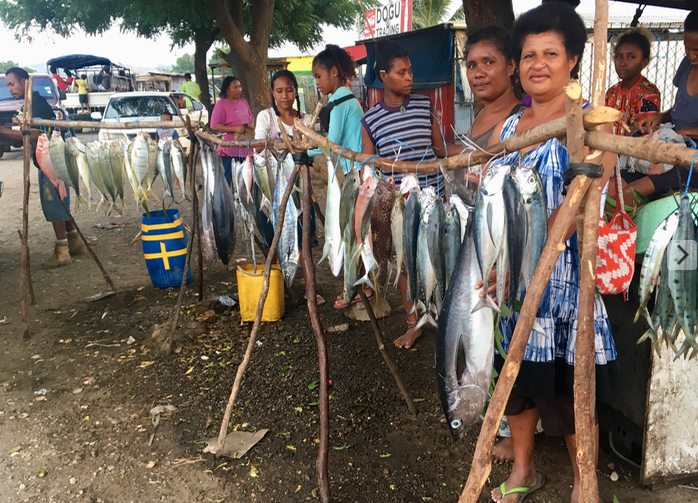 Fish market east of Port Moresby, source: own photo
Papua New Guinea - everyone is using PNG for short - is a bit of a trip to get to from South Africa. I spent 16 hours on the plane, not including a long lay-over in Singapore. I arrived very early morning in Port Moresby, and lucky enough they let me check into my hotel to get a bit of much-needed sleep.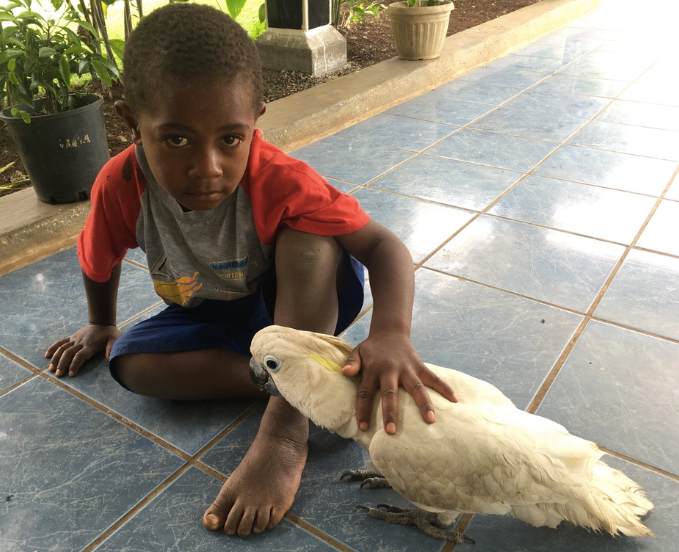 A boy and his bird, source: own photo
You hear stories about how violent a country this is, especially gender based violence and you hear about corruption and tribal violence; there are over 850 languages in the country and it is one of the most culturally diverse countries in the world. This cultural diversity is creating tensions though, and a lot of fighting is between different ethnic groups. I have to say that I have not experienced anything in relation to this, but of course this doesn't mean it is not there and it is something everybody should be aware of.
My program involved quite a bit of travelling, visiting Port Moresby, Goroka, Kainantu, Lae and Kokopo.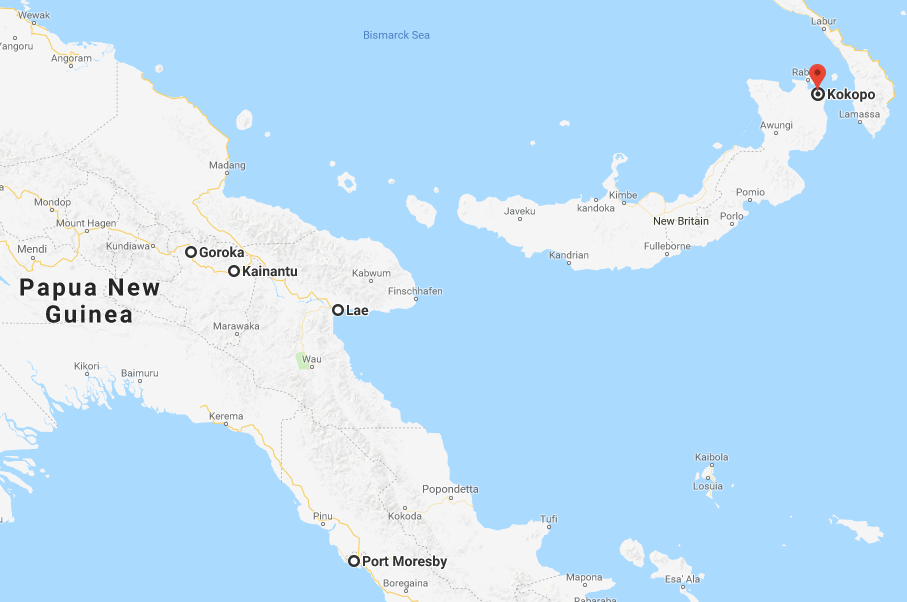 source: Google maps
Already the next day I found myself on a plane from Port Moresby to Goroka, in the highlands. The distance from Port Moresby to Goroka – as the crow flies – is 420 km, but there is no road. It is a short flight of just over 1 hour with a Dash 8 aeroplane. Goroka is famous for its colourful cultural show, held every year in September. Goroka, at 1,500 meters of altitude, has a very pleasant climate, with constant average temperatures of around 22 degrees Celsius.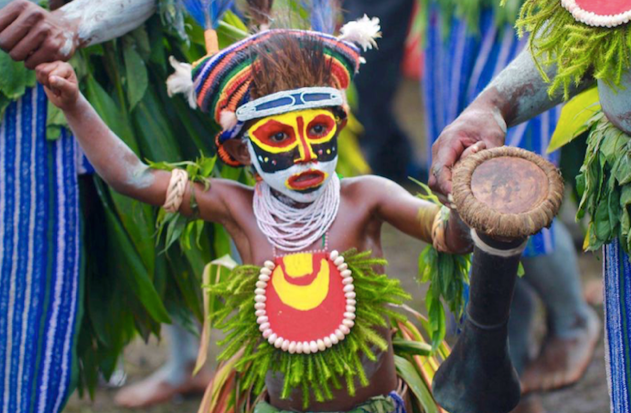 Goroka show, source: abc.net.au
From Goroka we travelled by car to Kaiantu, the road is full of potholes, some almost half a meter deep! Even though it was only a trip of around 2 hours, I was knackered by the time we arrived.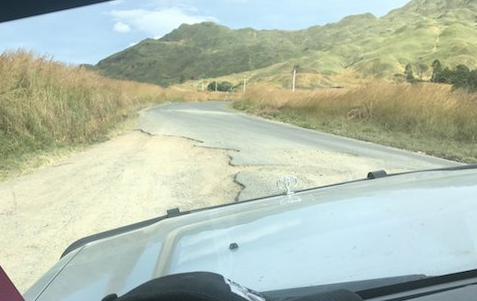 One of the potholes on the Goroka-Kainantu road, source: own photo
From Kainantu we drove to Lae on the coast; Lae is the major economic hub for the Morobe province. I then flew back to Port Moresby, and the next day onwards to Kokopo, on one of the other major islands. Kokopo is the capital of the province of East New Britain. Kokopo only became the capital in 1994, after a major volcanic eruption destroyed most of the houses of Rabaul, which was the capital at that time. Most people were able to escape the ash clouds, and only five people died during the eruption.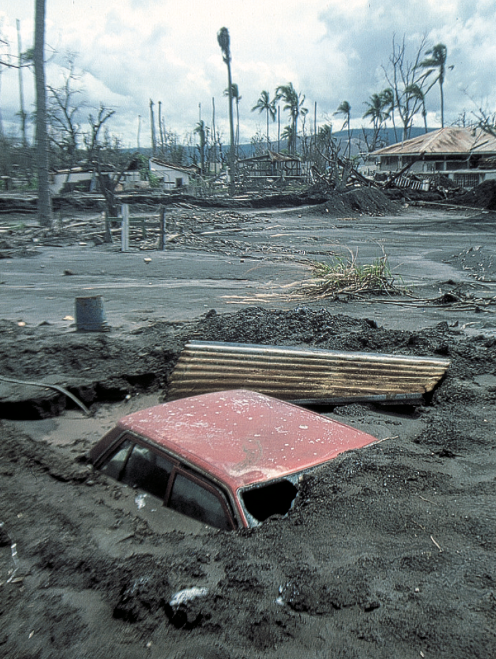 Rabaul after the eruption, source: wikipedia.org
As I already said, there are over 850 languages in PNG. PNG is the most linguistically diverse place on earth. The country has four official languages: Tok Pisin, English, Hiri Motu, and the Papua New Guinean Sign Language. Tok Pisin ("Talk Pidgin") is the 'lingua franca of the country, and English based creole language, and the most widely spoken. I could pick up quite a bit of it when people speak, and with a bit of practice, you can understand the writings for a large part as well. Some examples of Tok Pisin are:
Baggage – kago ('cargo')
Goodbye - gutbai
Thank you very much – Tenkiu tru
What do you want? – yu laikem wanem samting?
Counting: wan – tu – tri - foa – faiv – sikis – seven – et – nain - ten

"Please no can come inside along here", photo credit: own
In East New Britain, 'Unserdeutsch' is spoken, or also called 'Rabaul Creole German'. This is a German-based creole language. It is the only creole language that has developed from German, which is unique. The language however is disappearing over the last few years.
All in all my few days in PNG were quite pleasant; I enjoyed the people, very friendly and everybody will greet you. The country is beautiful as well, and it seems everything grows in PNG, from coffee, cacao, coconuts, vanilla, and a range of other spices. I would certainly like to come back and see more of this intriguing country!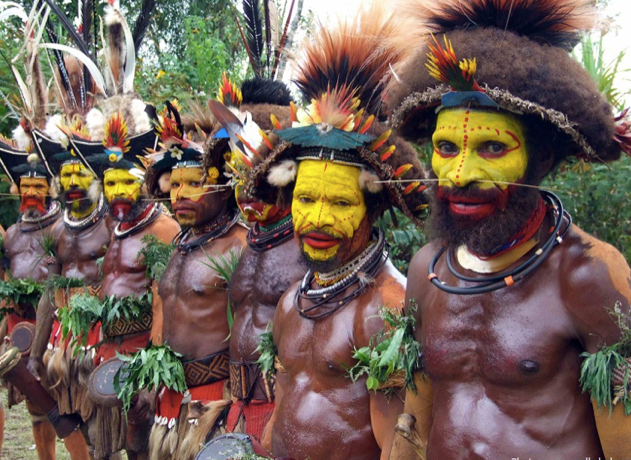 source: wallsdesk.com