Salzburg abseits von Mozart.
Die Stadt an der Salzach hat viel mehr zu bieten als nur Mozart & Co. Sommerliche Impressionen mit einem Blick auf die Stadt von der Festung Hohensalzburg aus gesehen, habe ich in
diesem Artikel
eingefangen. Dass sich ein Besuch auch im Winter lohnt, sollen die folgenden Eindrücke zeigen.
Salzburg away from Mozart
The city on the river Salzach has much more to offer than only Mozart & Co. Summer impressions with a view of the city from the Hohensalzburg Fortress I captured in
this post
. The following pictures should show that a visit in winter is also worthwhile.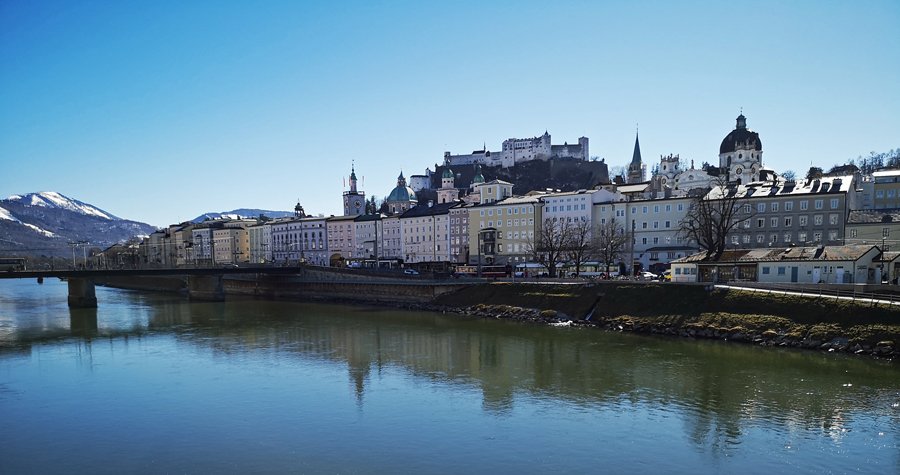 Das Stadtzentrum von Salzburg ist überschaubar, am besten erkundet man es zu Fuß. Mein Weg vom Bahnhof in die historische Altstadt führt entlang der wenig attraktiven Rainerstraße vorbei an der Stadtpfarrkirche St. Andrä zum Garten von Schloss Mirabell.
The city centre of Salzburg is quite manageable. The best way to explore it is on foot. My way from the train station to the historic old town leads along the unattractive Rainerstraße passing the parish church St. Andrä to the garden of Mirabell Castle.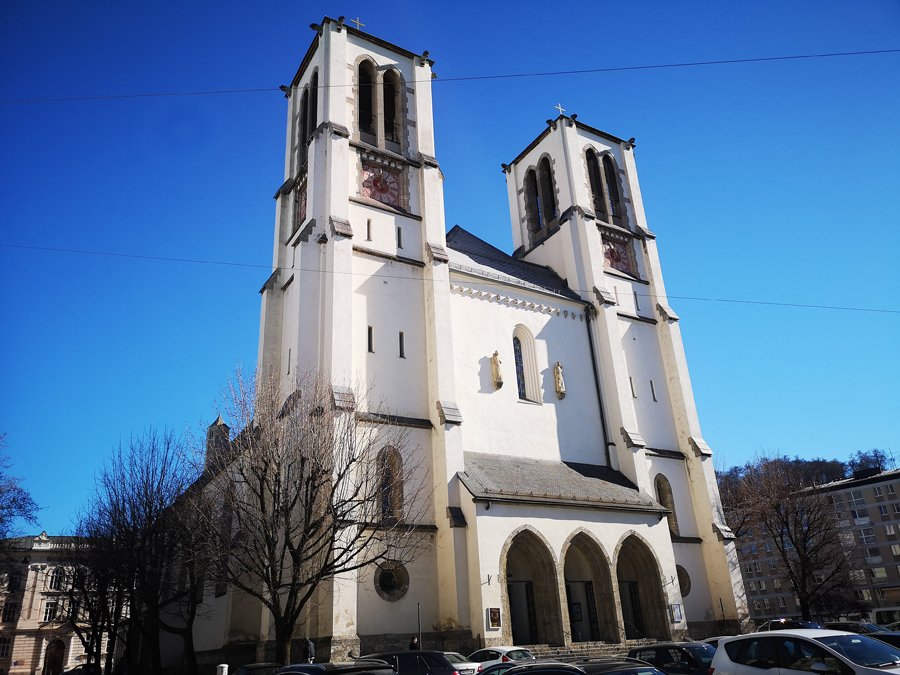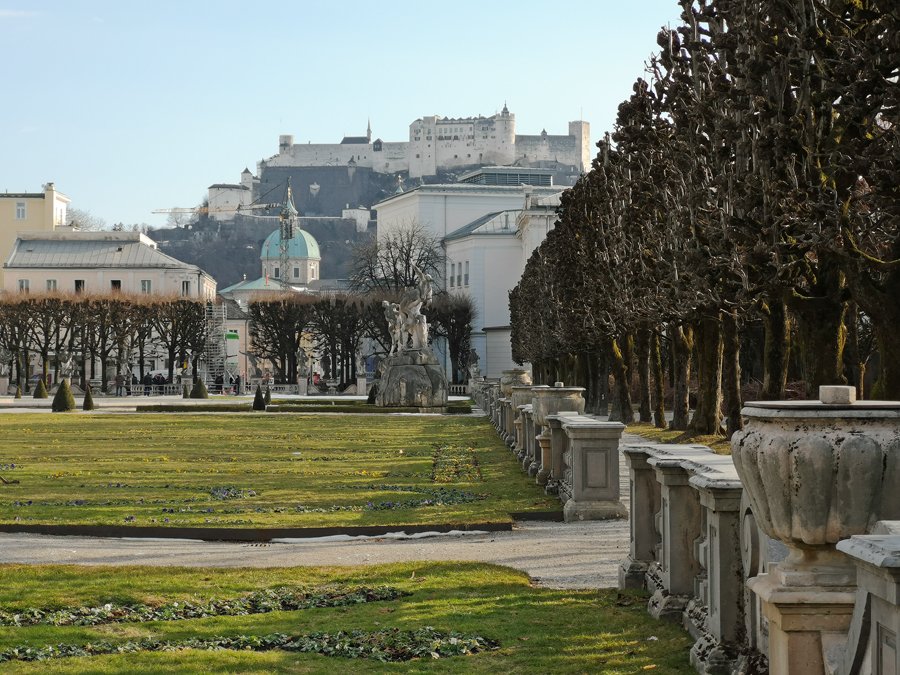 Der barocke Mirabellgarten befindet sich noch im Winterschlaf und ist größtenteils abgesperrt. Deshalb begnüge ich mich mit einem Blick auf die Festung Hohensalzburg und gehe weiter zum Makartplatz.
The baroque Mirabell Garden is still in hibernation and is largely closed off. Therefore I am content with a view of the Fortress Hohensalzburg and go on to the Makartplatz.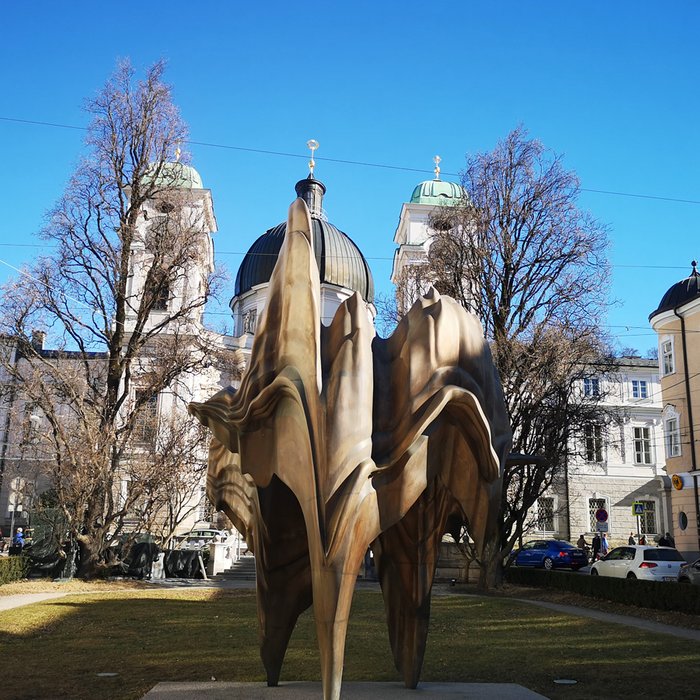 Hier treffe ich auf die bronzene Skulptur 'Caldera' von Anthony Gragg. Sie ist Teil des Kunstprojektes der Salzburg Foundation, einer privaten Initiative, die sich für zeitgenössische Kunst im öffentlichen Raum engagiert und sich als Antwort auf das traditionelle Mäzenatentum der Stadt versteht.
Here you can see the bronze sculpture 'Caldera' by Anthony Gragg. It is part of the Salzburg Foundation's art project, a private initiative dedicated to contemporary art in public space, which sees itself as a response to the traditional sponsorship of the city.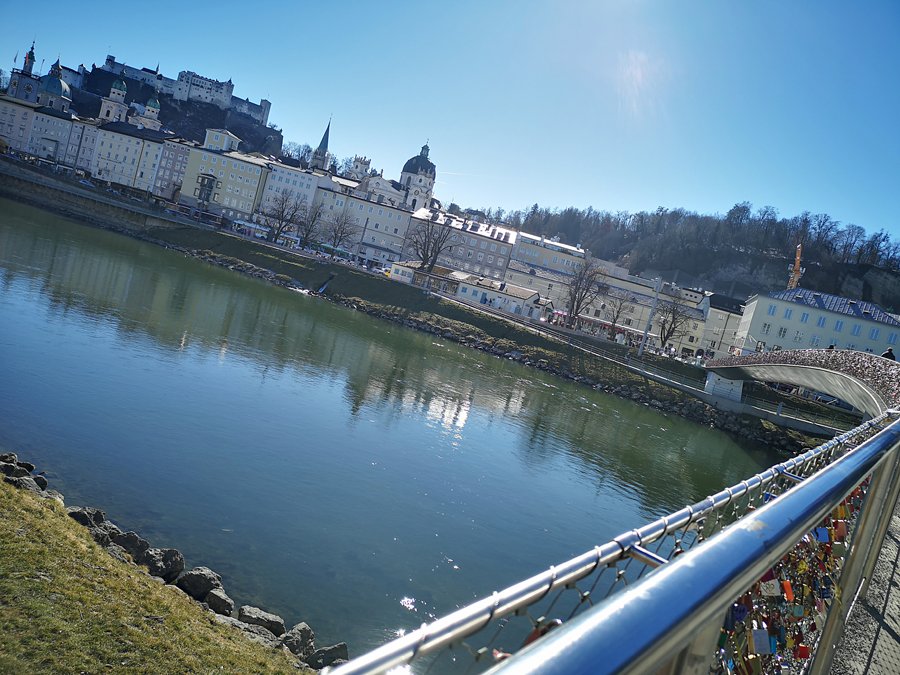 Der Makartsteg, dessen Geländer mit unzähligen Liebesschlössern behangen sind, führt auf die andere Seite der Salzach. Von hier ist es nicht mehr weit zu Salzburgs bekanntester Adresse, der Getreidegasse.
The Makartsteg, whose railings are decorated with numerous love-locks, leads to the other side of the Salzach. From here it is not far to Salzburg's most famous address, the Getreidegasse.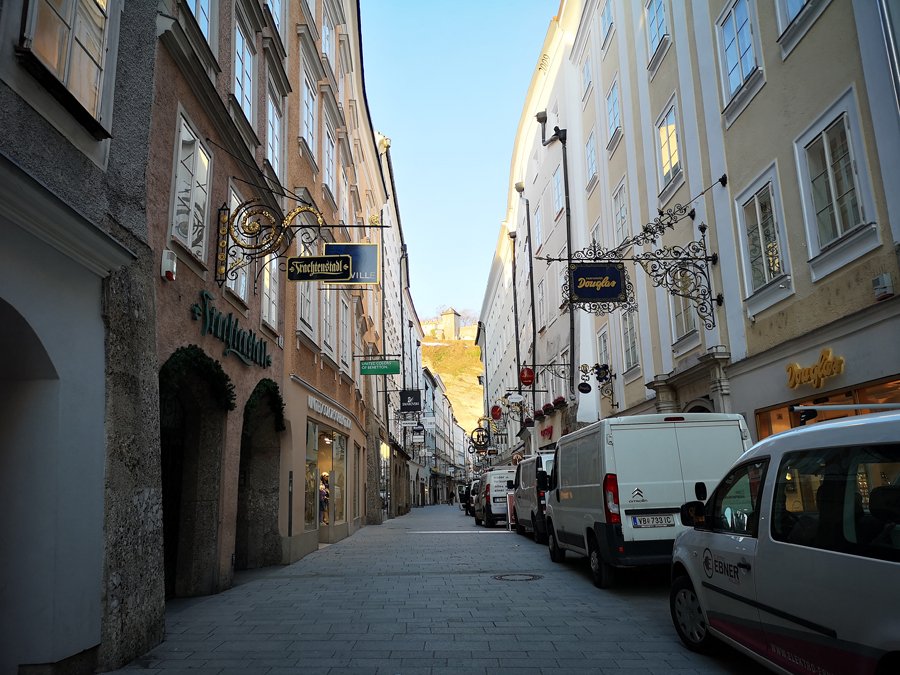 Früh am Morgen gehört die Gasse den Zustellern. Mit der Öffnung der Geschäfte um 10 Uhr werden auch die ersten Touristenströme in die historische Gasse geschwemmt. Vorher bietet sich eine gute Gelegenheit, einen näheren Blick auf die kunstvollen Zunftschilder zu werfen.
Early in the morning the alley belongs to the deliverers. When the shops open at 10 a.m., the first crowds of tourists come in the historic lane. Before that there is a good opportunity to take a closer look at the artistic guild signs.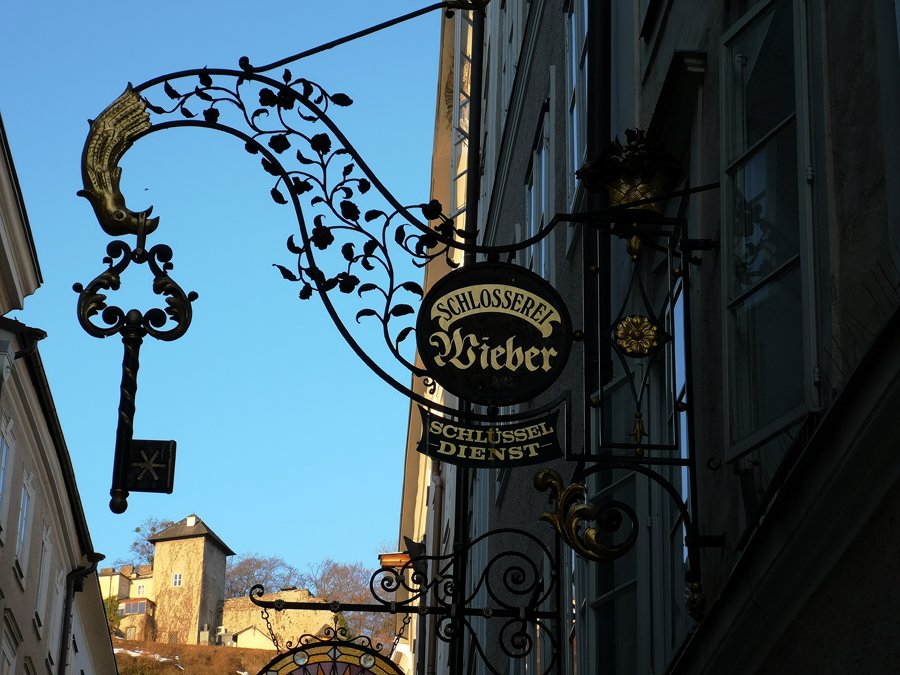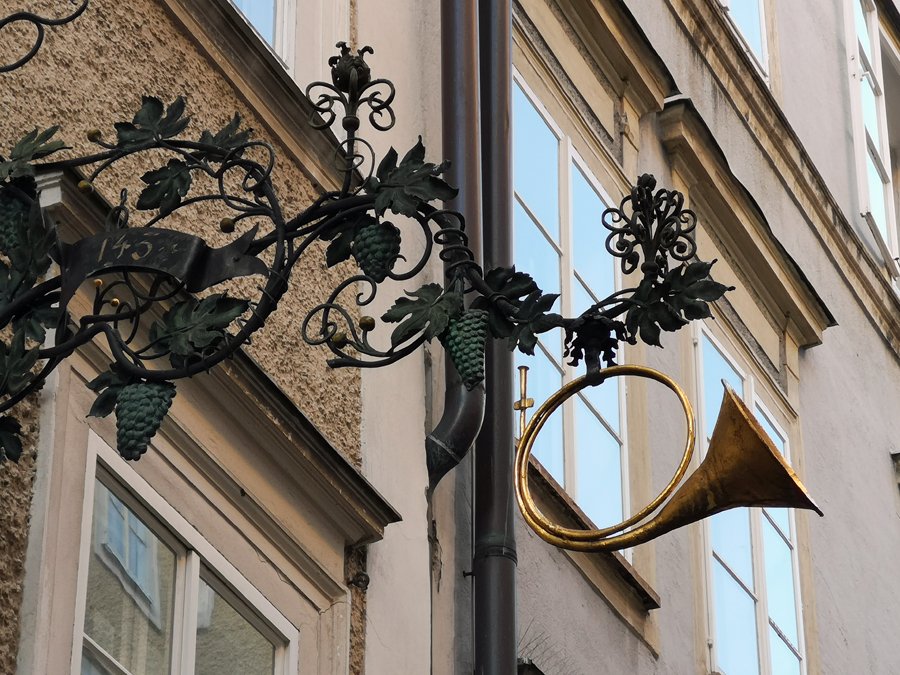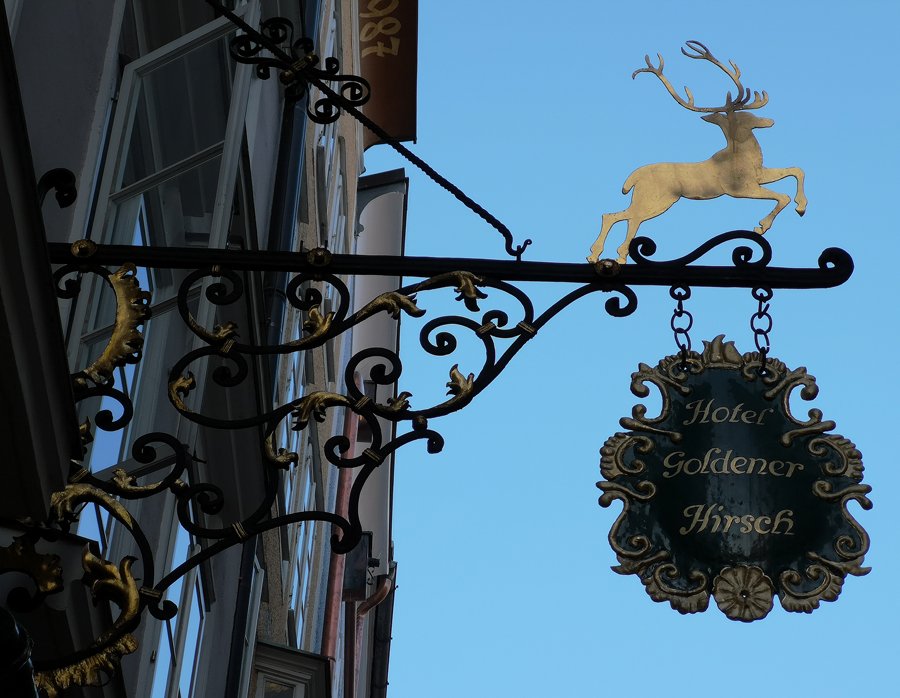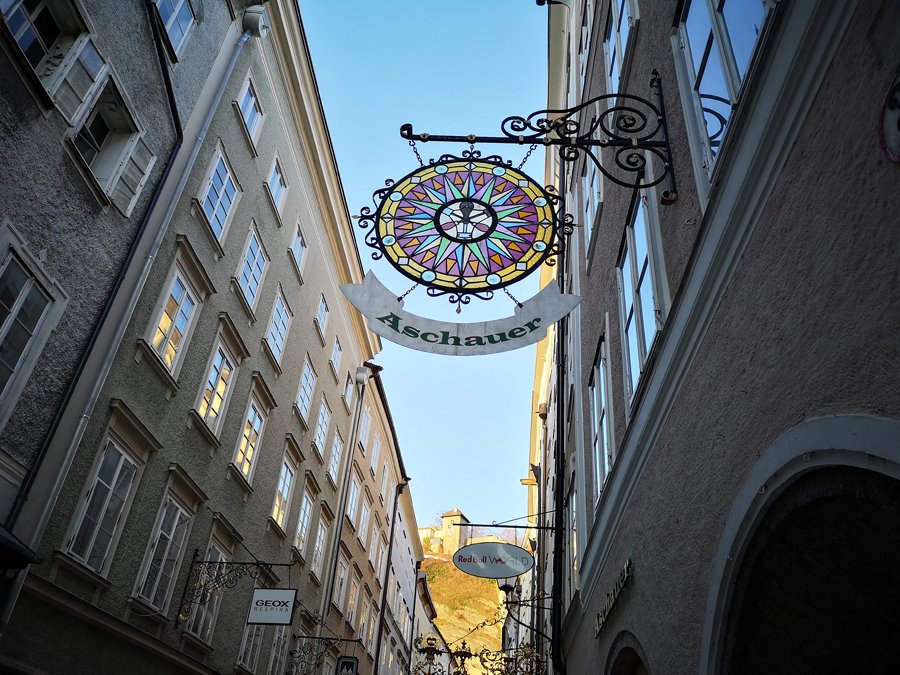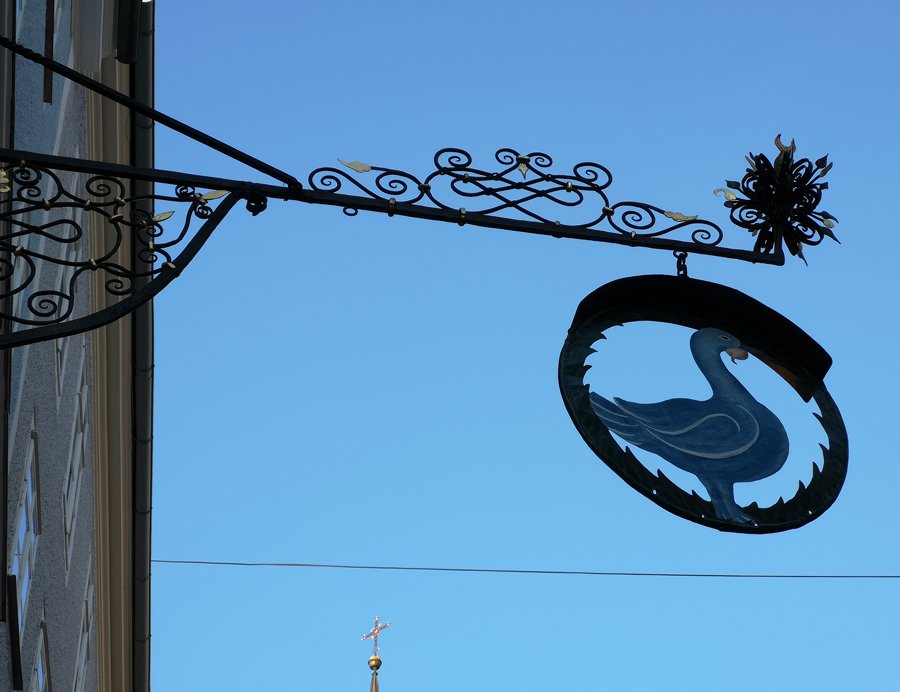 Weiter geht es in den Festspielbezirk, vorbei an der historischen Pferdeschwemme. Hier wurden Pferde und andere Zugtiere nach der Arbeit gesäubert und getränkt.
I continue into the festival district, past the historic Pferdeschwemme. Here horses and other draught animals were cleaned and watered after work.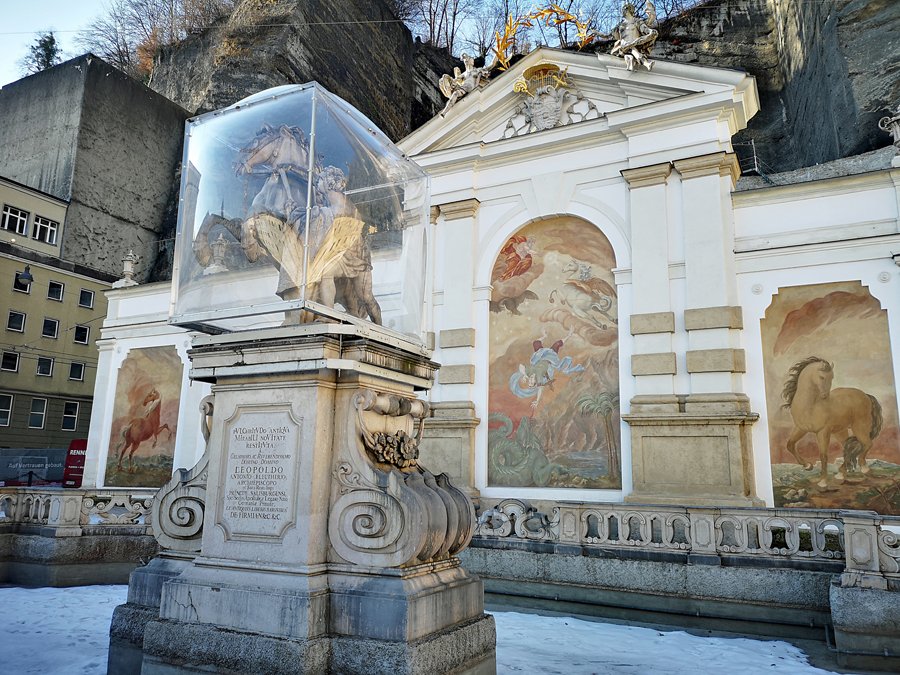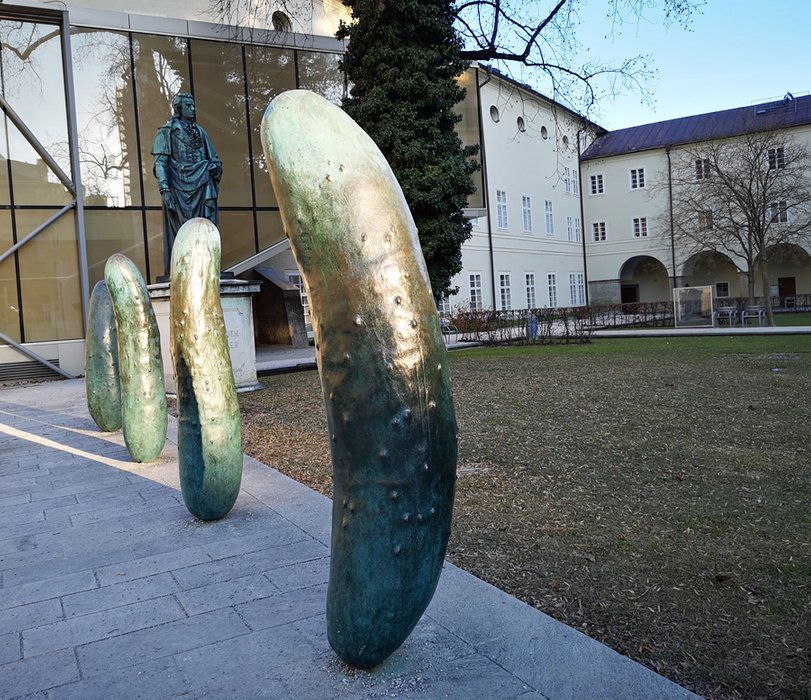 Die fünf mannshohen 'Gurken' des Künstlers Erwin Wurm stehen im Furtwänglerpark in prominenter Nachbarschaft zum Schiller-Denkmal. Direkt gegenüber des Festspielhauses platziert, ernteten die Plastiken nach der Installation vor acht Jahren viel Unverständnis und Unmut.
The five man-high 'Gurken' (gherkins) by the artist Erwin Wurm are located in the Furtwänglerpark in a prominent neighbourhood of the Schiller monument. Posted directly opposite the Festspielhaus, the sculptures caused much irritation and displeasure eight years ago.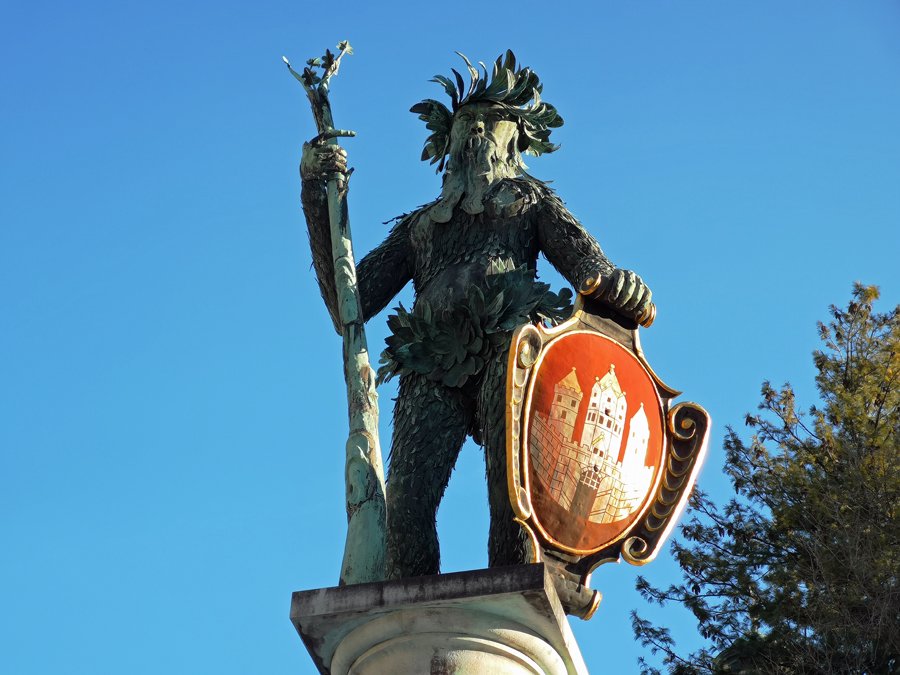 Ein Blickfang im Festspielbezirk ist der Wilde-Mann-Brunnen am Max-Reinhardt-Platz.
An eye-catcher in the festival district is the Wilde-Mann-Brunnen at Max Reinhardt Platz.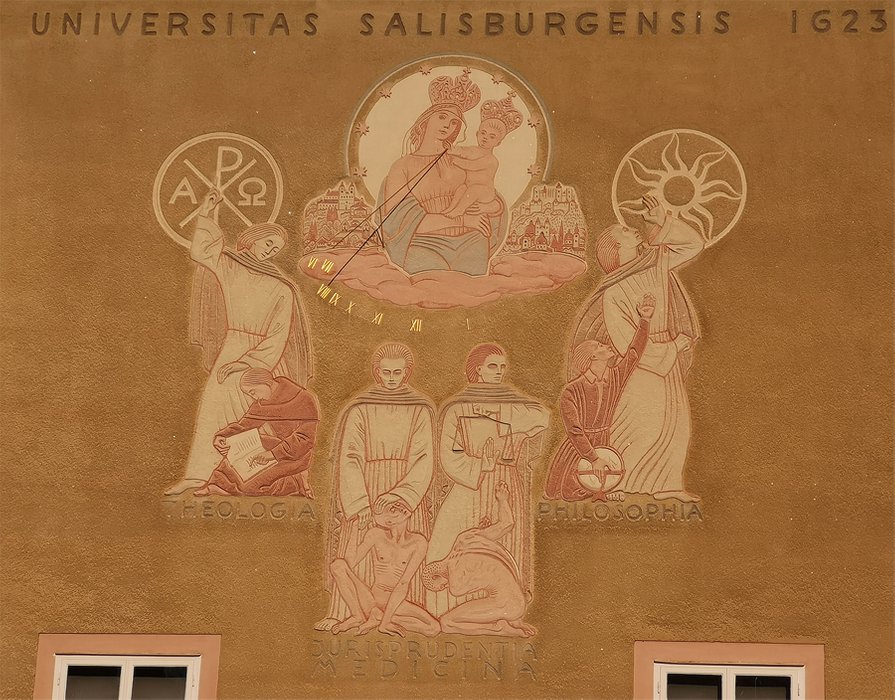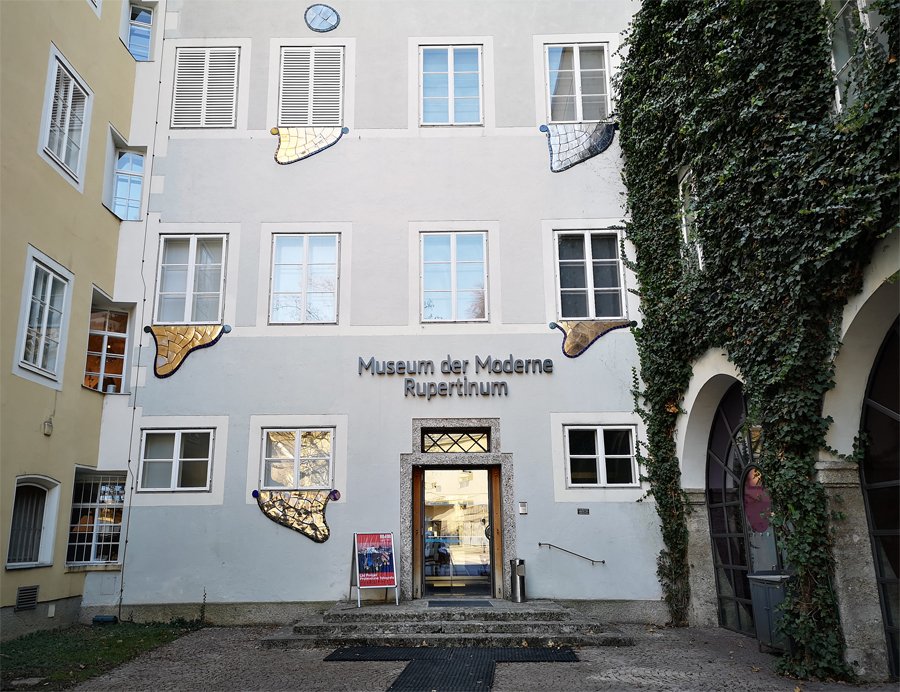 Auf dem Weg zur Festung Hohensalzburg passiere ich die Alte Universität mit dem schönen Sonnenuhr-Fresko auf der Fassade sowie das Rupertinum, das Museum der Moderne.
On the way to Hohensalzburg Fortress I pass the Old University with the beautiful sundial fresco on the facade and the Rupertinum, the Museum of Modern Art.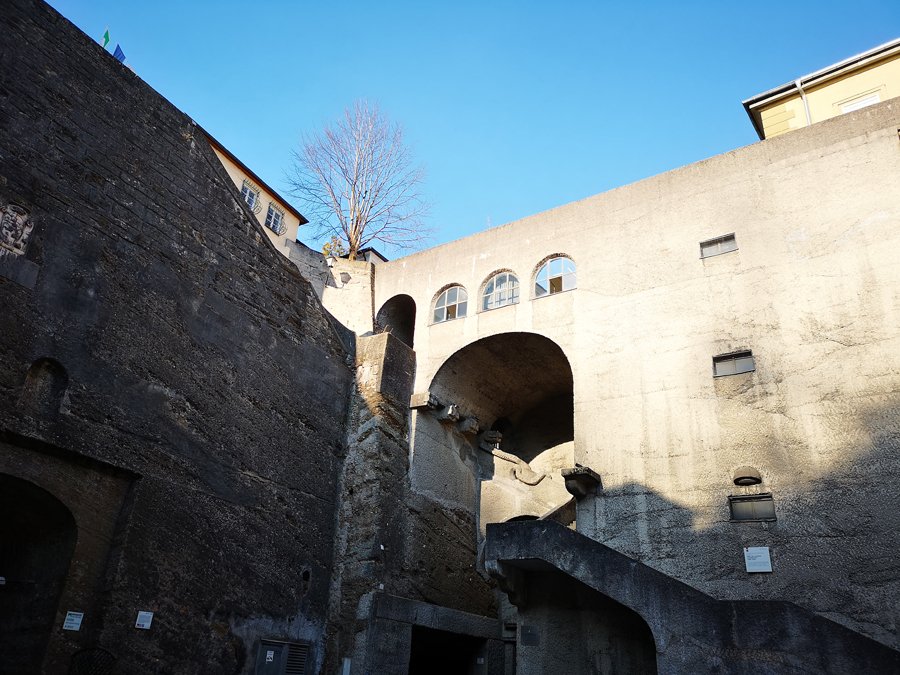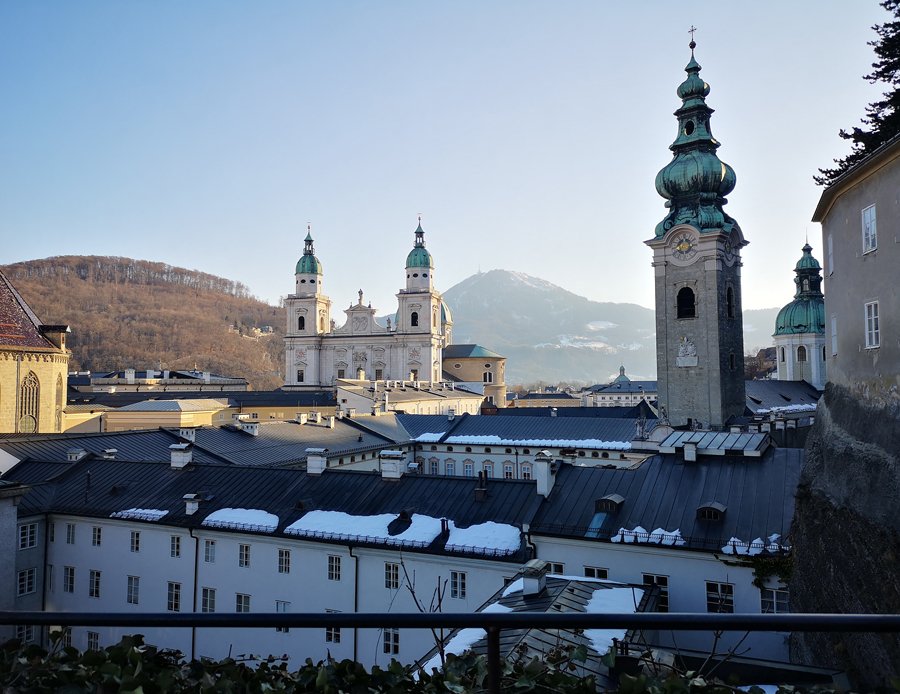 Den Anstieg zur Festung Hohensalzburg auf dem Mönchsberg mache ich dieses Mal über die Clemens Holzmeister Stiege. Bereits nach wenigen Minuten lasse ich die Stadt unter mir.
This time I climb the Fortress Hohensalzburg on the Mönchsberg via the Clemens Holzmeister Stiege. Already after a few minutes I leave the city below me.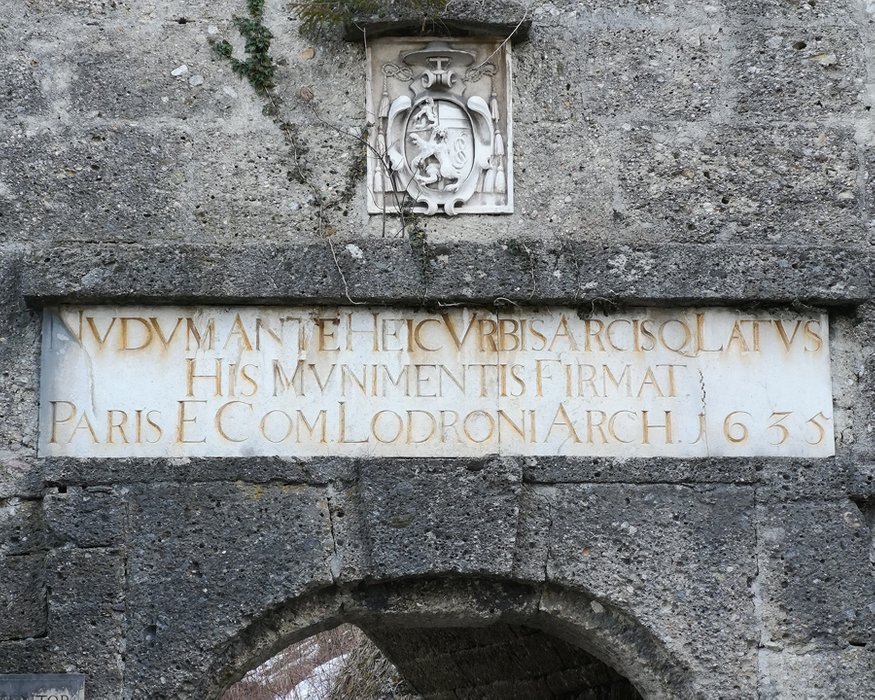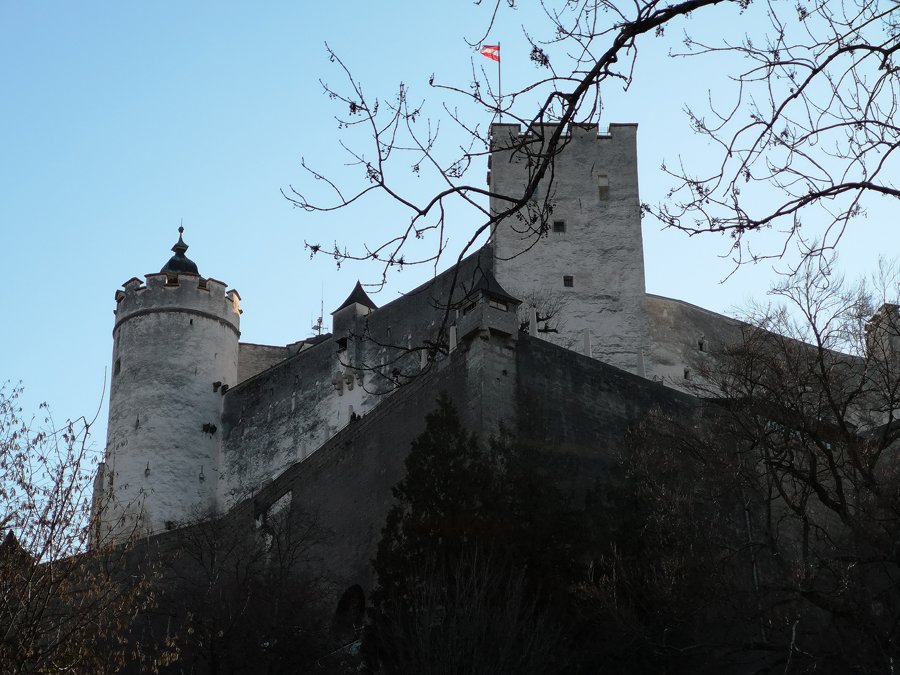 Durch das Schartentor geht es in Richtung Festung, die sich in strahlendem Sonnenschein präsentiert.
Through the Schartentor I head towards the fortress, which presents itself in bright sunshine.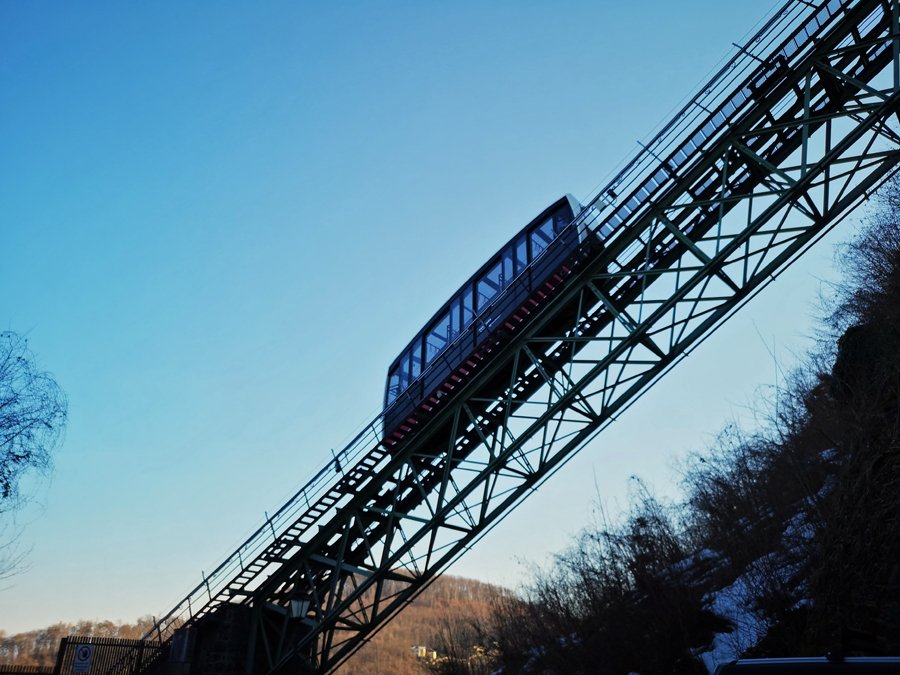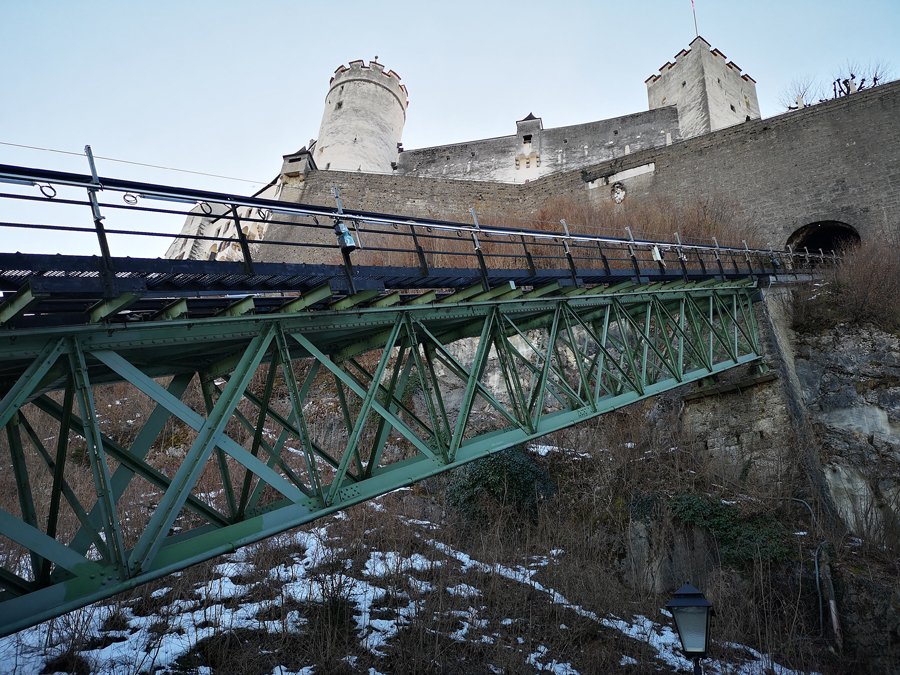 Wer es lieber bequem mag, benützt die Festungsbahn, die im 10-Minuten-Takt von der Altstadt zur Festung auf den Mönchsberg fährt.
Those who prefer it more comfortable, use the Cable Railway that goes every 10 minutes from the old town to the to the Fortress.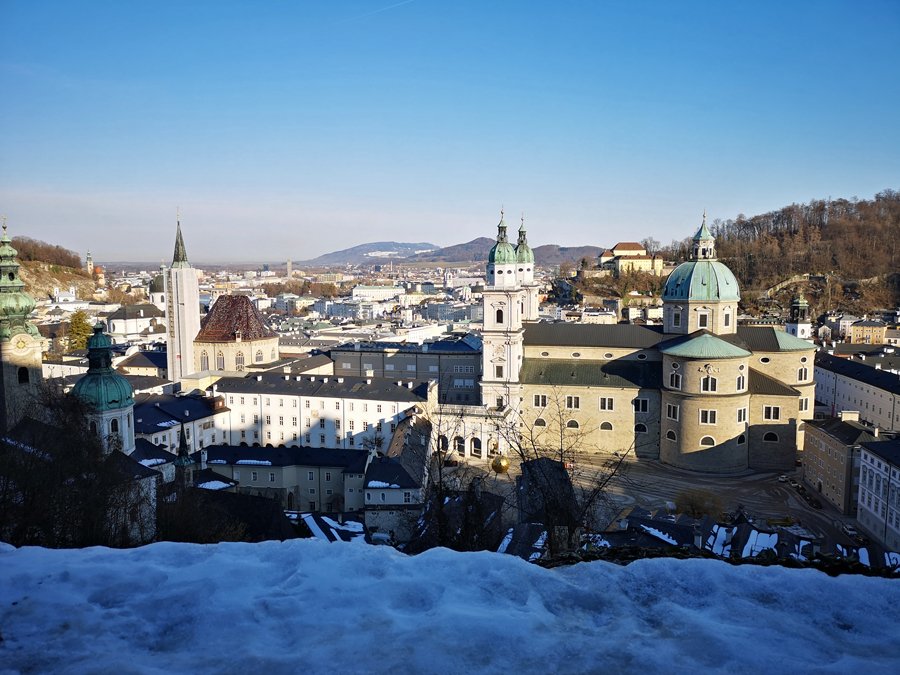 Nachdem ich die Festung bereits im vergangenen Sommer besucht habe, genieße ich die schöne Aussicht und mache mich dann wieder auf den Weg zurück in die Altstadt. Hier gibt es noch viel zu entdecken, worüber ich im dritten Teil meiner Salzburg-Impressionen berichte.
After having already visited the Fortress last summer, I enjoy the beautiful view and then make my way back to the old town. There is still a lot to discover here, about which I report in the third part of my impressions about Salzburg.