Beautiful hours at the lake. During our stay in Taiwan we visited with friends the largest lake of the country. It is located at 760 meters above sea level in the heart of Taiwan, surrounded by green mountain slopes and idyllic bamboo forests and tea plantations.
Schöne Stunden am See Während unseres Taiwan-Aufenthaltes besuchten wir mit Freunden den größten See des Landes. Er liegt auf 760 Meter Höhe im Herzen Taiwans, inmitten grüner Berghänge und umgeben von idyllischen Bambuswäldern und Teeplantagen.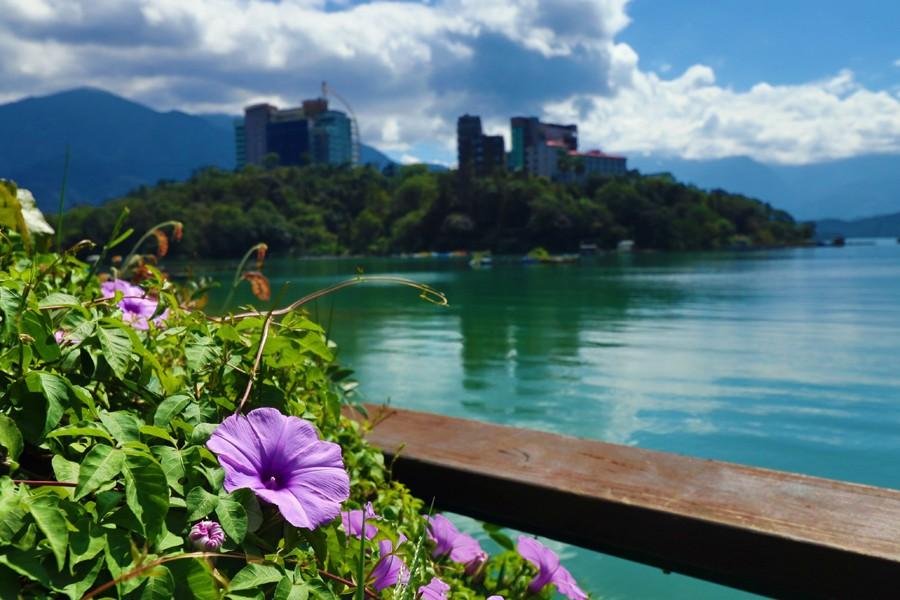 The romantically situated lake is a huge favourite with lovers and newlyweds. Nobody knows how many fiery vows of love and marriage promises have been already whispered here in the glow of the setting sun.
Bei Verliebten und frisch Vermählten ist der romantisch gelegene See äußerst beliebt. Wie viele feurige Liebesschwüre und Heiratsversprechen hier im Schimmer der untergehenden Sonne wohl schon geflüstert wurden?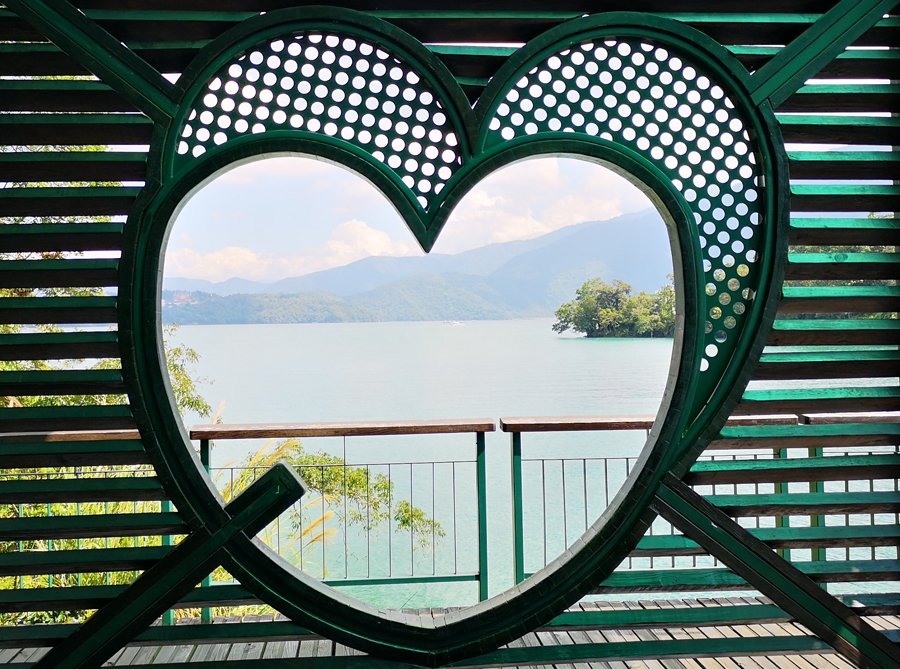 The largest inland water in Taiwan was formed after the sun lake and the moon lake were dammed up. A large hydroelectric power station was built to cover most of the island's electricity needs. Today, the Sun Moon Lake is one of the most popular excursion spots due to its wide range of leisure activities and cultural places.
Entstanden ist das größte Binnengewässer Taiwans, nachdem der Sonnen- und der Mondsee aufgestaut wurden. Die errichteten Wasserkraftwerke decken den Großteil des Strombedarfs der Insel. Heute zählt das Areal um den See aufgrund des vielfältigen Angebotes an Freizeitaktivitäten und kulturellen Schauplätzen zu den beliebtesten Ausflugszielen.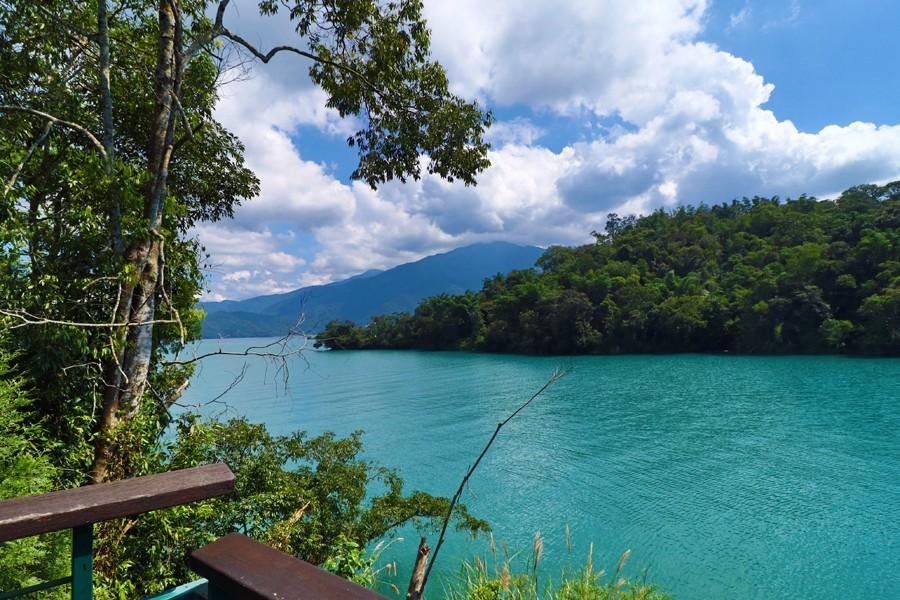 A shuttle bus goes around the lake and stops at every place of interest. But we decided to explore the area by bike.
Ein Shuttlebus fährt um den See und hält bei jeder Sehenswürdigkeit. Wir entschlossen uns jedoch die Gegend per Fahrrad zu erkunden.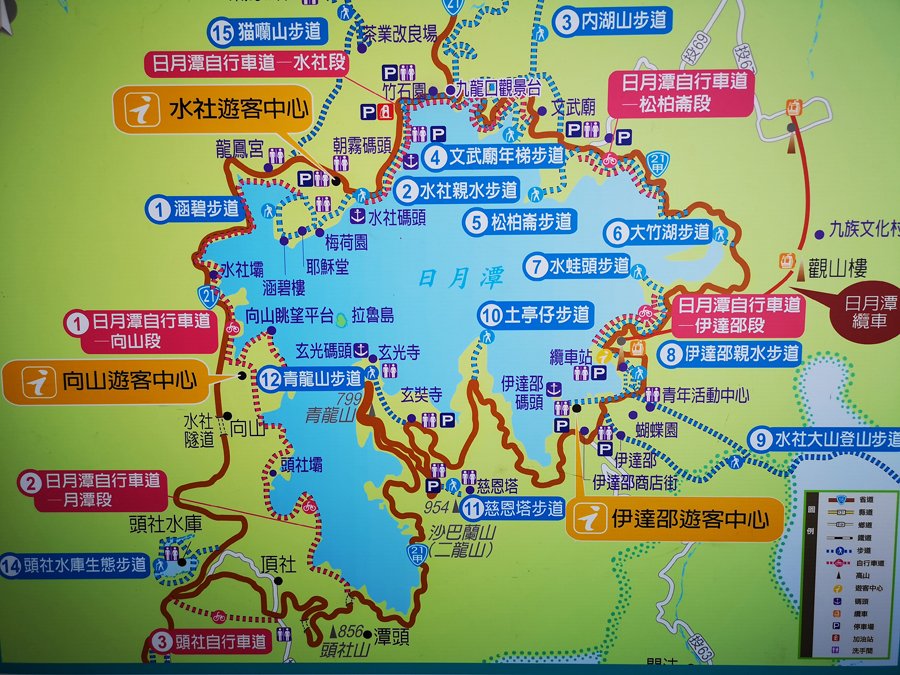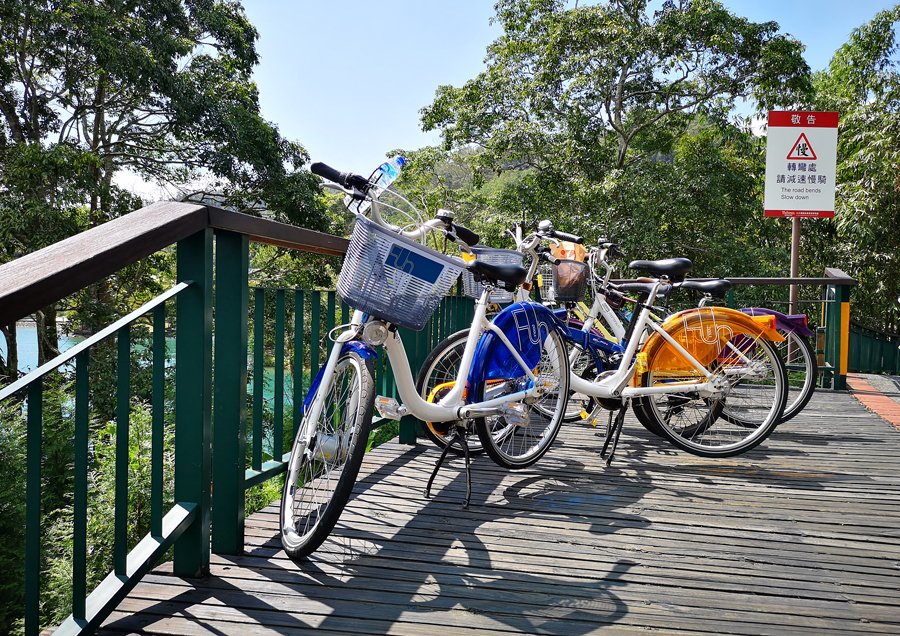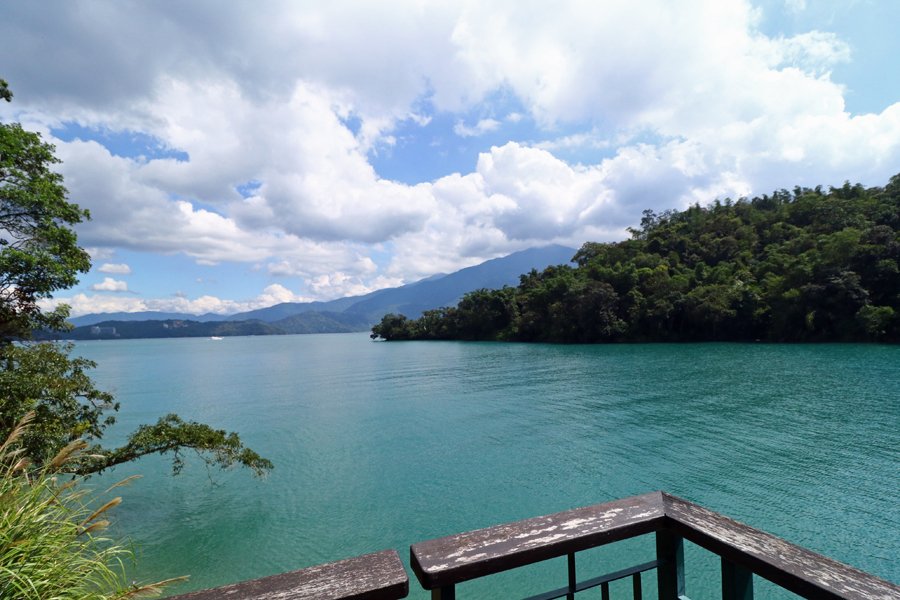 The well-developed path winds along the shore, partly on high stilts, through lush vegetation. However, we did not manage the 33 km tour around the lake as we always had many breaks to enjoy the fantastic panorama. Beside this, we also wanted to visit a tea factory in the afternoon.
Der gut ausgebaute Weg schlängelt sich zum Teil auf hohen Stelzen entlang des Ufers durch üppige Vegetation. Die 33 km lange Rundtour schafften wir allerdings nicht, da wir immer wieder Pausen machten, um das traumhafte Panorama zu genießen. Außerdem stand am Nachmittag noch der Besuch einer Teefabrik auf dem Programm.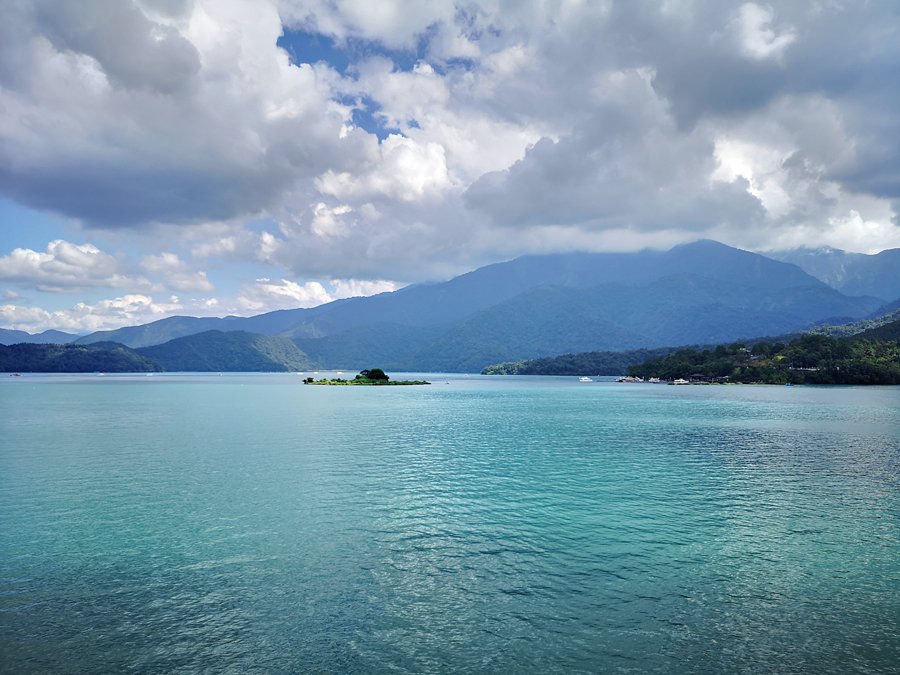 In the 1930s, under Japanese domination, the land between the Sun and Moon Lakes was flooded. The largest village and the grave fields of the Thao tribe, who lived on the lakeshores, were largely under water. After the strong earthquake in 1999 only the small island Lalu Island reminds today of the former homeland of the natives. It is considered a spiritual place and may not be entered.
In den 1930-er Jahren wurde unter japanischer Herrschaft das Land zwischen dem Sonne- und dem Mondsee geflutet. Das größte Dorf und die Grabfelder des Thao-Stammes, der an den Seeufern lebte, wurde größenteils überschwemmt. Nach dem starken Erdbeben 1999 erinnert heute nur noch die kleine Insel Lalu Island an die einstige Heimat der Ureinwohner. Sie gilt als spiritueller Ort und darf nicht betreten werden.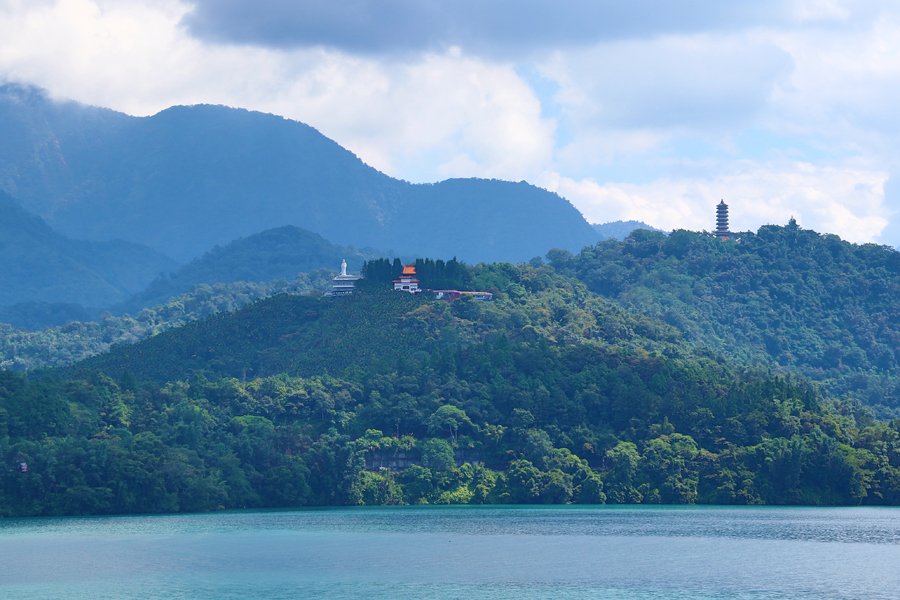 Tempel und Pagode vis-à-vis / Temple and pagoda vis-à-vis
On the way we passed the Xiangshan Visitor Center, where a bonsai exhibition took place, which we of course didn't miss.
Unterwegs kamen wir am Xiangshan Visitor Center vorbei, in dem gerade eine Bonsai-Ausstellung stattfand, die wir uns natürlich nicht entgehen ließen.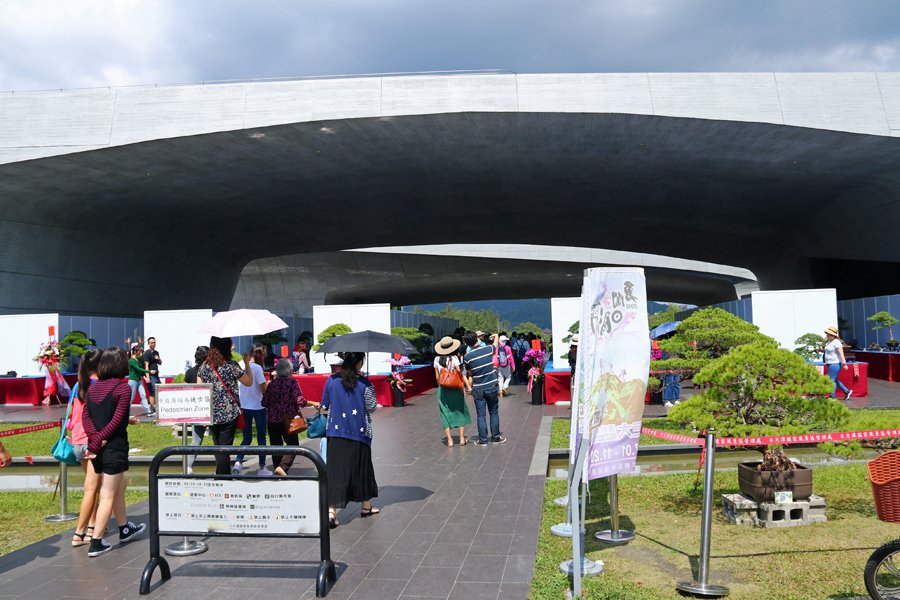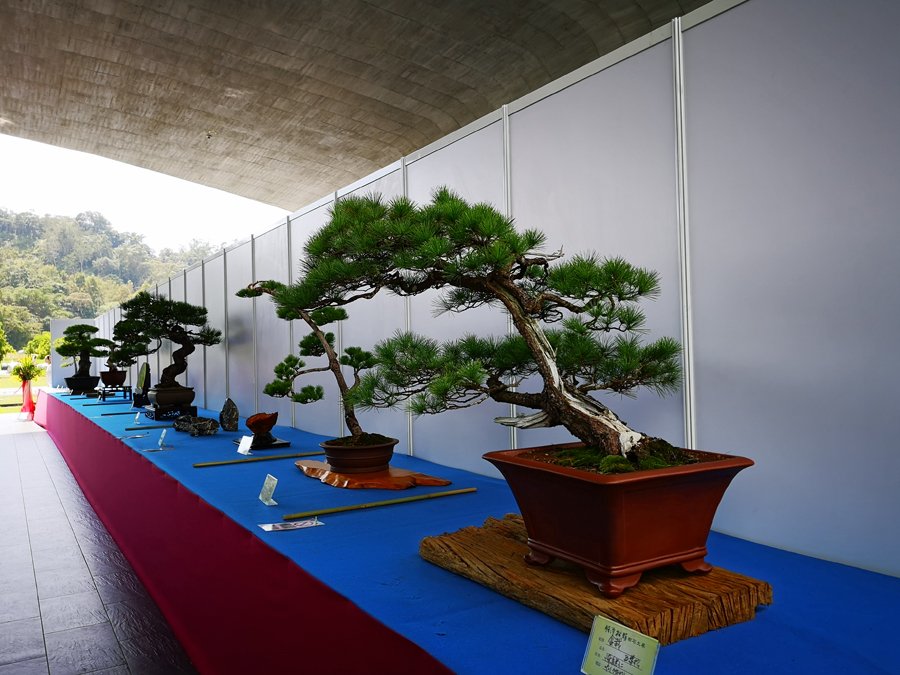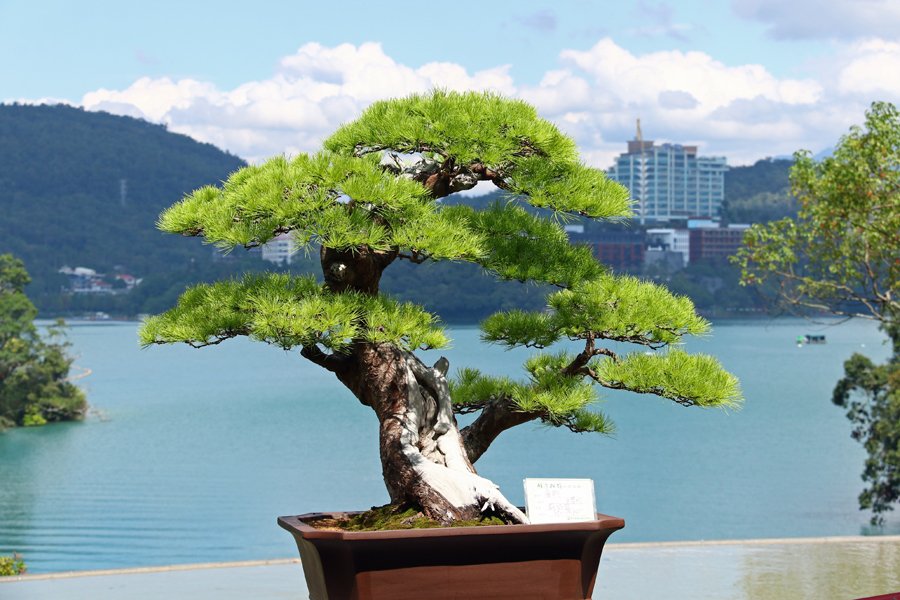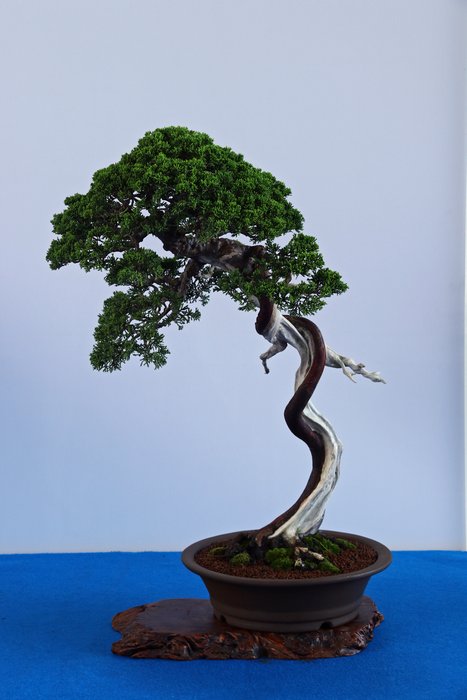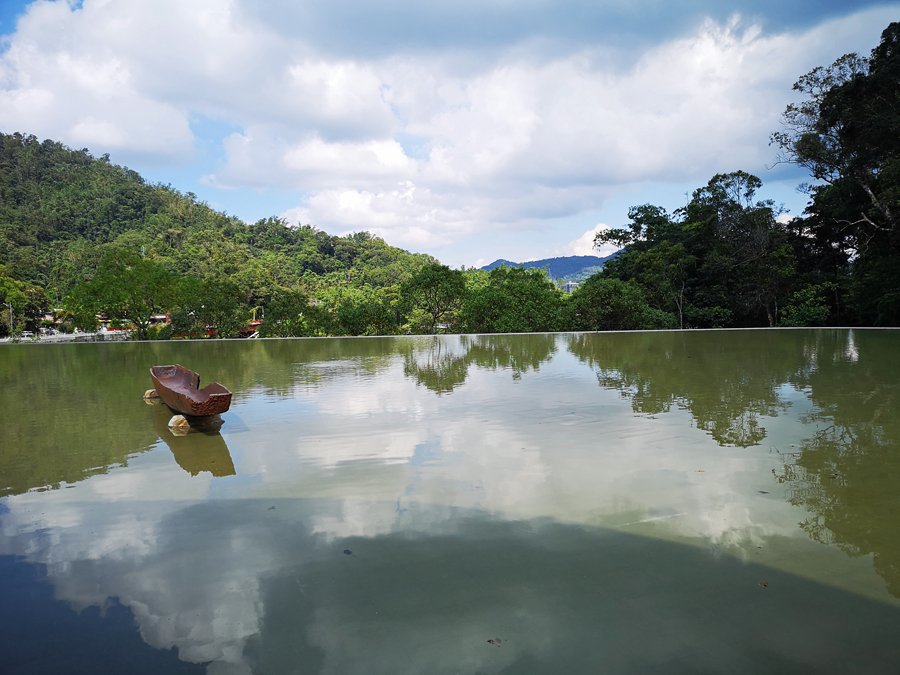 After the hustle and bustle in Taipei, the hours in the wonderful nature were a real blessing.
Nach dem hektischen Großstadtgetriebe in Taipeh waren die Stunden in der wunderbaren Natur eine wahre Wohltat.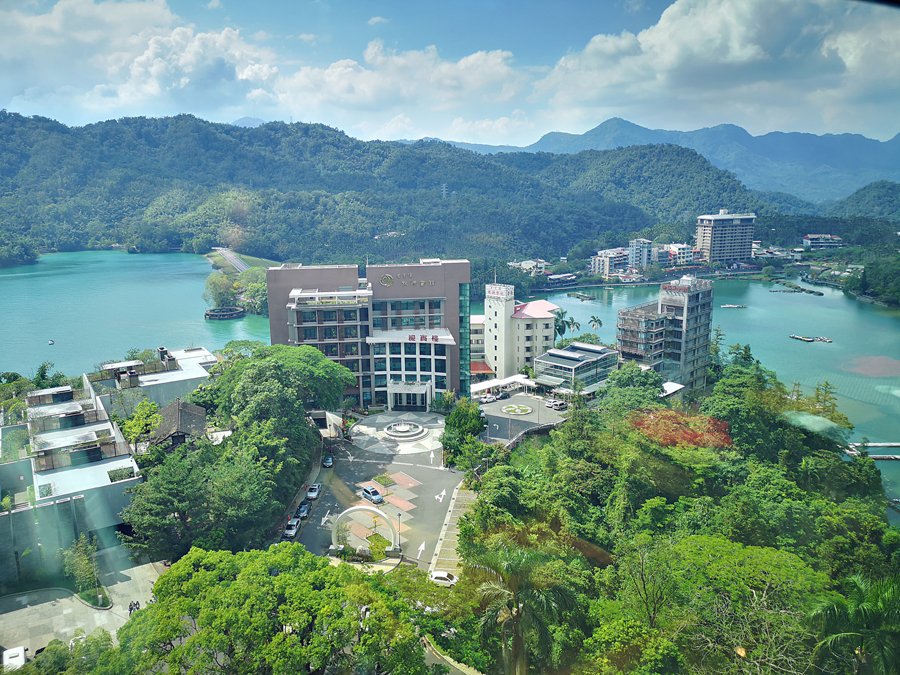 From the 12th floor in the restaurant at Wen Wan Resort in Yuchi Township we had a good lunch enjoying the view over the magical sun moon lake.
Aus dem 12. Stock des Restaurants im Wen Wan Resort in Yuchi Township genossen wir bei einem guten Mittagessen noch einmal den Blick über den magischen Sonne Mond See.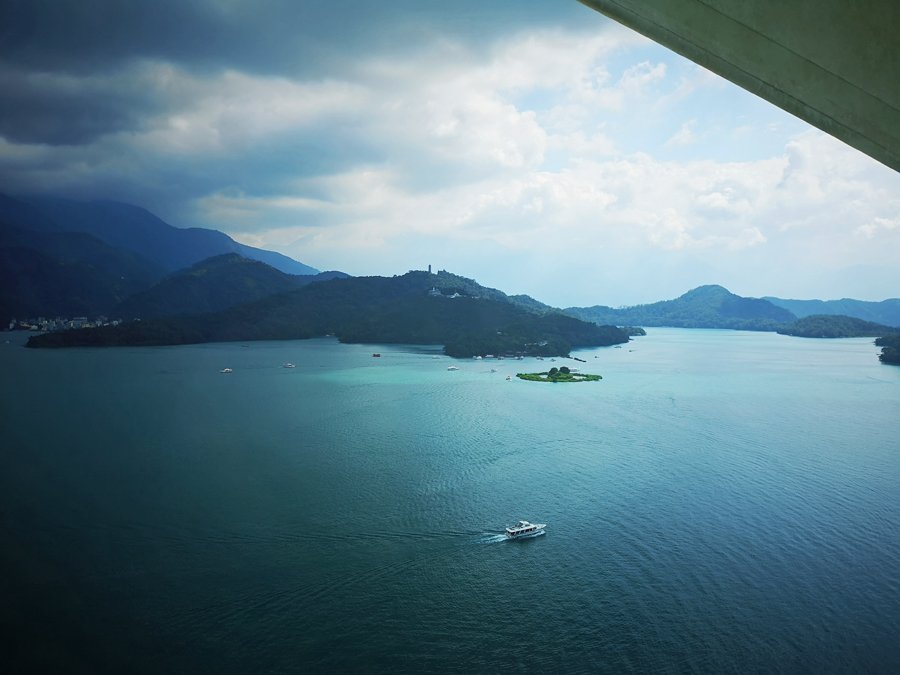 Afterwards we visited the Sun Moon Lake Antique Assam Tea Farm, about which there is also a report
here.
Anschließend besichtigten wir noch die Sun Moon Lake Antique Assam Tea Farm, worüber es
hier
auch einen Bericht gibt.
---
Sun Moon Lake / Sonne-Mond-See
Yuchi Township, Nantou County 555, Taiwan (R.O.C.)