Eislaufvergnügen vor historischer Kulisse. Ich erinnere mich noch gut an meine ersten zaghaften Gehversuche auf wackeligen Kufen, die ich auf dem buckeligen Eis des zugefrorenen Dorfteichs wagte. Erschien uns Kindern der Weg dorthin zu weit, wurden kurzerhand die vereisten Wege in Beschlag genommen. Als Mutprobe galt die "Abfahrt" über einen kleinen Hügel, die nicht selten mit blauen Flecken endete. Heute ist der Spaß auf dem Eis voll durchorganisiert. Bestes Beispiel dafür ist der Wiener Eistraum, der seit einigen Tagen auf dem Wiener Rathausplatz wieder seine Pforten geöffnet hat.
Ice-skating fun in historical backdrop I still remember my first tentative attempts at walking on shaky skids, which I made on the bumpy ice of the frozen village pond. If the way to it was too far to us children, we went with our skates on the icy ways around. The "descent" over a small hill, which often ended in bruises, was considered a test of courage. Today the fun on ice is fully organized. The best example of this is the Vienna Ice Dream, which has opened again on the Vienna Town Hall Square a few days ago.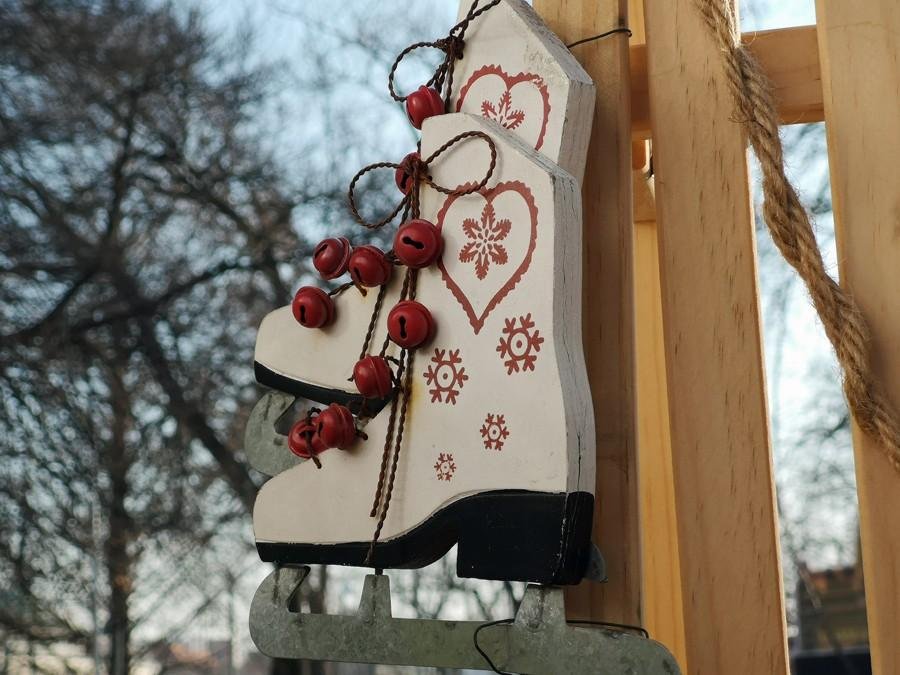 Auf insgesamt 9.000 Quadratmetern wurde auf zwei Ebenen im Park zwischen Rathaus und Burgtheater eine mobile Eislauffläche geschaffen.
On a total of 9,000 square metres, a mobile ice rink was created on two levels in the park between the Town Hall and the Burgtheater.
Das Ambiente inmitten der historischen Kulisse ist vor allem in den Abendstunden beeindruckend. Auf der einen Seite das beleuchtete Rathaus (erbaut 1872-1883), auf der anderen das 130 Jahre alte Burgtheater an der Ringstraße.
The ambience amidst the historical backdrop is particularly impressive in the evening. On one side the illuminated Town Hall (built 1872-1883), on the other the 130-year-old Burgtheater, situated on the Ringstrasse.
Wiener Rathaus / Vienna City Hall
Burgtheater
Seit mehr als 20 Jahren findet der Wiener Eistraum vor dem Rathaus statt. Das Highlight in dieser Saison ist der "Sky Rink", eine Eisfläche auf der zweiten Ebene. Eine 120 Meter lange Rampe führt auf die eisbedeckte Terrasse im ersten Stock.
For more than 20 years the Vienna Ice Dream has been taking place in front of the town hall. The highlight of this season is the "Sky Rink", an ice area on the second level. A 120 meter long ramp leads to the ice-covered terrace on the first floor.
Besucher haben die Möglichkeit, von einer Brücke aus das geschäftige Treiben auf dem Eis zu beobachten.
Visitors can watch the hustle and bustle on the ice from a bridge.
Beleuchtete Traumpfade schlängeln sich durch den Rathauspark, auf denen es, vor allem am Abend, schon etwas eng werden kann.
Illuminated dream paths wind their way through the Town Hall park, on which it can become a bit crowded, especially in the evening.
Für Anfänger gibt es einen eigenen Übungsplatz mit Eislauf-Lernhilfen. Am Abend werden hier acht Eisstockbahnen angeboten.
For beginners there is a separate practice area with ice skating aids. Eight curling rinks are offered there in the evening.
Wer das eisige Vergnügen nur einmal ausprobieren möchte, kann sich Helm und vorgewärmte Eislaufschuhe ausleihen.
If you only want to try skating once, you can rent a helmet and pre-heated skates.
Der Wiener Eistraum ist bis 3. März 2019 täglich von 10 bis 22 Uhr geöffnet. Der Eintritt für Erwachsene beträgt 8 Euro. Ermäßigungen gibt es für Kinder, Senioren und Gruppen. Kindergärten, Horte und Schulen können den Eislaufplatz bis 16.00 Uhr unentgeltlich nutzen.
The Vienna Ice Dream is open daily from 10 a.m. to 10 p.m. until 3 March 2019. The admission for adults is 8 Euro. Reductions are available for children, seniors and groups. Kindergartens and schools can use the ice rink free of charge until 16.00 hrs.