When you are next in Vilnius, the capital of Lithuania, make sure to pop into Vilnius University architectural ensemble, situated in the heart of the Old Town right next to the Presidential Palace.
The University dates back to the 16th century, but still remains the place where hundreds of young people get their University degrees every year – the old University campus still houses Philology, Philosophy, and History Faculties, Institute of Foreign Languages, Centre of Asian Studies, as well as administration and University library.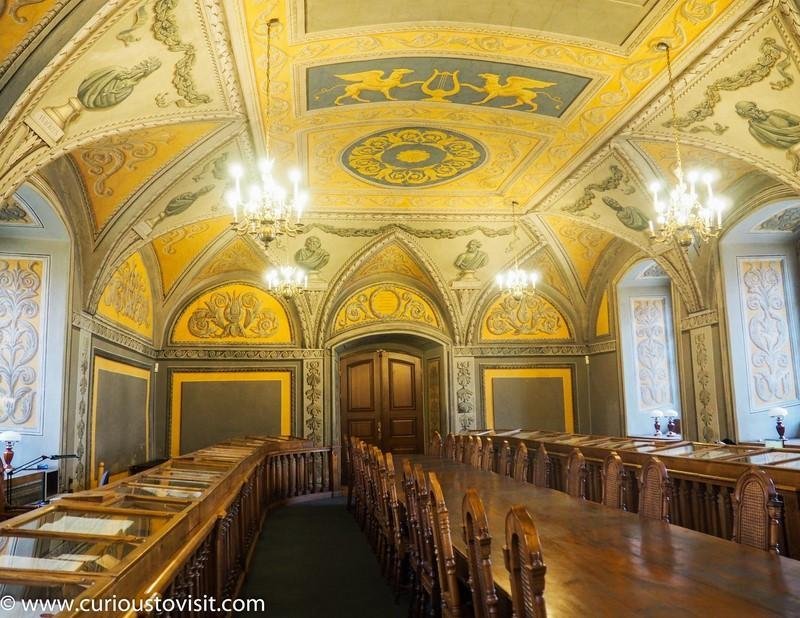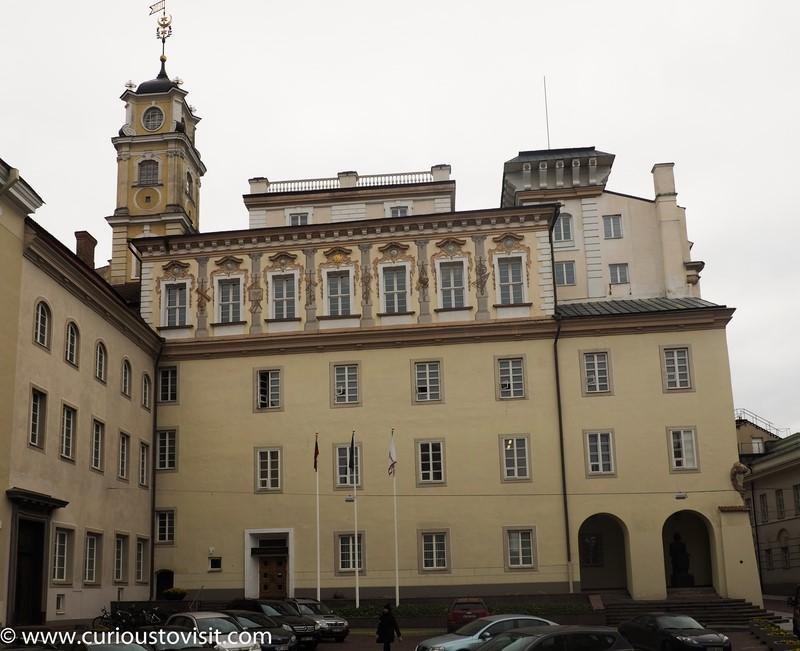 The Library Courtyard, Vilnius University
When you get there, remember, Vilnius University architectural ensemble developed over many centuries and covers a whole section of historic buildings, representing various historic periods and architectural styles.
There are 13 courtyards in the architectural ensemble, so make sure you visit all of them (except the two, where visitors aren't allowed).
You can follow a simple map, which you'll get at the ticket office together with some guidelines about noteworthy locations.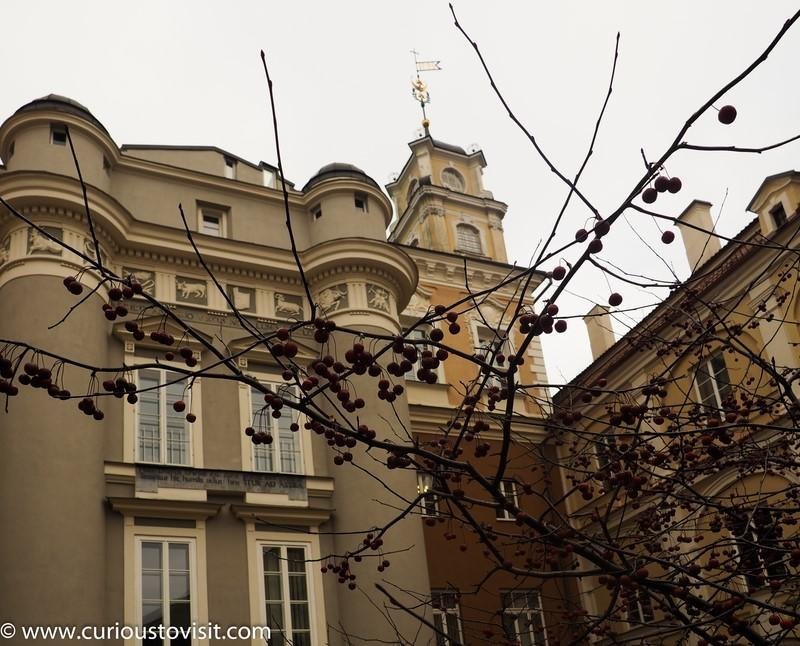 The Observatory Courtyard, Vilnius University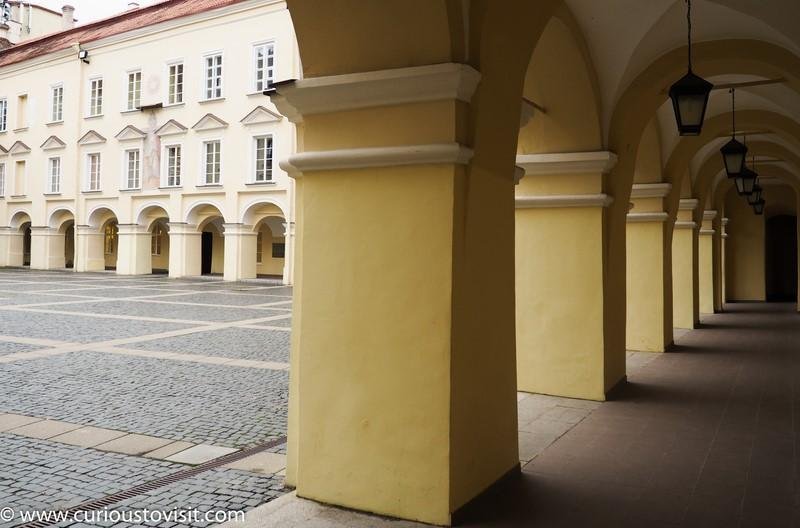 The Grand Courtyard, Vilnius University
The first closed-in courtyard you will enter, Sarbievijaus courtyard, used to be a very busy place when the university was first established – it housed a brewery, a bakery, a grain storage facility as well as other small enterprises.
Today, it remains a busy place too, although it has nothing to do with business anymore – it's a place where students hang around during the breaks between their lectures, sharing their academic (and not only!) experiences, their wins and fails as well as plans and hopes for the future.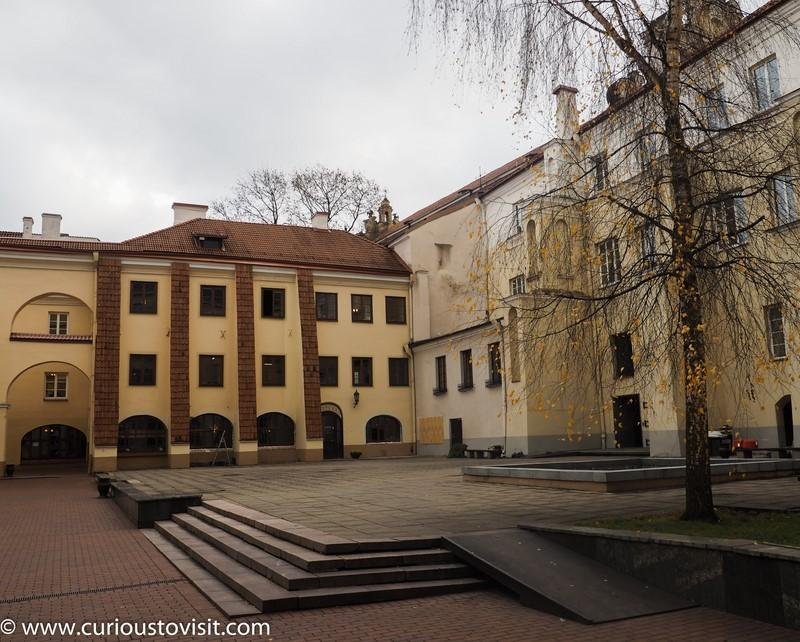 Sarbievijaus Courtyard. The birch tree and the fountain on your right as you enter the courtyard are there not only for decorative purposes, they have a truly important function – the birch tree is a backdrop for poetry soirees while the fountain at the start of every academic year is used for baptising unsuspecting first-years.
The most impressive of the courtyards, most likely, is the Grand Courtyard (Didysis kiemas) with its St Johns' Church, the Bell tower as well as adjacent buildings, representing different architectural styles and historical periods – the Rennaisance, Baroque and Classicism.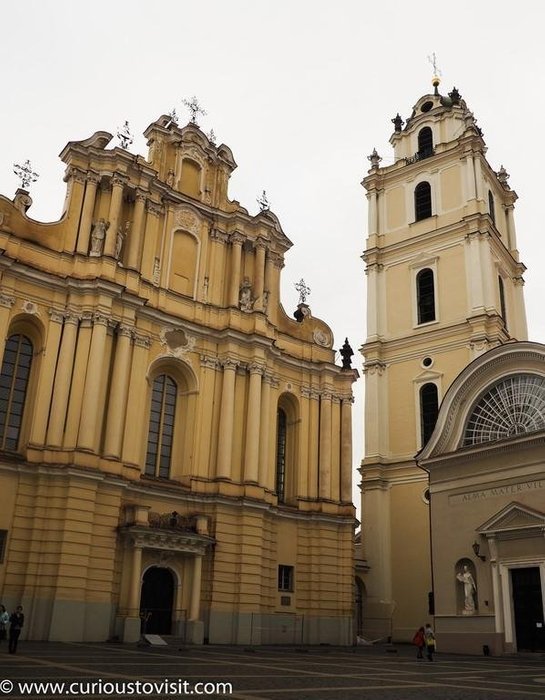 The Grand Courtyard, Vilnius University – St Johns' Church, and the Bell Tower. NOTE: smaller building on the right in this picture, houses a sort of simple restaurant which all students call 'Morgas' ('morgue' in English…), I'm not sure why, but maybe it did house a morgue once…? Will have to read on it.
The Bell Tower is open to the public at certain times of the year and, they say, once you get up to the top, the view is spectacular. But only if you come at the right season – when I attempted to visit the tower in November the lady at the counter called me 'a dreamer'….
St Johns' Church in the Grand Courtyard is a must for every visitor – admire its wavy decorations, delicate metal chandeliers and the biggest organ in Lithuania.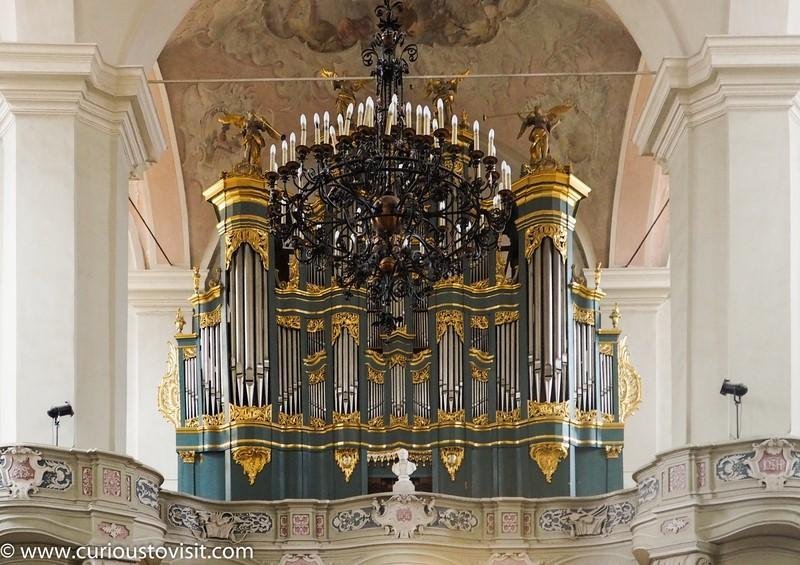 St. John's Church organ, Vilnius University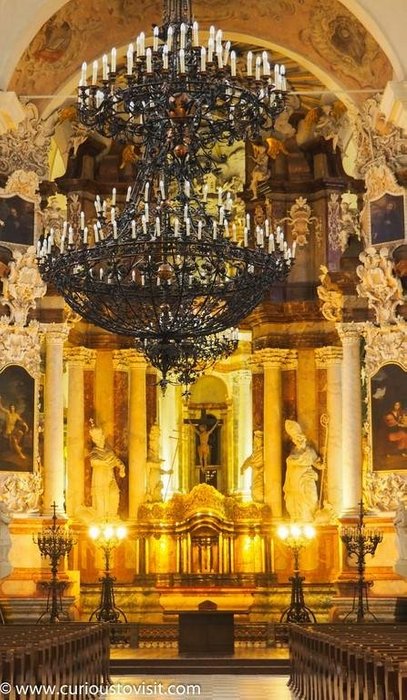 The interior of St. John's Church, Vilnius University
While still being a parish church, St Johns' Church is also a venue for many musical events.
It is always a good idea to try and time your visit with one of these and see how the church lights up during an evening of music.
At the end of each academic year, St John's Church and Didysis kiemas (the Grand Courtyard) also becomes a place where students receive their graduation diplomas – what a backdrop for their pictures!
But don't end your visit with the Grand and Sarbievijus Courtyards, make sure to enter every smaller courtyard, pop your head around every corner, and you might be rewarded with some cute surprises, such as this angel, standing out of most visitors' sight. Go and find it!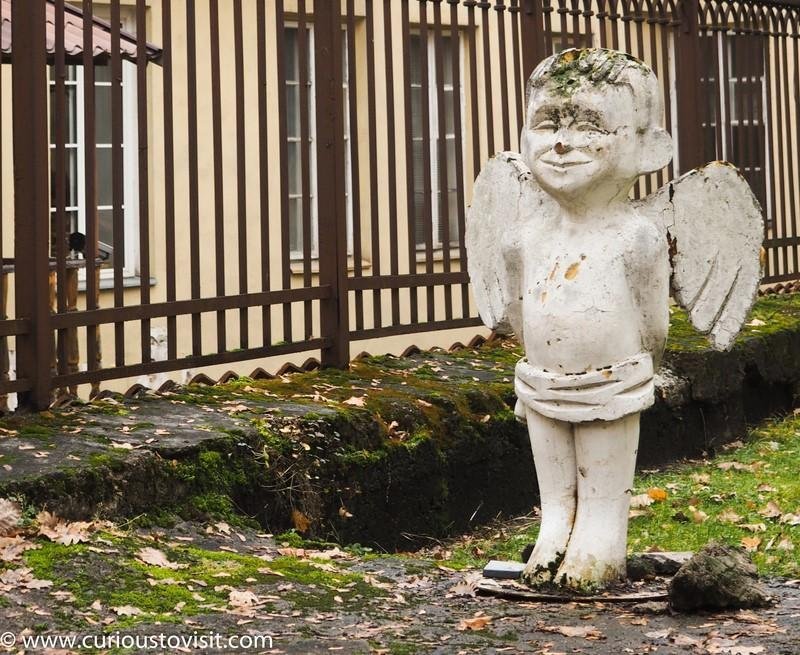 There are other noteworthy places in this architectural ensemble, and the lady at the box office will tell you what places are the most important ones and where to find them.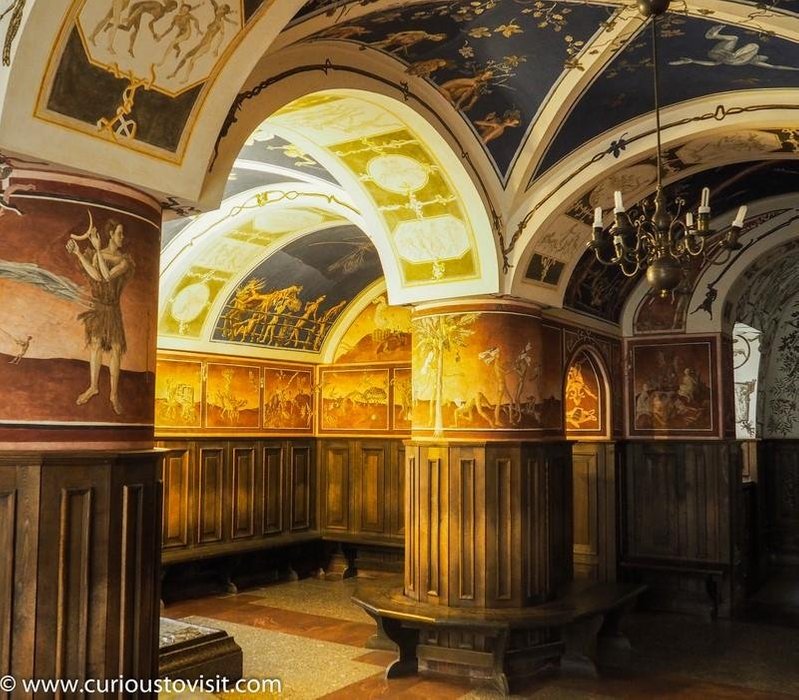 The Centre for Lithuanian Studies, Vilnius University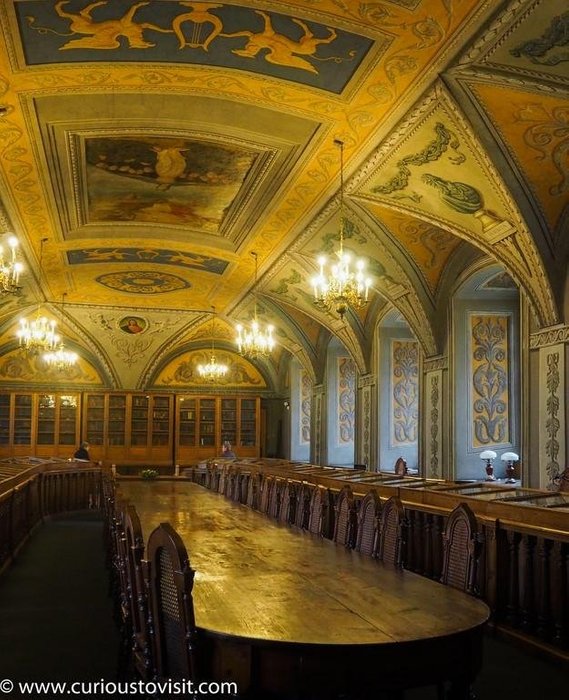 Vilnius University library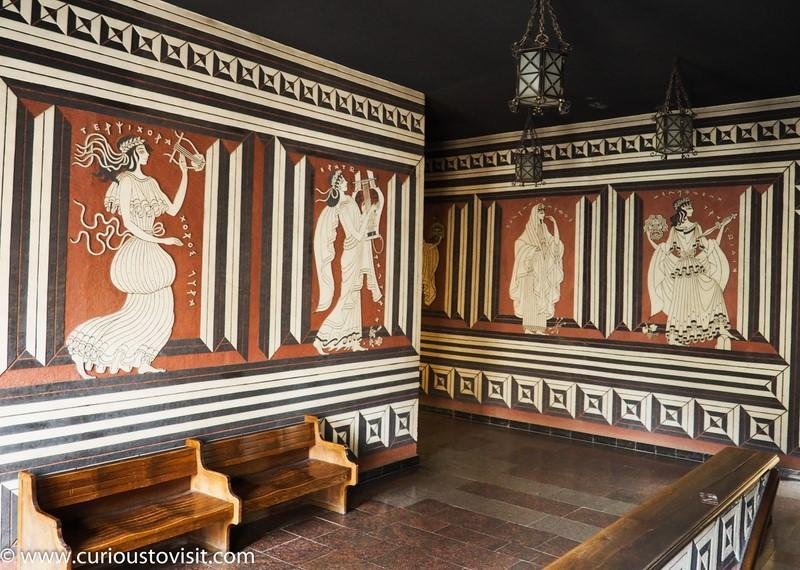 A hall with motives from the Ancient Greek literature.
A visit to Vilnius University can feel a bit like an exploration of some sort, it is not immediately obvious which way to turn or which door to open in order to find that courtyard or the artwork you are looking for, but this is part of the adventure!
So when you are next in Vilnius, spend an hour or two soaking up the historic and academic atmosphere of Vilnius University architectural ensemble before heading off to explore the rest of this city's treasures.
Travel Lithuania, enjoy your life!
All photos and text is my original content.
You can see copyright signs on photos because they were taken for my blog www.curioustovisit.com .
If you liked this post, let's connect – leave a comment or follow me at @vliet , I'll check out your profile as well.
You can also find me on my travel blog www.curioustovisit.com or Facebook Page HERE