I previously wrote about a motorbike day tour that @jpphotography and I did in Pai, Thailand. It was just a warm up for a longer motorbike trip. We did two separate week-long motorbike trips, the second one was the Mae Hong Son loop. I am not sure what to call this first motorbike trip as it isn't really a usual route. I can call it the Mae Sai visa run motorbike loop as that was the initial purpose why we rented a motorbike.
I had to extend my visa in Chiang Mai, while @jpphotography has the option to do a visa run at the Mae Sai border. Instead of just doing these seemingly tedious tasks, we decided why not make a fun journey out of it. It took us a total of one week from Pai and back as we also had some business in Chiang Mai.
If you ever thought of doing a border run on the Mae Sai border, we recommend this itinerary which would take you a week if you do it slowly like us. Some people do a one to two days of border run but why not take advantage of this scenic route and each destination might just surprise you.
Pai to Chiang Mai
Prior going to Pai, we heard warnings that taking the motorbike to Pai is dangerous. And it can be dangerous given the hundreds of curves you have to go through on the mountain road to Pai. However, the 3-hour public minivan trip made us so nauseous to the point of vomiting. We recommend you take a motion sickness pill or at least have a plastic bag with you if you opt for this mode of transportation.
Unlike the day motorbike trip in Pai, we rented a bigger motorbike at Aya Service which was a newer 125cc Honda Click, we later on realized that the older Honda Clicks were just as good and cheaper which is what we had for our Mae Hong Son loop trip. It was 200 baht per day and they gave us a discount as we're renting for a week so it was down to only 180 Baht per day. That is a really good deal considering @jpphotography and I are splitting the cost., which means it was just less than a hundred baht per day per person.
We started out just after lunch and as expected the ride through the mountain curves felt much better than being in a van. We had a stop over where there were sticky rice vendors. We got curious, the sticky rice were cooked inside a bamboo. We even opened it the wrong way by splitting the bamboo in half. The vendor kindly showed us that you open it like you would peel off a banana.
We arrived in Chiang Mai before sunset. The following day we went to the Chiang Mai immigration office where I filed for a tourist visa extension. It took less than 2 hours to get it approved and a costly fee of 1900 Baht.
Chiang Rai is 189.6 kilometers from Chiang Mai. We set out quite late in the afternoon so we didn't make it on the same day. There were some construction in some parts but most part of their highways are really good. Once you get out of the city, driving is a lot less stressful.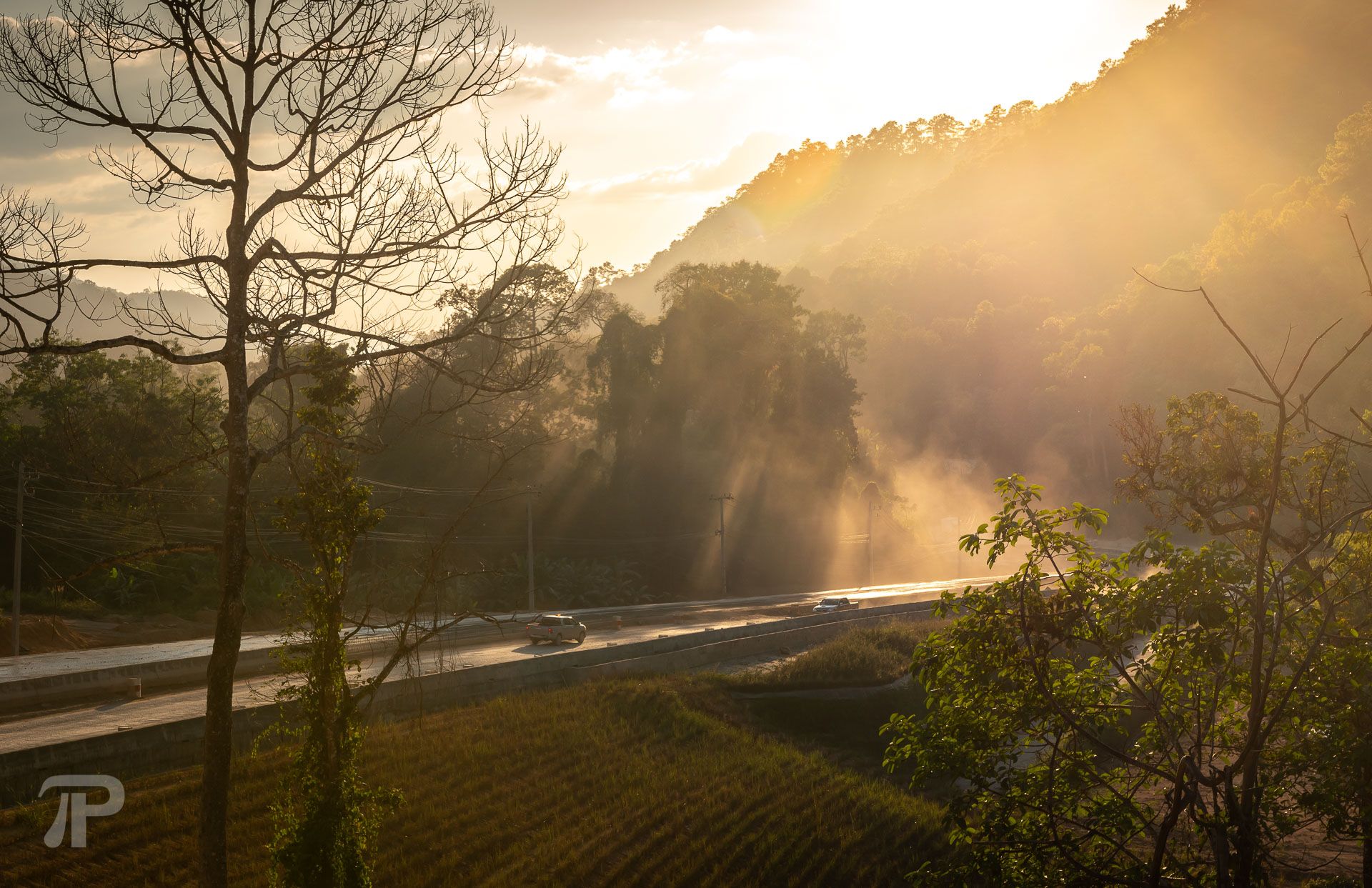 We passed by a small village with hotsprings. There were a few accommodation options but they were too expensive just for a night so we drove further and found a nice accommodation for 300 Baht for the two of us. The place is called Long Khao Ta-Wa Homestay (phone numbers 084-6220644 and 089-2097656) which we found in maps.me.
There were street food vendors and we really loved the 5 Baht barbecue, they even gave us some free barbecue and watermelon. We also found the best roti for 15 Baht each, each flavor was so good I think we tried a total of five flavors.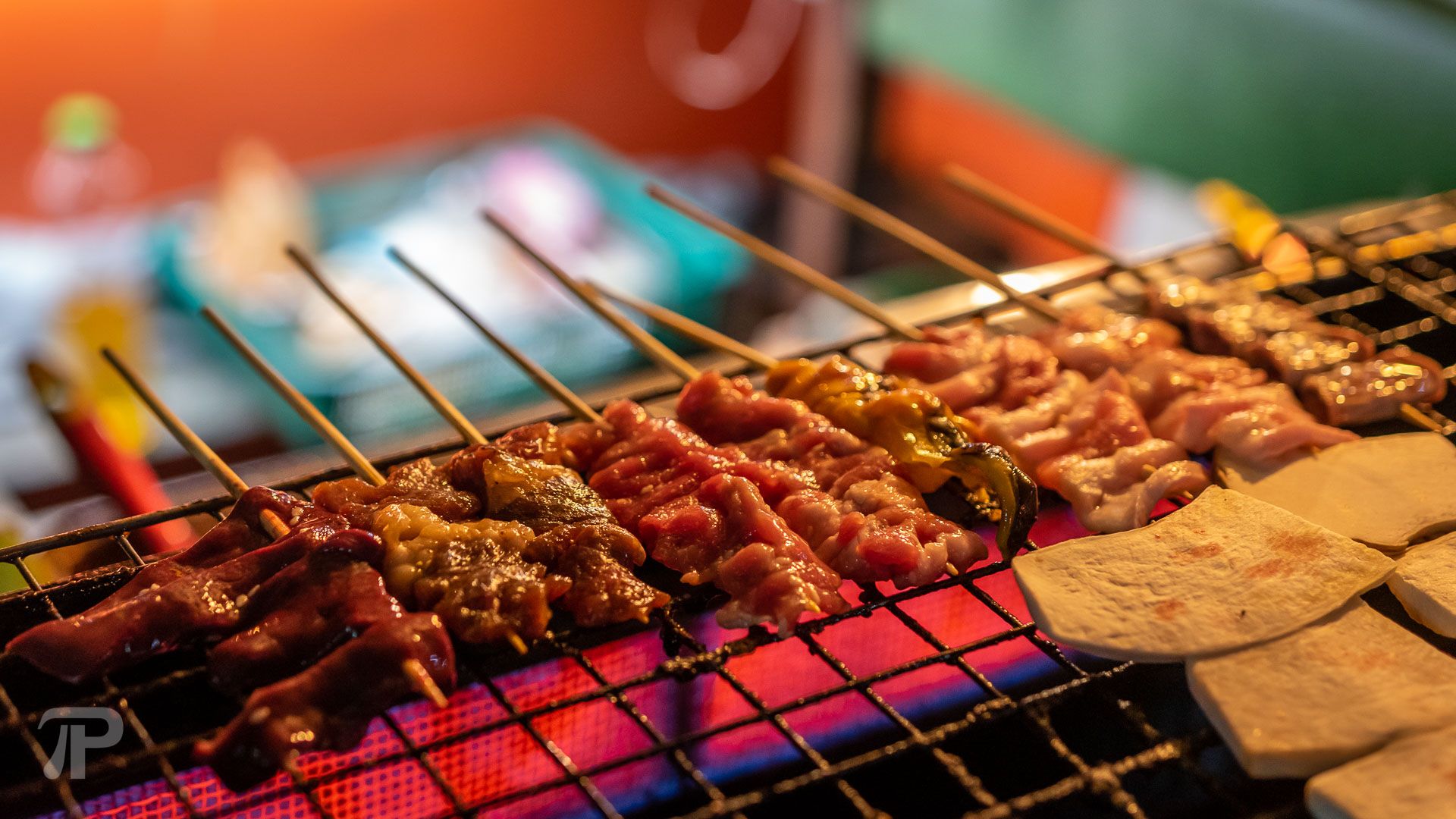 We started quite late the following day as we just enjoyed our time in this quiet town. We started at noon and stopped over at a waterfall.
Khun Korn Waterfall
Entrance Fee: FREE
It's a 1.5 kilometer hike from the motorbike parking lot to the temple. It was nice that it was free and they have facilities like a free parking lot and toilet. It was an easy climb and we reached a viewing deck just before going down the water stream.
We went down but we didn't have time to swim, it was getting late and we still need to get to Chiang Rai that day.
We arrived in Chiang Rai at 4pm. You can get to Chiang Rai from Chiang Mai on the same day too, however, we decided to explore each place we stopped over at and take our time.
There was a scheduled light show at the White Temple in the evening so they have already closed the gates in the afternoon when we arrived. The light show costs 1000 Baht which we skipped. We just wanted to see the temple so we checked it out on the following day.
The light was nice so @jpphotography took some cool shots of the golden and white temple.
We planned to stay in Chiang Rai for a night to experience the place. There was a night market as with anywhere in Thailand. There were more seafood options which is pricey in this area. The night market is popular with tour buses so you would pay tourist prices.
Chiang Rai
White Temple
Entrance Fee: 100 Baht but I got in free. Keep reading how.
We drove to the White Temple the following day. The guesthouses are a few kilometers away and will just take a few minutes by motorbike. Locals get in free while foreigners pay 100 Baht to enter the temple.
For most of my stay in Thailand, almost every local thinks I'm one of them. When I first traveled to Chiang Mai, someone told me I looked like I was from Bangkok. I can easily blend in. Unfortunately, this cannot apply if you're not Southeast Asian or someone with similar features. There were two gates, one for locals and the other for foreigners.
This was the first time I'm doing this because @jpphotography convinced me to. He was right though, I usually pay more because of my weak passport so why not take advantage of scenarios like this. For instance, I paid 1900 Baht for a visa extension while most travelers with powerful passports can just do a border run for a fraction of that amount.
It was worth it even if you pay the 100 Baht entrance fee. It's nothing like the other temples in Thailand as it was a work of art and was more like a museum than a temple. It's a huge compound and each area is a zone with spiritual meaning attached to it.
The main temple is a glimmering white temple. It looked like a heavenly image from afar but if you look in closely you'll see sculptured hands underneath the bridge, as if these were people asking to be saved. It is still a temple so you have to take off your shoes and be dressed appropriately. Unlike other temples though, the walls are painted with contemporary animation like Doraemon and Dragon Ball characters.
If you join a tour bus, your time might be limited here as you would have to come from and go back to Chiang Mai on the same day. As we were touring on our own through a motorbike, we stayed in this place for a few hours.
Baan Daam Black Museum
Entrance Fee: 80 Baht
The Black House or Black Museum is probably one of the weirdest museums we've seen in Thailand. It's a big compound that contains the art work and sculptures of Thawan Duchanese. He is a Thai artist who is also known internationally.
It is also known as Baan Daam which means black house. However, there were more than one house. There were about 40 small black houses with contemporary architecture. Each house would have some odd furniture mostly made of water buffalo horns and alligator skin.
Some of the interiors look creepy. One looked like a meeting hall area where they perform some underground rituals. Just look at that chairs with horns surrounding and alligator carpet in the middle!
Here are various shots from the museum, make sure you are viewing this in TravelFeed.io so you can enjoy the new gallery feature!
I didn't check if there's an age restriction to enter the museum because some parts have explicit art work. Each toilet has a male and female genital sign, very Instagrammable. I'm happy I wasn't blocked for an NSFW post.
Aside from these, here are some cute photos from a model cat we found hanging out near a Buddha statue.
Mae Sai Border Run
Chiang Saen
The initial purpose of this motorbike journey was to get my visa extended while Julian has the option to do a visa run in Mae Sai. It's a cheaper option which I did not take because I have a much weaker passport. Before we get to the border, we decided to stop over at a small village.
It was night time when we arrived at Chiang Saen, a small town that is already on the border of Laos. We found an affordable accommodation just right next to the night market.
The night market here has a more local fee and so are the prices. I think we were the only foreign tourists that night. Most were local people dining out on a hot pot by the Mekong River.
We found our favorite barbecue at 5 Baht per piece, a creamy coconut milkshake and a super spicy papaya salad. We also tried out crickets and sticky rice which was only 20 Baht for a generous plate. For dessert, we tried those fluffly pancakes filled with coconut flakes. I can't remember what else we tried, but we ate a lot.
The following day, our goal was to get to the border. We checked out the Golden Triangle first as it was on the way. Surprisingly, there was no crowd at the viewpoint although the tour buses arrived just before we left. From this viewpoint, you would see three countries at once: Thailand, Myanmar and Laos. And on one side, you would see massive casino building being built by the Chinese. So you can call it a Golden Square now.
We stopped over a huge Buddha statue which was sitting on a boat like structure overlooking the Mekong river.
Mae Sai
The border was just about 25 kilometers from the Golden Triangle. We first stopped by this viewpoint. I won't lie, the view isn't stunning. It was overlooking green lands, some Chinese buildings and of course, the Mekong river. However, it was amazing to see three countries at once, namely, Thailand, Laos and Myanmar. We expected a crowd but it was a spacious and peaceful viewing deck.
We found other viewing decks with more interesting structures such as a massive Buddha sitting on what looked like a boat. Along the road are several Chinese restaurants and other street food with tourist price tags.
We decided to proceed to the next temple near the border. From here, we can already see Burmese mountains. It was located on a hill so which is a far walk from the border so we didn't park here. We later found how difficult motorbike parking was near the immigration. It looked like everyone was either doing a visa run or was just spending a few hours in the country next door.
We found a free space beside a local restaurant where I had lunch while waiting for @jpphotography to do his visa run. He had his lunch on the other side so that he can spend a bit of time in Myanmar. I wandered around the northernmost part of Thailand and saw several Burmese jade shops. They were selling this at an incredibly cheap price. One pendant was just 30 Baht. I was tempted to buy one but I can't have more stuff at the moment, I actually have to give up a lot of stuff from my luggage.
He spent about 2 hours on the other side where he had local food. At the immigration, he paid USD10 and was easily stamped by immigration. There were signs that says "No Visa Runs" but this apparently is still a common practice. It is a much cheaper option than a visa extension which would cost 1900 Baht. That was what I did because I have a weaker passport and since Thailand is a hotspot for human trafficking for Filipinas, I rather avoid the risk of getting denied or being questioned why I'm staying longer in Thailand. To clarify, I was in Thailand for two months for the sole purpose of travel.
Here's a view from the other side of the border, Myanmar.
Monkey Temple – Wat Tham Pla
Entrance Fee: FREE
Our next destination was Mae Salong but as it was a bit early, we found some time to stop over a monkey temple which is also known as Wat Tham Pla. There were angry dogs at the entrance so I wasn't sure that was the right temple, but a few more meters and we already found some monkeys playing.
Be warned though, they're aggressive. You can't just stand at one point to take photos, be very vigilant because they will be watching out for you. A few monkeys tried to attack. Thankfully, there were kind local tourists who handed us a walking stick which purpose was for protection in case they attack you. Thankfully again, I never had to use it.
There was a stream of water and a skeleton on a bike which seems to be a décor that was left from Halloween. From here, you'll find the staircase going to the cave.
There was a viewpoint before you get to the cave. From afar, we could already see some burning fields which wasn't a good sign as northern Thailand is approaching its infamous burning season again which usually happens on the first quarter of the year.
Luckily, there were no monkeys inside the cave. There are warning signs not to let kids wander on their own. We only found a peaceful sanctuary of huge Buddha statues.
Mae Salong
We continued on to our next destination before it got dark. I only know it was a remote Chinese mountain village. It was so remote that we passed through mountains up and down. Surprisingly, the mountain roads were good. There were no lights but we were welcomed by the most beautiful sunset colors we've seen on this road trip. For a very long moment, the skies when from pink to orange, then dark orange. And then there were just the stars and the moon to guide us.
We arrived at around dinner time. The first guest house we found was above our budget. Our goal was a maximum of 300 Baht for the two of us, and we've always found decent rooms for that price or lower.
There were mostly resort type accommodations along the way. We continued on and we found the center where there were more options. You would know you're at the heart of that mountain village when you see the 7-Eleven beside the Chinese night market. Unlike other places where the accommodation are just right next to each other, it took us time to get to an accommodation within our budget and thankfully found Shin Sane Guesthouse . It has decent and clean rooms, however, only have shared bathroom which was very clean.
Above the town was the hill temple which glowed at night. The ambiance was festive with Chinese lanterns all over the night market. There were young locals who were jamming with their guitar and singing with their friends, while the elderly ones dance around.
The town came from soldiers from the Kuomintang army who settled in this part of Thailand. Their photos can be seen all over town.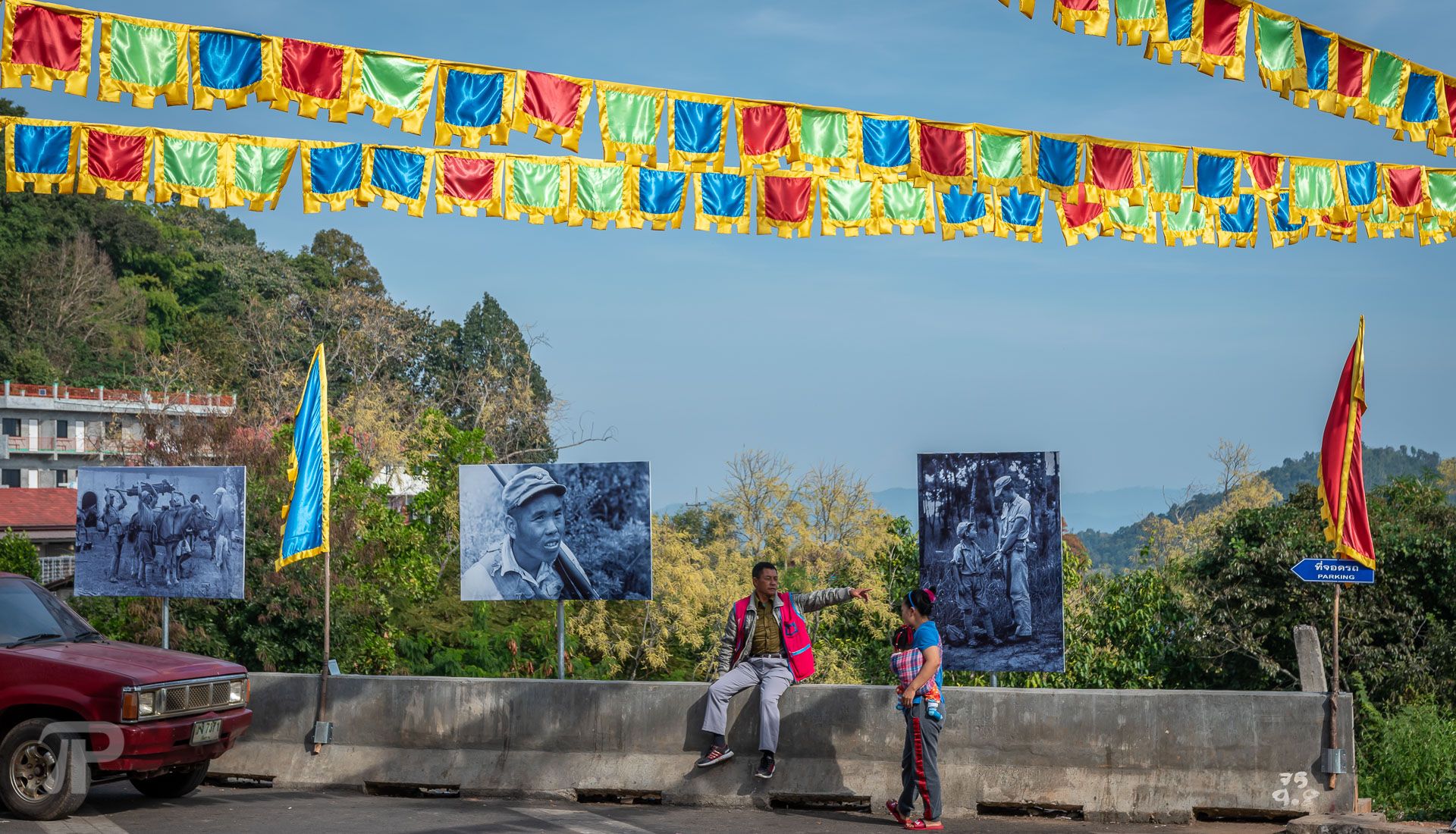 Hill Temple
Entrance Fee: FREE
We visited this hill temple the following morning after breakfast at the local market. It was a steep but pleasant ride to the top of the hill. There was a smaller temple behind the one you see from the town center. There's also a platform that gives you a good view of the mountain village and the tea farms, but walk further to the top of the temple for a better view.
As usual, we had some bubble milk tea which was so popular and affordable all over Thailand. The tea shop sold some post cards and we left some TravelFeed post cards for free.
Tha Ton
Wat Tha Ton
Entance Fee: FREE
We had the entire afternoon so we checked out Tha Ton. Wat Tha Ton is a unique colorful temple. It looked like Chinaware on top of each other creating the stupa structure. Inside it was more precious with all the Buddha statues. Take off your shoes and climb the spiral pathway leading to the top. You will also see amazing view from there.
Beside the temple are huts which gives you a nice view of the town and the bridge of Tha Ton and another viewing deck with a big golden Buddha statue. It could have been a good place to stay overnight but we decided to get to the next destination as we had time.
Tub Tao Cave Temple
It was time to head back home to Pai but we were still about 150 kilometers away. We didn't plan to go straight to Pai and will just stop wherever we get to by night time. On our way, we stopped over this cave temple which was just the start of the most amazing cave temples we'll see next.
There was no one in this temple except us and two other locals who visited the place for worship. The first entrance led to some Buddha statues. There was another entrance that led to another cave which was less developed. There was one big Buddha but the rest was just a cave. It was too dark and we didn't have a torch except for our phone flashlight to lit our way.
@jpphotography was feeling adventurous to explore the cave but I backed out in the middle of our spelunking. It was pitch black and we can't really see the way and the next steps might be leading to a cliff. We went back because I insisted. On our way out, we found the electric switch that would turn on some light bulbs installed inside the cave. We didn't have time to go back so we decided to go on our way.
Chiang Dao
We arrived in the town center of Chiang Dao at night time. There was not much guesthouse options at the town center that was reasonably priced. It was too cold on the way leading to the caves and it seems that there was nothing there. And then we found a local restaurant and a good accommodation on the way called Baan Lung Korn guesthouse. They aren't online but the owner are the best and even gave us free corn for breakfast and there's an Art Studio beside it. There are other resort type accommodation and these are far apart.
Wat Tham Pha Plong
Entrance Fee: FREE
There were about 500 steps to the temple. On your way, you would see some Dhamma quotes posted that was meant for the visitor to meditate on. I enjoyed the meditative walk upstairs and it didn't feel like a task at all.
It was even more peaceful when we arrived on the cave temple. We found that it was a place for Vipassana meditation or silent retreat. There were some guidelines on the temple's schedule.
On our way back, we saw some people carrying a basket to the kitchen. We later found that all visitors can help in this task. From the entrance, there's a kitchen where you can find baskets you can carry to the cave temple. There's a monk resident area on top as well so they may need some of the supplies here. And on your way back, you can carry some baskets from the kitchen upstairs. I wish we had known this and would have been happy to help.
Wat Tham Pak Piang Cave Temple
Entrance Fee: FREE
The second cave we went to did not require any climb. There were 2 caves which houses Buddha statues. On the entrance, you will find the electric switch to turn on the light and ventilation inside the cave. Just don't forget to switch this off before you leave.
There were monks gathered in one shaded area. One of the monks gave us a sign to follow him while we were looking for the caves. He didn't speak to us but gave us signs where to go. He silently guided us inside the cave.
That was a cool experience, to be guided by a monk and he didn't have to speak a word to us!
Chiang Dao Cave
Entrance Fee: FREE but you have to pay 40 Baht for the electricity
There were 2 cave temples (Tham Pranon and Tham Ma) and one was bigger and had an entrance fee. Since it was in the afternoon, we decided to just check out the smaller cave called Tham Pranon which is 360 meters. We were hesitant to visit this temple previously because we thought it would be too touristy as these are the popular caves here in Chiang Dao. It turned out to be touristy locally, and it was not overcrowded.
The way was well lit and there were bridges and steps on the way. It's a place of worship with several Buddha statues inside so it's not a place to go spelunking. Despite the concrete structures, the place maintained a natural ambiance. The stalactites and stalagmites remained untouched and blended well with the religious artifacts. There were well preserved Buddha statues all along the cave.
It was worth the 40 Baht since they have to pay for electricity to light up the cave and also preserve the structures and statues inside.
Back to Pai
Chiang Dao isn't too far from Pai. It took us a few hours to get back home. We initially planned 5 days for this trip but it took us 7 days as we were really going slowly in each stop. We have the luxury of time, but it is also possible to take this trip in 5 days or less but it might just feel rushed to cover a total of 1000 kilometers. To each his own, some people enjoy a fast trip while others like us experience the place more at a slower pace.
Before you go, do you already have Travel Insurance?
Constantly being on the road entails higher risk but this doesn't stop us from traveling. Travel Insurance is the best protection you can bring with you when you're abroad. There are unexpected events in any country but that shouldn't stop you from living your dream. Before my trip, I researched thoroughly and found that SafetyWing is the most affordable and the best part is you can extend your insurance wherever you are in the world!
Other travel insurance require you to be in your home country after some months and this is not ideal for me as a digital nomad. Thankfully, SafetyWing lets you extend wherever you are and they even allow you to register even if you are already abroad which other travel insurance wouldn't allow.
---
This post contains affiliate links. I may earn a small commission if you make a purchase through these links at NO additional cost to you.