Georgia was one of the few countries that was open to tourists during the pandemic. But what convinced us to visit the country in autumn of 2021 was their FOOD.
I'm quite surprised that Georgian food isn't internationally popular because they have unique dishes and spices that vary per region. It's more than khachapuri and khinkali. They also have cheap, good wine and cheese, lots of walnuts in some of their dishes. I gained weight after three months in the country!
Dining out in Georgia beats most of the places we've been to in the world.  Aside from the food, they have tasteful interiors and they make every plate look presentable. Best of all, it's really affordable to eat out in nice restaurants everyday. 
It isn't difficult to find a good restaurant in Georgia especially in its culinary capital - Tbilisi. You don't even have to read this blog, just walk out your apartment and get to the nearest local restaurant and I assure you that you can add it in this list. But I have rounded up the best of the best of all the restaurants that we tried.
Veriko
We would fly to Tbilisi just for their Salmon Tartare. It has a pink pepper mousse with mint, caviar and tiny slices of beetroot. It's such a beauty and equally delicious.
Veriko serves modern Georgian cuisine so I suggest you try this after you have sampled on the traditional version.
It's located in Wine Factory and  quite easy to find.
Must Try Food:
Salmon Tartare with pink pepper mousse
Smoked Meat Soup with Straciatella (sounds odd but it was really creamy delicious with fatty smoked meat)

Dried beetroot aged in grape juice with cheese

Megrelian kupati (sausage) with Polenta (cheese mixed in cornmeal)

Keto & Kote
One thing we noticed in Georgia is that some of the best restaurants seem to be hiding. Keto & Keto was a bit of a challenge to find. Even the address itself says it's on a dead end, once you find that dead end on the map, just turn right and you'll see tables outside overlooking Rustaveli.
We always returned for their pulled beef which was served with sauce, bread, potatoes and greens. The flavor on the pulled beef alone was enough to enjoy it.
We also found the best wine we had in Tbilisi here - Danieli Kisi 2018
Must Try Food:
Pulled beef
Phkali (assorted minced veggies) plate with cheese

Napoleon cake (the best we've tried in Tbilisi and always sold out!)

Sofia Melnikova's Fantastic Douqan
Another restaurant that's easy to miss. Don't be fooled by the entrance which looks like a private garage. You'll see Wolt and Glovo food delivery app stickers on the gate which gives you a clue that you're in the right place.
This is where you'll find traditional Georgian dishes from different regions.
One unforgettable dish we tried here is their Dambhalkacho. It was melted cheese with herbs, served with bread for dipping. It's their version of fondue but the herbs in it makes it  much better!
Must try: 
Veal Chakindzuli - traditional Georgian meat stew in white wine with greens and sour plums
Chicken liver with oyster mushroom walnuts and rice

Dambalkhacho (melted cheese) from Pshavi mountain with mint dry white kveri wine - think of Swiss cheese fondue but better

Megrelian traditional sausage, claypan fried pork offal with pomegranate sauce

Assorted dip platter

Cafe Stamba
Unlike other great restaurants in Georgia, this one isn't hidden. It's along Rustaveli Avenue and from the outside you will find its appealing interior. They retained some features as this building was formerly a publishing house.
Cafe Stamba has a good selection of both Georgian and international, mostly European, dishes. It's also one of the earliest restaurants that open at 8am. They have a good breakfast menu and have a different menu for the rest of the day.
Our ultimate favorite here is the Mushroom Spaghetti which makes use of local mushrooms and truffles. It's so "truffly". I know the word doesn't exist but that's the only way to describe it, the truffle taste is so rich.
Must try food: 
Mushroom spaghetti
 Kharcho and elarji
Both Georgian and European dishes in their menu are good, as well as desserts. 
Breakfast menu - their croissant is comparable to what you get in France
Klike's Khinkali
Khinkhali is a traditional Georgian dish that you shouldn't miss. It looks like oversized dumplings. It's eaten with the hand, you slurp the soup after the first bite and then you can enjoy the meat or vegetable filling. It's basically a dumpling soup.
Other restaurants offer at least 5 khinkali per flavor which is a lot and you end up only trying one or two flavors. Klike's allows you to choose a variety with a minimum of 2 per flavor. Their price is also per khinkali.
Must try: Mushroom khinkali but get a mixed plate so you test out each flavor.
Mhapsalia
The best budget restaurant in Tbilisi which is still centrally located in Marjinshvilli. The average price is only 5 gel per dish, their food is comparable to nearby restaurants which charge at least 10x more. Just like other restaurants, the interiors are uniquely decorated.
Must try: Beef kharcho with walnuts, phkali, pork sausages and a liter of compote
International Restaurants
Tbilisi is Georgia's culinary capital and they also do it well for international cuisine.
Organique Josper
One of the best ribs we had in the world! It's smoked and falls from the bone tender. They also have amazing steak and cheaper than other steak restaurants in Tbilisi. They use local Georgian beef which makes it cheaper but better. They always have a raffle after each meal and we always got a free main or starter for our next visit. Also try their mint lemonade.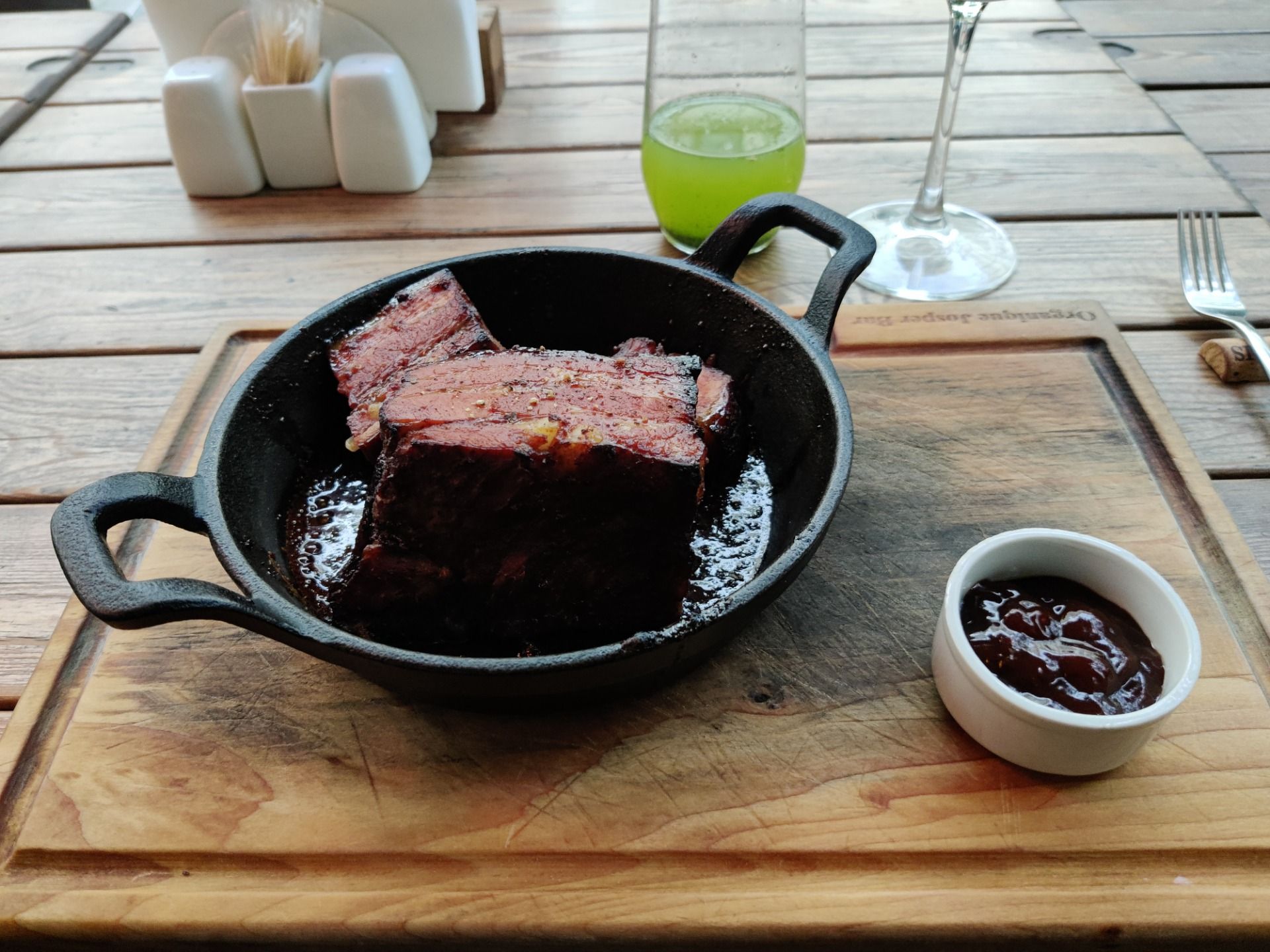 Lolita
For pizza and other European dishes. Reserve ahead as it's always difficult to get an outdoor seat when it's warm, or an indoor seat when it's cold.
Umami 
Located inside the Radisson Blu hotel, it's our go-to whenever we crave Japanese food. particularly sushi and sashimi.
Suzie Wong 
Located in Wine Factory,  another go-to for Japanese food. Try their salmon or tuna tataki and their yummy dessert rolls.
Seoul
Korean food isn't so popular in Tbilisi and there's only a few choices. Seoul restaurant is the best bet if you're craving for Korean food, it's a bit off the center and we took a Bolt (similar to Uber) to get there.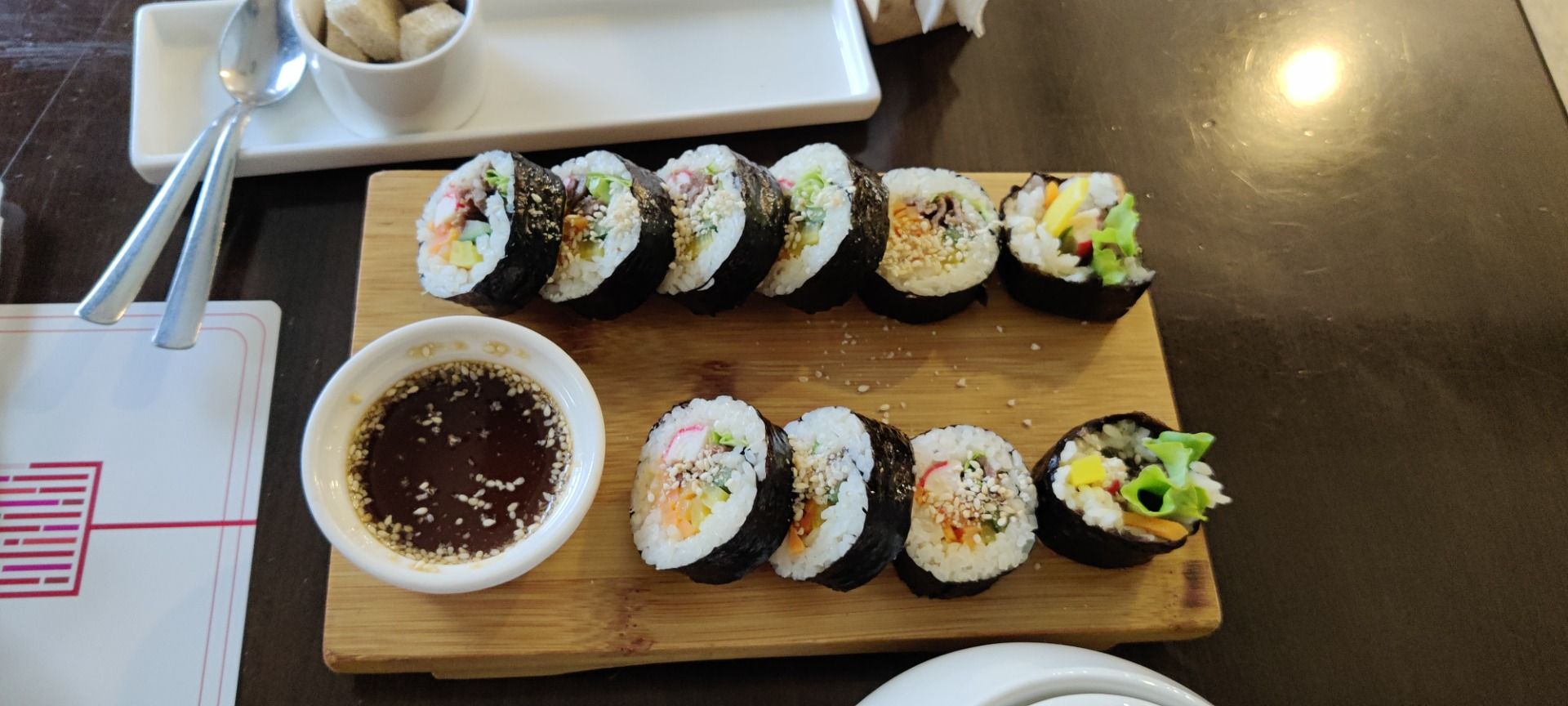 Chocolaterie Artisan
For the best hot chocolate drink and chocolate truffles.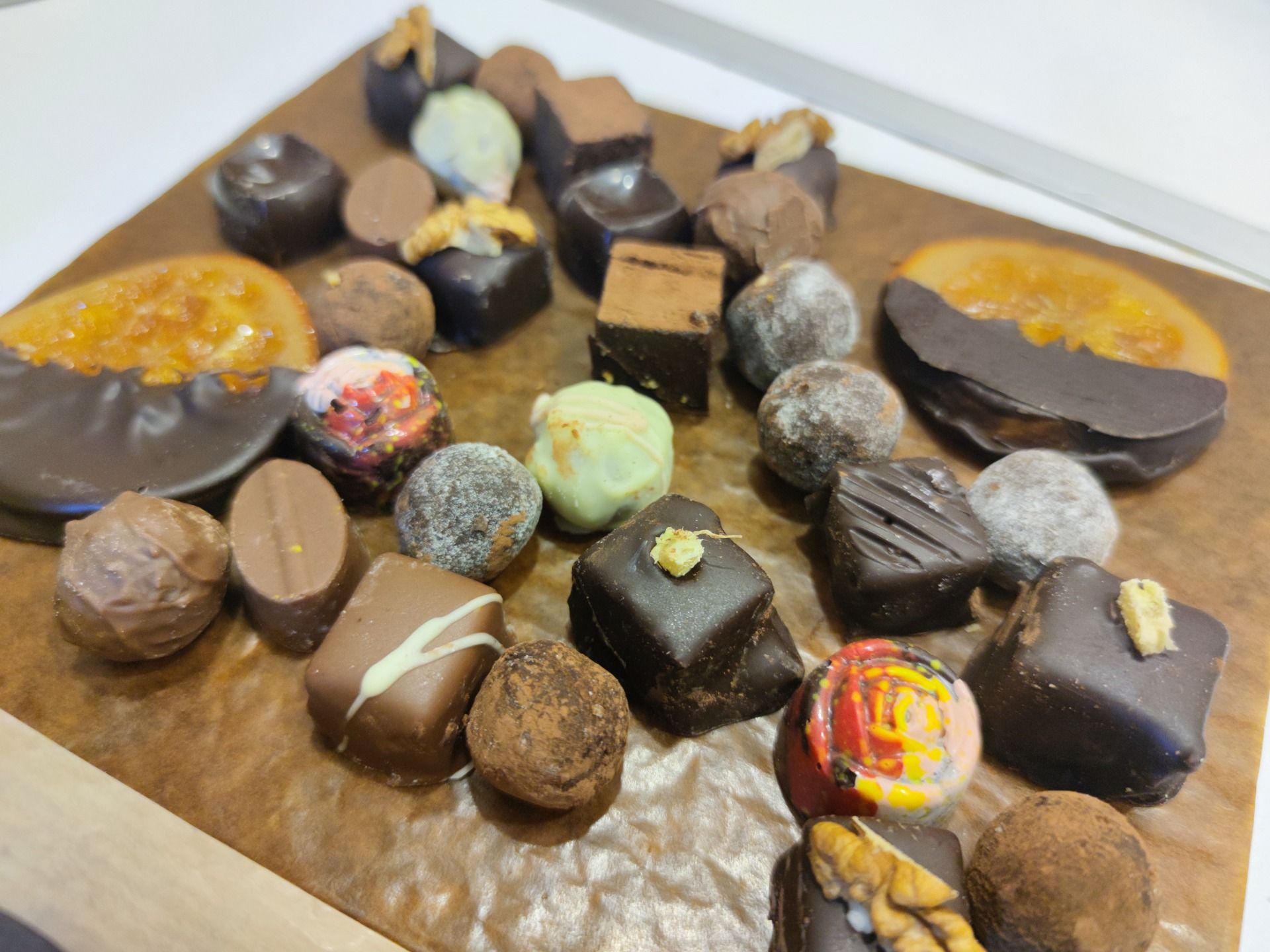 Althaus
These have a few branches around Tbilisi. Great for cakes and tea. We also buy their tea leaves and the best tea leaf mix they have is called Gingerbrize.
Where to Stay in Tbilisi + Tips
Stay
Rooms Hotel for short term stay, it's central and nearby most good restaurants.
If you're staying for a few months, it's best to rent through Airbnb. If you plan to stay for at least one year, you will find better deals at local sites such as myhome.ge
Getting Around
Getting a Bolt or Yandex (similar to Uber) was the best place to go around. You can also rent e-scooters scattered everywhere in the city. But we always find ourselves just walking because Tbilisi is a beautiful city with a lot of interesting old structures.
You can also rent a car with driver for hours or the whole day quite easily via gotrip.ge. We rented through them especially for trips outside Tbilisi. It's affordable and convenient.
TIPPING is encouraged because local's wages is really low. Areas in Tbilisi such as Vake is getting more expensive to locals as it's popular to expats and digital nomads.
Dining Beyond Tbilisi
We stayed in Tbilisi for two months and the remaining month was spent traveling around. Here are some of the outstanding restaurants we found along the way.
Kakheti
Schuchmann Wines Chateau
Schuchmann Wines Chateau has a restaurant, vineyard, spa and villa type accommodation. They also offer wine tasting and tour, and a good selection of food. You can even have room service in your villa with a view of the Caucasus mountains.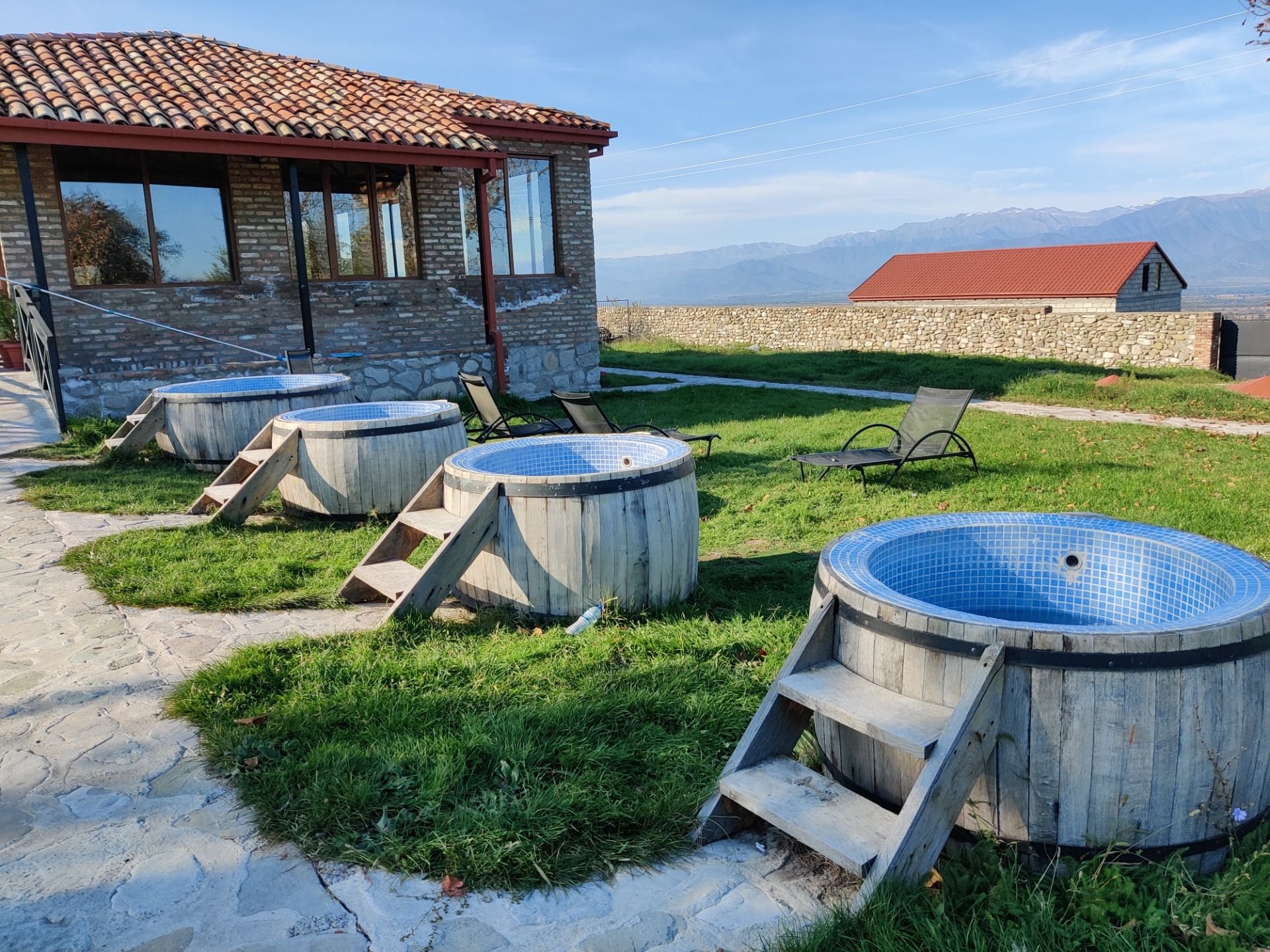 Gori
Shin da Gori
You will need a car to get here and it's not easy to find as it's in a residential area. This is a nice side trip after your visit at the Uplistsikhe cave town. We rented a car through gotrip.ge to get around from the cave town and back to Tbilisi.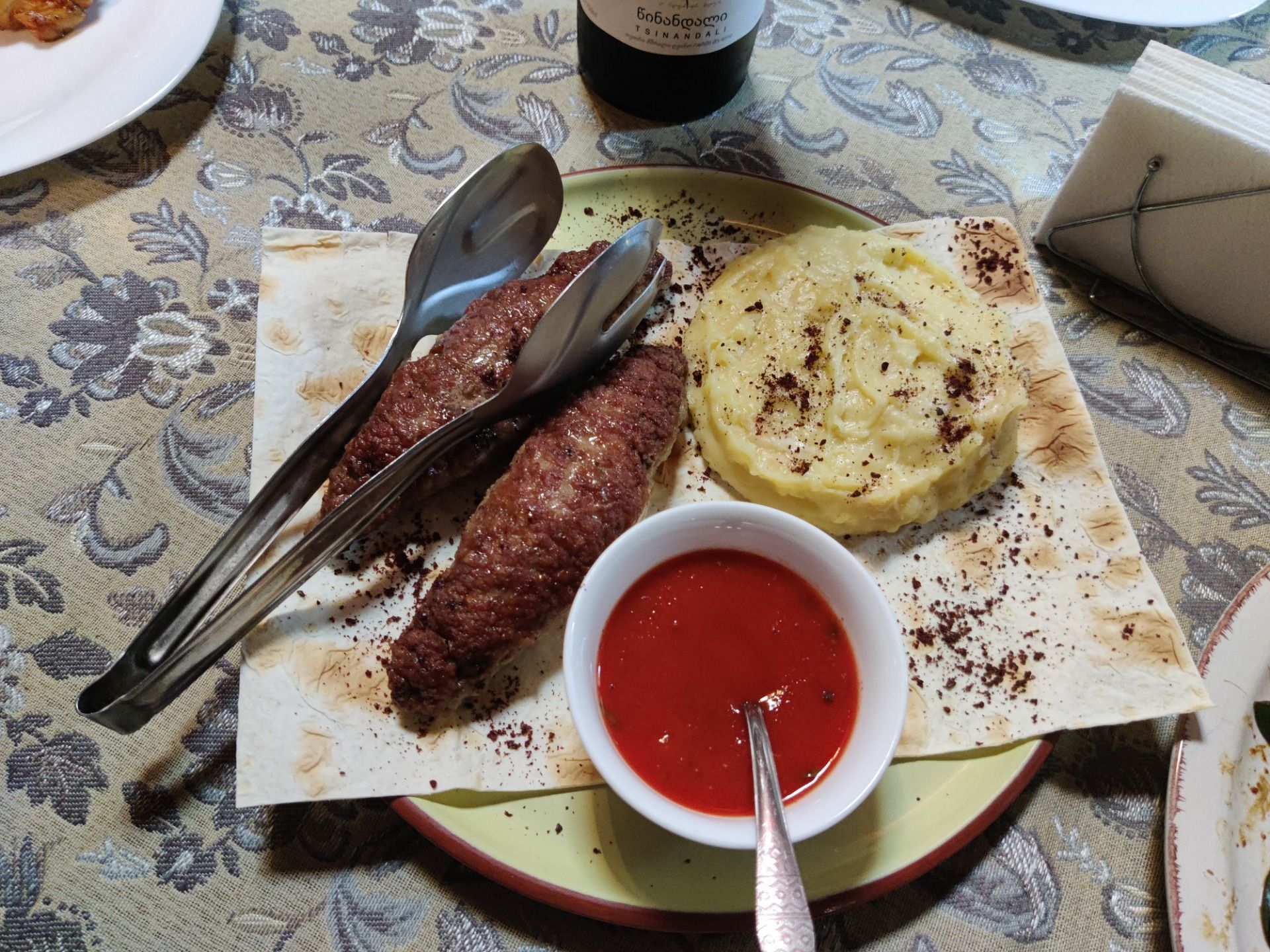 Kutaisi
Toma's Wine Cellar
This is outside the center but if there's only one restaurant you should try, this is it. Here you can experience a supra which is a traditional Georgian feast. They don't have a menu and they serve seasonal food from the region, home cooked by Toma's mom. You also get a tour of the wine cellar. Come hungry because servings are generous. 
Palmaty
They have a cosy garden outdoor table surrounded by grapevines. We sampled our first Imeretian wine here. Try their chicken in walnut sauce, Ojakhuri (pork) with mashed potatoes, Pelamushi (grapejuice dessert)
Lilestan
Their outdoor table is a nice place for lunch. Try their Imeretian board to sample on the different kinds of Imeretian cuisine.
Sisters
A hidden restaurant but with gorgeous interiors and a romantic ambiance. We had a feast of phkali, pickles, Ajapsandali (Georgian ratatouille), innards with nuts (so good!), and an assortment of desserts.
Zugdidi
Casa de Khasia
Casa de Khasia not a restaurant but a bed and breakfast. We had the biggest and freshest breakfast from local produce. It reminds me a Turkish village breakfast with its variety. I also highly recommend their accommodation. The house is also very homey with antique decors and walking distance to Dadiani palace.
Diorani
Several restaurants closed due to the pandemic and there's a few that remained and one that stood out was Diorani. We were here for lunch and dinner. They have a huge selection of Megrelian dishes. Try the Megrelian Khachapuri, Beef kharcho (stew), Kuhmachi (something spicy for a change), ribs and more.ghe 
Mestia
Laila
This was our favorite restaurant in Mestia. Their Kubdari (meat pie) is a must try Svanetian dish and several other dishes that make use of Svanetian spices. Among the best dishes we tried are: dumplings in a pot, Tashmjabi (mashed potatoes with cheese), ribs with adjika spices, ostri (beef in spicy tomato sauce), Ajapsandali (vegetables similar to ratatouille).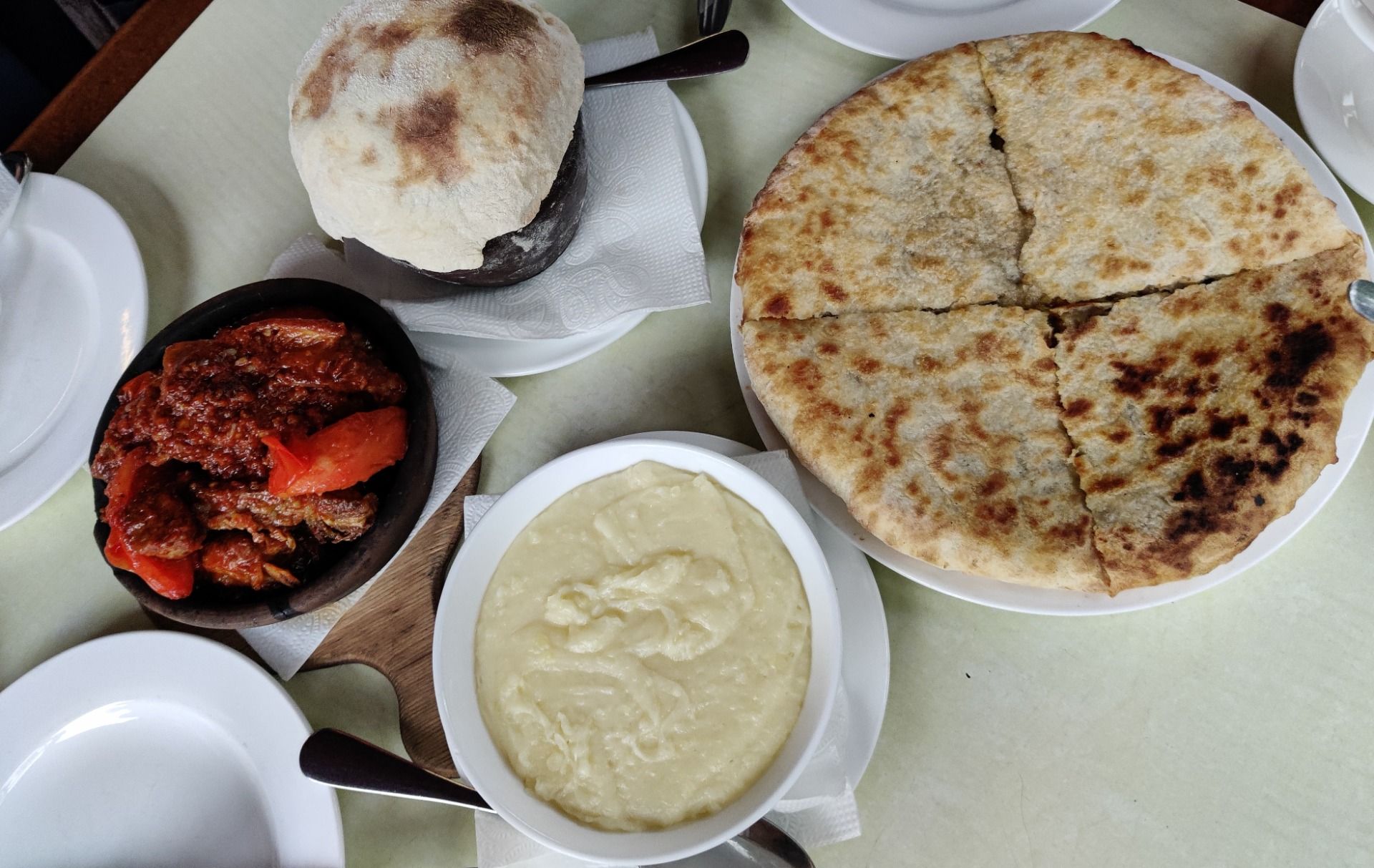 Lila
We had the best hot chocolate here and perfect for Mestia's cold weather. We also love their mushroom khinkali.