A few days ago, @mrprofessor posted about Community as one of the things he's grateful for. Not that I'm copying his content, he kinda reminded me though of why I'm still here in this platform. :D
If not for the communities I'm a part of, I might have already stopped posting here. It can be demotivating to work on your posts and feel like you're talking to the wall. Not to mention the other flaws that plague this platform (bidbots, spam, plagiarism, etc -ok let's not dwell on these).
If you're at the point when you are starting to feel down about being here, you need to go back to your support group - especially if the reason why you're here isn't strong enough to motivate you.
Aside from being a support group, each community has it goals. It can vary from supporting a certain niche or promoting collaboration. Being a member of that community gets you involved in that goal. And if you have a bigger goal here, then there's more reason to stay.
So I am grateful for the communities I am involved in. I would also like to promote them and maybe you can think about joining them if it resonates to your values.
I am part of over 20 discords but I can only be actively contribute in a few whether through posting or working behind the scenes. Here's a list, starting from my newest involvements
---
Ladies Of Asia
---
@ladiesofasia was just launched yesterday so I would like to also promote this group. We're a team of 8 ladies from Asia Pacific namely Australia, China, Malaysia, Japan, Hong Kong, Taiwan, Singapore and the Philippines.
The group will be sharing collaborative posts to showcase the cultural diversity in this region. This aims to promote harmony among these countries and to encourage collaboration here in Steemit.
I'm thankful to @livinguktaiwan for inviting me to be part of this lovely team! We got to work together in Steemit Travelers which I will talk about later in this post.
Check out the introduction and get to know who represents these countries here.

fun banner created by @nanosesame
---
Speak Freely TV
---
@speakfreelytv is also a new project which was started by @cahlen. I was fortunate to be part of the @sndbox final quest and I got involved in this project. I am also thankful that I was able to finish the 2-week quest! Thanks to the awesome team!
The project aims to encourage anyone to express themselves about any topic. It can be through speaking in front of the camera or by having a conversation with someone.
It can be intimidating if you're camera shy like me, but I got the courage to speak because this project will promote a community that will listen and even converse with you, with NO judgment.
Know more about the project proposal here. We also have a pitch video where you can see the faces and hear the voices behind this project.
SFTV at a glance from @akbarrafs Youtube channel
If you can't play the above video on mobile (I have the same issue), you may check on the link here to Youtube
---
Travelfeed/ Steemit Travelers
---
I started as a mod (moderator, coz mod sounds less like a chat police lol :D ) of the Steemit Traveler's discord. I was fortunate to meet the founders @for91days and @jpphotography when they started out the Discord Server. Recently, I also got involved in curation of the #Travelfeed posts.
The group aims to promote a community of travelers, where you can share about your travel stories, ask what's the best camera for travel, get updated with travel contests and so much more. And that community is free from spam (worse phishing links) so we have some guidelines in the server.
If you're posting about travel, you can use the #Travelfeed tag (minimum of 250 words of quality and original content) for a chance at getting curated. You can also check out @travelfeed to see the curated posts of the day.
I recommend that you don't stop at just tagging your posts, you can also join the community which will open your doors to a bigger travel network (and not just upvotes).
You can join the Steemit Traveler discord here and learn about Travelfeed at the #travelfeed_chat channel.

---
Newbieresteemday
---
This is the first community I joined due to @davemccoy'd informal classrooms here in Steemit (it wasn't newbieresteemday at the time). We were newbies who had no idea what's going on. At the time, it was difficult to reach out to established members (or we just didn't know where to find them).
@davemccoy later on partnered with @mudcat36 and they have formed the Newbieresteemday. The project initially helped newbies posts through resteems. Currently, the project has branched out to several activities such as the Minnow Mondays by @amariespeaks, Newbie Games by @newbiegames, and so much more.
Newbie or not, you're welcome to their server here.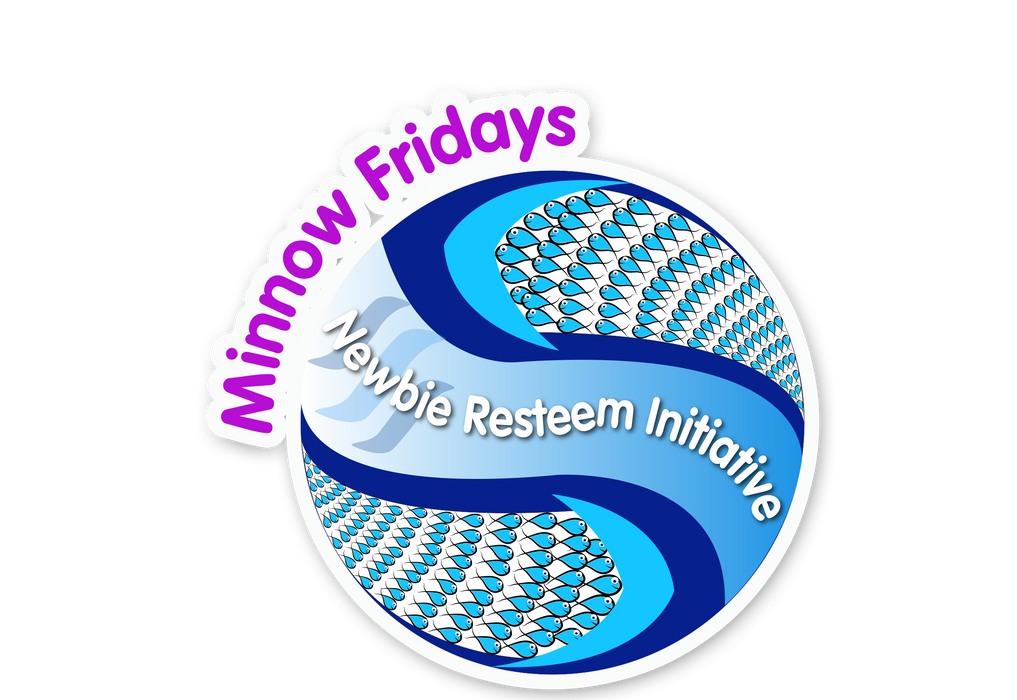 logo created with love by @matytan
The above is my only contribution currently which I do at least once a month. Supposedly, bi-weekly! You see, you're not forced to have responsibilities in these communities and you can help in whatever way you can.
---
Write a post about something you have to be positive about today - this could be anything from being thankful for your current situation, someone being nice to you, being thankful for your friends and family, or even being thankful for the opportunity you have been given here on Steemit - just keep it positive :)
Do this for 7 days in a row if you get nominated.
Mention three people who should do this on each day.
Tag it with #7daypositivitychallenge and include these rules at the bottom of your post Include a picture of something positive (related to your story if possible.)
Tip: You need to put the # in front of 7daypositivitychallenge or it will not let you use the tag.
I would like to tag my friends @barge, @geekpowered and @wilfredn (who have encouraged me during my "down times" here) whom I believe would write some beautiful texts - please don't feel obligated, but you've been tagged!
PS. I was able to use all tags for the above communities :D