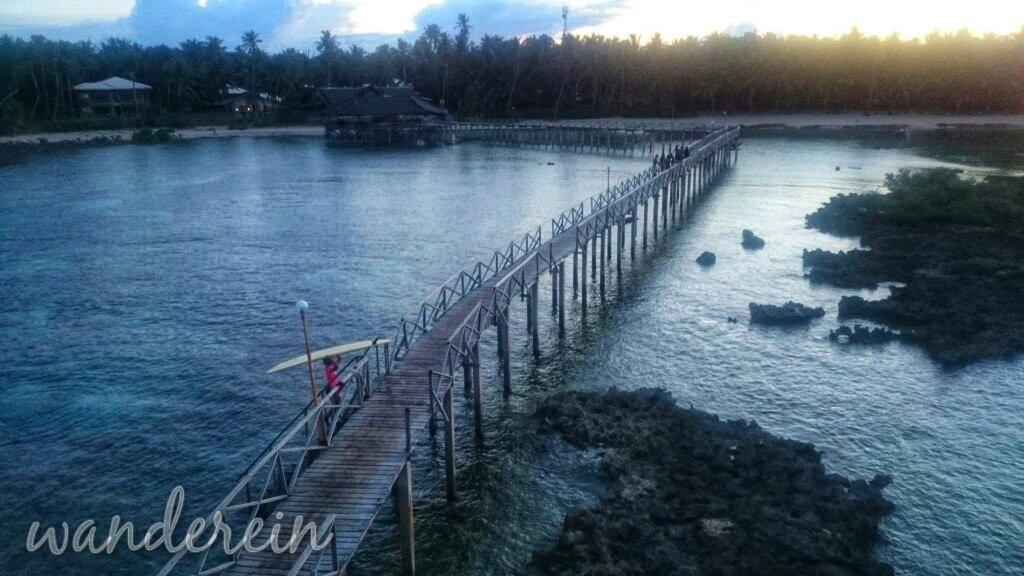 Cloud9 Boardwalk
Siargao gained its popularity in surfing and some people would skip it just because they don't surf. But there's more to Siargao than just the famous Cloud 9. If you don't want to surf or have already had enough bumps and bruises from riding the waves, then here are some fun activities for you:
1. Island Hopping and Snorkeling
Siargao has one of the most affordable island hopping rates. For half a day, you can rent a boat for Php1,300 which can accommodate up to 6 persons. The islands are really near and you can see the 2 island from Siargao main island.
The port is just beside the wet market and you can buy fresh seafood which can be cooked in Daku island. From there, you'll see some people offering their boat for island hopping. If you want to snorkel, you can rent snorkeling masks from them for Php150 and fins for Php250. Also, request for life jackets as they may not have this in their boat.
The snorkeling area is called the Secret Garden. This would be your first stop before the 1st island. We didn't see much fish when we went there but the visibility was clear despite the non-stop rain during the morning. It was still worth the look because the area is like a real garden of colorful corals. They looked like big jackstone pieces.

Naked Island
After snorkeling, you now get to your first island called the Naked island. It's literally an island naked from trees or rocks. So don't get your hopes up, no naked people here ;) It's like a sand bar but more an island.

Daku Island
The second island, Daku island is the biggest and there's a small residential community as well as cottages you can rent. This is where you can have your fresh seafood cooked. Pricing is on a per kilo basis. They also sell fresh buko juice for only Php30!

Fresh buko juice by the beach - the best way to drink!
It was overcast the entire afternoon, nonetheless, Daku island still looked lovely.

Guyam island
From afar, your last island looks like those small islands in movies where you get stucked. But fret not, Guyam island has a caretaker and is maintained with tables and chairs. It's a pretty small island. There's a minimal entrance fee of Php10 for Filipinos and Php20 for foreigners.
It took us more than 4 hours for the entire trip. The bangkeros (boat men) are not so strict with time but make sure you buy extra food for their lunch or merienda should you be extending. Most bangkeros in the Philippines only rent their boats just like a taxi driver has to pay a "boundary" per day. So don't haggle too much and an extra tip or food would really go a long way for them.
2. Take a Dip in Nature's Swimming Pool

Magpupungko Pool
A swimming pool with no chlorine, they got it here! The best news is you don't need to pay thousands to hire a boat to get here. It's just 2.5 hours by motorbike from Tourism Road (Tourism Road- this is where you would most likely find an accommodation). You just need to pay an entrance fee of Php50 and you get access to the beach and Magpupungko pool. We just used Google maps to get here but you need to key in "Magpopongko Rock Pools" instead of Magpupungko.
The best time to go is during low tide because the pool would be covered by the sea during high tide. So check for the low tide time as this varies per day.

Almost high tide! On the left is the pool and on the right is the sea
Just a warning ⚠ though, some parts of the pool have several urchins so check it carefully before stepping in. I have actually accidentally stepped on a sea urchin! It really stings but tolerable because only 5 spikes got in my toe.

That moment I wanna eat that sea urchin to avenge my toe (just kidding, I'm sea creature-friendly) 😂
First Aid: In the unfortunate event that a sea urchin punctures you, pour hot (not boiling) on affected area. Some locals say that peeing on it also works. Well, I guess the hot water did the job because it didn't really sting after a day. I also don't see it now and the spikes seems to have vanished, weeks after this trip.
3. Bike around town
The best way to go around Siargao is through motorbike. We rented our scooter for Php450 per day at Palaka Dive Center, which is just near the market. We heard that you can rent one for a lower price. If you can't drive a motorbike then your other option is to rent a habal-habal. One short ride would cost Php20 per person. I'm pretty sure you can also arrange a half or full day habal-habal as this is a common tourism transportation.

Tourism Road. On our way to Cloud 9
Siargao will never bore you.This is basically a 4D3N itinerary which includes surfing, of course. You can also check out Manta RAY Dive Wing which is a fairly new attraction here. And you can also rent a bigger boat to Cave Sohoton in Surigao amongst other fun activities.
The quality of the photos aren't so bright as it was raining most of the time. This was in September 2016 which is still a good time to go as the surf waves are not as flat as the previous months. Despite the rainy weather, you can still do this much activities on this island.

---
Posted from my blog with SteemPress : http://box5600.temp.domains/~wanderei/2016/10/05/siargao-beyond-surfing/
---