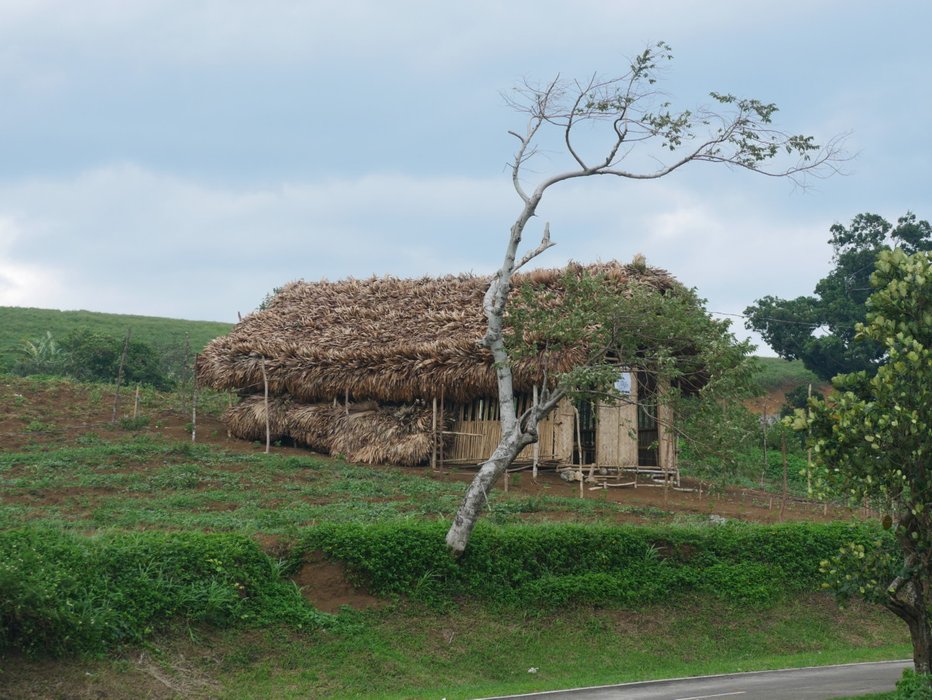 Welcome back to part seven of our Bicol region adventure in the Philippines. Last time we closed the episode of our visit to Hibiscus Camp. It was a pleasant visit as we had an amazing time dipping in the pool while enjoying the magnificent view. We didn't have much to eat during our stay so I went out and looked for a place where we could buy food. We ended up with an amazing experience. Come with me today as I share with you a simple yet charming food spot that we discovered on our way down the mountain.
A Charming Mountainside Food Shack

Have a peek our adventure on the links below.

The food place that we discovered is just seven minutes away by car. Located in Hanawan Consocep Road, Ocampo Camarines Sur the place would be hard to miss if you are coming down from Hibiscus Camp.

Before we go to the food shack, let me just tell how we ended up there. Last time I mentioned that the resort just had one food option which is fried yellowfin tuna. We didn't want to eat tuna for lunch so we just ate nuts and the bananas that we bought from the fruit stall. We were about to leave and I was getting hungry so we went out of the resort and looked for a store where we could buy food.

We found a Sari Sari store which is type of store that can be found all over our country.


A Sari Sari store sells all sorts of junk food, candies, soda, alcohol and other some daily necessities like soap and shampoo. We bought a soda and a bag of chips but was not satisfied with it as I wanted real food.

We stumbled upon this dog and her puppies which eating the chips. The puppies were giving me the look and I ended up sharing my chips with the. I love dogs and could not bear the sight of puppies begging me for chips.

Just beside the store is a food eatery which is common in our country. Not all offer good food but there are a lot of gems out there that are exceptional.

Their sign says Kinalasan sa Isarog (Kinalas is the name of the dish and Isarog is the name of the mountain where we are at). I do not know what Kinalas is but on the photo on their sign, it looks like some sort of noodles with meat. I always want to try something new, told the lady that we would like to order four bowls of Kinalas. After a minute the lady came out of the kitchen and said that they just have enough for one bowl. Well, we cannot share just one bowl as it is only good for one person. It was a disappointment and we decided to just leave and look for another place where we could eat. But Kinalas has gotten into me and I wanted to taste it so badly.

I asked our guide, Ate Daisy if there where any other place where we could eat Kinalas. She told me that we should find a place as it is a very popular noodle dish in the region. She gave me a little insight into what the dish is. Bony parts of beef are boiled until the meat falls off the bone and are mixed with flour noodles. Just thinking of that tender meat and rich broth made my mouth water even more. After driving for around 7 minutes we saw this small shack and the sign says Kinalas. I parked the car on the side immediately and I was very excited.

Another dish that they are offering is Batangas Lomi. It is a noodle dish that can be spicy with a very thick soup. Batangas is a province in my home town where this dish originated from. Lomi has become so popular that it has become widely known in our country. Still my choice is Kinalas as it is something I have not tasted yet.

The name of the eatery is Tirs and Quel and it seems they also offer Baka Rabut. What is Baka Rabut? Well I found out that is just like the Philippine popular dish called Sinigang. A sour soup dish that can be made from different kinds of meat, seafood, pork and in this case beef. Log log is another noodle dish with a very thick sauce that is either shrimp based or made from stale bread.

Enough waiting let's go up the stairs made from bamboo and order our food.


The moment we climbed up beautiful flowers greeted our way. From this point, I immediately knew that this place is one of those gems. A lone food shack at the mountainside almost feels lonely but that's what makes it special. Surrounded by beautiful flowers, wide-open spaces, cool weather and I will share with you the view shortly.

My mother in law was so fascinated with the flowers and asked the owner if she could ask for have some plants. The owner was very kind and said that she would give her some to take home.

It was time for us to order our late lunch. We ordered two bowls of Batangas Lomi and two Bowls of Kinalas. It seems that they also offer some home-cooked local dishes here. Didn't pay much attention as my eyes were set on my hot bowl of Kinalas.

They also had a small Sari Sari store on the side and selling what looks like native chips

There was one table inside that could sit around six persons but we wanted to eat in the native hut we saw outside.

While waiting for our order let's explore the first place and enjoy this beautiful location. Just outside the store are tomato plants and it has a couple of tomatoes already.

On the right side, they planted other plants and in the way, they are arranged it could be vegetable plants.

We noticed that there is some sort of plantation near the area. We asked the owner what they were and we were surprised that the plants were strawberries. There were no fruits yet during this season but I was so fascinated as I thought strawberries only grew in Baguio which is the Mountain City of Pines in the country. The good soil and cool temperature here must have been a good condition to plant the strawberries.


In this area, they have some strawberry plants in black plastic bags. They may be buying the plants from somewhere else and then replanted here.

Since there were no fruits yet the owner said they can sell us some plants if we wanted to try planting them back home. I am not sure though if it would flourish back home as we have a very hot weather and the soil is not good.

My mother in-law still bought a couple of plants and try her hand planting them.

After a few minutes it was time for us to leave the small plantation as security in the form of this dog is headed our way. The dog was barking and was protecting his territory.

We got back safely near the eatery but our food was not yet ready. While waiting I took some more photos surrounding this area and Mt. Isarog is breathtaking. Imagine eating a warm bowl of noodles surrounded by this view. A cool wind blows brushes your face as the clouds cover the top of the mountain.




They have set up a table for us outside while waiting. The owner said that we could either eat outside or inside the hut.

It would be great to eat out but mother in-law said that it was getting a bit chilly and she would prefer to have her meal inside.

Let me share with you more photos of the landscape on the other side facing the hut.

A small hut made from bamboo just near the entrance is guarded by a dog. I am not sure if someone sleeps there or if used for something else.


There is small house further down and could be the owner's house.

I saw these plastic containers and I believe they also make and sell vinegar. Could be coconut vinegar as they are abundant in the area.




After enjoying the gorgeous landscape it was time for us to eat. Let's go inside as the hot bowls of goodness is ready to be served.

The shack has only four tables and materials used are mostly bamboo and nipa leaves as roofing material. Aside from us there was another group also waiting for their order. We had a small chat and found out that they were teachers on break. They said that they love visiting this place as it is so peaceful and the food tastes great.

That first that arrived was the two bowls of Batangas lomi. The soup is very sticky but very delicious and has thick egg noodles. It is topped with half boiled egg, pieces of meat, liver, crunch pork rinds and topped with toasted garlic. If I recall correctly the price of one bowl is around 60 pesos or $1.17 USD.

How would you like to try a bowl of the Batangas Lomi?

Now for the noodles that I have been waiting for. The moment it arrived the smell was very appetizing and I couldn't wait to taste it. It is served with one whole egg, lots of meat and topped with crunch pork rinds. The broth is very beefy and the meat was so tender. The noodles were perfectly cooked and I enjoyed every bite. It is also best if you squeeze in the calamansi (our local lime) provided on the side for a little bit of sour taste.

I couldn't bother with the price but I think the price is almost the same with the Batangas Lomi. All in all noodles that they served here is like comfort food out here beside the mountain. The noodles has exceeded my expectations and I was very satisfied.

Of course it would not be complete without a dash of chili oil.

How about you? What would you like to taste? Would you like to try the sticky soup of the Batangas Lomi or the fall of the bone goodness of the Kinalas? Thank you for joining me today and I hope you enjoyed this humble meal with us.
Hope to see you again in the next part of our adventure and if you love animals you would surely not want to miss our next stop. Until then have a very warm and #beautifulsunday everyone.


Visit and follow @steemitbloggers AKA #powerhousecreatives. A community that is exceptional, talented and engaging.
Discovering exceptional content in the community follow @curie and vote as witness
To have a glimpse of awesome content from the Philippines check out @bayanihan
Follow @surpassinggoogle to witness an extraordinary person in this platform and vote for @steemgigs as witness
All photos are original and taken with
Lumix GX85 12-32 mm kit lens





---
Posted from my blog with SteemPress : http://watersnake101.steemblogs.club/2019/10/27/a-charming-mountainside-food-shack-beautiful-sunday/
---