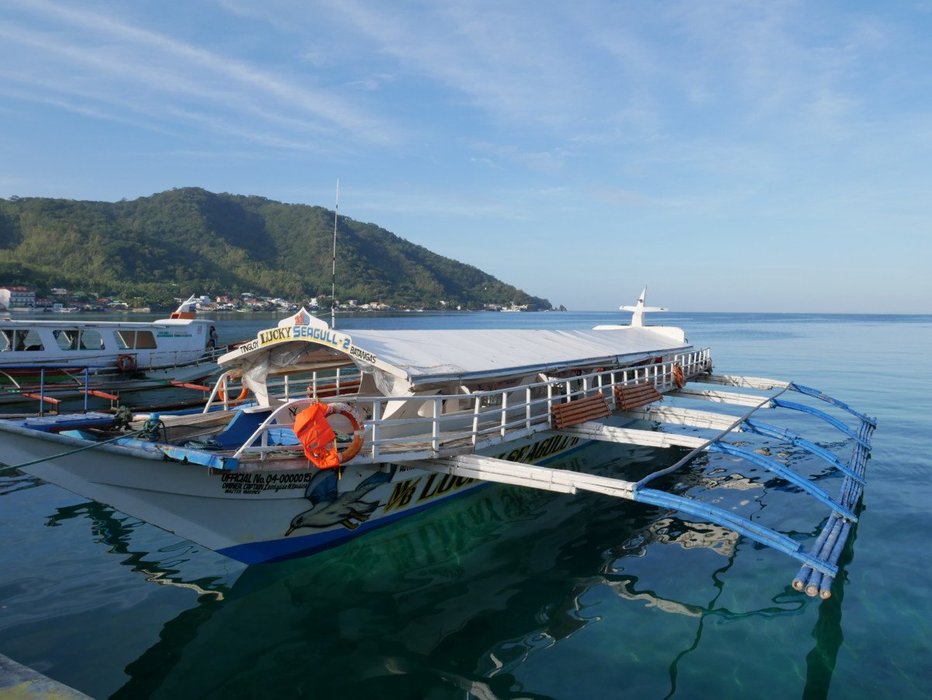 It has been an amazing year and as we face 2020 new opportunities, adventures and goals await us. During the holiday season, most people spent their holiday away from home. To start the year let me share with you our adventure during the long vacation. I will take you with me on our holiday trip to the island of Marikaban located in Batangas Philippine. Here you will see crystal clear waters, beautiful coral reefs and breathtaking views. So get you wet suit ready as we embark on an island adventure.
A Getaway to Marikaban Island

At the crack of dawn, we were on the road headed to Anilao port in Batangas Philippines. It is a port where you could take a ferry boat ride going to the island. From our location, estimated arrival to the port is within 3 hours and driving early in the morning helps avoid traffic. Although out here there are not too many vehicles on the road going there except for bugs that splatters on your windshield once in a while.

We finally reached our destination and the port was already very busy at this time of day.

During our research going on this trip, we learned that we could park our vehicle inside the port for around 100 pesos or almost $2.00 USD per day. Unfortunately, we just learned that they are not allowing vehicles to park inside the port as there will be a car show today. We asked around and discovered that just outside the port there are pay parking areas. The price is more expensive though which is double the price. We do not have a choice so we went for it and on the better side of it, it is private property and your vehicle will surely be safe.

Around this area in Batangas there are already so many beach resorts to choose from. But we planned and wanted something else further from the mainland. We seek adventure away from the crowd and a times a bit hard to get to. Well as I say, the further and harder the road ends up to be very rewarding. This proved to be true for us on a couple of occasions already.

From Anilao Port it will take almost an hour boat ride getting to Tingloy port on Marikaban island. If you love ferry boat rides you would definitely enjoy the trip.

The next ferry trip will leave at 8:30 am and while waiting let me just take you around the port. Also to those who are planning to visit there is a market here and it is best to do your shopping here for your food and supplies. On the island prices are steeper naturally as transporting materials on the island costs more.

If you checked out the video you will see how clear the water is here in this port. I was stunned seeing clear water and different sorts of fish just swimming near the area. I love it when people know how to take care of their natural resources and disposing of garbage properly.

Everyone going to the island would need to pay for an environmental fee of 80 pesos which is around $1.57 USD. All the names of the passengers are also taken here and you would be asked where you would be staying on the island. Before going to the island it is best to reserve for accommodation ahead of time.

Our 8:30 ferry boat has arrived and once all the passengers have gotten off they would allow you to get on board right away. The fare would be collected on the boat which costs 100 pesos or almost $2.00 USD.

We immediately went on board so we could choose our seats as we prefer somewhere closer to the exit. This area near the captain is reserved for the pregnant, disabled and the elderly. That is a standard for public transportation in our country.

Passengers are steadily filling up all the seats as the boat is scheduled to sail at 8:30.

I went to the back of the boat to see if I may find something interesting while waiting for the departure.

A rusty anchor that shows that this boat has gone through many trips already going from island to island.

Life vests are distributed to all passengers as it is a safety requirement when traveling via sea.


As our captain takes a final look to check on the passengers which is an indication that we are about to sail. Excitement fills the air as we head out to the island.

There is a walkway on the side of the boat which is for crew use only. Passengers are not allowed to go to this area and I think you would get the best view from here if it was made safer for passengers.


Here is a video during the trip as I have decided to included videos in my content to share our experience in the best possible way I can.
I do not often include myself in my content but my daughter insist to take my photo. I don't look too cheerful here as I had a slight headache maybe as I am not used to traveling by boat. At the back of my head, I was telling myself, "Are we there yet? Are we there yet?" lol.

My daughter doesn't seem to have any issues with the boat ride and was enjoying every minute of it.

Touch down at Tingloy port and from the port we would need to take a tricycle ride to get to the other side of the island. We already contacted our host for our accommodation and she is expecting us already.



This is one of our local public transportation called the tricycle which is like a taxi cab. Renting the tricycle will cost you 120 pesos or around $2.35 USD. The fare is more expensive here on the island usually on the main land it only cost half of the price.

We are headed to Masasa Beach resort which is the most popular resort on the island. As directed by our host we are to go to Pirasan port as we are to be picked up there by a small boat. On this trip, we have gone through three ports already and finally we are almost there. There is an alternate route where there is no longer a need to take a boat ride. That is if you want to take a 5 to 10 minutes walk carrying all your stuff to the resort.

I have taken a lot of tricycle rides in my lifetime but in my experience this ride is the most intense ride I have experienced so far. With narrow, uphill and downhill roads get ready for a thrill ride.


The video below shows a short part of that ride. I had to turn off the camera as I felt I needed to grab on hold on something.
Reaching Pirasan port we patiently waited for the small boat to take us to our temporary home on the island. I realized that our host made us feel welcome to have a boat take us to our accommodation. This is a great way for us not to walk to the resort carrying all our heavy belongings as everyone was already tired from the very long trip.


Our boatman arrived and it seems he already recognizes us without saying a word. He passed around our life vests and helped in loading up our belongings. I wore shoes going on this trip as I didn't realize I would be getting my feet wet this early. Word of advice is, wear sandals when planning to go to an island.

Another video of our exciting boat ride. As we came closer to our destination everyone could not contain their excitement. A new place to explore, a time to relax from all the stresses of life and to feel once more my passionate love affair with the ocean.




After more than 4 hours of travel time we have finally reached our destination. At this time we do not have any plans yet what activities we will do on the island. Right now I would just like to take a little rest and have lunch in a couple of hours. But something in me tells me to take a walk and just dive in the water. I'm tired after that long drive and boat ride but the explorer in me is dying to come out.
This ends the first part of our adventure. There is so much to share on this trip and I hope to see you again next time as we explore the beach area. As we go along I will take you above and beyond this enchanting island. You may even think of never leaving this place and just stay here forever in this island paradise. Hope to hear from you guys and let me know what you think about the long trip to reach our destination.
Until then enjoy the rest of the weekend and wish you dreams on an island getaway.


Visit and follow @steemitbloggers AKA #powerhousecreatives. A community that is exceptional, talented and engaging.
Leaving a mark in our beautiful world with @steemitworldmap and @travelfeed
All photos are original and taken with
Panasonic Lumix GX85 and 12-32 mm kit lens





---
Posted from my blog with SteemPress : http://watersnake101.steemblogs.club/2020/01/05/a-getaway-to-marikaban-island-beautiful-sunday/
---