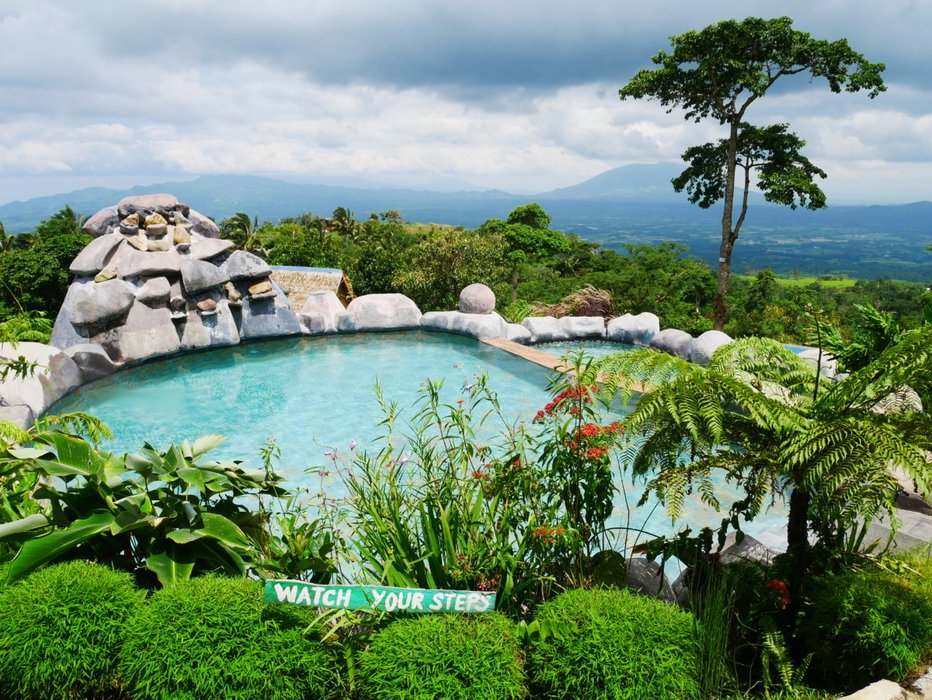 After that short stop at the fruit stand along the way. We continued to our original destination to Hibiscus Camp located at Consocep, Tigaon, Camarines Sur Philippines. A small resort that will truly capture the hearts of nature lovers with a majestic view of the landscape. Join me today as we take a dip in the cool water of the pool while enjoying nature.
Embraced by Nature "Hibiscus Camp"

Follow our adventure in the region on the links below

Just a few minutes away from our last stopover which was the fruit stand. Our guide Ate Daisy was very excited to show us the resort as she has been telling us how beautiful the place is. From the coastal village in Pararao where we stayed travel time will take you more or less 1 hour and 30 minutes. Unless you have a few stopovers which would be hard to resist.

The road we have been traveling getting here was an upward incline. A couple of sharp turns and curves but not that difficult. The resort is nestled just above the foot of Mt. Isarog but as you could see it is not even halfway to the summit.

We finally reached our destination and vehicles can just be parked on the side of the road. If you do not have your vehicle you could rent a tricycle take you here from the town of Hanawan at the cost of 300 pesos or around $5.80 USD. Still, prices could depend on your haggling skills.

The sign they have outside is quite colorful which is like a large bottle cap. With a motorcycle on the sign, I could say that the owner loves bikes. With the name Camp Hibiscus definitely the owner is also a nature lover.

From outside you could already see plants and flowers greeting you as you find your way inside the resort.

The entrance is just a simple structure made from coconut trees and bamboo. It doesn't look much from the outside and you could easily slip pass by if you didn't know there is a resort here.

Business Hours
6:00 am to 6:00 pm
Entrance Fee (including swimming)
Adult - 100 pesos ($1.94 USD)
Senior Citizen and Children - 50 pesos ($.97 USD)
Overnight accommodation would need reservation ahead of time.

It would be advisable to bring food with you when visiting. In this case, we didn't bring lunch with us except for a few crackers, nuts and the fruits we bought along the way. I was starving and was hoping they would be selling some food. Unfortunately, they do not have many options except for fried tuna. Maybe in the future, they would establish a restaurant in their resort.

Going down the resort the steps are a bit steep but there are coconut handrails you could hold on to. While I was going down seeing the trees surrounding the area, I felt that this place is something special. Not the usual resorts that we see everywhere but a place that has been made to blend in with nature.

It seems that they constructed the place adapting to the side of the mountain and terrain. Using the natural plants in the surrounding area and adding a lot more varieties of plants, trees and flowers.

Seeing a pool with a gorgeous view in the background is such a rare sight. There are not a lot of resorts constructed on mountain sides and not only that place is very clean.

The infinity pools are divided into three sections. The upper pool is 4 ft, the middle pool is three ft which is for best for the kids and the lower level is 4.7 ft deep.

The middle pool is decorated with figurines that feels like a storybook. The owner has put in a lot of effort adding in small details like these that make a difference.

The lower pool has a clear sign "No Buhis-Buahy Selfie pls". This means "No life-endangering selfies pls", probably that has been instances in the past where visitors took selfies on the edge of the pool. From the pool is quite a long slide down the mountain but some people do a lot of stupid things for a selfie. Along with the rules are no diving and smoking in the pool.

I would just leave it up to you about your thoughts on this fantastic view. Cool clear water, majestic mountainous view of the horizon and all these embraced by surrounding nature. How would you like to spend some time here just relaxing in the pool?


There are times of the day that a cloud passes over this place and the fog adds a dramatic effect to the place.

I was asking what was keeping them from taking a dip. The water was too cold but your body would adjust once you are fully submerged. I also took a dip later on and I find the water quite tolerable once you get used to it.

Another interesting area in this resort is this bridge made from coconut trees and platforms built around the trees. It is amazing how they built structures by adapting instead of destroying the surroundings.

Let's take a walk to the other side and see the beauty surrounding the place.

This area is like a gorgeous wild garden surrounded by different types of flowering plants. I do not know much about plants but see if you could identify some of them and please do let us know.



A plant that has black and green leaves. I am not sure if the leaves turns black when they get older or if it just sprouts both green and black leaves.

Part of the bridge is being overrun by plant growth, maybe they get trimmed down at some point.

A perfect spot for lovers and would be a good place to have a nice, quiet, candle light dinner.

Well, we could see that a lot of people could not help to leave their mark. Like a tree tattooed with the names of people who we will never know. Maybe love stories too that we will never know how it ended up.

From this point you could get a good view of the lower pool. As you could see that is quite a long drop if you try any dangerous selfies. Best to just relax inside the pool instead of doing crazy stuff.



Hiding in one of the coconut trees on the bridge are some very interesting things. I think these are not edible but very beautiful in their strange little way.

Another fascinating plant that has white leaves in some sections. Could be a part of the flower and this is the first time I have seen this type of plant.

I went up to the second section of the bridge that leads to another surprising area of the resort.


The pathway led to a garden filled with more plants and flowers. So many gorgeous flowers but there is one specific flower that I was looking for. The place is called Hibiscus Camp so I was expecting there would be a lot of Hibiscus flowers everywhere. It would be strange not to find the flower in this place as it is what the resort has been named after.


Beautiful flowers everywhere you look but still the Hibiscus cannot be found.


I have seen so many flowers already and I still believe that there is a Hibiscus flower hiding somewhere. Perhaps it is not the season for the flowering plant. Still I am not giving up and continue on with my search.

For now, this ends the first part of our trip to Hibiscus Camp. There is still so much to share in this beautiful place. I hope you enjoyed this part of the tour and next time I will be sharing with you the upper part of the resort. A cabin beautifully decorated with unique pieces and overlooks above the whole resort. Plus a pool that we discovered later on this trip.
Thank you very much for joining me today and please do leave some comments. I would love to hear from you what you think about this resort. Until then may you have a peaceful Sunday and enjoy the rest of the weekend.

Official Page

Visit and follow @steemitbloggers AKA #powerhousecreatives. A community that is exceptional, talented and engaging.
Discovering exceptional content in the community follow @curie and vote as witness
To have a glimpse of awesome content from the Philippines check out @bayanihan
Follow @surpassinggoogle to witness an extraordinary person in this platform and vote for @steemgigs as witness
All photos are original and taken with
Lumix GX85 12-32 mm kit lens





---
Posted from my blog with SteemPress : http://watersnake101.steemblogs.club/2019/10/13/embraced-by-nature-hibiscus-camp-beautiful-sunday/
---