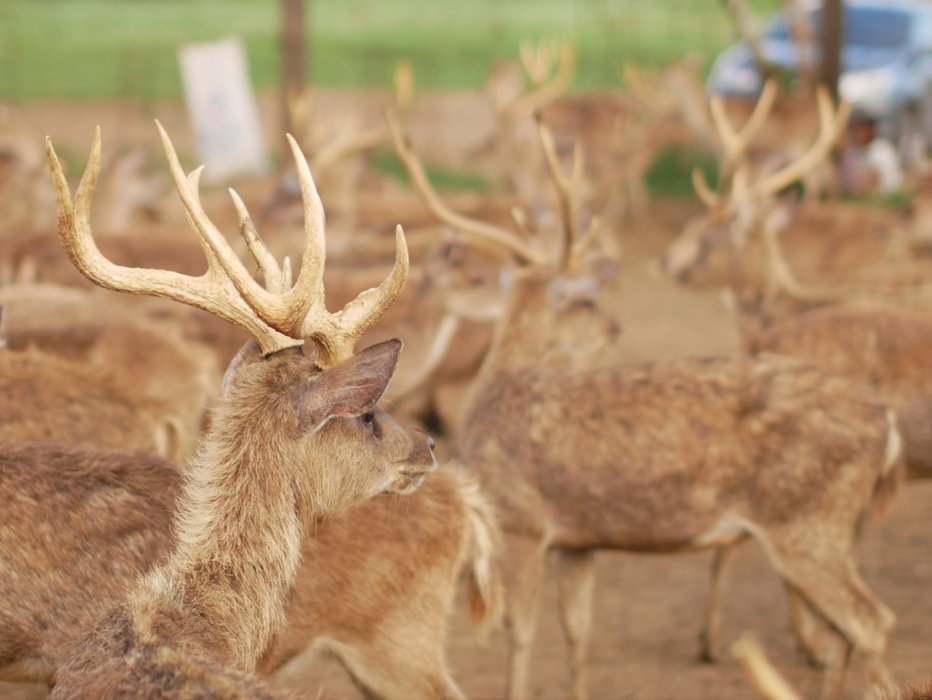 Welcome back to another part of our adventure in the beautiful Bicol region in the Philippines. Last time we enjoyed a hot bowl of Kinalas and was also taken away the gorgeous view around the area. I have been wanting to see some animals in the region. I was told that there is a place where you could interact with the animals and it is just along the way. Today I will take you with me to see a farm in Ocampo, Camarines Sur. A place where you could see hundreds of deer grazing on a pasture just below Mt. Isarog. Spend a little time with me today as we visit Ocampo Deer Farm.
The Antlers of Ocampo


Follow our adventure in this beautiful region:

Getting to the farm is just 17 minutes away from Hibiscus Camp and I would also suggest to make a stopover to enjoy a bowl of Kinalas first before going to the farm. If you want to know more about the Kinalas you could visit the link from our previous post. You could easily miss the road getting to the farm even though they have a sign. The road getting there is very narrow and I am not even sure if two vehicles could pass each other here.

As I was driving I was hoping that there would be no vehicles coming from the farm. Now I was sure that two vehicles would not fit unless one vehicle would drive on the dirt or grass. It would be difficult for us to drive off the road as the car we were using is not meant for off-road. The what I was worried about finally happened. A white pickup truck was coming from the opposite direction and there was no way for us to move aside. The pickup truck was kind enough to drive off the road instead to let us pass. I rolled down my window and waved at them to say thank you. they gave me two beeps of the horn in a gesture to say "You're welcome".

We finally reached the farm that is enclosed by a wire fence that goes around 5 hectares of land. From here you could already see the deer grazing in a wide-open space.

We asked if there is a fee to get inside the farm as it is very common here that there is always a fee. The man at the gate said that the entrance is free but we just need to take note of the rules posted at the gate.
Reminders
It is prohibited to litter inside and outside the deer farm
No entrance fee
No bringing of food inside
No bringing of large bags
No smoking
Refrain from causing too much noise
Do not hold the antlers of the deer
No trash
Do not cross past the visiting area
The farm is open from 8:00 am to 5:00 pm

As we entered dozens of deer were looking at us and I was little bit worried as some has very large antlers.

The farm stretches a 5-hectare grassland and accompanied by the cool temperature in the area. The deer seems to be very happy living in this wide-open space. Unlike the deer that we saw in a zoo that we visited which has only a small space to move around.


Around 60 deer were brought here in 1996 from Australia. People here have not seen a deer and were very amazed. The animals had no trouble adapting to the climate and since then their numbers increased to hundreds. They continually multiply until today.

The deer has become very friendly and familiar with humans. They tend to approach when people arrive and you are allowed to touch the deer on your visit.

The sharp antlers can be very intimidating and you have that feeling that you could easily get injured with all these antlers around you. But there have been no reports of injuries whatsoever.

One of the activities that you could do here is hand feed the deer. Although the entrance is free you would need to pay 50 pesos which is around $1.00 USD for a bunch of grass. Feeding the deer would be quite an experience and a bit scary as you would see later on. My mother in law didn't go inside the farm as she was scared of the animals and just stayed behind the fence to watch the deer.


We were given a bunch of grass and the moment it was handed over to us. The herd came rushing towards us and would surround you as long as you carry the grass.

Our guide ate Daisy got frightened and was shouting that she is being attacked. The boy inside the farm told her to calm down as the deer would not hurt her. Just feed the deer, it's the grass that they are after.



Finally, she was able to distribute the grass to some of the deer and the animals left her alone. It shows that her fright was replaced by happiness after a few minutes.

The deer has become very familiar with people and visitors are encouraged to interact with them.


This species is called the Rusa Deer and is a native in Indonesia and East Timor. They have been introduced to a lot of countries that include New Zealand, Fiji, Papua New Guinea, Solomon Islands and Australia where the original herd was imported for this farm.

The antlers are harvested, used as ornaments and also made into medicine. Velvet antlers is the stage when it has not hardened yet but has a hairy form. There is a large market for velvet antlers as they are used in Chinese medicine, and dietary food supplement. The antlers are also dried and added as an ingredient in Chinese traditional soups.



Inside the farm deer poop are everywhere and it would be difficult to avoid stepping on them. Since the area is an open space the smell is not that bad in spite of all the droppings everywhere.

Since Christmas is getting near, I was told by the staff that there is a Santa Clause who visits the farm. He is called the Pacific Santa, wearing a red coat, big tummy, and a full beard. He comes by to feed the deer and it would be a treat if see him on the farm.

The antlers of the Rusa deer can grow very large and could almost look too big for the deer's body size. I thought that antlers and horns were the same but through research, I found out that antlers are made of bone. They fall off and grown new sets every year and plays a part in the mating season.



It was a great experience visiting the farm and we learned a lot in the process. It was like seeing a herd grazing in their natural environment because of the wide enclosure. It would be great to find a place in our country where wild deer would roam freely. Although much care is need first as to not disrupt the natural ecology of an area.


This ends our tour today in Ocampo Deer Farm. I hope you enjoyed the tour and please do leave some comments and let's talk about wildlife. Animals are a gift to us and we must remember to not abuse the gifts that we receive. We must teach the future generation to value and respect wildlife as it was given it can be taken away.
Hope to see you again on our next adventure. Until then enjoy the rest of the week and have a very #beautifulsunday.

Resources
Official Page

Visit and follow @steemitbloggers AKA #powerhousecreatives. A community that is exceptional, talented and engaging.
Discovering exceptional content in the community follow @curie and vote as witness
To have a glimpse of awesome content from the Philippines check out @bayanihan
Follow @surpassinggoogle to witness an extraordinary person in this platform and vote for @steemgigs as witness
All photos are original and taken with
Lumix GX85 12-32 mm kit lens
and Sigma 50 mm





---
Posted from my blog with SteemPress : http://watersnake101.steemblogs.club/2019/11/03/the-antlers-of-ocampo-beautiful-sunday/
---