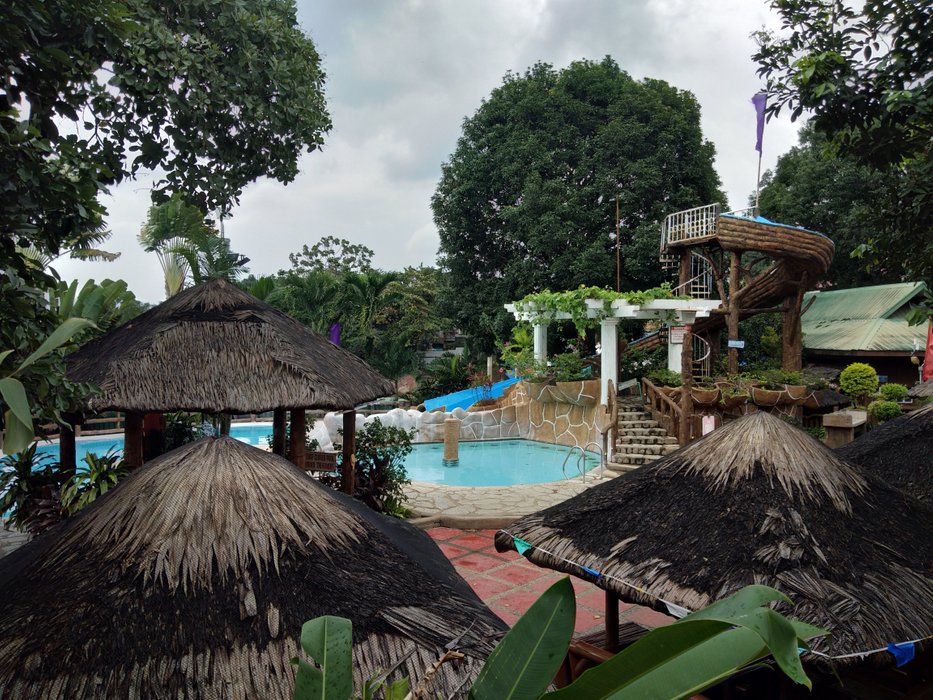 There are times when you get to places when you least expect it. The original plan was to get my passport fixed and head home right away. Bad weather and not part of the plan we headed out to a farm resort to drop off my mother in law. Most of the time trips that are unplanned often leads to discovery and a fantastic time. Come with me today on our side trip to a resort.
Unexpected Trip


Our trip should just have been to the city to get my passport fixed. Unfortunately, our supposed to be appointment did not turn out well, although we tried to find ways to get accommodated. We still had to make an online appointment to get a schedule. We were suppose to take public transportation and head back home, but my in laws didn't know how to get to the place of her seminar workshop. None of them knew how to use Waze which is a navigational app. Since I had data and the app installed they asked me if we could go with them to drop off my mother in law. I check the app and estimated time to reach the destination is almost two hours.
We delightfully obliged as we figured it would be nice to have a little road trip, rather than just stay at home. We headed out and I was the navigator, directing to the best routes and away from traffic according to the app. The app leaded us up to the a mountain called Antipolo. The place is known for resorts and cheap cashew nuts. When we finally arrived the weather was still gloomy, but the trees gave us a feeling of vacation.

The place is called Loreland farm resort located in Antiplo Philippines. I have never heard of this place, but the atmosphere here is very quiet. Seeing the word LOVE near the entrance gave us an idea that this place is perfect for lovers, in which me and my wife joked about it a little bit.


We couldn't help taking a twofie of us with the big sign of love behind us. I do not normally do this, but what the heck let's have fun. If you notice we have id's on us, it was given to us as we were just visitors who are just dropping someone off.
One of my disappointment is I didn't have my camera with me. A lesson learned for me that I should always have my baby with me. Well, no use crying over it and just make use of the camera on my phone. The resolution won't turn our good, but I just tried my best to get good shots.
The place is divided into different sections with cabins and rooms. Each section had a swimming pool near the area. At this time if I just didn't have work the next day I would have loved to spend overnight for a night of love with my wife.

This is the pool that is near the room of my mother in law. Again if I knew we were going here I would have brought some swimming clothes. Apart for that there are no people! The pool you could enjoy all to yourself.

Here is another section of the pool and how I wanted to take a quick dip.

Since we could not go swimming I figured we would just explore the place. But before that I wanted to see the seminar room of my mother in law. I wouldn't mind a little snack and coffee. On the way there were more pools, some leaves falling into the water gave it a natural feel to it.

There is also a kiddie pool that looks fun to play in. If they were with us they would have had a grand time, having the pool all to themselves.

This is the seminar room with another pool just in front of it. A seminar would make you think about just swimming instead of sitting for hours and listening. Wouldn't it be fun to just have the discussion in the pool instead?

Now this is the seminar room and just looking at it makes me sleepy. We just grabbed ourselves a cup of free coffee and headed out back again.

In our exploration we saw these exercise machines just near the pool. A good way to start your day if you spend overnight here.

We did a little bit more of walking and every table was empty. The place was practically deserted and that is good. This is a perfect quiet place for relaxation, maybe out of season or the place is a little hard to get to.

Peace and quiet with just nature around you. Would you rather prefer a crowded place?

There are tree houses made from bamboo. A great spot for the family.

The name says it all. I just wish you guys are here and in that wishing well, I threw in some coins.

Just beyond the wishing well a trail leads downwards. A trail is always good in these kinds of places easy going down, but I'm imagining the work going back up. Let's do this and the weather is a bit cooler here so I wouldn't be sweating much.

From here the trail looks longer and you could glance the surrounding mountains. Where could this trail lead to?

Along the way there were fruit bearing trees. This is called Suha which is also known as grapefruit. It is still unripe but if we found a ripe one, I would have picked one out to have a quick snack.

Deeper down the trail you could see moss growing on the steps and rocks. It is best to be careful as it is a bit slippery stepping on some moss.

A familiar sight which is a part of the stations of the cross. The owner is probably a religious person as the place has the stations around the trail.

Welcome to Jurassic Resort! Didn't expect to see a dinosaur at the side of the mountain. I'm sure the owner is a fan of the movie.
Another dinosaur right there, making a bigger brontosaurus would cost more. I guess they were on a tight budget.

The trail leads down further and there is a different sign on the way down. I think this is no longer a part of the resort and there is a different fee if you want to go to adventure land. There is also a sign that says the stairs is 220 steps down.

Since no one is watching I went down the stairs a bit, my wife kept calling me to go back up. I still took a couple of steps down and said I just wanted to take a few photos. From the looks of the trail it leads to the foot of the mountain.

From here the air and the view is amazing. You could see the city over the horizon away from the noise and pollution of the city life.

After spending a little time there, I headed back up as my wife kept calling me. Apart from that I felt that it might rain and we didn't bring along an umbrella.

Taking a hard trek back up we rested on some empty tables to catch our breath.

I imagine that during summer these tables must be all occupied as this place is beautiful and well kept.

Looks like we just met some local residents hiding from the cottage.

Just look at that guy who is having so much fun exploring. It does not stop here, we wanted to see what other attractions we can find in this place. We saw one of the staff pass by and asked what else do they have here as I was taking photos for my blog. The man said that they have a petting zoo just right behind the LOVE sign near the entrance. That sounds interesting and immediately we went to the pointed direction.

I was like a kid at the park and felt a bit excited the moment is saw the sign.

In the first pen they had peacocks. I always wanted to have a pet peacock with beautiful brightly colored feathers. This one is white and I was waiting for it to open it's plumage. I don't know when they open it, but I was hopeful I could see it.

On the right side there were chickens, ducks and turkeys. This section had a farm feel to it and it would be nice to have a setup like this if you had a big place. Not needing to buy eggs anymore would be most welcoming.

There were more varieties of peacocks on the other pens. I waited a bit longer, but seems I scared them away. We had to move along and give up on seeing the plumage.

The next pen caught me by surprise as they even had horses. They had four in total including the two young ones.

This beauty actually approached me the moment she sensed I was there. I wanted to pet the horse, but was a bit hesitant that it might bite me. I don't know as I don't know anything about horses, maybe if the handler was there I would be at ease petting the horse.
Inside this pen there were cute little piglets and they all rallied to me. They might have thought it was feeding time already. They were so cute and I wanted to take one home.

Plants was planted near the pens and I could not determine what they were. Could be something to feed the animals with. There was no one around to ask.

The petting zoo is small, but a great additional attraction to this resort. Interacting with animals can teach children how to take care and respect nature.

Just when we were about to leave, we heard some honking sound. We found these friendly guys that seems to be calling us. There was this one particular goose that was very persistent. Following the direction I was going.

The others didn't pay much attention to me, but this one was running the show. I could not tell what he or she wanted, but kept on honking and looking at me. Is it a sign of aggression or just wanted attention. I'm no goose expert, but if some of you knows please do share.

Their neighbor doesn't seem to mind. But these guys are a bit shy hiding in their shelter when I approached.

As we headed back to go home. I bid my buddy goodbye and he does seem to look sad seeing us go. This goose looks pretty smart and I would have loved to take him home with us. Well, goodbye for now and I hope we come back for a visit soon.

The weather was gloomy no swimming attire, but we had fun exploring this resort. A great side trip that was very enjoyable and it feels good being outside more often. Work often eats us up and it is good to refresh with nature even for just a few hours.
Thanks for joining me and I hope you enjoyed exploring the resort with me. Please let me know what you think about the place. Let's chat and talk about unexpected trips you experienced. I would love to hear from you.
Until then hope to see you again soon and spread the love everyone. Cheers!

Official Site

Follow @surpassinggoogle to witness an extraordinary person in this platform and vote for @steemgigs as witness
Discovering exceptional content in the community follow @curie and vote as witness
To have a glimpse of awesome content from the Philippines check out @bayanihan
All photos are original and taken with
ViVO V7




---
Posted from my blog with SteemPress : http://watersnake101.vornix.blog/2018/08/19/unexpected-trip-beautiful-sunday/
---